For more affluent property buyers who are looking to buy a freehold condo in the East, they typically come to decide between two mid-to-upscale residential areas of District 15: Amber Road and Meyer Road.
Location-wise, these two prime city fringe neighbourhoods are just right next to each other, but visit both of them and you'll realise that they actually have very different qualities. To make things easier for homebuyers and investors, here's our in-depth analysis of the Amber and Meyer Road residential areas in D15, and how the freehold condos there stack up against one another.
Location Brief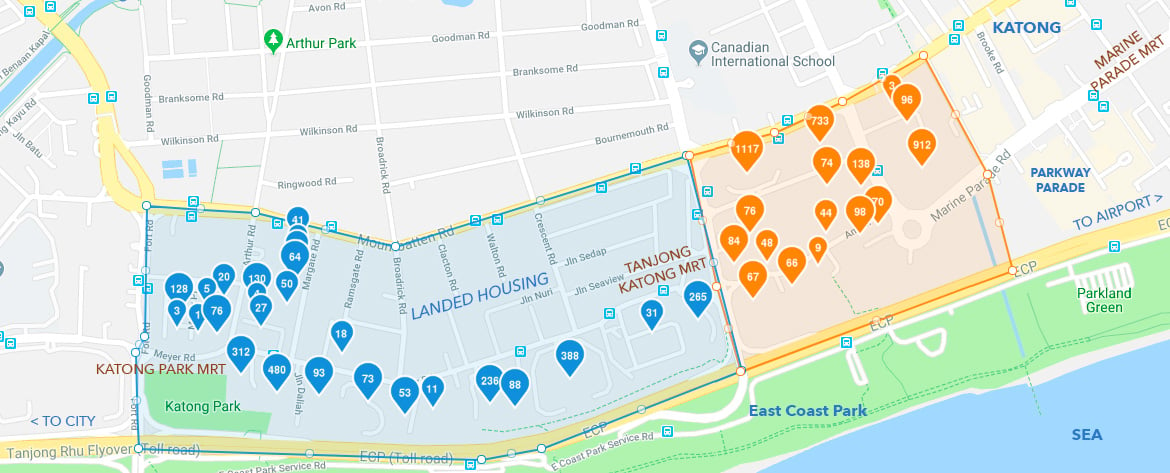 The Amber and Meyer Road residential areas are located near the shore, with easy access the CBD via East Coast Parkway (ECP) and Marina Coastal Expressway. In 2023, the Thomson-East Coast MRT Line will begin serving both areas (station locations indicated in the map above), giving non-motorists an additional mode of commute to the city and the airport.
The two areas are also known for the concentration of freehold land. In the Meyer Road area, large parts of these freehold land have been reserved for landed housing. Where condos are concerned, there is a high number of low-unit developments in both areas owing to the smaller-sized land parcels, which were originally demarcated for lavish seaside landed properties in the British era. Over time, many of these land parcels were sold, and re-sold, to developers who developed high-rise condos on the land with the approval of the Singapore authority.
Today, the Amber and Meyer Road areas look like a strip of high rise condos that form a 'wall' between the sea and the low-density housing districts that stretch until Paya Lebar. The two areas are now one of the most prime city fringe residential locations in Singapore.
In particular, freehold condos along Amber and Meyer Road have also seen their values rise significantly. In the mid-2000s, the average per square foot (psf) price of Amber Road and Meyer Road freehold properties were on par with the Singapore average. Today, the psf price of Amber and Meyer properties have risen beyond the average — evidence that these locations are now attaining upmarket status.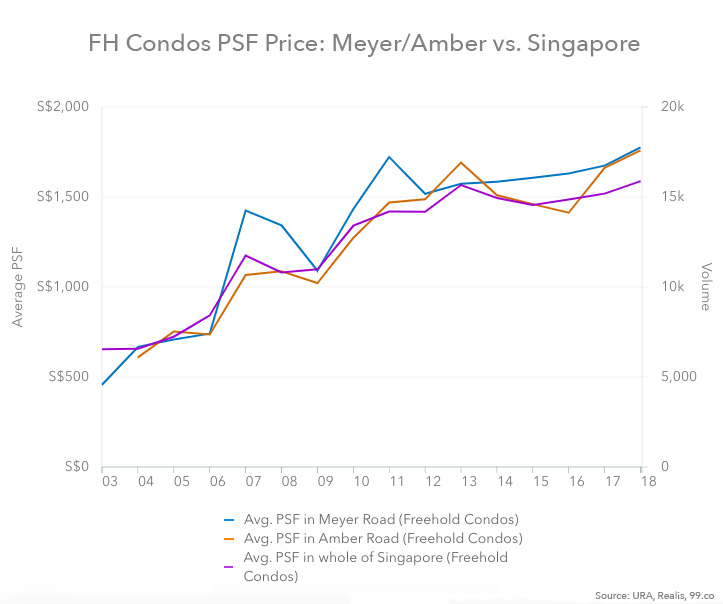 Freehold condos in Meyer Road
Freehold condo developments on Meyer Road are very varied, with both smaller and larger projects. Developments on larger plots of land include Hawaii Tower (135 units), The Makena (504 units) and The Seafront on Meyer (327 units). Incidentally, these three developments span different eras. Hawaii Tower was built in 1984, The Makena was built in 1998, and The Seafront on Meyer in 2010. It's interesting to see the recent average psf transaction prices for these properties reflecting their respective age:
Hawaii Tower (1984): $1,146
The Makena (1998): $1,569
The Seafront on Meyer (2010): $1,823
Here's the price vs. age chart for freehold condos in the Meyer Road area. Only condos with five or more transactions in the past three years are included: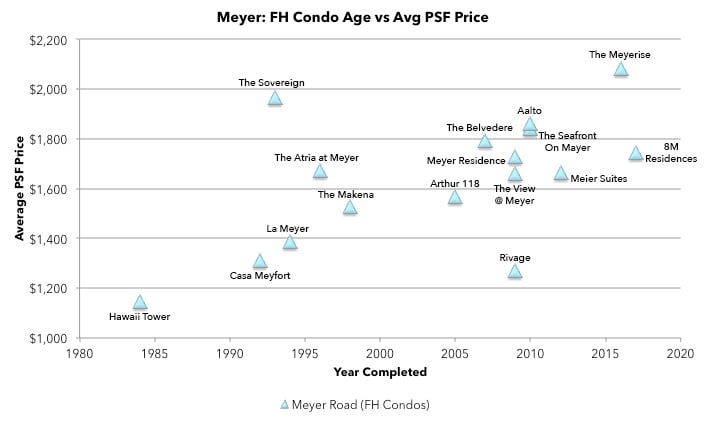 As seen from the chart above, there are a number of developments that stand out in terms of price vs. its age. The Sovereign, in particular, has had impressive capital appreciation for its age (25 years). Three units there were transacted this year for an average of $1,966 psf.
Our take on the attractiveness of The Sovereign is its en bloc potential. With a similar plot ratio and a slightly larger plot area than the recently completed The Meyerise project next door, the Sovereign has just 87 units compared to 239 units at The Meyerise, indicating a clear redevelopment opportunity down the road. After all, the 76-unit, 25-year-old Casa Meyfort — 200 metres east of The Sovereign along Meyer Road — was successfully sold to a developer in July 2018 for $319.88 million.
And thanks to the recent en bloc fever, buyers are salivating at the prospect of the next wave of condos in this sought after area. Other than Casa Meyfort, condos in the Meyer area that have successfully undergone collective sale in 2017 and 2018 include Katong Park Towers, Albarraca and Nanak Mansions, all smaller plots with their own unique characteristics and locational advantages. Nanak Mansions, for instance, will be redeveloped into a "Nassim Residences of the East" given "its rare location right next to a park", says the winning developer UOL Group.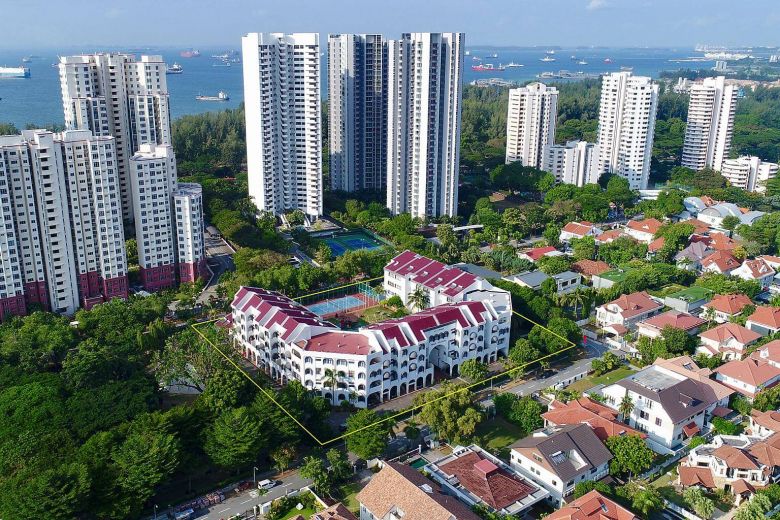 Freehold condos in Amber Road
Currently, the Amber Road area has a much higher density of development than Meyer Road, which means two extreme development types: high unit-count projects on large land parcels and high-rise condo projects on tiny land parcels.
The larger developments in Amber are popular precisely because freehold condo projects of this scale are uncommon in the city fringe. These projects include One Amber (562 units), The Esta (400 units) and The Sea View (546 units). Larger projects typically means that facilities are more comprehensive and bigger in scale, such as larger swimming pools and gyms. Maintenance fees may also be lower, because there are more owners to split the cost.
On the other extreme are condos that comprise of high-rise towers occupying a tiny land parcel, such as The Cape, The Aristo @ Amber, 16 @ Amber and Suites @ Amber. Despite having fewer/smaller facilities, these smaller condos fetch a comparable average psf price versus larger projects for two reasons:
Larger proportion of small-sized units, which are typically priced higher per square foot than larger units
Positioning by the developer as luxury projects with premium finishings and fittings
In contrast, the larger freehold condos (One Amber, The Esta and The Sea View) were positioned more like mass-market condos with a freehold tenure. Correspondingly, these condos are more family-oriented and have larger average unit sizes. At The Esta, 80% of the 400 units are 3-bedroom or larger. At The Cape, however, 1-bedder units make up 30 out of 76 units, whereas there are only 12 units that are 3-bedders. Meanwhile, the 40-unit 16 @ Amber has only 1 and 2-bedroom units.
The exception to this is Vertis (avg $1,471 psf), a 42-unit condo positioned as a mass-market development with a good mix of unit types from 1 to 4-bedders. With fewer and smaller facilities than The Esta (both completed in 2008; avg $1,700 psf), the price difference amounts to a good $229 psf!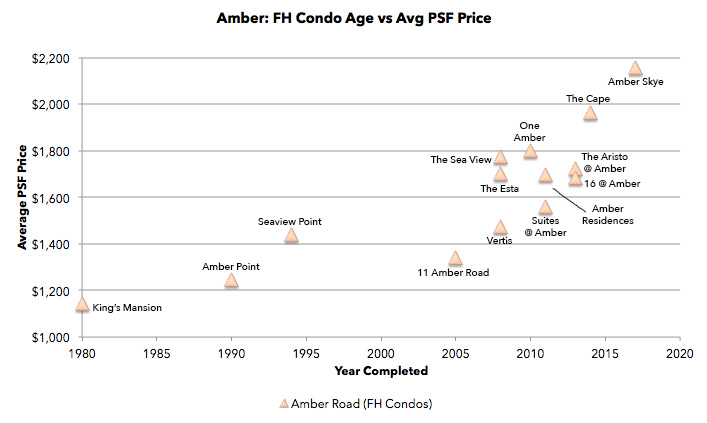 As seen from the chart above, the freehold condos in the Amber Road area are generally younger in age than the average Meyer Road property. Price-wise, the majority of Amber Road freehold condos fall within a similar $1,600 to $1,800 price range. Earlier in 2018, Amber 45 was launched, with 96 out of 139 units sold for a staggering average of $2,363 psf! (Granted, the July 2018 cooling measures will likely force developers to scale back prices for this and other developments.)
Perhaps the most anticipated new launch freehold condo in D15 is also situated in Amber. Tentatively called The Opus, this condo will be built on the site of Amber Park, which was collectively sold in October 2017 to CDL Group. The Opus will likely be launched in 2019, and with approximately 800 units it'll become the largest freehold development since City Square Residences was launched back in the mid-2000s.
Amber vs. Meyer Road: the D15 condo showdown
Price-wise from our charts, we can see that psf prices between Amber and Meyer Road freehold properties are comparable, although historically Meyer Road has commanded a higher psf than Amber. Aside from price, we summarised the characteristics of both D15 locations in the table below:
| | | |
| --- | --- | --- |
| Point | Meyer Road freehold condos | Amber Road freehold condos |
| 1 | Low traffic | High traffic, especially in peak periods |
| 2 | Quieter neighbourhood | Generally less quiet |
| 3 | Most units enjoy unblocked views | Fewer units with unblocked view |
| 4 | No primary schools within 1km radius (except Aalto) | Tanjong Katong Primary School within 1km |
| 5 | Mostly outside walking distance to Katong and Parkway Parade | Mostly within walking distance to Katong and Parkway Parade |
| 6 | More condos on underutilised land parcel (en bloc potential) | Few condos on underutilised land plots |
Comparing the two locations, although Amber Road freehold condos are closer to the action at Parkway Parade and Katong, it comes at a tradeoff of greater traffic and noise levels. When The Opus and Amber 45 are complete, we expect jams at the Amber areas during peak hours to worsen.
In contrast, the Meyer Road area is expected to remain uncongested as there are many feeder roads leading through the landed estate onto Mountbatten Road that motorists can take. There are also two entrances to the ECP that Meyer Road residents can easily access (Fort Road and Tanjong Katong Road exit), as opposed to just one for Amber Road residents (Tanjong Katong Road exit).
That said, if you value the nearness to Katong and Marine Parade, there are plenty of quiet facing units at Amber Road condos to choose from. Of course, Meyer Road condos will still give you more options should you want an unblocked view above all else.
Public Transport and Schools
And in any case, with the opening of the Thomson-East Coast MRT Line in 2023, Meyer Road residents will find themselves with a fast alternative commute to Katong and Marine Parade. Both Amber and Meyer Road residents can take the new line direct to the CBD, and we foresee that proximity to the new MRT stations could significantly improve the rentability of condo units in these two locations. (Today, residents have to rely on buses to get to the CBD, usually within half an hour.)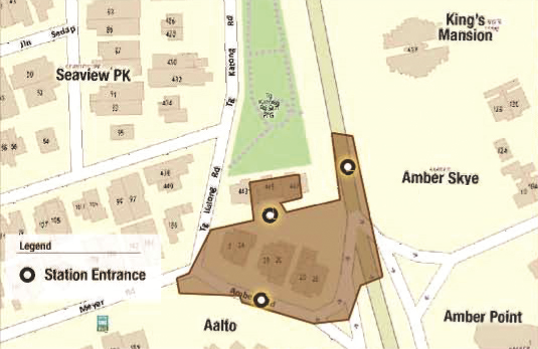 There's one big drawback for the freehold condos along Meyer Road, however. With the exception of Aalto, none of the condos here are within 1km from a primary school, which means residents with young children must settle for leftover places at potentially faraway schools come P1 registration. Amber Road condos, and Aalto, are within 1km of Tanjong Katong Primary School. Notably, the two easternmost blocks at The Sea View condo are also within 1km of Tao Nan School, one of the most popular primary schools in Singapore.
Although Meyer Road condos are disadvantaged when it comes to primary schools, it is nearer to two reputable secondary schools, Dunman High School and Chung Cheng High (Main). Both locations have a good selection of preschools in the area.
En Bloc Potential
As is the case with The Sovereign on Meyer Road, we see more redevelopment potential for condos here than in Amber Road, where the development density seems to have been maxed out. Another case in point: Amber Park, to be turned into the 800-unit The Opus, occupied 19,851 sq m of land area. The Makena, on Meyer Road, has 504 units on 35,210 sq m of land. If The Makena was to be collectively sold and the subsequent land use intensified like The Opus, it could yield more than 1,400 units!
Of course, there's the issue of there being so many potential en bloc candidates on Meyer Road, that it's near impossible to choose the right one. Because of the ideal living environment for this location, many owners refuse to yield to any collective sale efforts, or set unrealistic reserve prices. For the record, Hawaii Tower has failed three times to secure a collective sale.
So which location is better: Amber or Meyer Road?
Although right next to each other, condos on Amber and Meyer Road are like chalk and cheese. Roland Goh (real name not used for anonymity), a retiree who owns an investment property each in both locations, sums it up the best:
"I've had tenants who lived in my Amber Road condo, then moved to my Meyer [Road] condo because they wanted a change of scenery but love the area so much. I've also had it the other way round, tenants at my Meyer Road condo moving over to Amber to be nearer to Katong!"
When asked which property he'd pick for his own stay, he replied: "Definitely Meyer for the peace and quiet, but some days I wake up feeling lazy, that's when I wish I could be in Amber instead."
**[View all freehold condos for sale in Marine Parade, including Amber and Meyer Road areas]
**[View all condos for rent in Marine Parade, including Amber and Meyer Road areas]
Which neighbourhood's freehold condo would you choose? Tell us in the comments section or on our Facebook community page.
If you found this article helpful, 99.co recommends D10 and D11 Condos: Luxury and value next to Downtown Line stations and CBD Condos: Can Freehold beat 99-year Leasehold in Rental Yield?
Looking for a property? Find the home of your dreams today on Singapore's largest property portal 99.co!