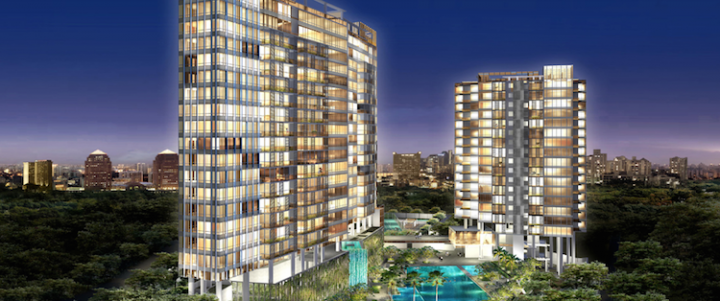 Not too long ago, if you told people you lived in Bukit Timah and didn't own a car, they'd question your sanity. Even when the Downtown Line (DTL) section in the area opened in December 2015, property buyers hardly saw the reason to take a closer look at prime district (District 10 and 11) properties located along the line. The proof is in the data.
From Q1 2016 to the end of Q1 2018, average per square foot (psf) condo prices around District 10 and D11 DTL stations (within a seven minute walking distance)* fell by 2.25%. In the same period, average psf condo prices across Singapore rose by 11.56%.
*The five DTL stations are Sixth Avenue, Tan Kah Kee, Botanic Gardens, Stevens and Newton.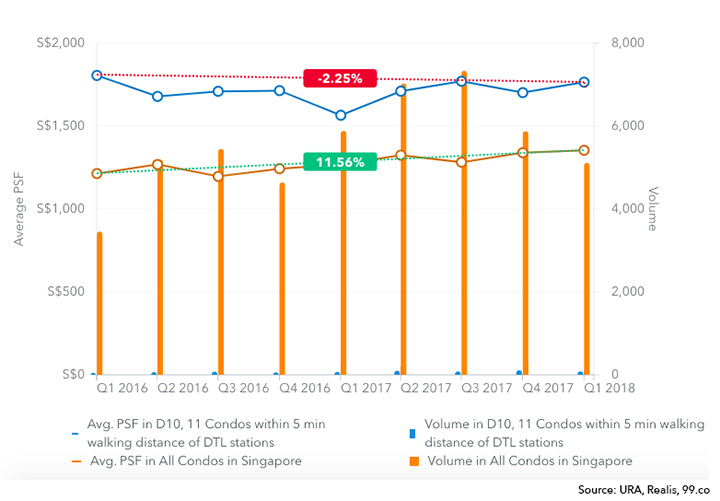 If we're only talking about freehold condos, average psf prices for District 10 and D11 condos near DTL stations actually fell in that period by 2.07% (average transaction price fell by 1.47%), while average psf prices for the rest of Singapore increased by 8.37%.
There could be a few reasons why the prices for condos in the District 10 and D11 have performed in stark, negative comparison as opposed to the rest of Singapore, namely:
Media hype over certain districts (e.g. Jurong, West Coast) diverts attention from others
Some investors may not be willing to to pay the price premium for the predominantly freehold properties in D10 and 11 (over 99-year leasehold properties)
Buyers increasingly prefer high-rise living; most condos in District 10 and D11 are low-rise developments
Low plot ratio means that en bloc potential is limited
Investors are inclined to favour up-and-coming areas, seeing there's more opportunity for capital appreciation
Buyers favour bigger projects; most of the condos in the Bukit Timah area are small projects (mostly below 100 units)
The D10, D11 area remains low on certain amenities (e.g. hawker centres, shopping malls connected to MRT stations)
Having listed the points, it's worth noting that the plus points for District 10 and D11 has remained unchanged through the years.
The districts particularly appeal to own-stay buyers looking for a more laid-back living environment. Even relatively larger condos in the area have a distinctly relaxed vibe.
And with the Downtown Line, both buyers and prospective tenants (D10 and D11 is a very expat-centric) can have the best of both worlds without needing their own transport.
A closer look at District 10 and 11 condos
In any case, should you see this as an opportunity to take a closer look at District 10 and D11 condos along the Downtown Line (be it for your own stay or for investment), here are five condo projects with units of different sizes and psf price points — from luxury to unbeatable value.
Oh, and we've specifically picked freehold/999-year options, seeing as this forms the bulk of the properties in this area.
Good for: Own stay, families of different sizes
Number of units: 210
Nearest MRT Station: Newton, 4 minutes walk
Completed: 2013
Tenure: Freehold
Average sale psf price: S$2,300 (past six months)
Estimated rental yield: 1.91%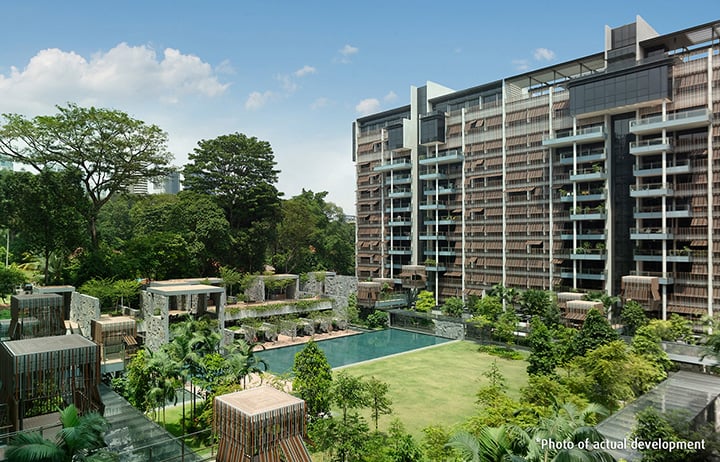 Lush is the selling point of this family-oriented luxury condo. Designed by the renowned WOHA Architects, 80% of the grounds within Goodwood Residence are landscaped. Five hundred new trees were planted as part of the development, with only 210 residential units across 2.5 hectares of land (the size of four football fields).
There's also space for a full-sized 50-metre lap swimming pool and an even bigger Grand Lawn (similar to the sprawling grounds of the colonial bungalows that are right next to the condo). Not surprisingly, Goodwood Residence won the 2014 Asia Green Building Award for Residential Buildings shortly after it was built.
Good for: Both own stay and investment, families and singles
Number of units: 278
Nearest MRT Station: Stevens, 7 minutes walk
Completed: 2014
Tenure: Freehold
Average sale psf price: S$2,100 (past six months)
Estimated rental yield: 2.59%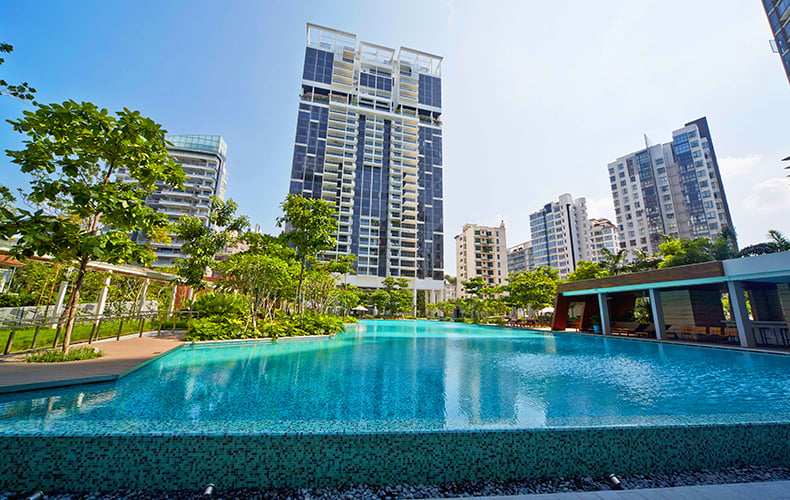 Towering over other condos in the area with two 24-storey buildings, living in Cyan feels more like D9 than D10. All units (1-, 3- and 4-bedders) in this Far East Organisation property comes with 4.5-metre ceiling heights that emphasises the sense of space and maximises natural light intake.
There's also enough swimming pools in the compound to fully justify the name; besides a 50-metre lap pool, there are several villas with hydro-massage dip pools for relaxation, a hot pool, aqua gym, spa pool and a lagoon pool, plus a pool for kids.
Coupled with numerous water features, there's so much cyan it almost feels like the Maldives — definitely a condo for the water lover.
Good for: Own stay and investment, singles and smaller families
Number of units: 256 units
Nearest MRT Station: Botanic Gardens, 7 minutes walk
Completed: 2007
Tenure: Freehold
Average sale psf price: S$1,534 (past six months)
Estimated rental yield: 3.26%
We found that this area, not just the condo itself, has great potential value for both buyers and investors, with average psf prices low enough to rival 99-year leasehold new launch condos and a good rental yield. Nineteen Shelford Road, in particular, is a larger development than most others in the area, so maintenance fees are lower.
1-bedroom apartments, spacious by today's standards at over 720 sqft, have sold at a slightly over S$1 million.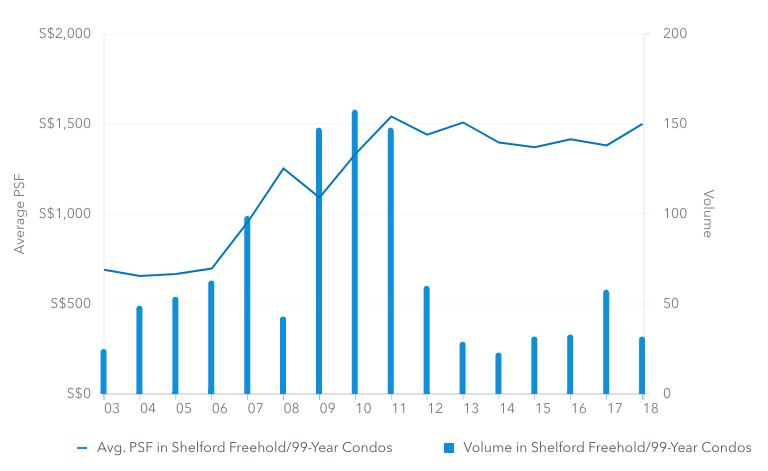 This area is also high on accessibility and amenities compared to elsewhere in D10 and D11, with a smattering of shops and F&B options in Coronation Plaza (there's a decent-sized Fairprice supermarket here), Cluny Court (there's a Cold Storage here), Serene Centre and the well-known Adam Road hawker centre — all a short walk away.
A number of reputable schools — primary, secondary, junior colleges — are within reach. The Singapore Botanic Gardens is also less than 10 minutes walk away. Need we say more?
Good for: Own stay and investment, families and singles
Number of units: 52
Nearest MRT Station: Tan Kah Kee, 3 minutes walk
Completed: 2006
Tenure: 999 Years
Average sale psf price: S$1,501 (past six months)
Estimated rental yield: 3.45%
Literally right next to Tan Kah Kee MRT station and Hwa Chong Institution, the low-rise Duchess Manor is a rare breed of condos whose average sale psf price, we feel, hasn't fully factored in the sheer accessibility of the property. Granted, it doesn't have the largest pool or the best suite of facilities typical of larger condos, but check out the estimated rental yield, which is definitely on the high side of D10 and D11 properties.
Units at Duchess Manor range from 2-bedroom to 4-bedroom configurations. A 635 sq ft one-bedroom unit was sold in 2017 for $1.1 million, which raised our eyebrows quite a bit. With a fully-enclosed kitchen, a walk-in wardrobe, and a bathroom with a bathtub, this is a unit that will certainly appeal to expat tenants looking for a fair bit of living space.
If indeed rented out, we'd expect this unit to fetch between S$2,400 to S$2,500 in monthly rental.
Good for: Own stay and investment, families
Number of units: 52
Nearest MRT Station: Sixth Avenue, 5 minutes walk
Completed: 1977
Tenure: Freehold
Average sale psf price: S$1,253 (past six months)
Estimated rental yield: 3.32%
Old freehold properties attract investors of a different kind, those hoping they'll strike en bloc windfall. Even if they don't, they know that as long as the development is well-maintained, the investment value is assured.
Located a short walk away from the Sixth Avenue MRT station, Orchid Apartments could attract precisely this type of property buyer. The signs in the neighbourhood have been positive; in December 2017, the freehold development Royalville was sold at S$1,960 per square foot per plot ratio (psf ppr).
In the same month, a 99-year leasehold land parcel released under the Government Land Sales (GLS) exercise was sold for S$1,540 psf ppr to developer Allgreen Properties. Assuming a developer profit margin of around 10% of the gross development value, the leasehold development would have to sell at around S$2,250 psf, which is the reason why this article is so important.
Developers are likely banking on the development potential of the area, with the Cross Island Line likely to interchange with the Downtown Line at Sixth Avenue MRT station (according to preliminary alignment drawings by the Land Transport Authority). The Urban Redevelopment Authority has also zoned the former Turf Club — now a recreational area — for future residential development.
So, if Orchid Apartments is too old for your liking, it's worth taking a look at the other freehold properties in the area, such as Villa Azura (TOP: 1999, S$1,375 psf) and Sixth Avenue Ville (TOP: 1999, S$1,424 psf).
How to search for properties near to the Downtown Line
Want options beyond District 10 and 11? To search for more options along the Downtown Line, use 99.co's Search by MRT feature.
Step 1: Head to www.99.co, and type in the MRT station of your choice. Then click "Search". (Besides browsers, you can also use this feature on 99.co app, available on iOS and Android.)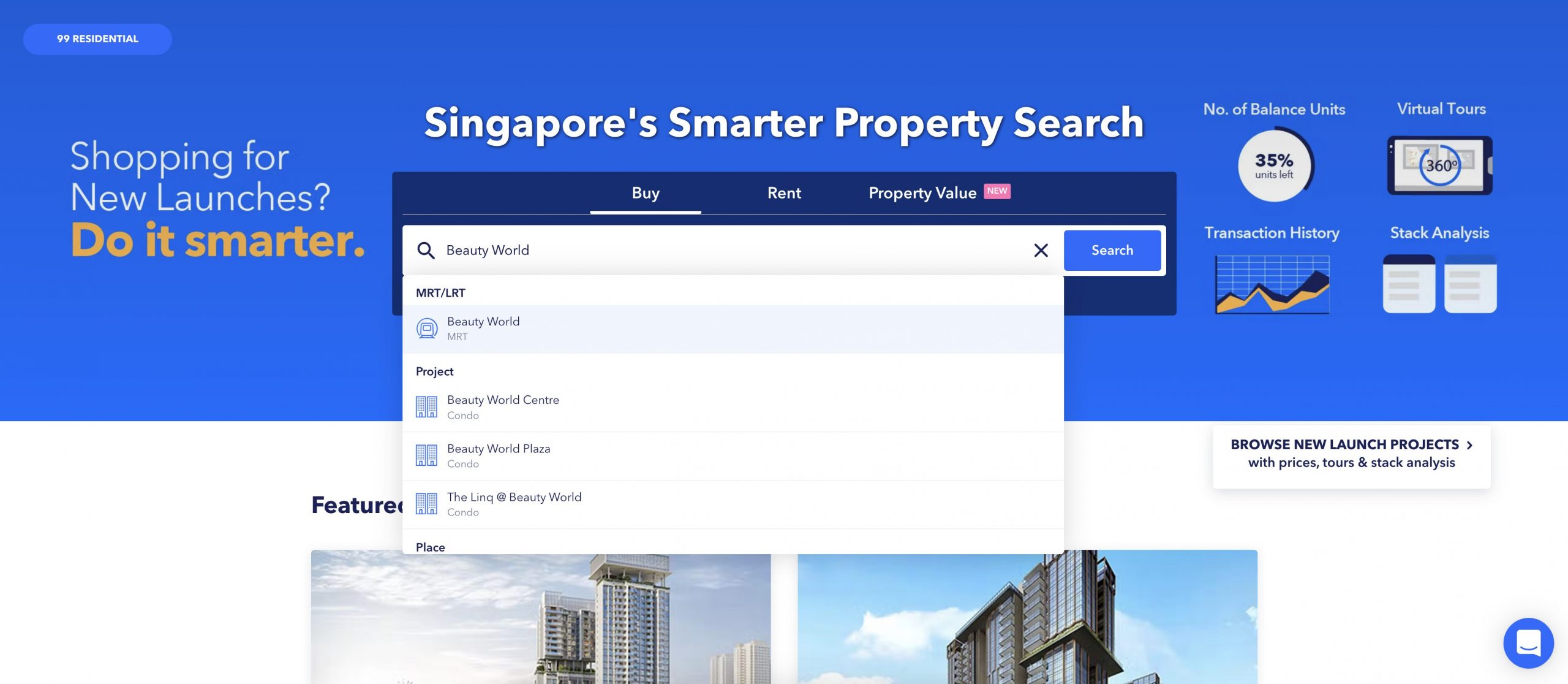 Step 2: Click on the "By location" tab, and click the drop-down list to choose the maximum distance you want your property to be from an MRT station.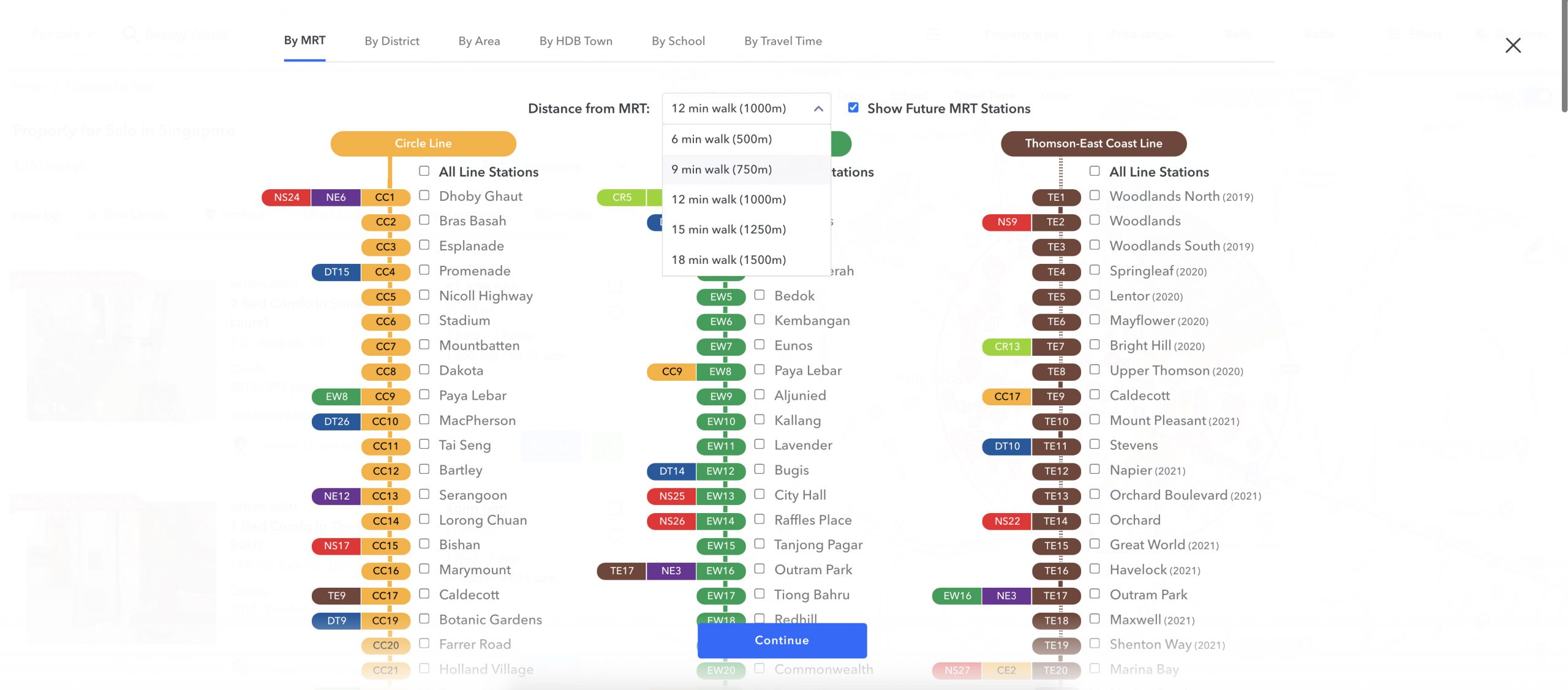 Pro-tip: You can look for properties near multiple MRT stations in the same search. Just select multiple MRT stations using this feature!
Step 3: Click on "Property Type", and then check the box next to "Condo / Apt".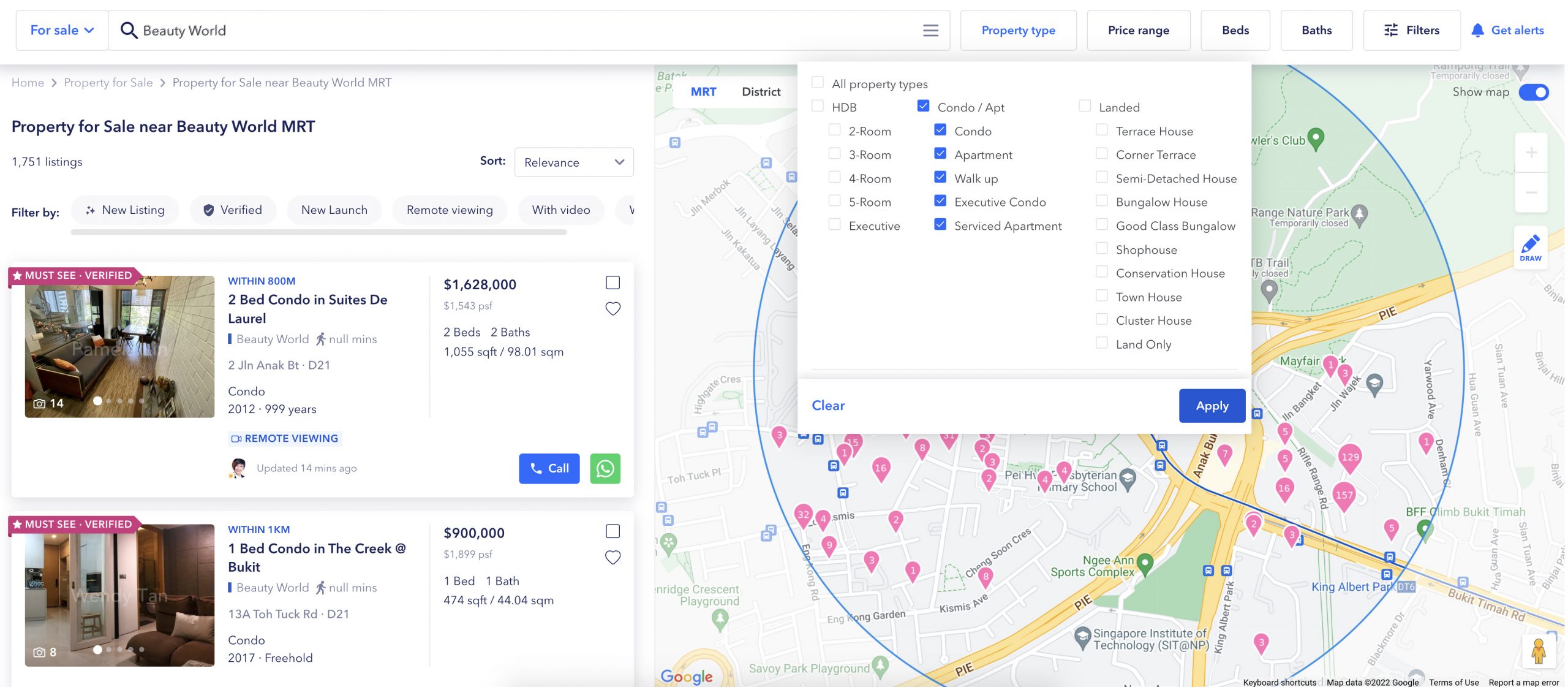 99.co will filter all the available options, and present you with a list of condos which are nearby your selected MRT stations. All that's left to do is decide on which property is the best fit for you!
---
Eyeing the D10/D11 area? Let us know in the comments section below or on our Facebook post.
If you found this article helpful, 99.co recommends Do new MRT stations affect property transaction prices? and Neighbourhood guides: 5 reasons why all eyes are on Tampines North.
New launch alert! Welcome to Grand Dunman
About Elizabeth Tan
Elizabeth is a writer, a Harry Potter fanatic, and a Game Of Thrones addict.
Looking to sell your property?
Whether your HDB apartment is reaching the end of its Minimum Occupation Period (MOP) or your condo has crossed its Seller Stamp Duty (SSD) window, it is always good to know how much you can potentially gain if you were to list and sell your property. Not only that, you'll also need to know whether your gains would allow you to right-size to the dream home in the neighbourhood you and your family have been eyeing.
One easy way is to send us a request for a credible and trusted property consultant to reach out to you.
Alternatively, you can jump onto 99.co's Property Value Tool to get an estimate for free.
If you're looking for your dream home, be it as a first-time or seasoned homebuyer or seller – say, to upgrade or right-size – you will find it on Singapore's fastest-growing property portal 99.co.
Meanwhile, if you have an interesting property-related story to share with us, drop us a message here — and we'll review it and get back to you.
Join our social media communities!
Facebook | Instagram | TikTok | Telegram | YouTube | Twitter