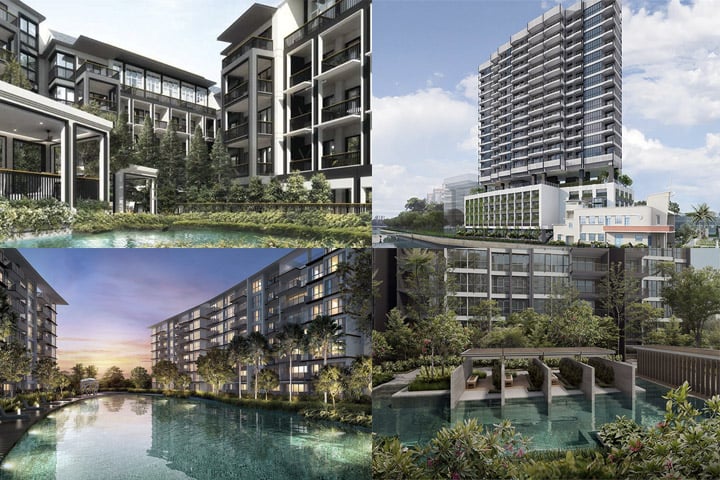 Now that you can be sure that the Hungry Ghost month is over and a thousand angry dead souls won't possess you for buying a new home, private home sales are up 51% in September 2018 compared to the previous month. While sales of new launch condos do tend to pick up after the end of the seventh lunar month, what's surprising is that besides higher month-on-month figures, new private home sales are also 42% higher than the same month last year.
That's 932 compared to 657 units. The increase in sales is mainly down to these four projects, which make up more than half of the total new launch condo sales in September 2018. Cooling measures? What cooling measures?
Hot new launch condo #1: Jadescape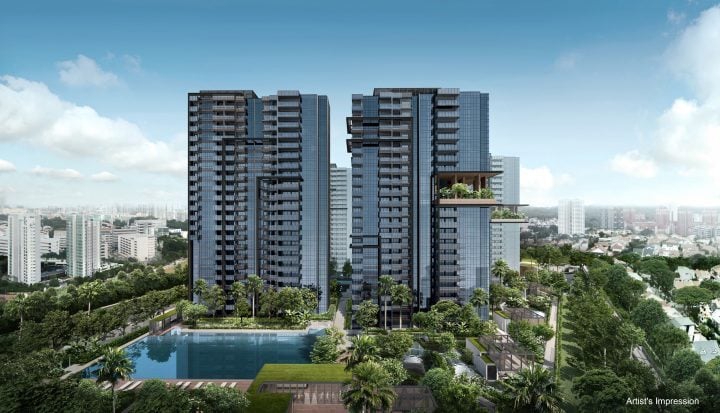 Units sold in September 2018: 312 out of 1,206 units in total
Developer: Qingjian Realty
Address: 2 – 6 Shunfu Road (Site of the former Shunfu Ville)
District: 20
Nearest MRT: Marymount (3 minutes walk)
Tenure: 99-years leasehold
TOP: Est. January 2023
Approx. price: $1,390 psf on 99.co
What we like:
'Smart home' features
Walking distance to an MRT station
Close to nature (MacRitchie Reservoir)
Widely considered a value buy, compared to nearby alternatives
Elder-friendly
Jadescape is located on the site of a former HUDC estate, Shunfu Ville, which was sold to Chinese developer Qingjian Realty in one of Singapore's largest en-bloc sales by quantum in 2017. In the place of the former estate, the new launch condo will consist of seven blocks of 22 floors each, with unit types ranging from one-bedroom* to five-bedroom.
*Note that even the smallest one-room units are 527 sq ft, so technically they're not shoeboxes. These units might appeal to singles and retirees who find recent new launch one-bedder units too cramped. The larger units might also sit better with expat tenants, who are used to bigger spaces elsewhere — property investors take note.
(Browse the latest new condos in Bishan, Thomson and Ang Mo Kio that are located in the same area as Jadescape, and get the latest prices, floor plans and information that you need to buy your next home on 99.co!)
In September, Jadescape was the top selling new launch condo project, with 312 units sold. For it's location, it's widely considered a value buy, which draws investors as well as homebuyers. On 99.co, average prices for this development are just around $1,390 psf. Compared to 99-year leasehold properties in the vicinity, the nearby 18-year-old Seasons View is around $1,190 psf, while Thomson V One and Thomson V Two — condos without full facilities and further away from the MRT station — average $1,400 psf and $1,600 psf respectively. Keep in mind that the launch price for Jadescape is $1,700 psf, which means the developer is currently offering deep discounts to entice buyers.
Simply put, Jadescape is the newest condo in the Marymount area, and it's very competitively priced given that status. Moreover, the Upper Thomson MRT station, which is on the Thomson East Coast Line, will be up by 2021. This will give residents a direct train line to the Orchard area.
Jadescape is supposed to be Singapore's first true, full-suite smart-home. Using narrowband Internet of Things (NB-IoT), you can do cool tech-y things, like control your air-conditioner or lock and unlock your door with your smartphone. The unit also automatically detects leaks and lighting malfunctions, and the smoke detector can send notifications to you and the security office.
The development is also elder-friendly. Jadescape will have medical and care services, along with healthy-lifestyle related social activities, in an active-ageing bent. The units feature soft-surface flooring for falls, pull-down dish racks and wardrobe hangers, handrails and slip-resistant tiles in bathrooms, and plenty of other elder-friendly features. This level of thoughtfulness is something we'd love to see in other new launch condos, too.
**[Browse Jadescape new launch condo units for sale here]
Hot new launch condo #2: Jui Residences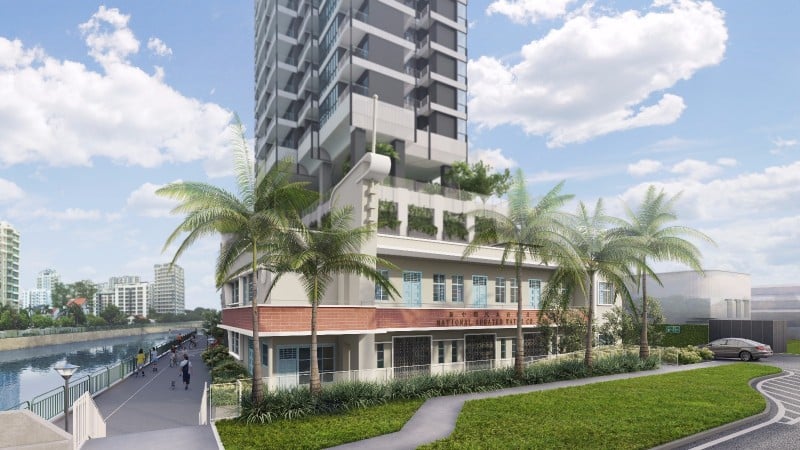 Units sold in September 2018: 29 out of 117
Developer: Selangor Dredging Berhad (SDB)
Address: 1177 Serangoon Road (the iconic National Aerated Water Company building)
District: 13
Nearest MRT: Potong Pasir (9 minutes walk)
Tenure: Freehold
TOP: June 2022
Approx. price: $1,618 psf on 99.co
What we like:
Freehold
Central location
Culturally significant location
Jui Residences is located at the site of a former soda factory. Back in the days when policemen wore shorts and writers made a lot of money, this location was called Hougang Sar Kok Jio. The factory was where Sinalco (a German — not Asian — soda) was bottled and distributed. Because the building is culturally significant, it will be preserved along with its signage, and integrated with the Jui Residences condo development.
Note that the conserved building brings an added plus to their owners: if the government has bothered to conserve it, they're less likely to tear it down to build a highway or MRT station over it. Coupled with the freehold status of this development, you can bet Jui Residences will be around for a long while.
Another appealing fact about this development is it's central location– it should take 10 minutes or less to drive to the Central Business District (CBD). The area is less accessible by MRT – expect about a 12-minute walk to either Boon Keng or Potong Pasir MRT stations, without shelter.
The area surrounding the development is also dotted with small eateries and shops, and the famous Boon Tong Kee chicken rice is nearby. The large St. Andrews education campus is also within walking distance
(Browse the latest new condos in Serangoon, Macpherson and Potong Pasir that are located in the same area as Jui Residences, and get the latest prices, floor plans and information that you need to buy your next home on 99.co!)
In terms of size, the development is quite small – 117 units in a single 18-storey tower. Of these, 34 units have been sold — 29 in September 2018 alone. In particular, the compact development size could appeal to buyers who don't want to jostle for space in a crowded condo.
We also see this unit appealing to home buyers who want a central location, who intend to stay well into their twilight years, and then pass this on as an asset to the next generation. It's especially hard to get a freehold unit in a city fringe location these days that doesn't cost a bomb.
Those seeking rental yields as landlords, however, will be less interested in this project. There are too many competing developments coming up or recently completed nearby, some of which automatically win out by virtue of being located closer to an MRT station. We're talking about the cluster of condos around Potong Pasir MRT.
**[Browse Jui Residences new launch condo units for sale here]
Hot new launch condo #3: Mayfair Gardens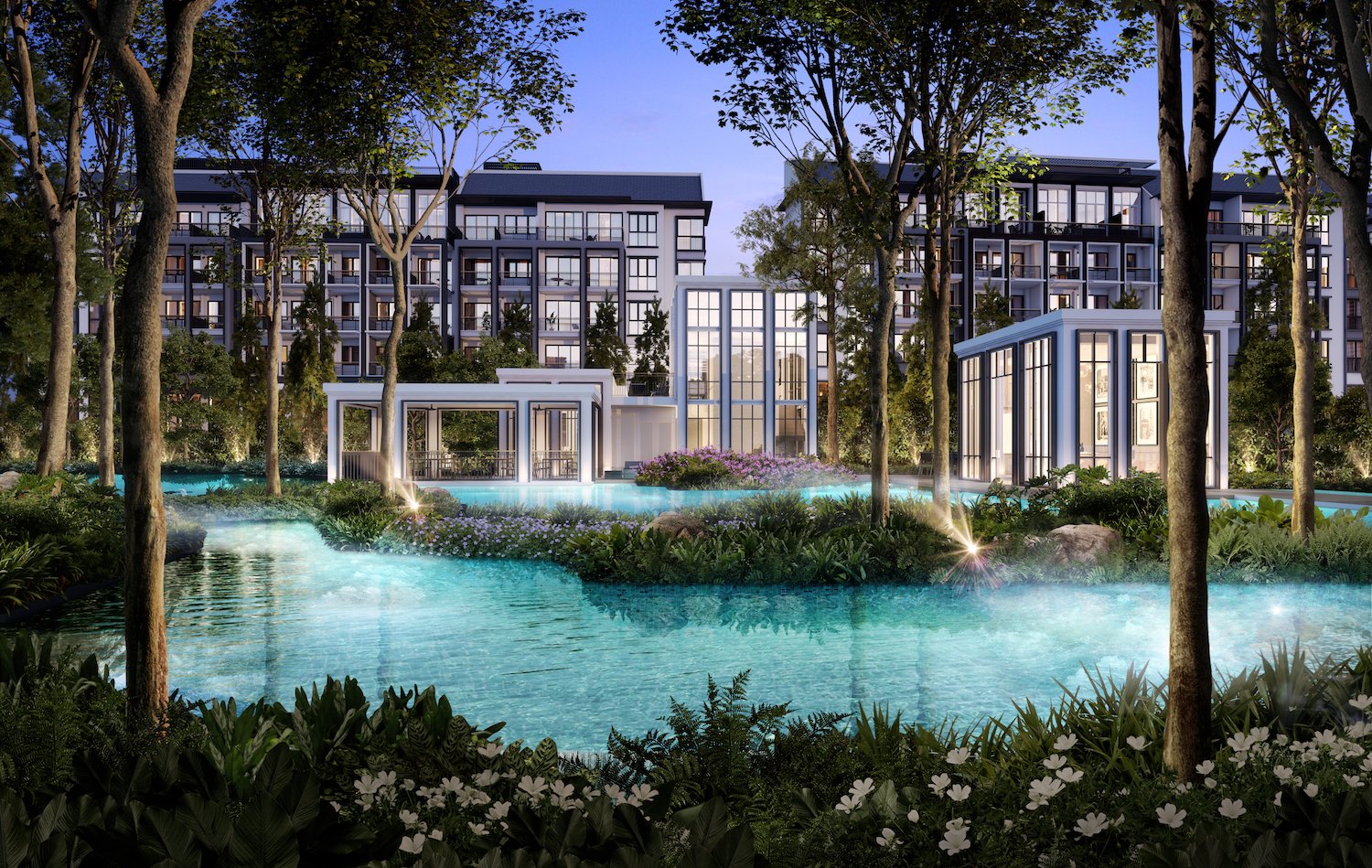 Units sold in September 2018: 49 out of 215
Developer: Oxley Holdings
Address: 8, 10, 12, 14 Rifle Range Road
District: 10
Nearest MRT: King Albert Park (5 minutes walk)
Tenure: 99-years leasehold
TOP: Around 2027
Approx. price: $1,831 psf on 99.co
What we like:
Good sense of space is a low-density neighbourhood
High-rent residential area that expats love
Good access to the Downtown MRT Line
Close to nature (Bukit Timah Nature Reserve)
Mayfair Gardens is named and designed after the famous spot in London (if you don't know it, it's a ritzy place where a cold scone and a cup of tea costs one year of a small bank's revenue). The development's architecture features a Georgian slant, and a view of the nearby nature parks (in the actual Mayfair in Westminster, there's a good view of Hyde Park).
The layout of this prime District 10 condo is very unique: all the main facilities are placed on an "island" that connects to the residential units via a bridge. This supposedly reduces clutter and eases foot traffic. That said, we can't give you a first-hand account as the condo isn't built yet, but that's the theory.
(Browse the latest new condos in Tanglin and Holland that are located in the same area as Mayfair Gardens, and get the latest prices, floor plans and information that you need to buy your next home on 99.co!)
For its location, Mayfair Gardens has the makings of an upmarket enclave; it's a quiet area surrounded by low density, landed housing. There are plenty of small restaurants and boutique retailers dotting the area, and the condo is next to the Sime Darby Shopping Mall (Cold Storage supermarket's here). Alternatively, you can go to Bukit Timah Plaza, which is about 10 to 12 minutes' walk. Down-to-earth options are also available; the Bukit Timah wet market and hawker centre is also about the same distance.
Accessibility-wise, the King Albert Park MRT station is just five minutes' walk away, and the Downtown Line provides relatively fast access to the city.
At over $1,800 psf, this is a pricey condo given its leasehold status. However, it manages to be situated in a high-rent area, while bypassing many of the accessibility issues common to the Bukit Timah neighbourhood. This is probably why, to date, Mayfair Gardens has sold well, shifting 100 of its 215 units.
All in all, while we don't think Mayfair Gardens will appeal to home owners looking for value buys, homebuyers who fancy living in Singapore's prime district and an upmarket enclave should give this property a closer look. The same goes for property investors who seek affluent expatriate tenants who simply love the low-rise, laid-back vibe of Bukit Timah. And don't forget the walking distance to an MRT station will be a big plus point for these expat tenants, especially if they're expat families.
**[Browse Mayfair Gardens new launch condo units for sale here]
Hot new launch condo #4: The Jovell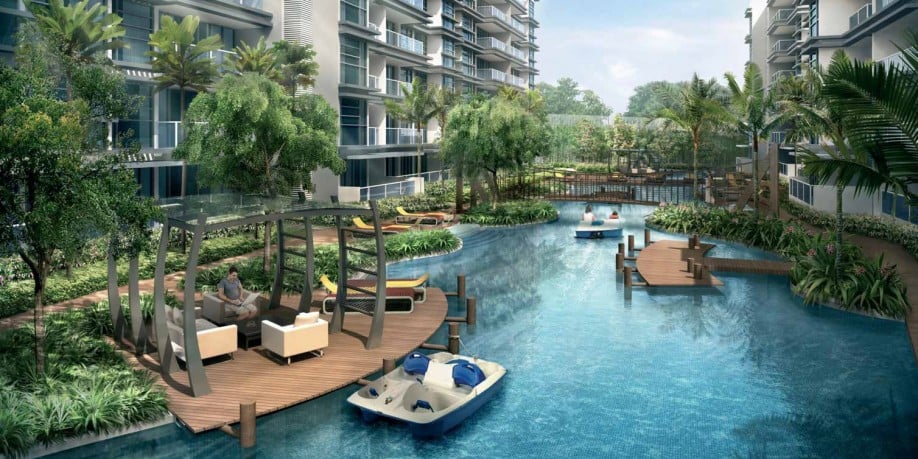 Units sold in September 2018: 34 out of 428
Developer: Tripartite Developers Pte Ltd (Subsidiary of Hong Leong Holdings; part of CDL City Developments)
Address: 11, 13, 15, 17, 19, 21, 23, 25, 27 & 29 Flora Drive
District: 17
Nearest MRT: Tampines East (23 minutes walk or 15 minutes by bus)
Tenure: 99-years leasehold
TOP: August 2026
Approx. price: $1,021 psf on 99.co
What we like:
Good catchment area for a specific group of tenants
Low psf price
Laid back, East side living
Like most condos on the East Side of Singapore, The Jovell has a laid-back vibe. There are more open spaces, fewer dense clusters, and relatively fewer choke points on the roads. One other advantage of The Jovell is that it's a short drive to Changi Airport – you can get there in about 10 minutes. (For those of you who haven't been in Singapore long, note that Changi Airport is not just for catching planes. It's a major retail and restaurant hub, especially when the Changi Jewel opens. If our airport gets any bigger, it may as well secede and declare itself an independent country).
The development itself consists of nine 8-storey blocks, with 428 units in total. That's not a lot, so you can expect minimal noise and crowding.
(Browse the latest new condos in Changi and Changi Village that are located in the same area as The Jovell, and get the latest prices, floor plans and information that you need to buy your next home on 99.co!)
Location-wise, there's good and bad news:
The good news is that this a natural catchment area for people working at Changi Airport and its related facilities; a lot of people work at the airport – from air stewards to logistics workers — and we can practically see the dollar signs in landlords' eyes as they realise this.
The bad news is that this isn't an accessible location. The nearest MRT station is Tampines East, and you really need to take a bus there. (Even then, it's 15 minutes with a bus from the main road.)
So while this condo is really convenient for those working at the airport, the location isn't convenient for… well almost anyone who doesn't drive.
The final thing we want to point out is the low price point. This is a highly affordable development, at little over $1,000 psf, which reflects its location. Property investors seeking rental yields might be interested in the low price-tenant pool combi, or consider the soon-to-be-launched The Treasures @ Tampines, near the Simei MRT station and likely to be launched in the $1,300 range later this quarter. The latter has the added advantage of being nearer to Changi Business Park.
**[Browse The Jovell new launch condo units for sale here]
Interested in any of these new launch condos? Browse competitively-priced listings and get in touch with sales reps on Singapore's largest property portal 99.co.
Voice your thoughts on these four hot new launch condos in the comments section or on our Facebook community page.
If you found this article helpful, 99.co recommends 9 must-ask questions at a condo new launch in Singapore and 4 new launch condo projects to watch in Q4 2018
Looking for a new launch condo? Find the home of your dreams today on Singapore's largest property portal 99.co!
New launch alert! Welcome to Grand Dunman
About Ryan Ong
Looking to sell your property?
Whether your HDB apartment is reaching the end of its Minimum Occupation Period (MOP) or your condo has crossed its Seller Stamp Duty (SSD) window, it is always good to know how much you can potentially gain if you were to list and sell your property. Not only that, you'll also need to know whether your gains would allow you to right-size to the dream home in the neighbourhood you and your family have been eyeing.
One easy way is to send us a request for a credible and trusted property consultant to reach out to you.
Alternatively, you can jump onto 99.co's Property Value Tool to get an estimate for free.
If you're looking for your dream home, be it as a first-time or seasoned homebuyer or seller – say, to upgrade or right-size – you will find it on Singapore's fastest-growing property portal 99.co.
Meanwhile, if you have an interesting property-related story to share with us, drop us a message here — and we'll review it and get back to you.
Join our social media communities!
Facebook | Instagram | TikTok | Telegram | YouTube | Twitter