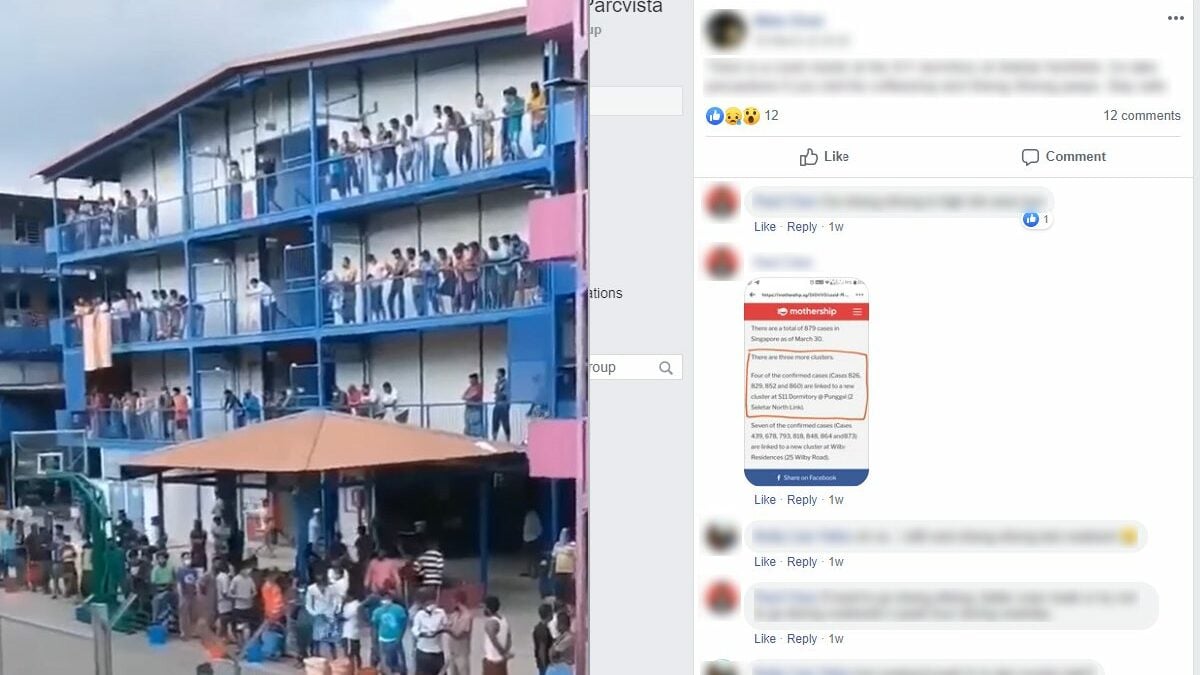 Living next to a temporary pasar malam can be an irritation, but that's nothing compared to living near the largest Covid-19 cluster in Singapore. The massive and growing number of confirmed Covid-19 cases at PPT Lodge 1B—a foreign worker dormitory housing 13,000+ residents—appears to be causing increasing fear and uncertainty among the Punggol HDB residents who live nearby. (Note: PPT Lodge 1B is reported as 'S11 Dormitory' in the media.)
Residents of HDB BTO projects Punggol Parcvista, Bayview and Vue cross paths with foreign workers on a daily basis given that their homes are within one kilometre of dormitory complexes PPT Lodge 1A and 1B. The amenities that residents share with the foreign workers include Nibong LRT Station (and the trains themselves), as well as a Sheng Siong supermarket and 7 Stars Coffeeshop at Punggol Parcvista. (The foreign workers have their own supermarket and dining options within their dormitory compound, but many choose to eat and buy groceries outside.)
PPT Lodge 1B (marked in red on the map above), which is run by S11 Granuity Management Pte Ltd, has been gazetted as an isolation area by the government since 5 April 2020, six days after the first Covid-19 cases broke among its residents. PPT Lodge 1A, which is run by Tee Up Domitory Pte Ltd and is segregated from the former by metal fencing, has no reported cases of Covid-19. (As of 9 April, 99.co understands that workers from PPT Lodge 1A are still allowed to enter and exit their dormitory freely and visit amenities in the neighbourhood.)
On 9 April, the Covid-19 cluster at PPT Lodge 1B dormitory increased by 166 confirmed cases compared to the previous day. Preliminary investigations by the authorities have also traced the PPT Lodge 1B cluster, along with four other dormitories, to a cluster at Mustafa Centre. [15 April update: The number of confirmed cases at PPT Lodge 1B stands at 797]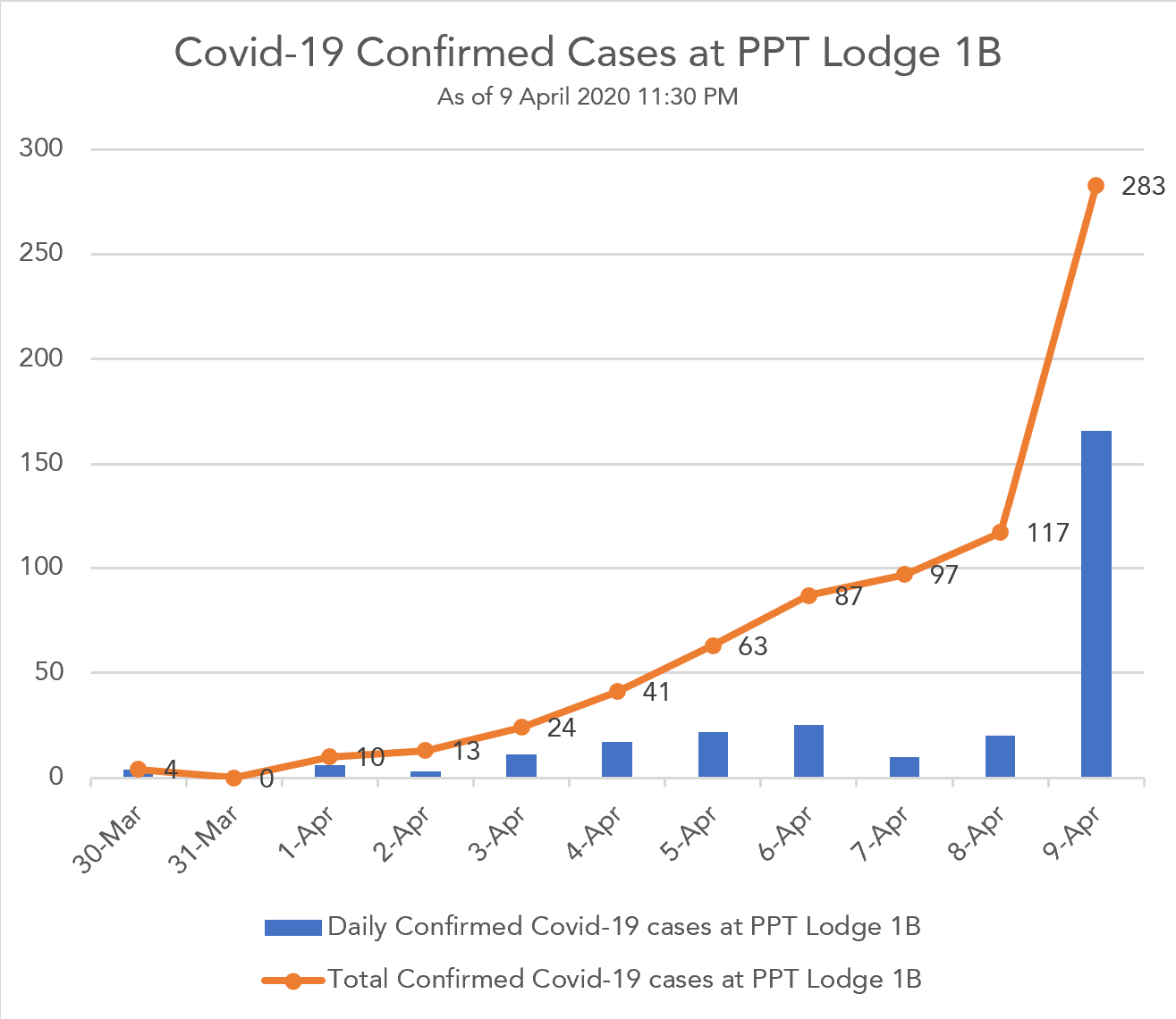 [
Recommended article:
What HDB didn't tell you about Punggol (and Pasir Gudang)
]
How Punggol HDB residents' fear grew from Day One
Let's now have a little rewind. From the first reported cases of the coronavirus infections at PPT Lodge 1B (also referred to as S11 Dormitory) onwards, Punggol residents who live in the vicinity of the growing Covid-19 cluster have been vocal on resident Facebook groups they belong to. On the Punggol Parcvista residents Facebook group (30 March):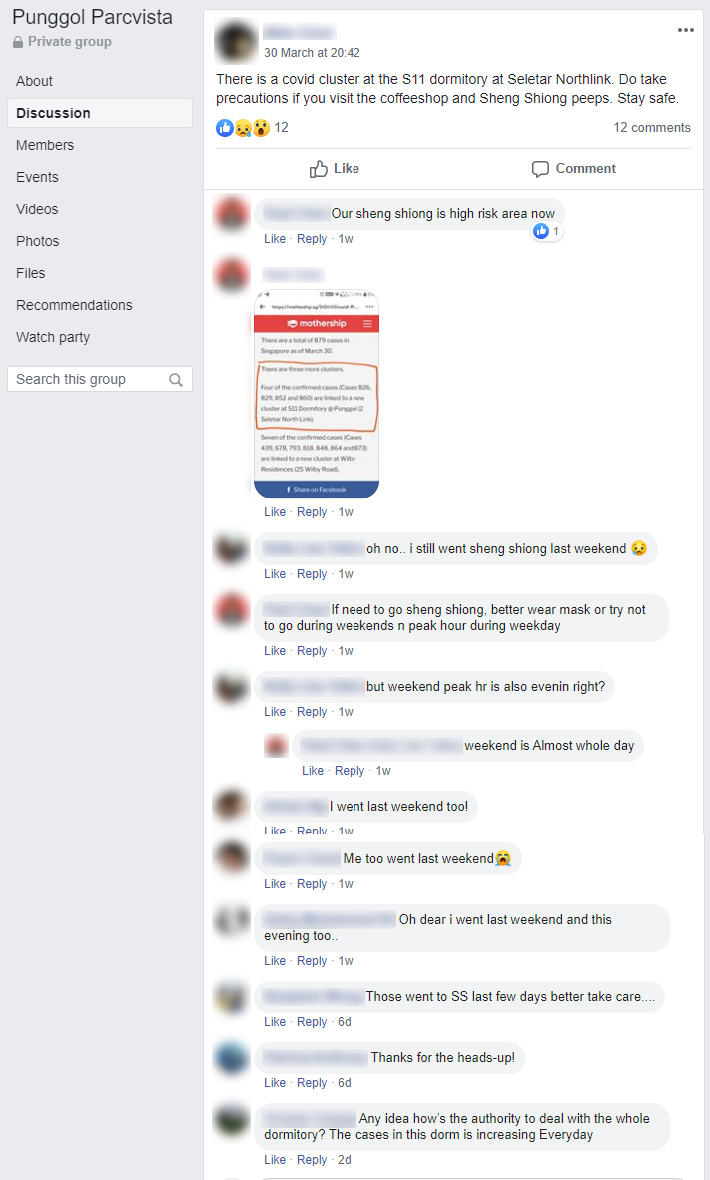 On the Punggol Parcvista residents Facebook group (4 April):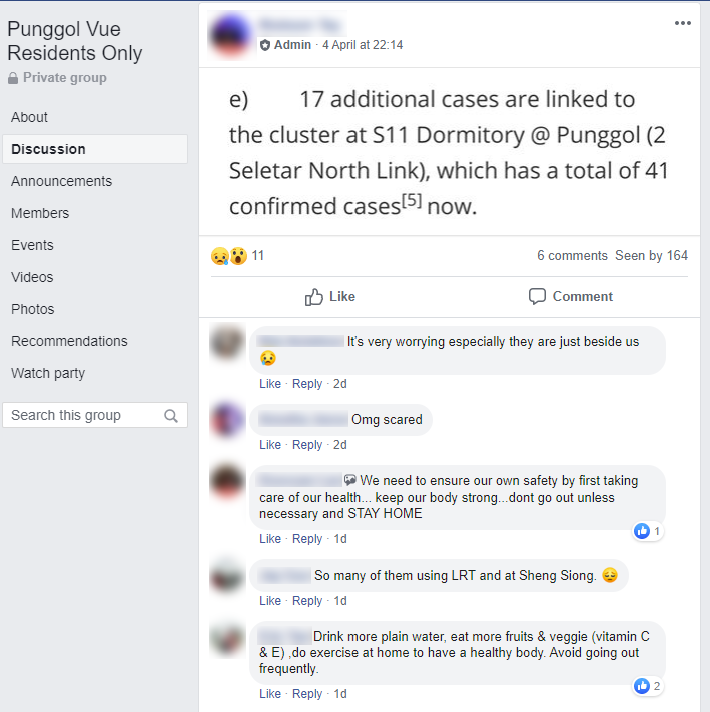 The top worry among residents was the fact that they have recently shared an enclosed space with foreign workers living in the nearby dormitories, in particular the Sheng Siong* supermarket that's next to Nibong LRT station. One resident for Punggol Parcvista called the supermarket "a high risk area".
*Sheng Siong's staff now wear surgical masks and latex gloves for their own protection, and has measures for hygiene in place.
"Please stay calm."
On 5 April, the day that PPT Lodge 1B was gazetted as an isolation area (i.e. locked down), netizens/Punggol residents posted comments and an assortment of questions in response to a Facebook post by constituency Member of Parliament (MP) Janil Puthucheary regarding the gazetting:

In particular, the gazetting of PPT Lodge 1B as an isolation area sparked fresh fears among Punggol residents (even though consituency MP Janil Puthucheary pleaded for calm):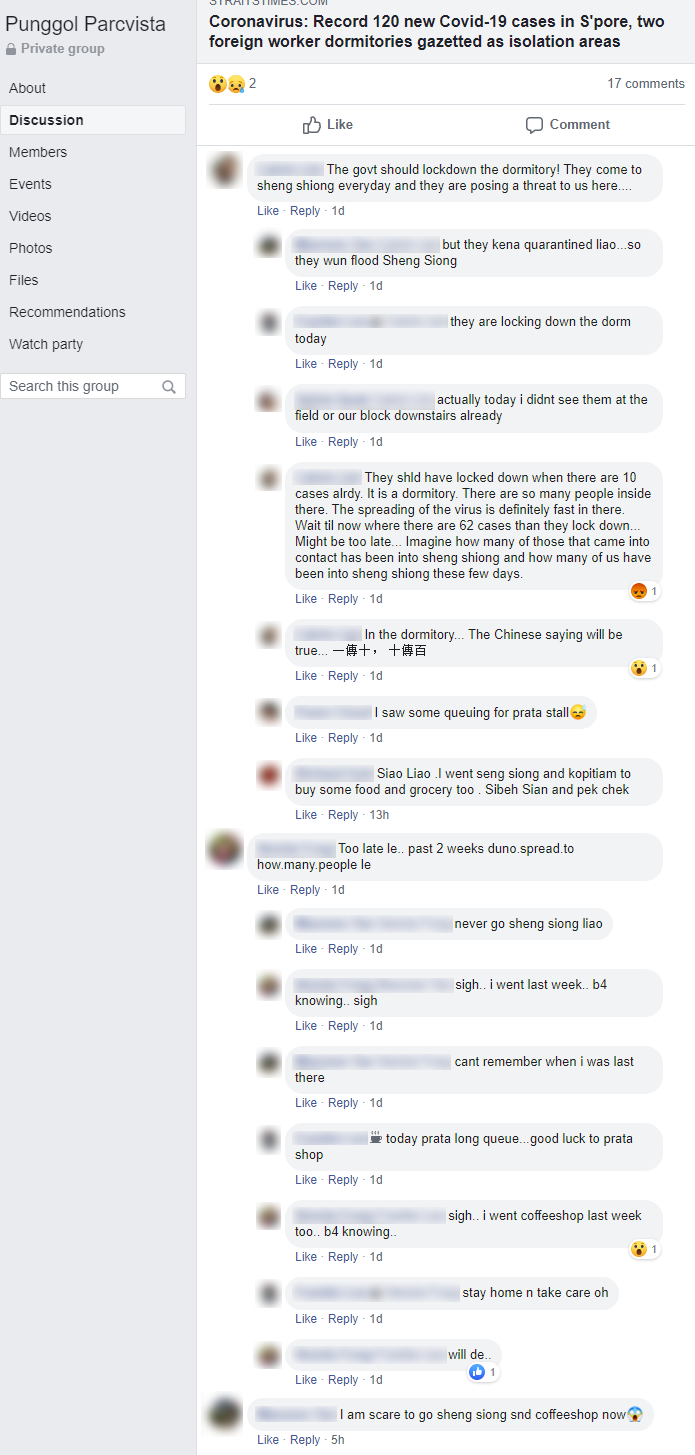 The escalation of fear among residents is obvious. One resident said that "they [the authorities] should have locked down when there were 10 cases", while another said that "I am scare to go Sheng Siong and coffeeshop now".
Frantic appeal by residents' as dormitory Covid-19 cluster explodes with new cases on 9 April
On 9 April 2020, the one-day increase of 166 cases at the PPT Lodge 1B cluster escalated fears among residents ever further. A resident of Punggol Parcvista sent an email seeking a response from MP Janil Puthucheary (who's also a certified medical doctor), while urging other residents to do the same: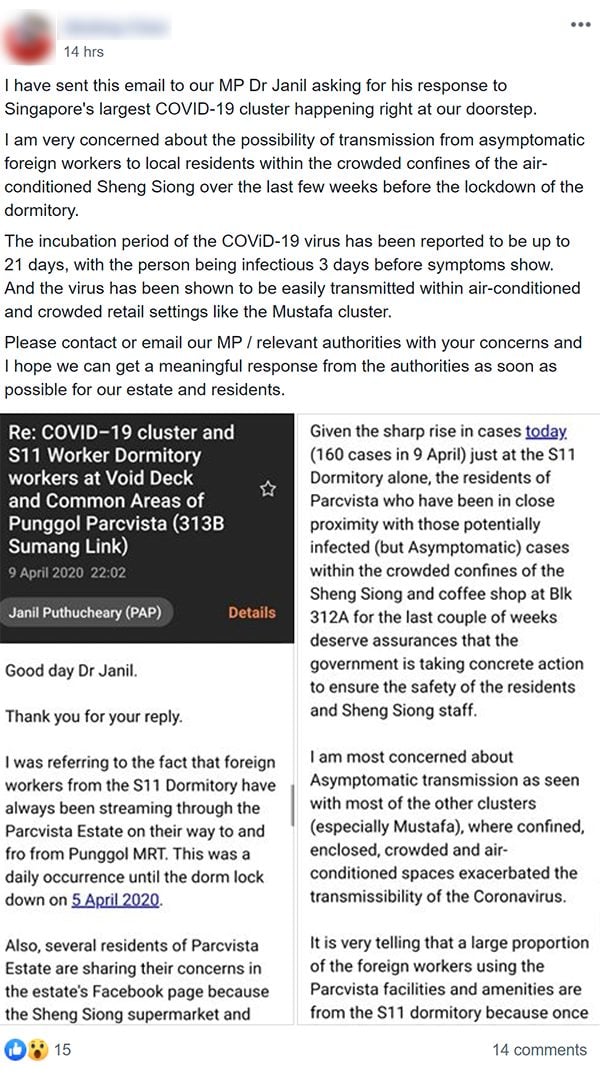 Editor's note: 99.co attempted to get in touch with MP Janil Puthucheary on 7 April 2020; multiple emails to the MP went unanswered.
[We will update this article as the situation develops.]
Some important questions… and answers:
Q: Did the Punggol HDB residents know their BTO flats were going to be built near to a foreign workers' dormitory?
A: PPT Lodge 1B and 1A were built towards the end of 2014. Punggol Bayview and Vue were BTO projects launched by HDB in January 2014, with 1,096-unit Punggol Bayview marketed as HDB as "Premium Flats".
For applicants to these two Punggol BTO projects, the only clue about the possible presence of a nearby foreign workers' dormitory in the future was a line of fine print in the respective e-brochures of each project: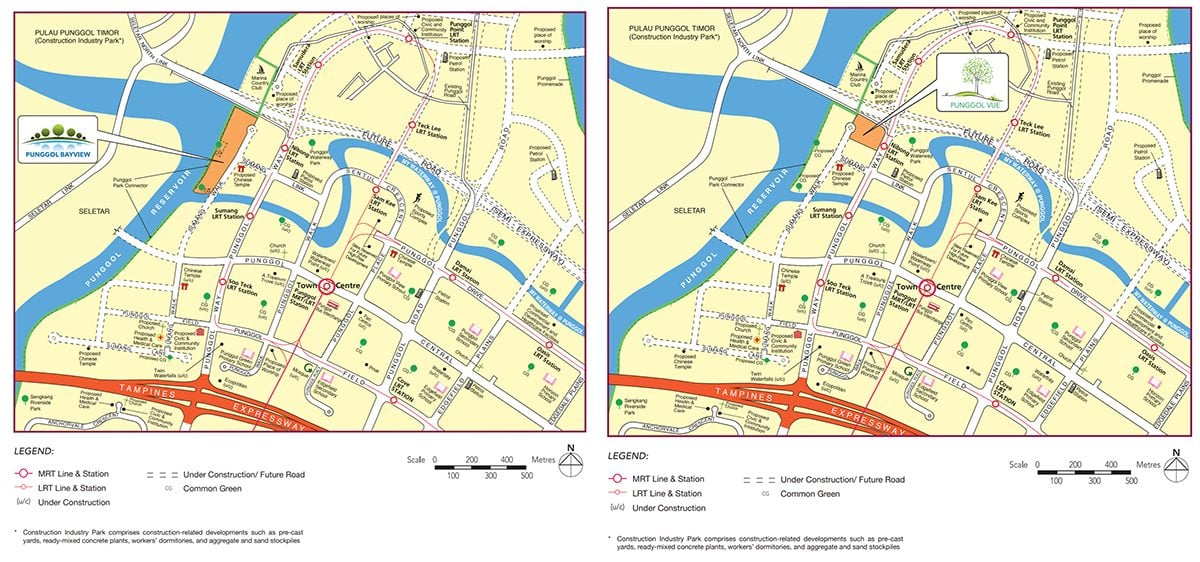 On the map, HDB put an asterisk next to Pulau Punggol Timor, the site of the current PPT Lodge 1B Covid-19 cluster. The fine print refers to the asterisked location and reads: "Construction Industry Park comprises of construction-related developments such as pre-cast yards, ready-mixed concrete plans, workers' dormitories, and aggregate and sand stockpiles."
It is logical that, compared to heavy industries, the dormitories that were to be built on Pulau Punggol Timor would be located closer to a population centre (i.e. Punggol) as foreign worker residents require a certain level of proximity to amenities, in particular Nibong LRT station. So, the current location of PPT Lodge 1B makes sense, even if it's only 400 metres to the nearest HDB flat.
More importantly, it appears that many of the BTO applicants for the two projects had not caught HDB's fine print on the e-brochure. Rather, they had found out through a news report in The Straits Times seven months after they applied. Most of them were already waiting to select a flat, and backing out would mean being barred from applying for another BTO project for one year.

According to posts on the local forum Hardwarezone, a number Punggol Bayview applicants expressed their reservations after learning of the construction of PPT Lodge 1B in their backyard. One forum member, presumably an applicant, commented that "can't believe no one saw the footnote on the map when applying for it back in Jan, including myself". In another forum thread, an applicant described the dorms as "too close for comfort":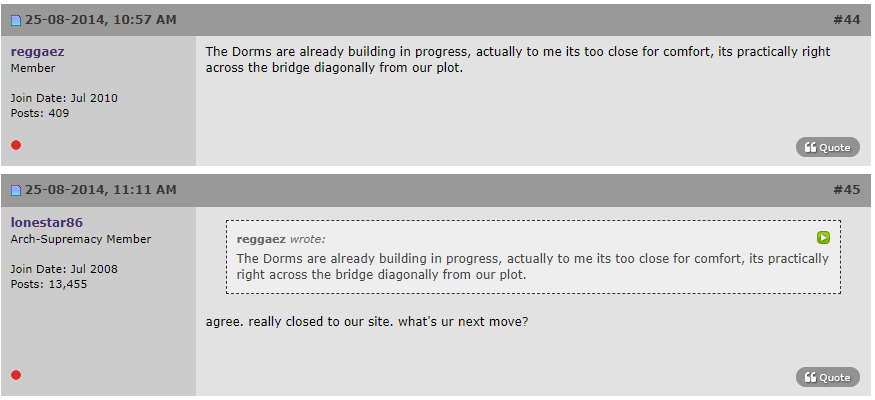 Punggol Parcvista, on the other hand, was a BTO project launched in May 2011, three years earlier than Punggol Bayview and Vue. The URA Master Plan that was available back then (i.e. the 2008 edition) did not reveal any plans for Pulau Punggol Timor, with the entire area marked yellow as a 'reserve site'.
Further planning on Pulau Punggol Timor arrived in the subsequent 2014 edition, when the URA zoned the current site of PPT Lodge 1A and 1B as a 'civic & community institution". Aside from foreign worker dorms, this land use classification is also applicable to community clubs and nursing homes.
You can see the difference here, between the latest URA Master Plan 2019 (left) and URA Master Plan 2008 (right; with additional labels):
So, most Punggol Parcvista residents only learnt that a foreign workers' dormitory was built nearby when they moved in back in 2014, the same year the dorms were built:

The big lesson for BTO applicants and homebuyers? Always look at the fine print in brochures and check the URA Master Plan before buying your home.
[
Recommended article: 
URA Master Plan for Property Buyers: How to understand it
]
Q: Could the Covid-19 cluster at the dormitory be prevented in the first place?
A: It's worth noting that when PPT Lodge 1B first opened, it was held up as a shining example of how a foreign workers' dormitory should be. Fast forward to the present, and the same dormitory paints a very different picture, with "filthy floors, overflowing rubbish bins, and crowded dorms".
Now the fault may not lie with the dormitory itself, and definitely not with the foreign workers (for whom we have to thank for building our condos and HDB flats). Hard questions have to be levied at the dormitory's management, as well as the regulations in place to ensure sanitary conditions are kept.
Tellingly, there was a warning sign at PPT Lodge 1B last year, when the Ministry of Health (MOH) reported three cases of the infectious (but rare) disease, measles, at the dormitory in 2019. On hindsight, perhaps something could have been done that could have prevented the extent of outbreak that we're seeing now.
On 7 April 2020, Minister for Manpower Josephine Teo promised to improve the standard of dormitories once the Covid-19 outbreak is over.
Q: What will happen from now on?
A: We are likely to see more confirmed cases of Covid-19 within PPT Lodge 1B, but we cannot say for certain if cases will emerge in Punggol Parcvista, Bayview and Vue that can be definitively linked to the dormitory cluster. Regardless, it is now a long and agonising period for the residents, given that it could take up to 14 days for Covid-19 symptoms to surface after the initial exposure (according to the World Health Organisation).
The government is also taking action to limit the spread of Covid-19 among foreign workers. More than 5,000 of those who are not ill and are working in essential services have been moved out to army camps and vacant HDB blocks such as those at Tanjong Pagar, Redhill and Jurong.
To further lower the risks within the communities of Punggol Parcvista, Bayview and Vue, the following steps should be taken not just to safeguard the physical well-being of residents, but also to address the increasing fear and anxiety that could be facing right now:
Clinics in the vicinity should be kept open daily and be equipped with Covid-19 test kits
Sheng Siong can temporarily close the outlet for disinfection before reopening with staff rotated in from other outlets
The authorities should clarify the presence of non-quarantined foreign workers in Punggol, to quell any misunderstanding
The authorities should step up the enforcement of circuit breaker measures in the neighbourhood
Communication between those in-the-know (e.g. the local MP) and residents should be more forthcoming
At the time of publishing, the MOH states that the risk of Covid-19 infection from transient contact (eg. walking past someone, touching someone briefly and washing hands afterwards) "is assessed to be low". The public is also advised to stay home, going out of their residence only when necessary and within the confines of the circuit breaker measures.
The government has also set up hotlines to address Singaporeans mental well-being during the Covid-19 crisis. Those with general anxiety or stress may call the National CARE Hotline at 6202-6868 for support. Those specifically experiencing marital or parenting stress may contact CPH Online Counselling at www.cphonlinecounselling.sg. [Weekdays from Monday to Friday, 9am to 6pm.]
More information is available on the MOH Covid-19 website. We will update this article as the situation in Punggol and PPT Lodge 1B develops.
Are you worried about the Covid-19 cluster at dormitories? Voice your thoughts in our comments section or on our Facebook community page.
If you found this article useful, check out Can I move house during the Covid-19 circuit breaker period? and Can't pay your home loan due to Covid-19? Now you can defer it.
About Kyle Leung
Content Marketing Manager @ 99.co
Looking to sell your property?
Whether your HDB apartment is reaching the end of its Minimum Occupation Period (MOP) or your condo has crossed its Seller Stamp Duty (SSD) window, it is always good to know how much you can potentially gain if you were to list and sell your property. Not only that, you'll also need to know whether your gains would allow you to right-size to the dream home in the neighbourhood you and your family have been eyeing.
One easy way is to send us a request for a credible and trusted property consultant to reach out to you.
Alternatively, you can jump onto 99.co's Property Value Tool to get an estimate for free.
If you're looking for your dream home, be it as a first-time or seasoned homebuyer or seller – say, to upgrade or right-size – you will find it on Singapore's fastest-growing property portal 99.co.
Meanwhile, if you have an interesting property-related story to share with us, drop us a message here — and we'll review it and get back to you.
Join our social media communities!
Facebook | Instagram | TikTok | Telegram | YouTube | Twitter