Rivercove Residences EC
District 19 - 20 Anchorvale Lane - Executive Condo View on map
| | |
| --- | --- |
| Project Name | Rivercove Residences |
| Address | 318 Anchorvale Lane, Singapore 542318 |
| District | 19 |
| Showflat Location | Junction of Sengkang East Avenue and Anchorvale Lane |
| Property Type | Executive Condominium (EC) |
| Built Year | 2020 |
| Tenure | 99-year leasehold |
| Gross Floor Area | 63,043.8 sqm |
| Number of Blocks | 10 |
| Number of Floors | 16 |
| Number of Units | 628 |
| Number of Carpark Lots | 628 |
| Developer | Hoi Hup Sunway Sengkang Private Limited |
| Date of TOP | September 2020 |
The up-and-coming Rivercove Residences EC is slated to launch on 1 April this year. A highly anticipated EC, this is the one and only EC launched for the year of 2018. 
Rivercove is a 99-year leasehold project initiated by Hoi Hup Realty and Sunway Developments, jointly known as Hoi Hup Sunway Sengkang Private Limited. This is yet another EC project by established developer Hoi Hup Realty. Last July, Hoi Hup's Hundred Palms Residences EC in Yio Chu Kang sold out in seven hours upon launching. Reviews for Hundred Palms had been positive. Buyers responded that they were drawn to Hoi Hup's Hundred Palms due its well-thought out design of space and layout. They commented that it was functional and practical. 
Given the well-reception of that EC, we expect this upcoming launch to attract a similarly interested crowd. Based on 99.co's insider's news, Rivercove Residences will be no less comparable, with similar up-to-date features such as the SMART-home system that can be controlled using an app. 
So, if you've ever dreamed of living in a tranquil surrounding without having to pay the kind of high premium that only the rich can afford, then Rivercove EC's riverfront living looks like the ideal for you. Situated at Anchorvale Lane in the estate of Sengkang, this EC spans over a land area of 226,199 sq ft. It has an entire facade facing the Punggol Reservoir. What's more - this residence comes with a side gate granting direct access to the park connector. Riverfront living will be right at your doorstep. 
Even when indoors, residents can enjoy the full facilities that this condo is equipped with. There are 6 zones within the condo - Entrance, Family, Active, Relaxation, Fitness and Nature. Additionally, this condo is surrounded by the greenery of Anchorvale Lane, with Punggol Reservoir in the backdrop. Residents will be able to enjoy recreational activities in the peace and tranquility that this condo affords. 
Its expected date of TOP is September 2020.
Directions to Showflat
By Bus: 

Take bus 50 from Punggol Temporary Bus Interchange, or bus 163 or 163M from Sengkang Bus Interchange.


By MRT:

 From Sengkang MRT station, take the Sengkang LRT Line West Loop and alight at either Layar LRT or Tongkang LRT. The showflat is a 5-minute walk away from either LRT station.


By private transport:

 If driving, turn into Anchorvale Lane from Sengkang West Ave.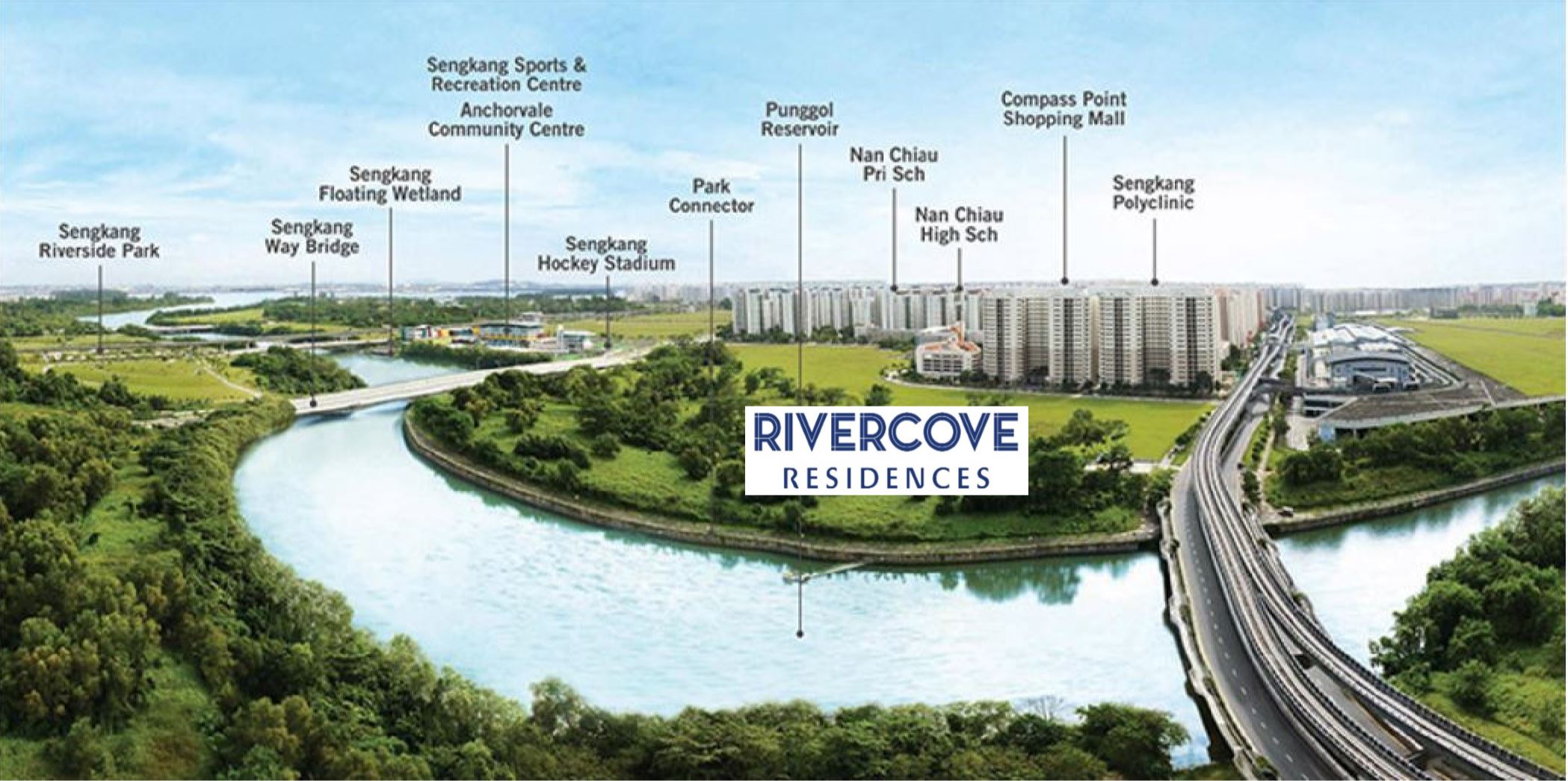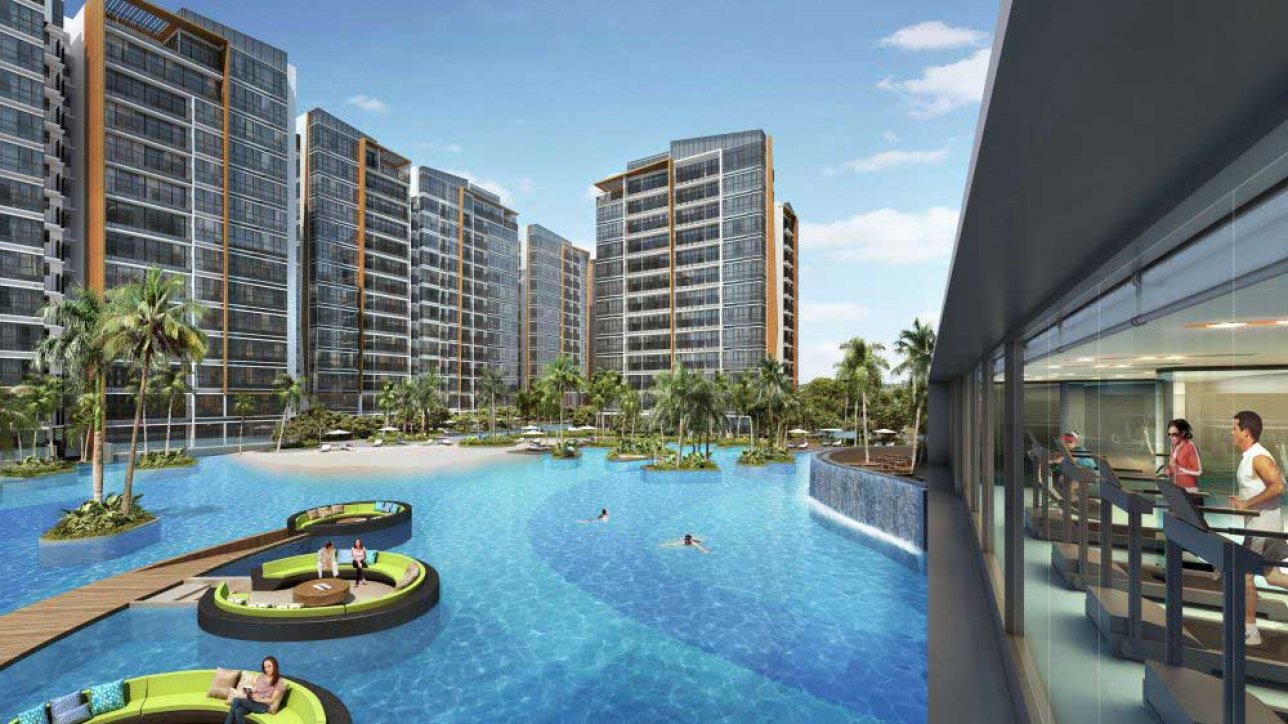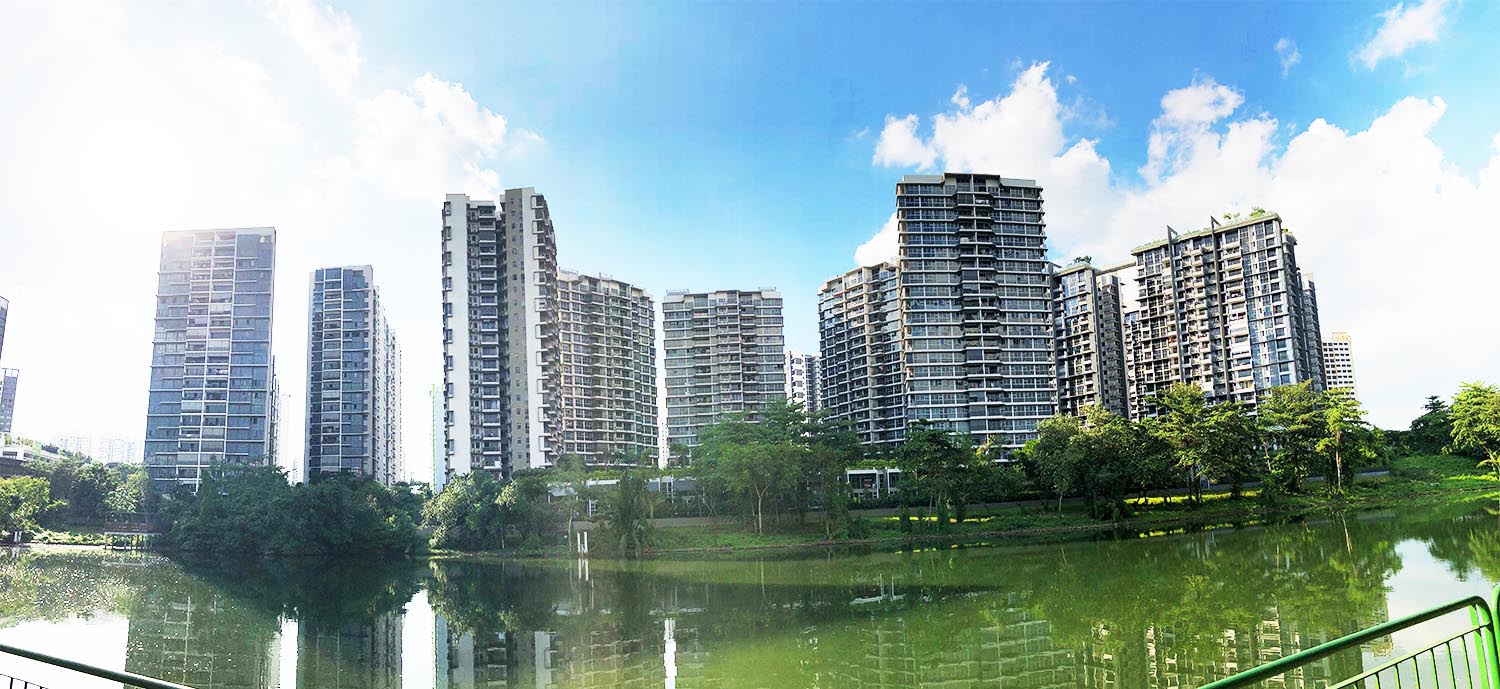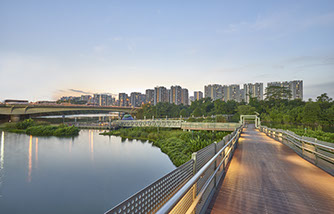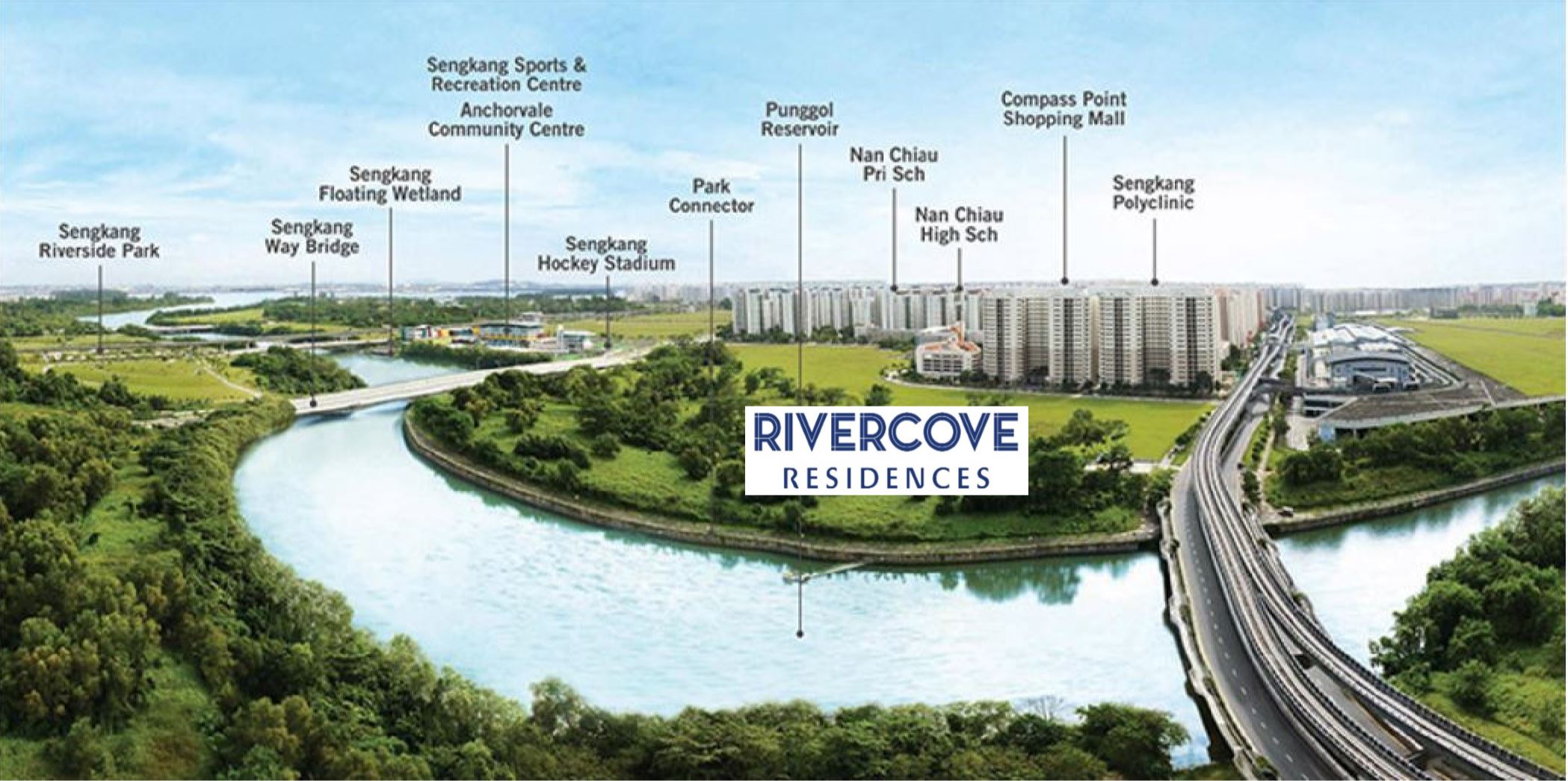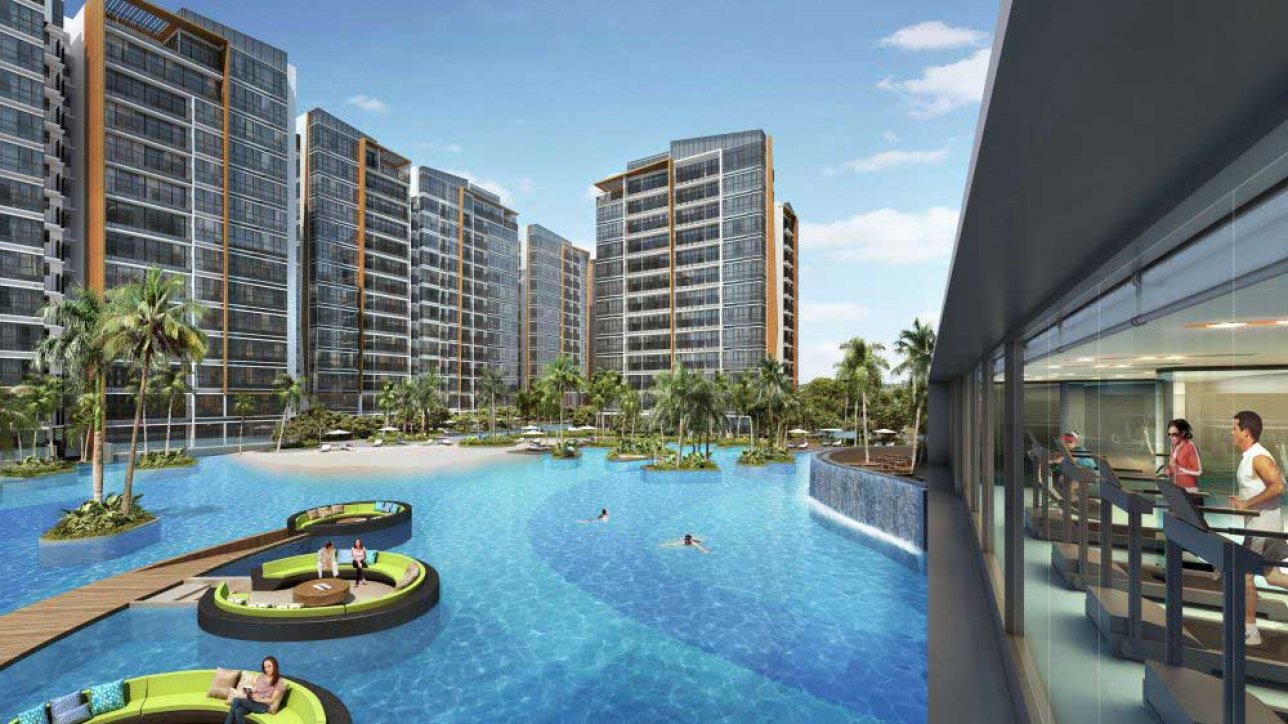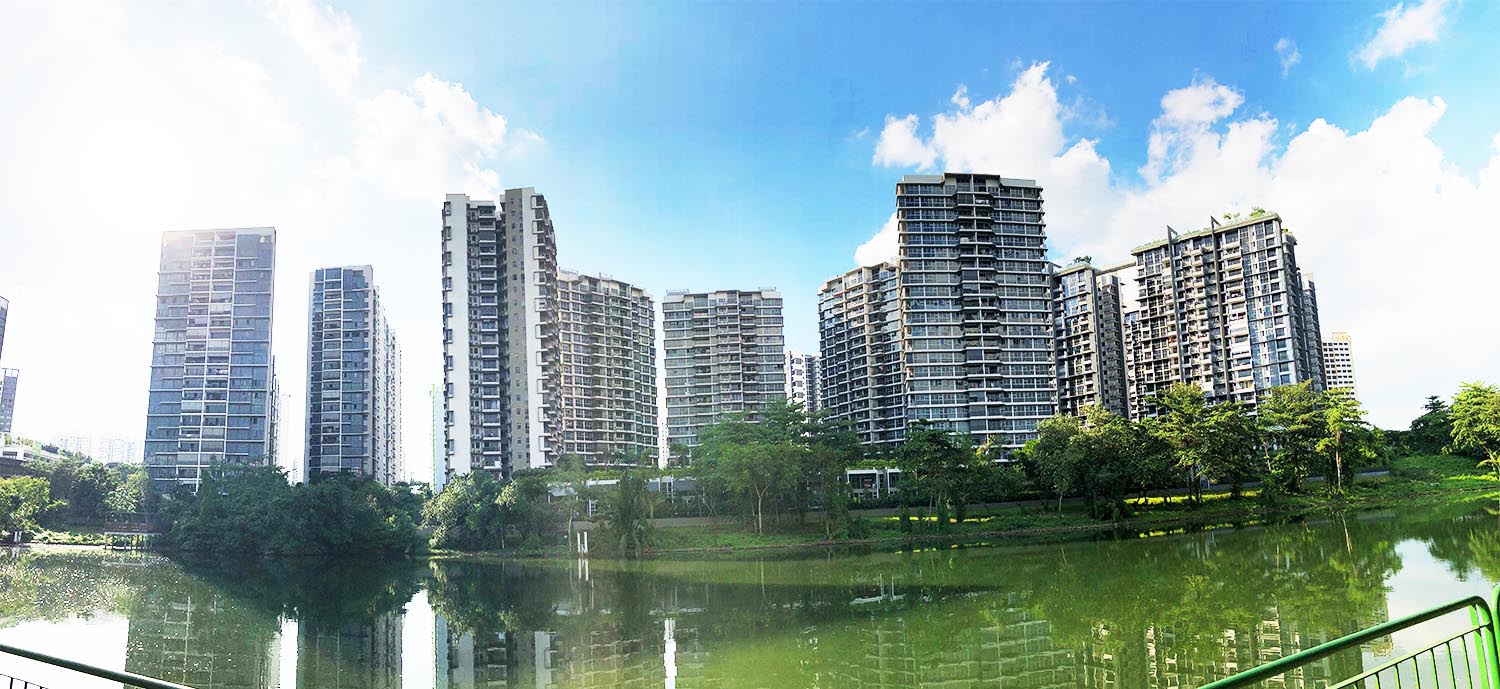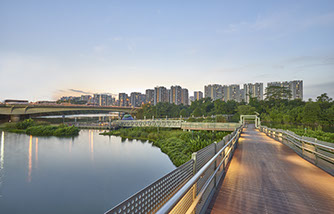 Project Highlights
The sole executive condo (EC) launched for the rest 2018
Riverfront living experience at Anchorvale Lane with a waterside facade facing Punggol Reservoir
Nearest to Tongkang LRT Station (7-min walk)
Nearest to Tampines Express way (TPE, 5-min drive)
SMART home features that can be controlled remotely via an app.
Full facilities - including 50-metre lap pool, gym, function pavilions, alfresco dining areas, clubhouse
Direct access to park connector via EC's side gate
Recreational spots - Sengkang Riverside Park, Sengkang Sports and Recreation Centre, My Waterway @ Punggol
Schools nearby - Nan Chiau Primary School, Springdale Primary School, Pei Hwa Secondary School
Shopping malls - The Seletar Mall, Compass One
Medical centre - Sengkang General Hospital (future)
Site Plan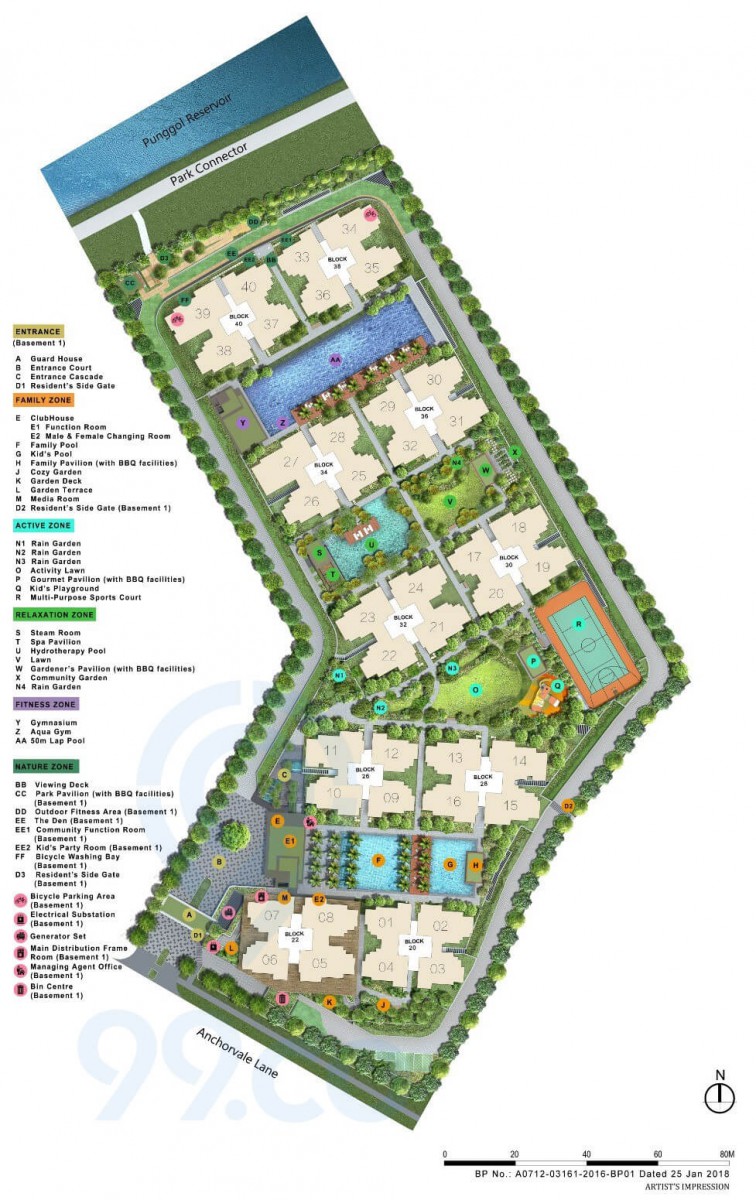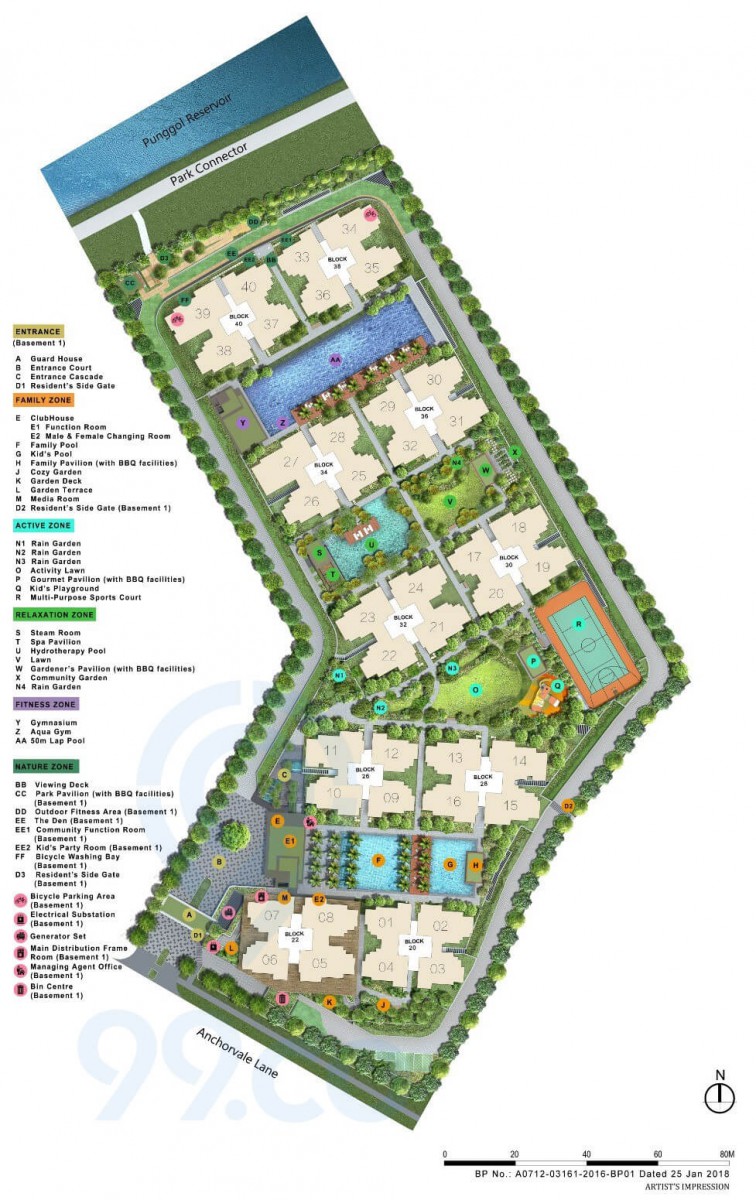 Legend
A - Guard House
B - Entrance Court
C - Entrance Cascade
D1 - Resident's Side Gate
E - ClubHouse
F - Family Pool
G - Kid's Pool
H - Family Pavilion (with BBQ facilities)
J - Cozy Garden
K - Garden Deck
L - Garden Terrace
M - Media Room
D2 - Resident's Side Gate (Basement 1)
N1 - Rain Garden
N2 - Rain Garden
N3 - Rain Garden
O - Activity Lawn
P - Gourmet Pavilion (with BBQ facilities)
Q - Kid's Playground
R - Multi-Purpose Sports Court
S - Steam Room
T - Spa Pavilion
U - Hydrotherapy Pool
V - Lawn
W - Gardener's Pavilion (with BBQ facilities)
X - Community Garden
N4 - Rain Garden
Y - Gymnasium
Z - Aqua Gym
AA - 50m Lap Pool
BB - Viewing Deck
CC - Park Pavilion (with BBQ facilities) (Basement 1)
DD - Outdoor Fitness Area (Basement 1)
EE - The Den (Basement 1)
EE1 - Community Function Room (Basement 1)
EE2 - Kid's Party Room (Basement 1)
FF - Bicycle Washing Bay (Basement 1)
D3 - Resident's Side Gate (Basement 1)
Other facilities in Basement 1 - Bicycle Parking Area, Electrical Substation, Generator Set, Main Distribution Frame Room, Managing Agent Office, Bin Centre
Elevation Charts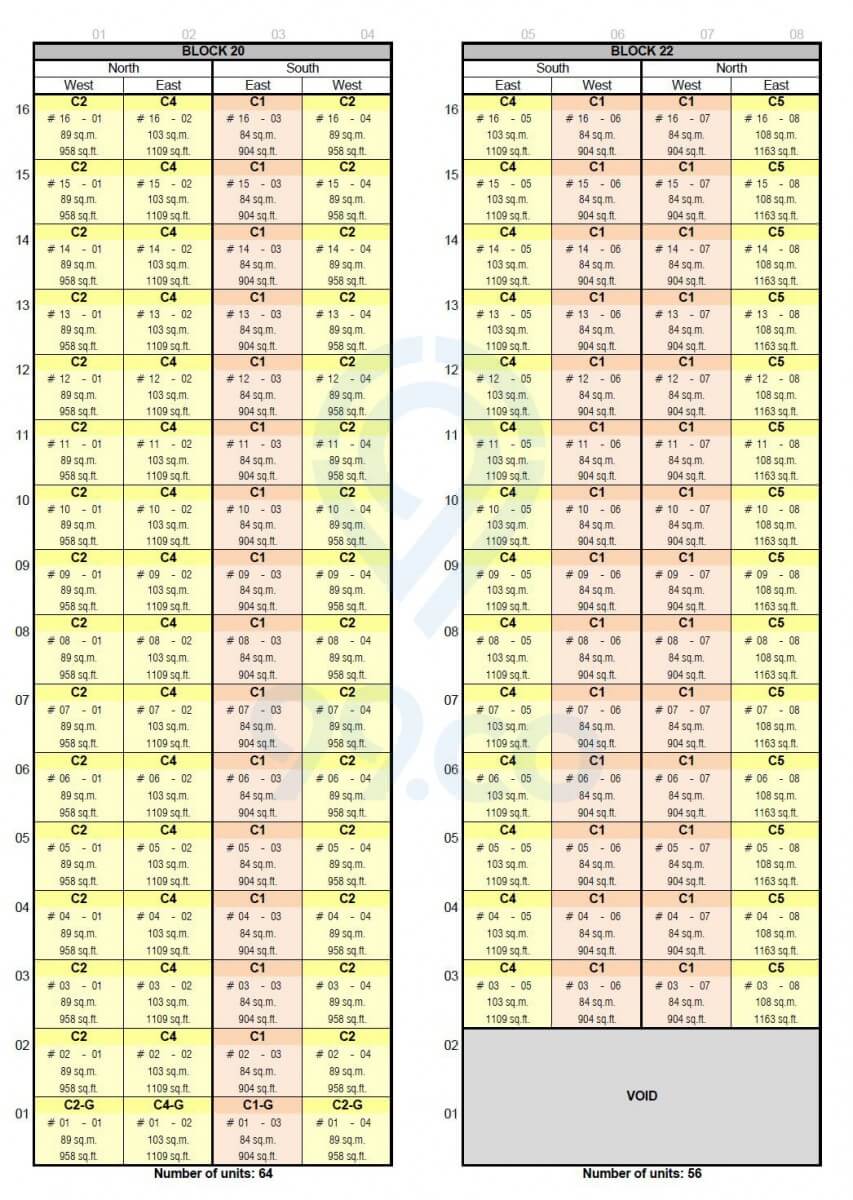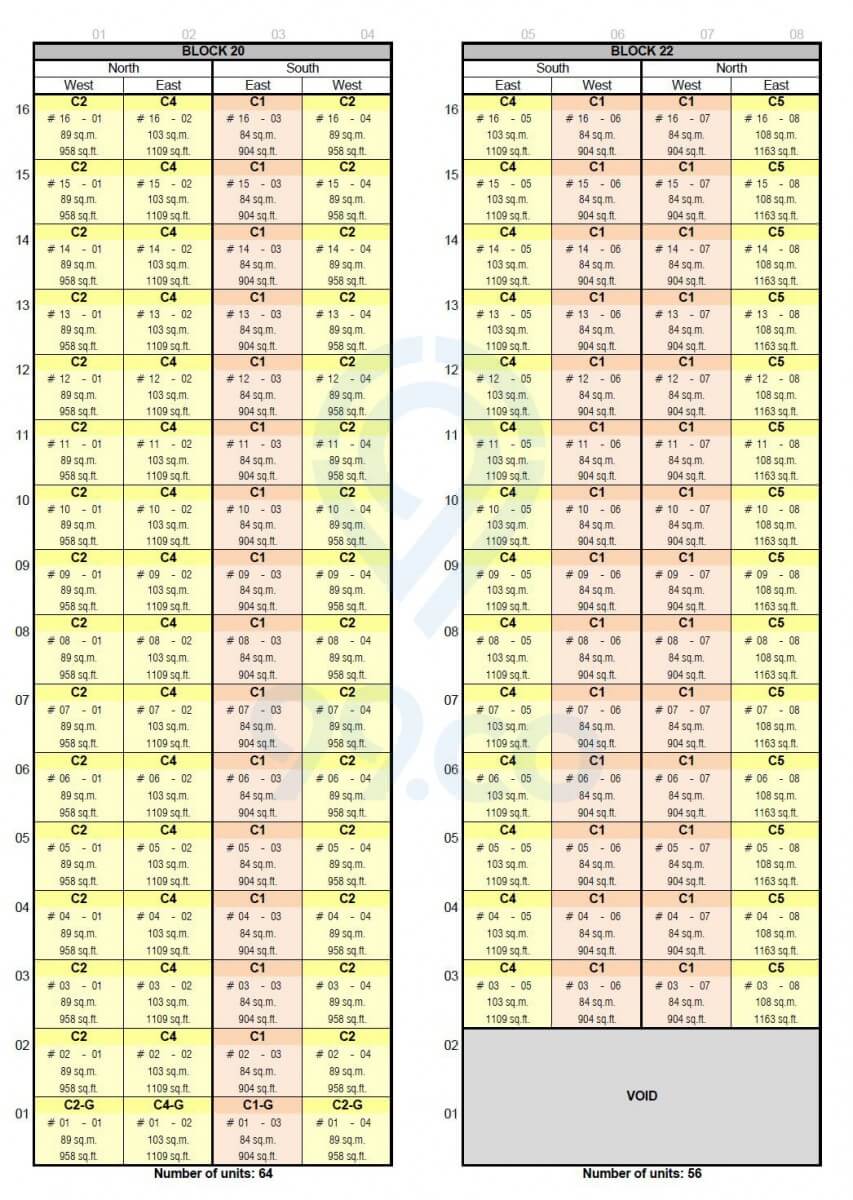 Blocks 20 and 22
There are 64 units in Block 20.
There are 56 units in Block 22.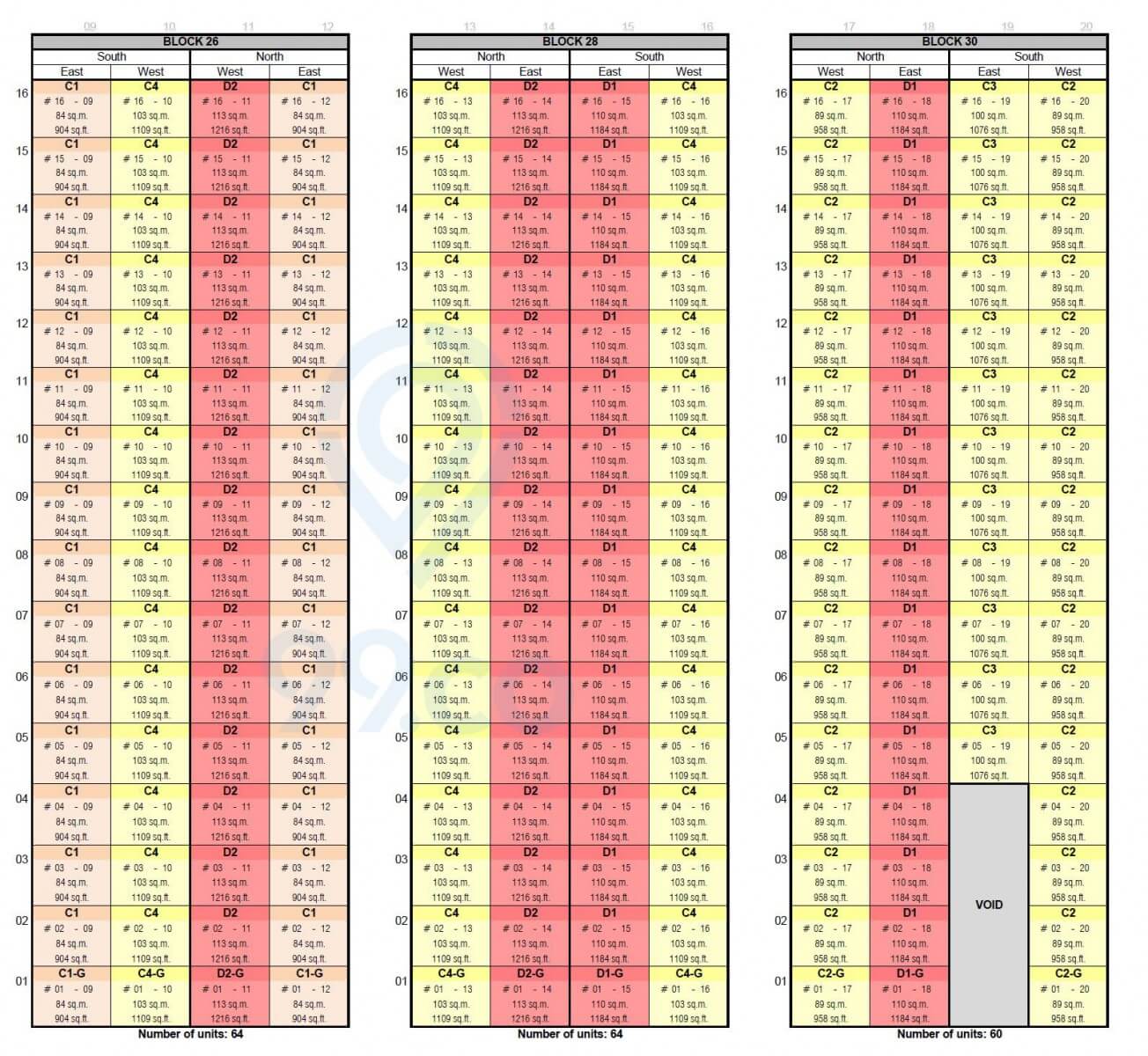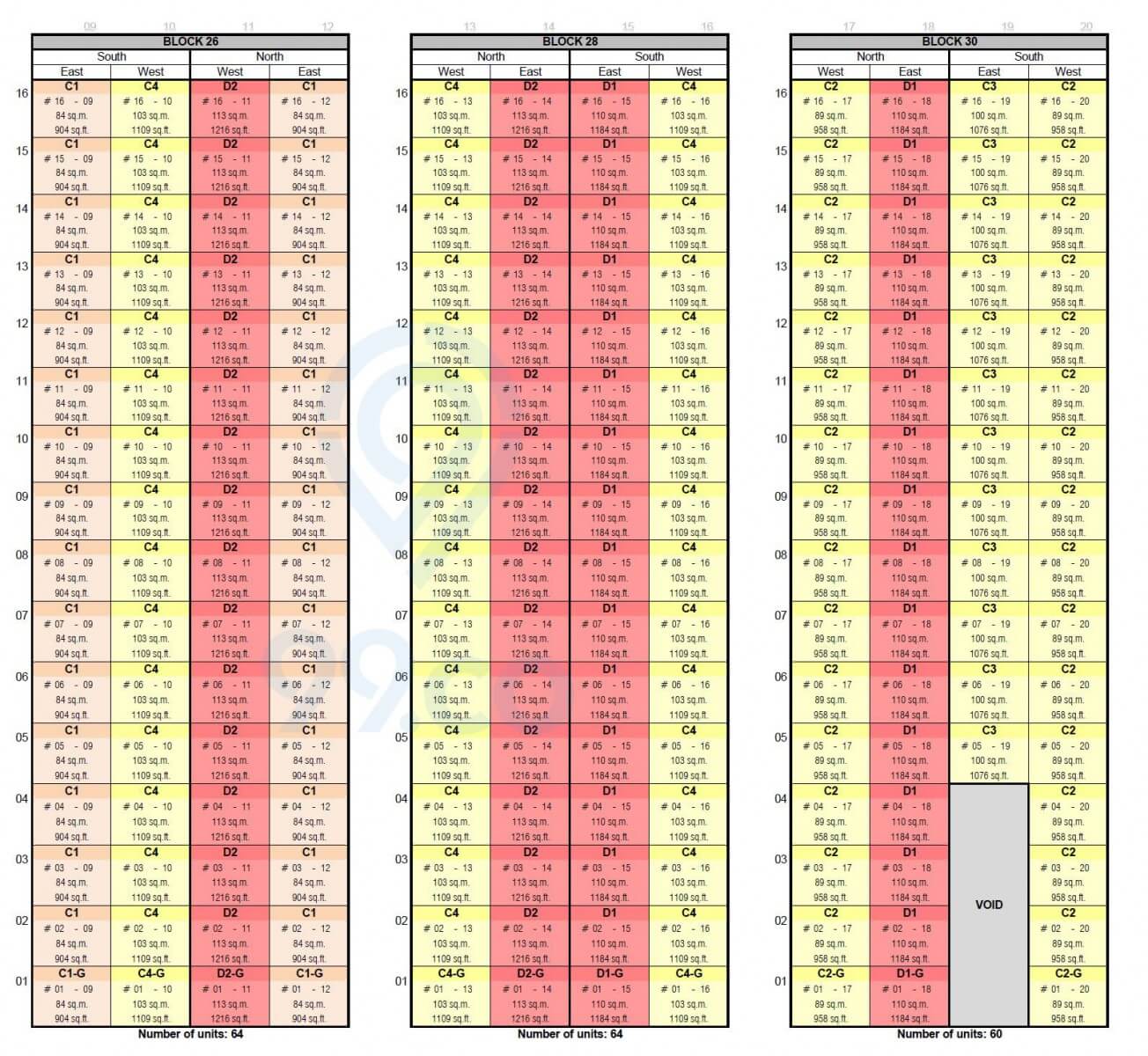 Blocks 26, 28 and 30
There are 64 units in each of the Blocks 26 and 28.
There are 60 units in Block 30.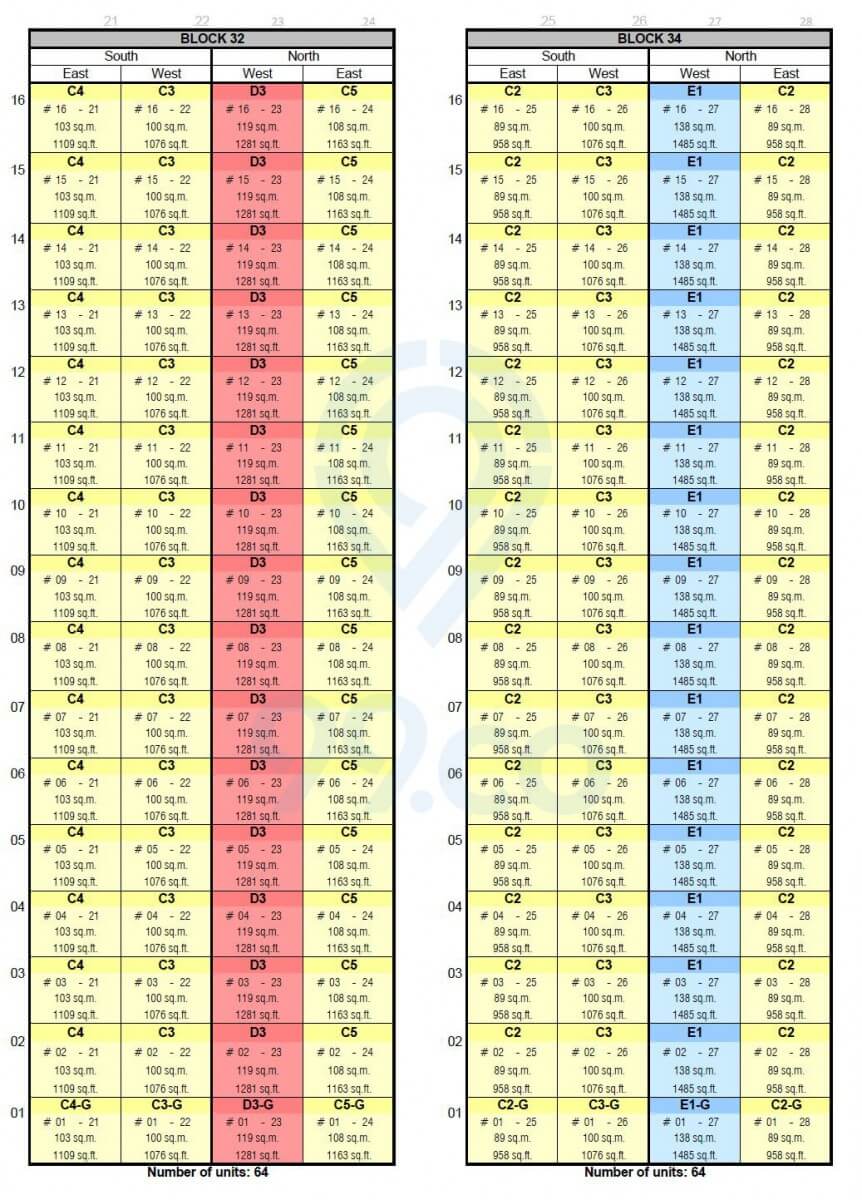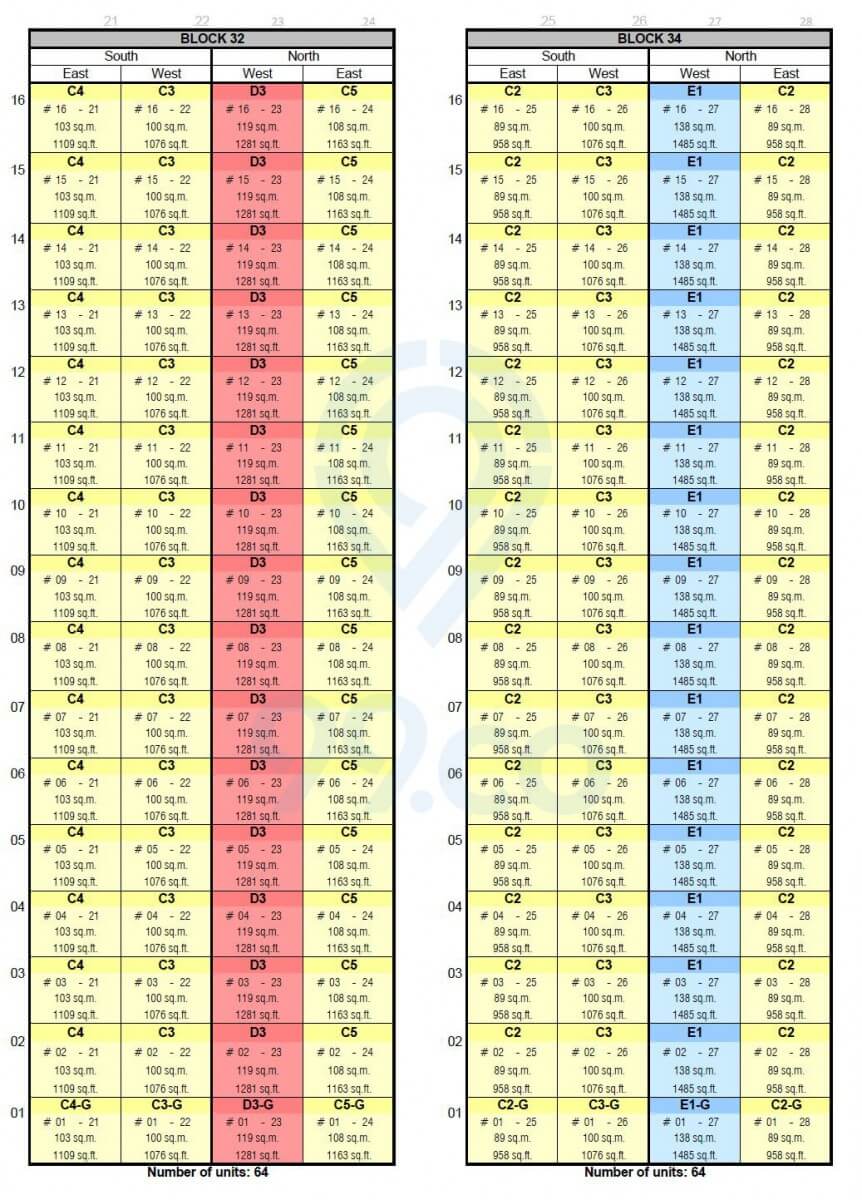 Blocks 32 and 34 
There are 64 units in each of the Blocks 32 and 34.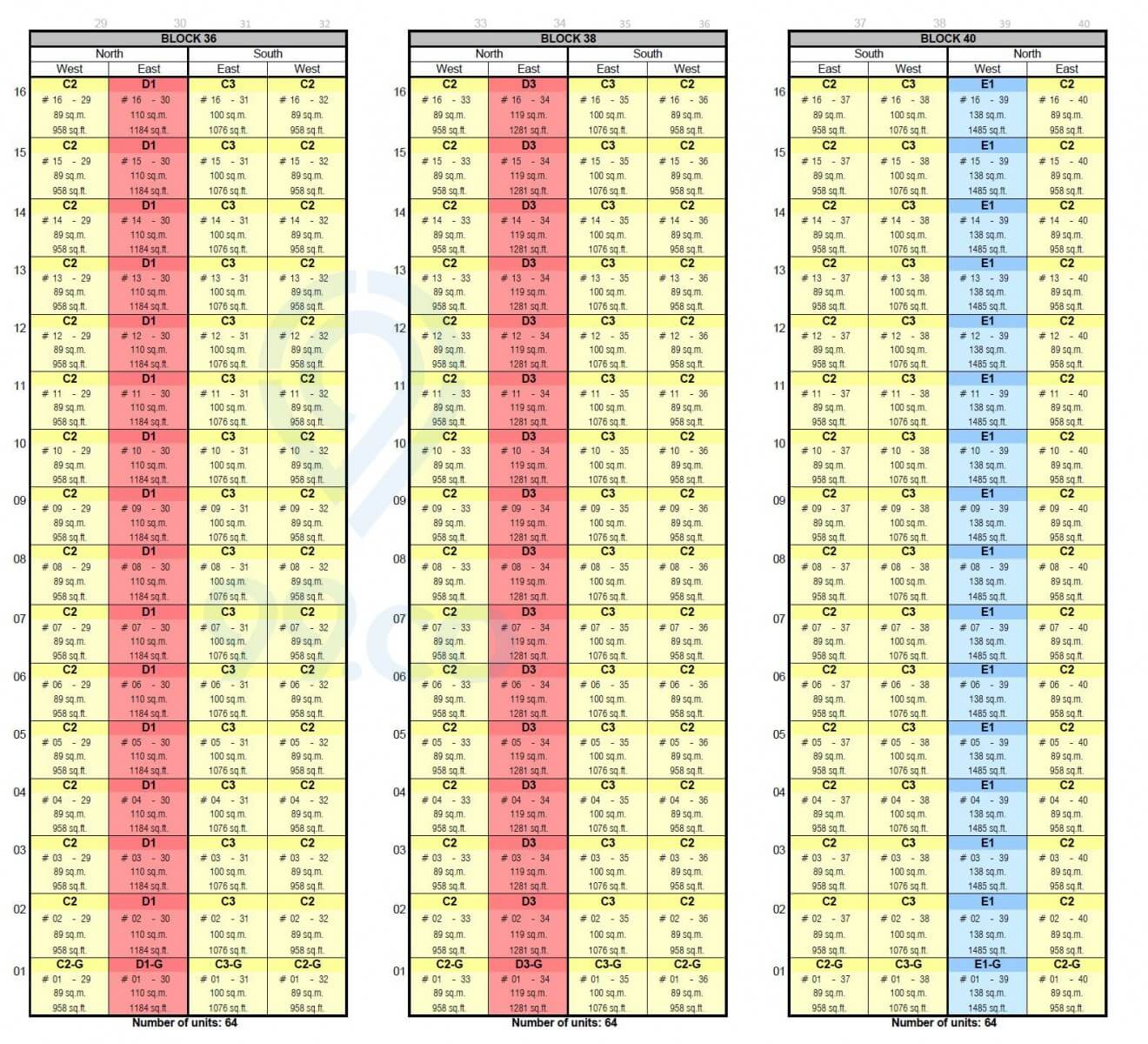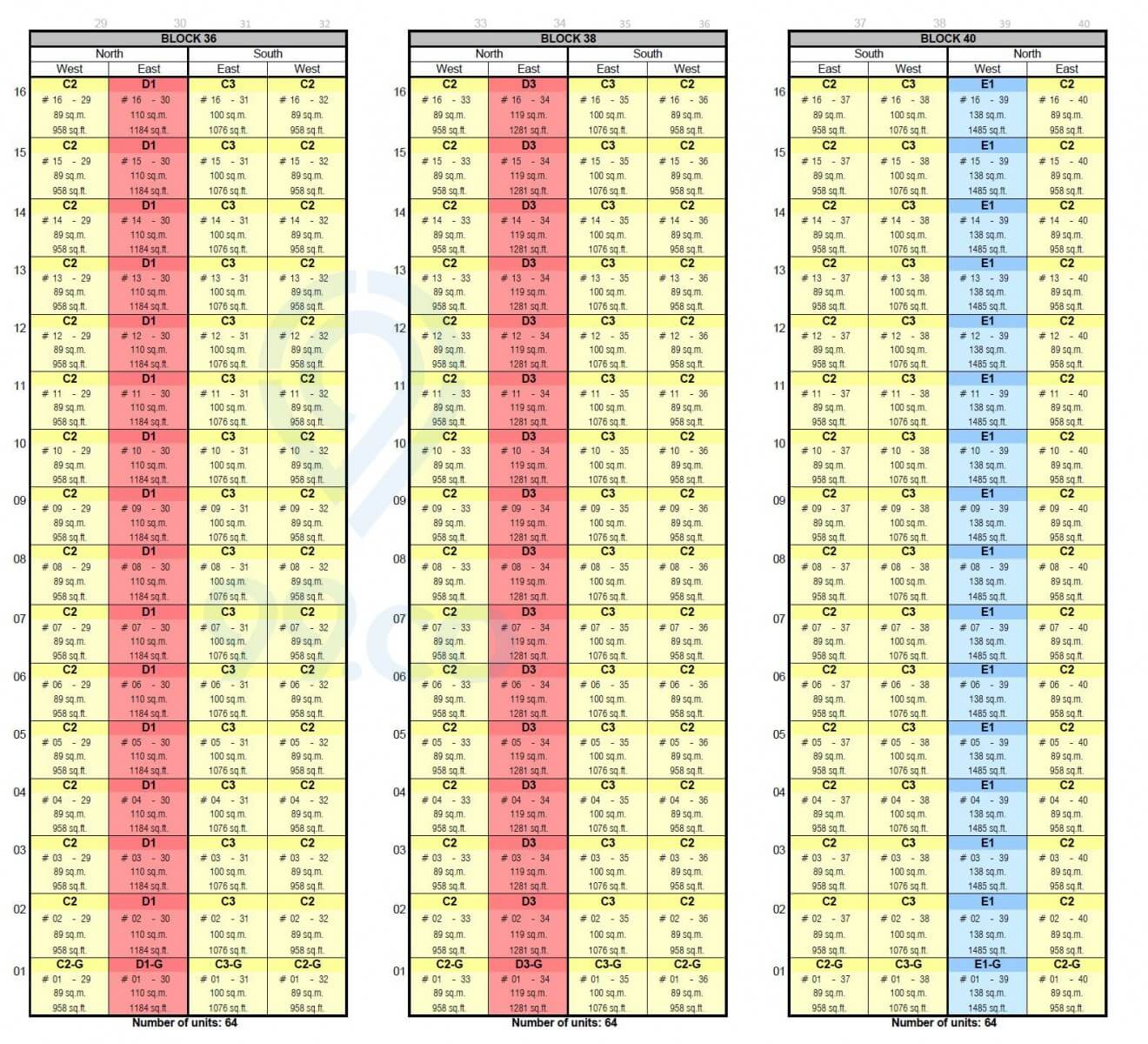 Blocks 36, 38 and 40 
There are 64 units in each of the Blocks 36, 38 and 40.
Floor Plans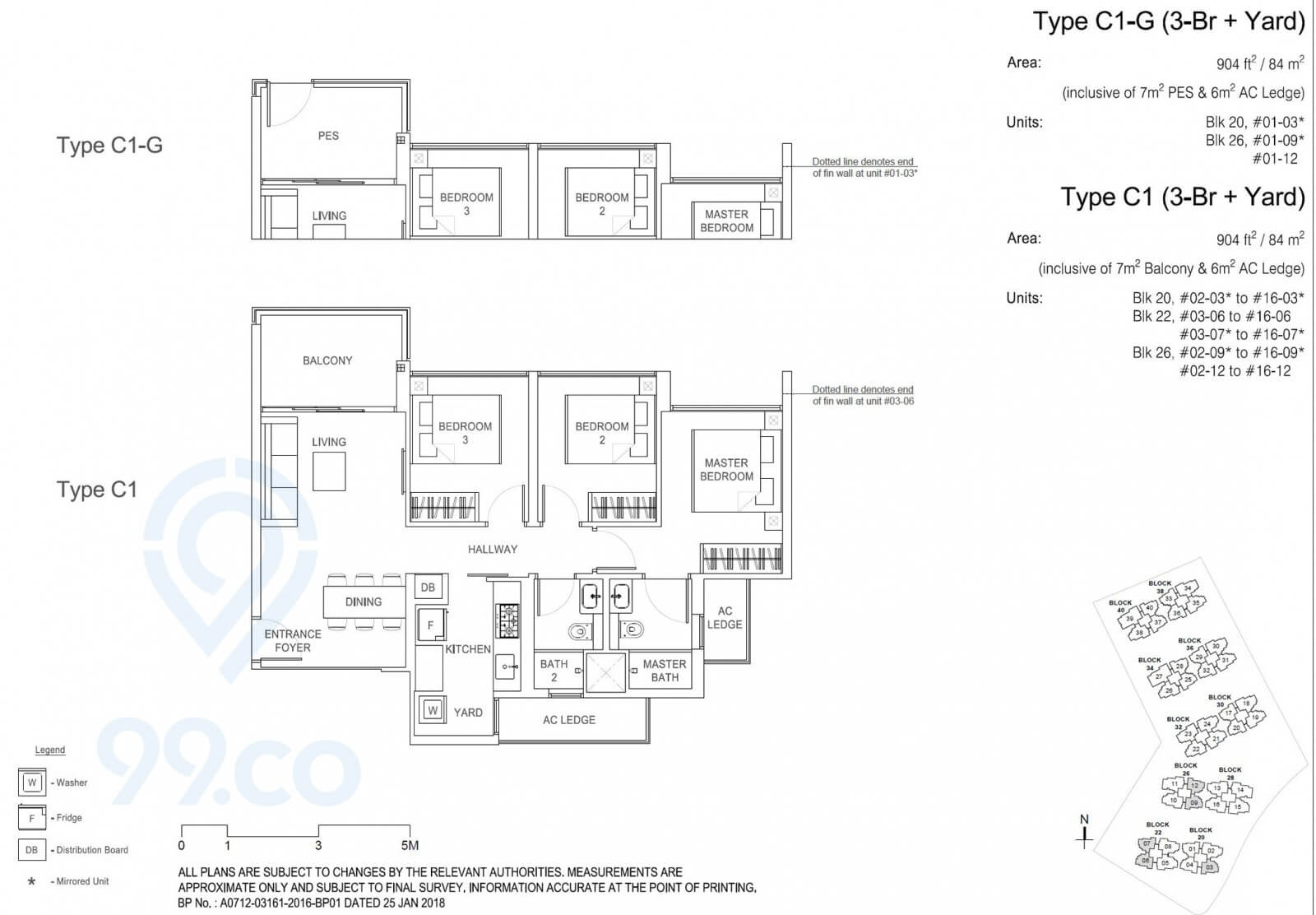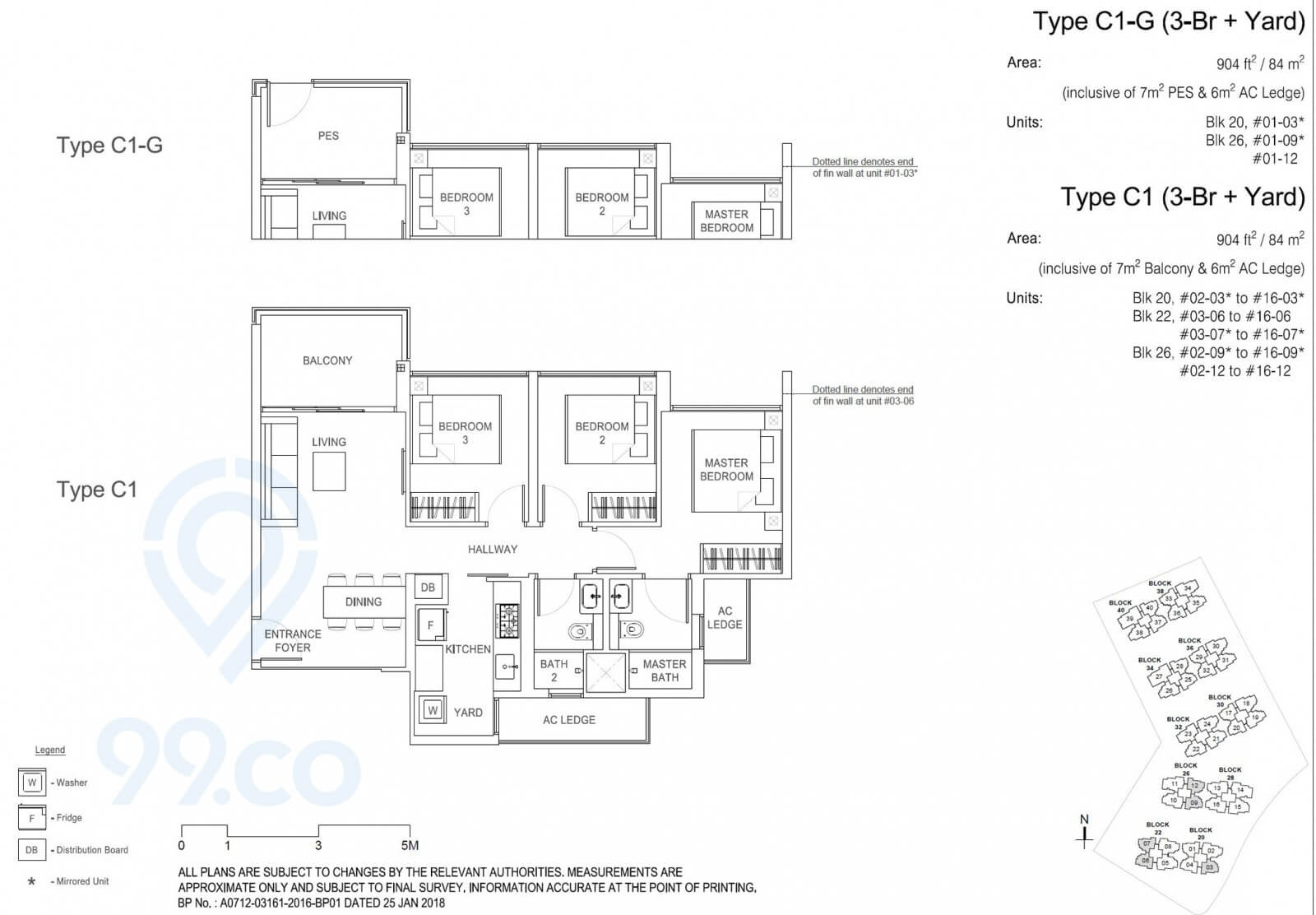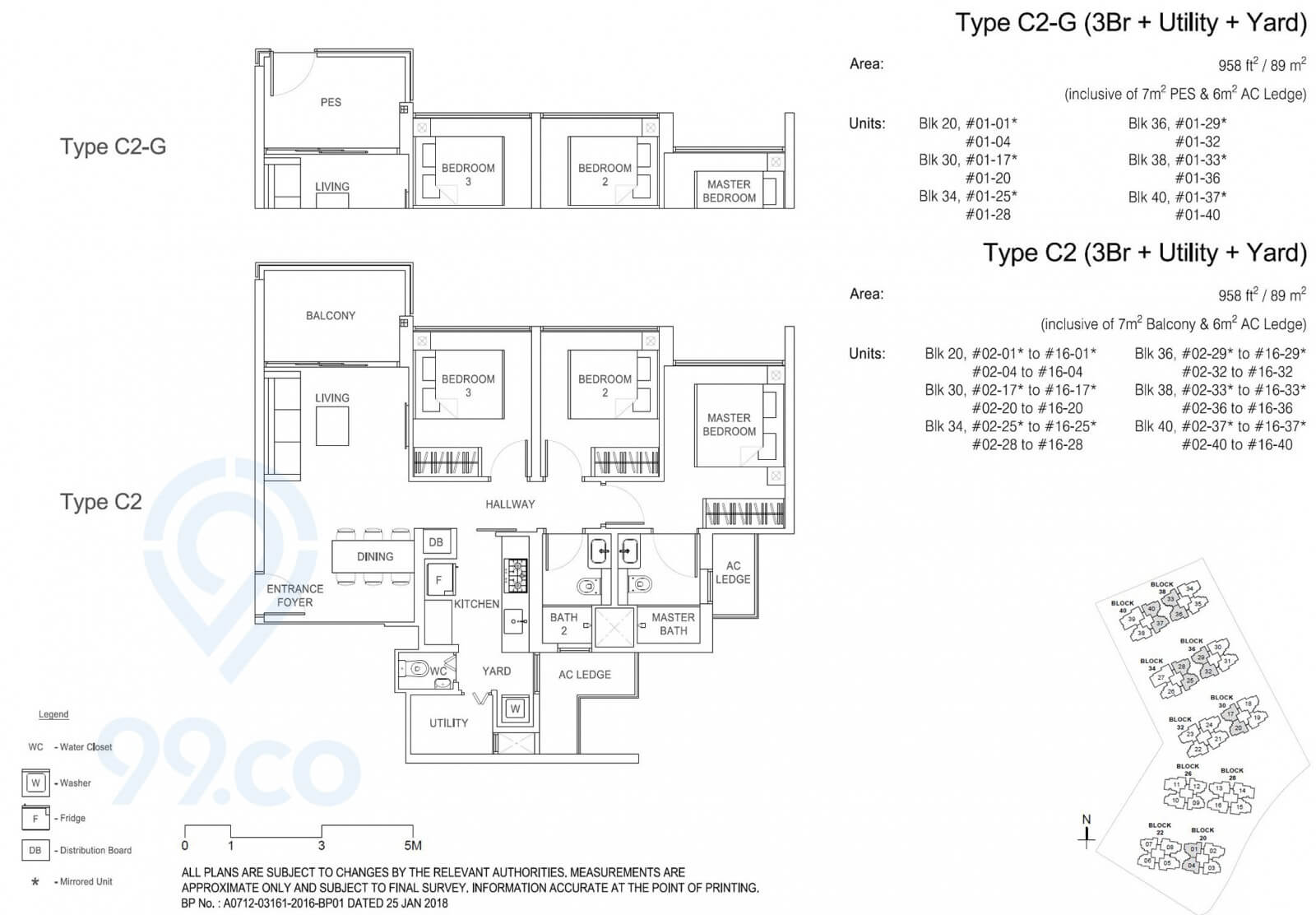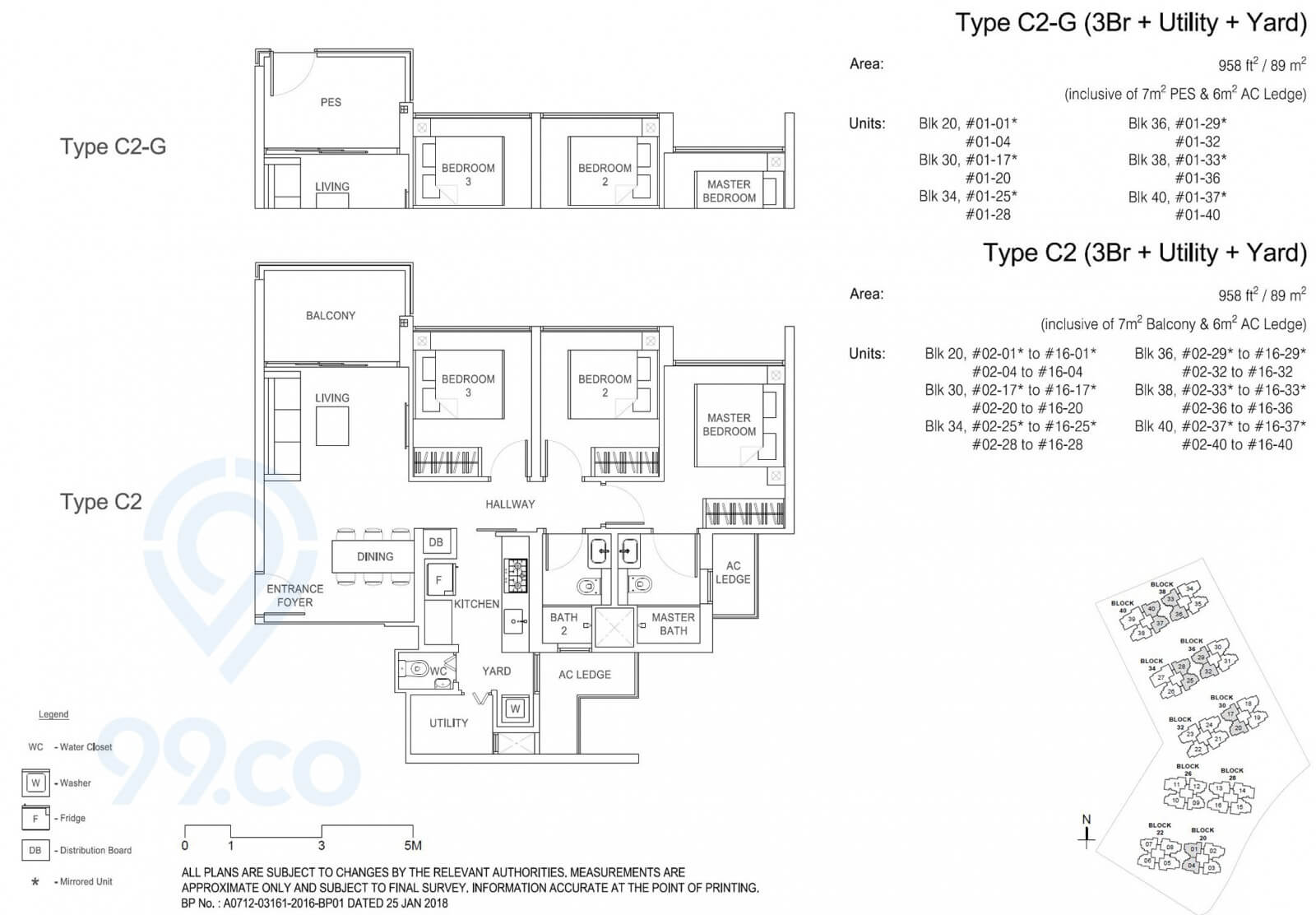 3-bedroom with a yard and a utility space
Other sizes and configurations are available. Register to find out more!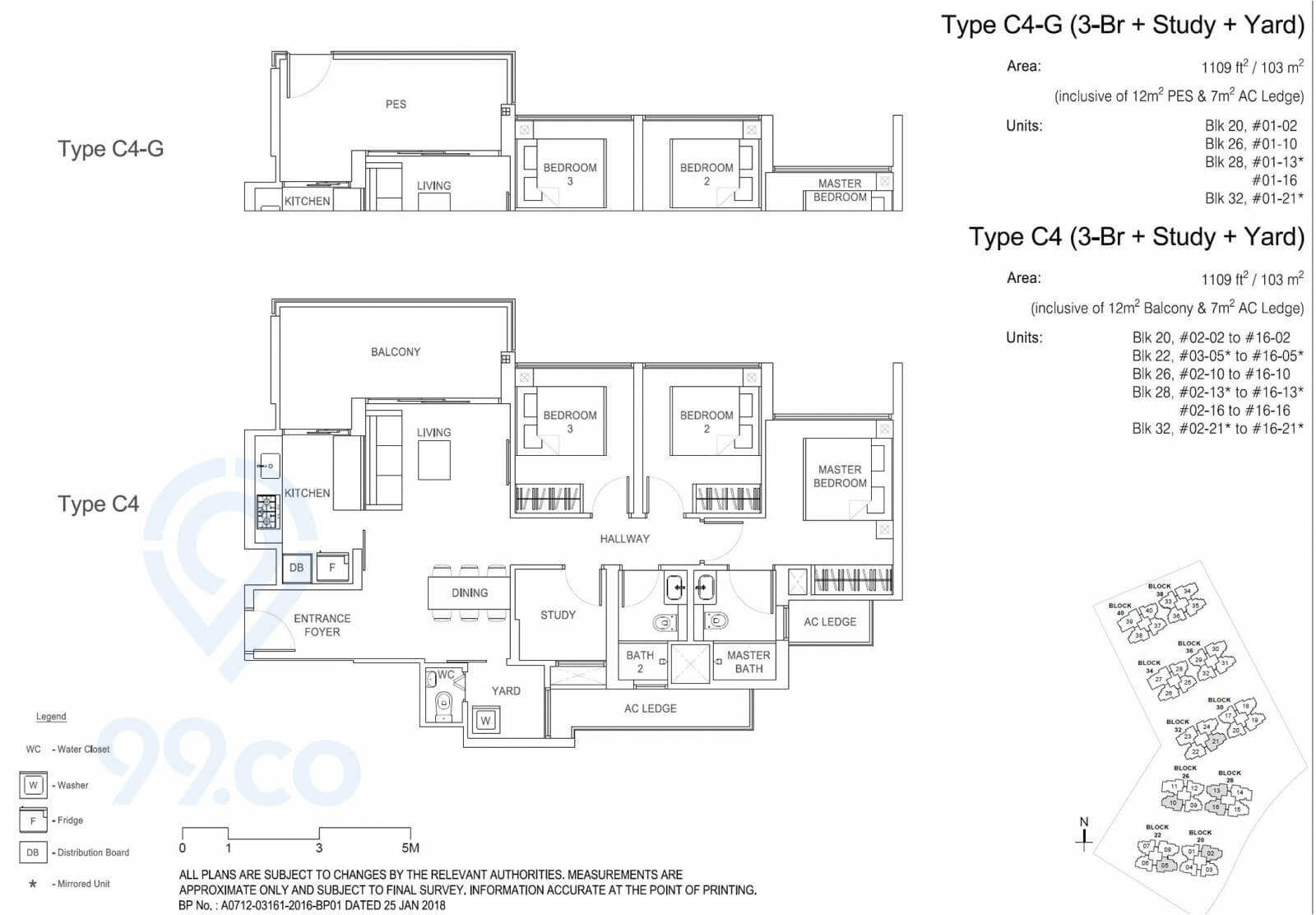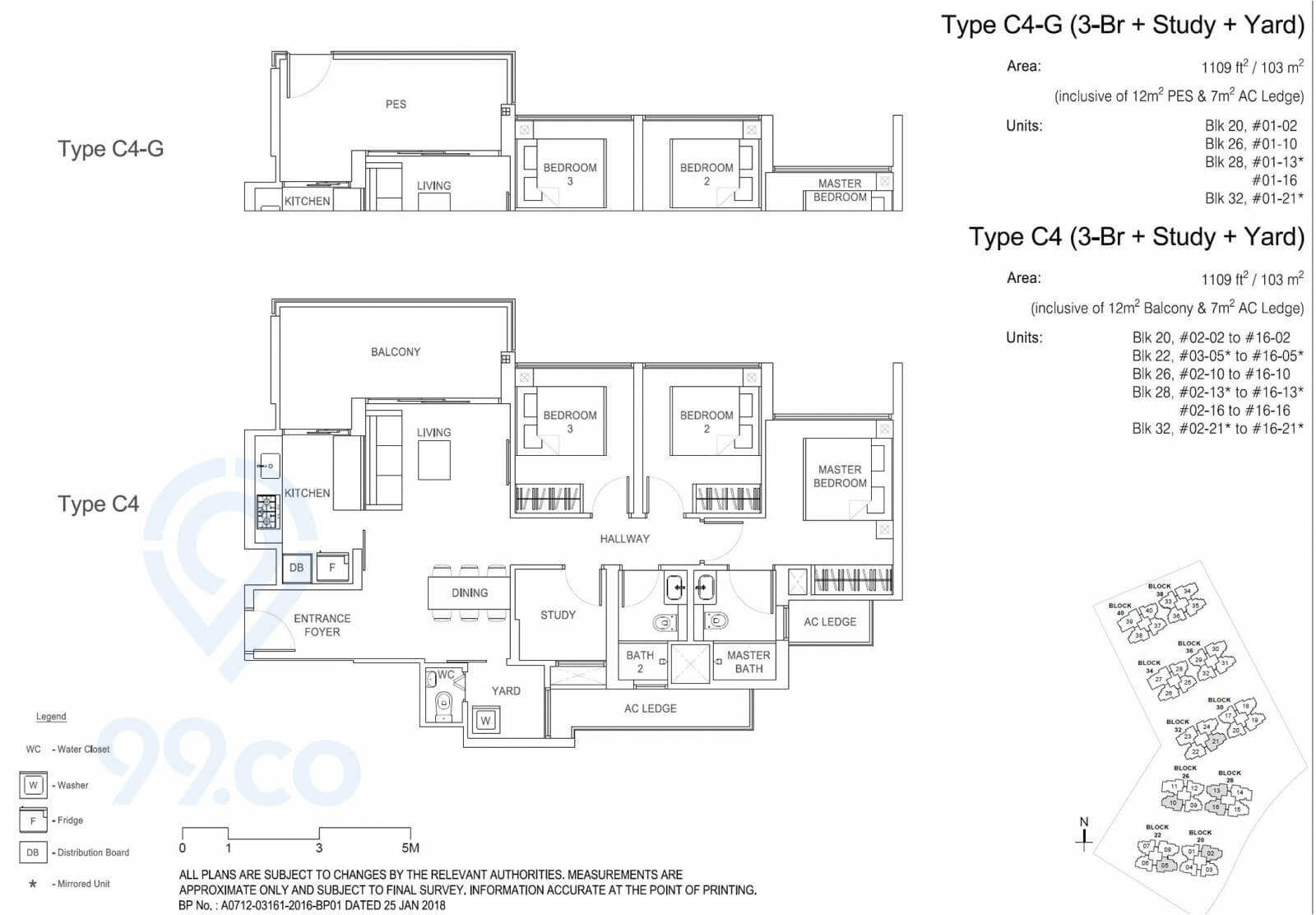 3-bedroom with a study and a yard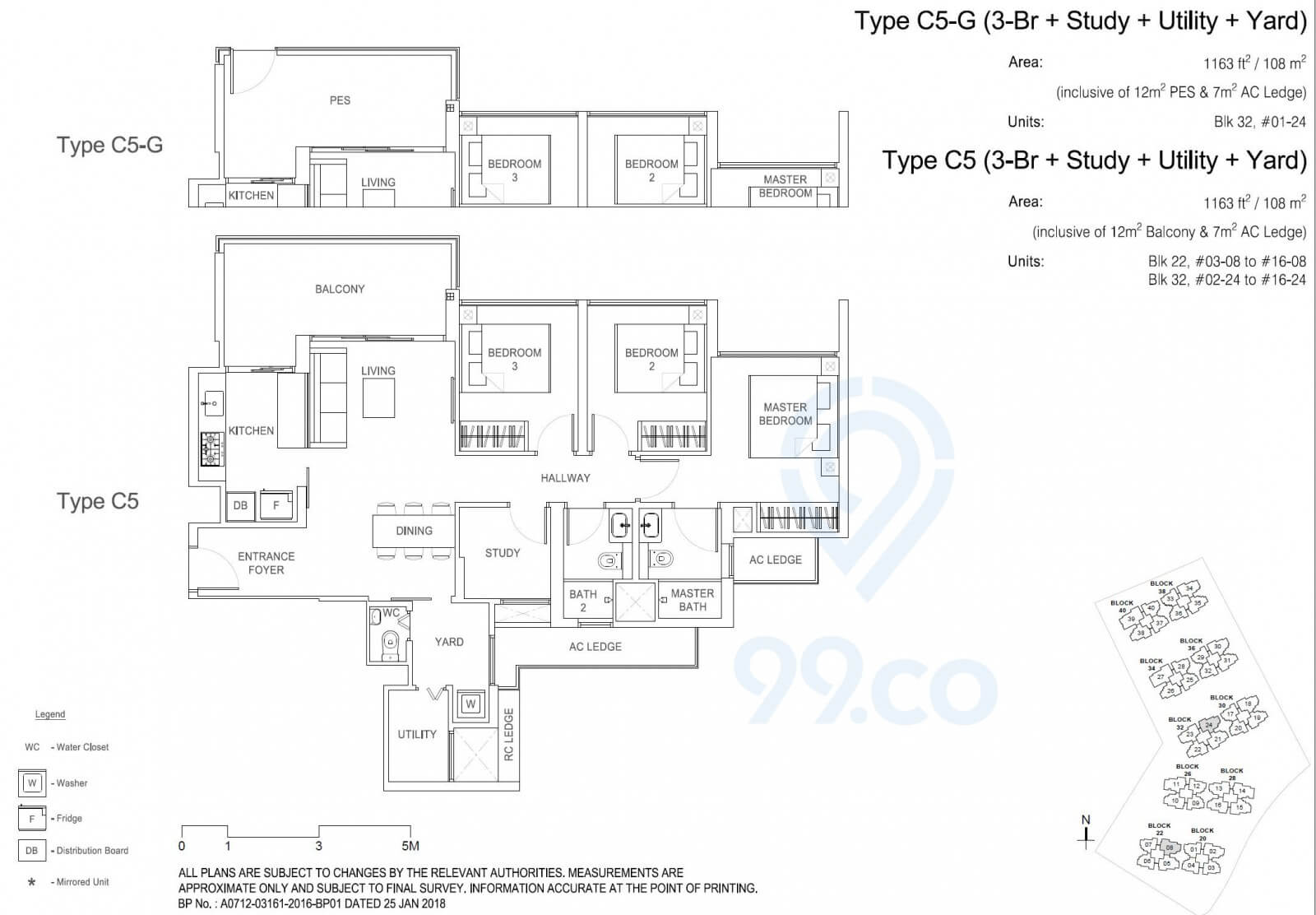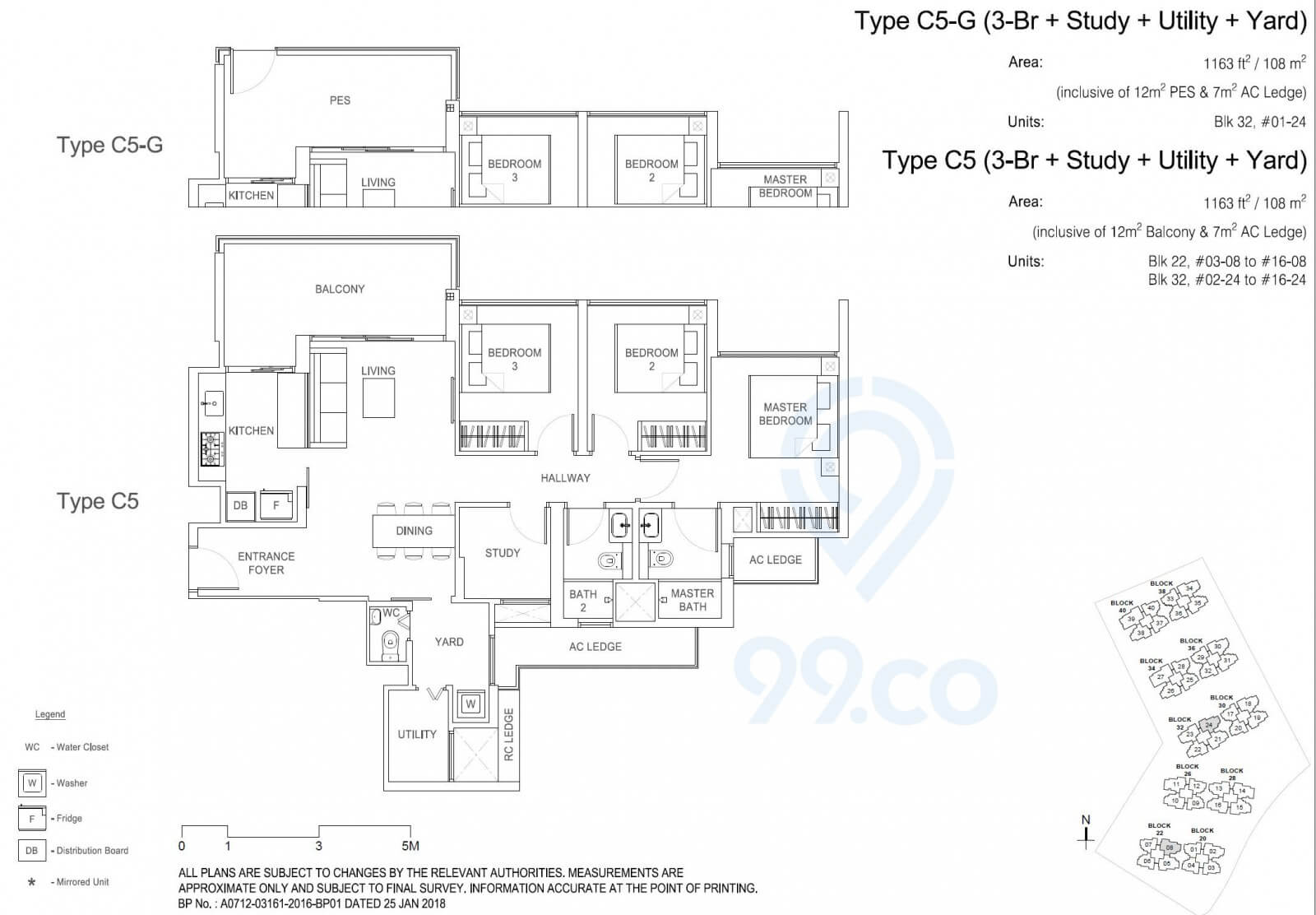 3-bedroom with a study, a yard and a utility space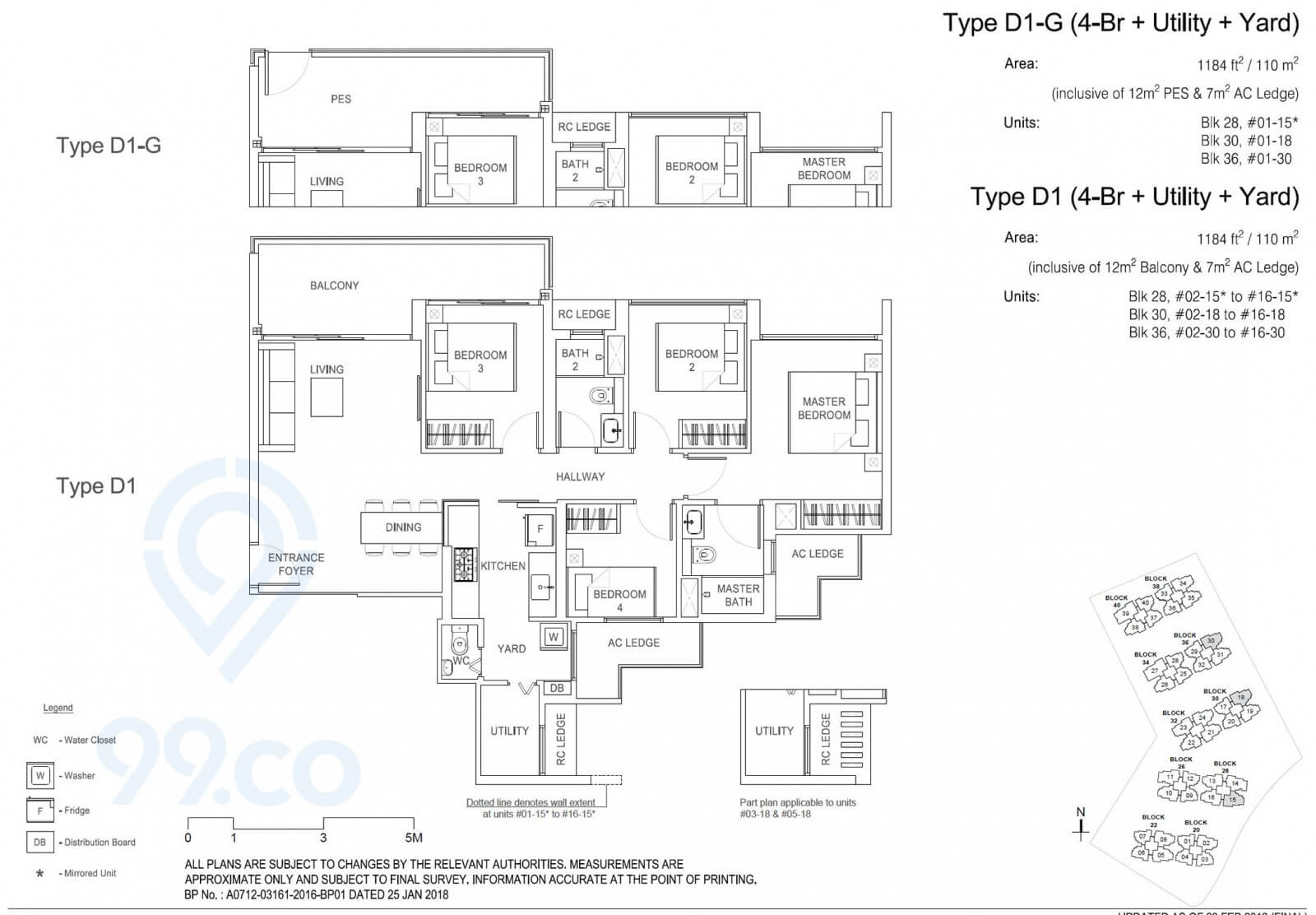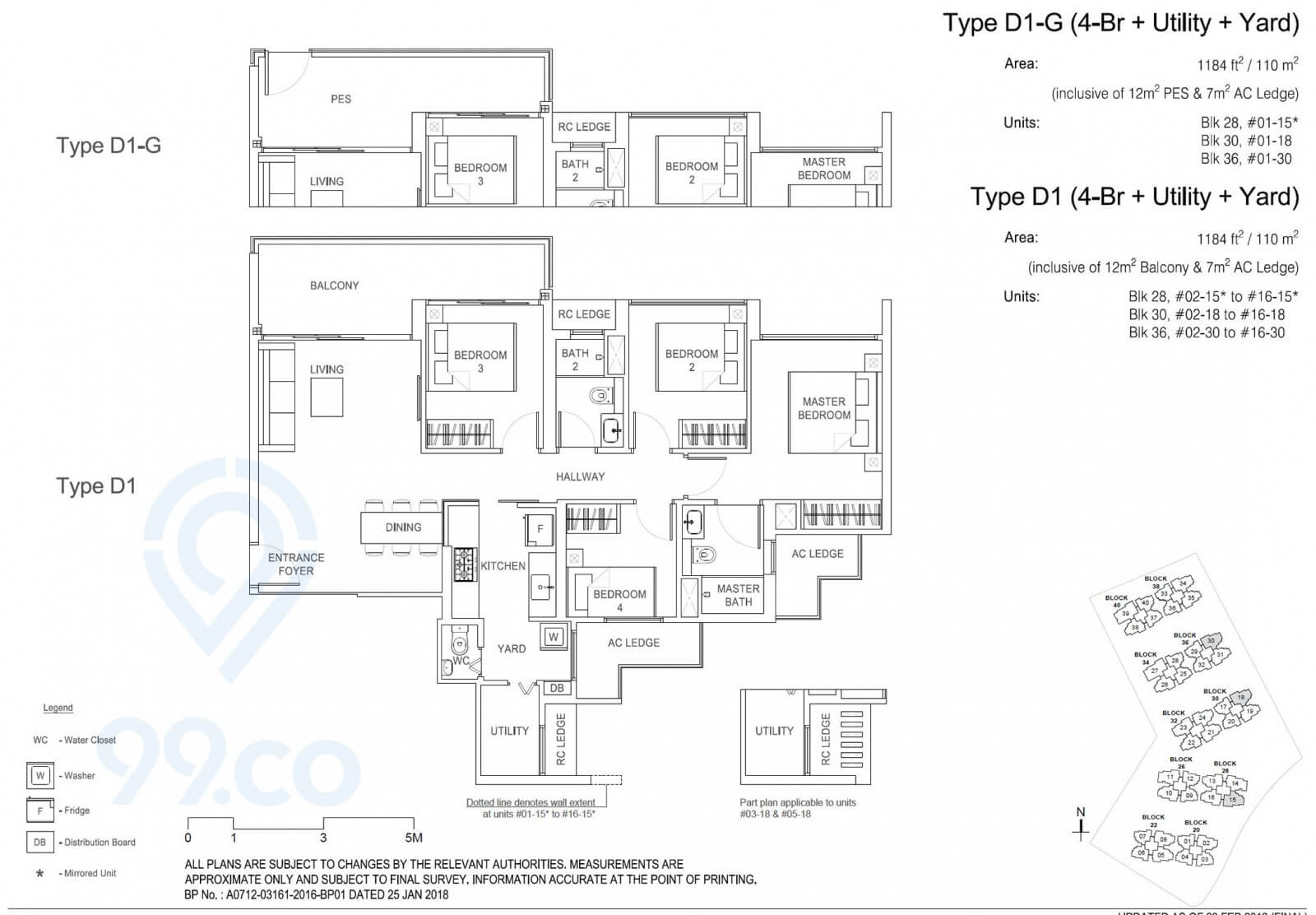 4-bedroom with a yard and a utility space 
Other sizes and configurations are available. Register to find out more!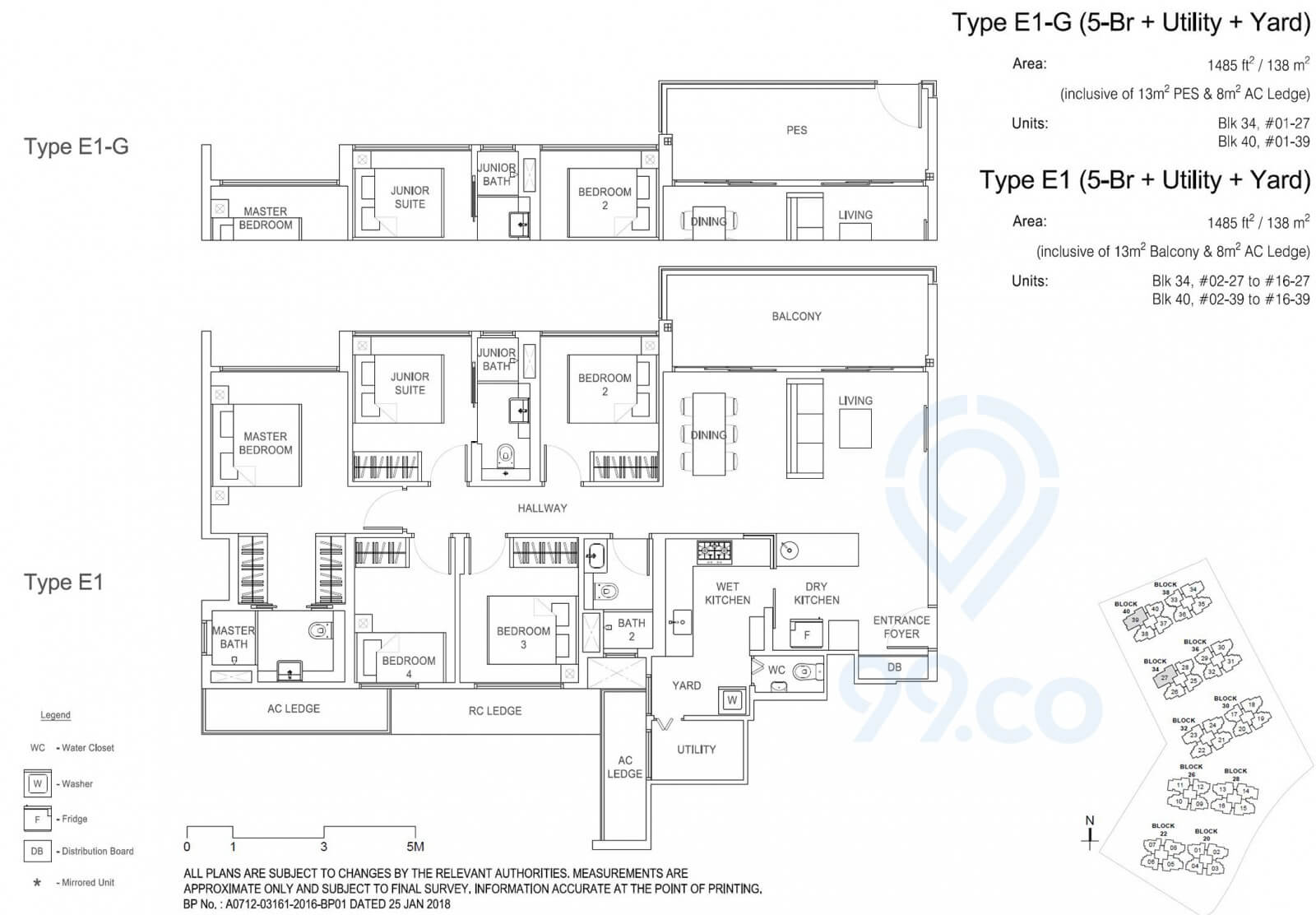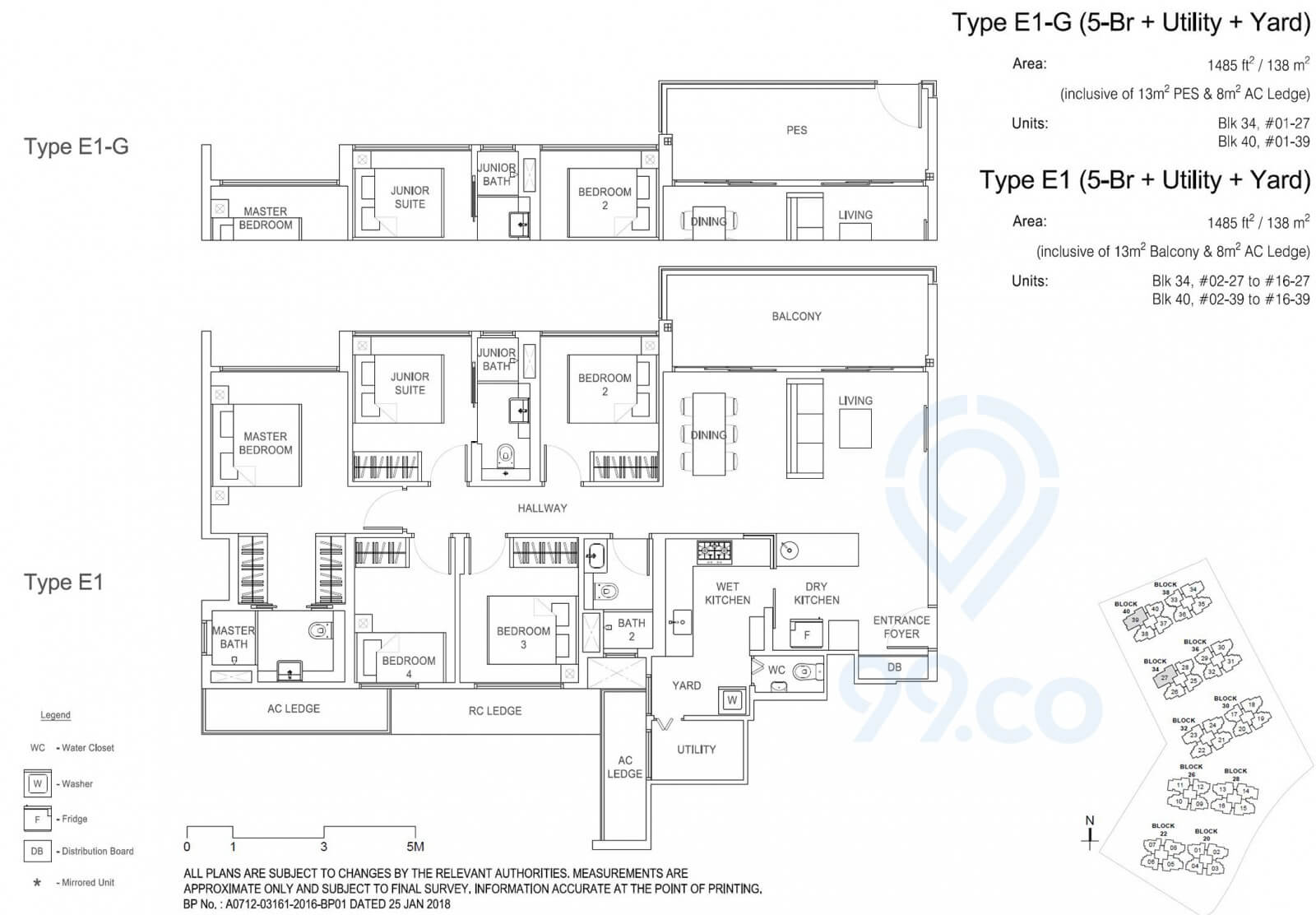 5-bedroom with a yard and a utility space 
Locality - an estate of ECs with a neighbouring future development 
Several EC developments have been built in the Sengkang (D19) estate over the past few years, especially in the vicinity of Anchorvale. To name a few, commonly heard EC names in Sengkang include Bellewaters, The Vales and Treasure Crest. Based on 99.co's past 1 year's transaction records, the average selling price (psf) of these ECs ranges from $808.20 to $859.40. Furthermore, they have boasted smooth and impressive sales upon its launch. Given these past track records, many are expecting Rivercove Residences to be no exception. Further backing this anticipation is the trend of a growing demand for ECs. According to reports from major media press, the number of EC units sold over the past three years has been growing -  from 2,550 units sold in 2015 to about 3,999 units in 2016, and the figure hovers at 4,000 in 2017. This is indicative of the popularity of ECs amongst Singaporeans. ECs continue to be the premium alternative for the 'sandwiched class' as the price gap between HDB resale and mass market private condominiums continue to widen. Since Rivercove is the only EC launched this year, its uptake upon launching is forecasted to be highly positive.  
With URA's master plan of developing Sengkang's neighbouring area into a Punggol Creative Cluster and Learning Corridor, District 19 is expected to see more life and activities being generated from the potential future offices and institutions that will be set up there. This also means that residents living in this district may expect more amenities, facilities and and potentially new roads and infrastructure being created in order to support URA's master plan. (The map below shows the land parcel detailing future road work(s) and construction.)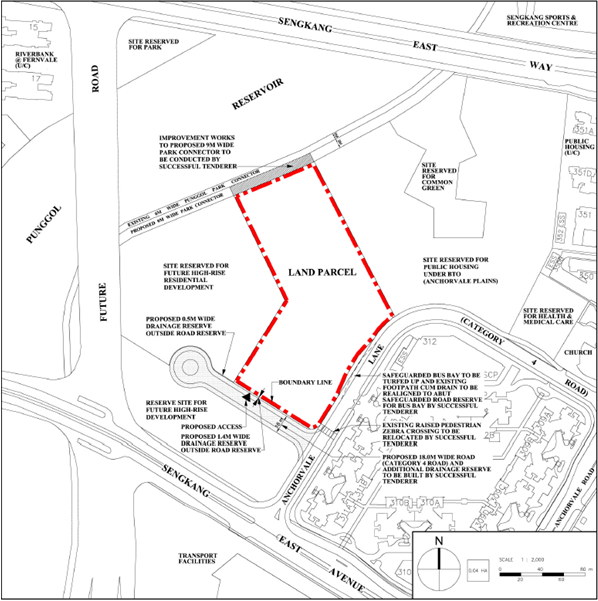 Amenities - conveniently within reach both by public and private transport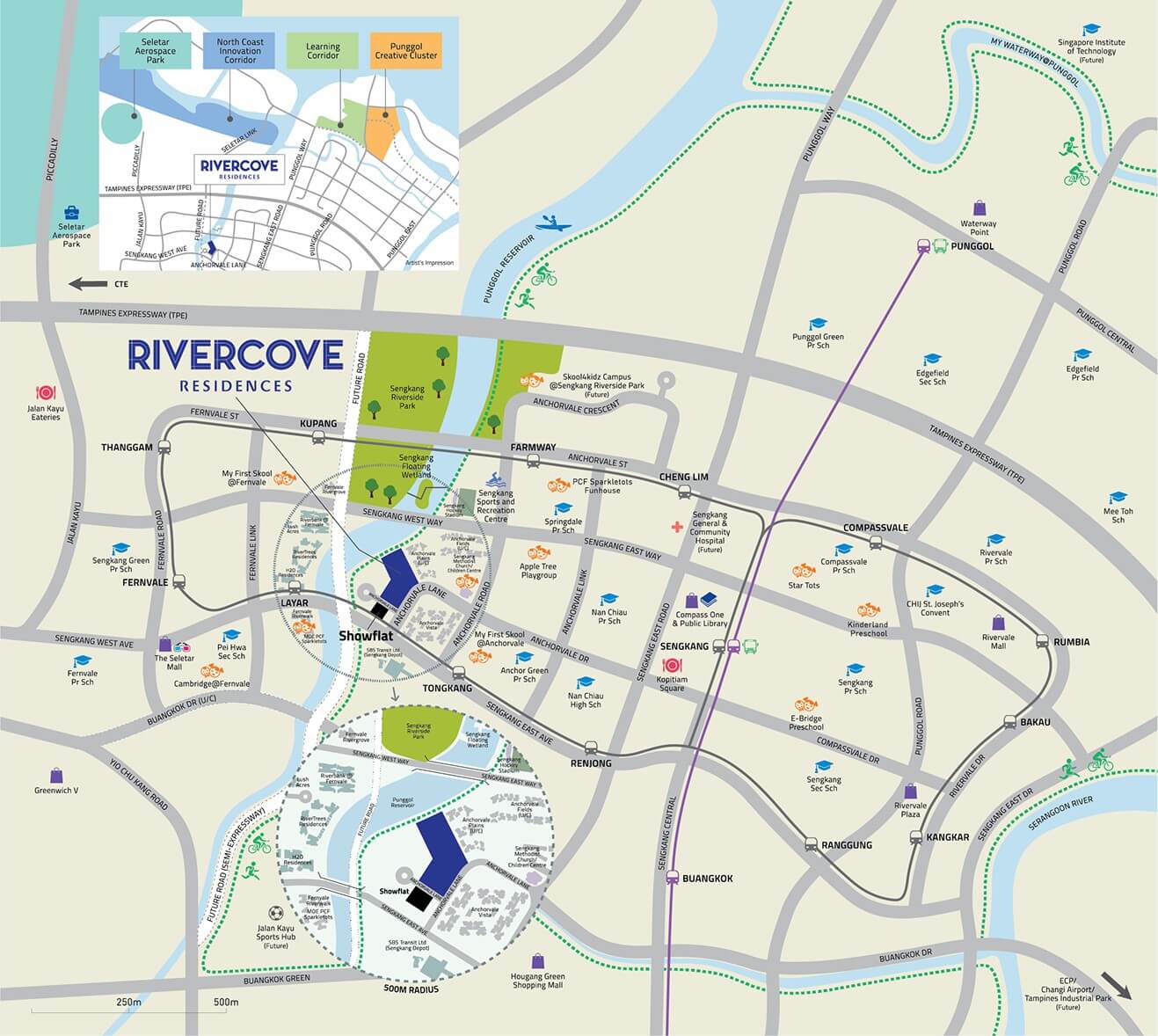 While this EC is nestled in the serenity and greenery of Anchorvale Lane and Sunggei Punggol, it is also within a 7-minute walk from the Tongkang LRT (about 550 metres). From there, one can reach Sengkang MRT and Bus Interchange in two LRT stops. If you're a car owner, then Tampines Expressway (TPE) also serves the locality well. 
Access to central malls where shopping and amenities are will be very convenient either by private or public transport. Located at the heart of Sengkang is Compass One Shopping Centre, which provides nearby heartlanders with over 200 stores to explore. Seletar Mall, which is connected to Fernvale LRT station (also two LRT stops away), is another possible option for Rivercove residents. 
Malls

 - Seletar Mall (1.2 km), Compass One & Public Library (1.5 km), Hougang Green Shopping Mall (2.1 km)
The location of this EC is also family-friendly. From childcare centres to kindergartens to primary and secondary schools, even prestigious ones,  parents will have options around the EC to send their children to. The future Singapore Institute of Technology (SIT) main campus will also be expected to launch in 2023, close to the expected completion date of Rivercove EC. 
Primary schools

 - Anchor Green Primary School (5-min walk), Springdale Primary School (7-min walk), Nan Chiau Primary School (9-min walk)
Secondary schools

 - Nan Chiau High School (12-min walk), Pei Hwa Secondary School (12-min walk)
Childcare centres/ kindergartens 

- My First Skool @ Anchorvale, My First Skill @ Fernvale, Sengkang Methodist Children Centre 
Sports facilities and nature
With the aim of bringing riverfront living to its residents, this EC's land parcel is strategically located by the park connector of Sungei Punggol,  privileging its residents to the lushness of a water body and its accompanying greenery. This river enters from the Straits of Johor, after which it begins to rest quietly in front of where Rivercove Residences will be. 
Complimenting the panoramic vista, sports and outdoor recreational facilities were built to serve the surrounding residents, namely, the Sengkang Sports and Recreation Centre and Sengkang Riverside Park. More of such facilities can be found further north of the bank, including Punggol Waterway Park and Punggol End. If you're up for a long bike ride, the picturesque Serangoon Island is about an hour's cycle away from the executive condominium's vicinity. A network of park connectors has also been built to connect adjacent neighbourhoods directly to these features. 
Frequently asked questions (FAQ)
What is the price of this EC?

Rivercove EC prices are currently unavailable to the public. If you're interested, do register your interest with us using the side bar on the left-hand side and we will contact you shortly. Alternatively, keep a look out on our website for further updates! 

Read More 

What is the address of this EC?

318 Anchorvale Lane, Singapore 542318

Read More 
Active Listings
As of Apr 21, 2018, there are a total of 632 active listings for rent and sale at Rivercove Residences.
Listings for sale
Bedroom type
Price range
No. of listings
Commute and Nearby Places
Taxi
Public Transport
Driving
Changi Airport
3 Transfers
Overview
| | |
| --- | --- |
| Completed At: | 2021 |
| Tenure: | 99 years |
Nearest Schools
Anchor Green Primary School
6 min (398 m)
Springdale Primary School
16 min
Pei Hwa Secondary School
14 min
Last updated March 19, 2018.