Who's it for?
Bellewaters is an executive condominium that will MOP in 2022 and is a perfect choice for those who:
Want to live in the Sengkang area but still have easy access to the city and other parts of Singapore
Have young children and want to live in a kid-friendly neighbourhood with many schools
Like outdoor activities and have access to various parks and park connectors
Accessibility
Residents of Bellewaters have easy access to 2 train lines: the Sengkang LRT Line and the North East Line. The Cheng Lim station gives access to the LRT and is less than a 10-minute walk away from the executive condo. Meanwhile, a little further down from the Cheng Lim station is the Sengkang station, approximately 15 minutes away from Bellewaters,  giving access to the North East Line. 
The nearest bus station is at Block 334a and allows quick access to other destinations along Anchorvale Crescent. Residents who drive will be able to access the City and various parts of Singapore through the Tampines Expressway (TPE). 
Nearby Amenities  
Bellewaters is conveniently located near various amenities. For community recreation and access to a public reading room, residents can head to the Sengkang West Resident Zone L. When it comes to grocery shopping, there's the nearby Sheng Siong Supermarket. The U Stars Supermarket at Anchorvale Street is also not too far away for more options. Along Anchorvale Crescent, there are also various pre-schools and playgrounds making the area very kid-friendly.
Schools Near Bellewaters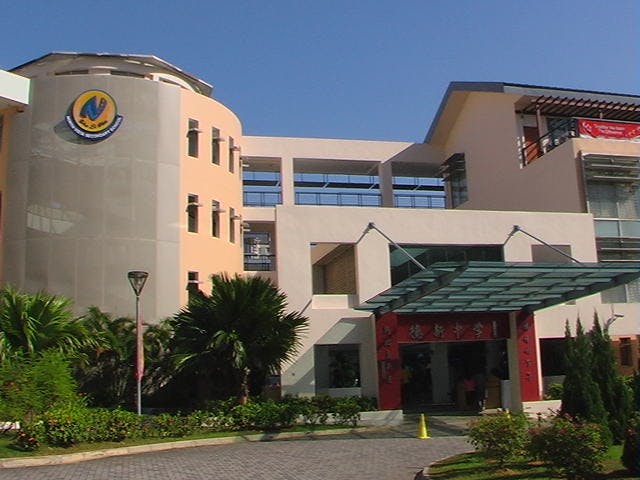 Bellewaters executive condo is within close proximity to good schools such as Springdale Primary, Nan Chiau Primary, Compassvale Primary, and many more. Within a 3-kilometre distance from Bellewaters are at least 16 schools from primary to secondary school. Parents with young children will especially find no problem looking for the right school for their kids.  
Here is a list of schools near Bellewaters:
Springdale Primary School (900m) 
Compassvale Primary School (1.1km)
Nan Chiau Primary School (1.2km)
Compassvale Secondary School (1.3km) 
Anchor Green Primary School (1.4km)
Fern Green Primary School (1.5km)
Yuxuan School (1.6km)
Nan Chiau High School (1.7km)
Rivervale Primary School (1.8km)
Valour Primary School (2.0km)
Sengkang Secondary School (2.1km) 
North Spring Primary School (2.3km)
Sengkang Green Primary School (2.4km)
Palm View Primary School (2.5km) 
North Vista Primary School (2.5km)
North Vista Secondary School (3.0km) 
Libraries Near Bellewaters   
The nearest library to this executive condo is the Sengkang Public Library which occupies the third and fourth floors of the Compass One mall. The public library pays homage to Sengkang's heritage as a vibrant riverside port. 
The library is divided into three areas: the Adults' Section for quiet reading, the Tween Space for children aged 10 to 14, and the Early Literacy Area for families to read and bond together. 
Avid library-goers living in Bellewaters can also visit these other nearby libraries: 
Our Punggol West Container Library (1.4km) 
Media Resources Library (1.8km) 
Hospitals Near Bellewaters
In terms of healthcare, Bellewaters is located near two full-facility hospitals that are both less than a 15-minute walk away. These are the Sengkang Community Hospital and General Hospital, which are both open 24 hours a day and can be counted on for any emergency situation. Residents who prefer to visit smaller medical clinics, also have a number of options nearby. Here is a list of medical facilities near Bellewaters:
Sengkang Community Hospital (500m)
Sengkang General Hospital (1.0km)
Raffles Medical @ Compass One (1.3km) 
Mutual Healthcare Medical Clinic (1.3km)
Medi Healthcare Clinic (1.6km) 
ZENITH Medical Clinic (1.8km) 
Island Family Clinic (2.1km)
St. Luke Elder Care Sengkang (2.4km)
Hawker Centres Near Bellewaters
Residents of Bellewaters will be able to enjoy various cuisines at reasonable prices. You can find a number of local favourites from prawn noodles to bak kut teh to chicken rice at Kopitiam Square at Sengkang Square. Some of these famous stalls are: Yummy Raja for its turmeric rice and prawn noodles, Sengkang Oyster Omelette, Fitra Chicken Rice for its roasted chicken rice, and Seng Kee for its Bak Kut Teh. 
For international cuisines to explore, Prata Palace at the GM Food Centre is known for its fluffy pratas and other Indian Muslim food. Happy Hawkers also has a mixed selection ranging from Japanese to Chinese to Thai and Western foods.  
These hawker centres near this executive condominium are:
Kopitiam Square (1.3km) 
Anchorvale 303 Foodcourt LLP (1.9km) 
Fernvale Hawker Centre & CC (2.2km)
GM Food Centre (2.4km) 
Happy Hawkers (2.5km)
Shopping Centres Near Bellewaters
The nearest mall to Bellewaters is Compass One, which is about a 15-minute walk from this executive condo. It is a 4-storey mall with over a hundred units of retail outlets. Some notable stores across each level are Cold Storage as an anchor tenant of Basement 1, 7-Eleven and Miniso at Level 1, Japan Home and Watsons at Level 2, the LEGO store at Level 3, Raffles Dental/Medical and NTUC Learning Hub at Level 4.
Residents can head to the mall to dine at various price ranges. There is a wide variety of international cuisines to explore - from Chinese to Indian, Japanese, and Thai. Some notable restaurants are Din Tai Fung, My Biryani House, Ajisen Ramen, ToastBox, and Penang Culture. 
Looking for more shopping and dining options? Here are other malls within a 3-kilometre radius from Bellewaters: 
Rivervale Mall (1.9 km)
The Seletar Mall (2.3 km) 
Rivervale Plaza (2.4km)
Parks Near Bellewaters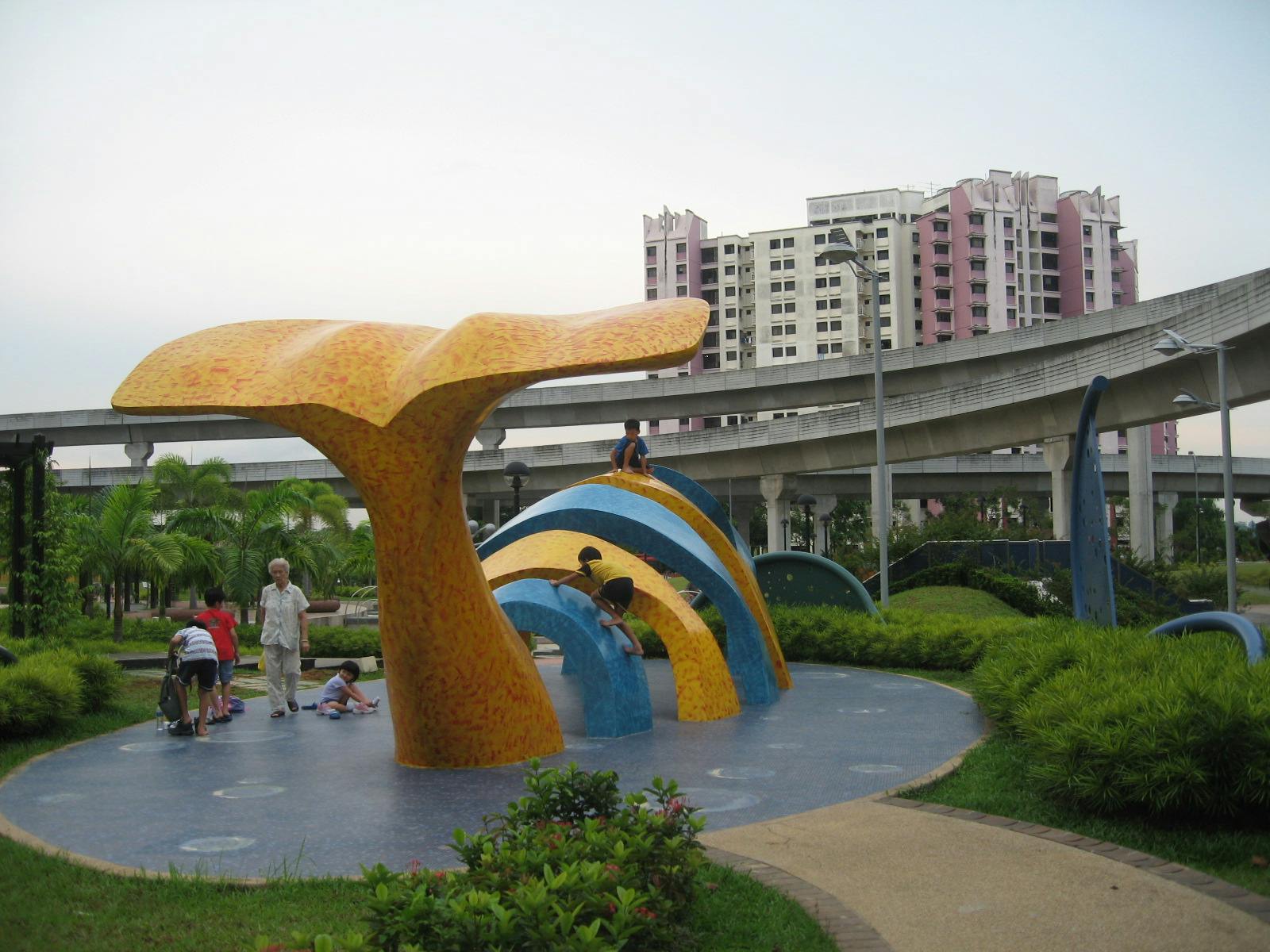 Marine enthusiasts will get a kick out of the Sengkang Sculpture Park - a marine and finishing village-themed park just a 10-minute walk from Bellewaters. The sculptures and colourful spheres scattered around the park are reminiscent of ocean waves that form the shape of the bones of a whale. Visitors of this park can also enjoy other activities as it also features a kids' playground, fitness equipment, and an outdoor refreshment area. 
Some other parks near Bellewaters also worth exploring are: 
Sengkang Riverside Park (1.0 km)
320D Anchorvale Drive Calisthenics Park (1.6 km)
Punggol Topaz Common Green (1.6km) 
Compassvale Ancilla Park (2.3 km)
Punggol Waterway Park (2.5 km) 
Places of Worship Near Bellewaters
There are several places of worship for different religions within a 3-kilometre distance from Bellewaters. Buddhists will have access to temples such as the Puat Jit Buddhist Temple, Muslims will have access to mosques such as the Masjid Al-Islah, and Hindus will be able to access temples such as the Arulmigu Velmurugan Gnanamuneeswarar Temple. Meanwhile, for Christians, there are various churches nearby for different denominations. 
Here is a list of the places of worship nearby:    
Puat Jit Buddhist Temple (1.1km)
Ji Gong Temple (1.2km)
Chee Hwan Kog Singapore (1.2km) 
Sengkang Methodist Church (1.6km)
St. Anne's Church (1.7km)
Thye Hua Kwan Temple (1.7km)
Church of the Transfiguration (2.1km)
Masjid Al-Islah (2.1km)
The Church of Jesus Christ of Latter Day Saints (2.4km)
Sengkang Combined Temple (2.4km)
Masjid Al-Mawaddah (2.5km)
New Creation Church @ Seletar Mall (2.5km)
Arulmigu Velmurugan Gnanamuneeswarar Temple (2.5km)
Central Christian Church (2.9km)