Who's it suitable for?
Twin Waterfalls is a perfect choice if you are looking for:
Executive condominium (EC) in Punggol
Close proximity to Punggol MRT/LRT Station
Numerous renowned schools nearby
Twin Waterfalls is an executive condominium located along Punggol Walk, near the junction of Punggol Field and Punggol Way. Developed by Frasers Property, Twin Waterfalls EC comprises 12 blocks of 17-storey towers, boasting a total of 728 residential units. 
Twin Waterfalls EC floor plan mostly caters to small families and working professionals. The units are offered with various layouts including 3- and 4-bedroom penthouses and dual-key units. 
With its many facilities such as a clubhouse, swimming pools, and BBQ areas, this EC in Punggol is ideal for residents seeking a more peaceful living environment, surrounded by an abundance of services and comforts.
Accessibility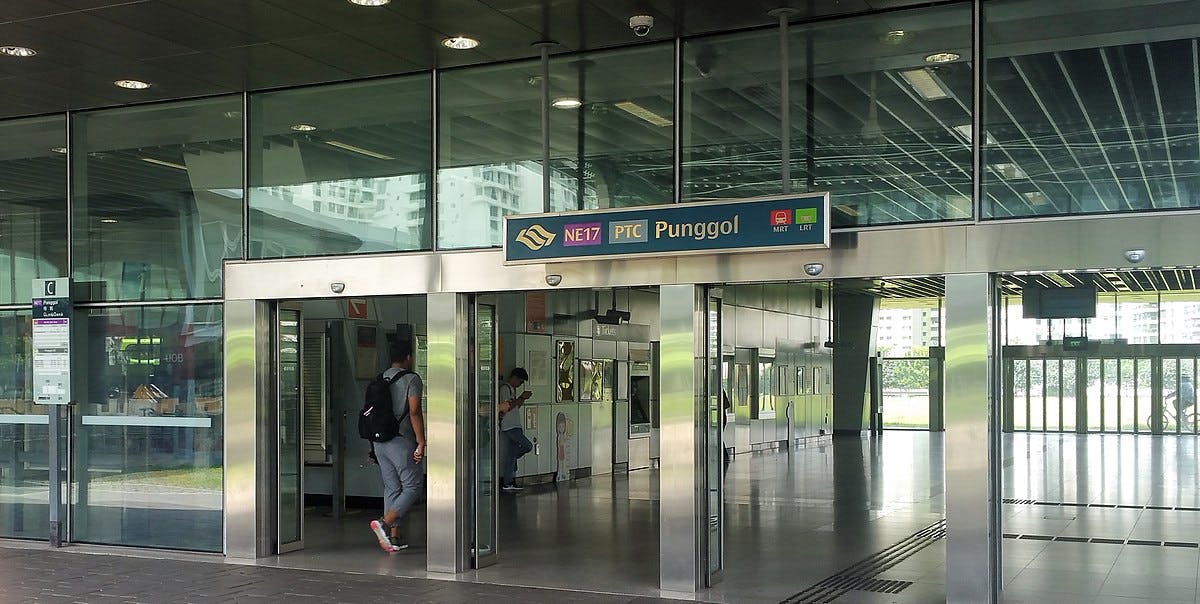 Twin Waterfalls is conveniently located so it has a great accessibility and circulation network that distributes traffic to the development. Pedestrian and vehicular access to and from the Twin Waterfalls complex is quite efficient, making it easy for residents to link up with the public transportation facility. 
Soo Teck LRT Station is only 650 metres away, and it directly connects you to Punggol MRT/LRT Station along the North-East Line (NEL). Punggol Interchange Station, which is actually still located within walking distance (800m) of the development, brings together NEL, Punggol LRT, and the new upcoming Cross Island Line (CRL). You can also link to the Circle Line (CCL) and Downtown Line (DTL) just a few stops from Punggol. 
Aside from the MRT, multiple bus stops can also be found nearby with the nearest one less than a 5-minute walk away. As for drivers, enjoy the excellent connectivity that the locality offers with roads like Tampines Expressway (TPE), Seletar Expressway (SLE), Kallang Paya Lebar Expressway (KPE), and Central Expressway (CTE)!
Nearby Amenities 
With the extensive MRT/LRT and bus services surrounding Twin Waterfalls EC, nothing is too far from home. Twin Waterfalls address is in one of the most developed parts of the city, and it is flanked by many monumental developments and numerous essential amenities. Residents can access all of their needs without any hassle, hence the enhanced living standard. 
Shopping Centres Near Twin Waterfalls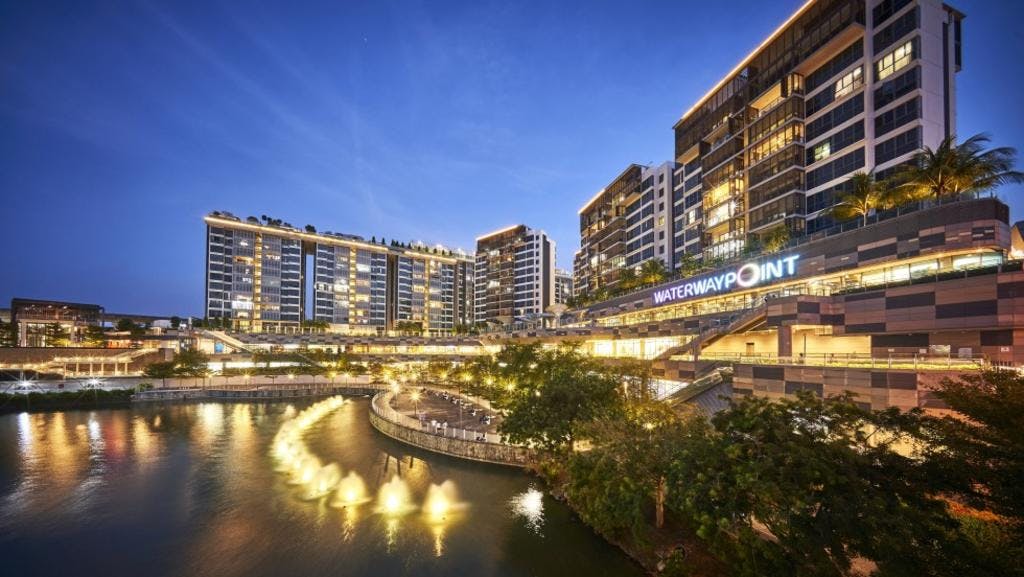 Living in this Punggol EC, you will be so close to Waterway Point Shopping Mall and One Punggol, the new community hub and shopping centre in the neighbourhood. The neighbourhood is highly self-sufficient with several shopping centres and entertainment hubs, hence rest assured that all residents' needs are met. 
Here is a list of shopping malls near Twin Waterfalls EC and their approximate distance:
Waterway Point (900m)
One Punggol (1.6km)
Oasis Terraces (2.2km)
Rivervale Mall (2.2km)
Punggol Plaza (2.4km)
Compass One (2.4km)
Hawker Centres Near Twin Waterfalls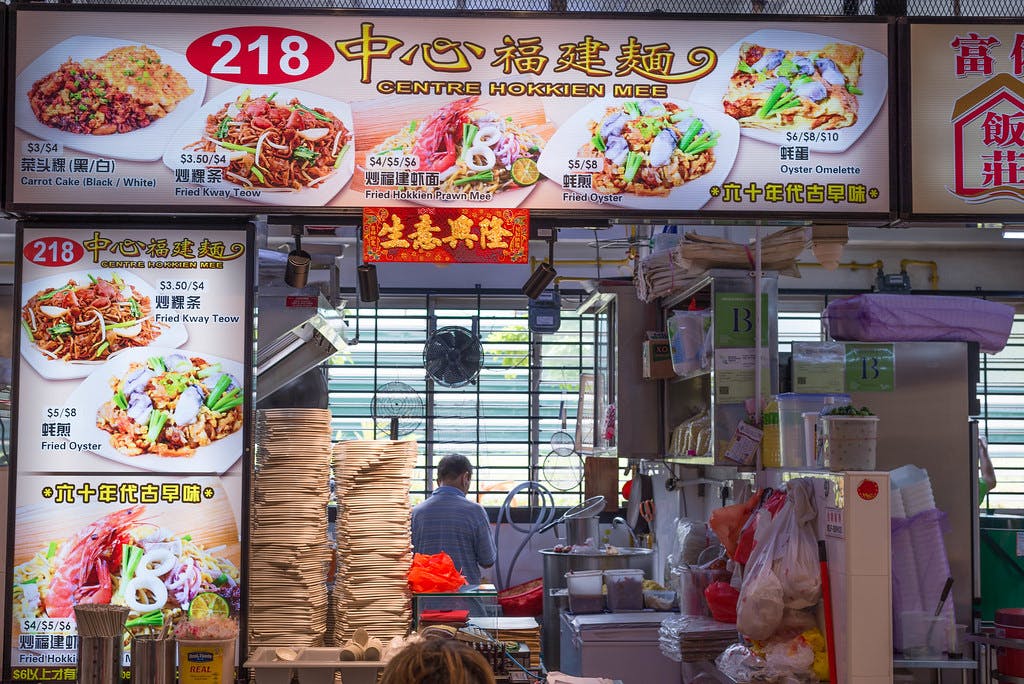 With Broadway Food Centre within a short drive away, you will be able to find your hawker favourites quick and easy. Broadway is one of the leading food-centre chain companies providing coffee shops and food court options. 
Another food centre so close to Twin Waterfalls is 218 Centre Hokkien Mee. If you happen to be a Hokkien Mee fan, the Hokkien Mee in this place is definitely worth a shot as many find it to be a hot classic in Punggol.
Tired of the usual hawker centre fare? Then turn your attention to the newly revamped Kopitiam Square in Sengkang, approximately 2 kilometres away from the development. It has over 50 stalls, ranging from good old zhi char to even mookata, all at competitive and affordable prices.
One Punggol Hawker Centre, located 1.5 kilometres away, soon join the list of great places to eat in Punggol. Meanwhile, here is a list of hawker centres near Twin Waterfalls:
Broadway Food Centre (1.2km)
Happy Hawkers Compassvale Crescent (1.3km)
Kopitiam Square Sengkang (2km)
Schools Near Twin Waterfalls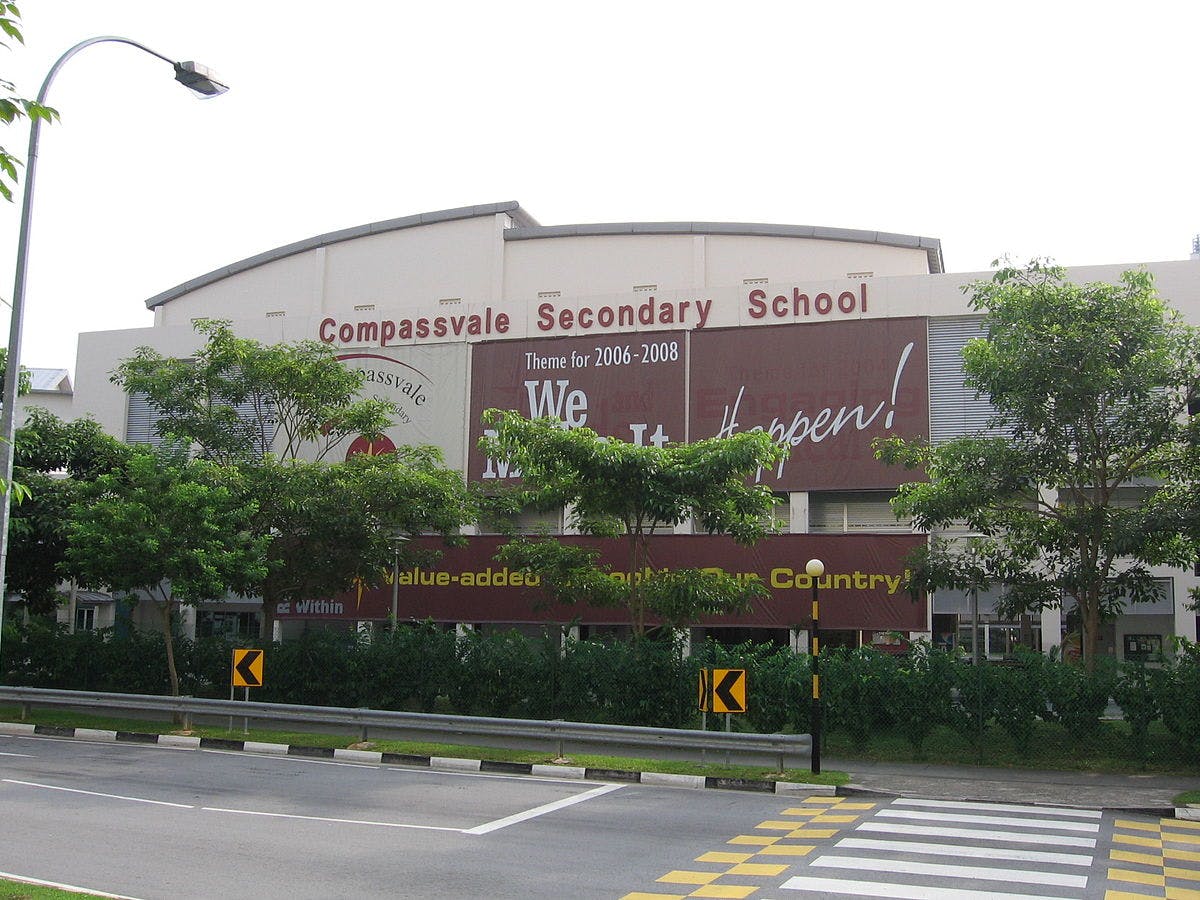 Educational facilities circling the development truly ease parents' duty in providing their children with the best education possible. Punggol Green Primary School, located next to Twin Waterfalls EC, is a newly built school that serves the Punggol West community since 2013.
Several other schools near Punggol Twin Waterfalls include Edgefield Secondary School, Yusof Ishak Secondary School, and Punggol View Primary School, among others. Here is a list of nearby schools with the respective approximate distances:
Punggol Green Primary School (90m)
Edgefield Secondary School (700m)
Yusof Ishak Secondary School (1km)
Punggol View Primary School (1.2km)
Edgefield Primary School (1.5km)
Compassvale Primary School (1.6km)
Punggol Cove Primary School (1.7km)
Springdale Primary School (1.8km)
Compassvale Secondary School (1.8km)
Nan Chiau Primary School (2km)
Oasis Primary School (2.1km)
Rivervale Primary School (2.1km)
Mee Toh School (2.1km)
Greendale Secondary School (2.1km)
Horizon Primary School (2.3km)
Seng Kang Primary School (2.5km)
Northshore Primary School (2.5km)
Parks Near Twin Waterfalls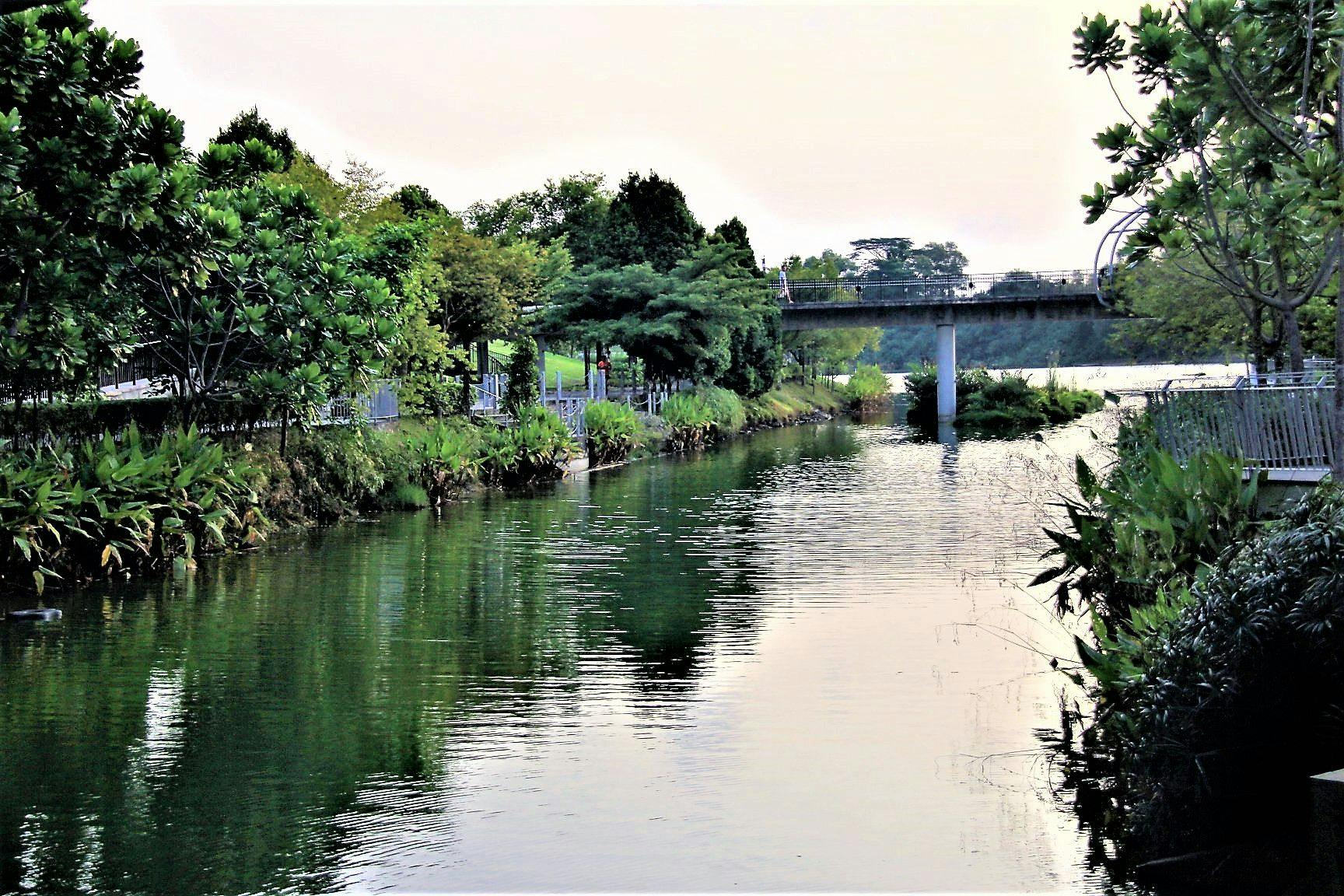 Despite being situated in the middle of a thriving city with abundant options of modern amenities, Twin Waterfalls condo, which is only a short drive away from the northern coastline, is near several landmarks offering such recreational activities.
Punggol Point Jetty, Coney Island, Punggol Promenade Nature Walk, you name it! Moreover, the condominium complex is also close to Punggol Serangoon Reservoir which offers myriad fun activities, water sports such as jet-skiing, kayaking, and scuba-diving, as well as jogging and cycling tracks by the reservoir. 
The location of this Punggol EC provides multiple opportunities for residents to enjoy natural surroundings with beautiful scenery. Here is a list of open spaces and parks around Twin Waterfalls:
Punggol Linear Park (500m)
Punggol Emerald Common Green (650m)
Punggol Waterway Park (1km)
Punggol Park Connector (1.3km)
Sengkang Riverside Park (1.9km)
Punggol Breeze Park (2km)
Punggol East Coral Edge Community Park (2.1km)
Coney Island West Entrance (2.3km)
Punggol Point Park (3.5km)
Sungei Serangoon Park (3.5km)
Libraries Near Twin Waterfalls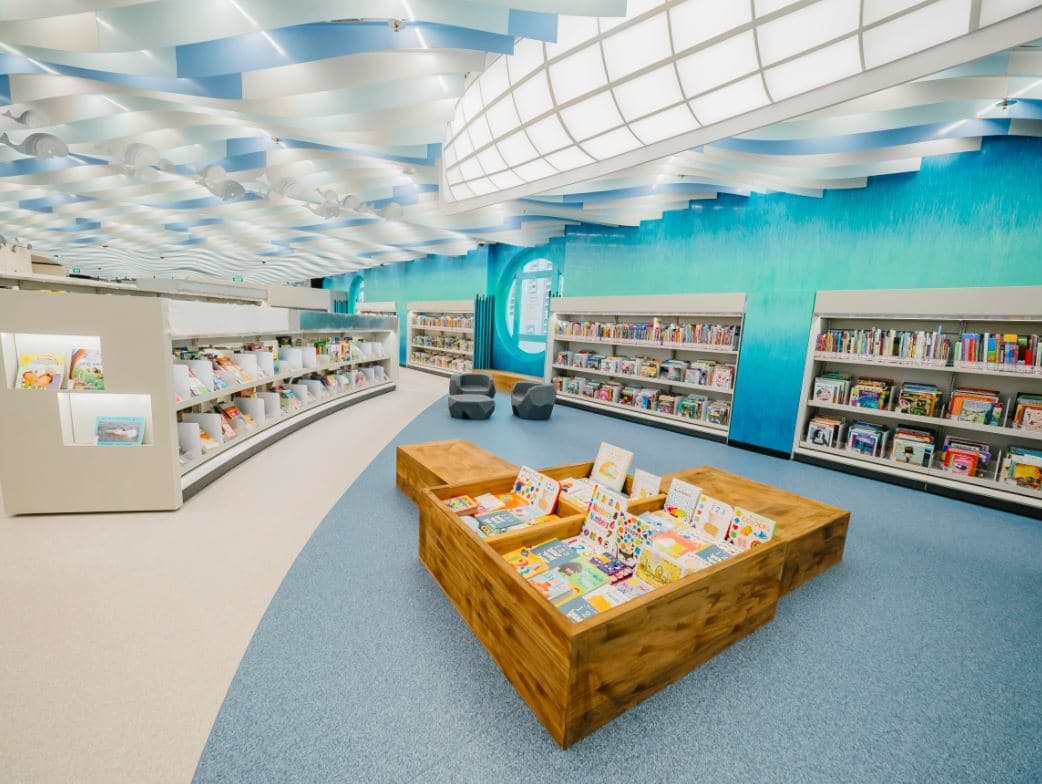 Other than the upcoming Punggol Regional Library located within One Punggol, residents can also have access to the nearby Sengkang Public Library. Located 1.9 kilometres away from Twin Waterfalls, it is situated within the Compass One Shopping Mall. 
The library has some new areas which include the Early Literacy Area where families can read and bond together, the Tween Space targeted at children aged 10 to 14, and a dedicated Adults section for quiet reading.
Places of Worship Near Twin Waterfalls
Friday Prayers for Muslims are quite convenient because Masjid Al-Islah is located just a short walk away from Twin Waterfalls. Within a kilometre radius of the development, you can also find the Church of Transfiguration and Dhammakaya Buddhist Temple. 
People of faiths can easily find their places of worship nearby. Here is a list of mosques, temples, and churches near Twin Waterfalls EC:
Masjid Al-Islah (650m)
Dhammakaya Centre Singapore (800m)
Church of Transfiguration (850m)
Central Christian Church (1.7km)
Puat Jit Buddhist Temple (1.9km)
Ji Gong Temple Singapore (1.9km)
St Anne's Church (2.1km)
Punggol Joint Temple (2.5km)
Gospel Light Christian Church (2.5km)
Sengkang Methodist Church (2.5km)
Masjid Al-Mawaddah (2.7km)
Kampong Tengah Thian Hou Keng (2.7km)
Arulmigu Velmurugan Gnanamuneeswarar Temple (2.8km)
Hospitals Near Twin Waterfalls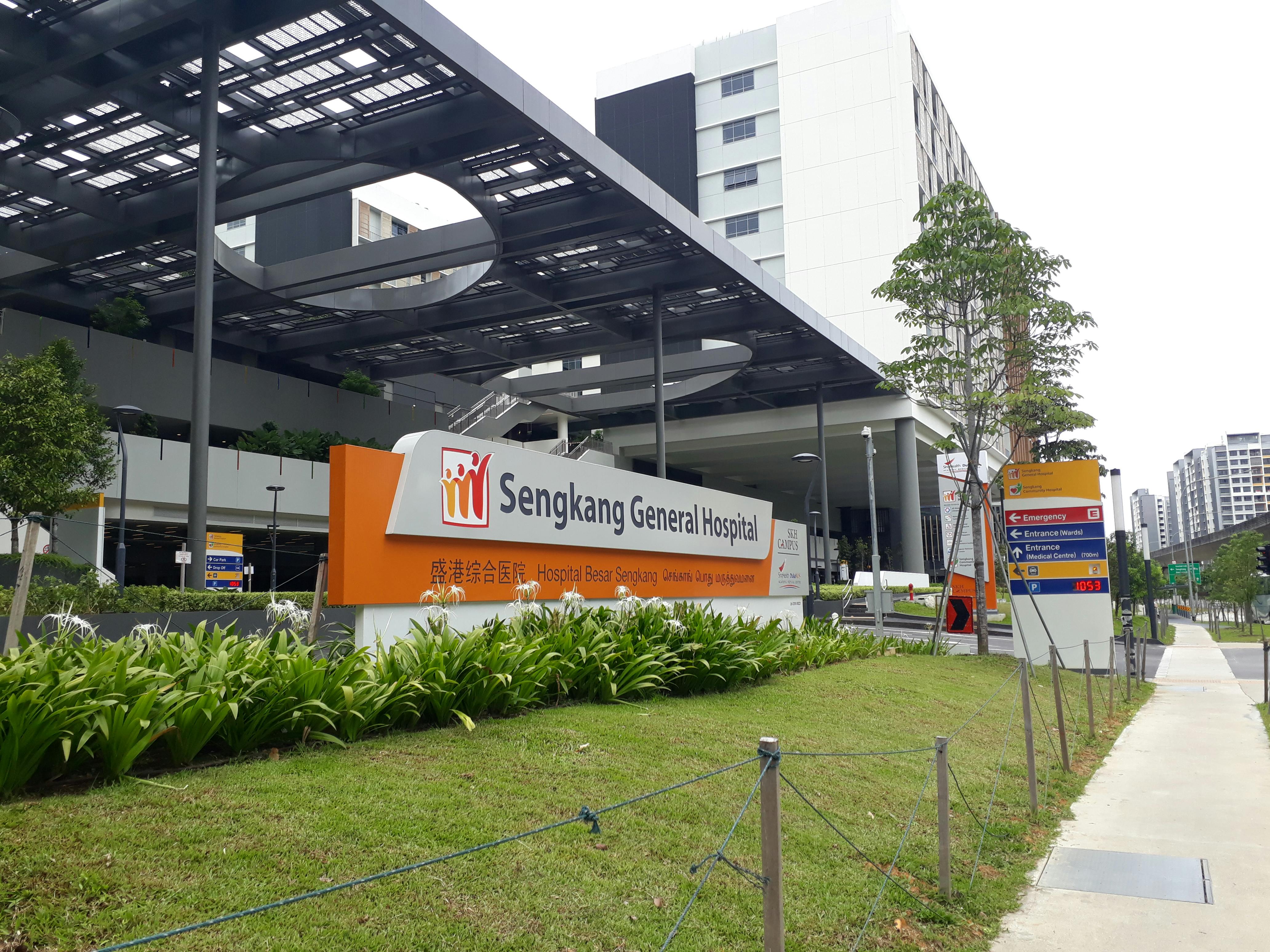 Sengkang General Hospital is located 1.5-kilometre away from the Twin Waterfalls condominium. Offering general hospital services with community-based care, the hospitals are part of Singapore's master plan in providing quality and accessible healthcare to all Singaporeans. 
The 1000-bed hospital is open 24 hours, partnering with primary care physicians, polyclinics, and intermediate and long-term care providers around the area to make healthcare more accessible to nearby residents. 
Suppose you prefer smaller medical facilities such as clinics, the nearest ones include Medi Healthcare Clinic (600m) and Standard Clinic & Surgery (650m).