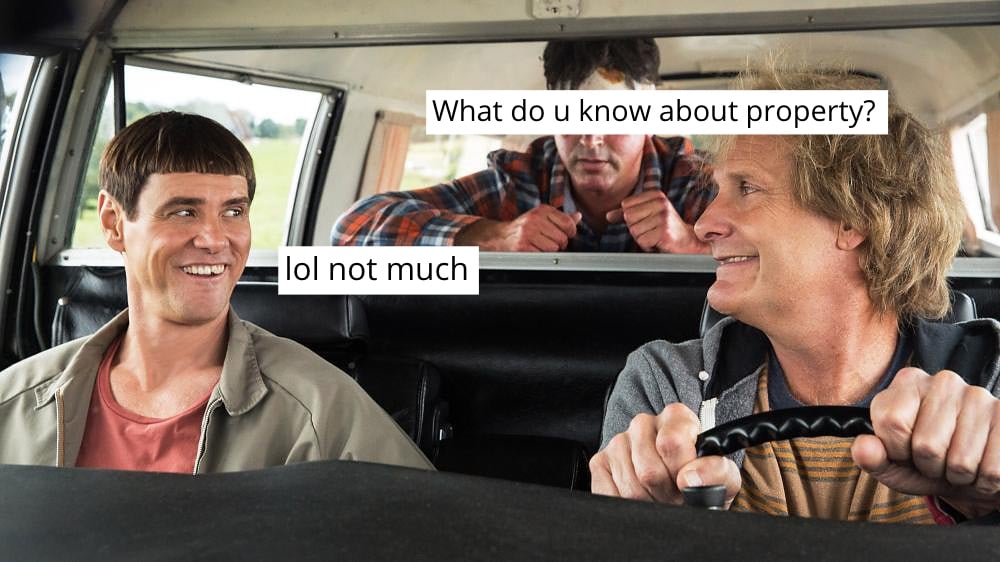 Young and clueless about buying property? It's ok we've all been there. We asked 10 millennials to submit their burning questions so we can answer them here.
Here's Part 2.
Ok I'm ready to do some adulting. Where do I start? How do I decide on a property?
It should be a balance between four main factors: earth, fire, wind and water. JK, they are: location, lease, price and your future plans.
Location: Look at areas with amenities that matter to your lifestyle and modes of transport. If you're a cyclist, a property near park connectors would be pretty sweet. Hate the sound of children laughing? Don't choose a property near schools. Alternatively, choose one near schools if you have children.
However, if you plan to rent out the apartment, choose a property that ticks all of the important requirements (the MRT, schools, hawker centres, markets) for your target demographic. This means identifying beforehand who the likely tenants are, and then picking someone to fit. For example, affluent expatriates are more likely to drive, and may be less bothered about MRT access than, say, student tenants. Working this out will increase your rentability.
More about location here.
Lease/Age of property: For condominiums, you can choose between freehold property (which means you own the flat forever) or leasehold (yours for 99 years, like HDB properties). Each has its own benefits.
The remaining lease can also affect your eligibility for a loan. For you to get the maximum HDB loan, the property must have enough lease for it to last the youngest buyer until they are 95. For banks, a short lease will result in lower Loan-to-Value (LTV) ratio and therefore more cash needed to finance your property.
Some good news:
older HDB flats means living in a mature estate with readily available amenities
condominiums with a 50-60 years remaining lease might have en-bloc potential
and resale condominiums are generally priced much cheaper than newer ones at the time of purchase
To buy or not to buy a super old property? Here's the answer.
Price per square feet (PSF) & Quantum price: The former is the amount you are paying per square foot, while the latter is the total price you are paying for the home. Though many use PSF as a barometer, a low PSF does not always mean a good deal; PSF is most useful when comparing properties that are highly similar (e.g. two units in the same condo block, with relative similar lay outs). PSF becomes irrelevant when comparing significantly different properties, such as between a landed property in Eunos versus a condo in Bugis.
Future plans: Requirements for own-stay and investing can be completely different, as elaborated in our first pointer. Also consider if you are starting your own family, and what URA has in mind for the location you are interested in.
Why is it so hard to get a BTO in mature or city locations?
It simply is about the availability of unused land. Mature estates — we are guessing your desired location is a place you are familiar with and has plenty of amenities — don't have much of it. It's why there are more BTOs in places like Punggol, Bidadari, and Tengah. They may be unfamiliar but definitely not undesirable… if you are patient enough. In fact, Punggol has transformed into a pretty cool town and Bidadari has a nature-inspired theme and car-lite plans. We say give newer locations a chance! Alternatively, there are lots of affordable resale, Executive Condominium or condominium units for sale in the location you want. Search for it here.
The government is also trying to avoid the "lottery effect" with public housing. Take The Pinnacle @ Duxton, which had a launch price of $345,000 to $439,000 in 2004. Thanks to its desirable location, the average price of five-room flats here today is in the range of $943,000; some units have even transacted above the million dollar mark! The "lottery effect' describes the unfair advantage that these homeowners get as as compared to those who got a flat in, say, Punggol.
Why is the single age pegged at 35?
Our theory is that the government wants to incentivise and prioritise married couples and families, and someone out there must have researched that most Singaporeans get married and have babies by age 35. We do not have the answer but the election is coming, so maybe it's a good time to request for a lower age.
Why are HDB flats getting smaller?
We are running out of land. Suck thumb. If you want a big flat, you need to find a flat built before 1990s. It was then that flat sizes became smaller.
Which is better for young couples (financially, in the long run) —  buying a BTO or HDB resale flat? 
Ah, the age-old question. We've always encouraged first-timers and young couples to go for BTOs. Though they take at least two years to complete and are smaller, they are more affordable than resale flats and therefore the ideal purchase for young couples who just started working.  And you get tons of grants as a first-timer applicant buying a BTO flat.
Note: If both parties are Permanent Residents, resale is your only option out of the two.
However, in September 2019, the government introduced the Enhanced CPF Housing Grant (EHG). It has a higher income ceiling and is applicable to both BTO and resale flats, of all sizes and estates. Previously, those in mature estates get lower grants.
Now the total amount of grants available for first-timers buying resale flats — which include the EHG, Proximity Housing Grant and Family Grant — are a whopping $160,000, and BTO, $80,000. This means that although resale flats are still more expensive, the higher grants have made them more accessible to young couples.
Therefore, the difference mainly lies in lease. For healthy capital appreciation, we suggest choosing BTO flats or "young" resale flats (e.g. those with 95 or 90-year remaining lease).
Resale flats with shorter leases, on the other hand, can be bought at a very affordable price, freeing up your money for other investments. If you are planning to buy a condominium, you can also use this flat to collect rent until it expires.
You can also get a resale near your parents, utilise the Proximity Grant and persuade your parents to take care of your child while you work. This way, you do not have to spend on childcare centres or a helper.
It really depends on what you want! Most homeowners who buy property for own-stay simply choose the property they can afford and in a location they like.
Do I get any housing subsidies if I buy my second HDB home near my parents? 
Yes! In fact, the Proximity Housing Grant is the only one you can get as a non-first time applicant. Couples or families that live within 4km of their parents are eligible for $20,000 in grants.
Other things you need to know:
Couples who live with their parents get $30,000
Singles who live with their parents get $15,000
Singles who live near their parents get $10,000.
What happens to a home when the 99-years lease is up?
For HDBs, the flat will be returned to HDB and eventually back to the state. They will then most probably demolish the flat. You can also hope for Selective En bloc Redevelopment Scheme (SERS), a government initiative that allows SERS residents to get a payout, move into a new 99-year lease home at a subsidised rate and other cool benefits. It's like winning the lottery, y'all.
Residents in condominiums with expiring lease can undergo collective sales, too. However, unlike HDB SERS, it is not compulsory and owners get to vote for or against the property being bought over. Owners will need to find another home on their own, but this shouldn't be a problem as the payout for condominium SERS is at market rate.
There's also Voluntary Early Redevelopment Scheme (VERS), which you can read about here. However, we've actually never seen VERS happen so no one is entirely sure of its nuances.
I heard we need to return the money we used from our CPF once we sell our flat. Is this true?
Yes, it's true, though not as scary as it sounds. The CPF monies you used for the downpayment or financing your current flat — plus the interest you could have accrued had you left it in the account — needs to be returned to your account. But! You can then use whatever you have in your Ordinary Account to offset your next purchase.
Should I sell my HDB first before buying another, or buy the HDB first and then sell?
Technically, you cannot have two HDBs under your name at the same time. This means you have to show proof that you are trying to sell off your existing flat, while holding on to your new flat.
There are several risks to buying before selling, such as having to sell your flat before six months. On the other hand, going for the selling-before-buying route is risky because if you do not find a suitable home in time, you might not have anywhere to stay. We wrote an explainer article on this matter here.
Do we have to declare if we rent out a room or an entire unit to HDB?
Yes, you have to declare it to HDB. More information on the procedure here. Once you do that, you can keep things organised by using the Tenancy Agreement forms prepared by the government agency Council for Estate Agencies (CEA). They detail the names, NRIC numbers, addresses, and any additional terms such as whether the tenant or landlord should pay for utility bills. This is to protect all three parties — including the agent brokering the deal.
By the way, if you lock up one room and then rent the remaining space, it is not technically considered an entire unit but the HDB will still take action.
Hope this has been useful! Here's Part 2.
Got questions about property? Voice your thoughts in our comments section or on our Facebook community page.
Looking for a property? Find the home of your dreams today on Singapore's largest property portal 99.co! You can also access a wide range of tools to calculate your down payments and loan repayments, to make an informed purchase.
Looking for a property?
Find the home of your dreams today on Singapore's fastest-growing property portal 99.co! If you would like to estimate the potential value of your property, check out 99.co's Property Value Tool for free. Also, don't forget to join our Facebook community page or Telegram chat group! Meanwhile, if you have an interesting property-related story to share with us, drop us a message here — and we'll review it and get back to you.
Note that this content may be reproduced in edited form on our content partner sites. They include AsiaOne and Yahoo South-East Asia but are not limited to these.