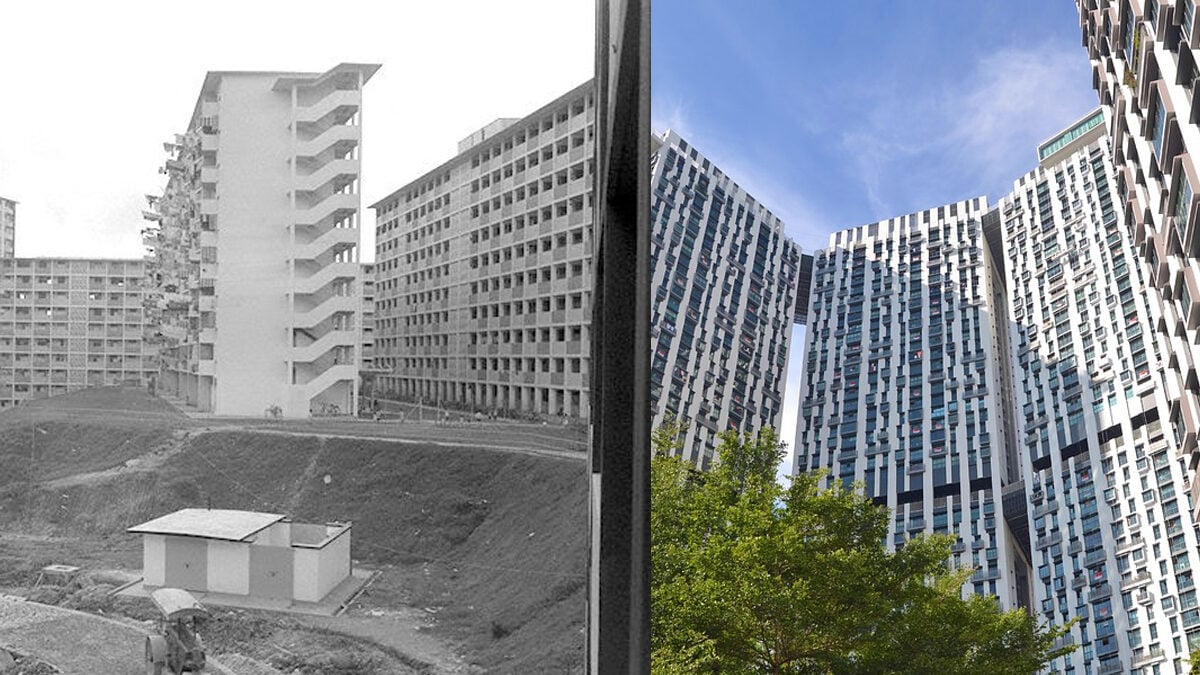 The Housing Development Board (HDB) has provided homes for majority of Singaporeans for almost six decades. With more than one million flats built across 23 towns and three estates in Singapore, we explore the evolution of HDB flat designs since its formation in 1960. Be prepared for the nostalgia to hit as we take a walk down memory lane! (Cover image credits)

HDB flat designs in the 1960s: keeping it basic
To build as many homes for a growing population in the 1960s, the designs of the earliest HDB flats were kept simple and functional. Massive slab blocks of up to 10 storeys were built, with the units accessible by a common corridor that ran along the length of the block. Each floor had up to 12 homes.
These units, comprising of one to three room flats, were fitted with basic amenities like piped water and electricity. They were also outfitted with a flush toilet and a shower together in one room. Each unit ranged from 30 square meters for a one-room flat to 70 square meters for a three-room apartment.
Some examples of the earliest flats built by HDB still standing today include the Selegie House, and the row of flats – Blocks 45, 48, and 49 – along Stirling Road in Queenstown.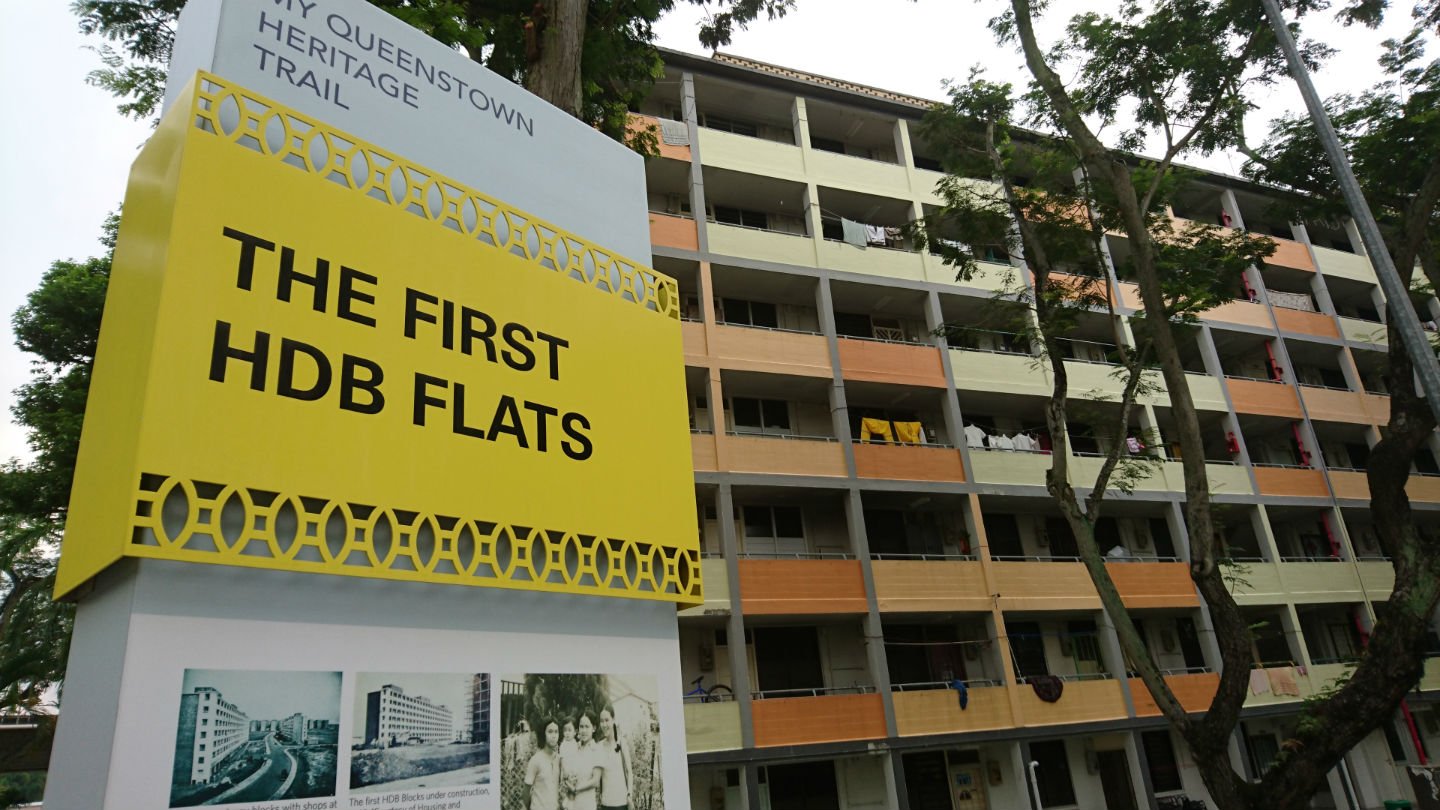 (Credits)
HDB flat designs in the 1970s: the rise of the point blocks
It was also in Queenstown where the first point blocks, constructed in 1970, were built. These towering 20-storey flats differed from the early slab blocks in that they had no common corridors. To increase the level of privacy with point blocks, there were only four units on each floor. Floor size in each unit became larger. Four and five-room flats, ranging from 84 to 125 square metres respectively, were constructed. Each five room flat also featured a master bedroom with an attached toilet.
The now iconic void decks were also incorporated into HDB flats in the 1970s as a common area for residents to engage in social activities. These void decks had facilities like benches and chess tables.
By the 1970s, HDB new towns were being built. The concept was to provide an integral living environment with community facilities such as libraries, parks, and swimming complexes for its residents. Queenstown and Toa Payoh were the pioneering estates for this new concept.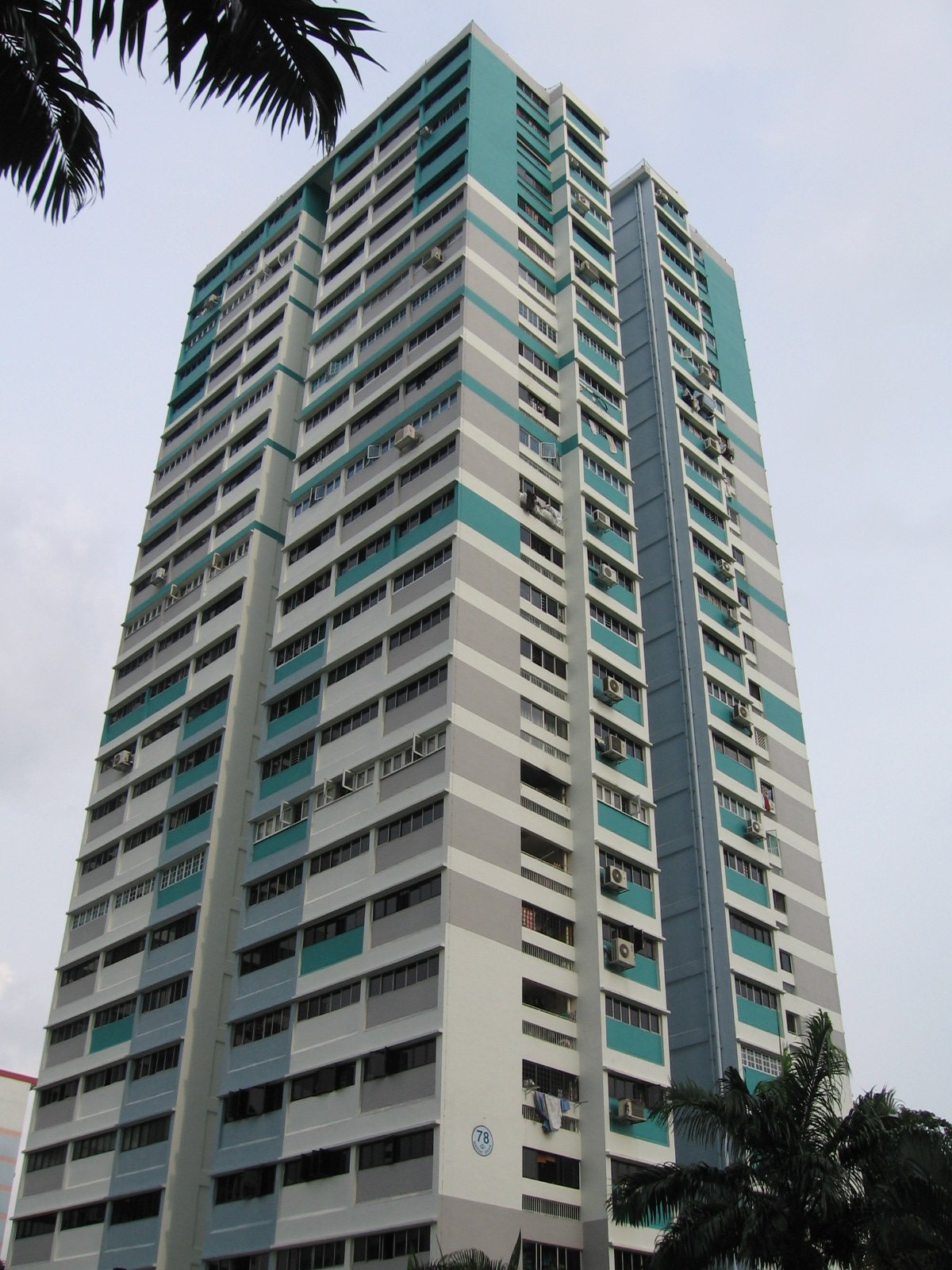 (Credits)
HDB flat designs in the 1980s: rapid expansion
In the 1980s, 11 new towns were constructed, including Hougang, Jurong East, and Bishan. Both point and slab blocks were built, and most flats were aligned in the east-west direction to avoid direct sunlight spilling into homes. At this point in time, the HDB started building prefabrication blocks, which allowed for flats to be built at a faster rate. While it took about 20 months to complete a normal flat, a prefabrication block required only 16 months of construction.
The concept of new towns involved flats being built in a more structured manner, with corners in slab blocks bent to make the area feel more enclosed. Each new town was also divided into housing precincts, which consisted of 400 to 600 units.
Executive apartments and maisonettes – double storey apartments – were introduced during this time, and these included utility rooms. Multi-generation flats were also introduced; these featured two entrances into the house. Aptly nicknamed 'granny flats', these apartments were catered towards families with different generations living together, with a separate 40 square metre studio apartment for the elderly. However, they were eventually phased out by HDB as they weren't popular among Singaporeans.
By the 1980s, about 85% of Singaporeans were living in HDB flats.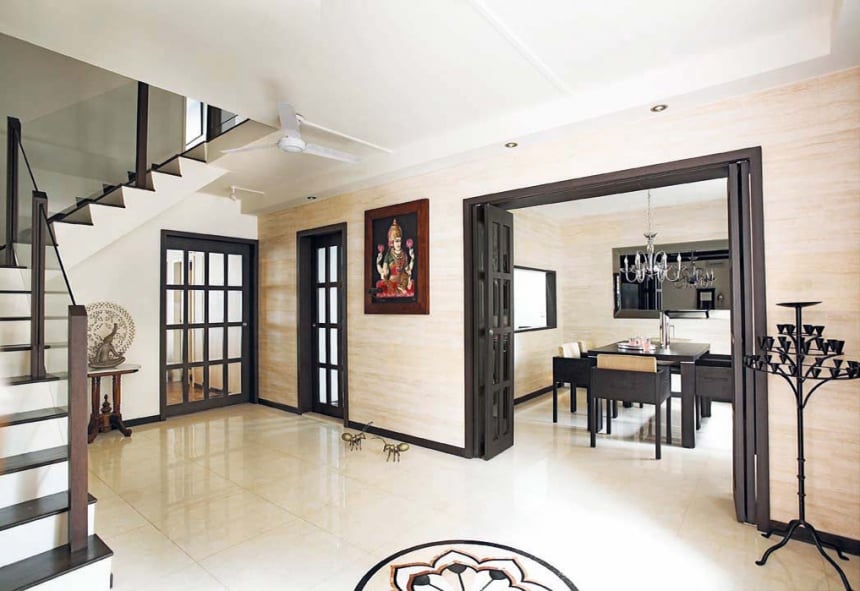 (Credits)
HDB flat designs in the 1990s: all about the aesthetics
HDB blocks of the 1990s were built with the concept of giving strong visual identities to the new towns. This meant incorporating distinctive features in the flats through their architecture designs and colour schemes. Flats varied from 9 to 18 storeys; most of the HDB block constructed in the 1990s also came with lifts which stopped at every floor.
In the 1990s, the HDB also introduced premium apartments and executive condominiums. Premium apartments were entirely furnished, with the likes of flooring and built-in wardrobes provided, and the latter were subsidized private housing with the same eligibility conditions for standard HDB flats.
However, due to a shrinking land area, flat sizes became smaller, with the floor area in five-room flats dropping from 130 square meters to 120.
Household shelters were also introduced in the 1990s, and are equipped with blast-protection doors and reinforced concrete walls – meant to offer protection in the event of an emergency.
HDB flat designs in the 2000/2010s: shrinking apartments
At the turn of the millennium, the increased affluence of Singaporeans meant that more turned to the option of private housing, and HDB point blocks lost their popularity. Apartment sizes were further downsized, with each unit losing about 10 square meters.
The Design, Build and Sell scheme features public housing, built by private developers, with condominium style designs. Such estates include Punggol 21+ and The Peak at Toa Payoh. HDB has also continued to break boundaries with new and innovative designs for its flats. For example, the buildings within The Pinnacle @ Duxton are the world's tallest public residential buildings, with 52 floors on each of its seven towers. The project was completed in 2009.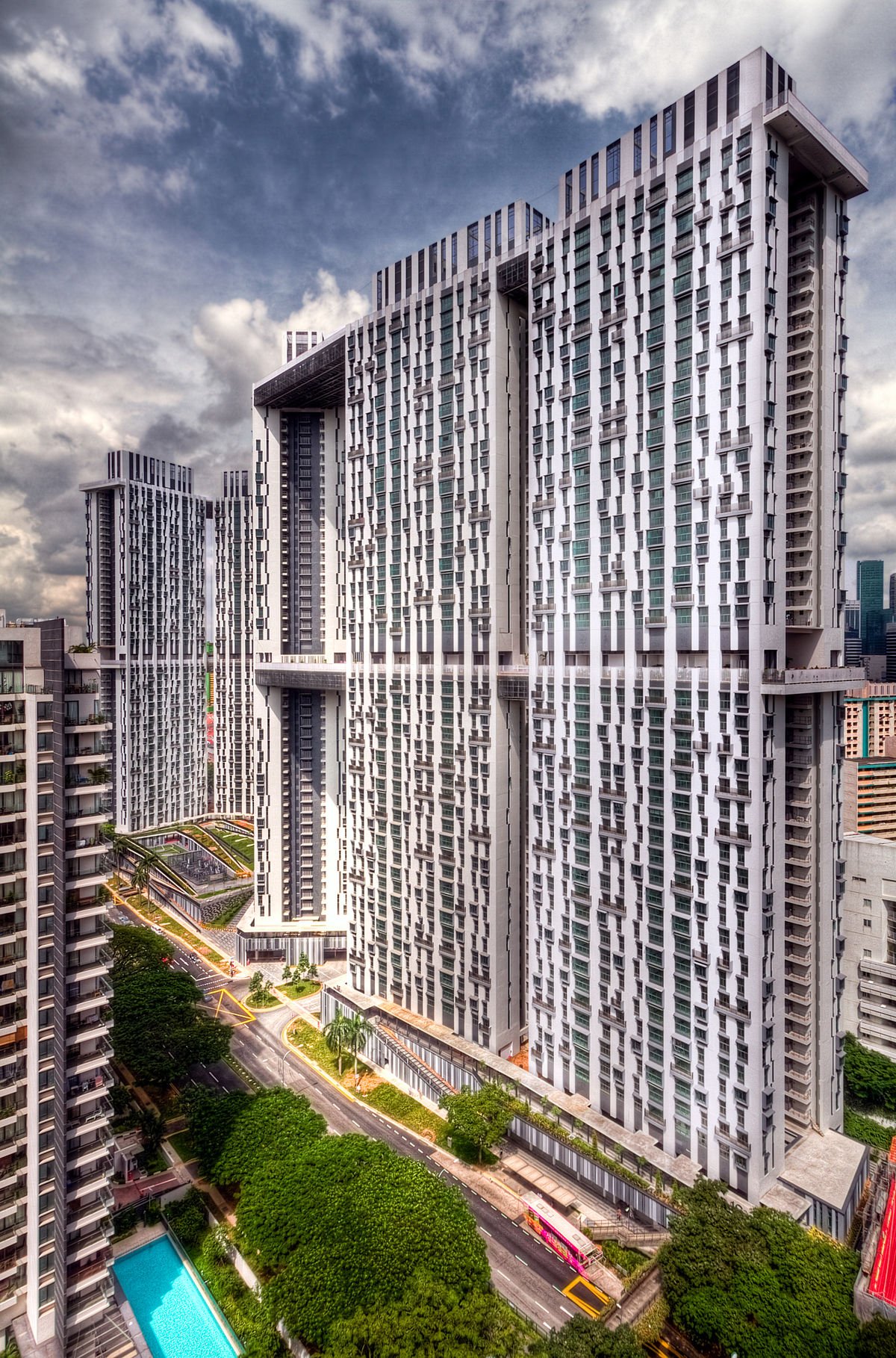 (Credits)
Enjoyed this article about HDB flat designs through the decades? Also check out our articles on HDB terrace flats and jumbo HDB flats, which were built in the 1960s and the 1990s respectively. These old and highly coveted flats might just be what you're looking for if you need more space, but can't afford to pay for a private property!
Find the home of your dreams today at Singapore's largest property portal 99.co!