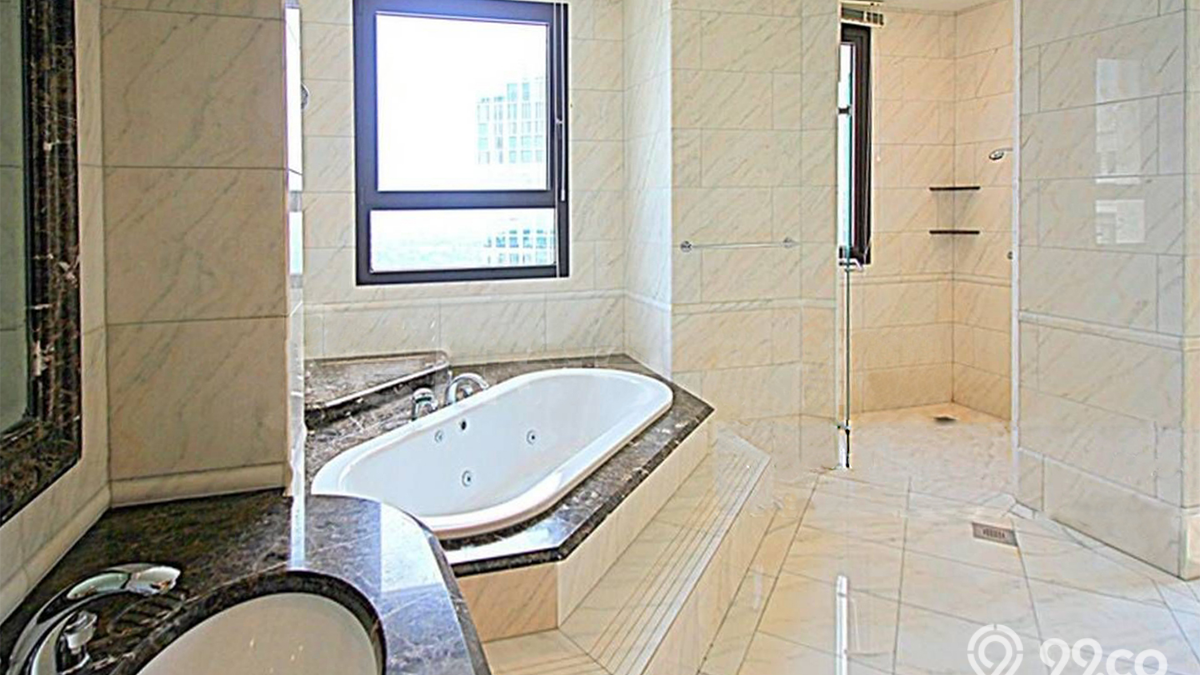 The bathroom is the one space in your home where you can truly relax, unwind and retreat from the rigours of the outside world and escape.
Many of us have been looking to renovate or at least reinvigorate our home spaces with new bathroom designs. If there's a room of choice that often gets the makeover, it's the bathroom. Sort out your master bedroom's bathroom ensuite and your guest loo with these great bathroom design ideas pronto. Take a page from these beautiful bathroom designs to make your bathroom more inviting and heavenly.
A few helpful tips: Renovating your bathroom could prove to be a costly exercise, and could at least set you back by a few thousand dollars. Bathrooms are often renovated for hygiene purposes but many people enjoy a peaceful and restful place to restore peace to their inner selves. Packages are often available for bathroom renovations.
1. Contemporary white spaces and gold accents
A contemporary cool vibe can be achieved with a side-window view nestled in the wall, a potted plant and some golden rims around the toilet edges.
2. A romantic open concept and large mirror fresh finish
If you're a romantic at heart, you'll love an open concept shower with large mirrors and wall art, and a tiered towel rack adds to a nice fresh finish.
3. Be bold with blue
Have shades of blue for the bold and colourful. While whites and greys are still favourites, experimenting with splashes of colour helps to enrich material palettes.
4. Timber land never looked better than this
Finishing touches make the grain (we mean 'cut') in the bathroom design of your choice. The timber's natural tones and textural grain of the wood blend beautifully and exude a rustic elegance that hardly goes out of style.
5. Place the focus on your "conversation piece" wall
An impressive focal wall makes the difference in this space, with a conversation-starting design that proves you can have fun with lush wallpaper.
6. Go classic cottage
Decor elements and rich texture lend an appeal to this bathroom thanks to its classic cottage-ish look.
7. Black and white tradition
Black and white elements lend a traditional feel to this space. Pared down to essentials, this consciously understated space with no superfluous details can be extremely restful.
8. Feature your floors and architecture
The feature floor is clearly making a statement here, while the striking bathroom allows its architecture and shape of the room to serve as the design element.
9. Wicker on
Wicker is a timeless addition to any bathroom space, with simple woodwork and accents, create a soothing and serene atmosphere.
10. Put the bath in your bedroom
A freestanding bath is the epitome of cool in this bathroom. Here, the muteness of the whites in this open-plan bathroom allows the bathtub to shine.
11. Frame the windows with black trimmings
Framed windows in black trimming juxtaposed among a timeless palette of white create a zen-like sense of serenity.
12. Paint the walls pink
Painted walls and a lighted mirror accented by modern sleek lines provide for minimal design space.
13. Warm woods in presentation
Wood adds warmth to the bathroom, with a thoughtful combination of finishes that appeals to this design.
14 & 15 Emerald jewel tones and copper themes
Tiles on the wall and the jewel tones add a layer of charm and interest. Glamorous fittings and smart use of a focal wall for the jewel tiles create a spectacular effect for colour done classically.
Copper taps and a large freestanding copper bath add a romantic touch, with a masterful interplay of textures. The contemporary and traditional elements give a calming view of a shower with a stargazing spectacle at night.
16. Industrial touch
Wall-mounted lights add an industrial touch with foregrounded beautiful textural stone. Using strong detailing in the form of rose gold shower fittings and black finishes, industrial touches add a more contemporary effect while not failing to include the rustic vibe.
17. Even a pared-down bathroom can look good
Whimsical escape with a touch of gold, with a pared-back bathroom and vintage bath and fittings.
18. Soft drapes in the bathroom
Soft draping window elements, with a rug and colourful artwork, adds personality to this open-plan scheme.
19. Old world furniture
Beautiful old furniture forms a kind of accented art and can be the hallmark of a traditional bathroom with classic appeal.
20. Vintage styles in vogue
Vintage style shower power, where minimal meets organic in a bathroom. Notice the combination of irregular shapes with clean lines and textured stone with shiny finishes.
21. Herringbone tiled wall
Using herringbone tiles to create a different effect in this stunning bathroom design, the texture of the tile is the hero, glossy reflections subtly highlight the pattern while not disrupting the calm ambience of the space.
22. Light and reflections
Don't underestimate the power of good lighting to enhance the space in the bathroom. Quality lighting and reflections in a family home can be softened by the light crisp pink walls. While the fittings and the warm lighting create a space that is both welcoming and fresh.
23. Candle lamps on the wall
Candle lamps on the wall create a soft touch which is an ode to simplicity and a pleasing sense of cohesion and minimal elegance.
24. Black and white elements
A large mirror adds character with black and white elements. Ambient lighting brings out the freshness of the space and the invigorating feel that one is left with after visiting this space.
25. Prints and patterns
Prints and patterns for walls lend a contemporary modern and fanciful vibe to this bathroom.
26. Go all out on mirrors
An unusual colour scheme, with multiple mirrors, add traditional and rustic styles to the mix. The rough and smooth textures work in harmony to create a beautiful space of restfulness.
27. Dark, broody and dramatic with black
Dark, broody bathrooms are dramatic and it is easy to see why, from glazed brick tiles, to cast iron fixtures and pendant wall lights. The dark colours of midnight can rock your bathroom, giving new meaning to the phrase "welcome to the dark side".
28. Soft feature lighting
Lamps add a beautiful, soft illumination giving your bathroom an airy feel of luxury.
29. Ladders as an artful accessory
An artful finish – a ladder. Black finishes, timber and concrete create an unexpectedly warm and informal result that is enhanced with a freestanding ladder and shelving.
30. A few fun accessories
While you don't need much in the way of accessories, storage or even furniture to create impact in a bathroom, you can still generate quite an impression if you select strong and dramatic surfaces to complement the rest of the fixtures.
Frequently Asked Questions about Bathroom Designs
Q1: How do you master one particular look?
It is simple if you focus on the colour and the patterns. Don't forget that professionals are on hand to help you work out your ideas on the best design for your bathroom.
Q2: How do I choose which design is best for my bathroom?
A lot of the choices have to do with the main home as well as how large your bathroom space is. You want to create a space that is in harmony with the rest of the space in your house.
Q3: How do I create an outdoor feel more easily?
An outdoor feel is easily achieved with planters and potted plants as well as creating strategic windows and spaces for light to shine through.
Q4: How do I renovate my bathroom to look more beautiful if I just want to focus on a few renovation items?
Simple adjustments can be done with the shower and tap fittings. If you're slightly more ambitious you can change your vanity to suit your new bathroom.