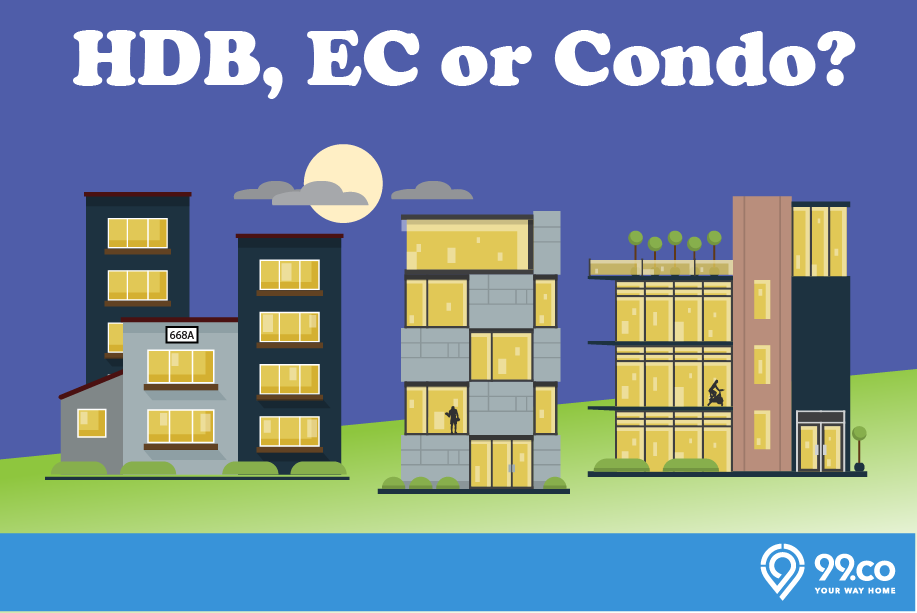 First-time home buyers are often confused by the distinction between BTOs, ECs, and full fledged private condos. Each have their pros and cons, and your income level is also a big concern. Here are the key differences every Singaporean should know: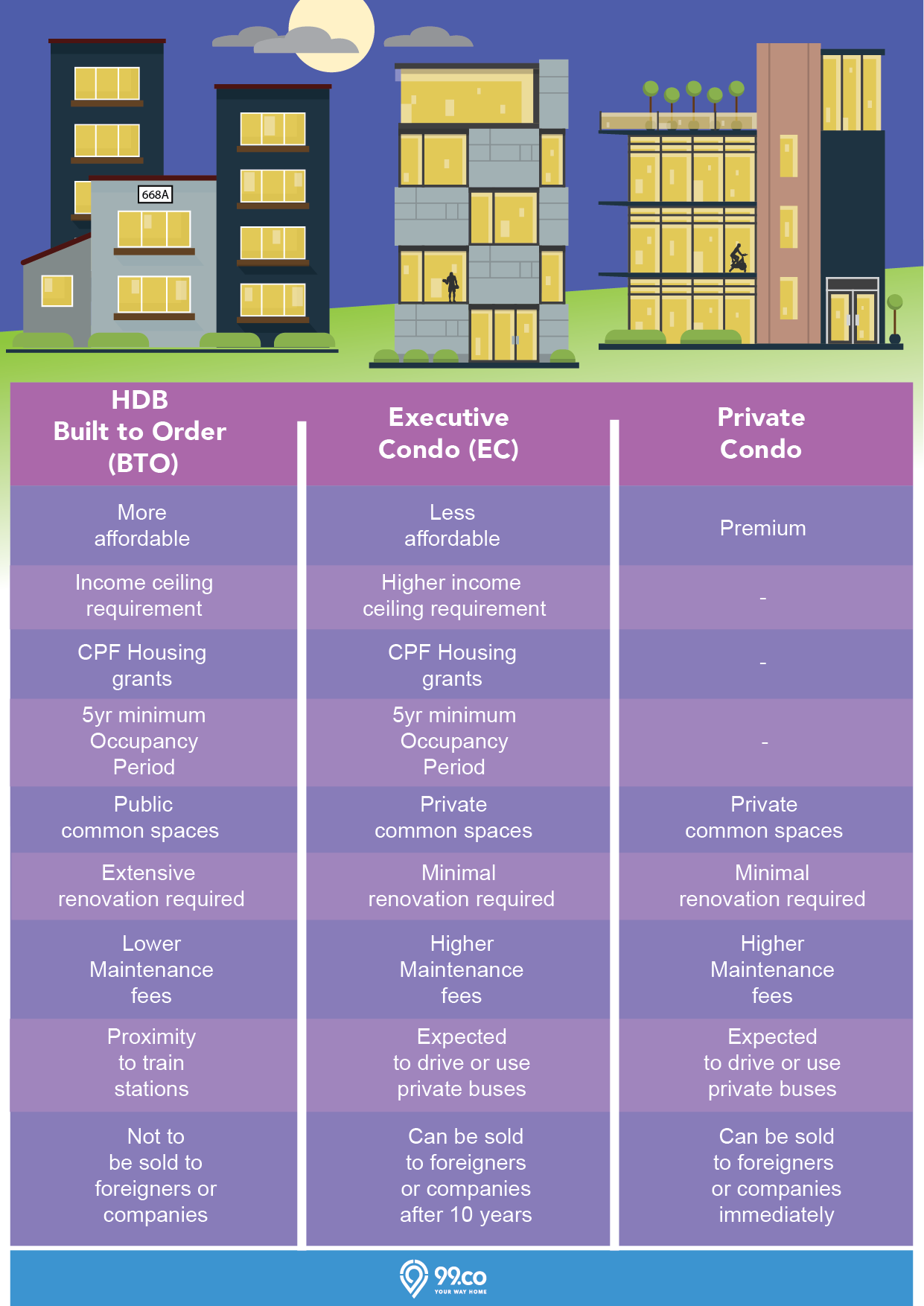 BTO flats
– Built-to-Order (BTO) flats are also known colloquially as "new flats". BTO flats are HDB properties. Note that, as HDB properties, they can never be sold to foreigners or to companies.
– There is an income ceiling when buying HDB flats. If the combined monthly income of the borrowers exceeds this ceiling, they are not eligible. The income ceilings are:
2-room flats: $6,000 ($12,000 for elderly buyers, who are purchasing 2-room flexi-flats)
3-room flats: Usually $6,000, but is sometimes capped at $12,000 for select projects
4-room or bigger: $12,000
For multi-generational (3G) flats, the income ceiling is 1.5 times higher (generally S$18,000).
HDB flats have communal rather than private facilities. For example, there's usually a communal garden, and a work-out corner for residents.

Newer BTO flats may not have an individual rubbish chute in each unit (varies based on project).

You can get CPF Housing Grants for BTO flats. See

here

to find out what you qualify for.

You have the choice to use either the HDB loan or a private bank loan. The main difference here is that, if you use the HDB loan, you will make a smaller down payment: 10 per cent of the property value, which can fully be drawn from your CPF. A bank loan requires a 20 per cent down payment, of which five per cent must be in cash (the rest can come from your CPF).

BTO flats may require more extensive renovations when moving in. This includes installation of air-conditioning, or kitchen facilities. All things being equal (i.e. if you also use basic renovations for your EC or private condo), the BTO may cost more to renovate.

BTOs are cheaper overall than ECs or private properties. 5-room BTOs are often between $500,000 to $600,000 before subsidies, whereas 4-room flats are around $300,000 to $350,000. 3-room flats range from $170,000 to $250,000. But these prices may differ significantly based on location.

BTO flats come with a five-year Minimum Occupancy Period (MOP), before you can sell or let out the entire flat.

Service and Conservancy Charges are very low, up to $80 a month even for five-room flats.
Executive Condo
ECs are full suite condos, meaning they come with private facilities like a pool, a gym, and 24-hour security.

ECs are built and marketed by private developers, not by HDB.

ECs are HDB properties for 10 years. After that, they count as private properties. They can then be sold to foreigners or companies.

ECs have a higher income ceiling of $14,000.

You

can get CPF Housing Grants

for ECs.

You must use

a bank loan for ECs

Maintenance fees are on par with private condos, so don't be surprised if it reaches $250 a month or more.

Renovations for a new EC can be cheaper and quicker, if you keep things basic. They tend to come with features like air-conditioning already installed.

ECs are a "sandwich class" property, which generally cost more than BTOs but not more than private properties. Expect prices to be in the range of $800,000 before subsidies.

There is

still

a five-year MOP for ECs.

Check out 2018's only EC launch Rivercove Residences which is set to come onto the market on 1 April 2018!
Private Condo
As with ECs, these are full suite condos built and marketed by private developers.

Private properties can be sold to foreigners and companies at will; they are not subject to the usual HDB restrictions. There is also no Minimum Occupancy Period – you and buy it and start renting it out straight away if you want.

You must use a bank loan for private properties.

There are no government subsidies for private property (i.e. no CPF housing grants).

As with ECs, you seldom need to do extensive renovations; with few exceptions, private condos are sold with all the kitchen facilities, air-con, shelving, etc. Some are also sold fully furnished, as an option.

Maintenance fees are high, compared to BTO properties. Many private condos, like ECs, have maintenance fees of around $250 a month. However, some private condos – such as luxury developments with concierge services – can have maintenance costs that hit four digit figures every month (but you usually only find these in Orchard-road type properties).

Note that most developers of private condos expect you to be able to afford a car. Private properties tend to be further away from MRT stations and bus stops than BTO flats (but not always).

Most mass market, suburban condos will cost between $1 to $1.6 million. More centrally located condos can cost between $2 million to $3 million. As for luxury areas like Orchard and Sentosa, we don't need to tell you but prices can be as high as the developer wants.