Car porch roofs in landed houses are increasingly designed to double-up as balconies because space is scarce in Singapore. In this rain or shine weather, a roof over the car park is practically necessary. Many are designed with a long breadth to provide ample coverage, so why waste a perfectly useable flat area at the 2nd floor when you can turn it into a balcony? (Cover image credits)
If your house already has a car porch roof, you're just a few steps away from creating your very own sky garden. Here's a consolidated checklist to get you started:
#1 Is your current car porch roof suitable?
Shelters aren't usually designed to be load bearing, so be aware of what your car porch roof is made of. If you're parking your car under an aging wooden or aluminium frame, you might want to upgrade the entire porch altogether.
Note that not all concrete car porch roofs are flat either. The pitch roof design with characteristic clay orange tiles was popular in the 90s, and would require construction to produce a horizontal exterior.
#2 Do you have access to the car porch roof?
Houses are designed differently. You might already have a French window facing the car porch roof, or not at all. Consider the cost to create a new doorway, and how wide you want it to be. Glass sliding doors are trendy and provide easy access to the new balcony.
#3 Is the path smooth?
If you find yourself taking a leap down to the roof, then installing steps is the quickest solution. Sometimes the second floor and the car porch roof weren't built at the same level, so a small staircase with attached railings is all that's needed for convenient access.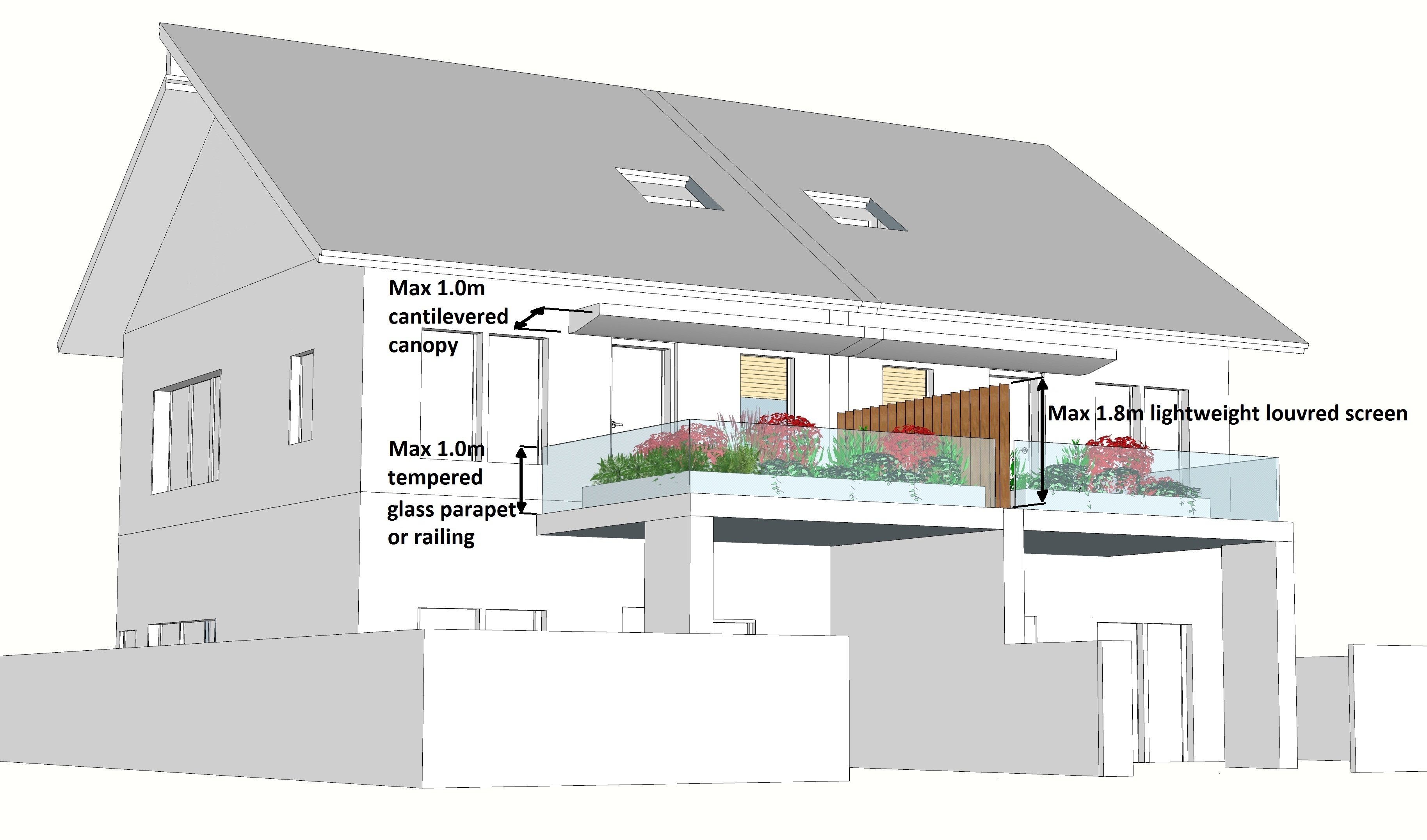 (Credits)
#4 Safety first!
If your existing car porch roof has nothing but a kerb around the perimeter, you're definitely going to have to safety-proof it beforehand. Two options are available: 1m high glass panels, or railings. These not only allows your garden to be admired from the street, they're also in line with the Urban Redevelopment Authority's guidelines.
#5 Decide on the type of screening
Everyone values their privacy, so be sure to put up a fixed lightweight screen (up to a height of 1.8m) along the side of the roof you share with your neighbour. Aluminum, metal or glass louvers are common choices.
When adding the final touches, choosing the type of greenery makes all the difference. Often, the car porch roof is right outside the master bedroom. A new balcony provides visual relief for homeowners. Looking out onto your new garden with sunken flower beds, shrubs or carefully hand-picked potted plants will certainly be a refreshing view.
Are you inspired to create your own outdoor balcony at the car porch roof? Tell us your ideas on how to spruce up the space.
If you found this article interesting, you may want to read more about buying a landed home in Singapore and 5 landed property you can buy for under $3 million.
Find the home of your dreams on Singapore's largest property portal 99.co today!