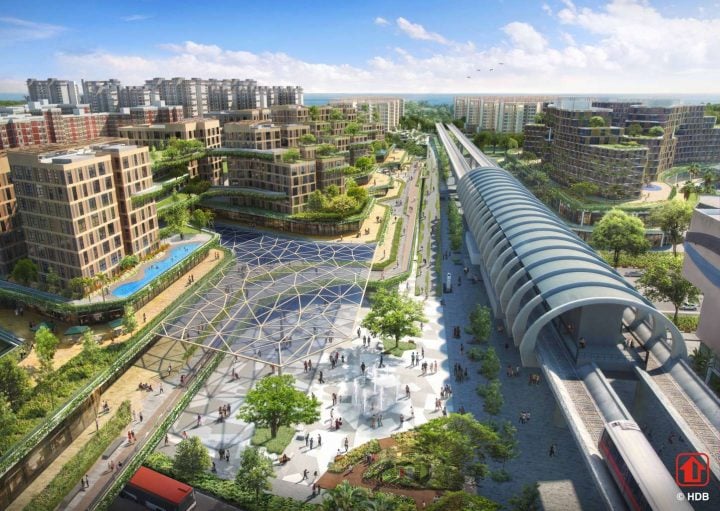 In Singapore, every town has its day. Pasir Ris, a Housing & Development Board (HDB) housing estate built-up in the 1990s, is about to get a facelift as the estate reaches 30 years of age. Plans to rejuvenate Pasir Ris town were announced last year, and HDB finally got the ball rolling on 28 August 2018 when it launched a massive 3.8 hectare land parcel — about 6.5 football fields in size — for tender. Located at Pasir Ris town centre and next to the MRT, the land parcel is a "white site" intended as a mixed development, which will feature an integrated bus interchange, polyclinic and town plaza, plus about 600 private condo units.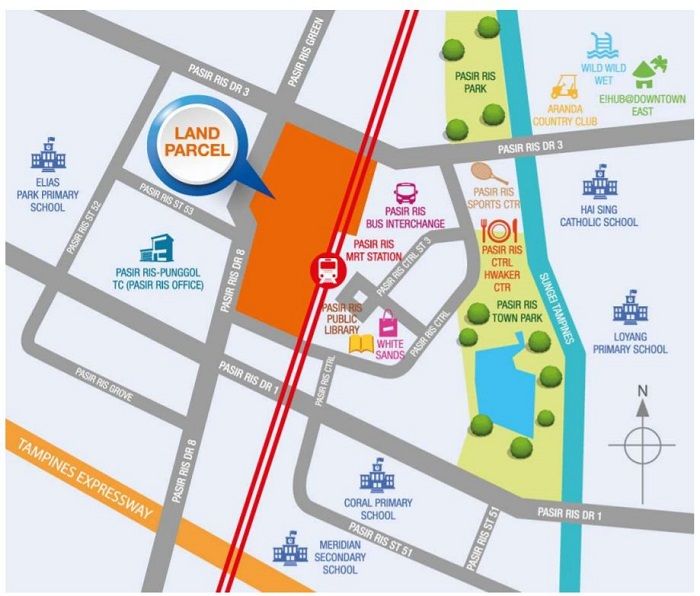 Speaking of condos, the rejuvenation of Pasir Ris has already began some years ago. A whopping 5,595 new condominium units have been completed since 2016, the biggest projects being Coco Palms (944 units), D'Nest (912) and Palette (892). (Pasir Ris has 29,654 HDB units.) This significant addition of private housing in Pasir Ris testament to the appeal of living in the town, which has a combination of these five attributes that no other town in Singapore can boast of:
1. Proximity to Changi Airport
Pasir Ris is the housing estate that's nearest to Singapore's Changi International Airport. By car, the airport is just five to ten minutes away. By bus, it takes about 20 minutes. This has made Pasir Ris one of the choice towns for frequent travellers, including tenants (e.g. air crew) whose work requires them to shuttle to and from Singapore.
A proximity to Changi Airport also means a proximity to industries related to aircraft, logistics and air freight. The presence of Changi Airfreight Centre, Changi North Industrial Park and Loyang Industrial Estate further increases housing demand in Pasir Ris.
Thankfully, even though Pasir Ris is located near to Changi Airport, residents don't suffer from aircraft noise pollution as the town is far from any existing flight paths.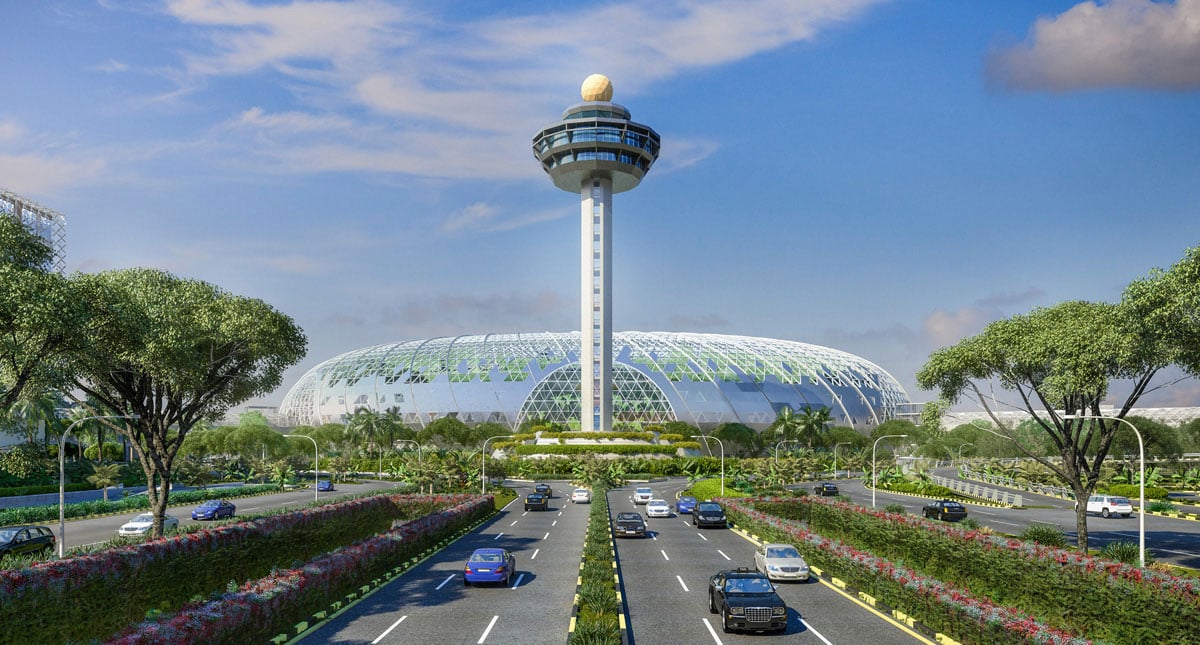 2. Cross Island Line
Pasir Ris residents can get to the city within 40 minutes using the East-West MRT line, but the upcoming Cross Island Line — which could feature an express service — will link up Pasir Ris to the rest of Singapore and make commuting everywhere a breeze. The line will be operational "around 2030" and will connect Pasir Ris with Hougang, Ang Mo Kio, Bukit Timah, Clementi, West Coast and Jurong.
The Cross Island Line will likely form an interchange with the existing Pasir Ris MRT Station, and we understand that two more stations on either side of the town are also part of the plan. Moreover, the Cross-Island Line will give Pasir Ris residents a direct rail connection to Changi Airport.
3. Seafront living and views
Currently, Pasir Ris is as close as it gets to being a seaside resort town for Singaporeans. There are condo (and some HDB units) that overlook the two-kilometre wide Serangoon Harbour, giving its lucky residents expansive views of the water and the lush and pristine Pulau Ubin on the other side. Given that sea views along the East and Southern Coast of Singapore are somewhat "spoilt" by views of docked ships and container terminals, we'd like to think that the sea views from Pasir Ris condos are the best in the country. Agree?
Okay, enough talk. These stunning photos from our listings speak a thousand words: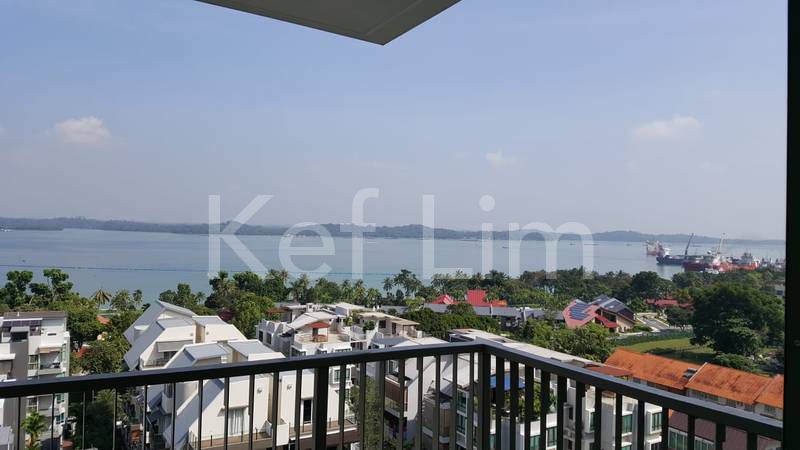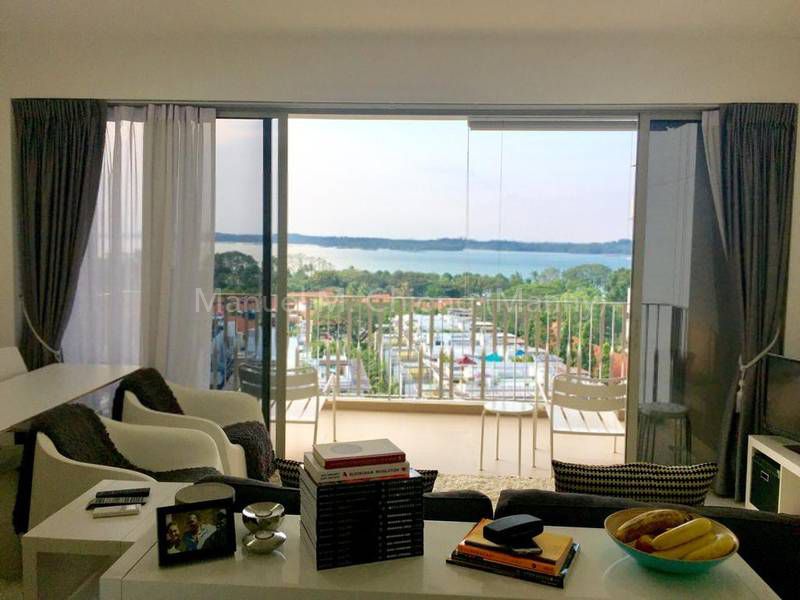 **[Browse all sea view properties in Pasir Ris here]
4. Established amenities
Even if you don't live in a unit with a sea view, the sea breeze and seaside recreation is just a short distance away. Nearly everyone in Pasir Ris lives within 10-minute bike ride from Pasir Ris Park, a massive 6.8km-long, 70 hectare recreational area that runs the length of the Pasir Ris shoreline and features a mangrove boardwalk. Speaking of cycling, Pasir Ris is one of the first bike-friendly towns in Singapore with cycling paths along almost every road and park connectors that link up with neighbouring towns. For instance, cyclists can travel on a dedicated bike path northwards to Changi Village and Changi Beach Park.
Nature aside, Pasir Ris is also a mature estate, which means it has the entire suite of amenities a fully-developed HDB town should have. The future mixed development would add to the number of existing malls such as White Sands, Loyang Point, Elias Mall, Pasir Ris West Plaza and NTUC Downtown East. For kid-friendly fun, there's the NTUC Pasir Ris Resort and Wild Wild Wet — a water theme park. For sports, Pasir Ris Sports Centre encompasses a swimming complex and facilitates for badminton and table tennis, amongst other sports.
Pasir Ris is also ideal for families. The town has seven primary schools, four secondary schools and a junior college (Meridian Junior College). It also boasts an international school (Overseas Family School).
Last but not least, we've heard great things about the newly-opened Pasir Ris Central Hawker Centre, a long overdue hawker centre that residents have been wanting for almost a decade. Over at the hawker centre, you'll find your usual chicken rice and char kway teow, as well as more trendy and international menu items such as Wagyu beef bowls, pork belly burgers and even Korean bingsu.
5. Upcoming developments
As we mentioned, HDB had recently launched a tender for a massive mixed use development at Pasir Ris. Also, as the only estate in Singapore to have its town centre located within 500m of the regional park and coastal beach area, HDB has also decided to build an elevated cycling path to the coast that'll pass through the town centre, as the below video showcases.
Altogether, HDB's plans for Pasir Ris under the Remaking Our Heartlands programme is likely to further raise the appeal of living in the estate.
So, how do these attributes relate to property value in Pasir Ris?
If you feel to the prospect of living or buying a property in Pasir Ris, then you might find that it's currently a bargain — let us show you why. First, let's compare the data for HDB resale flats.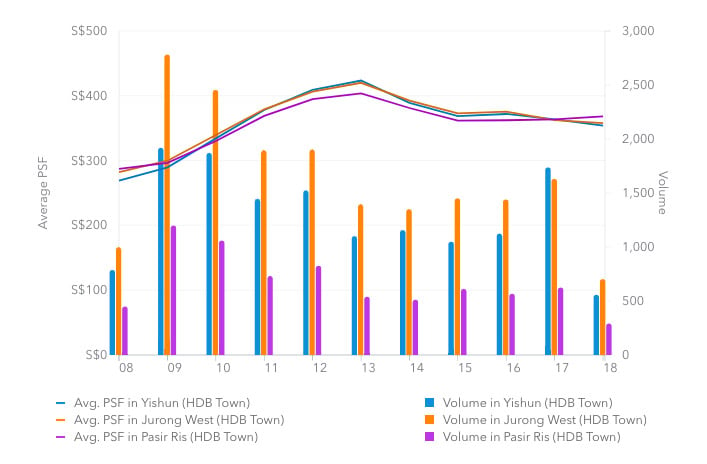 In the chart above, we compared HDB towns with similar commuting times to Singapore's CBD, and their average per square foot (psf) transaction price — across all flat types — in the 10-year period from 3Q2008 to 2Q2018 inclusive. From 2010 up until 2016, we could see that prices for flats in Pasir Ris couldn't quite measure up to its northern and western counterparts. But since then, the average psf prices for Yishun and Jurong West has fallen, whereas the average psf transaction price for Pasir Ris has increased by 2.07% from 1Q2016 to 2Q2018 inclusive. We see that as a sign that resale flat buyers might be belatedly recognising the town's attributes.
We then went one step further in our comparison, looking at how average prices of four-room and five-room flats in Pasir Ris compare to that of flats in Singapore of the same age.
For four-room flats: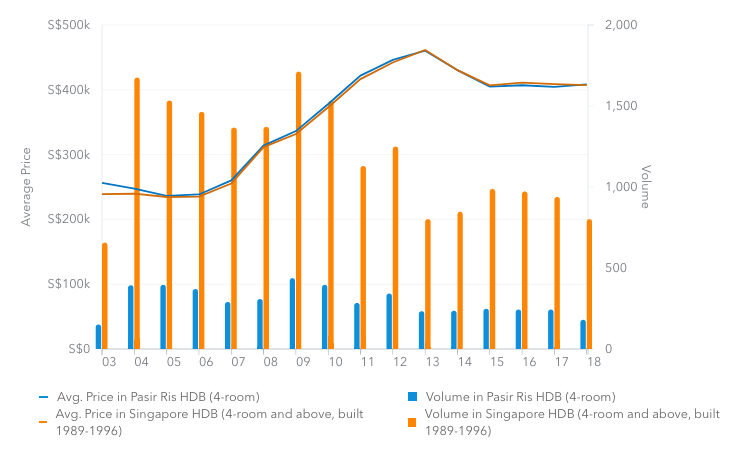 For five-room flats: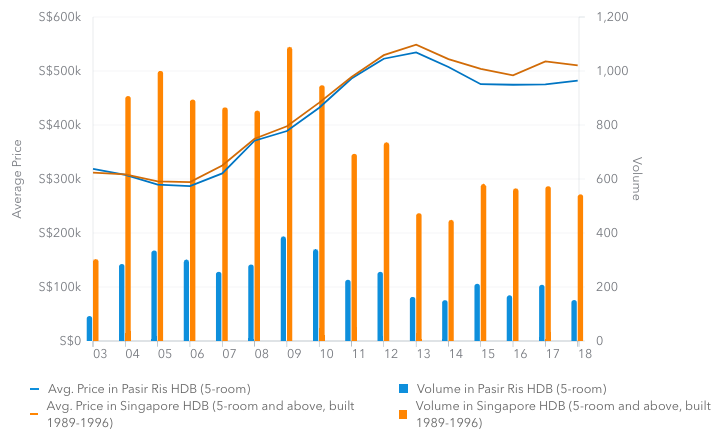 For four-room HDB resale flats, we can see that average prices of Pasir Ris units have largely been in line with the Singapore average (today around $407-408k). However, when it comes to five-room flats, the average prices of Pasir Ris units have dipped below the Singapore average (around $480k vs $510k today). With the continued development of Pasir Ris, the prices for five-room flats in Pasir Ris might not remain out of line for much longer (i.e. there could be a potential upside).
**[Browse all HDB resale flats for sale in Pasir Ris here]
Now, let's compare 99-year leasehold condos. For condos, it makes more sense to compare the values between condos between neighbouring towns. In this case, we compared Pasir Ris and Tampines. The comparison period is from 3Q2008 to 2Q2018 inclusive, and so excludes the latest round of cooling measures.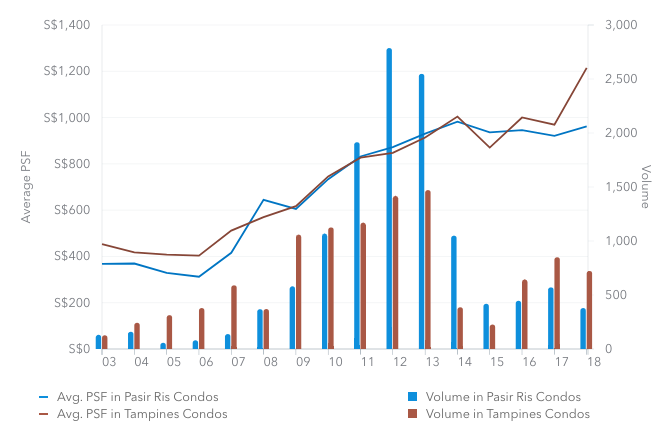 Before 2008, the average psf transaction price of Pasir Ris leasehold condo units were consistently below that of its Tampines counterparts. However, from 2008 to 2016, Pasir Ris condos bridged the gap. In 2018, the prices of Tampines condos was distorted upwards with the launch of The Tapestry and The Alps Residences.
Ultimately, we conclude there is very little currently separating the property value between these two neighbouring towns. The big question here is: Which town has more significant developments in the pipeline, which could mean potential upside for buyers? The smart money might be on Pasir Ris, especially considering that the estate is also currently at a large price deficit (in terms of average psf) compared to non-prime condos across Singapore, as the chart below shows: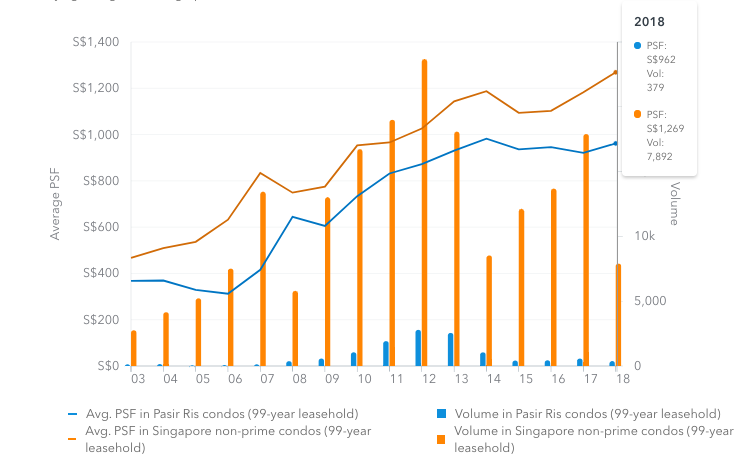 The last time there was such a large deficit between Pasir Ris and the rest of Singapore was back in 2007, and condo prices in Pasir Ris swiftly shot up the following year. Interestingly, 2008 was also the year of the Global Financial Crisis. That year, as average psf transaction prices across non-prime 99-year leasehold condos in Singapore fell by 10.2%, average psf transaction prices for 99-year leasehold condos in Pasir Ris went against the tide and oversaw a near 55% gain. Will this massive upside repeat itself? Only time will tell.
**[Browse all condo units for sale in Pasir Ris here]
Do Pasir Ris properties appeal to you? Voice your thoughts in our comments section or on our Facebook community page.
If you found this article helpful, 99.co recommends Has Clementi become prime real estate in Singapore? and What makes Bishan HDB Resale flats perform so well?
Looking for a property? Find your dream home at Singapore's largest property portal 99.co!