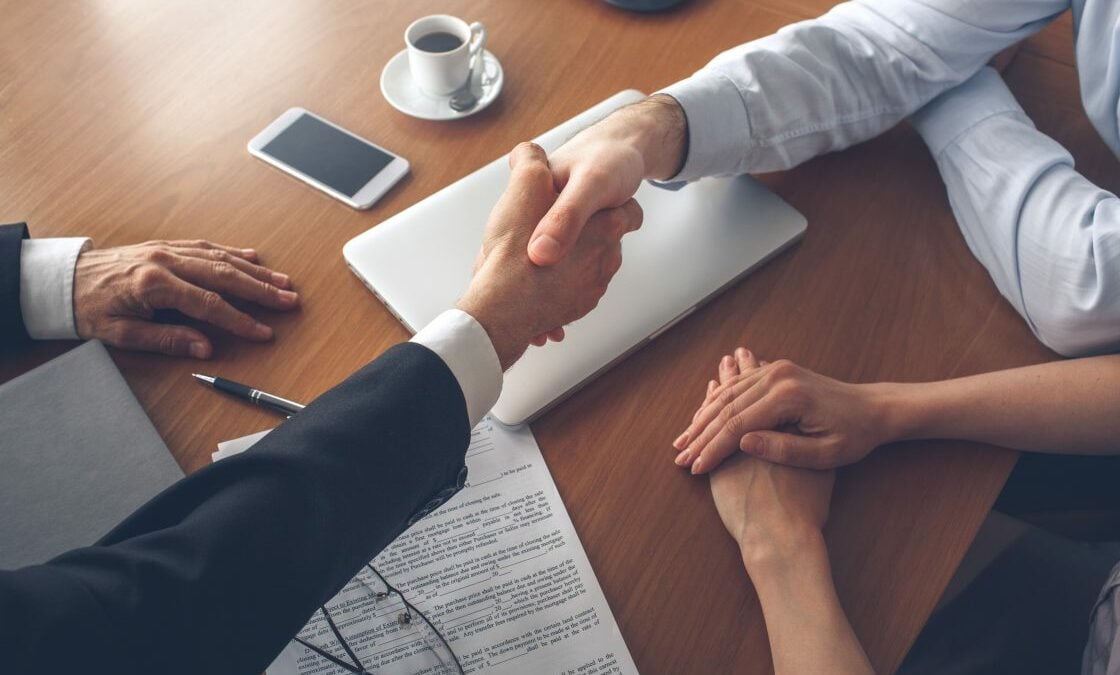 When we engage a property agent to help us buy, sell or rent a property, we would expect them to offer independent and unbiased advice.
However, there may be instances when a property agent's personal or professional interests compete with, or are different from ours as clients.
Under the Council for Estate Agencies' (CEA) guidelines, all property agents have a duty to avoid any potential conflict of interests. If there is any conflict of interest, agents must declare them to their clients in writing. Clients can then decide if they still wish for these agents to represent them.
What are the situations in which conflict of interest with property agents could arise? What are your agents' duties and your responsibilities when such situations arise?
Typical property agent conflict of interest scenarios
Conflict of interest in a transaction can arise when your property agent:
is personally or professionally connected with the other party and/or his agent
receives payment or benefits from other parties because your agent has represented you or has recommended a party's service to you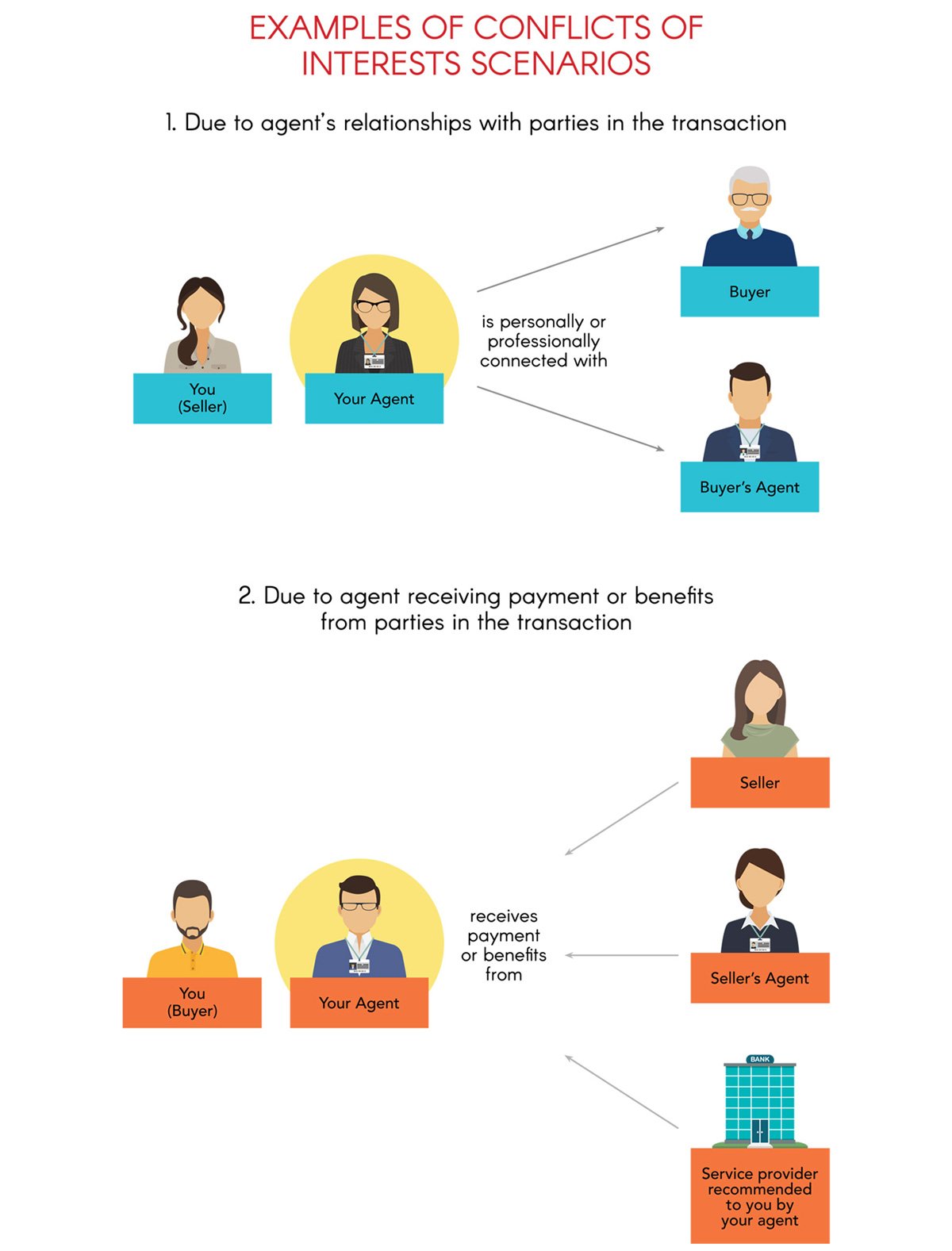 Some examples include when your agent:
is a family member or business associate of the other party/the other party's agent
is from the same property agency as the other party's agent
receives referral fees from a company whose services are recommended by the agent to you, e.g. the bank, the renovation company
is collecting a co-broke commission from the other party's agent (e.g. when you are the potential buyer of a private property and will not be paying commission to your agent)
is receiving an "angbao" or other benefits from the other party who has not engaged an agent and has asked your agent to help with some paperwork
Do note that your agent cannot represent you and the other party in the same transaction. This is an offence known as dual representation. An agent cannot collect a fee or commission from more than one party in a transaction. This includes a co-broke commission.
When must a property agent inform me of any conflict of interests?
Property agents should disclose to potential clients any conflict or potential conflict of interests before their clients formally appoint them to act for them.
Your agent must provide you with a written disclosure of the conflict of interest – just telling you about it verbally is not enough.
The disclosure in writing can be in the form of a letter, email or mobile text communications, for example SMS or WhatsApp message.
If you accept and agree for the agent to represent you, you should similarly provide this approval to the agent in writing.
There could be occasions where a conflict of interest arises midway during the transaction. In these circumstances, your agent should declare the conflict once it arises or when they are aware of it. This should also be disclosed to you in writing. They can continue to act for you only if you give your consent in writing.
What information should I be looking out for in the disclosure on the agent's conflict of interest?
The disclosure should explain the nature of the conflict and how it could potentially impact the property agent's professional relationship with you. This will enable you to make an informed decision on whether you would like the agent to continue to work for you.
You should try to obtain as much information as possible, given that any conflict of interest could ultimately have some bearing on the final transacted price of the property.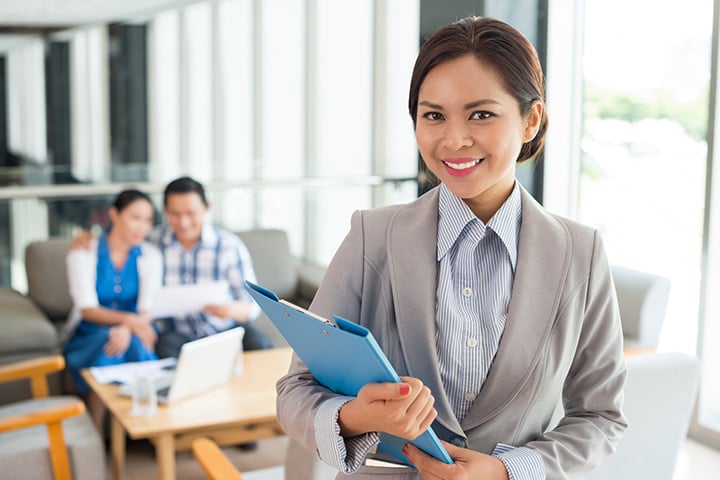 Your written consent for the agent to continue representing you in spite of the conflict of interest may be legally binding. Hence, if you are unsure of the contents of the written disclosure, you should seek legal advice.
I'm looking at selling my HDB flat. Can a property agent interested in buying my flat also represent me?
It's a clear and direct conflict of interest if this agent seeks to represent you in the same resale transaction. As a seller, you would want the highest price for your flat. On the other hand, the agent, i.e. the buyer, would like to get the lowest possible price for the flat. As you can see, there are conflicting vested interests involved. So the agent who is buying the resale flat cannot represent you.
If an agent is a party to any property transaction, they can only represent themselves. They cannot collect a commission or co-broke commission from the other party or the other party's agent.
CEA's advice to consumers
While your agent has a duty to promote and safeguard your interests in the property transaction, you can also do your part to ensure a smooth and hassle-free experience.
Be cooperative and truthful with your agent by providing accurate and current information. This way, your agent can help assess if there is any potential conflict of interest to act for you in the property transaction.
This article was republished from the Council of Estate Agencies (CEA) website. Check out the original article.
Have you ever experienced any conflict of interests with property agents? Let us know in the comments section below or on our Facebook post.
If you found this article helpful, 99.co recommends Landlord allegedly punched tenant, forced him out after five days and Renovation contractor embroiled in multiple scams, accused of sex scam on Facebook.
Looking for a property? Find the home of your dreams today on Singapore's fastest-growing property portal 99.co! If you would like to estimate the potential value of your property, check out 99.co's Property Value Tool for free. Also, don't forget to join our Facebook community page or Telegram chat group! Meanwhile, if you have an interesting property-related story to share with us, drop us a message here — and we'll review it and get back to you.
Upcoming Freehold Condo Launch: The Arcady @ Boon Keng
About 99.co
We are a property search engine with the overarching goal of building a more transparent and efficient property market. We are working towards that future by empowering people with the tools and information needed to find a place to live in the best way possible.
Looking to sell your property?
Whether your HDB apartment is reaching the end of its Minimum Occupation Period (MOP) or your condo has crossed its Seller Stamp Duty (SSD) window, it is always good to know how much you can potentially gain if you were to list and sell your property. Not only that, you'll also need to know whether your gains would allow you to right-size to the dream home in the neighbourhood you and your family have been eyeing.
One easy way is to send us a request for a credible and trusted property consultant to reach out to you.
Alternatively, you can jump onto 99.co's Property Value Tool to get an estimate for free.
If you're looking for your dream home, be it as a first-time or seasoned homebuyer or seller – say, to upgrade or right-size – you will find it on Singapore's fastest-growing property portal 99.co.
Meanwhile, if you have an interesting property-related story to share with us, drop us a message here — and we'll review it and get back to you.
Join our social media communities!
Facebook | Instagram | TikTok | Telegram | YouTube | Twitter