Kallang
Tags:
Heartlands
Residential
Mature
Home to the Singapore Sports Hub, Singapore Canoe Federation and Kallang Water Sports Centre, the Kallang neighborhood is well connected by the Circle line, East West line and North East line. Stadium, Nicoll Highway and Mountbatten station provides easy access to various sporting facilities, Goodman Arts Centre and Golden Mile Complex, also known as Singapore's Little Thailand, while Boon Keng station brings residents to Kallang Leisure Park, Nex and Balestier Plaza nearby. Educational institutions in the area include Bendemeer Primary and Secondary School, Dunman High School, Hong Wen School as well as Mountbatten Vocational School for the deaf. With the transformation of Kallang River, the opening up of new housing areas along the city fringe will add on to existing residences such as Pebble Bay, Sanctuary Green, South Bank, Water Place, Riverbay, Casuarina Cove, CityLights and Concourse Skyline condominium. In the future, residents can expect more job creation with the development of a new industrial site near Lavender train station.
Summary
Once home to Singapore's indigenous people, Kallang is a 920-hectare area in Singapore that holds stories of the Orang Kallang. With over 1,000 residents in 1819 (the time of Raffles's arrival), the Orang Kallang were amongst the numerous communities of Orang Laut ("sea nomads") groups in Singapore. Unlike other Orang Laut communities, this community of boat-dwellers would avoid the open sea and reside in the swampy mouths of the Kallang River, which was what gave the community its name.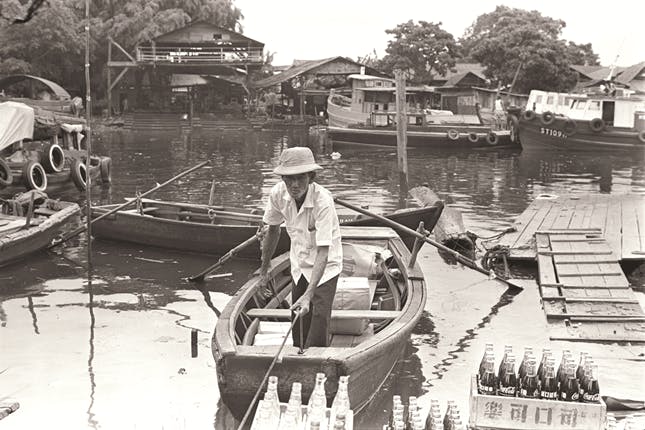 Today, Kallang is one of the most accessible areas in Singapore, as it is bordered by the Central Area's northeastern boundary, as well as numerous expressways and major networks. With the Pan Island Expressway (PIE), the Kallang-Paya Lebar Expressway (KPE), East Coast Parkway (ECP) and Mountbatten Road all binding the area, Kallang serves as an irrefutable transport node. 
The beautiful area with pristine waters had a prosperous past that made a definitive splash in Singapore's history books. In an 1836 map of the environment in Singapore, the Kallang Basin was shown blanketed in mud, marsh, and swampland along the coast. There was also a Bugis village in between the Kallang and Rochor rivers. Bugis traders were said to unload cargo at Kallang Basin, where Tanjong Rhu stands today. The area developed rapidly, and by the 19th century, it saw the presence of oil and rice mills, and eventually, even engineering workshops. 
It was also from Kallang that the entirety of Singapore was once powered. Kallang Gasworks was a plant constructed in 1862 to manufacture gas with the use of coal. It only ceased operations in 1998 after a new piped production plant was opened by Singapore Power in 1997. In 2018, the government called for soil treatment on the Kallang Gasworks site to rid it of chemicals, and to make way for a new residential precinct in Kallang. 
Kallang is a mirror to the insurmountable progress that Singapore has made, and it's the perfect place at which to live, work, and play. Kallang is slated for major developments in the years to come, and is predicted by some to position itself as a rival to the swanky Marina Bay. 
Kallang - Stay
With about nine subzones within it, Kallang is home to over 101,000 people, living in HDB flats, condominiums, and landed properties. Kallang has some of Singapore's most hotly-contested homes, and it's easy to tell why given the developments that await Kallang.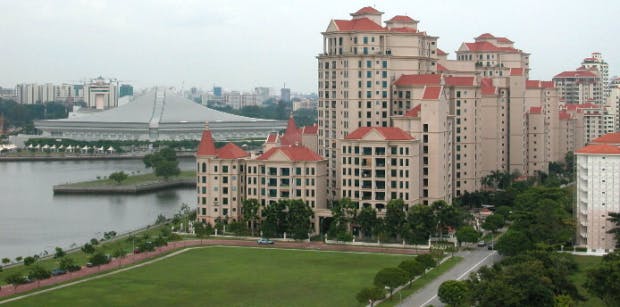 One such example is the brand new Kallang Riverside condo, a freehold condominium with only 212 units. Kallang Riverside fetches prices that range from $1.25 million to $3.5 million, and is one of the first developments in the area of District 12, where it was developed. There are numerous condominiums in Kallang, all of which present the joys of a luxurious, sea-swept lifestyle. To name a few, The Riverine By The Park, Water Place, and Pebble Bay. 
Kallang is also home to many HDB developments. Some of the flats in mature HDB towns in Kallang/Whampoa were also made available as part of the Housing Board's Build-To-Order (BTO) sales exercises, and many tried to clinch them. 
For those looking for less permanent residential options, hotels are readily available in Kallang, whether boutique or budget. Lodge 41 is a hotel with a reputation for cleanliness and accessibility. Budget options with an interesting experience can be found at Spacepod@Kallang, a hostel-style lodge that provides backpackers with a good night's rest in a squeaky clean space pod, with helpful staff to guide. 
One may also spot the distinctive Gay World Hotel near the Kallang Riverfront. While the hotel itself does not have a particularly good reputation, the hotel is a nostalgic reminder of Gay World Amusement Park, which offered entertainment, games, and shopping to people in Singapore, also playing an integral role in the development of nightlife in the Geylang area. 
Kallang - Eat
You can enjoy Kallang food by the truckload if you can handle it. The bustling eateries at Kallang can be a foodie's haven, dishing out food all through the night.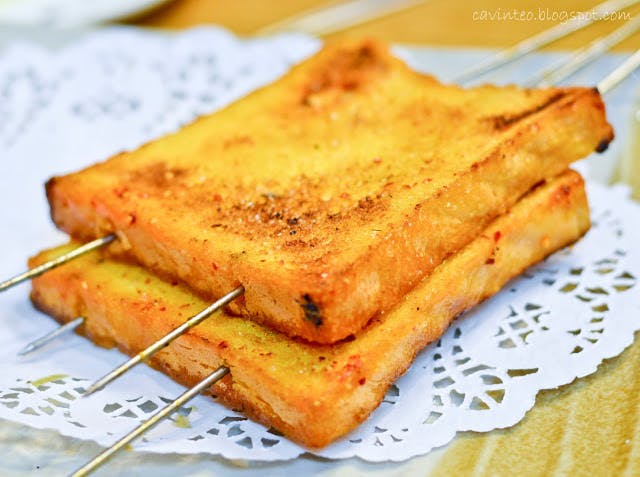 Chinese barbecue is a common sight in Kallang, and if you're looking to get a taste of spiced meat on skewers, BBQ Box is a great place to stop at. The restaurant has over 50 ingredients on their menu, with prices starting at $1 for items like grilled beef tripe or grilled pork. Authentic Chinese barbecue places also tend to have a very unlikely, but delectable item on their menu: grilled bread. The grilled bread at BBQ Box is particularly popular for being buttery and fluffy!
Spice lovers ought to try Chilli King Wanton Mee, which will challenge the completionist in anyone who loves food challenges. There are five different levels of spiciness to go with their wanton mee, which is reviewed to be just as flavourful without a copious amount of chilli. Sink your teeth into aromatic noodles glistening with brown sauce, or get a plate of 12 fried wontons for $3.50. 
While Chinese food options populate lists of good food to eat in Kallang, there are also a number of eateries that cater to other palates. Imam Banana Leaf Restaurant is open 24-hours a day and serves comfort food like biryani and less commonly found dishes like milky prata! 
Kallang - Drink
Given the iridescent charm that the waters at Kallang cast upon the area, it's no doubt that there are numerous drinking spots to relax as you enjoy the undisturbed beauty of the beautiful Kallang Basin, and the perpetual breeze that it brings about. Whether you're looking for an afternoon cuppa or some liquid happiness on Friday nights, we here at 99.co have got it in the bag.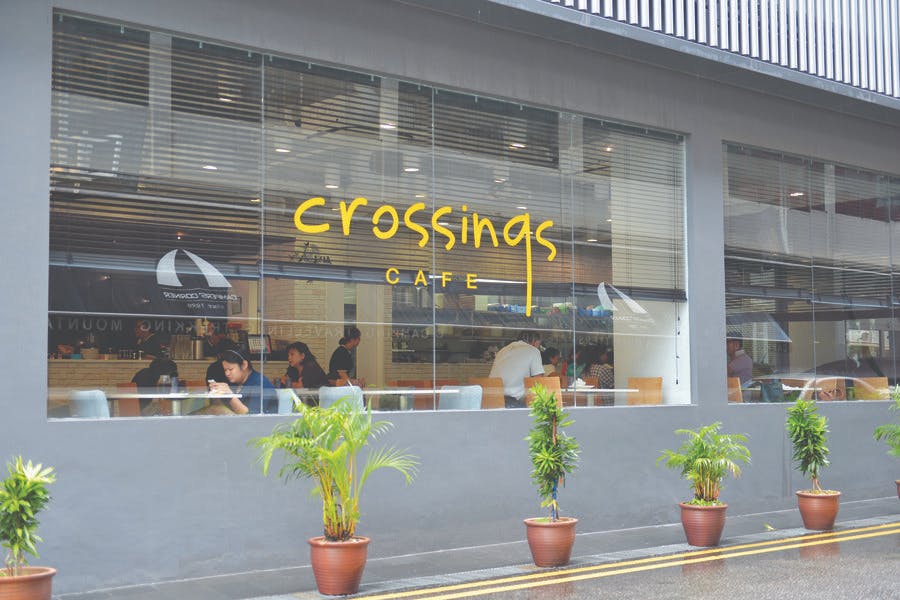 For starters, Al Capone's Kallang is probably the best of the lot. The bar promises unmatched prices on spirits, with a bottle of Monkey Shoulder costing only $85 nett. Sports are also part of the bar's culture, with pool and live music to accompany match screenings. The best part? You can wash your drinks down with a plate of fine Italian food. 
For a less conventional experience, venture into the Japanese culture of both eating and drinking. Issho Izakaya sells Japanese cuisine with ingredients sourced from Japan. The restaurant seeks to create joyous experiences for diners with quality, and serves a wide range of Japanese liquors like shochu, umeshu, sake, and Japanese whisky at affordable prices. 
Kallang also has numerous cafes to help satiate those caffeine cravings with an artful ambience. Consider heading to Crossings Cafe where both food and coffee are served while providing employment opportunities to the disadvantaged.
Kallang - Shop
There are two major malls in Kallang, both of which offer diverse resources for shoppers. Over the years, the malls have evolved from merely catering to patrons of the Singapore Indoor Stadium and the OCBC Arena, with a plethora of options to make your visit there worthwhile.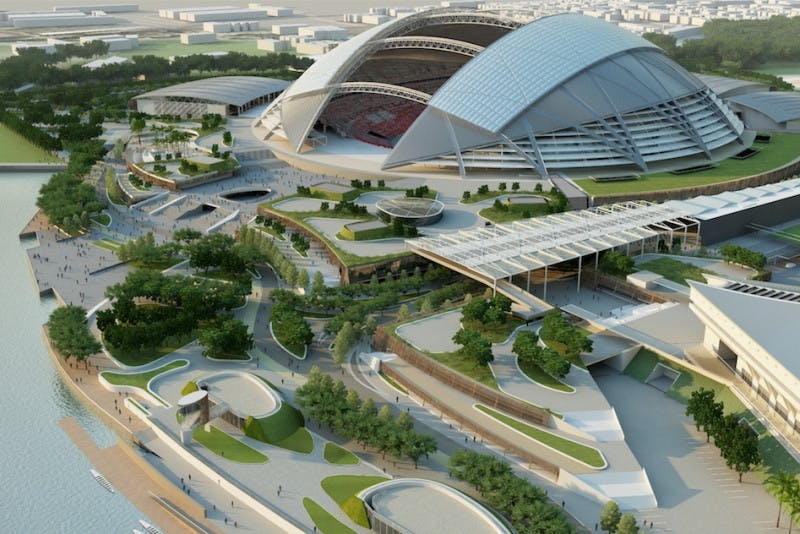 The Kallang Wave Mall prides itself to be the retail heart of the Singapore Sports Hub, with integrated sports, lifestyle and entertainment facilities. In sync with the area that surrounds it, the Kallang Wave Mall features some experiential shopping options, like Singapore's first sports-themed hypermart, Fairprice Xtra. Major fashion brands like Cotton On, Uniqlo, and H&M can also be found in the mall. 
Gen Xers can reminisce about their time spent at Leisure Park Kallang when they were younger. Along with some top-notch leisure and entertainment experiences (which you can read about in the next header), the mall also houses retail options that cater to all your special needs. If you're looking for kitchen and bathroom pieces, SongCho is where you need to be. Wulin offers wellness through Martial Arts, and Inspired Arts allows children to indulge in engaging art experiences. 
Less than ten minutes away from Kallang is Mustafa Shopping Centre. The complex at Farrer Park is known to house goods of all sorts, from food to mobile phones, and even gold. The complex also offers one of the island's most competitive rates for money-changing.
The Bugis shopping district is also two stops away from Kallang by MRT. Fashion hauls are a guarantee. 
Kallang - Play
Kallang guarantees a collection of experiences that you'll not be able to find anywhere else in Singapore. Kayak, ice-skate, rock climb, or watch a concert! The Singapore Sports Hub area in Kallang is a modern-day play hub.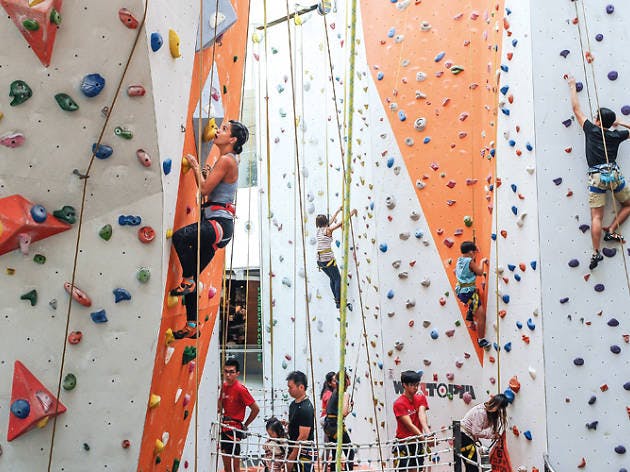 To start with the two main malls in Kallang, get your heart racing in the dead of night, at Anytime Fitness, a 24-hour gym in Kallang Wave Mall. Conquer the bouldering walls at Climb Central's indoor rock climbing park, or take a Segway tour from Singapore Sports Hub to Marina Bay with O-Ride Singapore Mini Segway Tours!
Alternatively, you could really turn the heat up at Singapore's first authentic Japanese onsen experience, Yunomori Onsen & Spa. While an onsen spa isn't the type of aquatic experience that a child can enjoy, respite is offered at the rooftop playground of Kallang Wave Mall, where there is a kids' pool and water play area for children aged three to 12. 
Strike a win at Kallang Bowl in Kallang Leisure Park, and if you're looking to put on some skates instead of bowling shoes, head to Kallang Ice World, an ice-skating rink with courses and a superior ice surface created to match competition standards. On the other hand, you can opt for something simpler and munch on popcorn while catching a movie at the Filmgarde Cineplex in Kallang Leisure Park.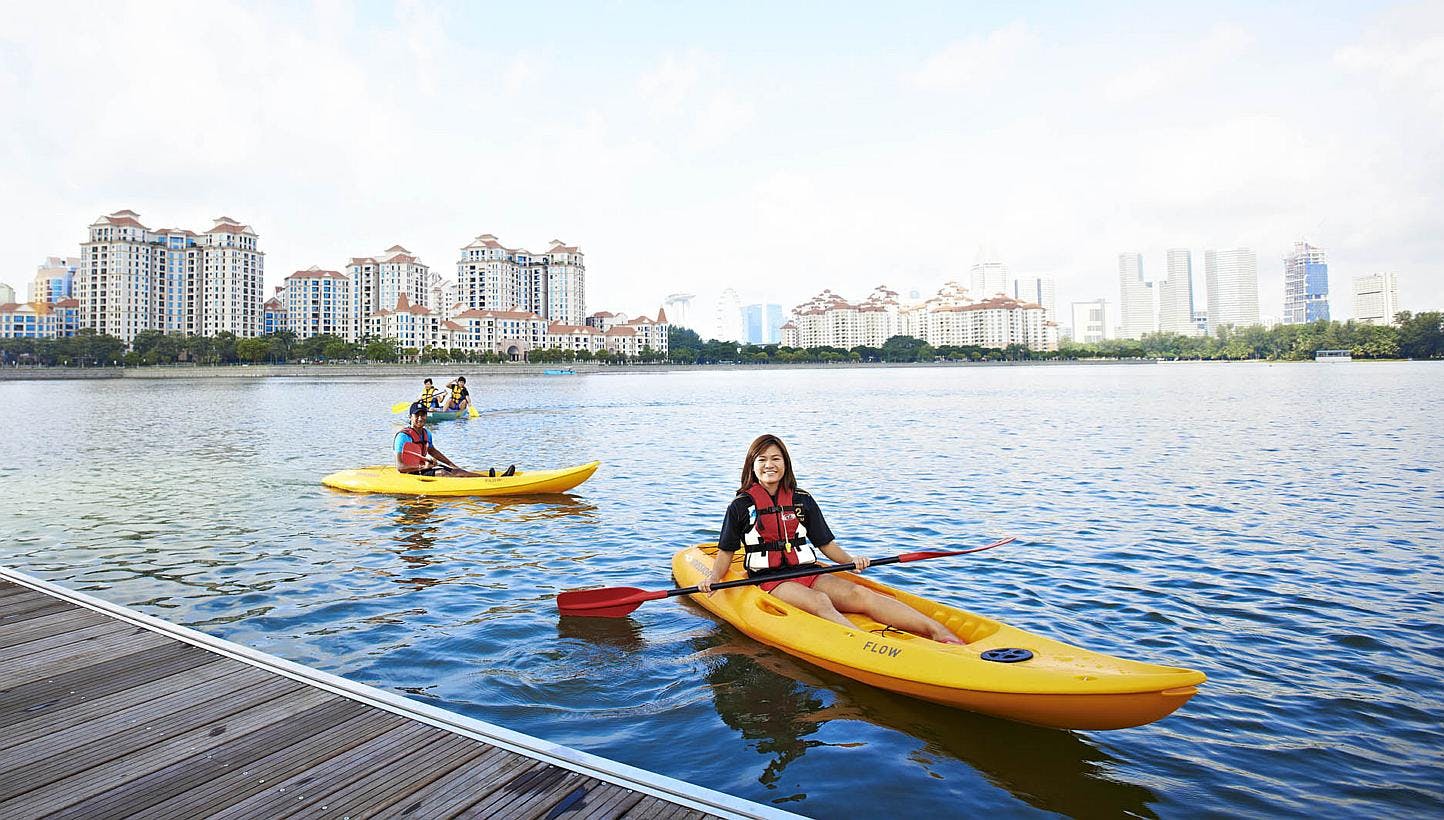 Only for the brave and the bold, the waters of Kallang Basin are also up for traversing. You can rent a canoe or kayak from the Water Sports Centre to explore the unsullied blue waters of the Kallang Basin. Rates start at $12 for adults, for two-hour sessions. The laid back sport of lawn bowling is available for all to enjoy for free above the Singapore Sports Museum on Level 3. 
Kallang - Learn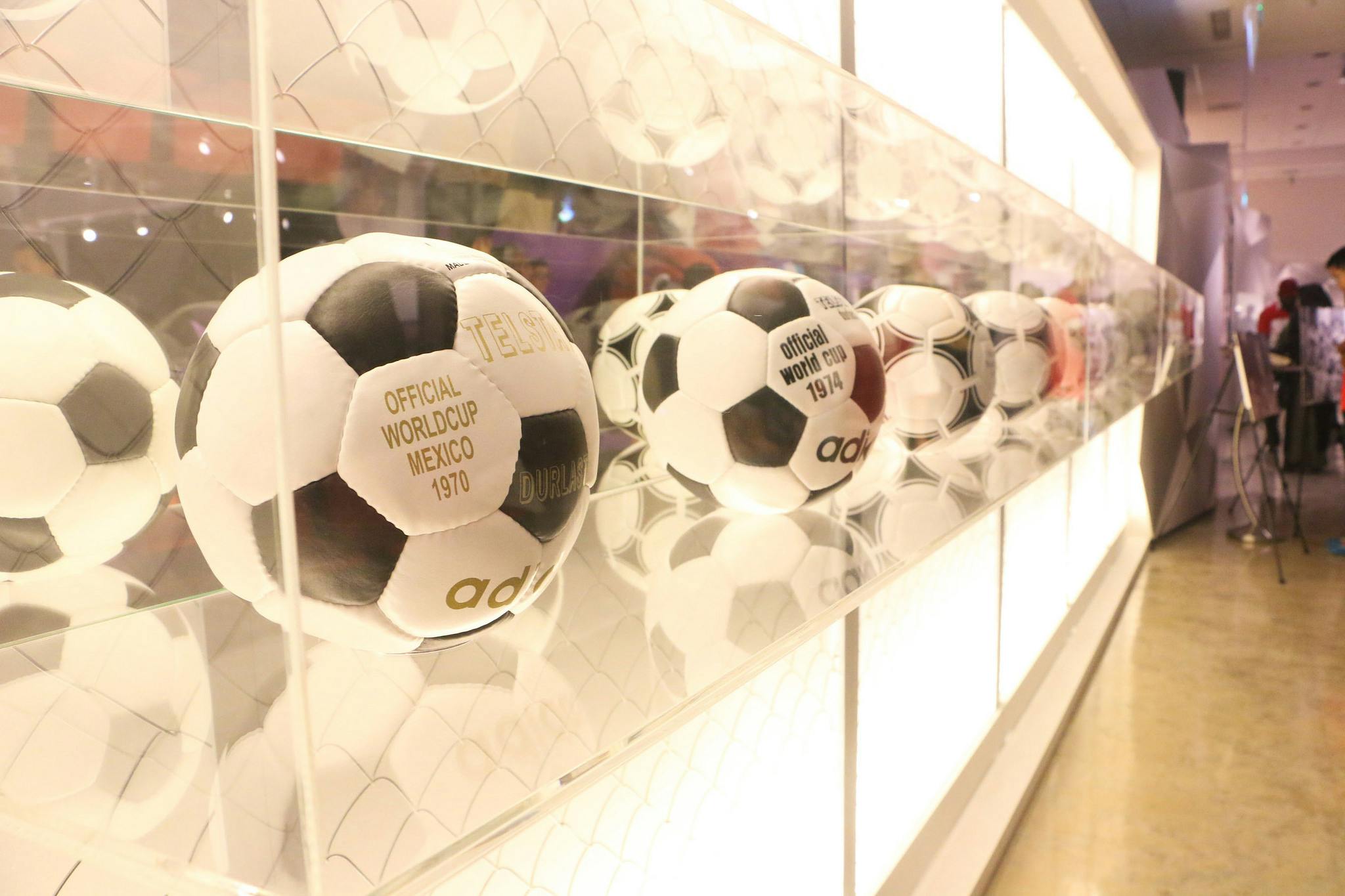 The Singapore Sports Hub offers a number of learning experiences that are free and accessible for all. Free fitness sessions are held daily at various parts of the Sports Hub. The sessions typically last for an hour or two and range from pilates to Zumba and kickboxing. Be sure to stop by the Sports Museum, where you can learn about the sporting history of Singapore for free while browsing artefacts. 
Given the accessibility of Kallang, there is also a high concentration of schools in the vicinity. Primary schools include Bendemeer Primary School, Stamford Primary School, Geylang Methodist Primary School, Hong Wen School, and Macpherson Primary School. 
The secondary schools in the area are Geylang Methodist Secondary School, Bendemeer Secondary School, Broadrick Secondary School, and Dunman High School. A British international and private education can also be sought at Insworld Institute. 
Kallang - Move
Kallang is a transport node that is well covered in the aspects of both public transport and roads. 
The Kallang MRT Station on the East-West Line is less than 4 stops away from three major MRT interchanges - Bugis MRT Station is also on the Downtown Line, City Hall and Raffles Place MRT Stations are in the heart of Singapore's business district, while also being on the North-East Line which links to areas like Orchard and Somerset. Stadium MRT Station on the Circle Line is also in Kallang, and can transport commuters to areas like Marina Bay in a matter of minutes. 
Kallang has swift access to numerous of the country's major roads and expressways, including the East Coast Parkway (ECP), Marina Coastal Expressway (MCE), Ayer Rajah Expressway (AYE), which can take commuters to Marina Bay Sands, Suntec City, and the Central Business District (CBD) within 15 minutes, 
Kallang is also less than five minutes away from Lavender, where the Immigration & Checkpoint Authority is, and less than ten minutes away from Little India, where numerous cultural opportunities present themselves. 
Kallang - Parks and Gardens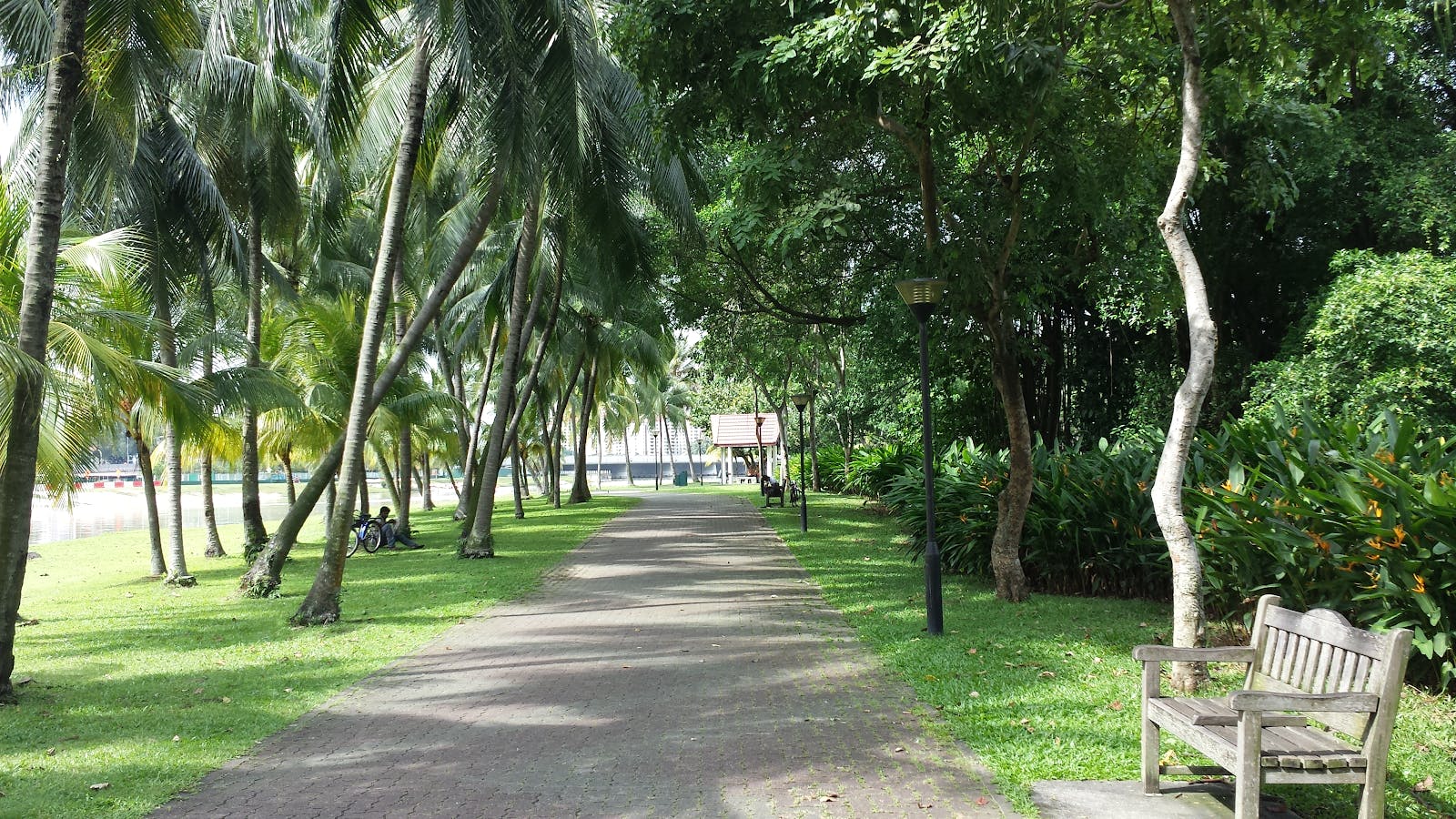 Looking to spend countless hours of your leisure time? Interested in sporting activities both on land and on sea? The Kallang Neighbourhood may just be the right place for that with countless locales designed for both land and water activities. The 7-hectare Kallang Riverside Park is a favourite water sports site in Singapore. Dragon boat teams and canoeists can show their moves in the Kallang River while fitness enthusiasts jog and cycle on the tracks or make use of the fitness equipment available. There are also designated fishing zones that anglers regularly visit and cast their rods to hook their next big catch. On top of that, nature lovers can simply enjoy the stillness of the reservoir under the palm trees, while keeping their eye out for various species of birds especially in the migratory season. Another destination for your quick outdoor gateway is Mount Emily Park. It offers you hidden hilltop greenery in the city which is perfect for jogging and a leisurely stroll. Covering more than 3 hectares of parkland, Mount Emily Park has a covered picnic shelter, multi-use game area, and outdoor gym equipment. The abundant mature trees will keep you and your family shaded from the sun and feeling cool all day long. Other parks in Kallang you might want to visit include Cambridge Park and Somme Road Playground.
Kallang - Sports Facilities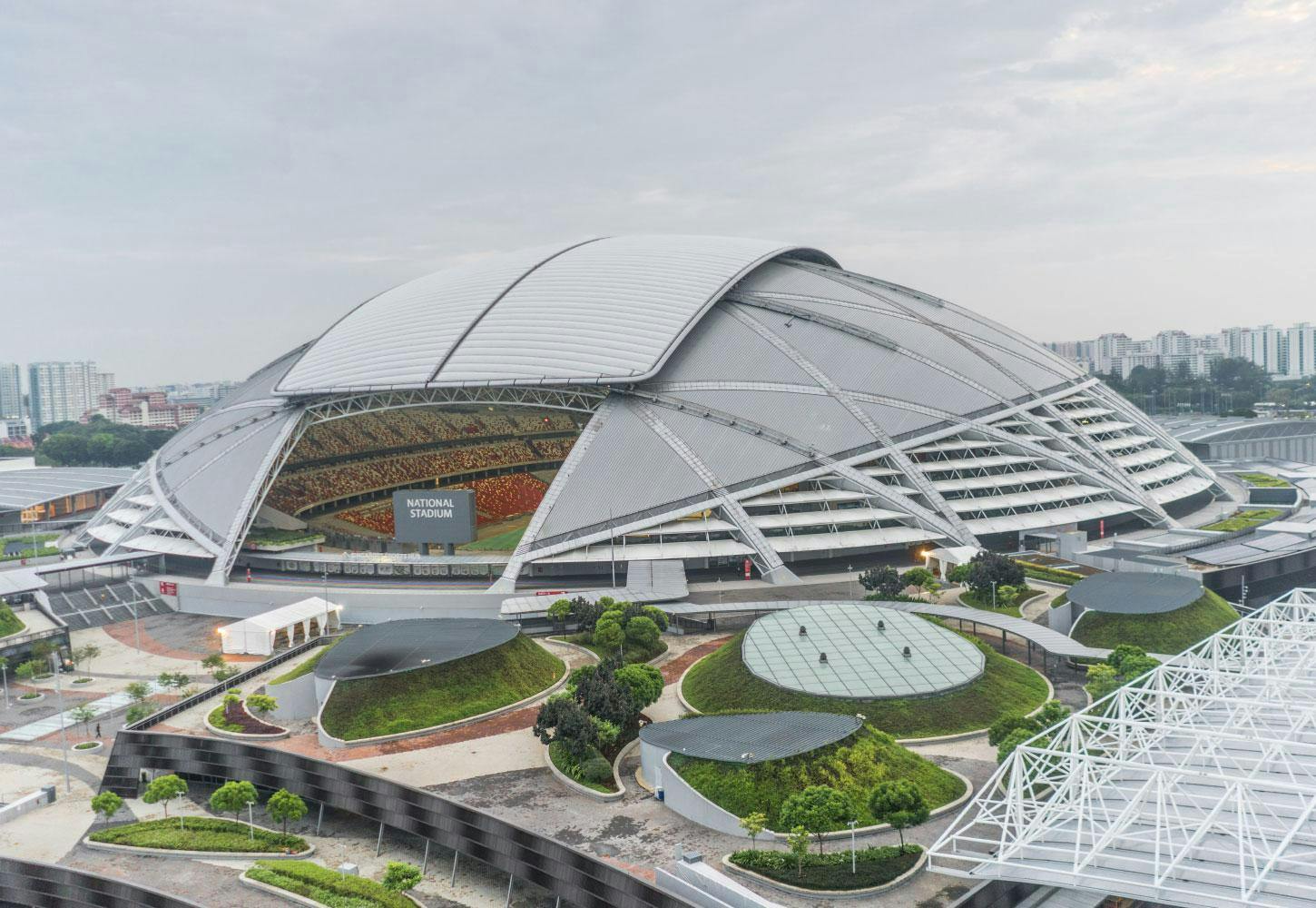 A fully integrated sport, entertainment, and lifestyle hub, Singapore Sports Hub, is located in Kallang. It replaced the former National Stadium after it was demolished in 2010. The 35-hectare Singapore Sports Hub facilities include the National Stadium, Singapore Indoor Stadium, Aquatic Centre that meets FINA standards, Water Sports Centre featuring kayaking and canoeing, OCBC Arena, indoor climbing wall, and many more. It hosted the Southeast Asian Games in 2015 and M1 Nations Cup in 2019. For other sporting facilities in Kallang, residents of Kallang and neighbouring areas can seek out the facilities run by ActiveSG. Several facilities housed in the Kallang Sports Centre include  Kallang Netball Centre, Kallang Lawn Bowl, Kallang Squash Centre, Kallang Field, and Kallang Tennis Centre. Equipped with 14 courts, the tennis centre has been a popular venue for tennis programmes and competitions, including hosting the local national schools' tennis competitions as well as international tournaments such as the WTA future stars tournament. It is also the training venue for the national team and national youth teams.
Shortlist folder is empty
Search for listings to shortlist