Macritchie Reservoir
Tags:
Nature
Healthy living
Central
Lying right in the heart of Singapore, the Macritchie Reservoir neighborhood consists of more than the reservoir itself. Meanwhile, the Upper Seletar, Upper Pierce and Lower Pierce reservoir are also located here, making this neighborhood the largest central water catchment area. Water sports such as canoeing and kayaking are often held at the reservoirs, which serve as a train ground for competitions. Besides golf and cue sports, the Singapore Island Country Club -Singapore's oldest and grandest- offers other sporting facilities such as a swimming pool and tennis courts. More amenities and equestrain activities can be enjoyed at the Singapore Polo Club nearby. The Macritchie Reservoir is right next to the club, offering attractions such as the HSBC Treetop Walk, boardwalks and trails that lead to Bukit Timah Nature Reserve. At the tip of the neighborhood along Mandai Lake Road, attractions include the iconic Singapore Zoo, Night Safari and a developing River Safari – the first in Asia.
Summary
Completed in 1868, MacRitchie Reservoir is Singapore's oldest of 17 reservoirs. MacRitchie Reservoir and the forests that surround it are an ecosystem in their own right. Visitors can spot characteristic plants and animals like Kerung, Ten Man Trees, Jelutong, Long-tailed Macaques, Striped Tit Babblers, and Sun Skinks.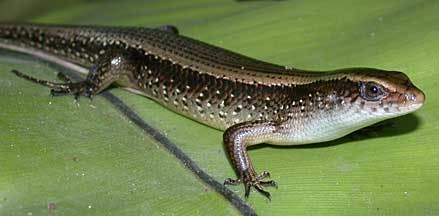 The reservoir wasn't always called MacRitchie. It was once called the Impounding Reservoir, as the reservoir was constructed by the impounding of water from an earth embankment. Its construction was no mean feat, however, with a lack of funds causing constant delays over a span of 40 years. 
The MacRitchie Reservoir saw its beginnings during Singapore's British occupation. After the British established their settlement in Singapore in 1819, commercial activity began, creating a strong demand for fresh water in Singapore. Following that in 1823, British resident John Crawfurd proposed a building of a reservoir although nothing came of that. 
In 1857, the plan saw a new lease of life when Straits Chinese merchant Tan Kim Seng donated $13,000 towards the plan. However, poor planning and the use of wrong materials only led to things fizzling. Eventually, the construction of the reservoir was completed (in 1869), but not until the government had finished building pumps and distributing networks in 1877.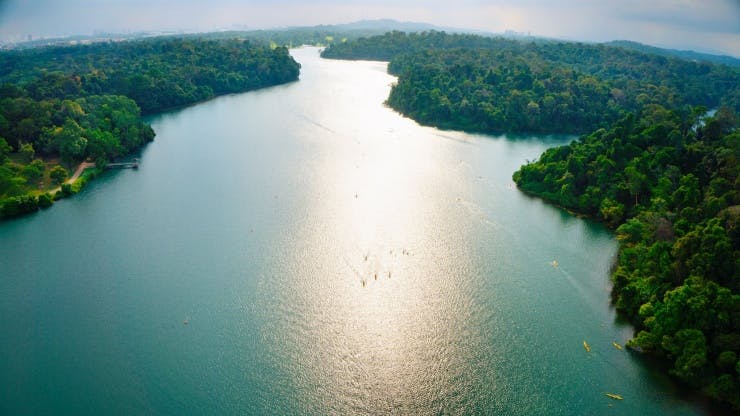 The reservoir saw some later upgrades in 1891, when its holding capacity was expanded to hold 465 million gallons of water. And yet, the amount did not suffice, even with the completion of other fresh water supplies like Lower Pierce Reservoir and Seletar Reservoir. It was this that contributed to Singapore signing the water treaty with the Sultan of Johor in 1927. Singapore started receiving treated water from a project in Johor in 1930. 
Today, the MacRitchie Reservoir is part of the Central Catchment Nature Reserve (CCNR) with Upper Peirce Reservoir, Lower Pierce Reservoir, and Upper Seletar Reservoir. Of all the primary forest that occupies the CCNR. 
Macritchie Reservoir - Stay
It is mostly private residences that occupy the undisturbed, nature-laden MacRitchie neighbourhood. The large, beautiful homes give the neighbourhood a strong sense of serenity. Amidst the bungalows on Lornie Road and Thomson Road, there are also some very popular condominiums. Small in number but large in space, condominiums like Thomson 800, Seasons View and Marymount View keep residents well-protected in the lush surroundings of the MacRitchie and Upper Thomson areas, close to the MacRitchie Reservoir. 
While the proposition of staying a night or two at MacRitchie Reservoir is a very tempting one, the MacRitchie Reservoir is not one of NParks's permitted camping areas. It may be for good measure, given the eerie anecdote or two that occasionally pop up with regards to the park. 
Macritchie Reservoir - Eat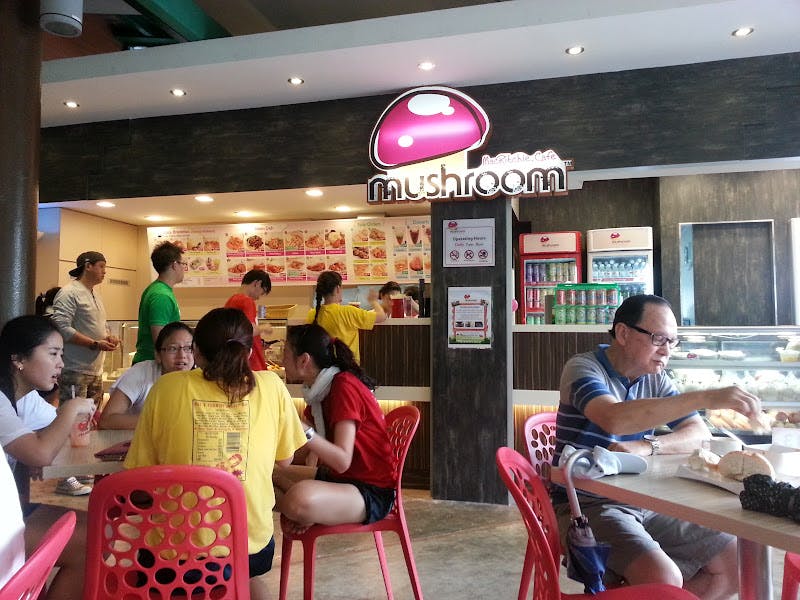 The MacRitchie Reservoir neighbourhood may be centered around a large water catchment area, but there is a number of eateries located nearby that is sure to delight the senses and 99.co has curated the following list of places you should check out for delectable treats!
The Mushroom Cafe welcomes visitors to MacRitchie Reservoir with delicious, comforting local fare such as nasi lemak, laksa, and chicken curry. The cafe is very affordable and is everything you'll need in between hikes in the reservoir and the numerous amenities that it has. 
Not to mention, the restaurant can be found with ease and is located very close to the main entrance in the Amenities Centre, where you can rest while gazing at water fountains, and even get refreshed at the shower area. However, visitors should take note that the cafe does not accept credit card payments - make sure to bring cash. 
If you're in need of a major refuel after a day at MacRitchie Reservoir, hop on a bus up Lornie Highway toward Upper Thomson, where food heaven awaits. Reward yourself with a hearty, meaty burger at Fat Boy's: The Burger Bar, or line your mouth with some sweet, buttery prata at The Roti Prata House, a long-standing establishment. 
Also on Upper Thomson Road, Kampong Chicken Rice serves local delight chicken rice with free-range or kampong chickens. Offering a healthier take on the dish, the restaurant ensures that rice is aromatic while not being too oily. Reviews suggest that the chilli and garlic sauce is particularly enjoyable.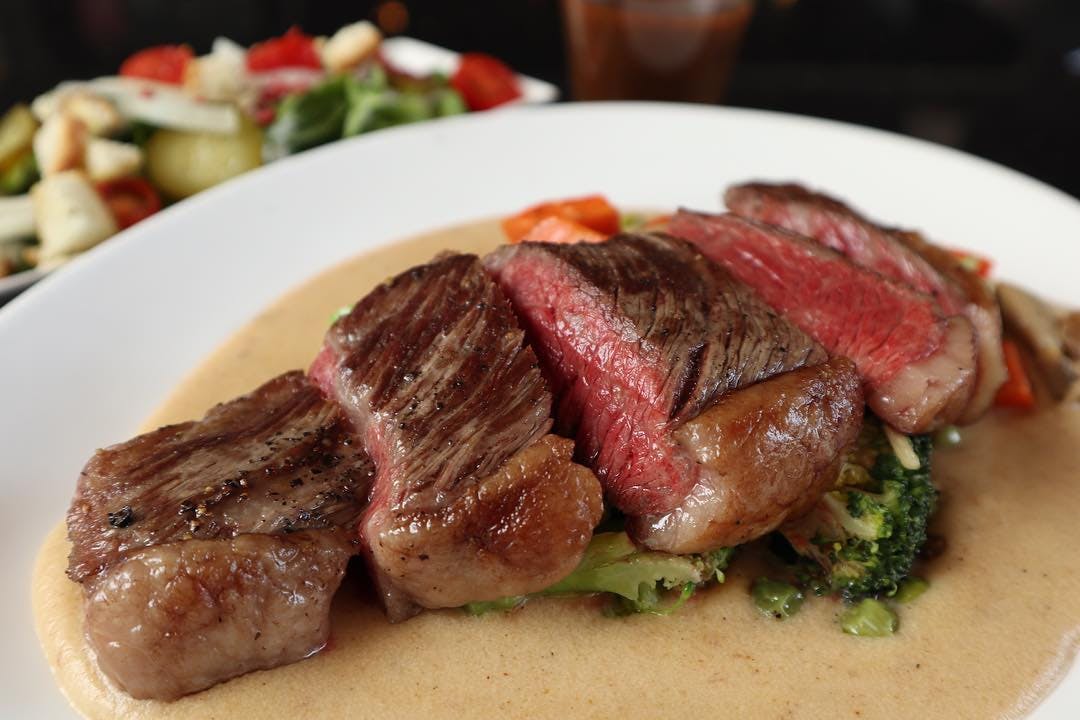 Big eaters must try eating at Badoque on Upper Thomson Road, which serves Mediterranean, Middle Eastern, and Asian Fusion food. Portions are very large and almost always recommended for sharing, although price points remain at the standard restaurant prices for single servings. A plate of 5cm thick ribs at this halal-certified restaurant will cost you only $36, and a 60 day aged Valley Wagyu Ribeye will cost you only $42. 
Macritchie Reservoir - Drink
The lively area at Upper Thomson near the MacRitchie Reservoir neighbourhood has drink options perfect for any time of day.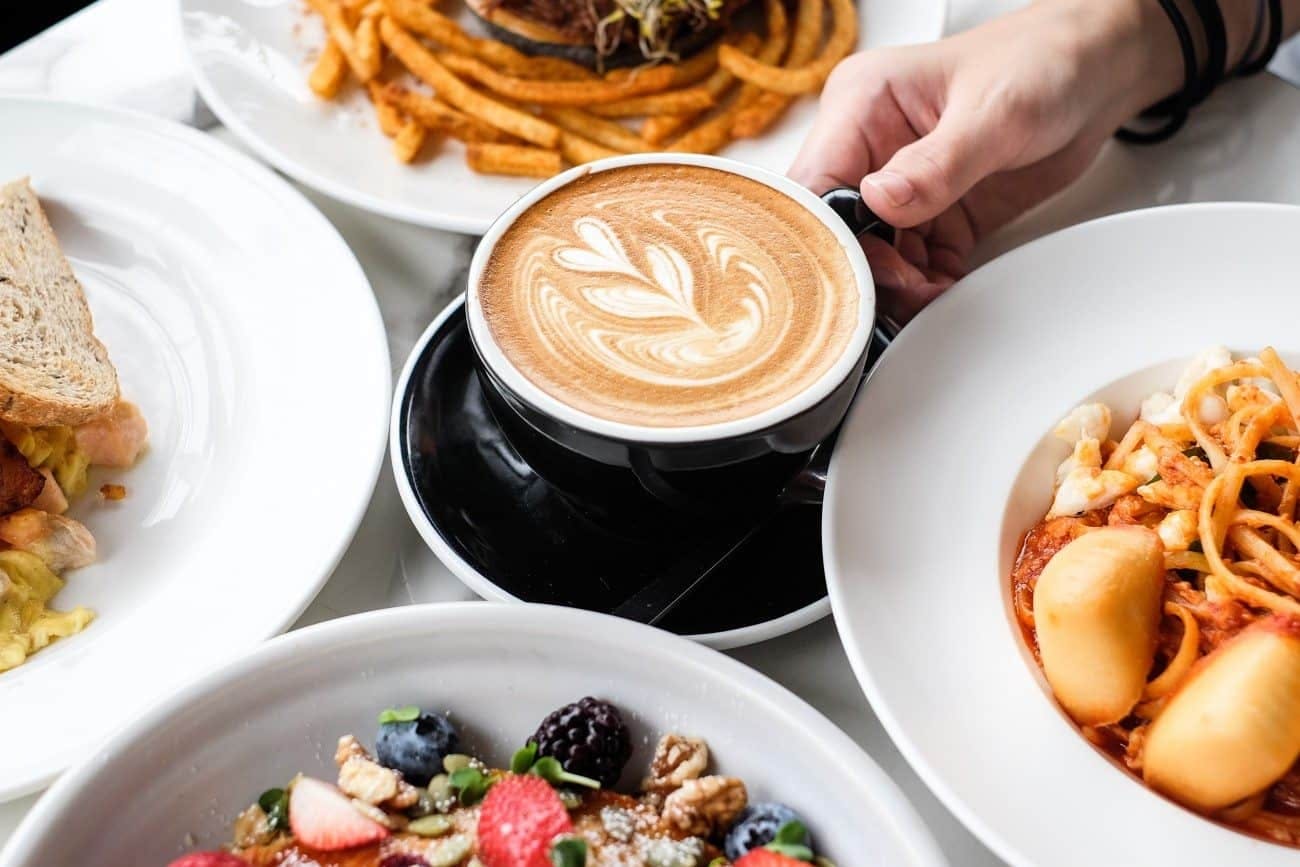 Start your morning with fuel at Habitat Coffee, which serves roasted gourmet coffee and cold-brewed coffee with all-day breakfast options like eggs benedict and pancakes stuffed with berries. Yum!
One Man Coffee along Upper Thomson Road is a coffee house that really knows their coffee. The cafe is fronted by Melbourne-based barista Soh Eugene, and sells coffee that is priced between three to six dollars from Axil Coffee Roasters of Melbourne. The cafe shares shophouse space with gourmet pizza bar Crust, and therefore provides curated options for meal and coffee pairings. Light bites are also available, and items like the buttery brioche French toast served with homemade berry compote and fresh cream are likely to make the perfect addition to your cup of coffee. 
If you're looking to let the tiredness melt away with a beer or two, consider heading to dive pub Sara's, which prides itself for being the "longest-lasting bar on the Upper Thomson stretch". The bar promises good vibes and nothing less, and screens football matches for fans of the sport. 
Macritchie Reservoir - Shop
Stock up before you head to MacRitchie Reservoir at Thomson Imperial Court. Although the building is actually a condominium, its basement has a Sheng Siong Supermarket where you can purchase whatever you'll need to get through the day. Consider purchasing some electrolyte-filled isotonic drinks, or some cream buns to snack on through hikes. Just don't feed the monkeys!
Alternatively, you can also head Thomson Plaza, where there are many shops, amidst services like a SAM machine, AXS machine, and a Singpost POP Station! With three levels and 180 tenants, you're likely to find just about anything you need at good prices, especially at shops like DAISO Japan. Thomson Plaza also has other major chain brands under its roof. Some of these brands include dining establishments like KFC, Pizza Hut, Sushi Tei, and Starbucks. 
Macritchie Reservoir - Play
You'll never have to wonder what to do in MacRitchie Reservoir. In fact, there's so much to do that you'll have to map out where to start.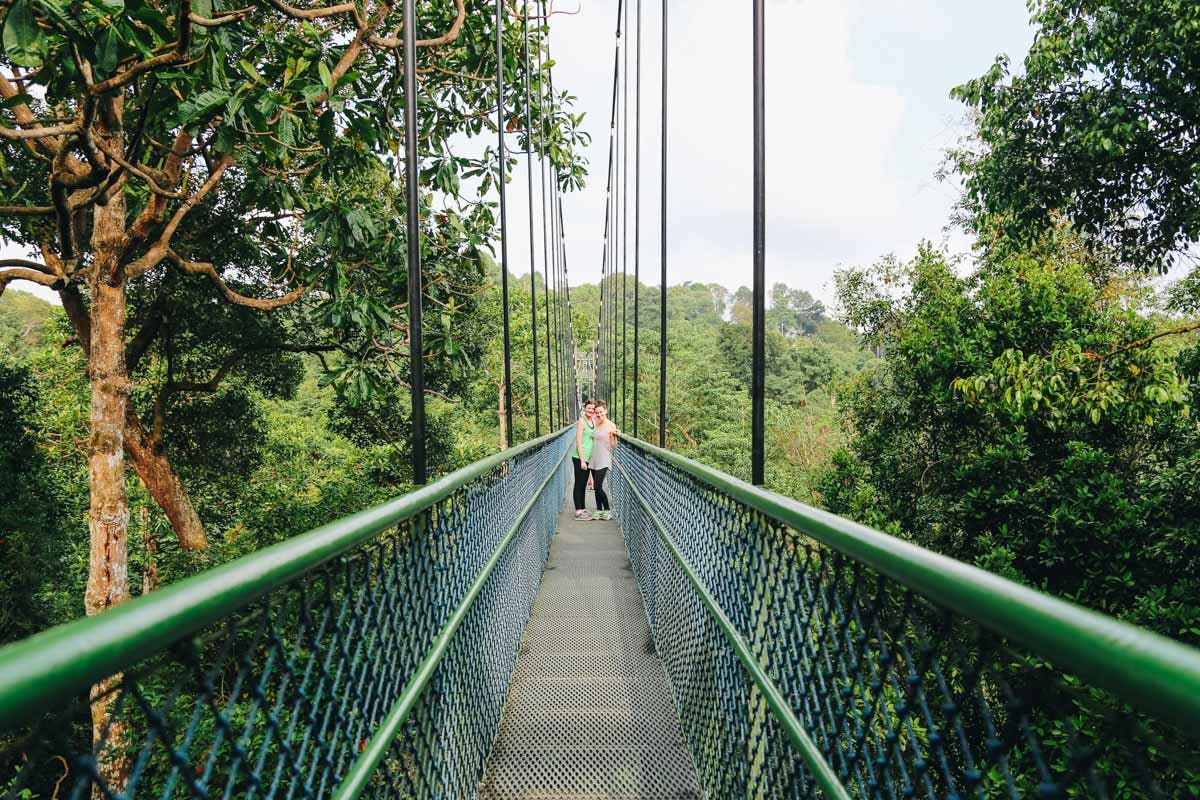 The MacRitchie Nature Trail will both thrill and tire you with eleven kilometers of walking and hiking trails around the nature reserve. Smaller, separate trials have also been segmented, with varying trials and difficulty to accommodate to larger groups and varying health levels. Start by the trailhead by the Venus Drive car park for ease of access. A MacRitchie trail map is provided online, and can be seen through various stops in the reservoir so you'll never make a wrong turn. 
Make sure to go on the iconic MacRitchie Treetop Walk. The walk takes visitors on an aerial suspension bridge approximately 80 feet above ground level, between the hills of Bukit Pierce and Bukit Kalang. The free walk is definitely not for acrophobes, but will definitely reward those who decide to brave through it, with a stunning panoramic view of the nearby Upper Peirce Reservoir, and the nature reserve that surrounds.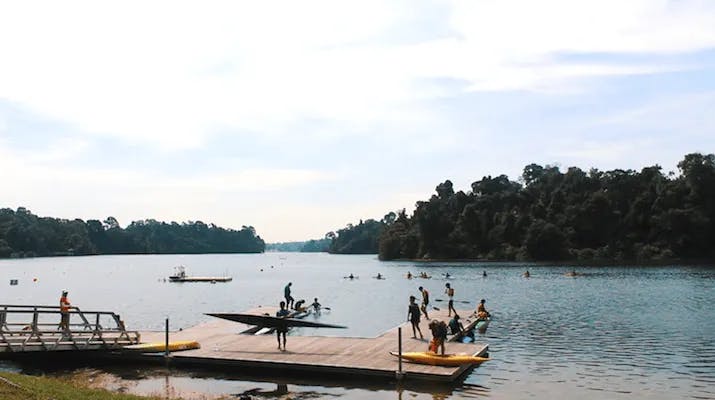 If you've already hiked through MacRitchie before, you may want to attempt the MacRitchie kayaking experience. The MacRitchie Reservoir's waters are calm, making it a very accommodating spot for novice kayakers looking to perfect their peddle. The experience is regulated and kept safe with special designated areas. Yellow buoys indicate areas only for beginners, and the waters beyond are open to advanced kayakers. 
Beyond what's mentioned here, there are numerous other activities you can partake in at MacRitchie Reservoir. You can spot monkeys, walk barefoot in a submerged pathway, go for a dizzying run along the zig-zag bridge, or bask in a glorious view from Jelutong Tower. Just make sure to watch out for wild boars. 
Macritchie Reservoir - Learn
Given the tranquillity of the MacRitchie Reservoir, there aren't many schools that exert their presence in the vicinity. There are namely four available options, Cherrybrook Preschool, HFSE International School, EtonHouse International School Thomson and Marymount Convent School, all of which focus on providing a world-class holistic education. 
EtonHouse International School Thomson offers the trusted IB programme with a bilingual pathway from pre-school to primary.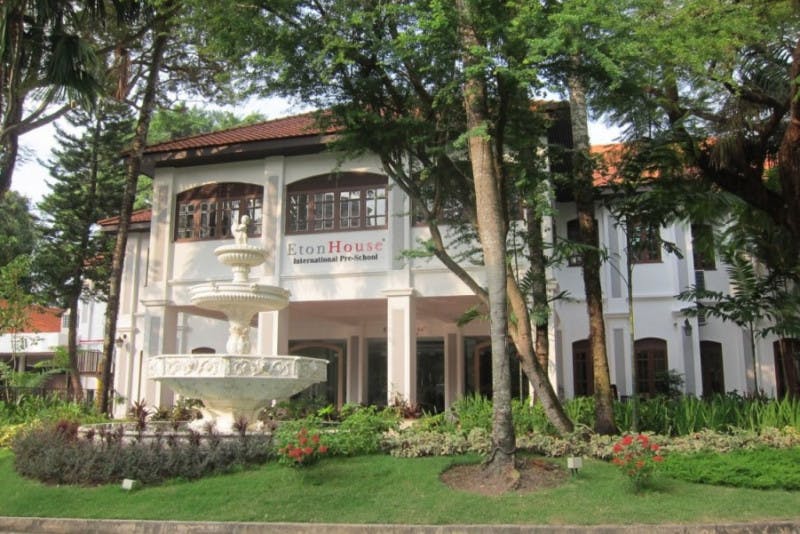 With that said, the accessibility of the neighbourhood and the speed with which you can get on highways make the experience of living in serene retreat more than worthwhile. 
Macritchie Reservoir - Move
The MacRitchie Reservoir and the neighbourhood that surrounds it are very well connected with bus networks, owing to the proximity of MRT stations. MacRitchie Reservoir, in particular, is served by buses 52, 74, 93, 130, 132, 156, 157, 162, 162M, 165, 166, 167, 852, 855, and 980, all of which will alight you at the reservoir's doorstep. 
The closest MRT station is Marymount MRT station on the Circle Line, which sits approximately one kilometre away from the reservoir, and you can get there within 10 minutes on foot. 
The MacRitchie Reservoir neighbourhood is bound by the Pan Island Expressway (PIE), which grants speedy access to the Central Expressway (CTE), and Lornie Highway, which connect to major roads like Bukit Timah Road. With that and Thomas Road, the Central Business District and other key destinations are within easy reach. 
Macritchie Reservoir - Parks and Gardens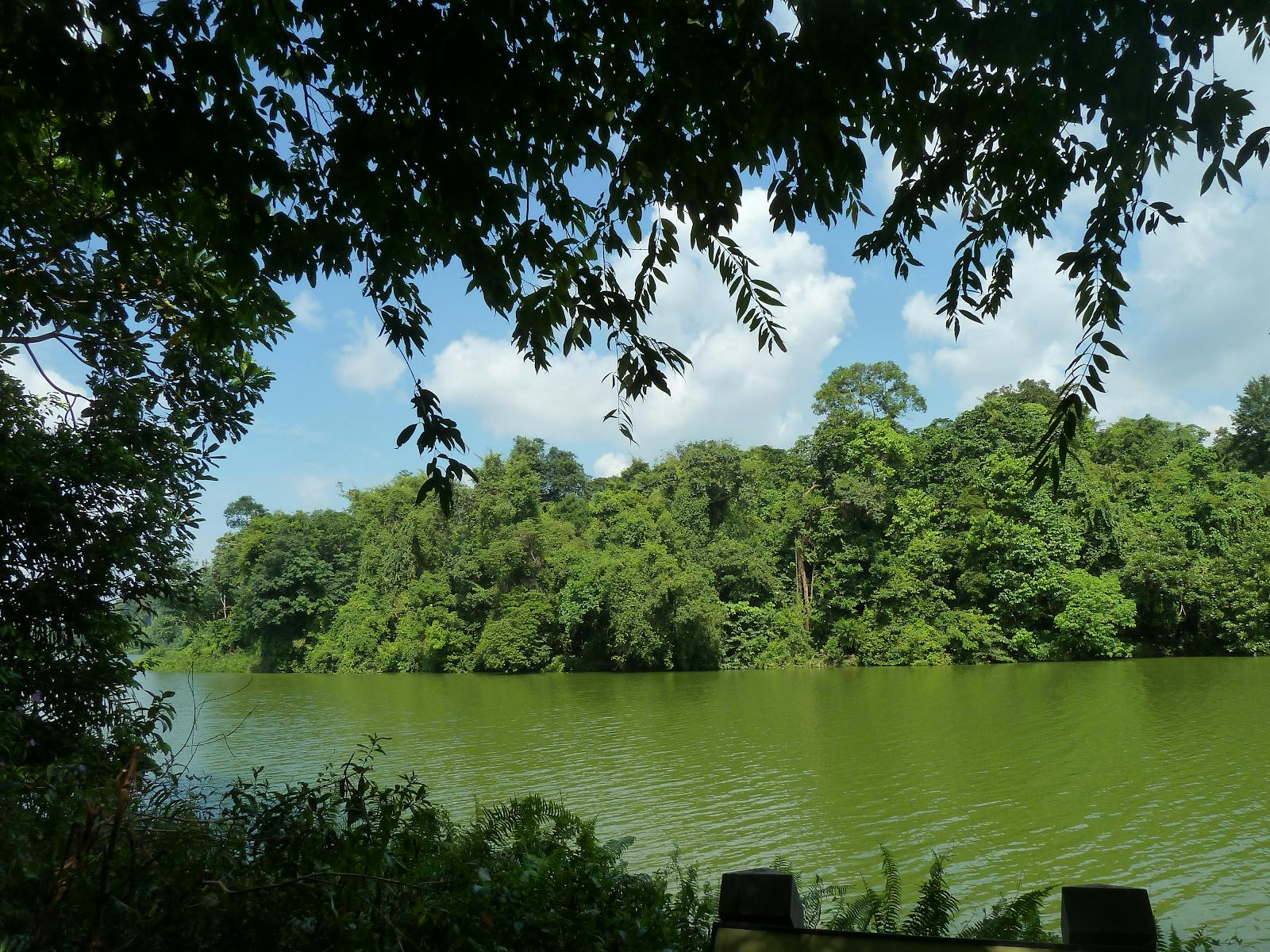 Located right in the centre of the Heartland, the neighbourhood is home to the largest central water catchment area. Not only the MacRitchie Reservoir, but also the Upper Seletar, Upper Peirce, and Lower Peirce Reservoirs. Since every reservoir comes with a land of lush greenery, you have loads of options when it comes to picking up places for a picnic or a simple weekend getaway with your loved ones. MacRitchie Reservoir Park itself offers myriad attractions that make it a playground of nature for those who love the outdoors. One of the favourites is the Treetop Walks, a 250-metre aerial free-standing suspension bridge spanning the two highest points within MacRitchie. If you have ever wanted to enjoy the tranquillity of walking above lush green foliage, this is the perfect choice for you. This and many other varieties of natural experiences are easily accessible when you are staying in this area. Upper Seletar Reservoir Park offers you 15 hectares of natural vegetation with all of its marvellous inhabitants. There are also the Upper Peirce and Lower Peirce Reservoir Parks which, of course, offer you the serenity of nature with a myriad of flora and fauna.
Shortlist folder is empty
Search for listings to shortlist