Sentosa
Tags:
Tourism
Getaway
Entertainment
An offshore island closest to Habourfront train station and the Bukit Merah district, Sentosa is a popular island resort visited by millions every year. Featuring the monorail, cable car and boardwalk, visitors can easily access Sentosa in numerous ways. Home to Universal Studios, other attractions such as Adventure Cove Water Park, S.E.A Aquarium and Trick Eye Museum can be found at Resorts World Sentosa. More recently, Madame Tussauds Singapore has recently opened, featuring Marilyn Monroe, Bruce Lee, David Beckham and Elvis Presley. Not to be missed are the long stretches of white sandy Tanjong Beach, Palawan Beach and Siloso Beach where cafes and bars line along the sides. Apartments within Sentosa include The Berth by The Cove, The Coast @ Sentosa Cove and The Oceanfront @ Sentosa Cove condominium. For short vacation stays, Capella Singapore, W Singapore, Movenpick Heritage Hotel and Hard Rock Hotel are among the many options available.
Summary
If Singapore didn't already seem like the epitome of a metropolitan hub and home to the commercial and social elite of the world, Sentosa would have to be it. With sun-kissed beaches, metropolitan destinations, exhilarating fun, and homes for Singapore's rich and famous, the island is the epitome of Singapore through rose-tinted glasses. It is this that makes Sentosa one of Singapore's most famous destination spots, for both tourists and locals.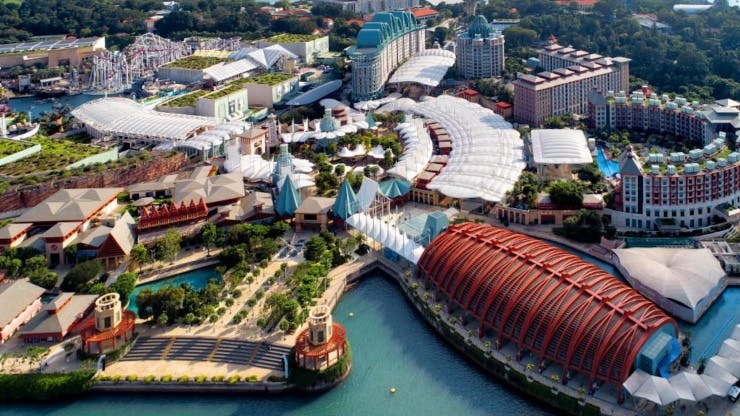 Although we know the island as Sentosa today, it was not always called "Sentosa". It was previously known as Pulau Bakang Mati, which means "Island of Death Behind" in Malay, after the Japanese occupation. 
In 1972, a competition was launched by the Singapore Tourist Promotion Board to rename the island. What the island represented was then made simpler with the name of Sentosa, which means "peace and tranquility" in Malay. The word "Sentosa" is also derived from the word "Santosha" from the Sanskrit language, with similar meaning. 
Just half a kilometre away from Harbourfront, which is the southern coast of Singapore, Sentosa has an area of close to 5 km2. Over 70% of its expanse was occupied by secondary rainforest, which gave life to numerous animal species like monitor lizards, monkeys, peacocks, parrots, and other native fauna and flora. 
The construction of Resorts World Sentosa kept environmental impact to a minimum, by replanting over two hundred trees from the designated construction elsewhere on the island. That's not to say that the island's biodiversity took no impact. In fact, further development has resulted in a drastic impact on native fauna and flora. The white sand beaches that Sentosa is well known for having significantly impacted its reefs. 
Sentosa is soon to see further development, continually undergoing expansion with large portions of land being added due to land reclamation. 
Sentosa - Stay
Sentosa offers housing to both travellers and dwellers. The resort island has numerous stylised hotels and homes, most of which are at Sentosa Cove. Houses in Sentosa have a reputation for being owned only by Singapore's richest. Sentosa Cove features over 2,000 oceanfront villas, hillside mansions, waterway bungalows, and upscale condominiums with an authentic oceanfront experience.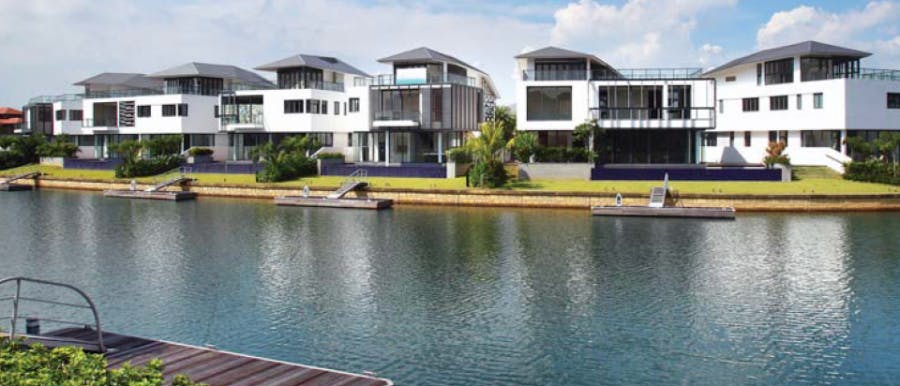 99.co recommends checking out Sentosa condos such as The Berth by the Cove, The Oceanfront @ Sentosa Cove, and The Coast @ Sentosa Cove, which all offer opulent, extravagant lifestyles in the form of seaside living and luxury amenities. Other Sentosa Cove houses include bungalows and mansions, which offer the best of the Sentosa island real estate. Long-term rental options are also available--and ideal--for homes in Sentosa Cove. Here, you can live like you've never imagined. Luckily, the experience of having dinner daily accompanied by picturesque sunsets is an experience that can be shared with people who don't live at Sentosa Cove. 
Tourists and locals looking for a resort getaway have one of Sentosa's many hotels to choose from. Amara Sanctuary Resort Sentosa has five-star hotel facilities with guest rooms, suites, villas, and mansions to offer. Capella Singapore boasts 30-acres of lush greenery with serviced apartments, penthouses, and manors, along with suites and guest rooms for shorter stays. Costa Sands Resort has chalets and kampung-style huts overlooking Siloso Beach. 
Numerous other options are available, including Shangri-La's Rasa Sentosa Resort, Siloso Beach Resort, Sofitel Singapore Sentosa Resort & Spa, W Singapore, Village Hotel, Quayside Isle, and Movenpick Heritage Hotel, all of which possess their own sense of distinctive charm. There will likely be a single option that's best suited for each and every individual.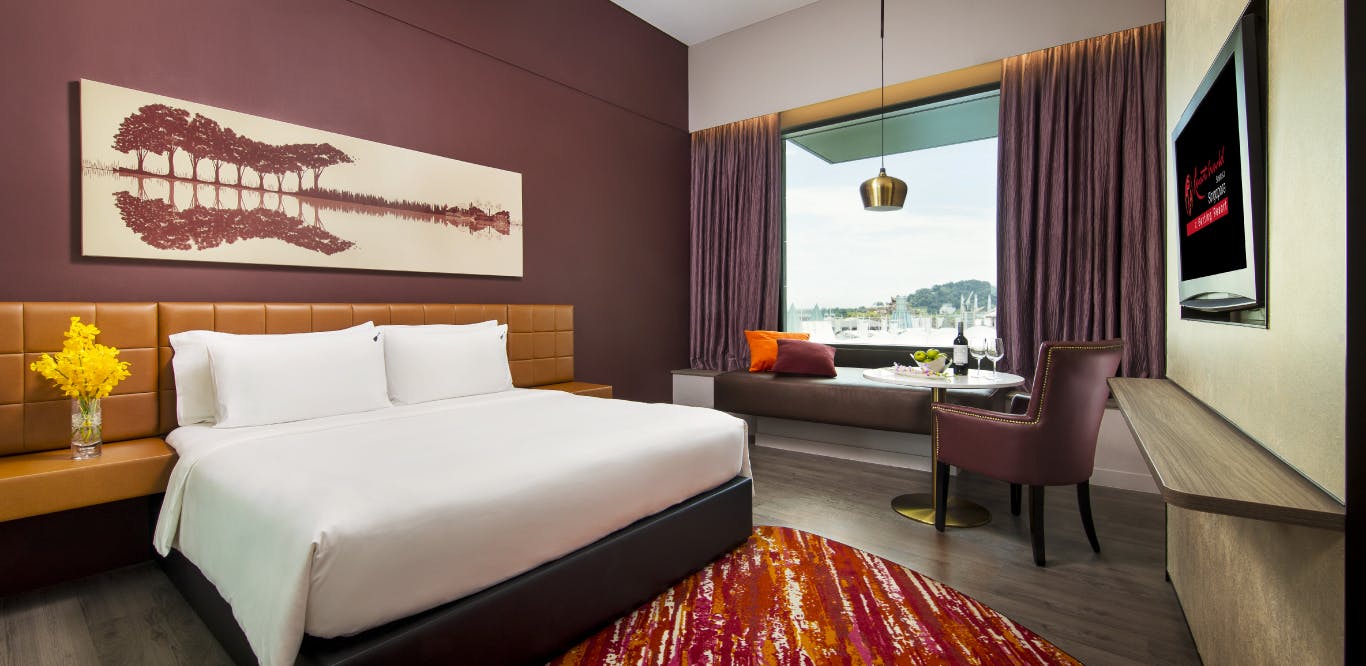 Resorts World Sentosa also houses a collection of hotels, including Crockfords Tower, Hotel Michael, Hard Rock Hotel Singapore, Festive Hotel, Equarius Hotel, and Spa Villas. All of these hotels grant quick and easy access to Singapore's top attractions, like Universal Studios Singapore, S.E.A Aquarium, and Adventure Cove Waterpark.
Sentosa - Eat
Sentosa takes its food as seriously as it does fun and leisure. The food establishments in Sentosa offer multi-sensory experiences well worth the dollar. 
Celebrated chefs behind the renowned restaurant 212 in Amsterdam opened their first restaurant outside of the Netherlands in Singapore. Called table65, it deals in 'no pretense' fine-casual dining, even inviting customers to sit with chefs at the communal chef's table. The restaurant also uses visual projections on dining plates, adding that to its list of Instagrammable moments, if their delectable apple dessert isn't enough.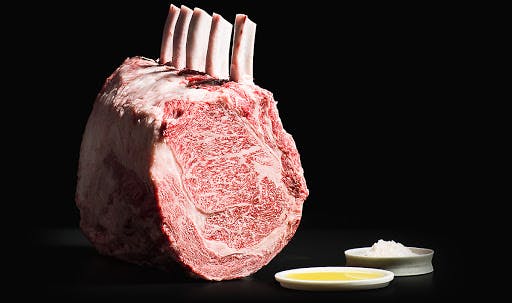 The Osia Steak & Seafood Grill does not mess around, with large platters of juicy premium meats and seafood. Try the Australian Bangalow Sweet Pork, pedigree pork bred naturally without antibiotics or hormones. If pork isn't really your thing, try the Maine Lobster, or the acclaimed Mayura Station Full-Blood Wagyu Beef with a marble score of nine plus. 
If you're leaning more toward ambient dining experiences, visit Ocean Restaurant or Forest森. Ocean Restaurant features Southeast Asia's only underwater aquarium dining experience, where customers can dine on sustainably farmed seafood while indulging in the breathtaking beauty of manta rays and mighty sharks swimming by. Forest森 offers an experience on land with a rainforest-themed restaurant and a mod-Chinese menu. Signatures include the Tiger Prawn Rice Vermicelli with Chinese Wine in Superior Chicken Broth, and Pan-seared Lemongrass Chicken Roll stuffed with Glutinous Rice.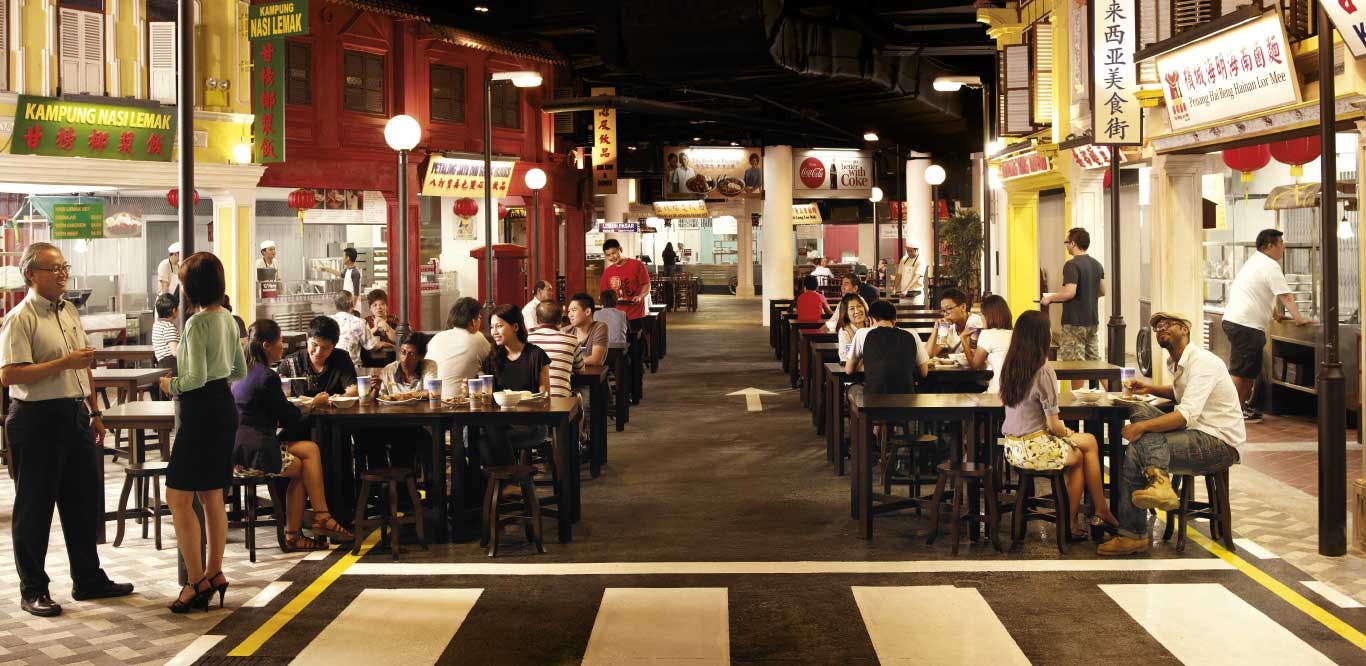 That said, there may be nothing you want more than the kick of spicy, salty, greasy heartland food. Head to the Malaysian Food Street for a collection of Malaysia's most famous hawkers, all gathered in an air-conditioned old-colonial-town ambience. Halal and vegetarian options are available here, and neighbouring cuisines also make their appearance. Food from Malaysia's northern neighbour Thailand, like the Zaeb Thai Kitchen Pork Trotter Rice, must not be missed.
Sentosa - Drink
What's a day at a beach if you don't spend some time relaxing with your favourite sparkling cocktail? There's no shortage of quality drink spots at Sentosa.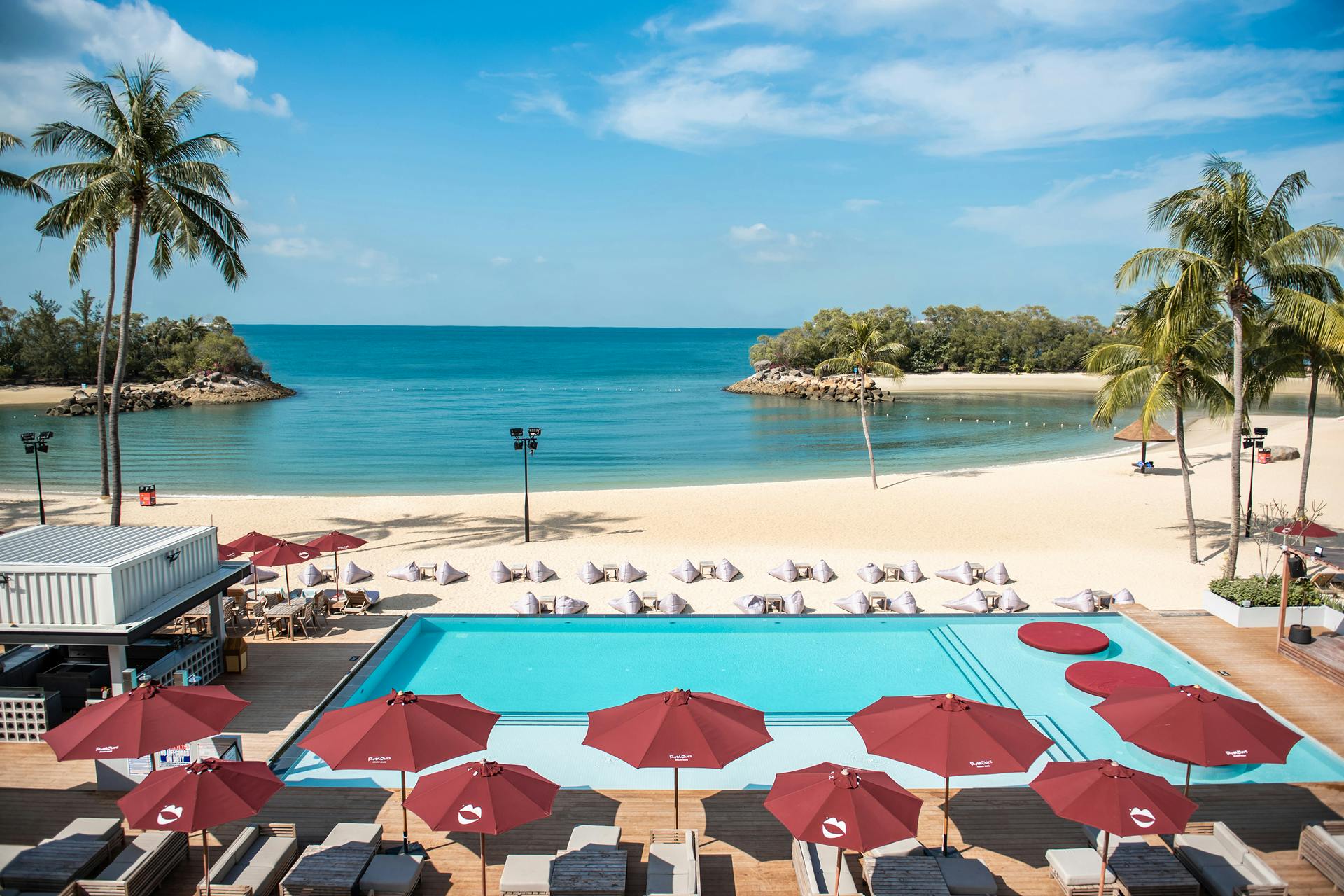 New kid on the block Rumours Beach Club has made its mark with its trademark Balinese hospitality, excellent cocktails, and delectable food. Head to their pool with a Caribbean Breeze or their signature Rumours on the Beach cocktail in hand.
A more familiar haunt is the Tanjong Beach Club, a household name known for their weekly DJ-clad shindigs. Drinks are available in pitcher portions and are perfect for troves of party animals and groups. The club also sells bar bites like truffle fries and a charcuterie platter. 
Culturally exclusive options are also available. If you swear by Bintang Beer, head to Bikini Bar, the only bar in Singapore devoted to the Indonesian beer. If not, FOC Sentosa is an option that has got Mediterranean romantics covered at Palawan Beach. The establishment pays homage to the Spanish Gin & Tonic culture, with a food menu curated by Michelin-starred Chef Nandu Jubany. Ola Beach Club offers a slice of Hawaiian life on Siloso Beach, with cocktails and a revered offering of watersports. Yep, watersports. Have a Tiki cocktail before you hop on a banana boat, or maybe even on a jet blade!
Sentosa - Shop
Given the prevalent residential and tourist-driven population, it's no wonder that Sentosa is brimming with shopping opportunities.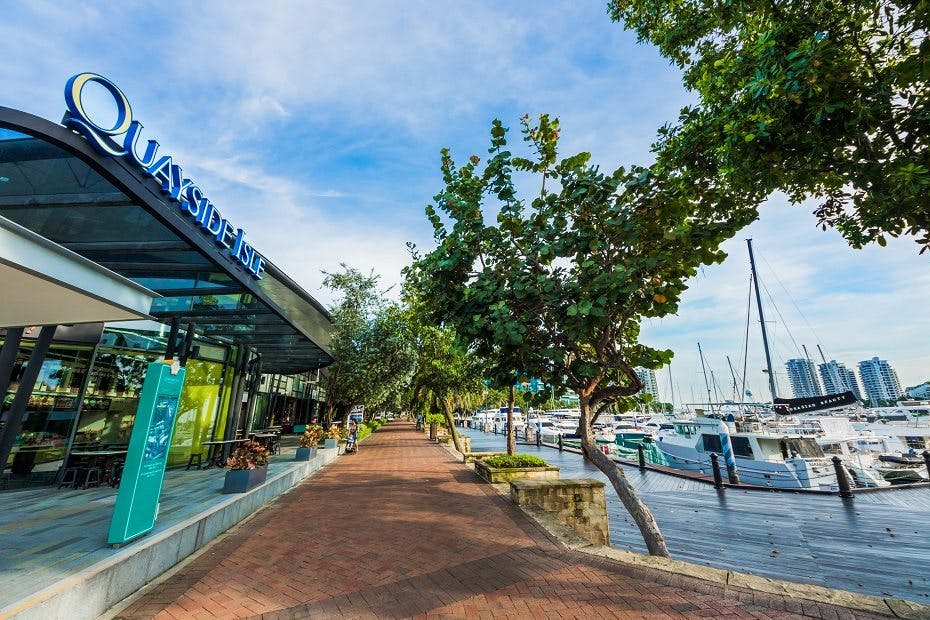 Inside the exclusive Sentosa Cove is Quayside Isle @ Sentosa Cove, a dining and retail destination with over 40,000 square feet of new-to-market restaurants, dining concepts, and specialty retail stores with options for all occasions, whether they are business lunches or family gatherings. 
Resorts World Sentosa is a retail destination in its own right, with chain options like the famed Garrett Popcorn and the Lego Certified Store, as well as upscale options like Bvlgari, Chopard, and Coach. 
Tourist shopping options also spot the entirety of Sentosa island, and you're likely to find a destination-centric souvenir shop at almost every turn.
Sentosa - Play
Well...where do we begin. Sentosa is an island that guarantees a whirlwind of fun. 
Did somebody say whirlwind? Experience free-falling at iFly Singapore, the world's largest vertical wind tunnel measuring 16.5 feet in diameter with a flying height of 56.5 feet.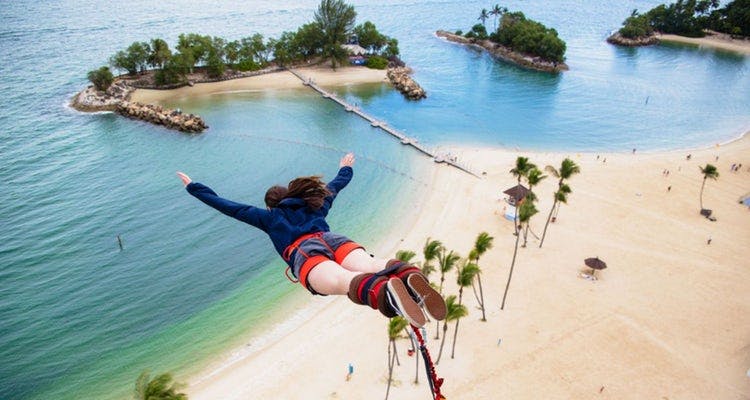 And if you're looking to get tossed around, adrenaline junkies are going to be properly tousled by the time they're done at Sentosa. Let the wind whip in your face at Mega Adventure Park at the top of Mount Imbiah, which has one of the longest and steepest zip line wires in all of Asia, descending at up to 50 kilometres per hour. Conquer AJ Hackett's vertical wall, or hop on a non-motorised self-steering cart down the 688 metre-long Dragon Trail with The Skyline Luge & Skyride. And if none of those do it for you, head to the place where dreams are made, Universal Studios Singapore, and try one of their many roller coasters.
Immerse yourself in some cutting-edge technological experiences, starting with The Wings of Time Show, a multimedia performance with pyrotechnic displays, water screens, and flame bursts. Take movie-watching to a whole other level at Sentosa 4D Adventureland, which is a four-dimensional theatre. Don't miss your stop at Headrock VR, Singapore's first virtual reality theme park. 
If the smell of foamy waves and salt-textured hair is what you're looking for, head to one of Sentosa's three beaches: Palawan, Siloso, or Tanjong. Be one with nature at Sentosa Nature Discovery, a 1.8km-long walk on an elevated boardwalk, or flit around with more than 3,000 species of rare, internationally-found insects at Butterfly Park and Insect Kingdom. 
Family fun is also a Sentosa specialty. KidZania Singapore offers an interactive indoor theme park at Palawan beach that opened in 2016. Take the adventure a step further by living in the sea on The Royal Albatross, a luxury ship berthed behind Resorts World Sentosa. Madame Tussauds Singapore, which now has Marvel wax selections, is also in Sentosa, at the Imbiah Lookout.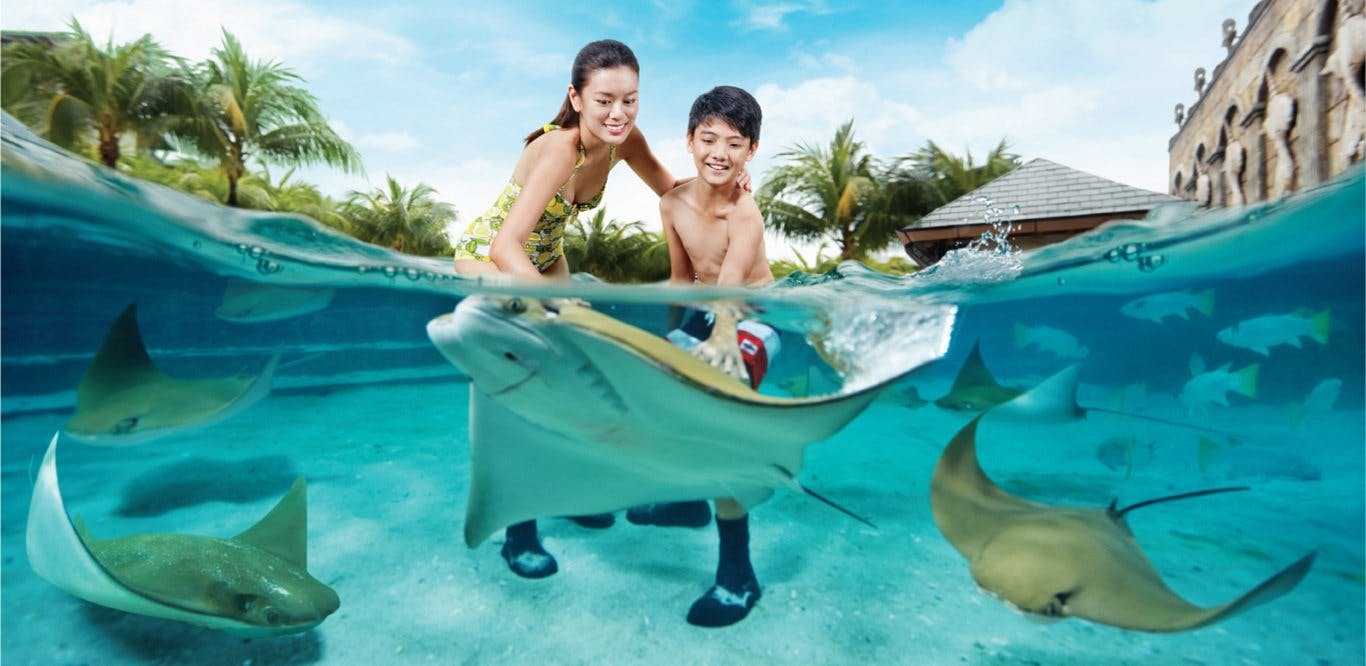 Resorts World Sentosa screams fun and adventure, beginning with the Universal Studios Theme Park where there's a ride for everyone, occupying nearly half the space of RWS. The integrated resort has a casino at its core and has seen the establishment of several celebrity chef restaurants, including Cat Cora and Joël Robuchon. The Adventure Cove waterpark puts an aquatic spin on theme parks, with Southeast Asia's first hydro wet coaster, and marine experiences like swimming with dolphins and sharks!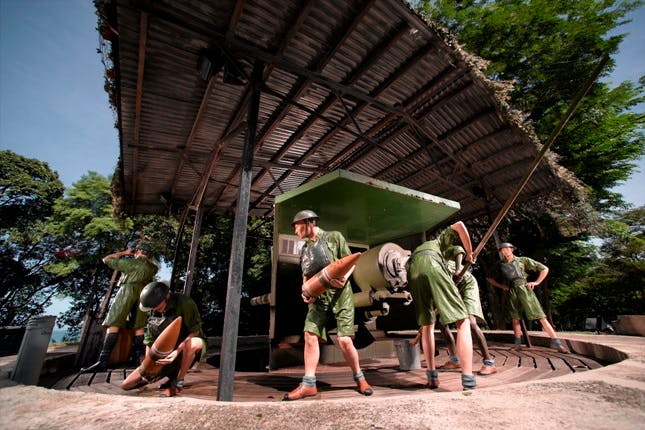 With all the entertainment that Sentosa offers, it's easy to forget that the island has a past very much ingrained in Singapore's worst times. Visit Fort Siloso in the west of the island and gaze at the preserved guns of the fort. Built during the 1880s, Fort Siloso was meant to guard the western entrance to Keppel Harbour, during World War II. It is the last coastal gun battery to remain in Singapore, from twelve of such batteries that made up Fortress Singapore when the war began.
Sentosa - Learn
Residents of Sentosa will not have to worry about getting on and off the island to get their children to school daily. 
The Quayside Isle Preparatory School (QUIPS) offers an International Primary Curriculum that implements an enquiry-based approach for children aged two to seven. With weekly field trips and special programs like Zumba, children are constantly stimulated. 
Islander Pre-School's lush and tranquil surroundings are perfect for inspiring young minds, it offers child care services and follows an academic calendar from January to December. Catering to children from 18 months to six years old, Islander Pre-School offers a bilingual program amidst a holistic syllabus that caters to every child's requirements, following the Inquire Think Learn Curriculum (ITL).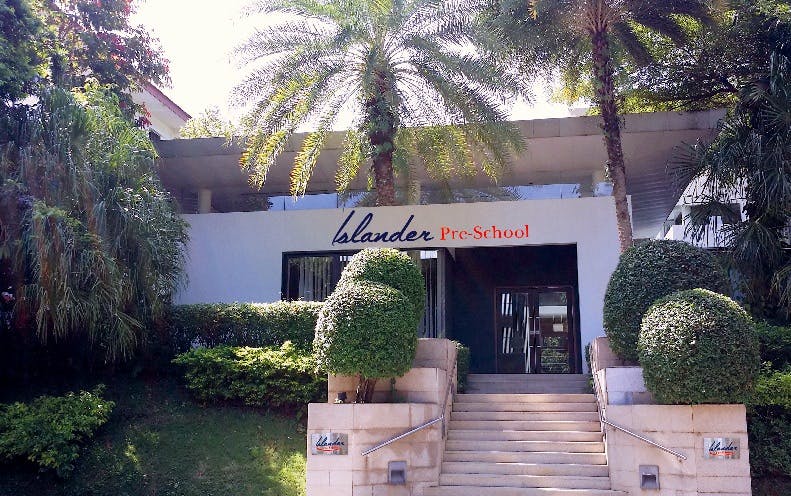 EtonHouse Sentosa is set in the heart of Sentosa amidst lush greenery, it offers a rich Nature Education Programme and a trusted inquiry-based curriculum.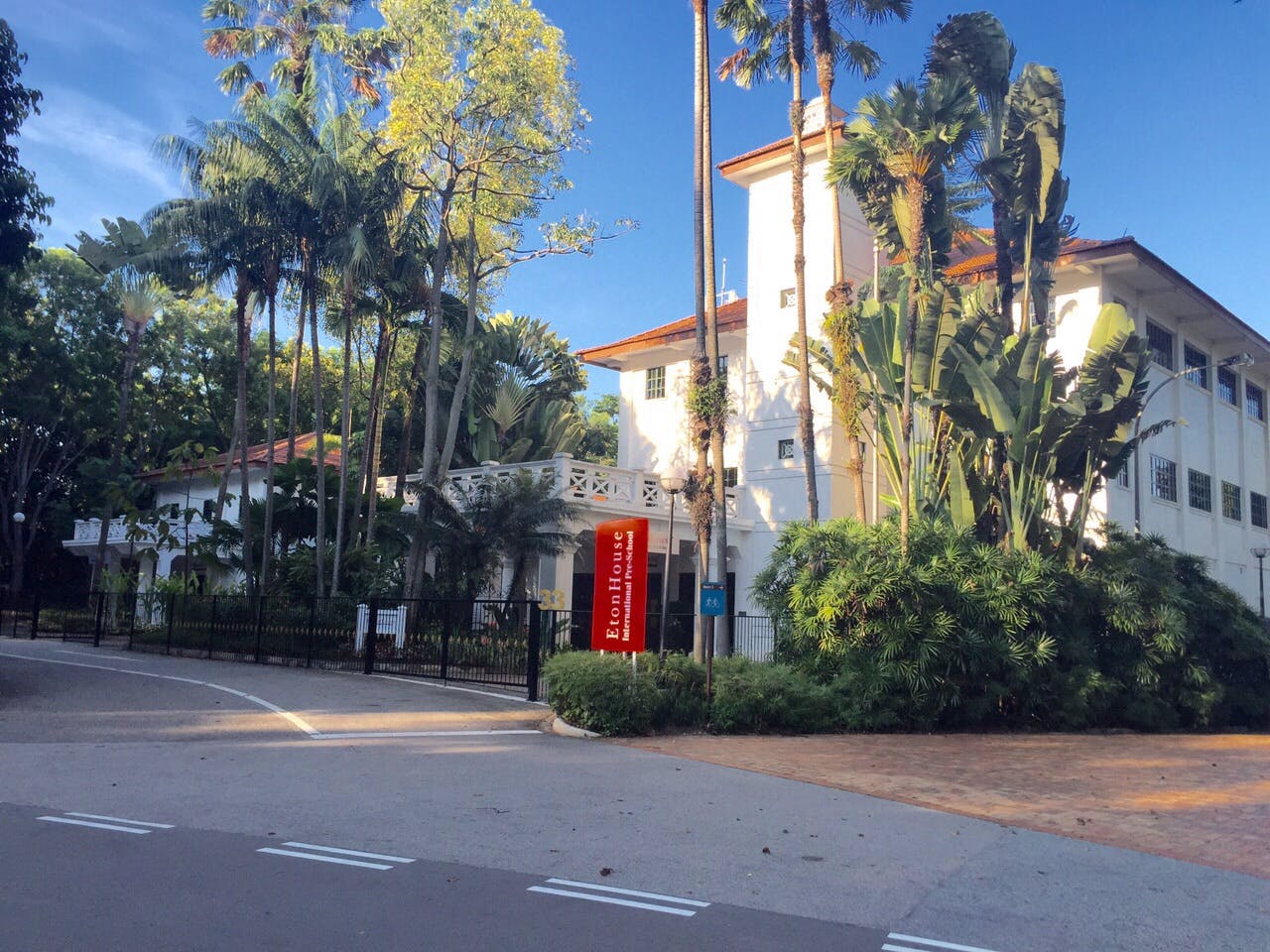 Set overseeing the Sentosa golf course, the scenic school is part of the reputed EtonHouse International School family. Trips to the beach and nature walks are amongst the school's daily activities. 
Sentosa - Move
While Sentosa's growing reputation as a location for the financial elite makes the location seem unaffordable, the truth remains that it has become more accessible over the years.
Following 2003's launch of the North-East line, including the southern terminus of Harbourfront station, integrated shopping mall VivoCity has played host to the Sentosa Express.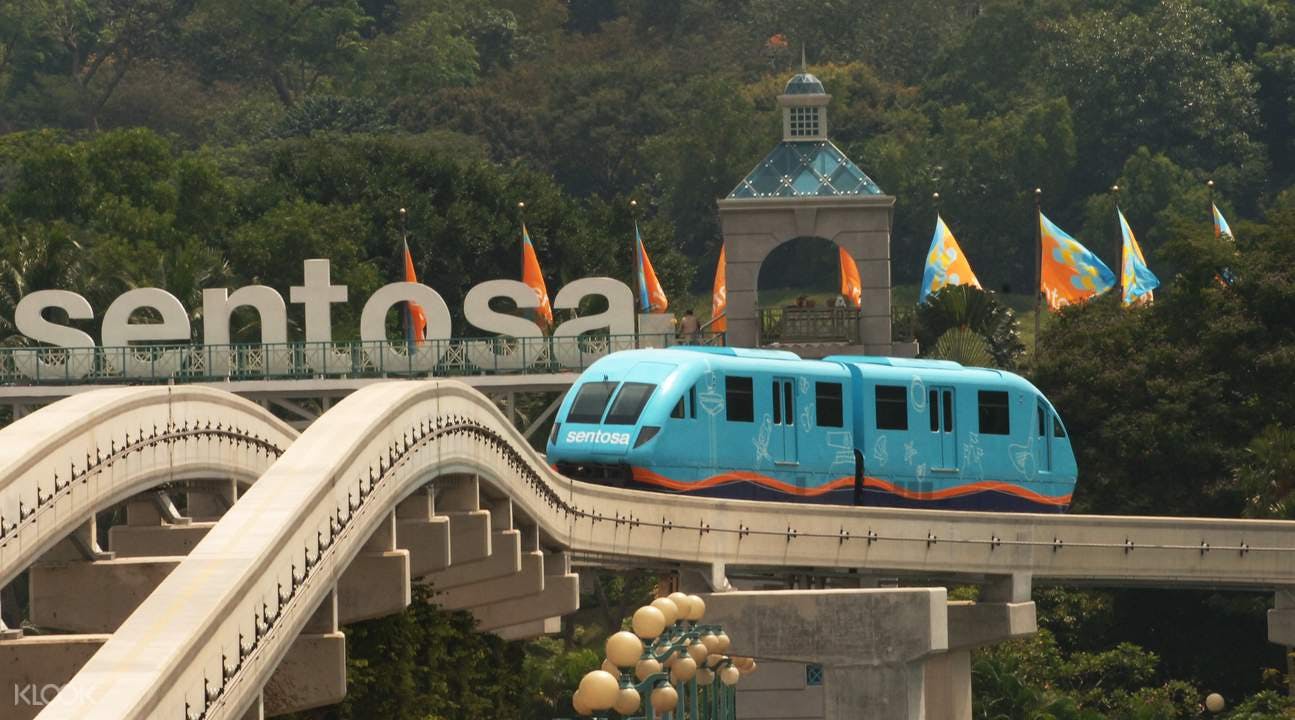 A monorail that costs $4 (via CEPAS or a ticket purchased), the Sentosa Express can bring you to Resorts World station, Imbiah station, or Beach station. Transit on the Express within Sentosa or back to VivoCity is free.
By road, SMRT bus services 188R and 963R take passengers from as far as Choa Chu Kang or Woodlands right into Sentosa. Operating only on weekends and public holidays, these busses charge a premium rate for entry into Sentosa. Service 123 by SBS.
The additional cost of entering Sentosa will also be encountered if you choose to drive in. However, since Singapore's 50th anniversary, walking in via the Boardwalk from Harbourfront has been free.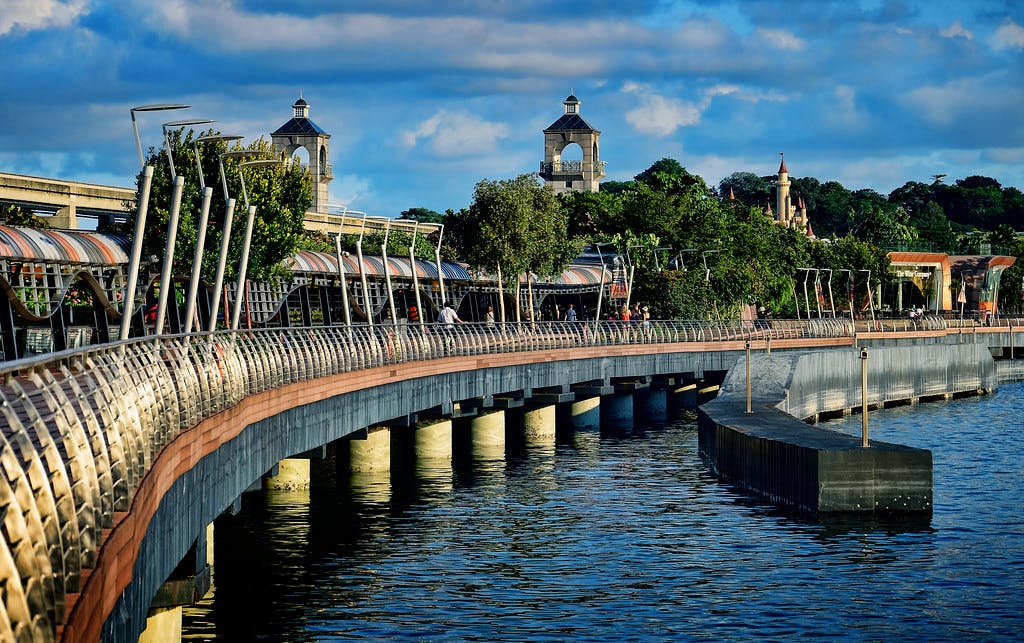 Alternatively, you may enter Sentosa the way nature intended it to be entered: by cable car. Beginning from Harbourfront, you can take the Cable Car down to Mount Faber and into Sentosa while enjoying the incredibly scenic view of the Singaporean shores. While not connected, another cable car network, known as the Sky Network, serves Sentosa internally, with stops at Siloso, Imbiah, and near the now-closed Merlion.
For additional transport within Sentosa, the Sentosa Beach Tram is a popular option, and one of the few available choices. There are also two bus services identified as Bus A and Bus B that serve two different routes.
Sentosa - Sports Facilities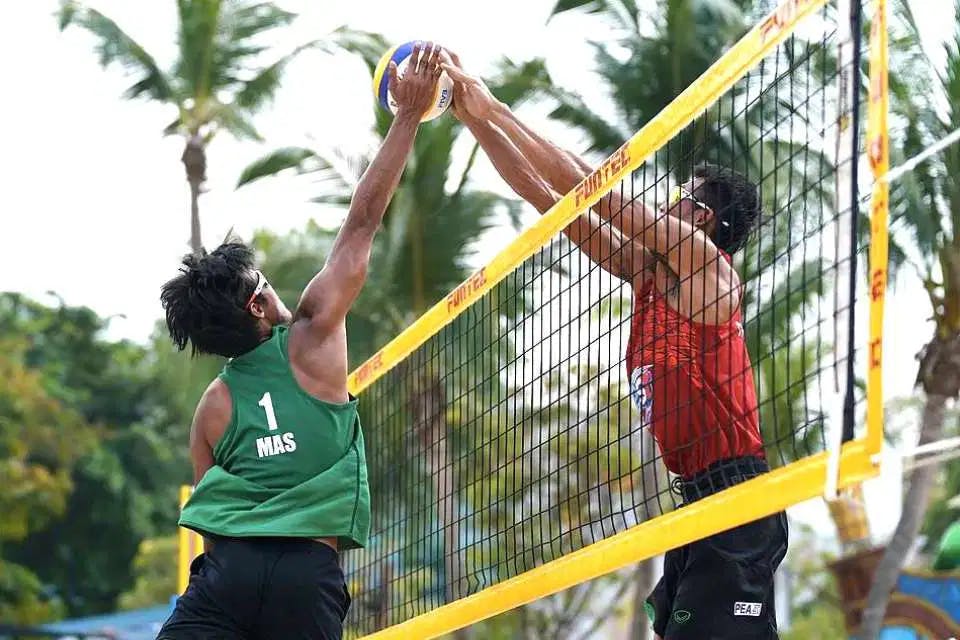 Sentosa's beachfront coastline which spans about 2 kilometres across three beaches namely Siloso, Tanjong, and Palawan is more than just a place for a tan. There are plenty of opportunities for all kinds of ball sports in this stretch of sandy beach. Beach volleyball nets are available across the island's beaches, thus you can have an exciting game with your loved ones--more people, more fun! Because the beach is definitely not for sightseeing and chilling only, expect all sorts of people gathering to play other beach sports such as ultimate frisbee and football. Besides being a resort island, Sentosa is indeed home to several niche sports that you can join. With activities such as bungee jumping at AJ Hackett, flying down a zip-line at 60kph at Mega Adventure Park, indoor skydiving at iFly Singapore, and water-jetpacking at Ola Beach Club, it is no wonder that Sentosa beaches are kind of a magnet for adrenaline junkies.
Shortlist folder is empty
Search for listings to shortlist