Tuas
Tags:
Industrial
Peaceful
Seaside
Being far away from the main residential areas and the Downtown Core, Tuas was chosen as a site for industrial development from the past. Mostly inhabited by factories and heavy industries, Tuas and Jurong Island make up the industrial areas in the western region of Singapore. Deeper into the district, Asia Pacific Breweries Singapore, JTC Corporation Biomedical Park and Abbott Manufacturing Singapore are also located here. Besides existing industries, the upcoming development of Tukang Innovation Park and CleanTech Park nearby will bring fresh commercial and job options to residents. Meanwhile, most workers reside in Jurong View Apartments and other low-rise flats in the neighboring Pioneer district, allowing them to work conveniently near home. For more facilities, the Arena Country Club and Raffles Country Club is just a stone's throw away.
Summary
Today, Tuas is either known for its extensive network of industrial spaces, its link to Malaysia, or (if you're an East-sider) "being on the other end of the world."
The truth however, is that Tuas is not very different from its more accessible neighbours. It may be a little less residential, and substantially more industrial, but the estate has seen far more urban development than it gets credit for.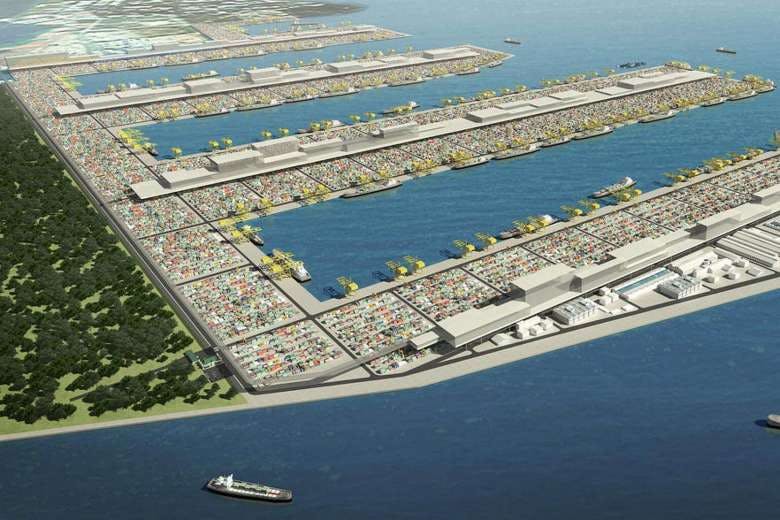 Like much of Singapore, Tuas' roots lie in fishing. Deriving its name for the Malay term for "chop in two pieces", "to raise by leverage" or "to support," Tuas refers to a fishing technique utilised by regional fishermen more formally known as "menuas." A daytime fishing technique, this method required fishermen to leave coconut fronds and leafy branches floating in the sea while the rising tide helped in clustering them. A large net was then suspended below, and the fishes would swim into the trap, attracted by the shade it was under.
Considered a bustling fishing village, Tuas attracted a fairly large community made mostly of Chinese Teochew and Malay families, and dates back to the 1880s. Although it was once a swampland, the influx of residents, saw the development of the location for settlers.
Much like most of its westside brethren, Tuas saw extensive urbanisation in the 1970s. While the area was prepared for industrialisation, development was necessary for accommodating workers and their families. The precinct saw further development in '80s when the waters around the Tuas became the subject of land reclamation, 
While Tuas was once Singapore's western-most region, this extensive land reclamation exercise expanded the area by an additional 650 hectares. The reclaimed land was, in turn, further developed for industrial purposes.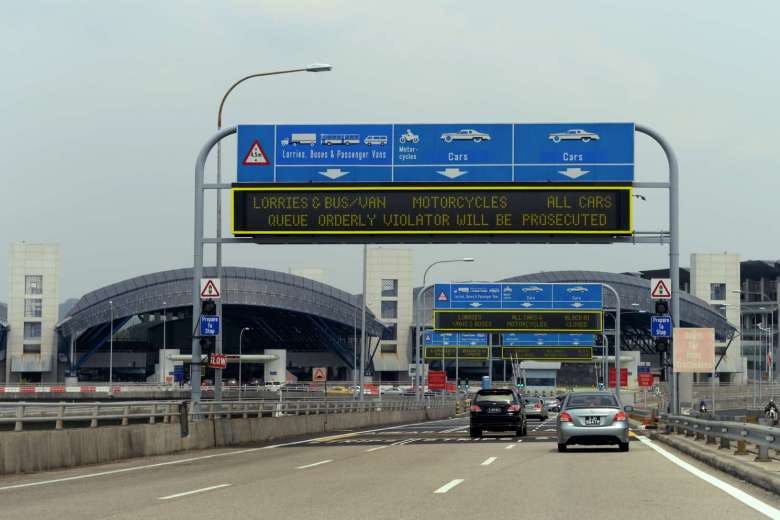 Tuas has come a long way from the village it once was, having been almost entirely inaccessible and often subject to congestion. Today it not only houses the Second Link Tuas Checkpoint to Malaysia, but will soon include a megaport known as Tuas Terminal, currently in construction and slated to launch this decade.
Stay
Tuas is generally not considered a residential estate. With its general inaccessibility until very recently, its reputation for industrial buildings, and its location at "the other end of the island," it just never seems to be the kinda place one would live.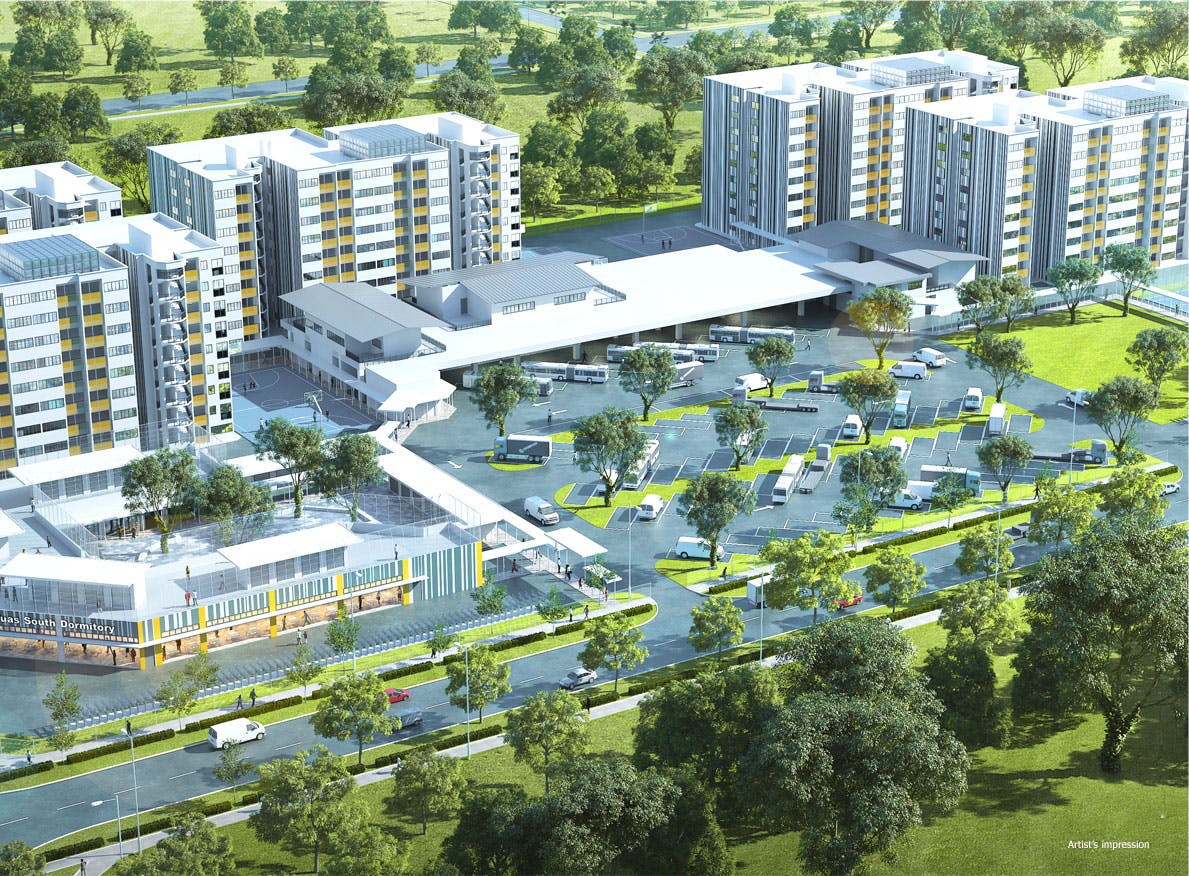 In truth, Tuas has a relatively decent amount of residential options. A mix of public houses and private dormitories, the root of Tuas' housing options is the workers in the area.
The core of any Singaporean housing estate, the national public housing agency HDB, has a couple of estates in Tuas. Present in both the industrial zoes as well as areas within proximity, these houses are provided at a low cost for the workers in the area.
Located in the Benoi Sector and Pioneer Road, these estates' accommodating capabilities are boosted by the low rise flats also present. Typically 9 to 11 stories high with less than ten blocks a cluster, these houses meet the basic residential requirements of providing shelter for its occupants, with their only features being the electricity and water they supply.
In addition to the somewhat "Singaporeanised" housing options, Tuas has seen a greater need for multiple dormitory estates. Owned and maintained by Capital Development Private Limited the CDPL Tuas Dormitories are the more common accommodation for workers in, not just Tuas, but the western part of Singapore. Complying with the Dormitory Act, the CDPL Tuas Dormitory features extensive amenities. From a minimart and a beer counter, to a food court, gym and free wi-fi, these dormitories boast facilities equal to condominiums with even sick bays and a cricket practice cage!
And if you're looking for the full condominium experience, Jurong View Apartment is located just along Upper Jurong Road in the Boon Lay-Jurong-Tuas region of Singapore. Also known as District 22 in realtor speak this condo is located at 517 to 529 Upper Jurong Road and would be a convenient choice for people working in the western regions of Singapore.
Additionally, Tuas' close proximity to Malaysia, and its function as the second link across the border warrants the presence of hotels. RM Hotel is just 400 metres away from the new Tuas Link MRT station, and features amenities such as common recreational facilities like a fitness centre, swimming pool, an onsite restaurant and, less common, breakwater fishing. Also in the area are Arena Suites and Andaz.
Eat
Thanks to its high working population, Tuas possesses a heavy concentration of eateries. While not all of these options are available for the entirety of a waking day due to the drop in population after working hours,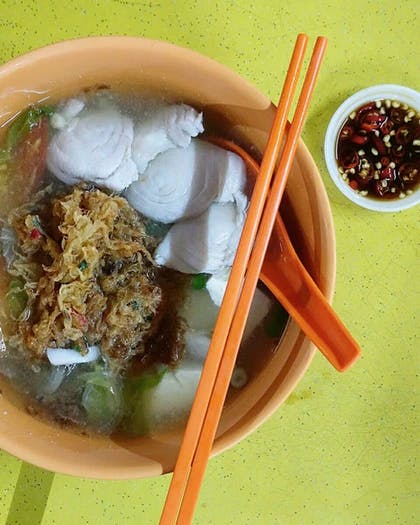 It makes sense that the most classic options would be found in the rustic Tuas Village Eating House. Standing out thanks to not standing tall, the eating house is a unique sight amidst the many towering industrial complexes. It also happens to house well-known vendors such as W & W Roasted Duck, Chicken Rice and Noodles. Known for their cost-friendly prices, savoury meat and sweet chilli, and free flow soup, W & W is a Tuas institution.
An option to satisfy your full day cravings, the iEat Canteen at Tuas Link is one that stays open from 6AM to 9PM. Popular for its Halal-certified chicken rice, the canteen is also known for its zhi char, and the stall Dong Bei Small Eats.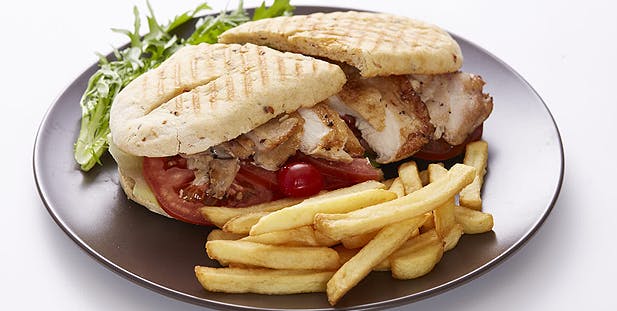 However, if you're looking for something a little more atas, Marina Bistro stands close. Located at Raffles Marina, which is a lot closer to Tuas Checkpoint than you'd think, Marina Bistro serves a variety of Asian and Western dishes. From western food staples such as fish & chips to trendy Asian delicacies like Kashmiri Naan, Marina Bistro is better known for its reasonable prices, making good food available at affordable prices.
Bringing a touch of the modern hipster take on eateries, the Third Place is a contemporarily set location, accented with plenty of nature elements. Near to the Tuas West Road MRT station, the eating house consists of about 10 stalls, together covering a wide range of dishes with most priced around $5.
Close to Tuas Crescent MRT station, Santoshimaa Indian Restaurant is located within Tuas Amenity Centre. Serving affordable, authentic Indian fare from the likes of prata to biryani, the low prices and large servings are bound to have you heading back to work with a smile. But if you'd prefer a less spicy fare, Pioneer Seafood Centre in Tuas is known for its chinese seafood.
Drink
As the saying goes, where there are people, there will be beer. Sure, that's not a real saying, but with the Tiger Brewery present, Tuas certainly seems like a great spot to drop by. Enhance your enjoyment of this iconic beer with the Tiger Brewery Tour.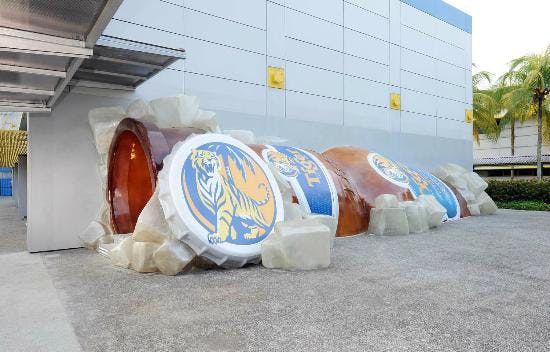 Learn from an experienced tour guide about everything from Tiger Beer's heritage and history to the actual brewing to packaging. And if you're less interested in knowing about the beer and more about drinking it, the tour includes a 45-minute tasting session which isn't limited to just Tiger Beer, and includes a range from Baron's to Guinness to a selection from Archipelago Brewery.
You even get to sample the bartender's life with an opportunity at dispensing beer like the real deal. So choose your own happy hour slot, and enjoy this afternoon delight for just $18/person!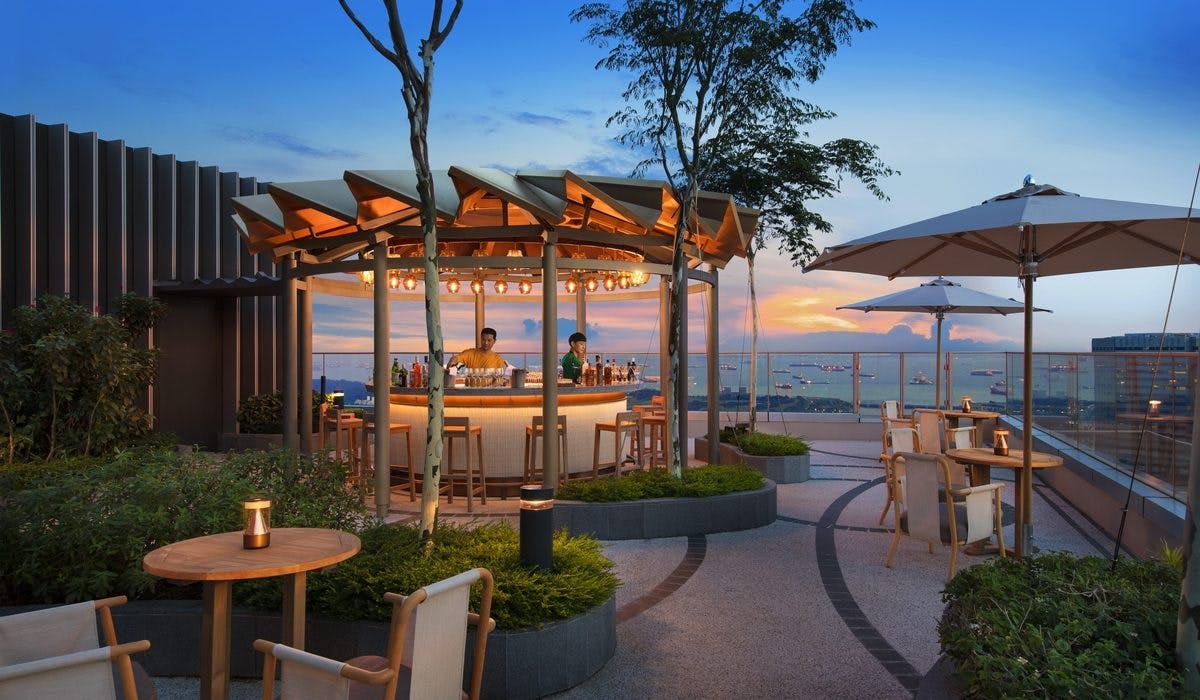 For a more streamlined drinking experience, KPS Bar offers a wide range of food and drinks. Known for its cozy ambience, this bar's located near Tuas South Recreation Centre. And if you're looking to take in the sights, Mr Stork is perched on the Andaz Hotel's 39th floor, and offers a 360-degree view of Singapore.
But if it's more of an after work activity and some unwinding that you're looking for, consider Club Villa and Forta Karaoke Pub for an opportunity to get your groove on!
Shop
Tuas' seemingly secluded region calls for its shopping facilities to be as full-service as possible. Tuas Amenity Centre fulfils that function with pretty much everything needed, including hardware stores and a Singapore Pools. The highlight, however, is a Style Cutz which only charges $10 for hair dyeing services!
Though, of course, if you're so close to Malaysia, why not head up? With both City Square and Komtar at the foot of the Malaysian end of the causeway, the journey up is one of easy returns. From brands like Cotton On, The Alley, and Daiso, the variety is as good as Singapore's but at much better prices. The neighbouring Toppen Shopping Centre boasts an Ikea, a rooftop fitness hub, rock climbing, and even a splash park for children. 
Additionally, there is also the to-the-point named mall, The Mall. With some of the biggest brands housed in this shopping facility, The Mall is also the largest shopping centre in the area.
However, if you do decide to take the trip up to Johor Bahru, be sure to check the One Motoring site for any traffic congestion at Tuas Checkpoint. Directly linked to cameras located on both Tuas and Woodlands causeways, One Motoring by the Land Transport Authority offers a look at the traffic on the roads leading to and from Malaysia.
But if risking the possible traffic congestion, both vehicular or human, just isn't your thing, then the development of a maritime hub would come as good news. Said to bring life and vibrancy to the terminal, the hub will see the development of commercial spaces and amenities such as a Tesco and Decathlon. The hub is also designed to attract a weekend crowd, and for people to find the area attractive enough to spend the day in the area.
Play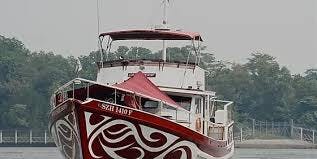 Tuas' unique location and low population density allows the space for some pretty interesting activities. Once a feature over at East Coast, water sports company Maxout Hydrosports, has since re-opened in Tuas. Boasting bigger and better features in their new location, the facility now includes four stunning water sites! But if you're looking for less danger and more chill on the water, rent the Carpe Diem, a Trengganu wooden hull motor yacht for 6 or 8 hours to taste the luxury life!
And if the idea of floating about on water isn't your idea of relaxation, take a stroll around Raffles Marina, and admire the towering sculptures and feel like a VIP as you strut down the long lanes flanked by fancy yachts. A popular attraction is the Raffles Marina Lighthouse, a place to exploit for your #OOTD Insta opportunity!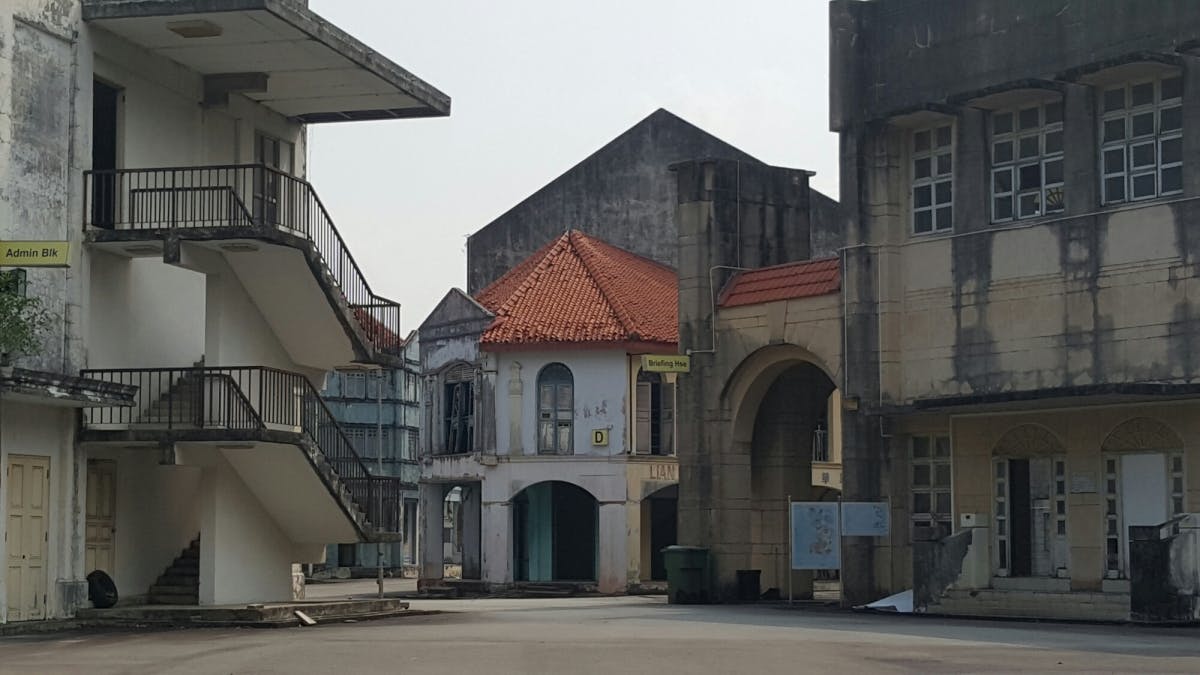 Or visit the former Tuas TV World site. Situated just beside the Tuas Second Link checkpoint and looking like a rundown theme park from the outside, Tuas TV World was mainly used by the Television Corporation Of Singapore (TCS) in the nineties as the production venue of local period dramas. Following 2001's restructuring of TCS into MediaCorp TV, the TV World was subsequently given up.
Learn
In addition to the world-renowned Nanyang Technological University, Tuas hosts some of Singapore's most interesting and informative locations.
One such location would be Harico Training, a professional welding training school, and one-stop welding centre for those interested in learning welding techniques or upgrading their skills. The training school also provides training for 3G, 4G or 6G skill levels in both Construction/ Marine industries.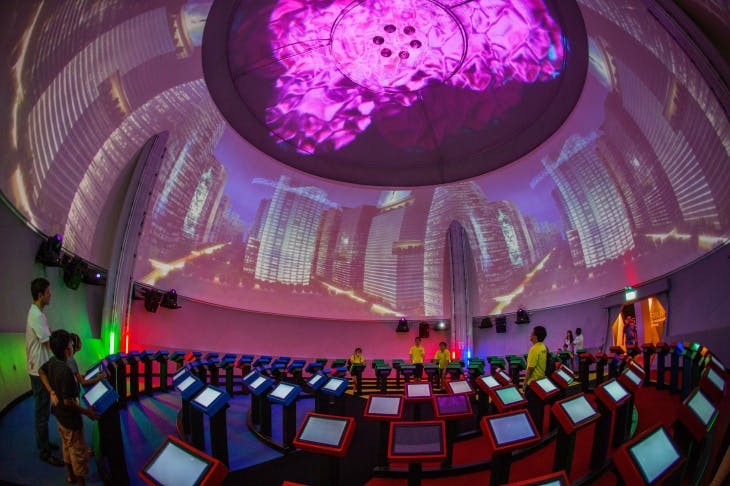 The further west counterpart to the more popular Science Centre Singapore, the Singapore Discovery Centre boasts an equal, if not superior, number of attractions. Explore their mind-and-heart-engaging and multi-sensory learning experiences, all of which span a selection of integrated themes. Additionally, you can dive into a wild ride with their 4D simulator ride (once part of the Science Centre), or go crazy with crossfire paintball!
The Discovery Centre also manages the SAFTI Military Institute, a tri-service military training institution for officers of all ranks in the SAF. The institute has also added a new initiative with the enhanced SAFTI bus tour, which allows visitors to get an exclusive look at the location's key landmarks. Visitors will also be able to explore the Parade Square, Ceremonial Hall, and SAFTI Tower.
Move
While Tuas was long neglected by the MRT network, the region was finally given a whopping 4 stations to serve the area. Opened on the 18th of July in 2017, the Tuas West Extension is a new bracket of the East-West line and consists of Gul Circle, Tuas Crescent, Tuas West Road, and Tuas Link.
While service to these four stations are more specific and not as extensive, they functionally serve the workers in these zones. Additionally, the region is still fairly accessible via Ayer Rajah Expressway (AYE) which connects commuters to the western end of the Marina Coastal Expressways (MCE).
Tuas is also friendly to Malaysian workers and Singaporeans who commute regularly to Malaysia. The Second Link at Tuas often faces less congestion and has become a popular option for visitors travelling across the link for leisure.
Shortlist folder is empty
Search for listings to shortlist