Private home prices in Singapore fell 1.2% overall in Q1 2020 compared to the previous quarter, according to flash estimates released by the Urban Redevelopment Authority (URA) on 1 April 2020.
The first three months of 2020 saw a major "black swan" event: the global spread of the Covid-19 pandemic. The pandemic and the ongoing virus containment efforts plunged world economies, including Singapore's, into a recession. (And basic economics state that the most immediate effect of a recession is a lowering the volume of demand for the purchasing of consumer discretionary items, such as cars and real estate.)
In March, the Singapore government began introducing increasingly strict safe distancing measures, which specified the maximum number people in a group and encouraged people to stay at home. "Transactions have tapered off sharply in March from a strong February, as the effects of Covid-19 are starting to reverberate through the economy and hurt sentiment," said Tricia Song, Head of Research for Singapore at Colliers International.
As of 1 April 2020, developers sold 528 new homes (excluding Executive Condominums) in March 2020, down sharply from the 947 units in February. Resale transactions were also down, at 328 units in March, from 436 units in February.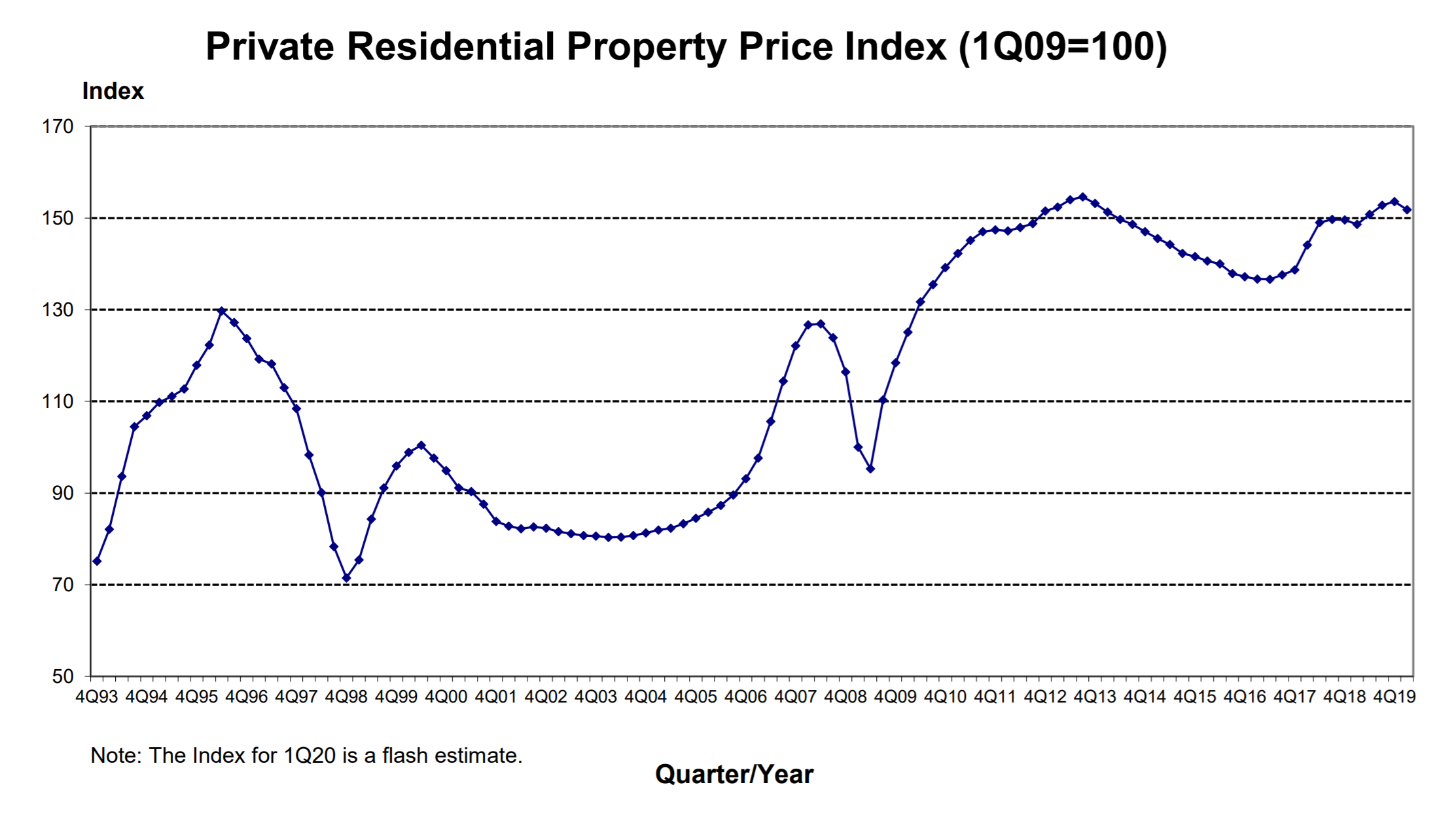 In terms of percentage, Q1 2020's 1.2% quarterly fall in private home prices is also the largest since Q3 2016, when it fell 1.5% compared to the previous quarter. That said, current private home prices are still above 2018 levels.
Impact across all private residential segments
The notable aspect of Q1 2020's price decrease was that it left no segment unspared. According to the URA flash estimate, prices of non-landed private residential properties in the Core Central Region (CCR) decreased by 1.5%, meaning there was no rebound from the 2.8% decrease in Q4 2019.
On CCR properties, Tricia additionally pointed out that the fall in prices could be partly attributed to two condos sold by developers at "perceived discounts". The projects are The M, which sold 389 units in Q1 2020 at a median price of S$2,438 per square foot (psf), and The Enclave at Holland, which sold 14 units in Q1 at a median price of S$1,851 psf.
Prices of non-landed private residential properties in the Rest of Central Region (RCR) fell by 0.5%, which is the lowest drop out of all segments. Non-landed private homes in the Outside Central Region (OCR) saw prices decrease by 1.0% in Q1 2020 after registering robust price increases throughout 2018 (9.4%) and 2019 (4.2%).
Landed home prices experienced the most significant drop of all sectors, with a quarter-on-quarter decrease of 1.7% following a strong 3.6% growth in prices in the last quarter of 2019.
More significantly, this is the first time since Q3 2016 that prices of all segments fell in tandem. According to Ismail Gafoor, Chief Executive Officer of PropNex Realty, the Covid-19 situation was influential in causing prices to fall across all segments.
"Firstly, a lack of foreigner buyers as a result of restrictions in entering the country. Secondly, Singaporean buyers are more cautious, as they are concerned about their job security. Thirdly, developers are putting out attractive pricings with low profit margin, leading to lower prices," Ismail remarked.
Where will home prices go from here?
With the prospect of a drawn-out recession, there is speculation that the fall in private home prices in Q1 2020 could be the start of a longer downtrend. Ismail projects property prices to fall "in the range of 2 to 3% this year" while citing lower interest rates as a silver lining that will continue to draw genuine buyers to "rightly priced" projects.
The projection by Colliers International is largely similar. "With home prices highly correlated to household income and the economy, we expect private residential prices could decline 1-3% in 2020, in line with the economic contraction," said Tricia.
Here at 99.co, we know that after many successive quarters of growth, a fall in property prices could be a cause for concern buyers, sellers and developers alike. Looking back at two decades of data, we observed that crises can have varying impact on home prices, as well as the consecutive number of quarters whereby prices continue to fall after the initial drop:
Quarter/Year
Cause of
Price Fall
% change over
previous quarter
'Negative' quarters
that followed
Cumulative % change at the
final 'negative' quarter
Q4/1990
Gulf War
-4.1%
0
-4.1%
Q3/1996
Cooling Measures,
followed by Asian
Financial Crisis
-1.9%
9
-44.9%
Q3/2000
Dot-Com
Crash
-2.8%
7
-18.1%
Q3/2008
Global Financial
Crisis
-2.4%
3
-24.9%
Q4/2013
Cooling Measures
-0.9%
14
-11.6%
Q4/2018
Cooling Measures
-0.1%
1
-0.7%
Q1/2020
Covid-19, followed
by economic
recession
-1.2%
?
?
Due to the unpredictable nature of the Covid-19 crisis and the subsequent economic recession, no one can say for certain how much property prices are going to fall in 2020. At the time of writing, the number of record-breaking stimulus packages put into place by economies around the world, including our own, might serve to mitigate downward price pressures on the residential property market.
What about HDB resale prices?
According to flash estimates from the Housing & Development Board (HDB), the HDB Resale Price Index recorded a price change of 0% (i.e. no change) for Q1 2020.
As HDB flats are a different class of goods to private properties (essential vs. luxury goods), we expect HDB home prices to be stable in the coming quarters. It is possible we may see a higher number of HDB buyers adjusting their budget and expectations because of the recession, but we expect the overall supply-and-demand of public housing to remain stable.
Now here's a fun fact: During the 2008-2009 Global Financial Crisis, the HDB Resale Price Index registered only one quarter of price decrease. And that was just a tiny 0.8% drop in Q1 2009!
Stay tuned to the 99.co blog for more coverage on Covid-19, the recession, and the impact on the Singapore property market. Check out MAS: Will its latest policy move hurt the Singapore property market? and Confirmed: Malaysia lockdown to affect condo and HDB BTO completion
Looking for a dream home? Finding it is a breeze on 99.co!