The Arden
The Arden is a 99-year leasehold new launch condominium at Phoenix Road in District 23. Expected to launch Q3 2023 and be completed in 2025, it comprises 3 exclusive five-storey towers, with a total of 105 apartments of 2 to 4-bedroom layouts.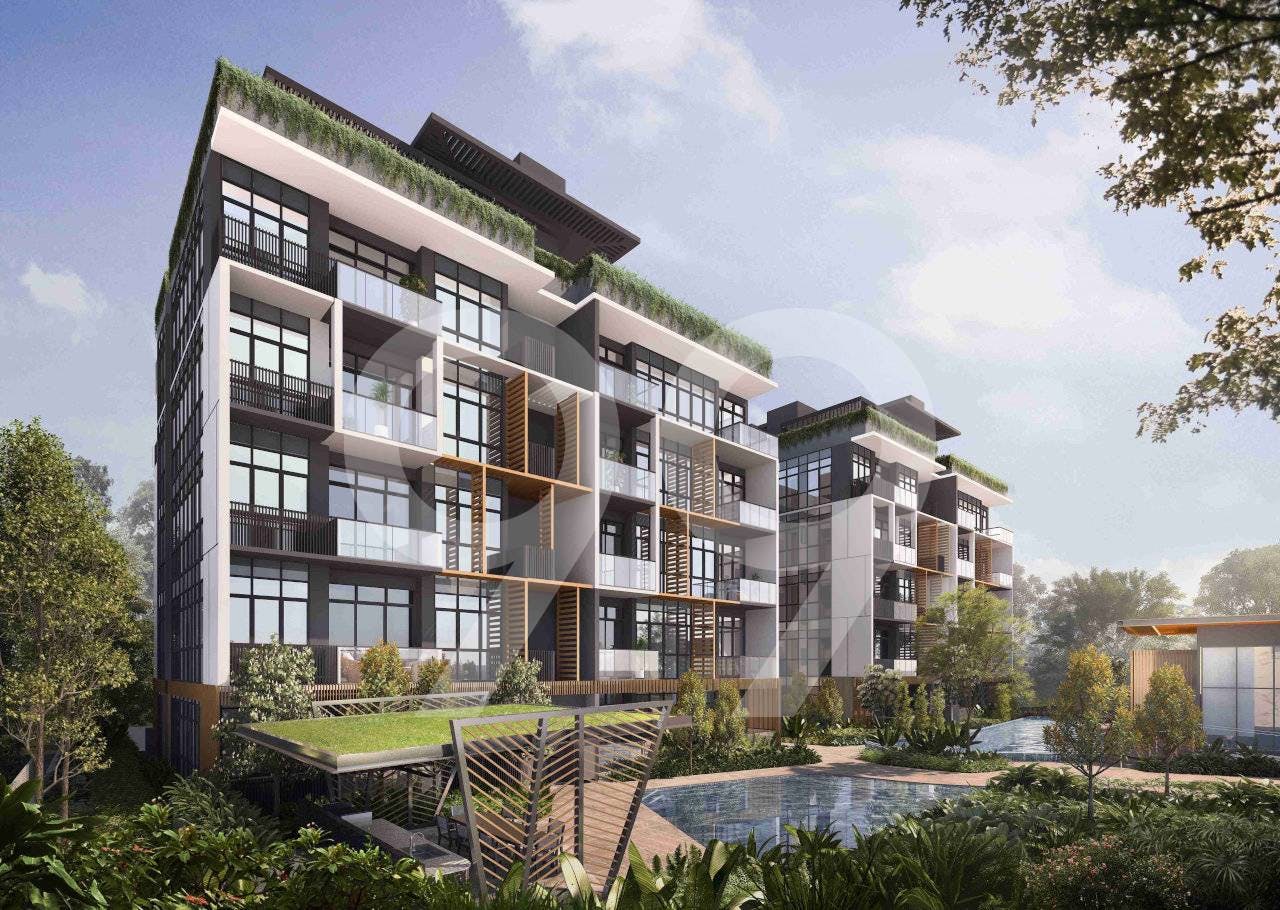 An artist's impression of The Arden
Inspired by its ancient Greek meaning "to lift up high", The Arden is situated on a 63,002 sq ft elevated plot of land within a quiet, lush sanctuary in a low-density landed housing enclave.
The Arden - Site Plan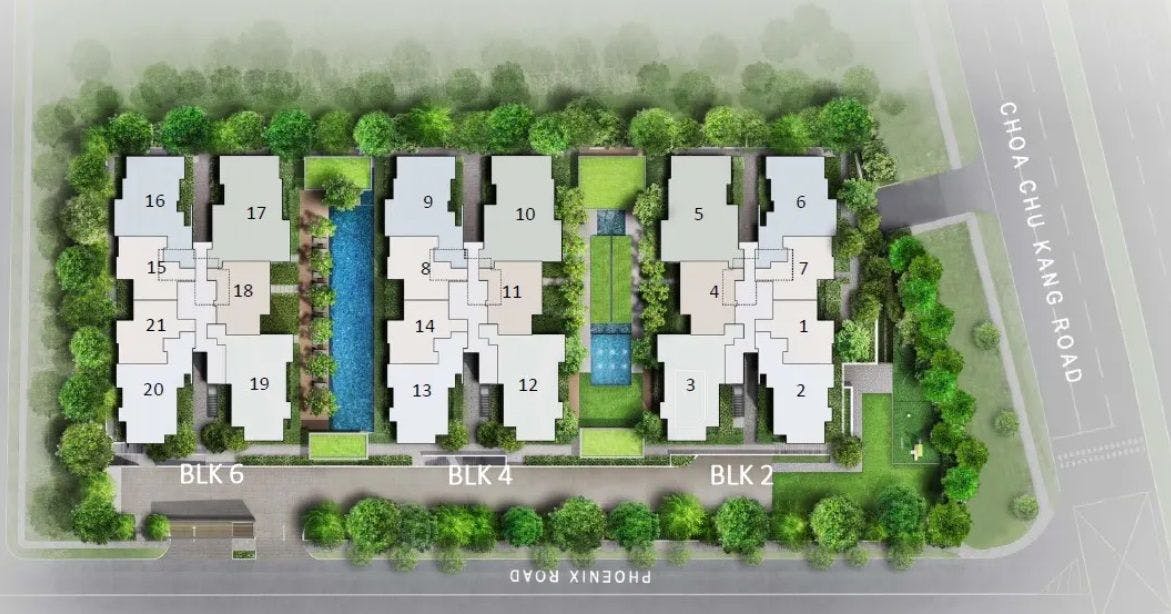 Site Plan of The Arden
There will be a total of 21 stacks across three blocks, with units ranging from 2 to 4-bedroom units, including penthouse units and an array of facilities spread across the compound.
Residents at The Arden will also get to benefit from the slight north-south orientation of the stacks here, with a slight tilt towards the east. Since there will be far lesser direct sunlight, this translates into cooler temperatures and conditions within the home.
The compound of The Arden will be home to a myriad of facilities, including several swimming pools like a 30m leisure pool, kid's bubble pool and a spa pool.
Other noteworthy facilities that residents at The Arden will get to enjoy include an indoor gym, fitness corner, and numerous outdoor spaces for family and friends to unwind, like the various outdoor lawns, pavilions and courtyard.
The Arden Unit Mix
The Arden has 105 units and an array of unit types, ranging from the compact 2 Bedroom Classic at 657 sqft to the spacious 4 Bedroom + Study + CoSpace at 1,389 sqft. Some units are in penthouse configurations. Here is the unit mix:
2-room (657-721 sq ft) - 36 units units
2-room penthouse (753 - 818 sq ft) - 9 units
3-room (1012 sq ft) - 12 units
3-room penthouse (1141 sq ft) - 3 units
3+1-room (1109 - 1249 sq ft) - 15 units
4-room (1206 sq ft) - 12 units
4-room penthouse (1410 sq ft) - 3 units
4+1-room (1389 - 1636 sq ft) - 15 units
The developer, Qingjian Realty, demonstrates its signature CoSpace layout concept with The Arden, which provides flexibility and allows owners to transform the space and its purposes according to their needs and lifestyles at different stages of life.
The flexible design concept allows homeowners to customise their living spaces fully. Each unit has a high ceiling with an impressive 3.2m height and all penthouses have a 4.6m ceiling.
Connectivity and transportation near The Arden
The Arden is surrounded by a series of LRT Stations within walking distance, including Phoenix, Teck Whye, Ten Mile Junction, and Bukit Panjang MRT Station. Phoenix and Teck Whye LRT Stations are 4-5 minutes away on foot.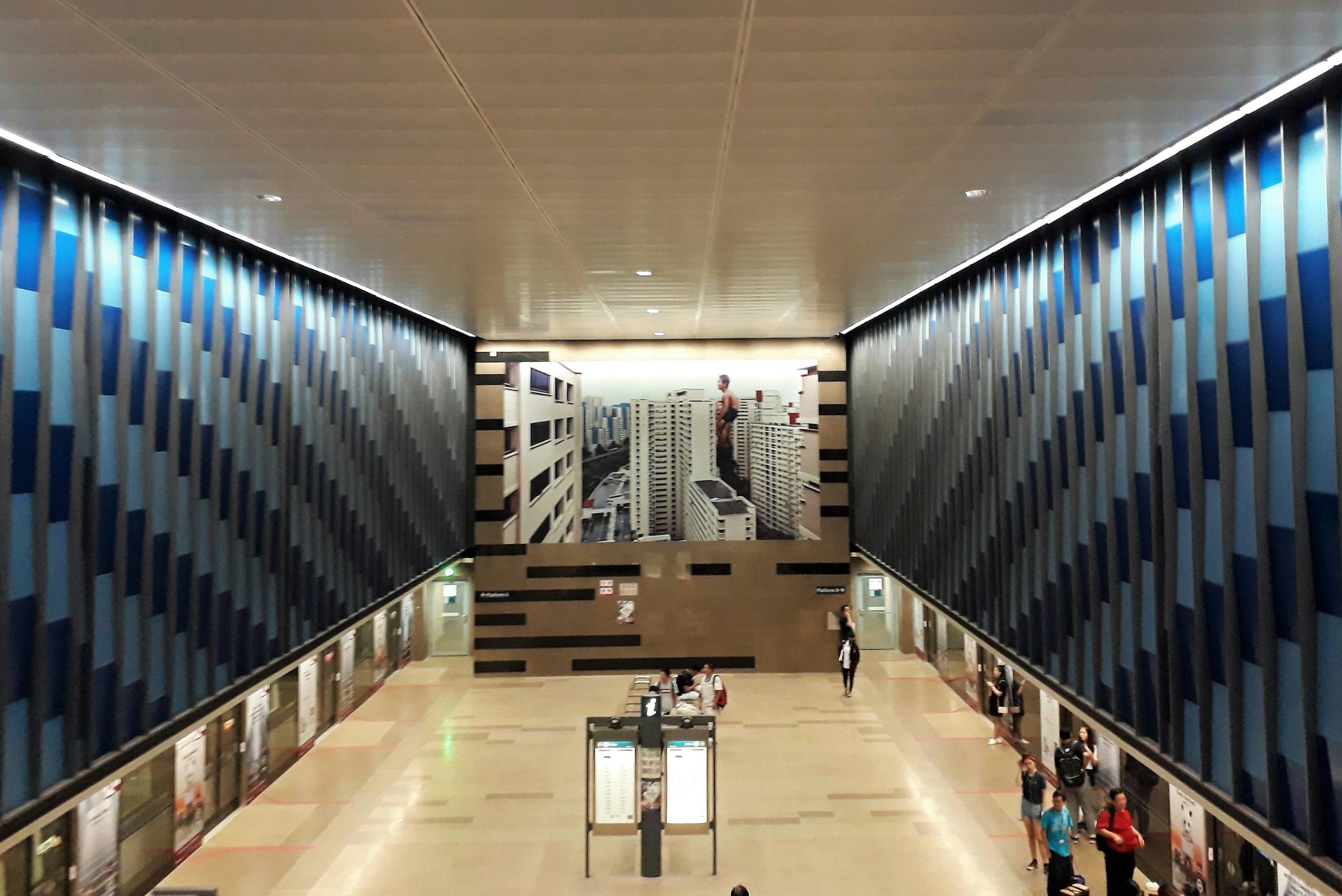 Bukit Panjang Station is an integrated transport hub, connecting the Bukit Panjang LRT Line to Downtown Line and a bus interchange. The Downtown Line provides direct access to the cluster of prestigious educational institutions in the Bukit Timah area, the Central Business District, as well as the bustling enclaves of Little India, Bugis and Chinatown. The Arden's convenient location provides easy access to the Kranji (KJE) and Bukit Timah (BKE) Expressways for residents who drive.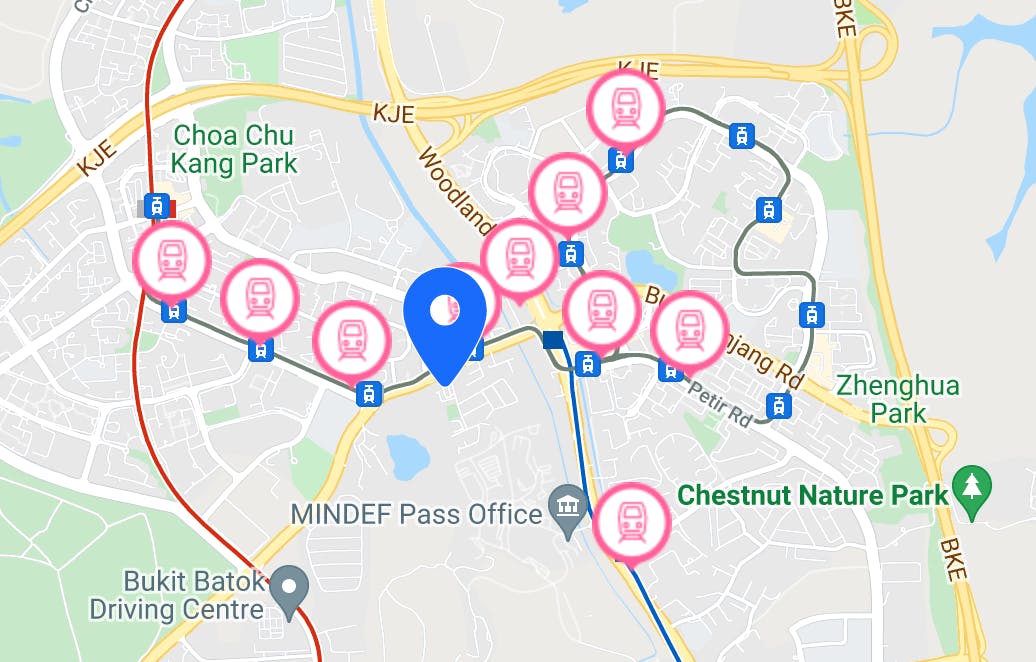 Schools near The Arden
For families with children, The Arden is perfect for them as it's near a wide range of primary schools. These include Teck Whye Primary, West View Primary, Bukit Panjang Primary, CHIJ Our Lady Queen of Peace, Beacon Primary, Choa Chu Kang Primary, Greenridge Primary, South View Primary, St. Anthony's Primary, West Spring Primary and Zhenghua Primary. Other schools nearby include Bukit Panjang Government High School, Assumption English School, Choa Chu Kang Secondary, Fajar Secondary, Teck Whye Secondary and Jurong Pioneer Junior College.
Amenities near The Arden
The Arden is also situated near a host of shopping malls such as Junction 10, Hillion Mall, Bukit Panjang Plaza, Teck Whye and Fajar Shopping Centres. From supermarkets to retail and entertainment options, these surrounding malls have it all covered for the residents of The Arden. The Jurong Lake District, set to be Singapore's second CBD, is also but a few MRT Stations away from The Arden. As for medical services, there are clinics like Phoenix Clinic & Surgery, Asia Kidney Dialysis Centre, River of Life Family Clinic and several others all within a 1km radius around The Arden.
Nature parks near The Arden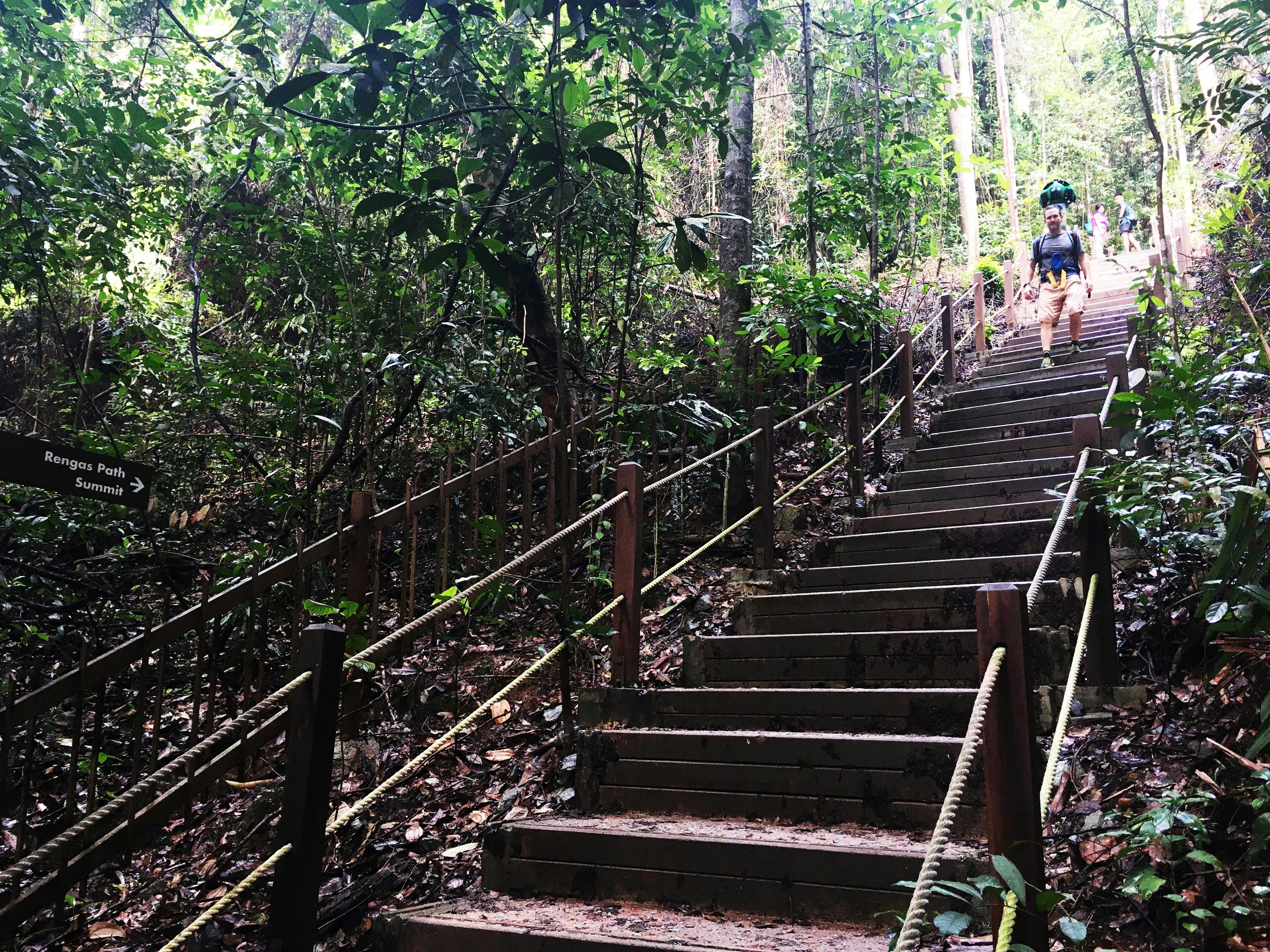 For those looking for solace from a fast-paced urban lifestyle, The Arden is situated in close proximity to nature in the form of Zhenghua Nature Reserve, Bukit Timah Nature Reserve, the historic Rail Corridor, Chestnut Nature Park and Choa Chu Kang Park - great for family outings on the weekends.
URA Masterplan near The Arden
The Arden is situated on the periphery of the Bukit Panjang and Choa Chu Kang URA Masterplans. The former will have residents anticipating a new hawker centre, an integrated healthcare facility at Senja, a new park connector and network that will connect all the green spots in the area, and many more developments. The Arden is thus positioned to benefit from many upcoming transformations and developments in the rapidly urbanising area.
The Arden is also strategically located within a short drive to two mega-developments in the west, the Jurong Lake District and Jurong Innovation District. These districts are expected to create thousands of jobs, and this will increase the appeal of homes in the west such as The Arden.