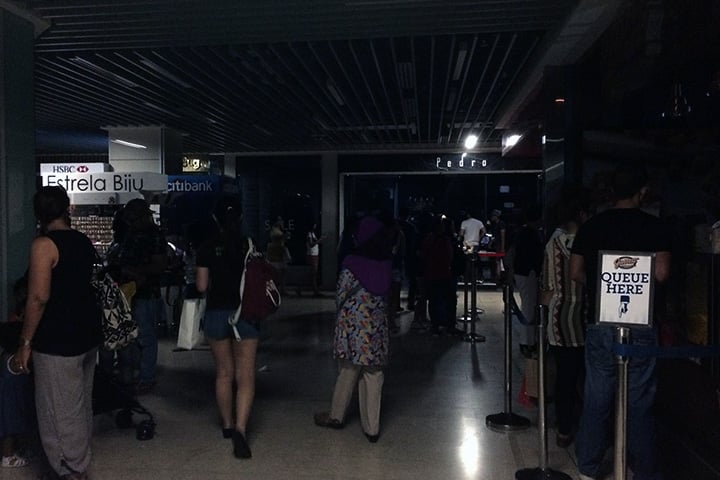 Blackouts don't discriminate. As last Friday's power outage in Singapore's Central Business District (CBD) proved, blackouts can hit businesses of all sizes — anywhere and across every industry. Electricity blackouts may cost a small business about $1500 an hour or more, depending on the nature of the business and timing of the outage. (The loss can be greater for F&B establishments.) Larger corporations have it worse; Google lost S$175,000 per minute during its blackout in 2013.
According to a report by power management company Eaton, the cause of 29% of blackouts is unknown. More than half of power outages (51%) are due to faulty equipment. To minimise downtime and financial loss from unexpected power outages, these are the steps a company can take.
#1: Be aware of power usage before moving into new premises
Prior to electric works, the business owner should note the power ratings of the company's equipment. Most people underestimate their power usage and set up their space with a limited capacity of power. As the business expands, new electrical equipment is sometimes acquired without considering additional power load. Once an electrical overload occurs in your mains, a power failure happens. The lesson? Plan your electrical usage in advance before installation, with a certified and experienced electrician or a power management company.
When looking for a commercial premise to buy or rent on a property portal such as 99.co, businesses can also make it a point to enquire if there are backup power systems already in place for occupiers/tenants.
In Singapore, many Grade A office buildings now have comprehensive power backup systems. Take the Marina Bay Financial Centre, for example; this is written in their brochure:
"The two M&E floors in each tower are purpose-built to accommodate tenants' generator sets and back-up chillers, if required. In response, at MBFC there is a dual power supply from different substations, and dual telecommunications cables are routed from different telephone exchanges. The electrical risers are far enough apart that there is little chance of them both being down at the same time. Twenty-four-hour advanced security systems are in place so that business can continue uninterrupted around the clock."
Meanwhile, smaller office buildings might each have their own emergency backup generators, like this B1 office building located near Tai Seng MRT.

#2: Use cloud-based email, file storage and other applications
Consider using cloud-based email and other applications, so users can easily work remotely (e.g. from home) while your business is without electricity. Cloud-based file sync and share (FSS) services can give users access to files they need from anywhere, on any device, and employees the ability to work remotely sustain productivity during downtime caused by blackouts.
If you're concerned about the security aspects of cloud-based infrastructure, this post by McKinsey and Company provides advice on how businesses can maximise security when transitioning to cloud.
#3: Consider uninterruptible power supply (UPS) systems and surge protection
Blackouts can cause damage to a business's IT systems that continue even after power is restored. This is because electronic devices such as servers and sensors require a steady electrical current. When that current becomes irregular, permanent damage to system components can occur.
An UPS is a device that can eliminate sudden shutdowns caused by blackouts. With UPS, computer systems can stay on temporarily in the moments following a power outage, so they can be shut down in a proper manner and prevent the loss of unsaved data. They also provide surge protection to ensure that electrical current irregularities do not damage sensitive electrical components.
#4: Schedule regular tests on backup power systems
For electrical backup systems to save your skin during a power outage, you'll need to test them on a regular basis to ensure they are in good functioning condition. If you have an UPS or standby generator, schedule a test run every six months. Depending on your business function and needs, put into place a clear plan on what employees need to do during a power outage, and run a yearly practice drill to ensure everyone is aware of their duties when a blackout occurs.
#5: Report any electrical issues promptly
If you happen to observe some odd behaviours in your electrical system – such as a circuit box that emits a buzzing sound or office lights flickering – contact your electrician or power consultant immediately. By doing so, you not will be saving your office from the danger of electric power problems, but also from a possible fire. A company employee handbook should include reporting procedures for such observations.
Besides financial loss from data destruction, power outages may also indirectly result in other negative consequences. These include a loss of revenue from potential sales, a decrease in customer satisfaction and a drop in your company's reputation. Effectively managing the multiple risks that stem from a power outage can give companies critical business continuity, no matter what industry or sector they're in.
If you found our article helpful, 99.co recommends 3 important factors when choosing your office space and 8 countries show the impact of HSR on property prices
Looking for a commercial property to buy or rent? Find it on Singapore's largest property portal 99.co!
New launch alert! Welcome to Grand Dunman
About Kyle Leung
Looking to sell your property?
Whether your HDB apartment is reaching the end of its Minimum Occupation Period (MOP) or your condo has crossed its Seller Stamp Duty (SSD) window, it is always good to know how much you can potentially gain if you were to list and sell your property. Not only that, you'll also need to know whether your gains would allow you to right-size to the dream home in the neighbourhood you and your family have been eyeing.
One easy way is to send us a request for a credible and trusted property consultant to reach out to you.
Alternatively, you can jump onto 99.co's Property Value Tool to get an estimate for free.
If you're looking for your dream home, be it as a first-time or seasoned homebuyer or seller – say, to upgrade or right-size – you will find it on Singapore's fastest-growing property portal 99.co.
Meanwhile, if you have an interesting property-related story to share with us, drop us a message here — and we'll review it and get back to you.
Join our social media communities!
Facebook | Instagram | TikTok | Telegram | YouTube | Twitter