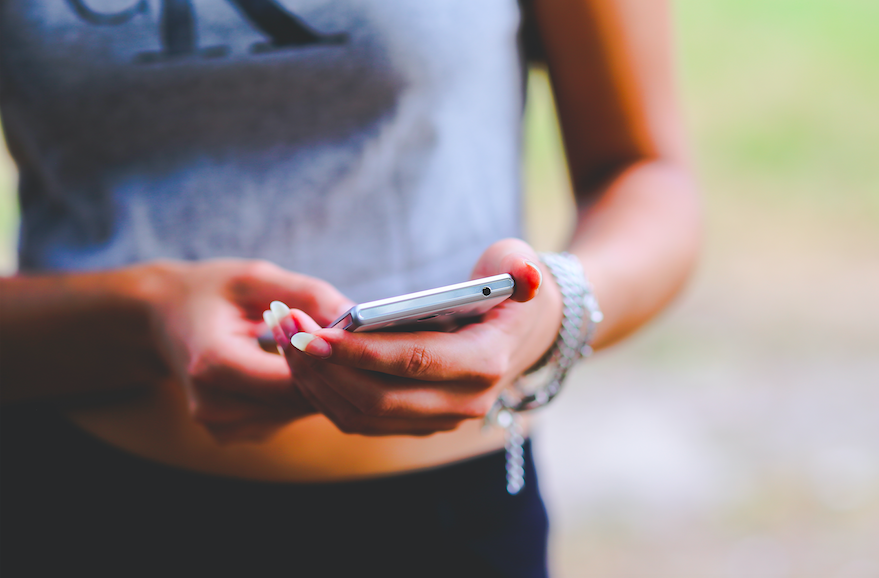 Ah, the wonders of technology. Whether you want to be able to monitor your home remotely, preview what your walls will look like in a certain colour, or keep track of your home maintenance tasks, there are home renovation apps that will help you to do just that. Just make sure you have enough storage space in your phone, because you're going to want to download all of these these highly useful home renovation apps!
1. Salient Eye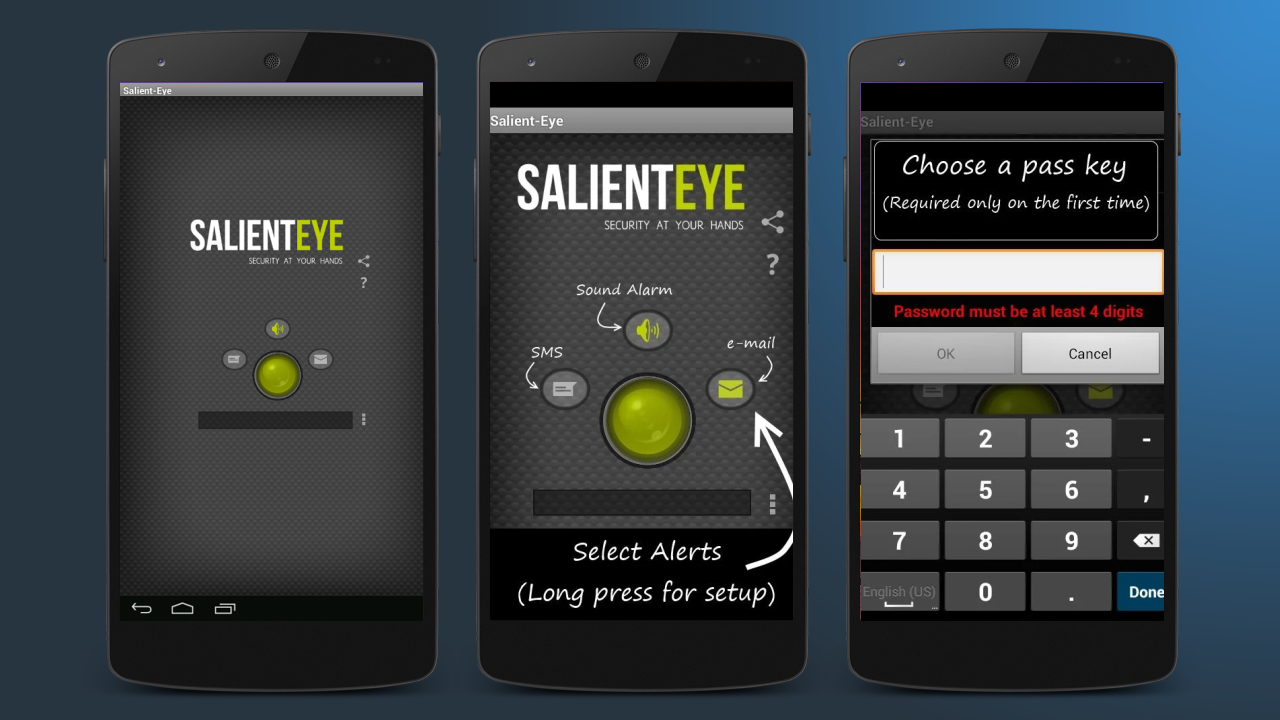 (Credits)
We all know that Singaporeans are absolutely ace at being kiasu (not wanting to lose out), but we're a pretty kiasi (paranoid) bunch as well. If you can't stand the thought of having your house empty and vulnerable whilst you and your partner are at work, use Salient Eye. This home renovation app lets you monitor your space through a mobile phone left at home.
How does it work? When the home renovation app detects motion in your house, it takes a snapshot of its surroundings, and sends it via text and email to the user's phone. You might be getting plenty of false alarms if you have pets at home, but better safe than sorry!
Available on Google Play and App Store.
2. iHandy Level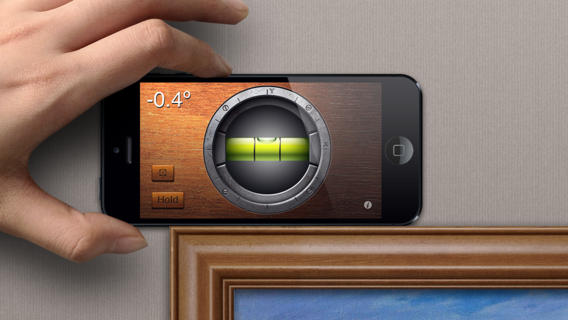 (Credits)
This smart app makes use of your phone's built-in accelerometer to help you hang your paintings and frames just right. The home renovation app features a bubble-level interface and a digital display of the current angle in degrees, making hanging items a breeze. We can almost hear all the perfectionist homeowners out there sighing in relief!
Available on Google Play and App Store.
3. ColorSmart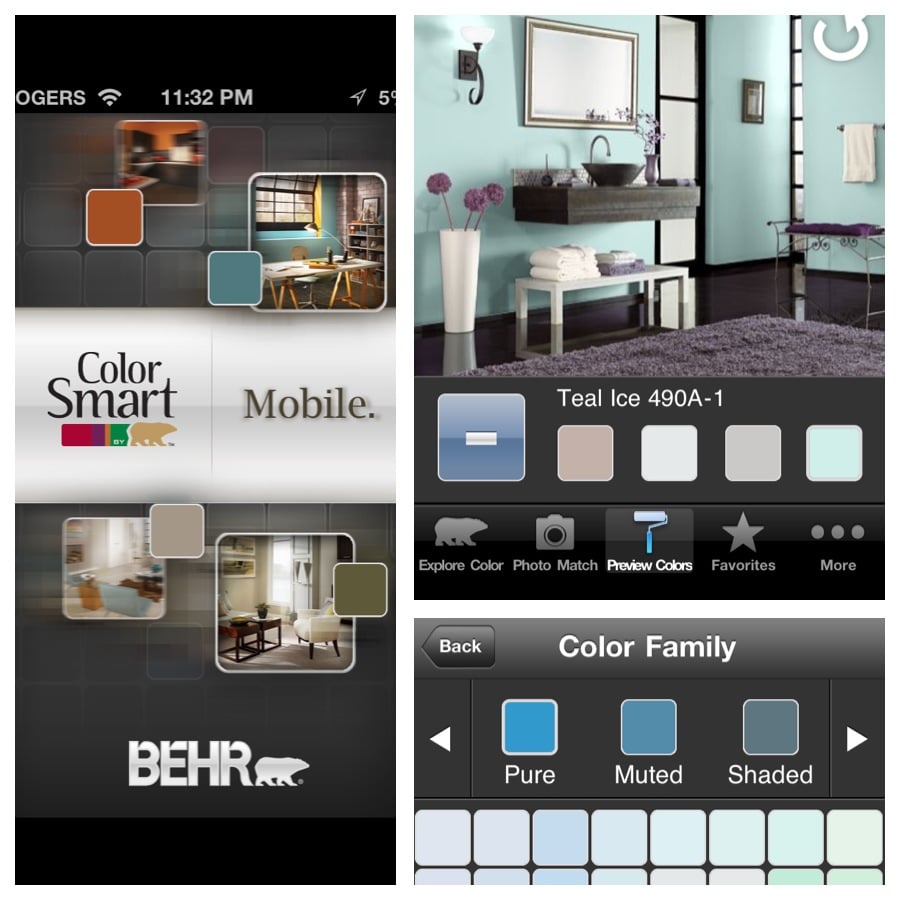 (Credits)
Sure, you can get paint swatches from the store, but a colour that looks great in a small handheld chip might not translate the same way when it's on multiple walls. This is especially true if you're going for bold colours, which may prove too garish in large quantities, and dark colours, which may make your space feel claustrophobic.
The remedy? ColorSmart! Instead of relying on your imagination, use this home renovation app to take a picture of your room and preview what it would look like in a specific colour. You won't need to second-guess your choice of wall colour ever again!
Available on Google Play and App Store.
4. Nestr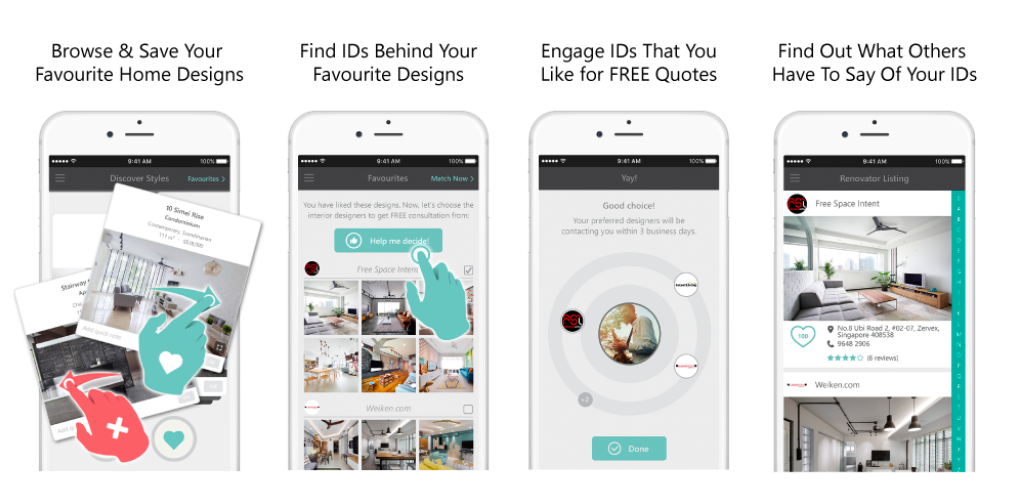 (Credits)
This Singaporean-based app works line Tinder, but for interior design. Instead of searching for the love of your life, you're searching for your ideal home designs. First, filter all the possible candidates by style and budget. Then, it's time to swipe. Once you 'like' a couple of your favourite projects, you can get connected to the designers behind the designs. Requesting for free quotations is simple, and can be done with the tap of a button!
Available on Google Play and App Store.
5. Qanvast
(Credits)
Are you an avid user of Pinterest? If so, you'll appreciate the homegrown Qanvast app, which lets you save local interior decoration projects to your board, and directly shop the products and appliances featured in these projects.
Don't have time to approach individual designers to request for quotes? Simply post a public quote request on the app, and Qanvast will notify relevant designers to get in touch with you. Interior design doesn't get any more fuss-free than this!
Available on Google Play and App Store.
6. House Maintenance Schedule Pro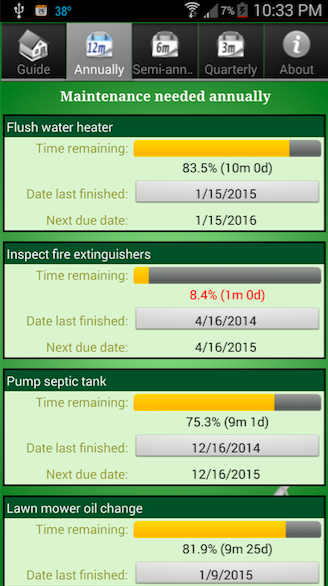 (Credits)
The floors need to be mopped every week. The carpets need to be cleaned every fortnight. Your leather sofa needs to be treated every 6 months. With an endless list of household tasks, all recurring at different intervals, it's tough to keep track of what needs to be done, and when. Enter House Maintenance Schedule Pro.
Simply input all your home maintenance tasks along with their frequencies, and your choice of due date reminders. You'll now be able to keep track, and stay on top of all your household chores!
Available on Google Play.
Looking for more tips and tricks on how to design and maintain your home? Check out our articles on how to properly measure your home before going furniture shopping, 7 great IKEA hacks that will transform your home, and how to choose the best renovation loan that suits your needs!