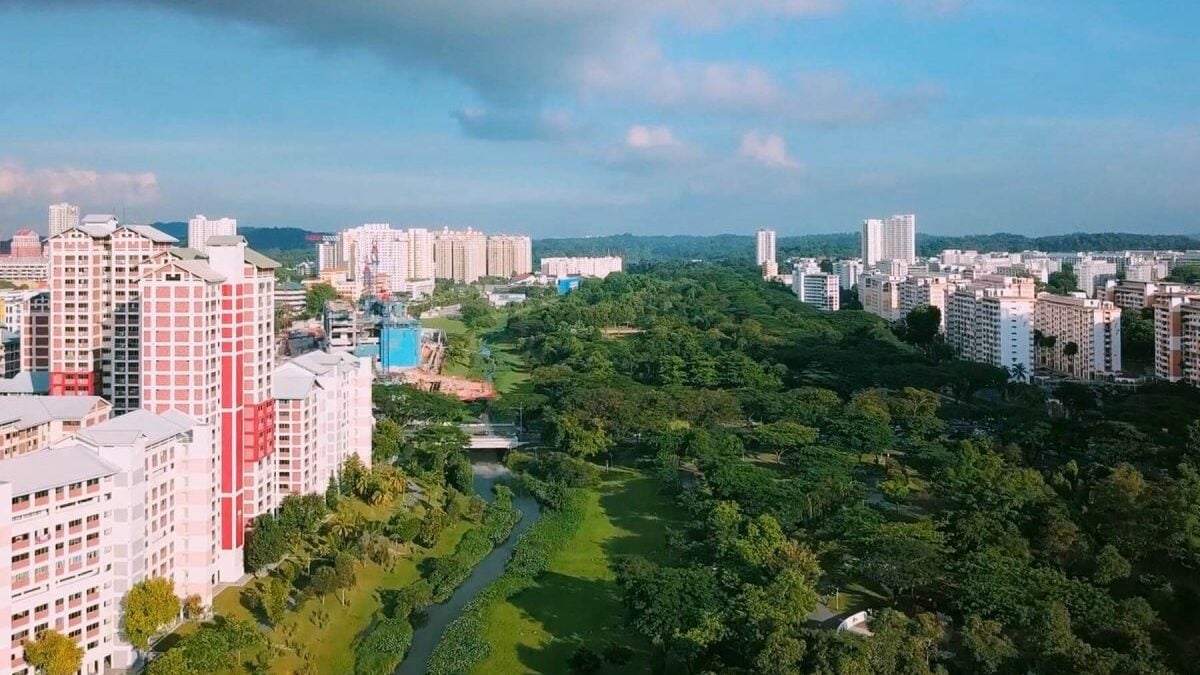 Over the past few years, we've seen an increased awareness and movement towards sustainability. Whether it's paying more for paper bags or travelling in electric cars, we're becoming more environmentally conscious. 
Likewise, the property sector has been embracing sustainability, incorporating eco-friendly design and practices into their developments. This is also driven by the Building and Construction Authority's (BCA) Green Mark scheme. It provides various incentives such as additional gross floor area for buildings with higher Green Mark ratings. 
With the unveiling of the Singapore Green Plan 2030 on 10 February 2021, we can expect more changes to come for property developments over the decade. 
What is the Singapore Green Plan 2030?
The Singapore Green Plan 2030 is a whole-of-nation sustainable development agenda. Geared towards a more sustainable Singapore for the next decade, the plan builds on existing climate mitigation and adaptation measures. 
It lists down several green targets to be met by 2030 to achieve net zero emissions as soon as possible. The Green Plan also aims to help fulfil the country's commitments under the United Nations' 2030 Sustainable Development Agenda and the Paris Agreement. 
The target will be achieved through these pillars: City in Nature, Sustainable Living, Energy Reset, Green Economy and Resilient Future.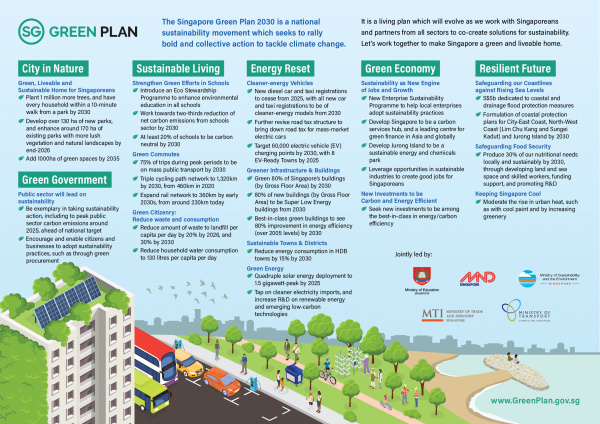 Five pillars of the Singapore Green Plan 2030
City in Nature
Over the next decade, we can expect more greenery in our heartland. One of the initiatives under this pillar includes setting aside 1000ha of land for green spaces. 200ha of this will be for new nature parks. 
This translates to over 50% increase in nature parks for people to go hiking or bird watching. Every household will also be within a 10-minute walk of a park. 
Sustainable Living
One of the aims under this pillar is to build up Singapore's recycling capabilities, and reduce waste and water consumption. Moving towards the circular economy, resources will be maximised as much as possible. For instance, buildings in future will be built with waste materials, as waste treatment residue is turned into NEWSand for construction. 
New town concepts will also be developed, such as Tengah that's set to be the first car-free HDB town. 
We can also expect to commute in a greener way as public transport, walking and cycling are highly encouraged. Come 2030, we'll enjoy easy train access, with eight in 10 households within a 10-minute walking distance to an MRT. It will also be easier to get around by cycling, with the cycling network expanded to around 1,320km. 
Energy Reset
We'll see a move towards cleaner energy usage. This includes adopting green technology such as smart LED lights and solar energy, leading to a 15% decrease in energy usage in HDB towns by 2030. Solar energy deployment will also be quadrupled by 2025, as the government installs solar panels at more HDB blocks. 
Another target is to enhance the infrastructure for electric vehicles, in which charging stations will be doubled. By 2025, we'll have eight towns equipped with charging stations at each HDB car park. The goal is to have 60,000 charging points islandwide by 2030. 
Other goals include greening 80% of all buildings to raise their sustainability standards and developing eco-friendly districts. Jurong Lake District is one example. As a mixed-use district, it will comprise district cooling, solar power deployment and super low-energy buildings. 
Green Economy
Through the Enterprise Sustainability Programme, the government will support companies in embracing and developing sustainability capabilities. 
Singapore also aims to be a carbon services hub, providing services such as green finance and sustainability consultancy. 
Resilient Future
This pillar outlines the goals to fight against climate change, including building up physical defences to protect our coastlines. We'll see developments piloting the use of cool paint to combat rising urban heat. 
At the same time, more food will be produced locally as we move towards increasing our local production to 30%. As Singapore currently imports more than 90% of its food, we're more susceptible to disruptions in regional food production. 
How will the Singapore Green Plan 2030 affect property developments and sustainability in Singapore?
Not only will the Singapore Green Plan 2030 change the way we live, work and play, it will also transform property development in the country. 
Less land available for property developments
This is one of the more obvious impacts of the plan. With 1000ha set aside for green spaces, it also means lower land supply available for property development, be it for housing or commercial purposes. 
But having more nature in the city isn't the only factor that will decrease land supply. Increased local food production will also affect land supply, as more land will be allocated for farming needs. 
Altogether, a lower land supply available for property developments will consequently lead to higher land prices. 
Rise in property valuations  
Given the shift towards sustainability, businesses and investors have been opting for more sustainable properties. While this is beneficial in the long run, the higher demand will push prices up, exceeding their real value. 
With the lower supply of green buildings, the increased demand can lead to a bubble in the short run. As mentioned by experts at a recent panel, the higher prices are not justified given that rents have not been increasing as significantly. Tenants have not been paying more for space in green buildings either. 
Cost-wise, lower returns in green buildings are expected, as we're currently overpaying for green buildings. 
A similar trend of higher price valuations can also be seen in residential developments such as the Tengah BTO projects. Although the estate is not developed yet, application rates for its launches so far are comparable to those in non-mature estates.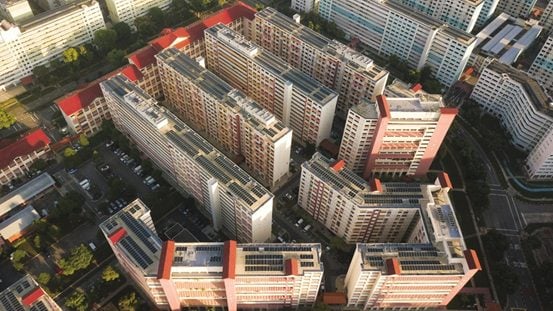 In the last BTO launch in February 2021, the application rate for a four-room flat in Tengah was 3.3, higher than for the same type of flat in Bukit Batok, which was 1.6. 
The starting prices for Tengah projects have also been generally higher compared to other projects in non-mature estates. Four-room flats in the new town were sold starting from S$298,000 during the February 2021 launch, compared to the S$260,000 starting price for similar flats in Bukit Batok. 
More financing available for sustainable buildings
Besides funding from the government, a spike in the growth of green loans is expected. As Singapore aims to be a hub in green finance, more financial institutions here will offer loans for green properties. 
This makes it easier for developers of new and existing buildings to incorporate green technology, such as cleaner energy, into their properties.  
Just last month in March, NEX received its first green loan amounting to S$900 million from DBS, OCBC and UOB. This came after it received a BCA Green Mark Gold Plus certification for its improvement in its sustainability efforts. 
This includes enhancing its recycling programme, implementing a green procurement policy and installing a water management system to monitor water usage. 
Penalties for buildings that are not sustainable
The potential risk is that buildings that are not deemed green will eventually have a decreased value. 
As the government moves towards greening 80% of buildings in Singapore, more properties will be subjected to sustainability requirements. Given the increased support for companies to adopt eco-friendly practices, there will also be more pressure to ensure the properties they use or own are sustainable. 
Likewise, for property owners with buildings that do not meet green standards, they may face financing difficulties in future. Lenders and insurers may be less inclined to offer financing and insurance options to these buildings, favouring greener assets. 
More sustainable properties in the long term
Despite a couple of drawbacks, the good news is that these pillars and impacts serve as a greater push for more sustainable property developments. 
The plan drives developers to consider various sustainability requirements such as eco-friendly design and energy efficiency for new and existing properties. 
With more sustainable properties available for the next decade, we can expect more price stability in the long term. 
If you found this article helpful, 99.co recommends Eco-Friendly Renovation Options In Singapore and HDB town Tengah to be car-free, set in greenery. 
Looking for a property to buy or rent? Find your dream home on Singapore's largest property portal 99.co!