One top Singaporean gripe of buying a property on this Sunny Island set in the Sea is that housing prices are too darn expensive these days. But do their complaints really hold water? Are we as a nation of homebuyers too picky, unrealistic, or downright delusional? Or do we have a legitimate right to whine? Here 99.co's take in five silence-inducing points. 
We are too aspirational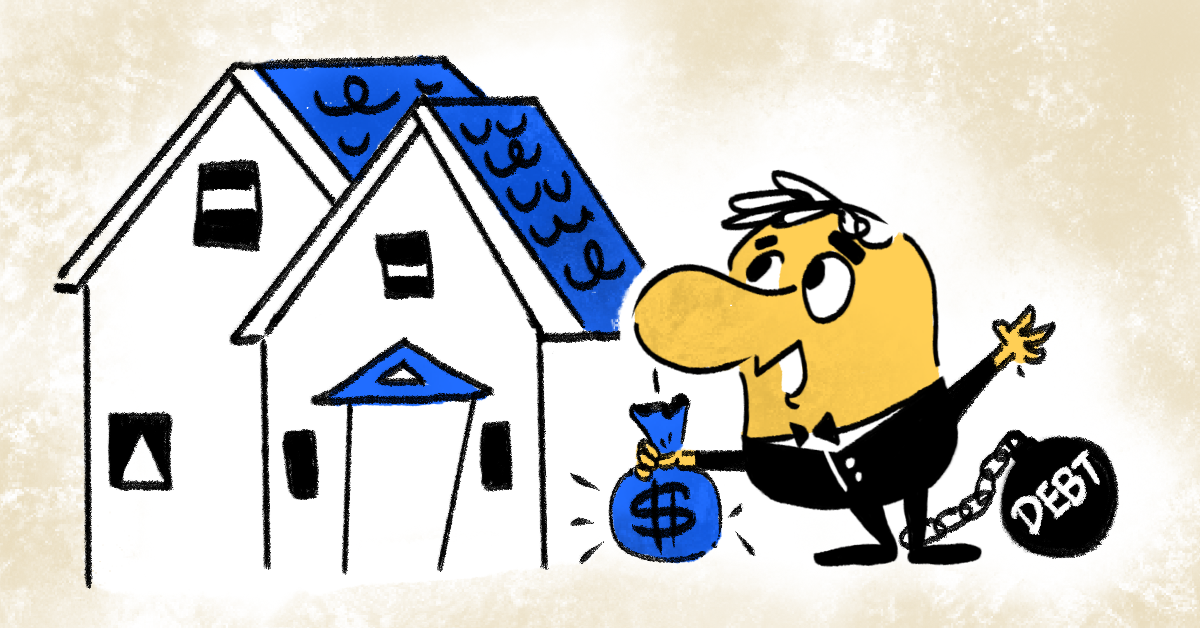 Gone are the days when Singaporeans would be content about buying a home and be satisfied with living in their matrimonial home their whole lives.
As much as we like to see homeowners upgrade as their families grow and their financial abilities increase, it's a bit too much to take when a first-time couple homeowner gets hung up on potential upside when they should be paying more attention to whether the unit they're viewing is actually liveable and suits their current needs.
This is essentially pretending to be an investor. When homeowners do commit this sin, they tend to eliminate 90% of their options.
And this is when attribution bias kicks in. "Oh poor me! I have so few choices because property prices are so expensive, not because I'm picky and have my priorities all wrong!"
We were deluded about property in the past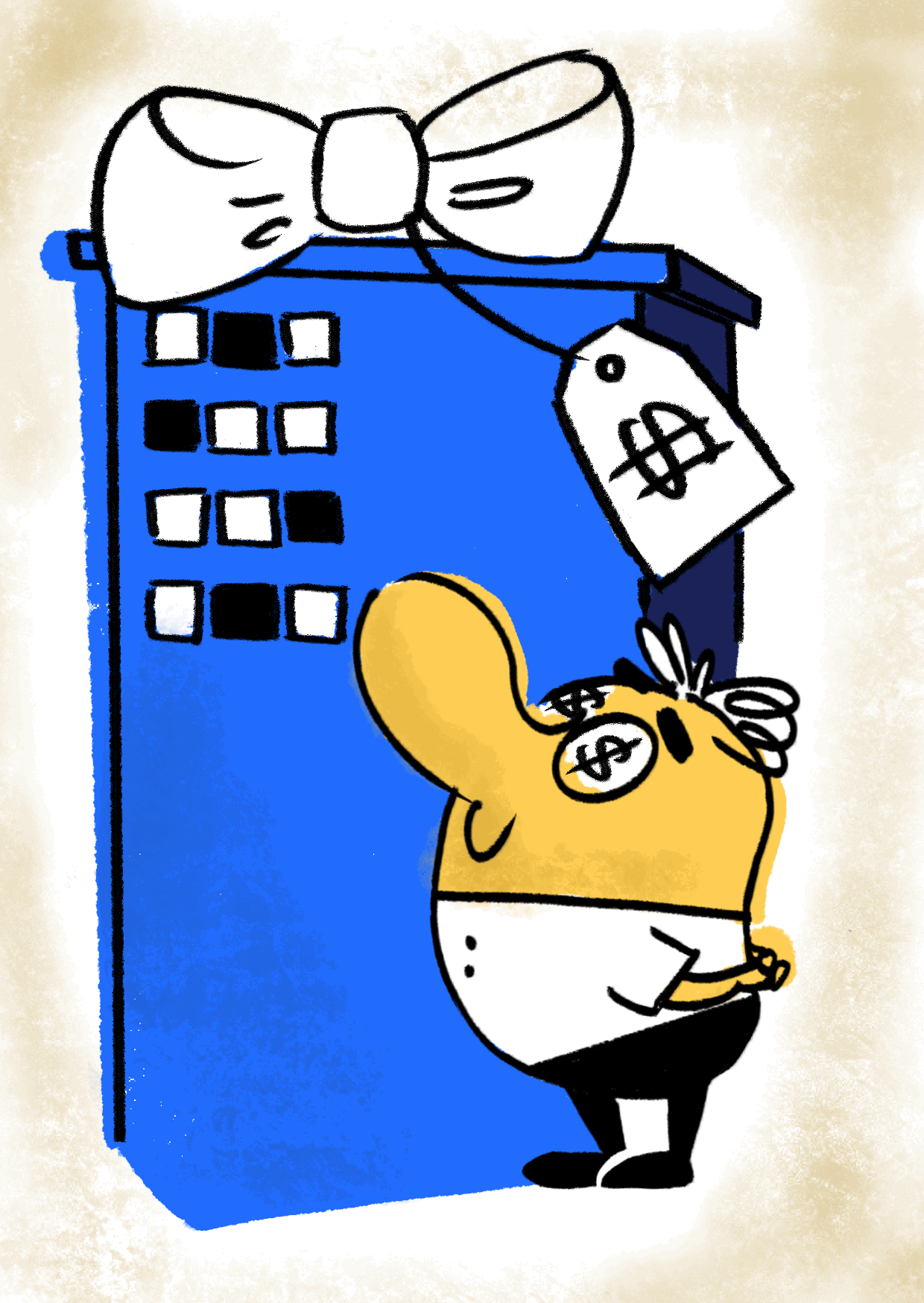 Despite recent changes to CPF rules, most Singaporeans are unable to accept the new reality of owning a resale flat (for instance, accepting zero value after 99 years) even if, barring it's lease, it's a perfectly suited property for them.
Buyers are so anchored to the profits made by HDBs in decades past, that their disappointment at the government's reality check was amplified to the nth degree. They might not admit it but almost overnight many homebuyers relegated resale HDB flats to bastard child status, a non-option and a non-starter for them.
That's a downright shame. I mean, just do the math, even if you're a really just a tenant under HDB and not an owner, forking out $500k for a 4- or 5-room flat with two-thirds its lease remaining (say, 68 years) translates to a lifetime cost of $834 per month even after factoring in 2.6% interest.
Such flats are all over Singapore, and on 99.co there's also tons of newer flats at this price range. You cannot get this sort of deal in another developed country.
Then again, to many Singaporeans the mention of "resale HDB" has become more frightening than seeing a ghost during the 7th month.
We conveniently forgot how high interest rates were
We may argue that property prices were lower "back then", but perhaps we also forget that home loan interest rates once stood between 3 to 4%, nearly double the current rates. Many times, rates spiked to above 4%. These are percentages that would be unthinkable to homebuyers today.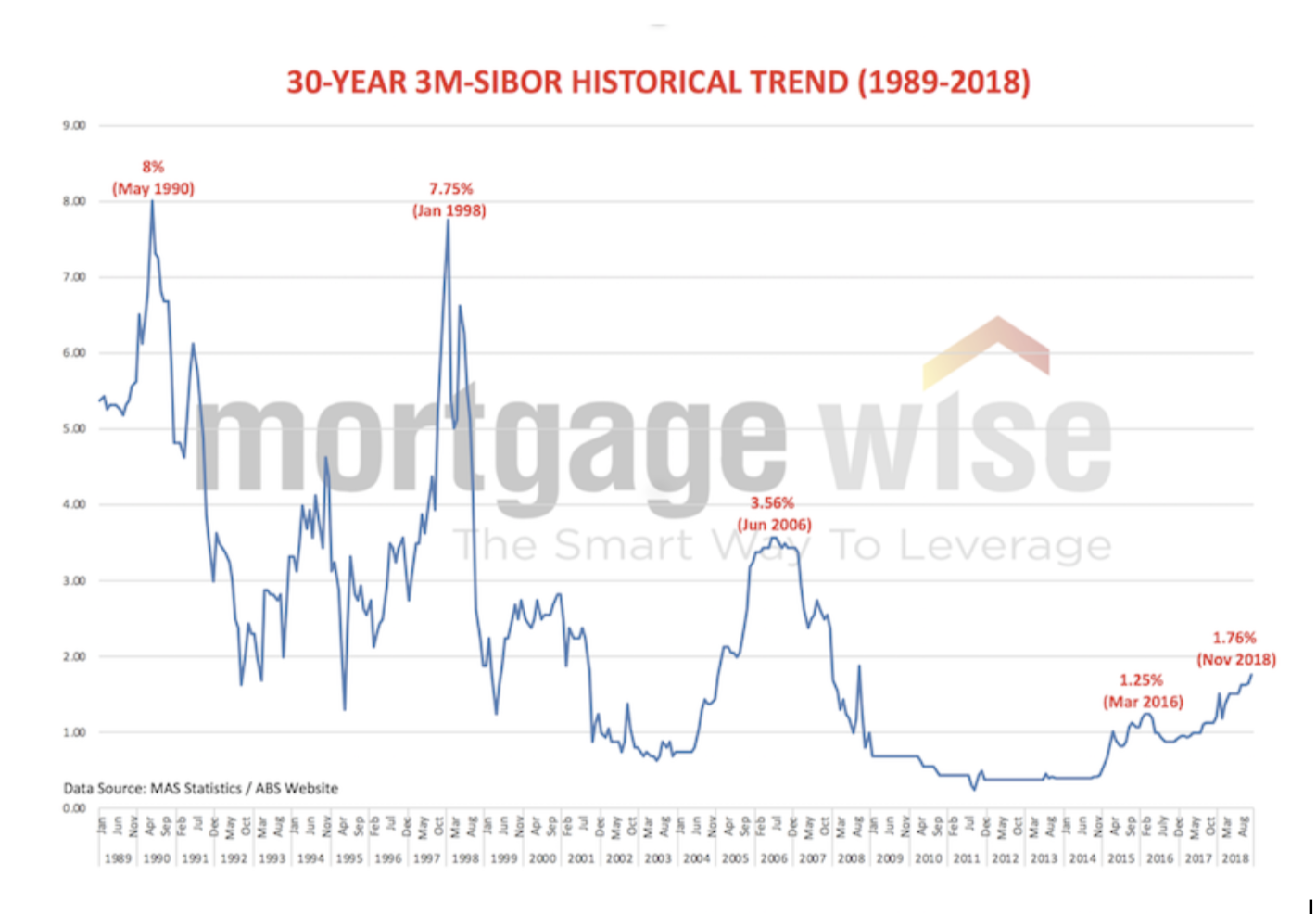 This extraordinary period of low interest rates has in part driven property demand and transaction volume in Singapore over the past decade (except during periods of economic downturn, e.g. 2015). Hence, it would've been reasonable to expect inflation in property prices during this period. So, you win some (lower interest rates), you lose some (higher property prices).
As of July 2018, the 3-month SIBOR stands at 2.00% after successive rounds of tightening by the US Federal Reserve. The days of ultra-low home loan rates may be over, but it is unlikely to deter most homebuyers. In fact, the anticipation of imminent interest rate hikes again triggers our kiasu mentality. "Buy now and lock in low-ish rates while you still can!"

#4: We are flogging the wrong horse. Whine about property size instead!
We feel that local property buyers are missing the forest for the trees. Instead of whining about property prices, surely shrinking homes is the bigger issue. Now it's the norm for kitchens to be reduced to a row of shelving along a hallway, and in some new launch condos bedrooms appear to be designed for deluxe leprechaun living.
Here's the reality: to make new launch condo projects appeal to buyers despite rising property prices, developers have been reducing the size of condominium units across the board since the start of this decade. Where it was once common for 3-bedroom condo units to exceed 1,000 square feet in floor area, buyers of new launches would be lucky to even get 900 square feet.
To us, it simply does not make sense that a condo unit is now smaller than a HDB flat with the same number of bedrooms!
This is not the worst thing, mind you. The worst thing is seeing so many buyers willingly settle for less (space) like moths flocking to a flame. Not that new launch condos are bad (most have better facilities/design), but Singaporeans have a superficial tendency to pursue shiny new things when purchasing a more spacious – and not to mention cheaper – resale condo would be a better choice for them.
As property buyers, we Singaporeans should be reflecting on our decision making instead of complaining about property prices so much.
#5: Globalization has changed the property game and is here to stay
As much as Trump wants to tariff Chinese goods, and as much as our government want to slap Additional Buyer's Stamp Duty (ABSD) on foreigners and foreign developers, globalization has affected our property market in terms of pricing and sizing of newer units.
The recent years have seen some crazy bids for Government Land Sales (GLS) exercises and collective sales of older condos, driven by the influx of bullish developers from China. To stay competitive, make money and not go bust, homegrown developers like CDL and Oxley are driven to downsize units. 
By downsizing units, developers can fit more units in a single development. Each smaller unit sells at an increased per-square-foot price while keeping overall price quantum palatable to buyers. Luckily URA has caught on to the act, announcing several rules last year stipulating the average minimum unit sizes in a condo development.
Chinese money from developers and buyers have already driven up the prices of Hong Kong private housing to astronomical levels, and after wreaking havoc on affordability there, it is simply natural progression for them to have set their sights on Singapore. 
And we'll say it here: Only by pissing off Chinese developers and buyers in some way (e.g. higher ABSD) can we prevent housing affordability and liveability standards in Singapore from going down the sewage.
So, if you're whining about increased cost to purchase a property because of ABSD, we should be thankful that our government decided to raise it in 2018 for both locals and foreigners. The alternative reality could've been much worse.
All said and done, we'll leave you with some statistical evidence that, yes, our homes are still considered affordable, at least for the time being:
From 2008 to 2018, our median income increased by 53% from $2,897 in 2008 to $4,437 in 2018.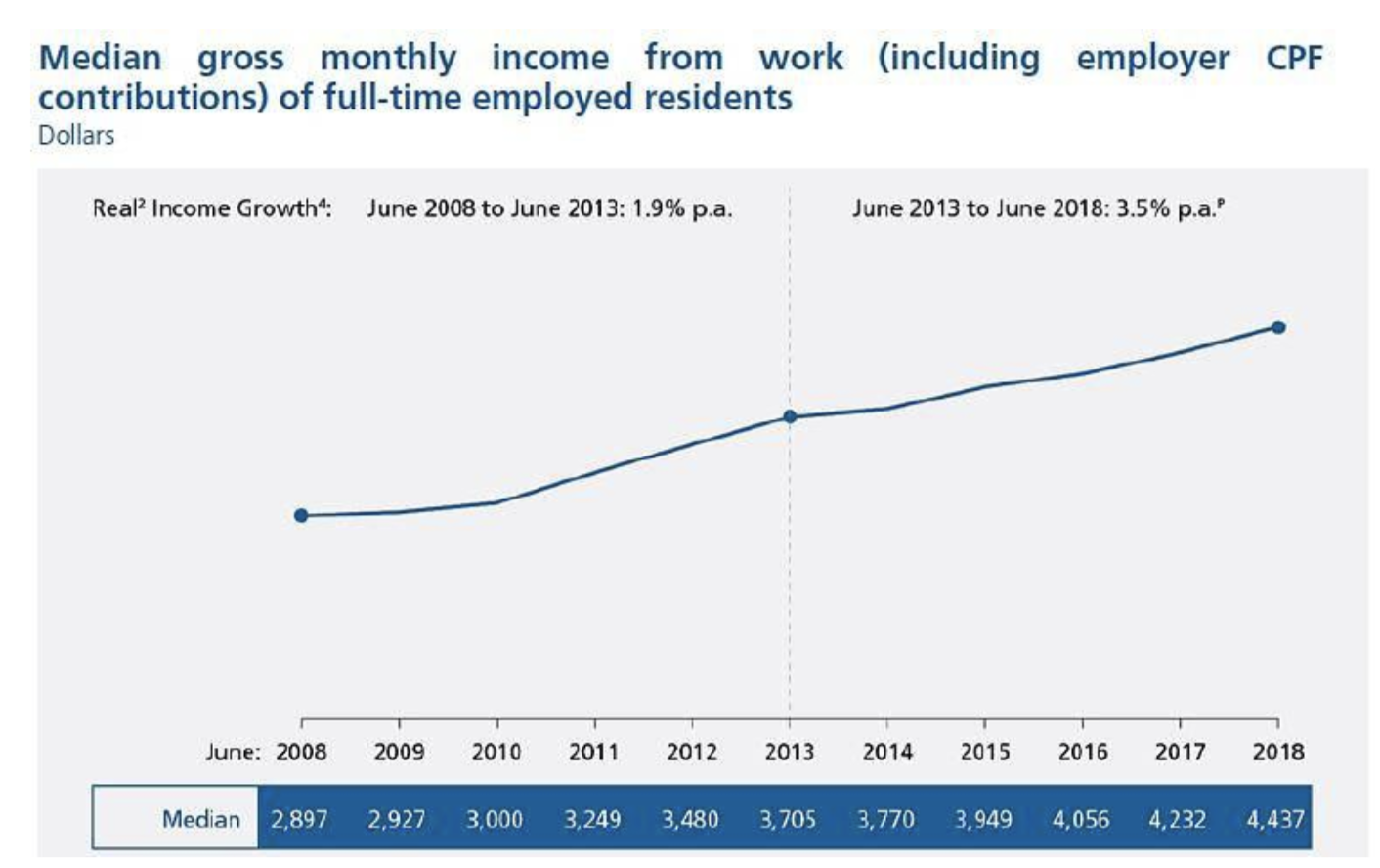 Meanwhile, here's the increase in per-square-foot property prices in Singapore over the same period.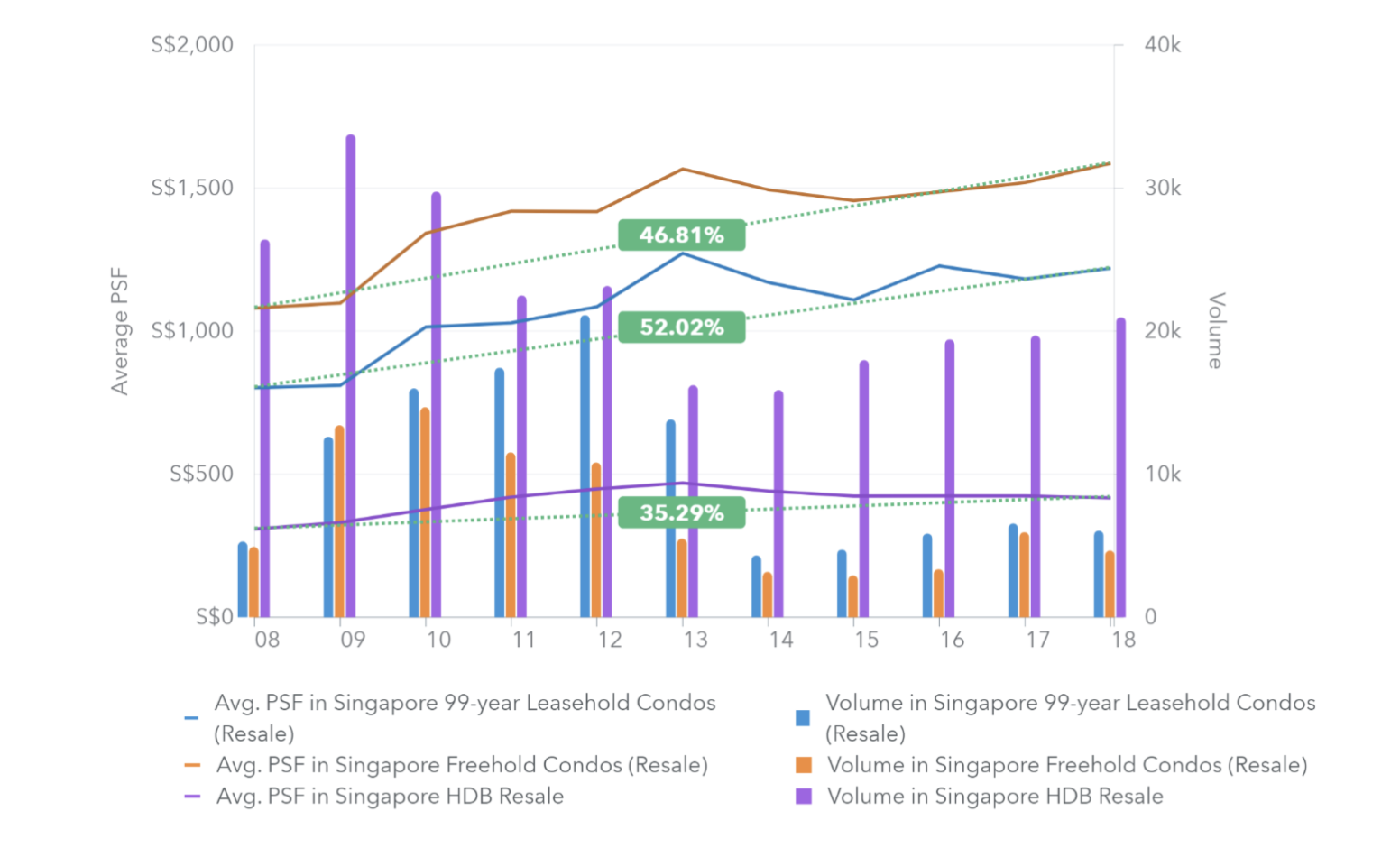 Reasonable, don't you think?
What are your concerns on Singapore property prices? Voice your thoughts in our comments section or on our Facebook community page.
Looking for a property? Find the home of your dreams today on Singapore's largest property portal 99.co! You can also access a wide range of tools to calculate your down payments and loan repayments, to make an informed purchase.