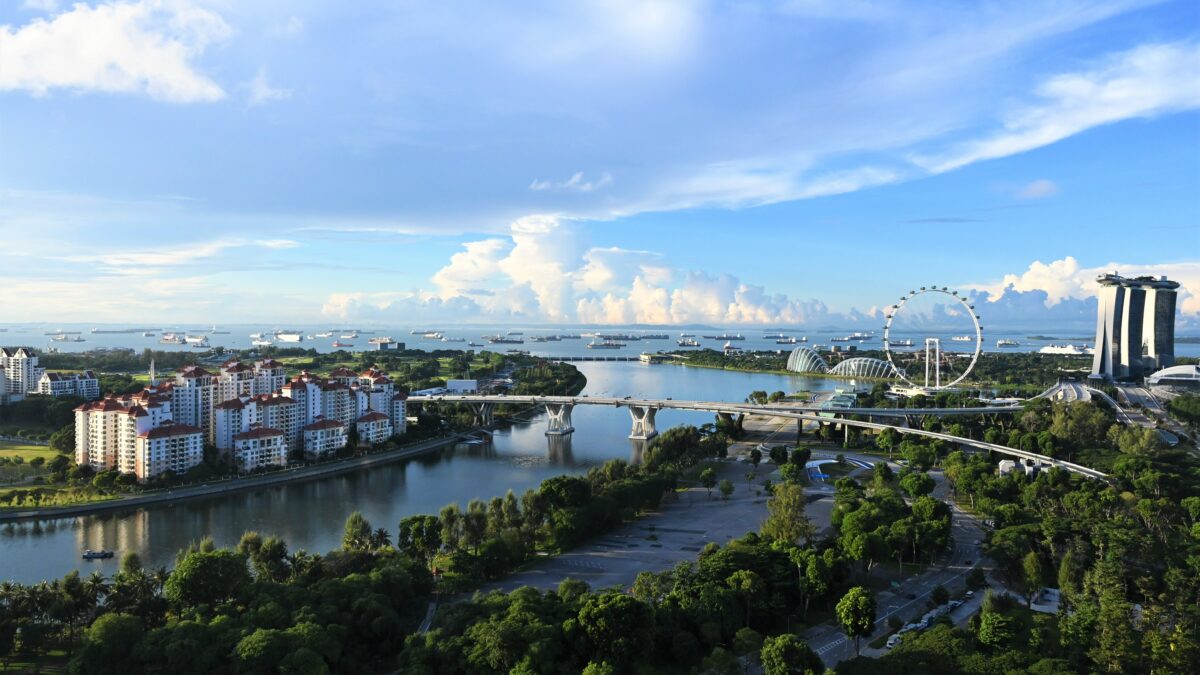 Singapore, a city where the skyline changes faster than our weekend plans. Just when you thought you had the latest scoop on the hottest new property, boom! Another one pops up. But hey, that's what makes our little red dot so exciting. Let's take a peek into what Singapore's property future and what the near future holds for our ever-evolving cityscape.
---
The upcoming marvels in Singapore's property scene
If you've been keeping an ear to the ground (or, you know, just reading the news), you'd know there are some pretty ambitious projects lined up for our island. And thanks to our pals over at The Edge Malaysia, we've got the inside scoop.
The projects on the horizon

From swanky new commercial hubs to eco-friendly residential complexes, Singapore's property scene is buzzing. These aren't just buildings; they're a testament to our nation's vision and drive. And the best part? We won't have to wait a lifetime to see them. Most of these are set to grace our skyline in the next 5-10 years.
Sunway's big move in Singapore
Sunway Bhd's subsidiary, Sunway Developments Pte Ltd (SDPL), in collaboration with Hoi Hup Realty Pte Ltd, has clinched a land parcel near Jurong West from Singapore's Housing and Development Board. This lucrative deal, valued at RM1.2 billion (S$348.5 million), is set to birth an executive condominium (EC) housing project in the Jurong Lake district, nestled between Jurong West and Choa Chu Kang. The project, which kicked off on September 11, is slated for completion within five years and marks the duo's fifth joint venture in Singapore since 2016.
Read more: Jurong West flat sold for S$695k; record price for 4-room HDB resale flat in the estate
The potential hurdles
But, as with all great things, there are challenges. Regulatory approvals, construction timelines, and let's not forget – unpredictable weather (thanks, climate change). But knowing Singapore's resilience, we're sure to tackle these head-on.
The ripple effect on property values
With such grand projects in the pipeline, property values in their vicinity are bound to see some action. So, if you're thinking of investing, now might be a good time to play your cards.
Why these projects matter
Singapore's always been a trailblazer when it comes to urban development. These new projects aren't just about aesthetics or luxury; they're a reflection of our nation's forward-thinking approach. They symbolise our commitment to sustainability, innovation, and creating spaces that resonate with the global citizen while staying true to our local roots.
Properties for you
---
See all listings
650A Jurong West Street 61
Singapore 641650 · D22
3
2
$620,000
697C Jurong West Central 3
Singapore 643697 · D22
3
2
$4,200
197A Boon Lay Drive
Singapore 641197 · D22
3
2
$638,000
345 Kang Ching Road
Singapore 610345 · D22
3
2
$668,000
150A Corporation Drive
Singapore 611150 · D22
1
1
$330,000
766 Jurong West Street 74
Singapore 640766 · D22
3
2
$4,299
Lakeville
7 Jurong Lake Link · D22
3
3
$1,950,000
678B Jurong West Street 64
Singapore 642678 · D22
-1
0
$800
466 Jurong West Street 41
Singapore 640466 · D22
3
3
$4,000
Summerdale
10 Boon Lay Dr · D22
-1
1
$1,500
See all Jurong West >
See all listings
476B Choa Chu Kang Avenue 5
Singapore 682476 · D23
3
2
$528,000
Sol Acres
16 Choa Chu Kang Grove · D23
2
2
$1,200,000
Sol Acres
12 Choa Chu Kang Grove · D23
3
2
$1,180,000
485B Choa Chu Kang Avenue 5
Singapore 682485 · D23
2
2
$4,000
807C Choa Chu Kang Avenue 1
Singapore 683807 · D23
3
2
$650,000
iNZ Residence
64 Choa Chu Kang Ave 5 · D23
3
2
$4,600
811A Choa Chu Kang Avenue 7
Singapore 681811 · D23
3
2
$586,000
542 Choa Chu Kang Street 52
Singapore 680542 · D23
3
2
$499,000
iNZ Residence
64 Choa Chu Kang Ave 5 · D23
2
2
$3,900
674A Choa Chu Kang Crescent
Singapore 681674 · D23
4
2
$4,400
805A Keat Hong Close
Singapore 681805 · D23
3
2
$648,888
484A Choa Chu Kang Avenue 5
Singapore 681484 · D23
1
1
$850
805C Keat Hong Close
Singapore 683805 · D23
3
2
$610,000
The Rainforest
341 Choa Chu Kang Ave 3 · D23
3
2
$1,688,000
296C Choa Chu Kang Avenue 2
Singapore 683296 · D23
-1
$650
Villa Verde
Verde Ave · D23
5
5
$2,488,000
764 Choa Chu Kang North 5
Singapore 680764 · D23
-1
$900
812B Choa Chu Kang Avenue 7
Singapore 682812 · D23
4
2
$645,000
Sol Acres
2 Choa Chu Kang Grove · D23
3
2
$1,549,000
160 Jalan Teck Whye
Singapore 680160 · D23
3
2
$580,000
Villa Verde
Verde Cres · D23
5
5
$2,475,000
The Tennery
3 Woodlands Rd · D23
2
2
$1,150,000
817B Keat Hong Link
Singapore 682817 · D23
3
2
$688,000
Sol Acres
18 Choa Chu Kang Grove · D23
3
2
$1,268,888
The Quintet
44 Choa Chu Kang St 64 · D23
3
3
$1,400,000
215 Choa Chu Kang Central
Singapore 680215 · D23
3
2
$580,000
Sol Acres
2 Choa Chu Kang Grove · D23
3
2
$1,680,000
1 Teck Whye Avenue
Singapore 680001 · D23
-1
0
$900
685A Choa Chu Kang Crescent
Singapore 681685 · D23
3
2
$500,000
Palm Gardens
2C Hong San Walk · D23
4
3
$1,350,000
681 Choa Chu Kang Crescent
Singapore 680681 · D23
4
2
$640,000
426 Choa Chu Kang Avenue 4
Singapore 680426 · D23
-1
$900
487A Choa Chu Kang Avenue 5
Singapore 681487 · D23
3
2
$599,000
Sol Acres
8 Choa Chu Kang Grove · D23
3
2
$1,250,000
Regent Grove
54 Choa Chu Kang Nth 7 · D23
-1
$1,200
See all Choa Chu Kang >
---
From global ambitions to local transformations
Alright, enough of the global spotlight. Let's bring it back home. While we're making waves on the international property scene, there's a lot brewing locally too. And speaking of local, have you heard about the transformation Tanjong Rhu's undergoing? No? Well, buckle up!
---
Tanjong Rhu's imminent transformation
According to our friends at The Straits Times, Tanjong Rhu's got some major plans. Think over 5,000 new homes. And not just any homes – we're talking prime real estate that promises to redefine urban living.
Over 5,000 new homes in the pipeline
Singapore's property landscape is set for a significant transformation, with the potential addition of over 5,000 new homes in the Tanjong Rhu area. Three new plots on the city fringe have been identified as prime locations for residential development, marking a strategic move to cater to the growing demand for urban housing. These plots, previously reserved for sports and recreational use, have been repurposed to address the city's housing needs. The move is in line with Singapore's urban planning vision, ensuring that residents have access to quality homes without compromising on recreational spaces.
Read more: East Region of Singapore: the best neighbourhoods for you
The Tanjong Rhu plots are strategically located, offering residents a blend of urban convenience and serene waterfront living. With proximity to key amenities, transportation hubs, and recreational areas, these new developments are expected to attract significant interest from potential homeowners. The transformation of Tanjong Rhu is not just about increasing housing units; it's about creating holistic living environments that cater to the diverse needs of Singapore's urban population. As the city continues to evolve, such strategic developments play a crucial role in shaping Singapore's urban future.
The perks of being on the city fringe
Being on the city fringe has its perks. You're close enough to the hustle and bustle but far enough to enjoy some peace and quiet. And with Tanjong Rhu's transformation, "fringe" benefits aren't just for employees anymore.
Properties in Tanjong Rhu
Costa Rhu
9 Rhu Cross · D15
4
5
$10,000
The Line @ Tanjong Rhu
6 Tg Rhu Rd · D15
3
3
$2,850,000
Costa Rhu
1 Rhu Cross · D15
2
2
$5,300
Tanjong Ria Condominium
121 Tg Rhu Rd · D15
2
2
$4,000
The Line @ Tanjong Rhu
6 Tg Rhu Rd · D15
3
3
$2,749,000
The Line @ Tanjong Rhu
6 Tg Rhu Rd · D15
1
1
$1,050,000
Tanjong Ria Condominium
121 Tg Rhu Rd · D15
-1
$2,000
Camelot By-the-water
110 Tg Rhu Rd · D15
4
4
$14,500
Tanjong Ria Condominium
121 Tg Rhu Rd · D15
1
1
$2,900
Sanctuary Green
181 Tg Rhu Rd · D15
2
2
$6,000
The domino effect on surrounding areas
With such a major development in Tanjong Rhu, surrounding areas are bound to feel the ripple effect. Improved transport, better amenities, and an overall upgrade in the vibe. Tanjong Rhu's setting the bar high, and we're here for it.
The environmental angle
But it's not all about bricks and mortar. With the world facing environmental challenges, Singapore's property scene is also taking a green turn. The new developments in Tanjong Rhu are expected to incorporate sustainable practices, from energy-efficient systems to green spaces that promote biodiversity. It's not just about building homes; it's about building a future.
The cultural impact
Tanjong Rhu's transformation isn't just going to change the physical landscape; it's set to have a cultural impact too. With new homes and amenities come new communities. This means more opportunities for cultural exchanges, fostering a sense of community, and creating spaces where people from all walks of life can come together.
---
The bigger picture
While we're all excited about the new projects and the transformation of Tanjong Rhu, it's essential to see the bigger picture. These developments are a testament to Singapore's vision of creating a city that's not just about economic growth but also about enhancing the quality of life for its residents. It's a balance of progress and preservation, of global aspirations and local values.
---
Conclusion
So, there you have it – a sneak peek into Singapore's near-future property scene. From grand visions to local transformations, it's clear that our skyline's set for some exciting times. And as we eagerly await these developments, one thing's for sure – the future of Singapore's property market is as bright as our city's lights.
New launch alert! Welcome to Grand Dunman
About Azhann Rosmin
Azhann Rosmin is a writer who has 6 years of professional forte. He specialises in writing about real estate and lifestyle topics. His coverage mostly focuses on HDBs, condos, BTOs, and landed houses while also favouring topics of food, nightlife, and technology. He has worked in multiple writing positions that include cryptocurrency, fintech, e-commerce, fashion, and cosmetics. Azhann graduated with a bachelor's degree in Applied Linguistics and also writes poetry.
Looking to sell your property?
Whether your HDB apartment is reaching the end of its Minimum Occupation Period (MOP) or your condo has crossed its Seller Stamp Duty (SSD) window, it is always good to know how much you can potentially gain if you were to list and sell your property. Not only that, you'll also need to know whether your gains would allow you to right-size to the dream home in the neighbourhood you and your family have been eyeing.
One easy way is to send us a request for a credible and trusted property consultant to reach out to you.
Alternatively, you can jump onto 99.co's Property Value Tool to get an estimate for free.
If you're looking for your dream home, be it as a first-time or seasoned homebuyer or seller – say, to upgrade or right-size – you will find it on Singapore's fastest-growing property portal 99.co.
Meanwhile, if you have an interesting property-related story to share with us, drop us a message here — and we'll review it and get back to you.
Join our social media communities!
Facebook | Instagram | TikTok | Telegram | YouTube | Twitter