Sure, BTO flats look nice and all, but for those who're a little bit older, like us, we're missing the days when the Housing & Development Board (HDB) were more creative with their block designs. In the day and age of prefabricated concrete construction, you probably won't find them building these weird blocks of HDB flats in Singapore anytime soon. And that's a pity!
Weird HDB Block #1: 142 Potong Pasir Avenue 3 (Built: 1984)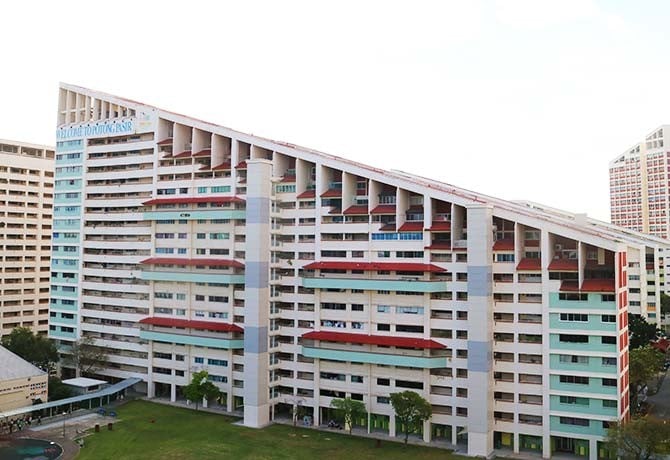 Potong Pasir Block 142 (along with many other developments in the neighbourhood) features a distinctive sloping roof. What's the deal with these weird HDB flats in Singapore? HDB apparently wanted to incorporate "prominent features" into blocks within different estates, and they chose these ski-slope roofs to give Potong Pasir some flair.
We have to say, though… we've always seen HDB as an organisation that prioritises utility and function above everything else. Bearing this in mind, building the flats at Potong Pasir with snazzy roofs seems to depart slightly from their modus operandi. We're also not entirely sure how maintenance crews would service the roof…
Interestingly enough, the homes which are tucked directly under the sloping roofs come with a separate flight of stairs and a dedicated lift lobby for residents' use. If you'd love that sort of exclusivity and privacy, then these flats might be right up your alley!
Why live in Potong Pasir: The district has undergone a tremendous change in the last decade, spurred by the North East Line and the government's plan to turn the neighbouring Bidadari area into a new HDB estate. In the meantime, many more amenities have come up or are in the works, such as more shops around Potong Pasir MRT and a new commercial hub and bus interchange at Woodleigh MRT. This is how Potong Pasir's HDB average psf resale prices have changed over the years; look at how it has risen above the Singapore average: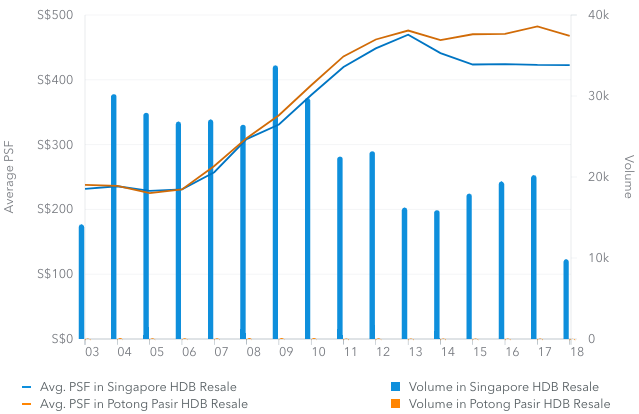 **[Browse properties for sale in Potong Pasir here.]
Weird HDB Block #2: 153 Pasir Ris Street 13 (1995)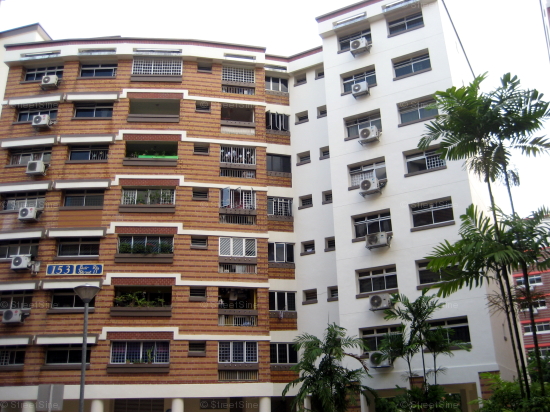 On more than a few occasions before the 2000s and the days of BTO, HDB decided it's un-hip to always be square. Hence, we have well-known gems as the clover-shaped HDB block in Ang Mo Kio that we previously covered.
Likewise, Block 153 at Pasir Ris also feature curves. On the outside, the block looks a little old-school and kitschy, but you don't get a sense of exactly how weird these flats are until you step into the individual units. Here's the thing: these units are laid out in a strange fan-shape, with the living and dining area being oddly contorted.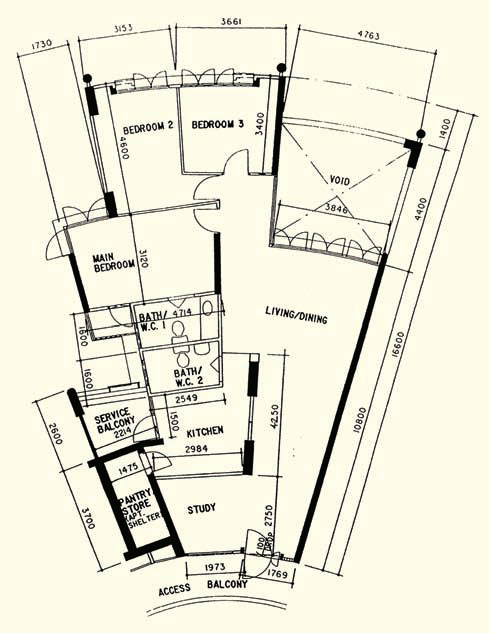 If you can overlook the strange floorplan, though, this area is actually a pretty decent place to live in. For one thing, you're just a 10 minute drive away from Changi airport, which means that you'll be able to reach your doorstep within an hour of touching down in Singapore. On top of that, now that Tampines East MRT Station has opened, residents in the area will find it easier to get around via public transport.
Why live in Pasir Ris: Residents of Pasir Ris have long enjoyed the more laid-back vibe of living in a seaside town, with the large coastal Pasir Ris Park a key attraction. Recently, the government has outlined bold plans to remake Pasir Ris, which include building integrated development at Pasir Ris Central (complete with a new shopping mall, bus interchange and condo), as well as new HDB flats right next to Pasir Ris Park. Like Potong Pasir, the average HDB resale prices of Pasir Ris has performed well over the past decade: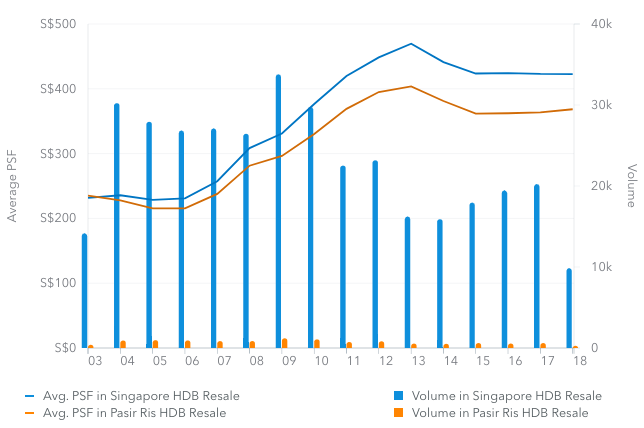 **[Browse properties for sale in Pasir Ris here.]
Weird HDB Block #3: 34 Whampoa West (1972)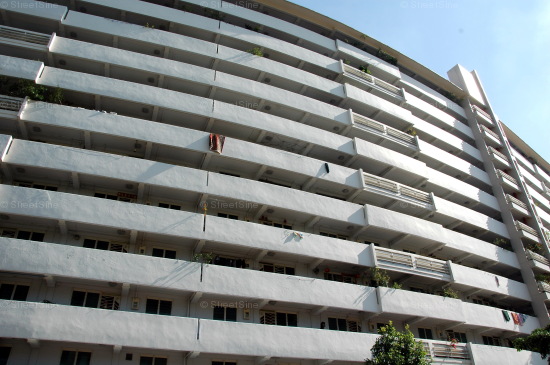 Today, HDB leaves it to external architects to build 'statement pieces' such as Skyville @ Dawson, but there was a time where HDB's own team of architects got really hands-on. The case in point is block 34 in Whampoa West. The corridors in this block span an impressive 320 metres, making it the longest continuous HDB block in Singapore. If you're looking at the block from across the road (and you're able to see its full length and how it curves inwards), you'll definitely do a double take. If you're trying to locate a friend's place, and you've unwittingly used the wrong lift, you might feel your legs aching by the time you hunt down the right unit.
Long corridors aside, Block 34 Whampoa West also boasts of a great deal of delicious food in its vicinity. Located under the block is famous chicken rice chain Boon Tong Kee, and Bloomsbury Bakers and Bendemeer Food Centre are just a few steps away.
Why live in Kallang-Whampoa: Location. This city fringe HDB town saw the highest number of rental transactions in 2Q 2018. There's also FOUR MRT lines (North South Line, North East Line, Downtown Line and East West Line) serving the town, and residents have no problems getting to the CBD by train in under half an hour? Don't believe us? Try 99.co's 'Search by Travel Time' function!
Here's how average sale psf prices of Kallang-Whampoa stack up against the rest of Singapore: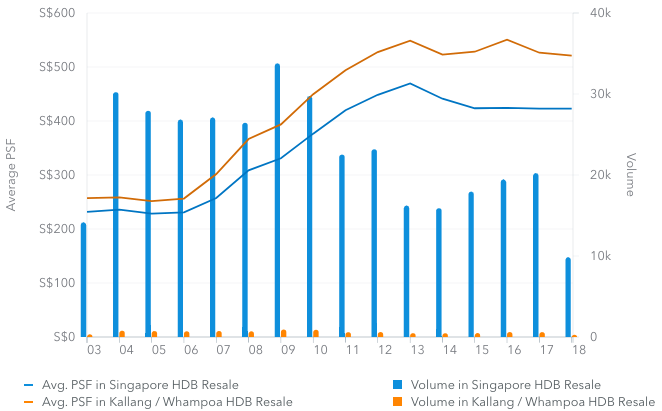 **[Browse properties for sale in Kallang-Whampoa here.]
Weird HDB Block #4: 852 Woodlands Street 83 (1980s)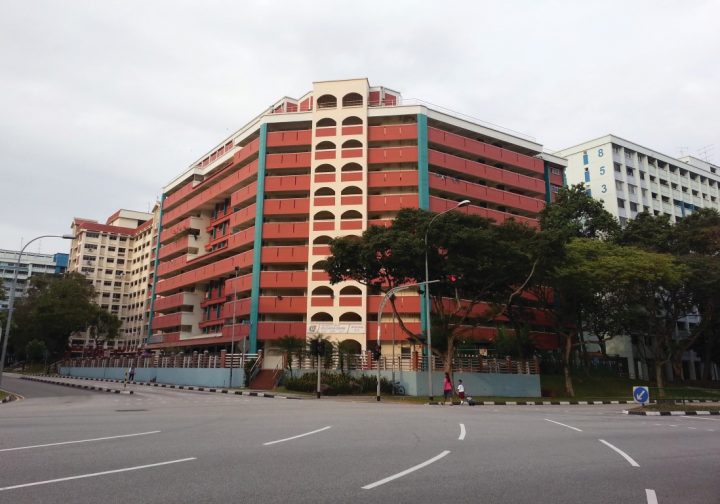 To be honest, this block of HDB flats is more creepy than weird. It was built back in the 1980s, before the households that were living in it started moving out one by one, even though there were few buyers. Eventually, HDB decided to seal the block's fate, turning it over to the government temporarily for use as quarantine facility for the SARS outbreak in 2013.
There's also an interesting story behind this block. It was said when construction for a church started opposite, there was a gigantic rock at the site that was removed with much difficulty. After the rock was removed, the residents of Block 852 started seeing spirits in their homes. While this remains an urban legend, it certainly captures the imagination.
Anyway, the block was used as a foreign worker's dormitory after the outbreak, with claims of it being a regular haunt for drug addicts. Tragedy struck in 2009, when a mentally unstable woman stabbed her teenage daughter in the heart in this very block, which was utilised as rental block at the time. Supernatural occurrences have since been reported following the murder, and the flats were again vacated by the HDB soon after.
Currently, the block is uninhabited and access to the second floor onwards is forbidden as it waits to serve as the next quarantine centre for the next outbreak…
Why live in Woodlands: Potential upside. Not only are the other blocks in the town nothing like Block 852, they're about to get a big boost. Upcoming developments in Woodlands include new retail hub Woodlands Central and Woodlands Health Campus, and you can bet that property prices will see an uplift when Woodland becomes fully developed in a couple of years. Besides, residents have easy access to the GST-free paradise called Johor Bahru.
**[Browse properties for sale in Woodlands here.]
Weird HDB Block #5: 78 Moh Guan Terrace (1967)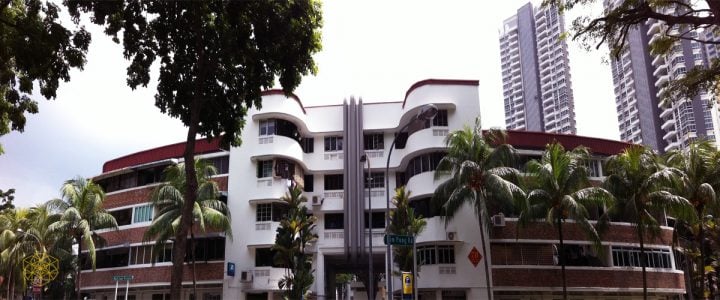 We don't know how this is possible, but this U-shaped block of walk-up flats in Tiong Bahru has three different street addresses: 78 Moh Guan Terrace, 78 Yong Siak Street, and 78 Guan Chuan Street. If you're trying to identify the block on Google Maps, and the various addresses you're keying in keeps leading you back to the same place, this is the reason why.
That said, you should probably not give up on locating this block, as there's an array of cafes and eateries at the ground level that always seem to attract a crowd.
Why live in Tiong Bahru: Confusing address aside, Tiong Bahru has plenty of old-world charm, and it's also located close to the CBD. Take a peek at one of the spacious walk-up apartments that's unique to this neighbourhood, and you might just find yourself falling in love with it!
**[Browse properties for sale in Tiong Bahru's old district here.]
Know any more weird blocks of HDB flats in Singapore? Share them with us in the comments section or on our Facebook community page.
If you found this article helpful, 99.co recommends 9 questionable HDB rules you probably didn't know about and These 9 neighbourhoods are hotspots for million-dollar HDB flats.
Looking for a property? Find the home of your dreams on Singapore's largest property portal 99.co!