If you're a fitness junkie who simply cannot go a day without exercise, you'll love these five condos that clearly pride themselves on keeping their residents fit and healthy. We're not just talking about the usual bells and whistles here like the regular (read: boring) condo gym and pool; residents at these condos get to work up a sweat with impressive sports facilities such as gym pools, sports domes, and more. Ready, get set and feast your eyes on these:
The Minton
Completed: 2014
Units: 1,145
Tenure: 99-year leasehold
Average sale per square feet (psf) price: $1,032
Average rent psf price: $2.70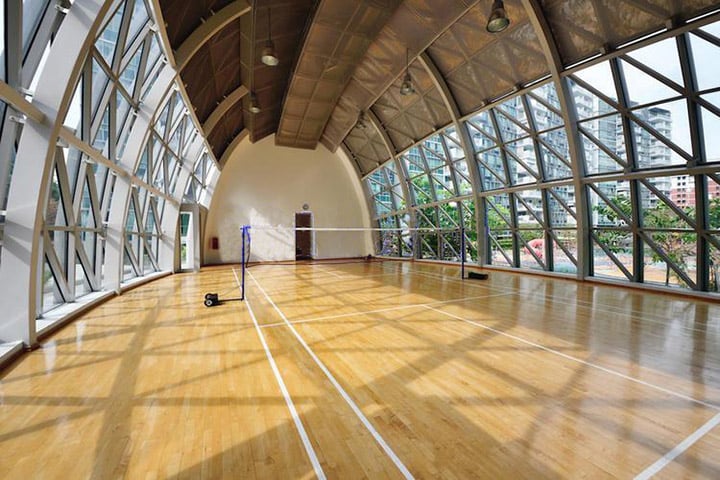 As the name hints, The Minton might just be the condo for badminton enthusiasts. Standing out among the numerous sports facilities in the huge condo compound is a beautiful cocoon-shaped, glass-clad dome that houses a badminton court. With a gorgeous parquet floor, the badminton dome also doubles up as an ideal venue for yoga lessons.
When you're done with your workout, you can enjoy five-star relaxation facilities in the condo, namely the hydro-massage pavilions and Japanese-style onsen spas. Aside from that, The Minton has dedicated rooms for activities such as yoga, billiards, table soccer, karaoke, piano and table tennis. Who needs a staycation anymore?
RiverGate
Completed: 2016
Units: 545
Tenure: Freehold
Average sale per square feet (psf) price: $2,242
Average rent psf price: $4.60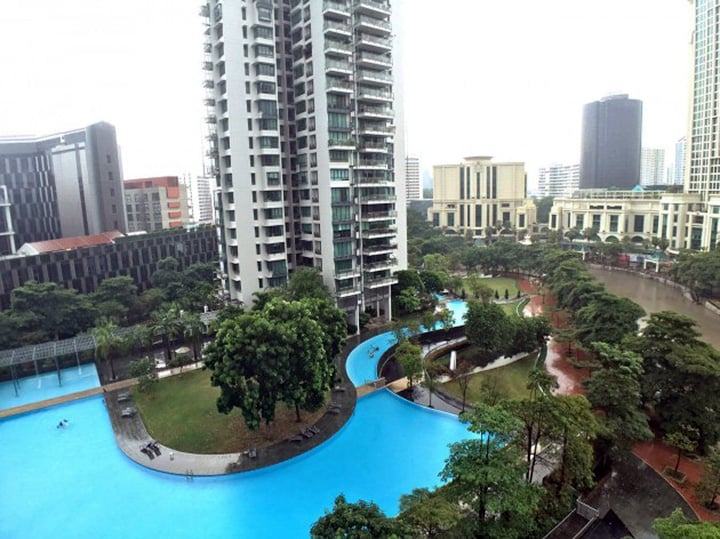 Most swimming aficionados clock their laps in a standard 50-metre lap pool, but there are a few who love the feeling of swimming in open water. (Think calm lakes and rivers.)
Now, the architects of the freehold RiverGate has come up with a condo pool that'll wow all water lovers. From one end of a super-sized 50m lap pool, the water body transforms into an infinity pool that takes the form of a meandering river. The "river" stretches across the entire length of the condo with a loop at the end, which lets residents swim non-stop without ever needing to do a 180-degree turn. Measuring about 200 metres long, this dramatic river-pool definitely makes the condo a swimmers paradise.
As a testament to how well the development integrates with the nearby Singapore River, Rivergate was also given 'landmark' status by the Urban Redevelopment Authority (URA) — the first residential project in Singapore to receive this accolade.
Ripple Bay
Completed: 2016
Units: 679
Tenure: 99-year leasehold
Average sale per square feet (psf) price: $1,040
Average rent psf price: $2.90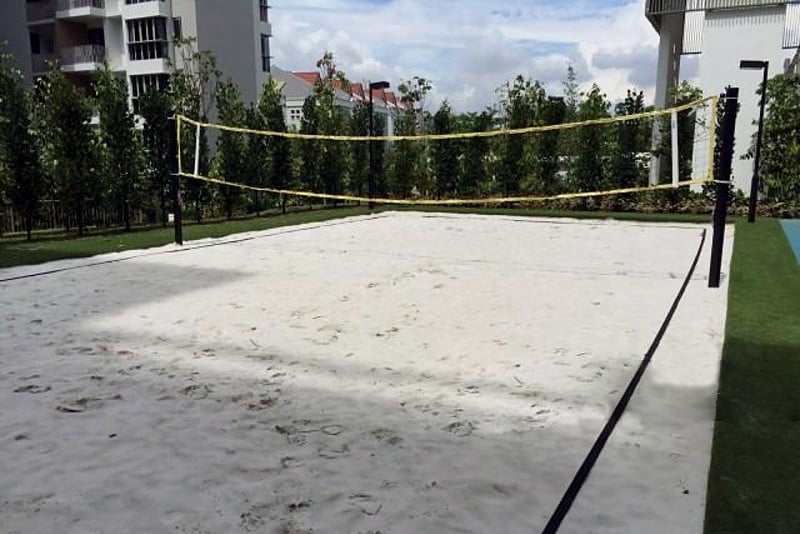 Beach volleyball is growing in popularity in Singapore, and it was only a matter of time before condo developers figured out that a beach volleyball court would be a great sports facility to include. Located at Pasir Ris, Ripple Bay features a competition-standard beach volleyball court, with ample room at the sides (for spectacular saves just like how the pros do it).
Continue the beach life at the condo's two pools: a 50m lap pool and a leisure pool, where serious swimmers don't have to jostle with dippers, and vice versa.
D'Leedon
Completed: 2014
Units: 1,703 apartments, 12 semi-detached houses
Tenure: 99-year leasehold
Average sale per square feet (psf) price: $1,491 (past six months)
Average rent psf price: $4.00 (past six months)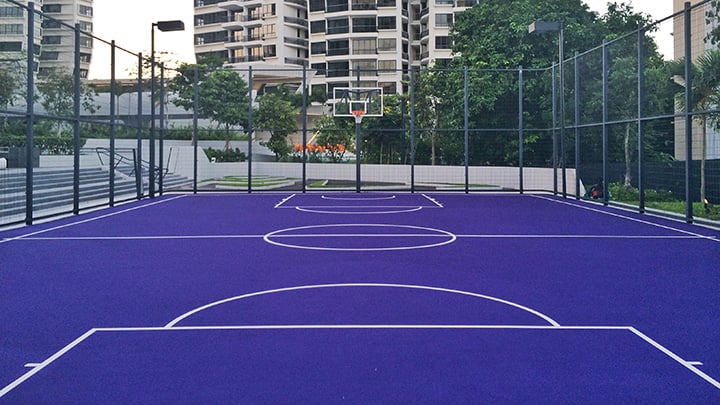 Award-winning architect Zaha Hadid might've had the well-being of D'Leedon residents in mind when she designed this high-end condo. Besides a massive lap pool and gym, there's a 1.5km jogging track that goes round the entire estate, tennis courts and a full-sized basketball court, complete with a small spectator stand so you can organise your own friendly competition! 
Those aren't the only sports facilities in D'Leedon. Another standout feature is the gym pool, which has aqua aerobics equipment such as bikes and treadmills for exercises that harness water resistance. For golf enthusiasts, there's also a simulator for practicing strokes before hitting the course.
Finally, after an intense workout, residents can visit the massage room. This is where you can hire a therapist to soothe your muscles — all without leaving the condo.
Bayshore Park
Completed: 1986
Units: 1,093
Average sale per square feet (psf) price: $1,034
Average rent psf price: $2.50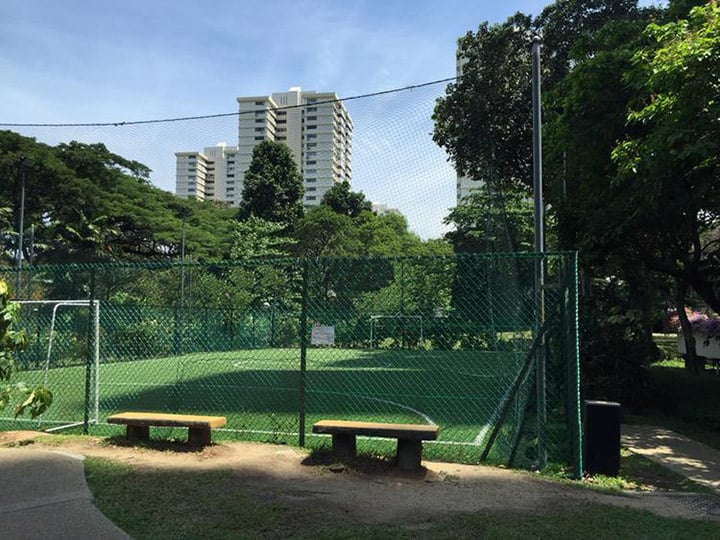 Old but definitely gold, Bayshore Park condominium (in the East Coast of Singapore) must have a really awesome management committee. Recently, they've engaged an external vendor to install an artificial turf futsal pitch within its sprawling condo compound — becoming the first condo to have such a popular sports facility in Singapore. We certainly expect football-mad tenants and property buyers to be eyeing this condo!
Check out other condos with sports facilities on Singapore's largest property portal, 99.co!
Know any condos with awesome sports facilities? Share them with us in the comments section or on our Facebook community page.
If you found this article helpful, 99.co recommends 5 Most Insta-worthy Condos in Singapore [2018 edition] and D10 and D11 Condos: Luxury and value next to Downtown Line stations.
Looking for a property? Find your dream home today on Singapore's largest property portal 99.co!