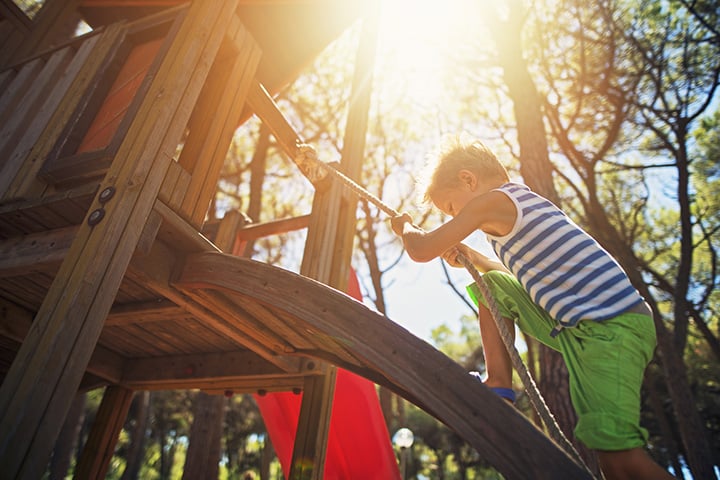 When we recently studied the facilities lists of a few newly-launched condos in Singapore, we noticed that developers are big on gardens and landscaping nowadays. This is understandable; science has shown that having more greenery effectively lowers the ambient temperature of the compound, providing more comfort for residents (and encourage them to make their way from their sofa to the condo gym). Such condo facilities may also help developers win awards such as the Asia Green Building Award, which we reckon would surely help buyers market the property.
Also common are meditation decks, presumably more to appeal to the yoga crowd than a concerted nationwide stress-relief effort. These are typically open areas in a quieter (read: deserted) part of the condo. Also as common, and as easy to maintain, are elevated viewing decks, presumably to give residents something to look at other than their neighbour from opposite their living room (seeing that new condo blocks are as minimally spaced apart as they can get).
Well, to developers' credit, swimming pools in newer condos are much larger than condos of old. And much more Insta-worthy than mere rectangular pools.
Enough about new condo facilities. What stood out to us was what's missing from condos nowadays. It could be some of us at 99.co are getting old, but we vividly remember these five condo facilities being a 'thing' not too long ago: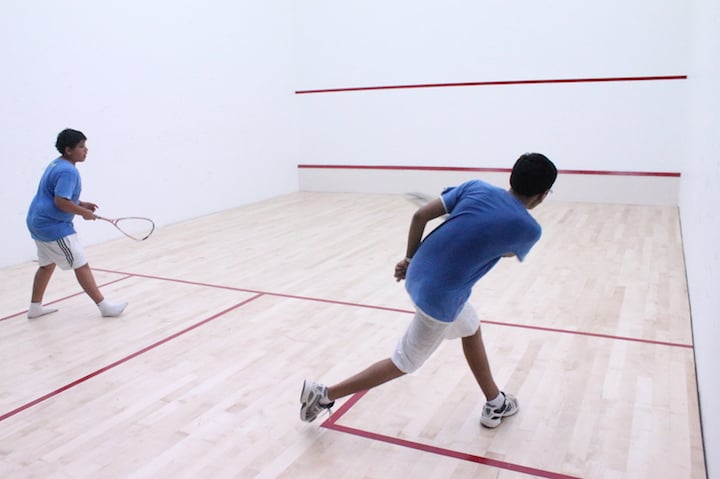 Squash courts
From the 1980s to 1990s, squash courts were in found in most condos in Singapore. Today, however, you'd be hard pressed to find newer developments that still have squash courts. Condos that have two or more squash courts frequently convert one into a table tennis room. If you happen to love playing the sport, check out well-maintained condos such as Stratford Court, Ridgewood Condominium, and The Balmoral — all of which are older developments that still have squash courts.
Reason for vanishing: This is a simple one. It's just that squash itself, as a sport, has massively dwindled in popularity over the past decade. Developers know that squash courts don't appeal to buyers anymore, so spaces that could be used for squash courts are used for other facilities instead (like meditation decks). At condos with squash courts, one thing's for sure: you'll never have to book far in advance, unlike tennis courts.
"Old school" playgrounds
By this, we mean playgrounds that feature hard floors, as well as "jungle gym" type equipment for children to clamber on. These days, condos have mostly done away with hard grounds or even sand, and playground equipment is far less dramatic — there are fewer slides and ladders for children to climb, and they don't go very high. There are many cases of older condos redeveloping their playgrounds to these less adventurous variants.
Condo playgrounds have also notably shrunk since the 1990s. Nonetheless, one of the most spacious playgrounds we've seen in a condo is at The Hacienda. Also of note is the cluster houses at Watten Estate Condominium, which has access to two large playgrounds.
Reason for vanishing: Mainly because of safety, hygiene and liability issues. Now, with helicopter and over-protective parents, no developer wants to get sued by one whose child gets injured at their playground. Even HDB estates have replaced solid or sand-based playground floors with a rubbery material, as such a material is more sanitary, easier to maintain, and reduces the chance of injury.
For the same reasons, playground equipment in new condos is more likely to consist of riding animals or mini-games, rather than a long slide or climbing tower for children. Even swings and merry-go-rounds are deemed too dangerous nowadays, which is a shame.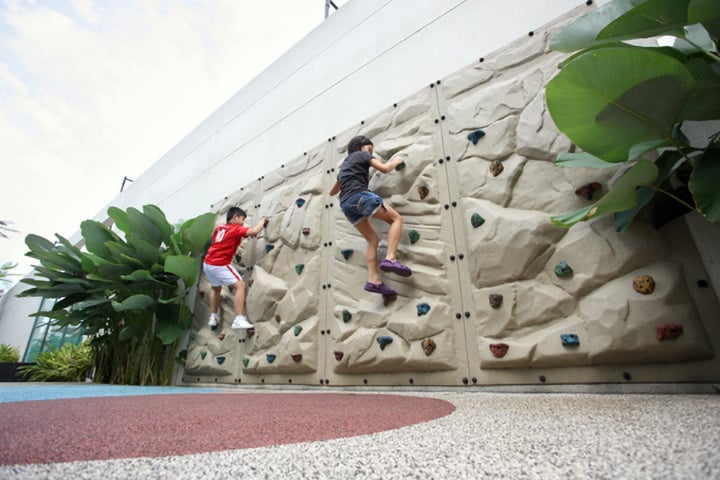 Rock-climbing walls
Well, this one came and went pretty quickly. When developments like Parc Olympia and De Royale Condominium sported rock-climbing walls, we all went "wow". We had thought it was great, and a facility that could be here to stay.
We couldn't be more wrong. The rock-climbing wall turned out to be a fad. Perhaps it seemed cool at the time, as rock-climbing itself was catching on as an activity (there were not that many climbing gyms at the time), but it's now been a while since we've seen one of these facilities included in condo developments.
Reason for vanishing: As with playgrounds, safety and liability proved to be an issue in some condos. Some condo management committees dread the thought of, say, an unsupervised child sneaking to the wall and falling off.
Another source we spoke to, who didn't want to be quoted, claimed only a small handful of residents who do climb would use the wall. The rock wall is either too easy for them, or they'd get bored after a few climbs. And no one from the condo management bothers with the time and effort to change up the holds, which could have made things interesting for climbers. So, that climbing wall has become a white elephant — a seldom used facility that had to be maintained nonetheless.
Foot reflexology paths
There was a time when almost every condo in Singapore had to have a footpath studded with pointy pebbles; and we'd challenge our friends to jump on them barefoot. The idea was what that the paths were a good substitute for actual foot reflexology masseurs; you could walk across the path, and the pebbles would massage your feet.
You can still find this in many developments, from Starville to Dakota Residences. Nevertheless, we've noticed fewer and fewer of these footpaths in new developments over the past few years.
Reason for vanishing: One condo manager we spoke to pointed out a safety concern: these are outdoor paths, and they get worn by the elements. Chipped or worn pebbles can develop sharp edges, and you wouldn't want to tread on them barefoot (that particular condo had the reflexology path paved over with smooth concrete because of an injury complaint).
Besides this, some of the people we spoke to cited limited use. There's also seldom rules against footwear on reflexology paths, and less civic-minded residents would sometimes trek across them in their mud-stained shoes. The pebbles trap dirt between them quite easily, and the thought of walking over all that — barefoot — grosses out more than a few residents; they would rather get an foot massage machine if they wanted some reflexology done.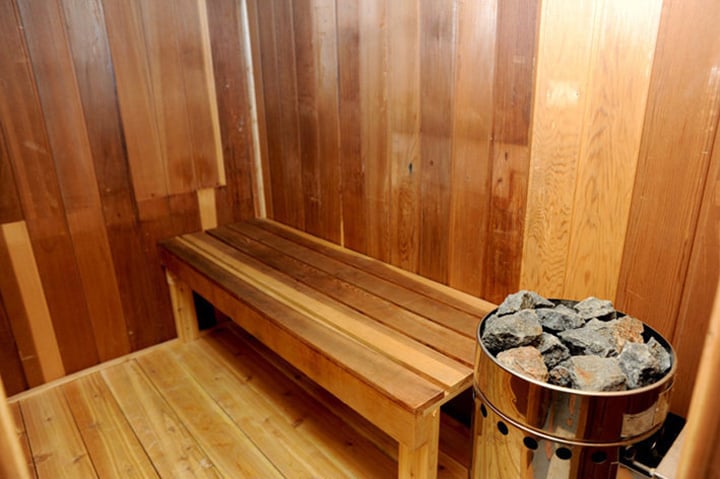 Sauna rooms
Saunas used to be part and parcel of the condo experience. However, we increasingly see newer developments that leave out the sauna entirely. Even among older condos, we often had to do a double-take: it's not uncommon for an older condo to have a sauna that no longer works, but the management won't stump up the cash to repair it.
Don't get us wrong, there's still a large number of condos with saunas, from oldies like Sunglade Condominium and Bishan Park Condominium to the more recent Spottiswoode 18. But it's apparent that saunas are no longer an "auto-include" feature in the minds of some big developers.
Reason for vanishing: From some quick enquiries, we were told that many condo residents are the sort who can also afford club memberships (e.g. Chinese Swimming Club, Singapore Swimming Club, Tanah Merah Country Club). As such, many already have access to bigger and nicer saunas, so developers chose other condo facilities to attract buyers instead.
Also, while saunas don't take up much space, the cost of upkeep is a killer. When a sauna eventually nears the end of its lifespan and needs to be refurbished, future owners and management committee have to bear a heavy cost, well into a five-figure sum. (This is why in many older condos, the sauna seems to be indefinitely out of order.)
There are, however, steam rooms in condos nowadays. Unlike saunas where you pour water over hot stones to generate steam, these are less interesting, electronically-controlled affairs. Steam rooms also come without wooden decking, substituting an authentic, cosy Nordic feel for easier maintenance.
Which condo facilities are here to stay?
There are facilities that we feel are must-haves for condos, and will continue to be in the future. Swimming pools, as we've mentioned, are only getting bigger. And as more people get gym memberships, the gymnasium is still viewed as an essential condo facility. Function rooms, once an insipid empty space, has evolved into grander affairs; Highline Residences has even put two function rooms on the topmost level, complete with high ceilings and views of the city skyline. Tennis courts in condos are almost always fully-booked at peak hours. These "big four" facilities are part and parcel of the whole package for condos in Singapore, and it looks to stay that way.
Know more condo facilities that are fading away? Tell us in the comments section or on our Facebook community page.
If you liked this article, 99.co recommends The craziest condo facilities in Singapore and Why you should consider buying completed resale condos
Looking for a property? Find your dream home on Singapore's largest property portal 99.co!
About Ryan Ong
Looking to sell your property?
Whether your HDB apartment is reaching the end of its Minimum Occupation Period (MOP) or your condo has crossed its Seller Stamp Duty (SSD) window, it is always good to know how much you can potentially gain if you were to list and sell your property. Not only that, you'll also need to know whether your gains would allow you to right-size to the dream home in the neighbourhood you and your family have been eyeing.
One easy way is to send us a request for a credible and trusted property consultant to reach out to you.
Alternatively, you can jump onto 99.co's Property Value Tool to get an estimate for free.
If you're looking for your dream home, be it as a first-time or seasoned homebuyer or seller – say, to upgrade or right-size – you will find it on Singapore's fastest-growing property portal 99.co.
Meanwhile, if you have an interesting property-related story to share with us, drop us a message here — and we'll review it and get back to you.
Join our social media communities!
Facebook | Instagram | TikTok | Telegram | YouTube | Twitter