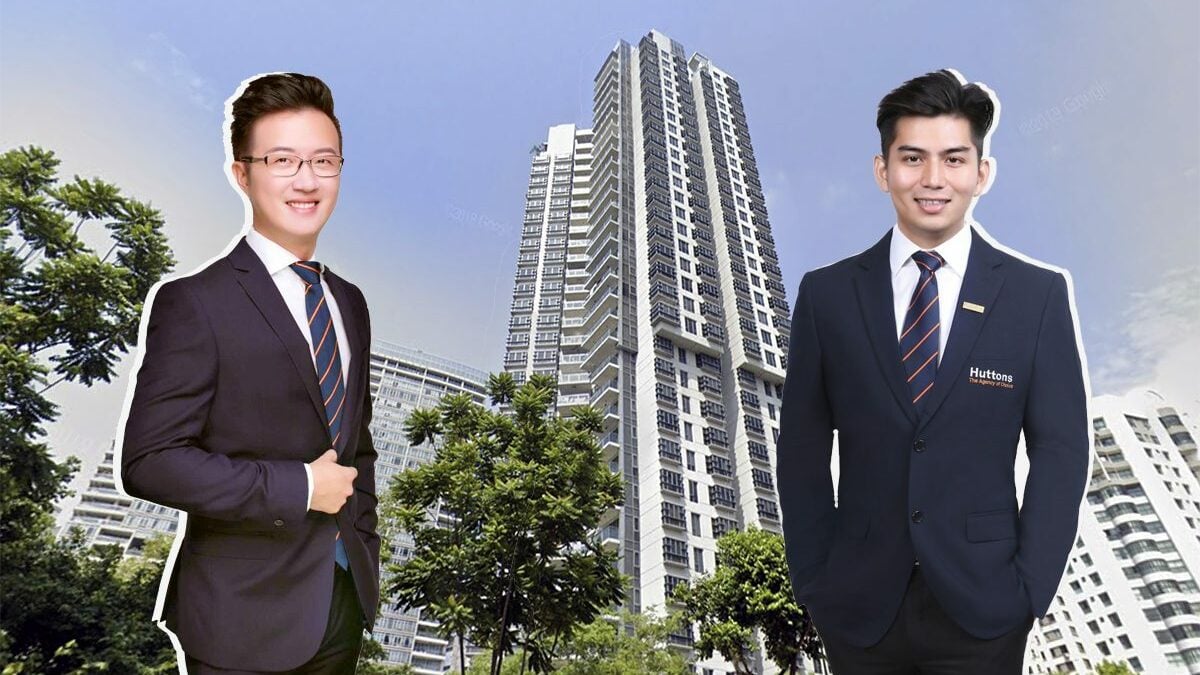 It's a pretty scary time for millennials to be buying their first home. It's the biggest purchase they'll ever make, and will affect everything from financial health to mental well-being.
If it's your first time buying, and you're not lucky enough to score a BTO flat, you'd want someone experienced to help you through the different steps and ensure you don't make common first-timer mistakes.
Selling your home for the first-time is just as daunting; you'd probably need a little help to ensure you get a good price on your property to fund your next home purchase without any shortfall.
We've previously written about whether you should hire a property agent or not, and what to expect when hiring an agent. This time we thought we'd highlight what traits a quality property agent should possess. After all, this is someone whose services you're paying for, in the form of an agent commission to, so it's important that you can tell whether he/she is the real deal.
What makes a fine property agent? We gleaned some insight from Dannie Han and Jerome Sun from Huttons, both of whom have been in the industry for 5 and 7 years respectively, with Jerome being a consistent top 1% producer across his career.
Trait #1: Someone who truly aligns his or her interests with yours
When hiring an agent, it's hard not to be skeptical of the work they do. As they earn a lot of commissions from clients, it's hard not to wonder if an agent is making recommendations that only benefit themselves.
Good property agents, however, would know how to align their interests with yours from the get-go. For example, Dannie Han of Huttons shares how he devised a commission structure that benefits both client and agent.
How it works: For Dannie, he pegs his standard commission of 2% against the valuation of the property he's selling. Anything lower will get him a lower commission that is proportional to the offer price.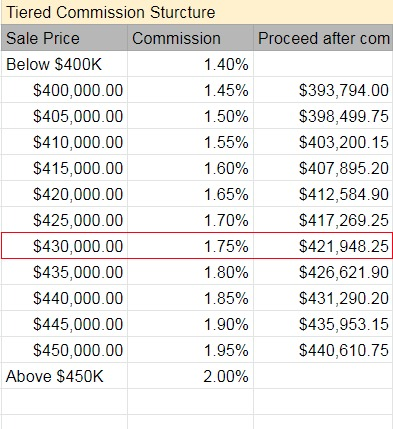 An example of Dannie's tiered commission structure.
This may sound counterintuitive to all the proposals you may have gotten from other agents who often ask for fixed commission rates regardless of the property's selling price. However, Dannie does it because he believes in doing right by his clients. This way, it also makes it more painful for him when a lower than desired offer comes in- so it motivates him further to close his properties at a price that is win-win to both parties.
In these cases, it also helps that Dannie can get easy access to latest transaction prices through 99.co's Transaction Data. After all, a good agent should be armed with data to give his/her clients the transparency they need for a peace of mind. He pegs his proposed prices to recently transacted prices in order to ensure the asking price is fair for all parties.
With quick screenshots of the most recent transaction prices upon request, clients like yourself will be informed of realistic property prices and use that knowledge to make the best financial decisions for themselves. Having such information at hand not only allows clients to easily understand Dannie's pricing propositions, but enjoy high transparency for a greater peace of mind, too.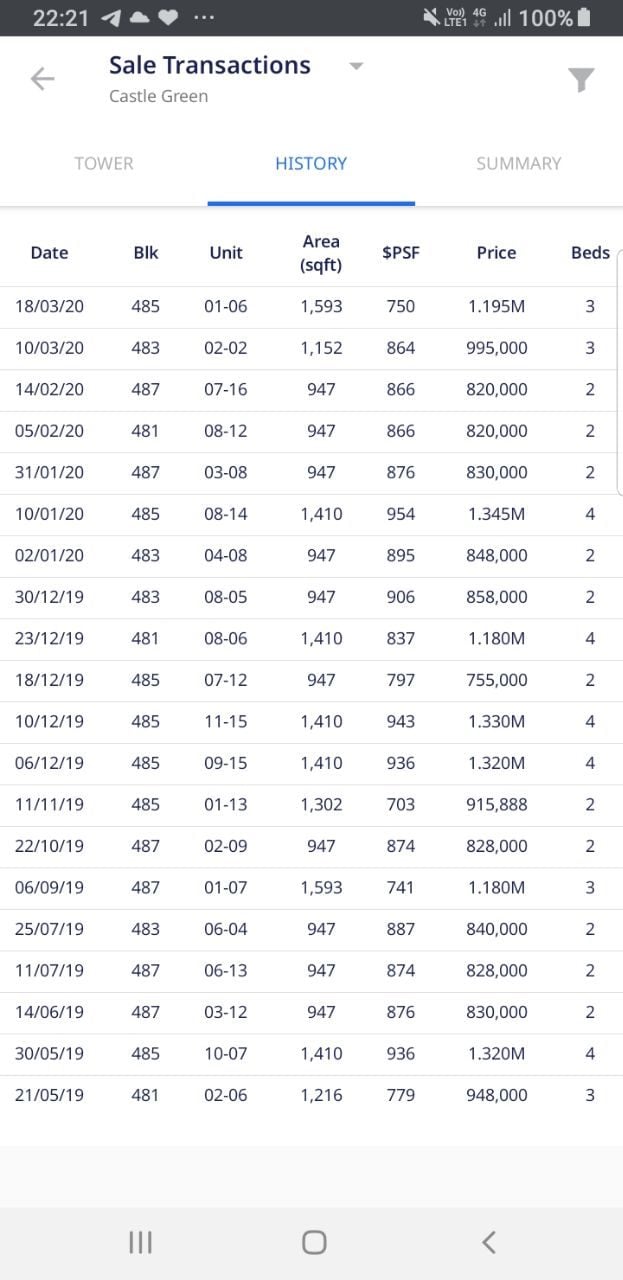 Above: An example of the screenshot you, a client, could receive. It consists of recently transacted prices of a particular project.
Jerome, on the other hand, appreciates it when clients approach him with questions. To him, questions are a good way for him to better ascertain your concerns, and help him understand where your priorities lie. 
A good agent knows that the more questions a client asks, the more interested they are. This in turn will help your agent better understand your needs, so he/she can propose different solutions accordingly. 
Trait #2: Transparent with data and information
With the rise of information all over the internet, many homebuyers like yourselves are getting savvier at researching their own data before deciding on which properties to buy. That's fantastic – always make informed decisions!
For those who don't have the time, or aren't too savvy, you'll be happy to know that most agents are also equipped with their own set of special tools. These tools –  provided by property portals like 99.co – allow easy consolidation of data and information, so clients are presented with clear and concise data.
Example of such tools: 99.co's Researcher, which allows agents to easily compare data across neighbourhoods, districts and development types, and build fully customisable reports to impress clients like you. 
How clients can benefit from this: We got help from Jerome to illustrate how he would use the Researcher tool for his clients. He shared about a past client who wanted to buy a 3BR freehold off Flora Drive (it's one of the few places left with affordable freehold condos, by the way!) and was eyeing Estella Gardens, one of the older condos there that T.O.P-ed in 1999. Rather than just passively going ahead with his client's choice of condominium, Jerome used the Researcher tool to help plot the PSF gains of Estella Gardens against others in the vicinity and got this results: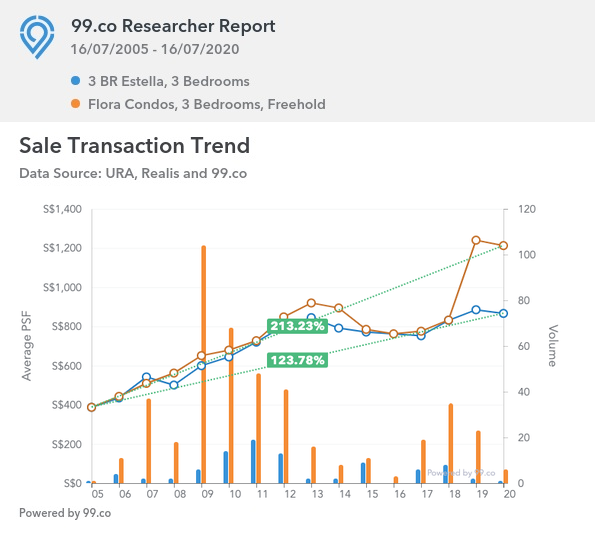 From this graph, it was easy for Jerome to convince his clients that 3BRs in Estella Gardens (the plots in blue) did not fare as well as other 3BRs in the market. This means Estella Gardens was not the best investment opportunity for his client in the area.
Following this information, Jerome then recommended other properties that suited their budget and lifestyle needs – with similar data and graphs to prove it.
Now that you, a client, know what tools are out available, you can encourage your agents to utilise them.
Trait #3: Is about more than just flashy videos or Facebook pages with thousands of likes
There are agents who invest thousands of dollars in sleek home tour videos, but Dannie and Jerome say it is not necessarily a mark of a good agent. These are "extreme approaches" reserved for ultra-special homes and clients with a budget to spare. Most of the agents who put up these videos often command a higher-than-average commission in order to cover the cost of production for these videos. 
Dannie and Jerome prefer a "leaner" approach to building their property business, with a mindset that focuses on delivering the best service at the most cost-efficient manner for their clients. 
Dannie's lean approach: Dannie helps to streamline the costs of production by doing everything on his own. During his role as a seller's agent, he would explain to clients that not every house requires a video to sell. However, if they insist, Dannie will film and edit the videos himself. He has learnt how to build 360-degree videos and has even purchased a drone to capture bird-eye views. Self-created property videos lower the total cost of marketing, and these savings are then passed on to his clients.
Dannie's advice to clients: On the flip side, he encourages buyers to give properties with regular listings a chance. He often meets his buyers fully prepared with research on the environment they are looking to buy in, along with recent transaction data. With these, Dannie helps clients fish out the best property in value and not just based on first impressions.
Jerome's lean approach: Jerome prefers using data to convince both buyers and sellers on the best properties to get. Besides, most of the clients he deals with are bankers – and these are extremely data driven people! Hence, his business philosophy is about encouraging transparency between him and his clients. 
Jerome is also upfront about providing raw numbers to clients who would like to do the calculations themselves. However, he is happy to provide the additional service of translating these raw data into easy-to-understand, customised advice for his clients. 
Jerome's advice to clients: Numbers often tell a lot more than what we give them credit for. Buying a property affects all other aspects of your life, and it's always wise to make a decision based on what the numbers tell you rather than what your heart tells you to. 
With a chuckle, he recounts how some of his clients spend hours pulling data from URA and mapping their own charts – only to realise that Jerome could easily do the same with less effort using the 99.co Researcher tool.
While Jerome may not have as strong an online presence as other agents, his sincere attitude is what keeps his word-of-mouth referrals coming to him.
We hope these anecdotes show you the kind of service you can expect from a quality property agent. If your current agent is not providing any of what we've mentioned above, no harm dropping him or her a message to ask about it. 
Wishing you all a happy house hunting journey! 
New launch alert! Welcome to Grand Dunman
About Felicia Tan
Looking to sell your property?
Whether your HDB apartment is reaching the end of its Minimum Occupation Period (MOP) or your condo has crossed its Seller Stamp Duty (SSD) window, it is always good to know how much you can potentially gain if you were to list and sell your property. Not only that, you'll also need to know whether your gains would allow you to right-size to the dream home in the neighbourhood you and your family have been eyeing.
One easy way is to send us a request for a credible and trusted property consultant to reach out to you.
Alternatively, you can jump onto 99.co's Property Value Tool to get an estimate for free.
If you're looking for your dream home, be it as a first-time or seasoned homebuyer or seller – say, to upgrade or right-size – you will find it on Singapore's fastest-growing property portal 99.co.
Meanwhile, if you have an interesting property-related story to share with us, drop us a message here — and we'll review it and get back to you.
Join our social media communities!
Facebook | Instagram | TikTok | Telegram | YouTube | Twitter