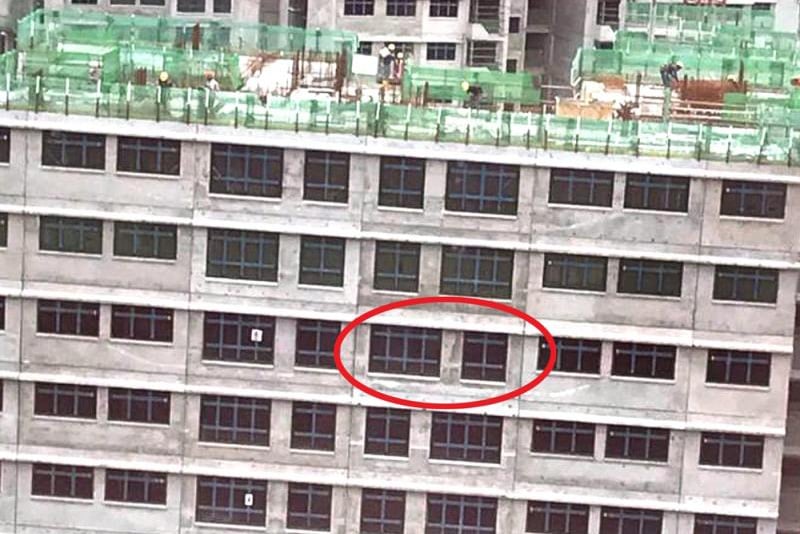 Recently, a HDB BTO project was in the news for all the wrong reasons. Construction workers had assembled the wrong precast concrete unit onto a block (linked article in Chinese), resulting in a window configuration that stood out like a sore thumb. The main contractor for the project at Tampines Greenverge didn't know anything about it — proceeding to build two more storeys atop the affected unit — until a member of public flagged the anomaly to the press. If anything, this highlights that our contractors can make mistakes and, as owners, a thorough defects inspection is a definite must when we collect the keys to our new home.
Now here's the good news: Whether you've bought a flat from the Housing & Development Board (HDB) or a condominium* unit from a private developer, an important item will come along with your set of keys — a one-year Defects Liability Period. What this means is that in the 12-month period from taking possession of your new home, you're entitled to report any construction defects (after a defects inspection) and have them fixed by the respective contractor free of charge.
Every unit will have it's own set of faults; it's a part and parcel of getting a new home. But while you might say "it's only right for faults to be fixed without charge", not many know the actual process of defects rectification, or how to deal with complications in the process. To make sure you get the full benefit of your home's Defects Liability Period and minimise potentially serious headaches, here's our guide on what you should do.
*Includes executive condominiums (ECs)
When should I start looking out for property defects?
Even though you've technically have one year to get the contractors to repair any property defects, we'd recommend checking your flat as soon as you've gotten your keys (within 7 days of taking possession). Do not start renovations or move in until you're satisfied that all faults and defects have been spotted and rectified.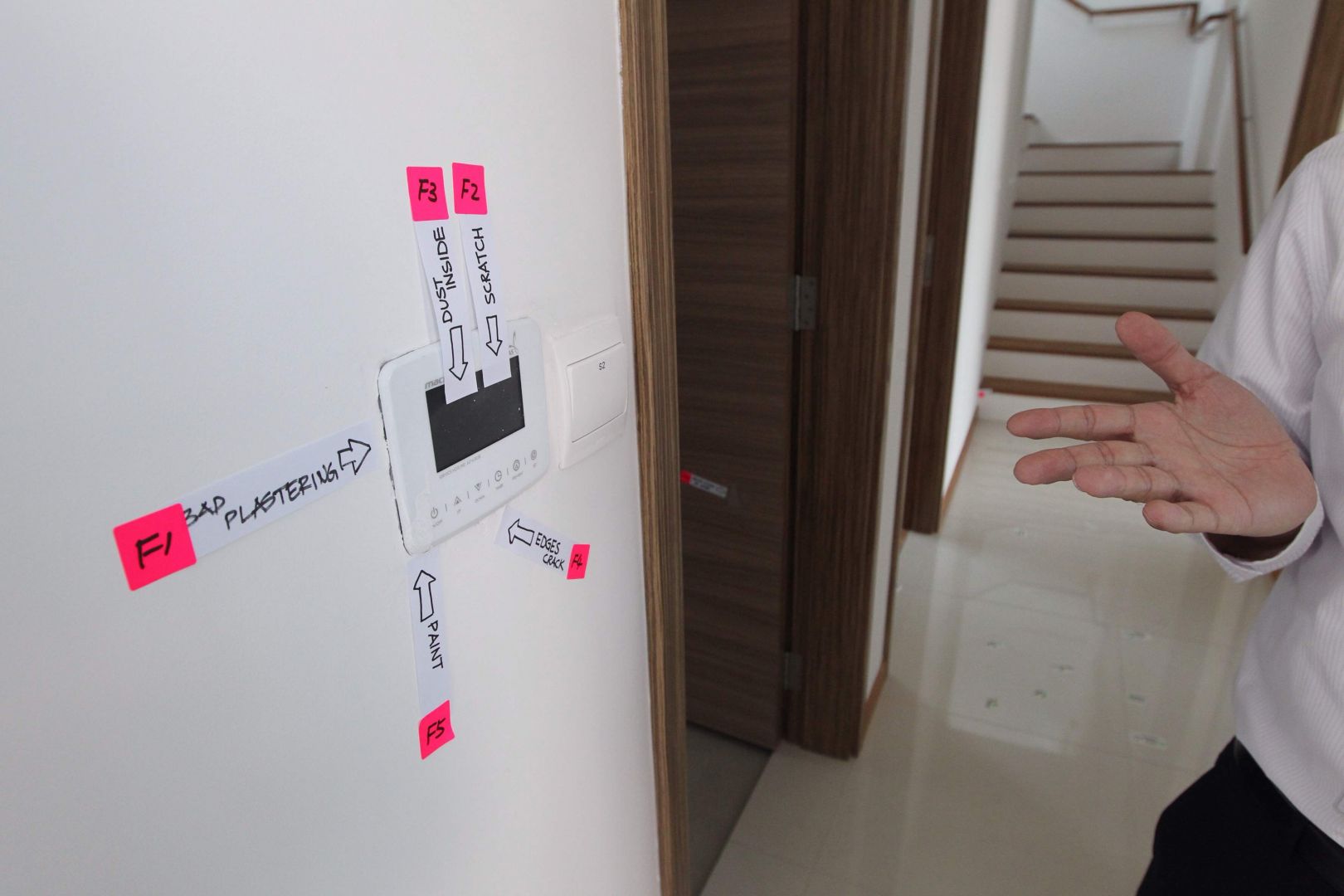 The reason for holding off renovation or moving in? First off, HDB or the private developer will only bear responsibility for any defects that are inherent in the construction of the home. This means any flaw that arises from your staying there, or from the renovation of the unit, will not be covered. It's therefore best to report any property defects early to avoid any disputes down the road about who really caused the damage.
Second, since there's no furniture or other obstruction in your flat, you can spot defects more easily. The contractor can also fix these defects without risking damage to your personal items. (And we know for a fact that even the most minor rectification work will generate an annoying amount of fine construction dust, which can get onto and into everything.)
Build-to-Order flats (BTO flats)
In true Singaporean-style efficiency, every flat goes through a stringent framework of quality assurance and other checks by HDB (both during and after construction) before owners collect their keys.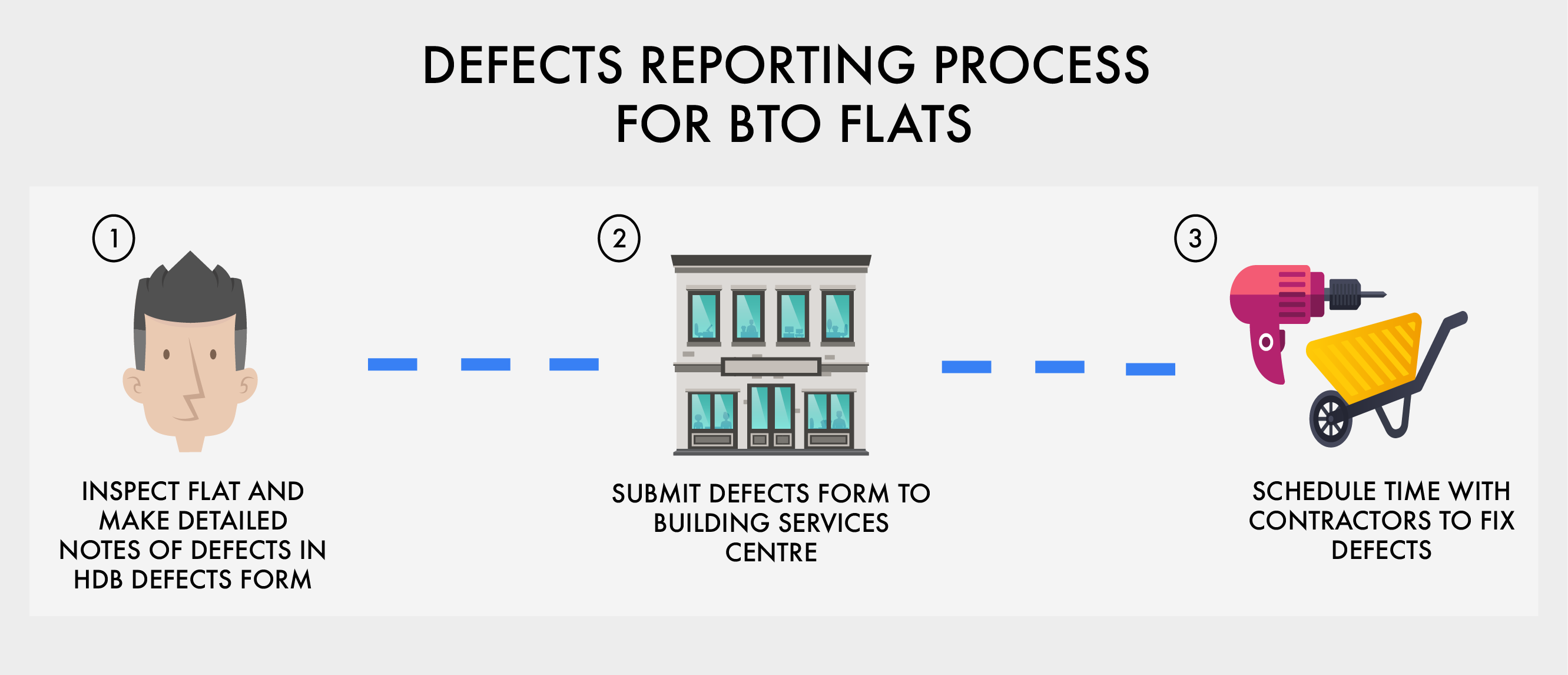 But even then, a few defects tend to slip through undetected.
In such cases, homeowners will need to inform their respective Building Services Centre (BSC) of the defects, and schedule a time to get them fixed.
During the key-collection, homeowners are provided with an HDB Defects List to record any defects they find, and advised to submit the form to BSC within 7 days. Regardless of this deadline, homeowners are still able to report any defects they find any time within the Defects Liability Period and ask for it to be repaired.
In addition to the Defects Liability Period, HDB also provides all new HDB flat owners with its Assure 3 warranty coverage which entails a warranty of between 5 to 10 years for ceiling and external wall seepage, and spalling concrete.
The BSC will usually be located close to the new flats during the Defects Liability Period just so it's easier for residents to make their complaints. After this period has expired, flat owners are still able to report any faults to their HDB Branch.
The BSC is usually pretty efficient, with most defects being repaired within 14 days of notice.
ECs and Private Condominiums
Even though an executive condominium (EC) is technically a form of public housing (for the first 10 years anyway), the sale and administration of the EC are left to the developers.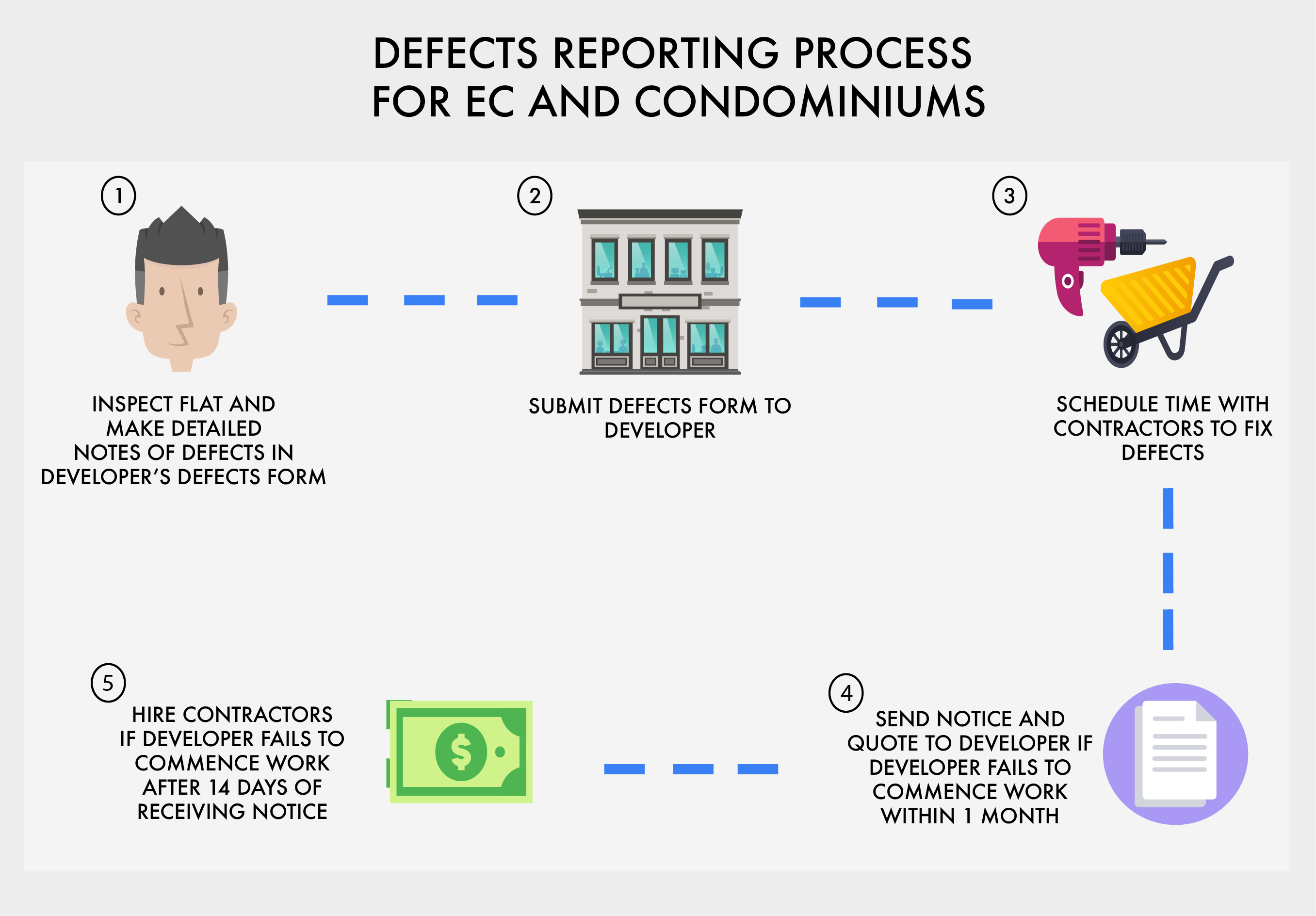 In that sense, the process for reporting property defects and getting them repaired is actually the same as with private condominiums. It is entirely handled by the private developers, and neither HDB nor BSC is involved.  
In the case of both ECs and condominiums, the developers will usually provide residents with a form to report any property defects.
Upon submission, the developers will have one month to fix the fault. If they fail to do so, the homeowner has the option of hiring a third party to carry out the repairs instead.
To do this, the owner should first notify the developer of his intention to hire an external contractor, along with an estimated cost of the repairs issued by the external contractor.
The developer then has an additional 14 days to correct the default. If they again fail to fix the flaw within those 14 days, the homeowner is free to hire the third-party contractor, and recover the cost from the developer.
Four other defects inspection tips for the new home
Consider hiring a professional
Checking for defects is a grueling process that will take a lot of time and painstaking attention to detail. Even then, you might miss half the things a trained professional might find.
If you're shelling out a six or seven figure sum for a new home, hiring a professional defects inspector for a few hundred dollars more may not be much. What you'll get is peace of mind knowing that you haven't missed out on any major fault in your home.
Take detailed notes and pictures of the defects
Make sure you take detailed notes of the defects that you find (see first photo of the article), mark them out clearly with tape or post-its and take pictures of them, then pass these on to BSC or the developer.
You'll also need to be present for a joint inspection with the developer/contractor so that you are both on the same page when it comes to the repairs needed for your home.
If you're planning to renovate, get defects fixed first
This point is worth repeating. It's always best to have all defects in your home repaired before you commence renovations.
Not only will you avoid a potential conflict with HDB on whether the defect was caused by the contractor or your renovations, it would be a huge waste of time and money if it turns out your expensive renovations have to be scrapped in order to fix an underlying defect.
In fact, many contractors and interior designers insist on starting work only after a defects check and rectification has taken place, to absolve themselves of any liability.
Use our checklist for defects inspection
This is 99.co's checklist for checking defects in your new BTO home. Use this to make sure you don't miss any important details during your defects check. It'll work just as well for EC and condominium units, so be sure to check it out (especially if you're not hiring a professional defects inspector)!
Voice your thoughts in the comments section or on our Facebook community page.
If you found this article helpful, 99.co recommends How to conduct your own HDB BTO Inspection and How to do up your home without taking a renovation loan
Looking for a property? Find your dream home on Singapore's largest property portal 99.co!
About 99.co
We are a property search engine with the overarching goal of building a more transparent and efficient property market. We are working towards that future by empowering people with the tools and information needed to find a place to live in the best way possible.
Looking to sell your property?
Whether your HDB apartment is reaching the end of its Minimum Occupation Period (MOP) or your condo has crossed its Seller Stamp Duty (SSD) window, it is always good to know how much you can potentially gain if you were to list and sell your property. Not only that, you'll also need to know whether your gains would allow you to right-size to the dream home in the neighbourhood you and your family have been eyeing.
One easy way is to send us a request for a credible and trusted property consultant to reach out to you.
Alternatively, you can jump onto 99.co's Property Value Tool to get an estimate for free.
If you're looking for your dream home, be it as a first-time or seasoned homebuyer or seller – say, to upgrade or right-size – you will find it on Singapore's fastest-growing property portal 99.co.
Meanwhile, if you have an interesting property-related story to share with us, drop us a message here — and we'll review it and get back to you.
Join our social media communities!
Facebook | Instagram | TikTok | Telegram | YouTube | Twitter