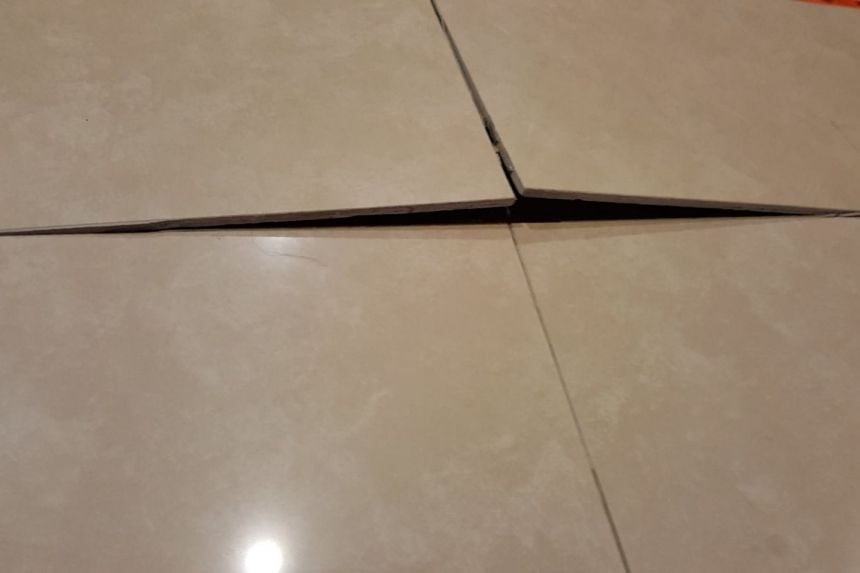 Dislodged and cracked tiles, especially in HDB flats, have made the news in recent years, with the latest case reported last month in a 16-year-old flat. These occurrences are usually characterised by the popping sound, as the tiles get dislodged and shatter. 
While not all cases are reported, it's not an uncommon occurrence either. In 2019, there was an average of 247 reported cases of tiles popping up in HDB flats every month. And over the past three years, the Community Development Councils (CDC) has assisted 146 households with dislodged tile repairs. 
When tiles get dislodged and crack without warning, they can pose safety hazards to residents. So it's good to know the possible causes and how you can potentially prevent your tiles from cracking at home. 
Why do tiles crack and get dislodged? 
There are various possible reasons for it, including weather changes and poor workmanship. 
Weather changes
Drastic changes in hot and cold temperatures can cause tiles to contract and expand too quickly, leading to a loss of adhesion between the tiles and screed over time. It may also cause more stress to be built up, increasing the likelihood of the tiles getting dislodged. 
Although Singapore doesn't experience drastic temperature changes like temperate countries, there have been cases where tiles crack because of the weather change. 
In December 2019, when colder weather and temperature fluctuations were observed, there were 580 reported cases of dislodged tiles. This was way higher than the average monthly cases of 247 in the same year. 
Another possible cause is the moisture that's trapped under the tiles. Due to high moisture absorption, the tiles can swell and expand, creating pressure that leads to them popping up. 
Poor workmanship
Besides weather changes, a likely explanation for cracked tiles is poor workmanship. When sand, cement and water are not mixed evenly to make the cement base, air pockets are formed underneath the tiles. Since they're not bonded to the base properly, they are more susceptible to cracking and popping. 
Likewise, how evenly the cement screed is applied can affect the adhesion of the tiles. 
Putting the tiles too close together can also increase the risk of them popping up and getting dislodged. If the gaps are not wide enough to allow for expansion and contraction, the tiles may eventually bend and crack. As a rule of thumb, the gap should be at least 2mm. 
And if the tiles are of poor quality, there's a higher chance of them breaking. 
Wear and tear
As with all fixtures, tiles are subject to wear and tear. The bond between the tiles and cement base may weaken over time. The concrete surface and cement base may also shrink, leading to the tiles cracking. 
How to prevent tiles from cracking and popping up?
If your unit is new, after you've gotten your keys, you should check all the fixtures and fittings that come with it. Should you find any defects, such as cracked or uneven floor tiles, be sure to inform the developer to get them fixed. 
During the renovation, ensure that the contractors have done all the necessary preparation before tiling. This includes checking if the subfloor is even and that the floor surface has been cleaned. 
For current homeowners, you can check for hollow tiles by tapping on them with a light tool. To prevent them from popping up, you can try to jet in some adhesives. 
Tile grouts help to keep the tiles in place. If you find that the tile grouts in the joints have come off, you may regrout your tiles as well. 
What can you do if your tiles start popping up and cracking? 
In the unfortunate event that your tiles start cracking and popping, be sure to move away as far away as possible. 
Once they stop popping, remove the loose tiles and put them aside. For safety reasons, ensure that the area is clean of the shards from the cracked tiles. 
Cover the area with protective sheets like cardboards, newspapers or carpets to prevent any injuries. Otherwise, you can move your furniture, such as a sofa, to cover the area.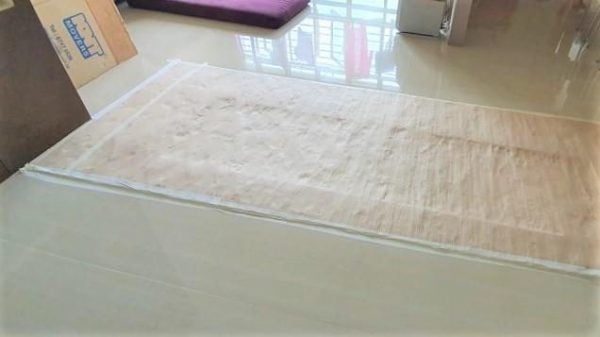 Until repairs are done, try not to step on this area. Whether you can get your developer to cover the repairs depends on the age of your unit. 
If your house is less than one year old
Whether it's an HDB flat or private housing, your house is still covered under the one-year Defects Liability Period (DLP). It usually starts from the day the development receives its Temporary Occupation Period (TOP). 
Should the tiles crack within a year, HDB or the developer will cover the repair for the original tiles provided. 
If your house is less than 15 years old
In Singapore, developers are liable for latent defects for up to 15 years from the project completion date. These are defects that are not easy to discover, as they only emerge after some time, such as structural issues. 
If the cracked tiles come with the unit, you can approach the developer, who will assess if it's a latent defect. So depending on the case, they may or may not cover the tile repair. 
For dislodged tiles in flats, HDB usually offers goodwill repairs for up to 15 years. 
If your house is older than 15 years old
Since the warranty period is over, you're responsible for the cost of the tile repair. This means that you'll need to engage a contractor for the repair on your own. 
If you're living in an HDB flat, you can engage one of the registered contractors on this list. 
Should you require any financial assistance for the cost of repair, you can approach grassroots organisations and the Community Development Councils (CDCs) for support. 
If you found this article helpful, 99.co recommends My complete BTO experience: From balloting to renovation regrets and 7 Types of Flooring Commonly Used in Homes. 
Looking for a property to buy or rent? Find your dream home on Singapore's largest property portal 99.co!
New launch alert! Welcome to Grand Dunman
About Virginia Tanggono
Virginia covers the property news in Singapore, from record sales to profile stories on home ownership. In her free time, she occasionally searches for spoilers of movies and TV shows.
Looking to sell your property?
Whether your HDB apartment is reaching the end of its Minimum Occupation Period (MOP) or your condo has crossed its Seller Stamp Duty (SSD) window, it is always good to know how much you can potentially gain if you were to list and sell your property. Not only that, you'll also need to know whether your gains would allow you to right-size to the dream home in the neighbourhood you and your family have been eyeing.
One easy way is to send us a request for a credible and trusted property consultant to reach out to you.
Alternatively, you can jump onto 99.co's Property Value Tool to get an estimate for free.
If you're looking for your dream home, be it as a first-time or seasoned homebuyer or seller – say, to upgrade or right-size – you will find it on Singapore's fastest-growing property portal 99.co.
Meanwhile, if you have an interesting property-related story to share with us, drop us a message here — and we'll review it and get back to you.
Join our social media communities!
Facebook | Instagram | TikTok | Telegram | YouTube | Twitter