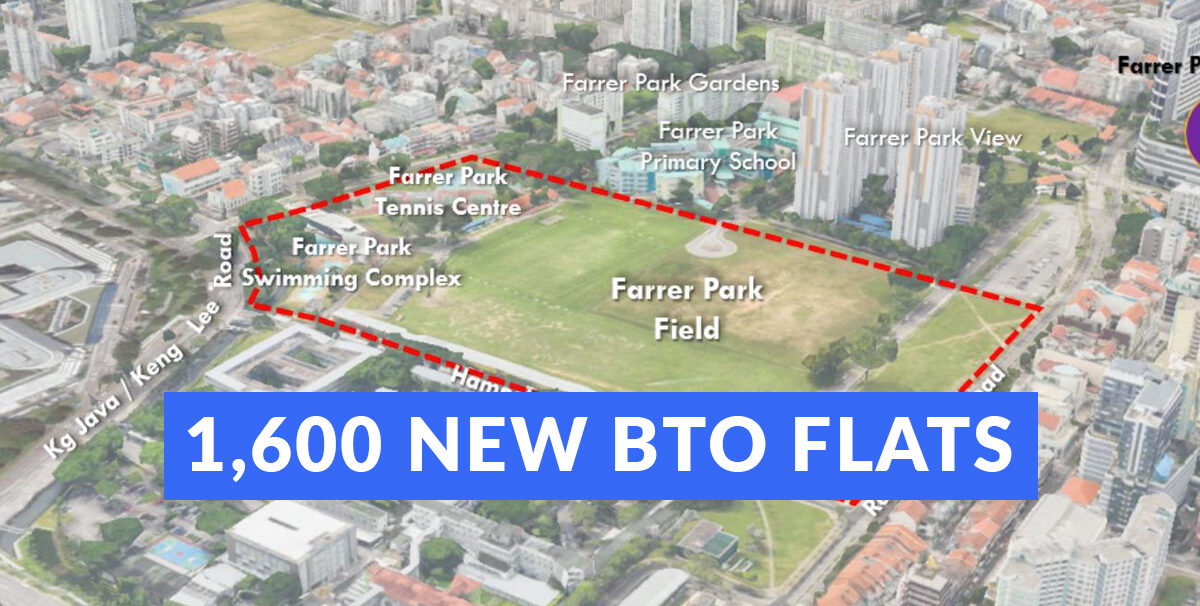 A 10-hectare (100,000 sqm) plot in Farrer Park has been marked as the site for around 1,600 new HDB flats. 
The Urban Redevelopment Agency (URA), Housing & Development Board (HDB) and Sport Singapore (SportSG) said in a joint press statement on 25 April that they will work together to redevelop the area to integrate sports and recreational facilities into the public housing development. 
It might be the first-ever BTO project with a sports theme. Thematic developments are usually only found in private housing, such as Parc Olympia, a mid-sized condo project along Upper Changi featuring a wide range of sports facilities such as a rock-climbing wall, skate park, running tracks and a putting green. 
Optimising land space
Given Singapore's land scarcity, this project ties in with the government's commitment to redevelop brownfield sites such as this one to provide more housing. 
According to the 2013 Land Use Plan, Singapore needs 76,600 hectares of land by 2030 to support its projected population of 6.5 to 6.9 million. 
Redeveloping the Farrer Park site ensures sustainable development that keeps Singapore abreast of the ever-evolving needs of the environment and its residents. 
Farrer Park Field
Located along Hampshire Road and Race Course Road, the new housing estate enjoys strong connectivity with MRT stations nearby. Both Little India and Farrer Park MRT stations are an 8-minute and 14-minute walk away, respectively.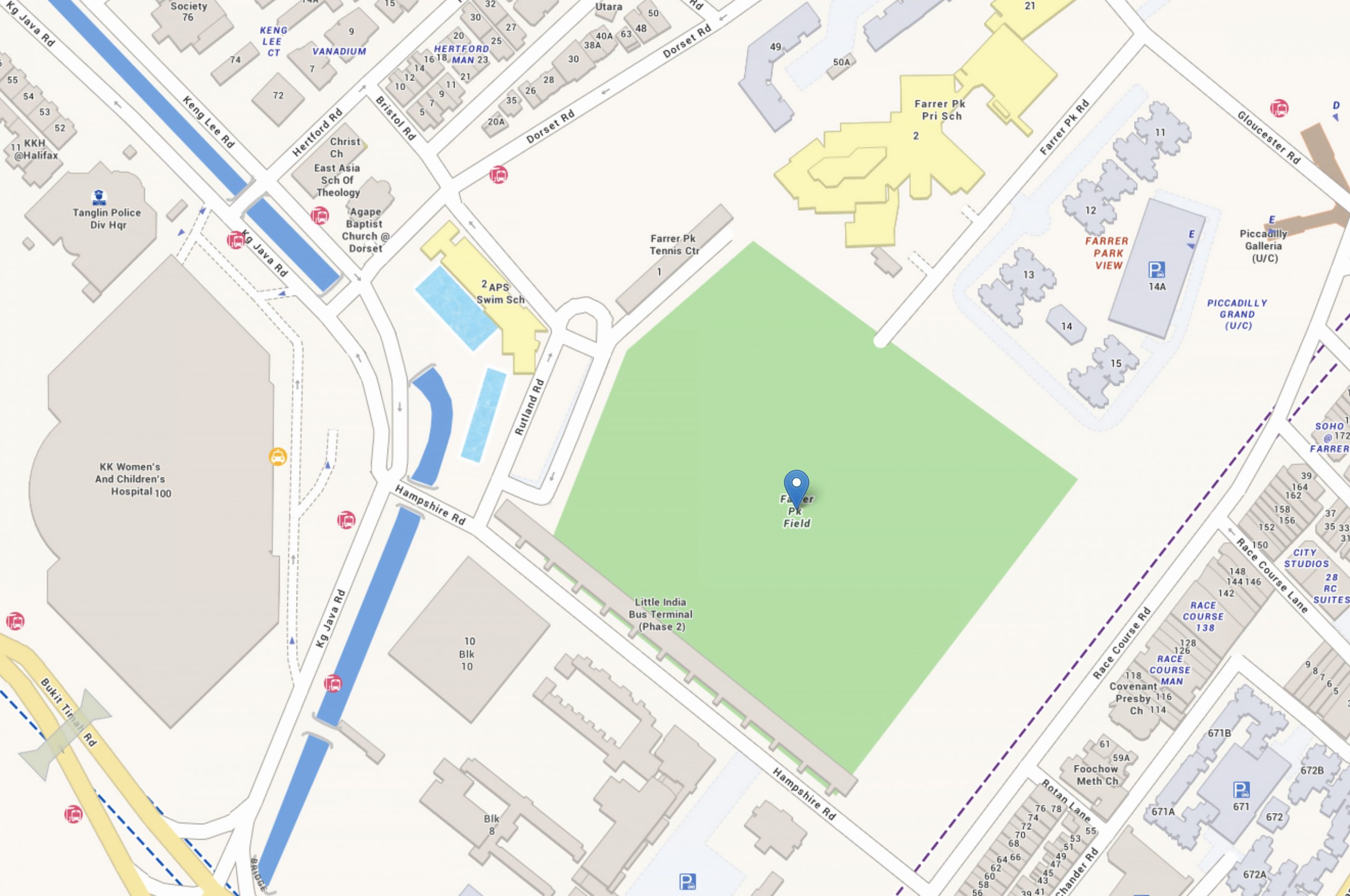 Food and retail amenities
Built in 1915, the largest wet market, Tekka Market, is a mere 6-minute drive away. It has a whopping 284 stalls that offer up fresh produce and dry goods, as well as a hawker centre where you can find a delectable range of authentic and affordable local fare.  
And of course, not forgetting Mustafa Centre, a 24-hour shopping mall that sells pretty much everything you need, from electronics and jewellery to food and daily amenities. 

Schools
One drawback of the area is the distinct lack of preschools in the immediate vicinity. Pegasus International Preschool at 72 Keng Lee road is a 4-min walk away, while PCF Sparkletots at Gloucester Road and Dorset Road is a 10-minute walk away. 
Farrer Park Primary School is 1.4km away (a 9-min walk), while Hong Wen School, Northlight School and Bendemeer Primary and Secondary School are a 10-minute drive away. 
Other schools include St. Joseph's Institution Junior (a 12-min walk) and Anglo-Chinese School (Junior), a 6-minute drive away. 
For medical facilities, the KK Women's and Children's Hospital along Kampong Java Road is a 6-minute walk.
HDB resale flats in Kallang/Whampoa
Public Mansion
432 Balestier Rd · D12
4
2
$2,350,000
90B Telok Blangah Street 31
Singapore 102090 · D4
3
2
$950,000
Sims Urban Oasis
2 Sims Dr · D14
2
1
$4,200
388 Yishun Ring Road
Singapore 760388 · D27
3
2
$550,000
Rivergate
93 Robertson Quay · D9
3
2
$3,980,000
Stirling Residences
25 Stirling Rd · D3
2
1
$1,420,000
571 Hougang Street 51
Singapore 530571 · D19
3
2
$538,000
The Ford @ Holland
1 Ford Ave · D10
1
1
$1,280,000
Nineteen Shelford Road
19 Shelford Rd · D11
1
1
$3,800
The Springbloom
143 Serangoon Ave 3 · D19
3
2
$2,350,000
The nearest BTO site around the Kallang/Whampoa area to the Farrer Park Field was in November 2021. Kent Heights, bordered by Owen Road, Kent Road and Mergui Road, is 1km away from the marked site.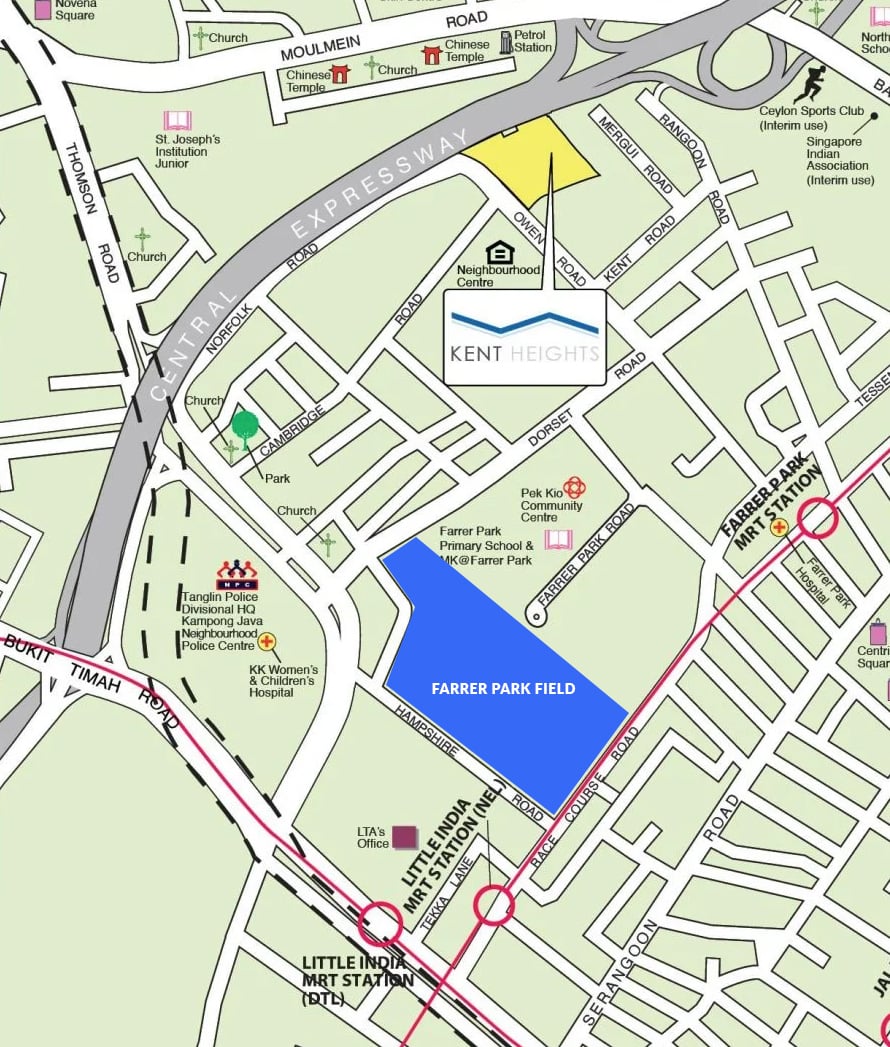 Due to its proximity to the city fringe, the project was highly popular, with a 6.6 application rate. 1,813 applicants applied for 276 4-room flats in the project, which meant a one in seven chance of securing a flat. 
Another BTO site under the Prime Location Housing (PLH) model was also launched this year in February – King George's Heights. There were 398 units of 3-room and 4-room flats with an estimated price range of between S$353,000 to S$675,000.
Check out this video to explore the Farrer Park area.
Farrer Park Estate's history
Farrer Park is a sub-zone of Rochor with a rich history. Its name is derived from Singapore's first racecourse, Farrer Park Racecourse, built in 1843 as a sports and recreational hub.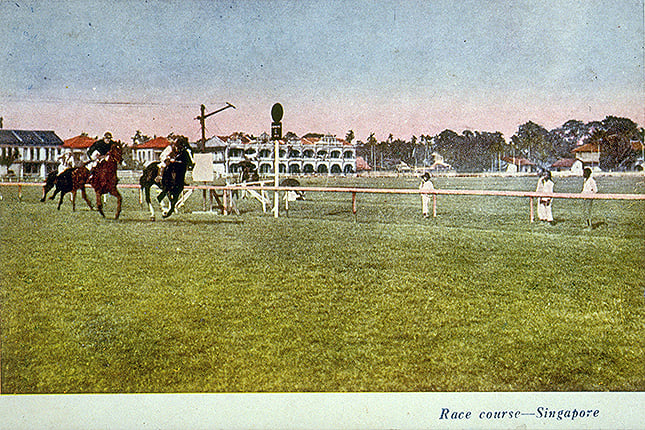 In 1935, the site was renamed to Farrer Park after Roland John Farrer, the President of the Municipal Commissioners. 
New infrastructure such as stadiums and a swimming complex was developed to support sporting events such as hockey, cricket and football in the 1950s to 1980s, making the site an unofficial sports hub. 
Between the 1990s to 2000s, Farrer Park's sporting facilities were torn down to make way for the North-East MRT line and residential housing, with Farrer Park MRT opening in June 2003. 
In a bid to preserve and celebrate Farrer Park's sporting Heritage, the URA and SportsSG decided to keep and redevelop landmarks such as the swimming complex and a former boxing gym used by the Singapore Amateur Boxing Association. 
Integrated sports and recreational facilities
During the planning phase of the redevelopment, the agencies engaged stakeholders such as Friends of Farrer Park (FOFP), members of the Heritage and sports community, and its local residents to provide feedback to retain Farrer Park's rich sporting history.
To strengthen Farrer Park's unique identity as a social and sporting node and encourage the community to pursue a healthy lifestyle, plans are in place to integrate sports and recreational facilities within the entire estate.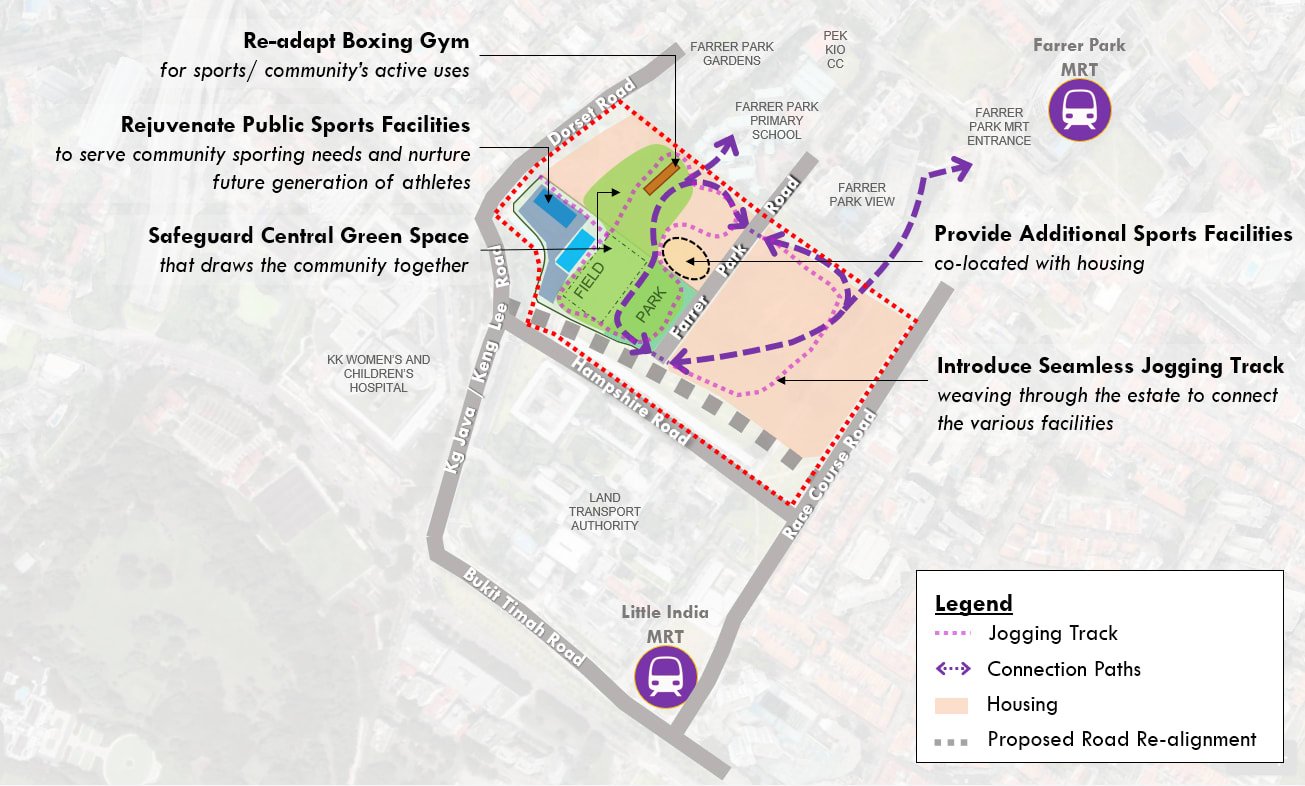 Green spaces. Around 20% of the site is planned to be used as open spaces for sports and recreational activities. A 1.2-hectare of central outdoor space is allocated to have a field and park, giving residents access to a green space right as their doorstep. 
Boxing gym. The former boxing gym's key features and architectural character will be retained when the building is repurposed into a community space.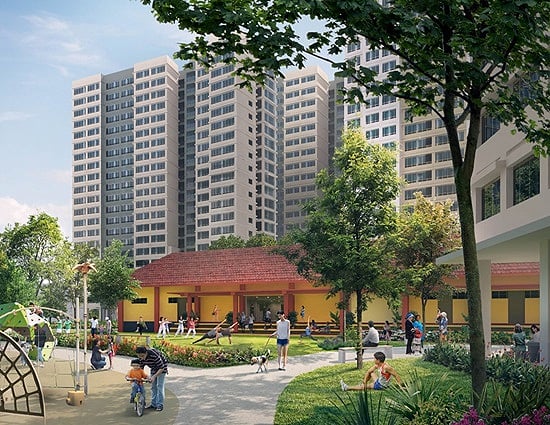 Multi-storey carpark (MSCP). The ground floor of the estate's MSCP is marked out for activities, complementing the many 3-generation playgrounds and fitness corners scattered around the project for both the old and young. 
A jogging track to connect the various sports and recreational facilities will also weave through the entire estate. 
New sports centre. After a detailed assessment of the Farrer Park Swimming Complex, agencies decided to demolish the complex due to the facility suffering from wear and tear over the decades. 
Refurbishing the pool filtration and underground piping system would be cost-prohibitive, so it was decided that a new sports centre will be built in its place. Avid swimmers need not fret because it will feature a brand new swimming pool and other sporting facilities.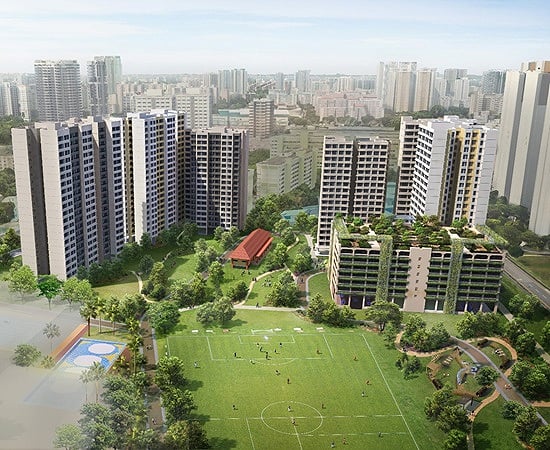 Other amenities. Future residents, as well as those currently living around the area, can expect new commercial and social communal facilities, such as shops and a childcare centre. 
With a strong sports theme running through the entire development, the project is likely to appeal to young couples and like-minded sports enthusiasts who enjoy leading an active lifestyle.
Will it be a PLH site?
According to Christine Sun, Senior Vice President of Research & Analytics at OrangeTee & Tie, the flats may fall under the PLH model due to their proximity to the city centre and integrated sports facilities. 
As of Q1 2022, the median resale flat price in the Kallang/Whampoa area stands at around S$755,000. 
Two new PLH flats were also launched nearby – River Peaks I & II and King George's Heights. 
Considering the fact that the Farrer Park site will be launched in a few years, inflation would see the opening price of 4-room units ranging from S$550,000 to S$700,000. 
Housing project
BTO type
Launch date
No. of 3-room
Price of 3-room

 

No. of 4-room
Price of 4-room
Kent Heights
BTO
Nov 21
NA
NA
276
S$511,000 – S$660,000
River Peaks I & II
PLH
Nov 21
280
S$409,000 – S$474,000
680
S$582,000 – S$688,000
King George's Heights
PLH
Feb 22
104
S$353,000 – S$462,000
294
S$488,000 – S$675,000

 

Future Farrer Park site
PLH
TBA
TBA
S$390,000 – S$460,000
TBA
S$550,000 – S$700,000
Should they turn out to be PLH flats, expect it to be launched at a higher price point than BTO launches. This is to even out the playing field and compensate for the longer minimum occupancy period as well as the additional requirements before being able to sell the flat. 
Based on the subscription numbers for the previous flats in the area, the Farrer Park site will most likely be a big hit. 
| | | | | |
| --- | --- | --- | --- | --- |
| Housing project | Flat type | No. of flats | No. of applicants | Overall application rate |
| Kent Heights | 4-room | 276 | 1,813 | 6.6 |
| River Peaks I & II | 4-room | 680 | 6,976 | 10.3 |
| King George's Heights | 4-room | 294 | 5,140 | 17.5 |
The development is slated for launch within the next three years to feed Singapore's demand for more public housing. Considering the popularity of the nearby BTO and PLH flats, you can expect some heavy competition when HDB releases the units. 
---
Are you excited for the Farrer Park BTO project?

 Let us know in the comments section below or on our Facebook post.

If you found this article helpful, check out Feb 2022 PLH BTO review with video tour: King George's Heights and Here's why you may not want to get the PLH flat.

Looking for a property? Find the home of your dreams today on Singapore's fastest-growing property portal 99.co! If you would like to estimate the potential value of your property, check out 99.co's Property Value Tool for free. Also, don't forget to join our Facebook community page or Telegram chat group! Meanwhile, if you have an interesting property-related story to share with us, drop us a message here — and we'll review it and get back to you.