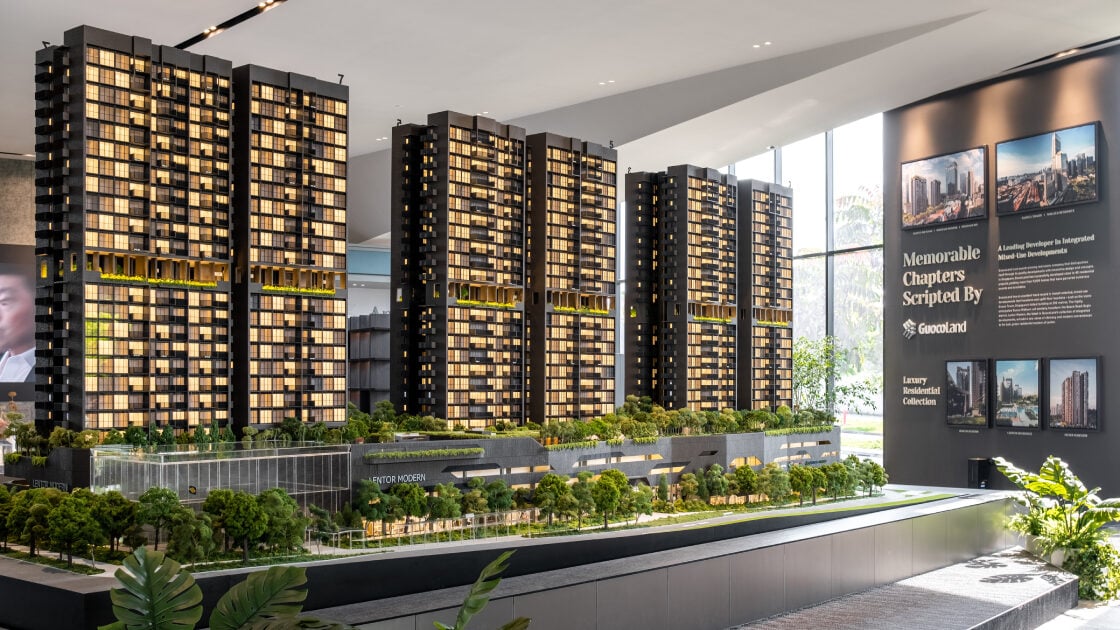 Ten years ago, if you told your friends that you lived in Lentor, you'd probably get puzzled looks, and they'd ask you, "where's Lentor?" But that might soon change. 
Once home to mainly private landed housing, Lentor is now undergoing development with multiple government land sale (GLS) sites. It is also more accessible thanks to the opening of Lentor MRT station on the Thomson-East Coast line (TEL) in 2021. 
The beauty of living in Singapore is seeing empty swathes of land turn into high-rise buildings in a short period. Years ago, no one would imagine that Punggol would be what it is today. But it's hard to believe that more than 20 years ago, the estate was home to villages and farms. 
Tengah is also doing the same, promising to be Singapore's first innovative and sustainable town. 
But unlike Tengah or Punggol, which are HDB towns, Lentor is shaping up to be the next enclave of private condos coupled with the convenience of amenities. 
Setting the stage for transformation: Lentor Modern
We can't talk about Lentor's development without including Lentor Modern. Linked directly to Lentor MRT station on the TEL, Lentor Modern is the neighbourhood's first and only integrated mixed-use development. 
With 84% of total units sold during its launch weekend, Lentor Modern is one of the most successful launches in 2022.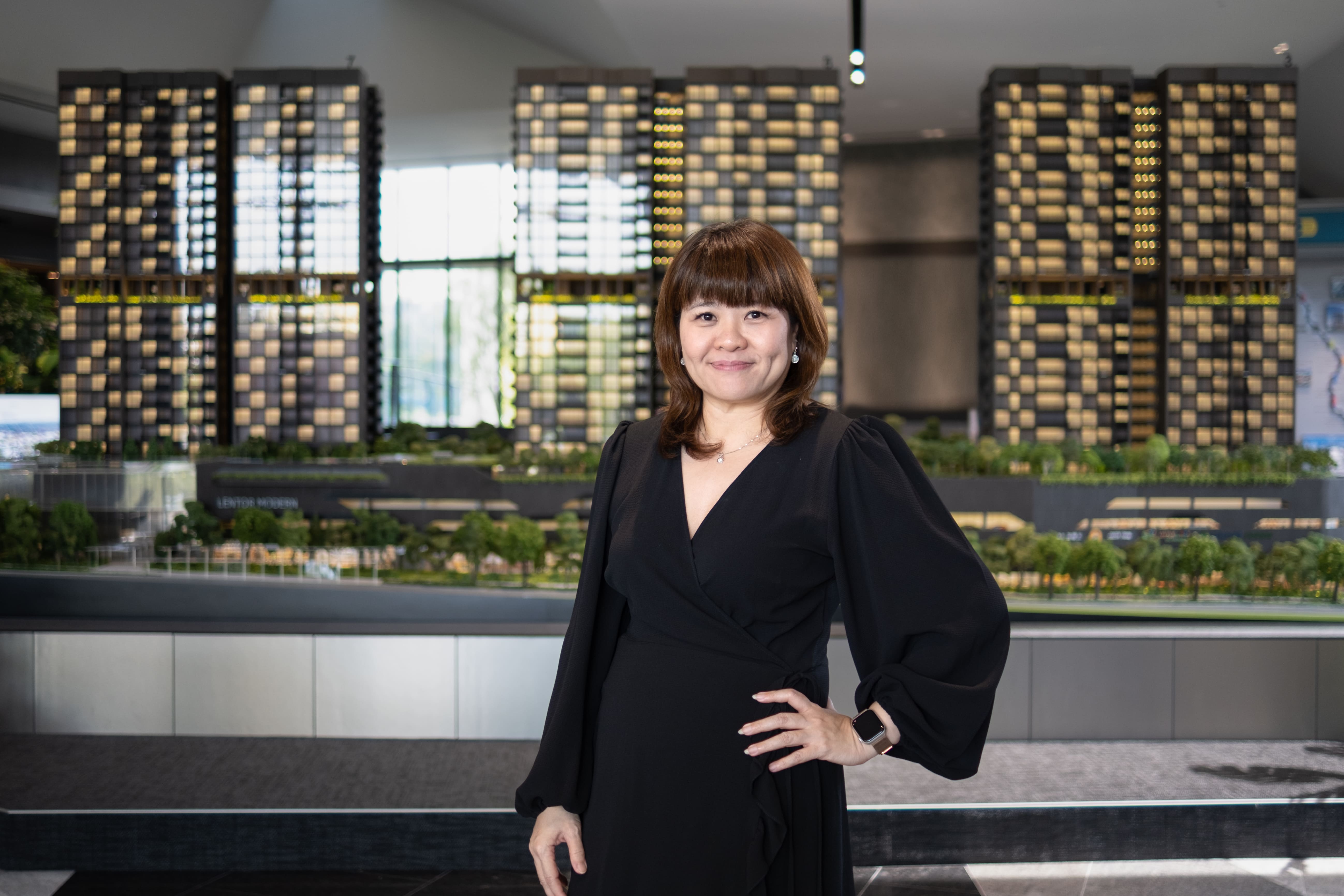 We had an exclusive interview with Ms Dora Chng, General Manager (Residential) at GuocoLand, to find out how Lentor Modern is at the forefront of the neighbourhood's transformation.
According to Ms Chng, Lentor is appealing to buyers as it's a low-density private housing enclave, and thus, it feels very exclusive. "What's lacking was the convenience, but the TEL (Thomson-East Coast Line) has changed that. The TEL is, by far, the best MRT line because it cuts across all other lines. So you can travel all around Singapore without driving. Eventually, when the line is entirely open, it will bring super connectivity to residents in the area." 
She adds, "With us (Lentor Modern) coming in with a mall and enhancing the area even further, Lentor is gaining new attention from people looking at buying homes."
Challenging the concept of a 'prime location' in Singapore
By 2030, Singapore's rail network will span 360km, and 8 in 10 households will be within a 10-minute walk away from an MRT station. New lines like the Cross-Island Line (CRL) will significantly enhance connectivity and cut travelling time across Singapore. 
New developments in the OCR that are integrated with an MRT station, like Lentor Modern, challenge the concept of a 'prime location in Singapore. Ms Chng says, "With the SMRT network being even more expansive, is the distance to the city centre still a huge factor? Does it really matter where you're staying? What's considered prime district in Singapore since the MRT network is everywhere now?"
The availability of amenities, proximity to schools and nature are also important factors that are considered by buyers, which Lentor Modern will bring to the area.
Balancing Lentor's development with greenery
In 2016, the Lentor Forest was cleared to make way for private housing, but there were calls from the community to preserve the estate's green lungs. Many residents enjoyed living near greenery, and it helped to cool the ambient temperature of the area. In the end, two green plots were preserved.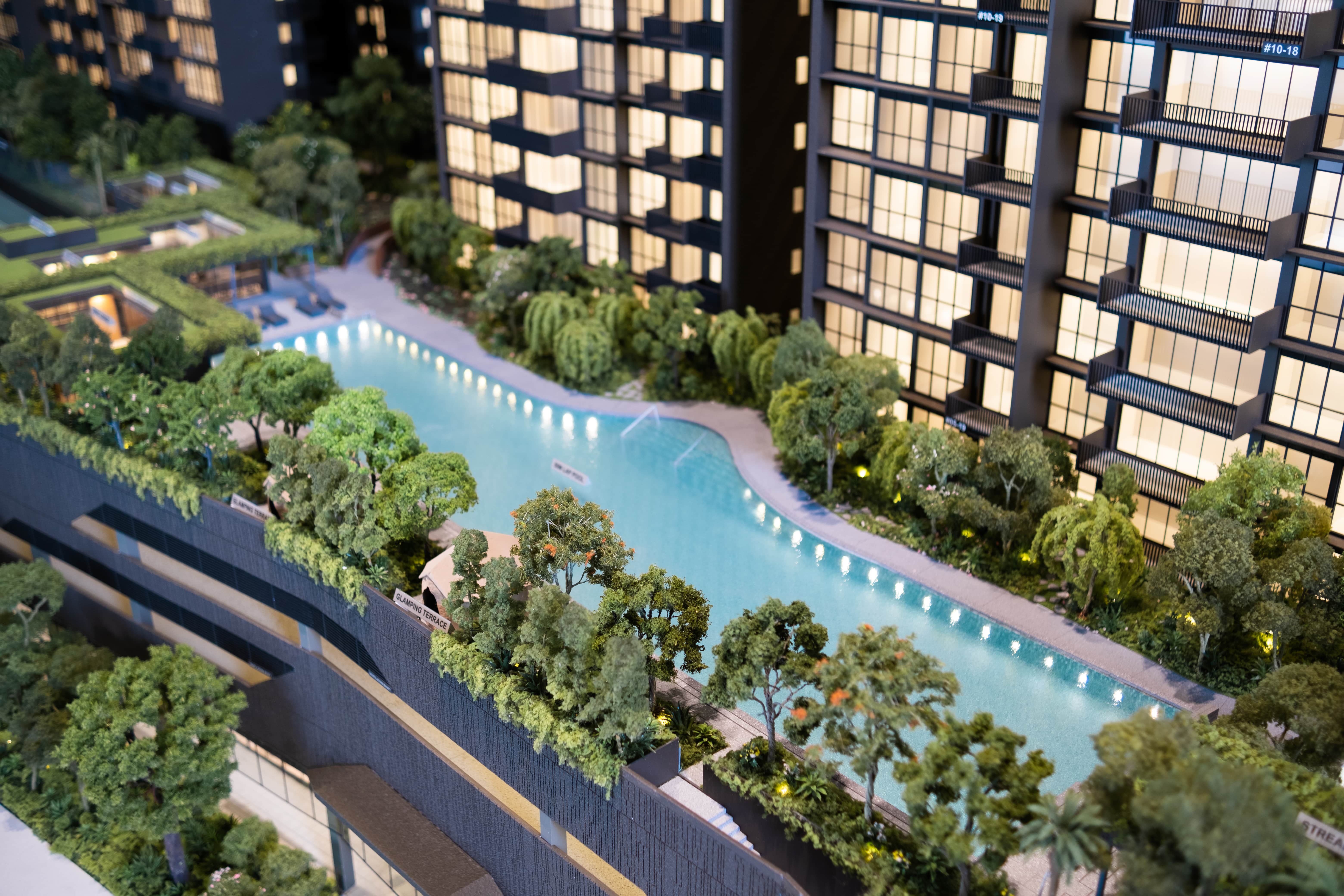 However, Lentor Modern is bringing back a part of the area's natural landscape. "We have a very interesting concept behind how the facilities deck was designed. There was this Lentor Stream that used to run through the forest, and it was the main source of food and water for the community living here in the kampung days. So we want to pay tribute to the stream. That's why our facilities deck is inspired by the Lentor Stream and comprises several water bodies adding up to more than 200m," says Ms Chng. 
Based on the success of Martin Modern and Midtown Modern, which were largely greenery-inspired, Ms Chng adds, "we were convinced that nature, gardens and spaces for families are really important. So, we want to give this to them (buyers)." 
This was a sentiment echoed by respondents in Knight Frank's 2021 Global Buyer Survey. Proximity to green space and good air quality were the most critical factors for Singaporeans in choosing the location of their property after Covid-19. 
With Lentor Modern setting the benchmark, we hope the other GLS sites in Lentor will also incorporate the neighbourhood's forest heritage into their landscapes.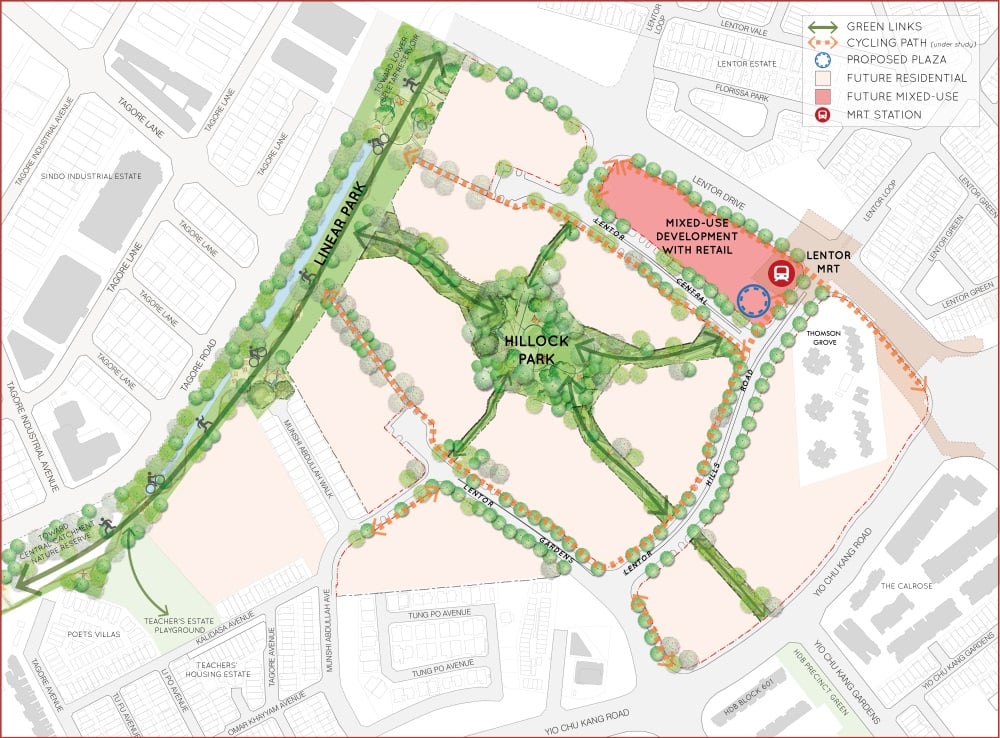 But beyond that, Lentor also has easy access to nature reserves. Once the area is fully developed, there will be walking and cycling paths to a Linear Park, which connects residents to the Central Catchment Nature Reserve and Lower Seletar Reservoir. The Lentor Hillock Park will also be situated in the middle of the new GLS sites. 
Meeting the needs of residents from the surrounding landed estate
Lentor has long been an area with low-density private housing, consisting of the Lentor Loop and Teacher's Housing Estate.
When GuocoLand won the tender for Lentor Modern's GLS site, Ms Chng said that many residents of the landed estate were excited when they knew there would be a mall in the area. Residents of Lentor Modern will also enjoy unparalleled convenience, as they will be 'one lift-ride' away to the 96,000 sq ft mall, which is also directly connected to Lentor MRT station. 
Besides bringing their expertise in mixed-use developments to Lentor, GuocoLand also had to design their units with the landed downsizers in mind, especially the larger ones.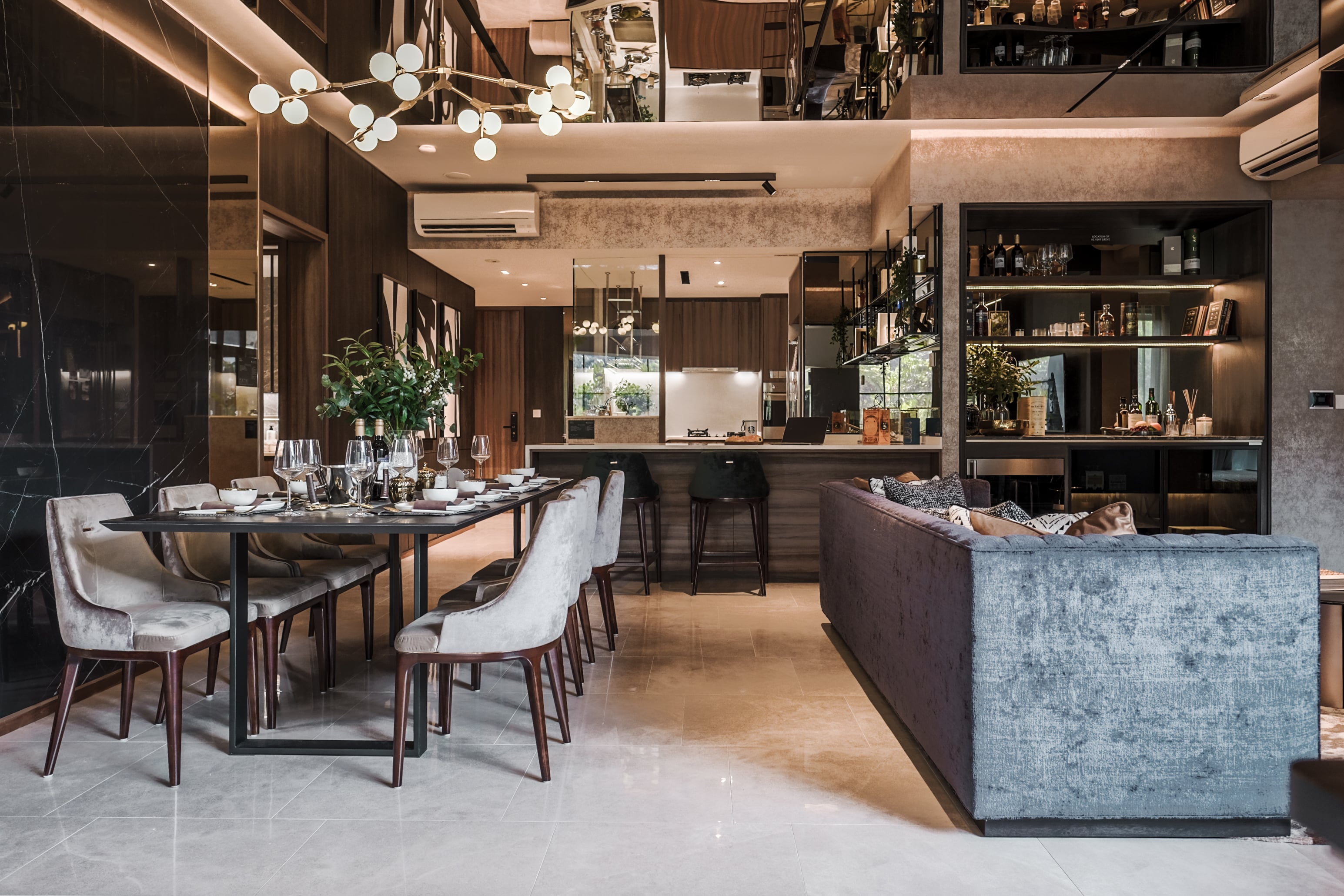 "Our 4-bedrooms are more luxurious; it is 1528 sq ft because we envisioned that people who are used to living in landed homes will appreciate a bit more space. The unit has everything they need – a wet and dry kitchen, and a big living and dining area so that they can host family and friends. The unit extends into a good-sized balcony which is an extension of the entertainment space.
"We designed the buyer profile; if you have a large family and they come by every weekend, you will need this setup (in the showflat), especially if you come from the landed houses. The living room has a length of 5.7 metres, most inter-terrace is 6 metres, so they can feel like they are back at their old houses," says Ms Chng.
Currently, Lentor Modern has sold around 50% of its 3 and 4-bedroom units, while the 1 and 2-bedroom units are fully taken up.  
Ms Chng attributes this success to the groundwork they do to determine buyers' needs. "We design every development from the inside out, always from the user's perspective. We want the rooms to be a specific size, and the living room or kitchen to be a specific layout, and then we piece them together. We start with the space, and then we build up, so the units always feel very functional. Most people tell me when they walk into the unit, they feel like it's bigger."
She adds, "When you see our development and walk through our showflat, you will feel that you can relate.  Our development quietly touches your heart, because we designed it for ourselves. If we love it and want to live in it, I'm sure you'll also feel the same."
What lies ahead for Lentor
Today, the Lentor neighbourhood is on the cusp of change. On the one hand, it will be transformed into a mini "city centre" with Lentor Modern. But on the other hand, it still has the charm of being a low-density private estate close to greenery. 
According to Ms Chng, as Lentor Modern is the first development to be built in Lentor under the GLS programme, it has a lot of potential to value-add to the location. It will also set a benchmark for other developments to follow.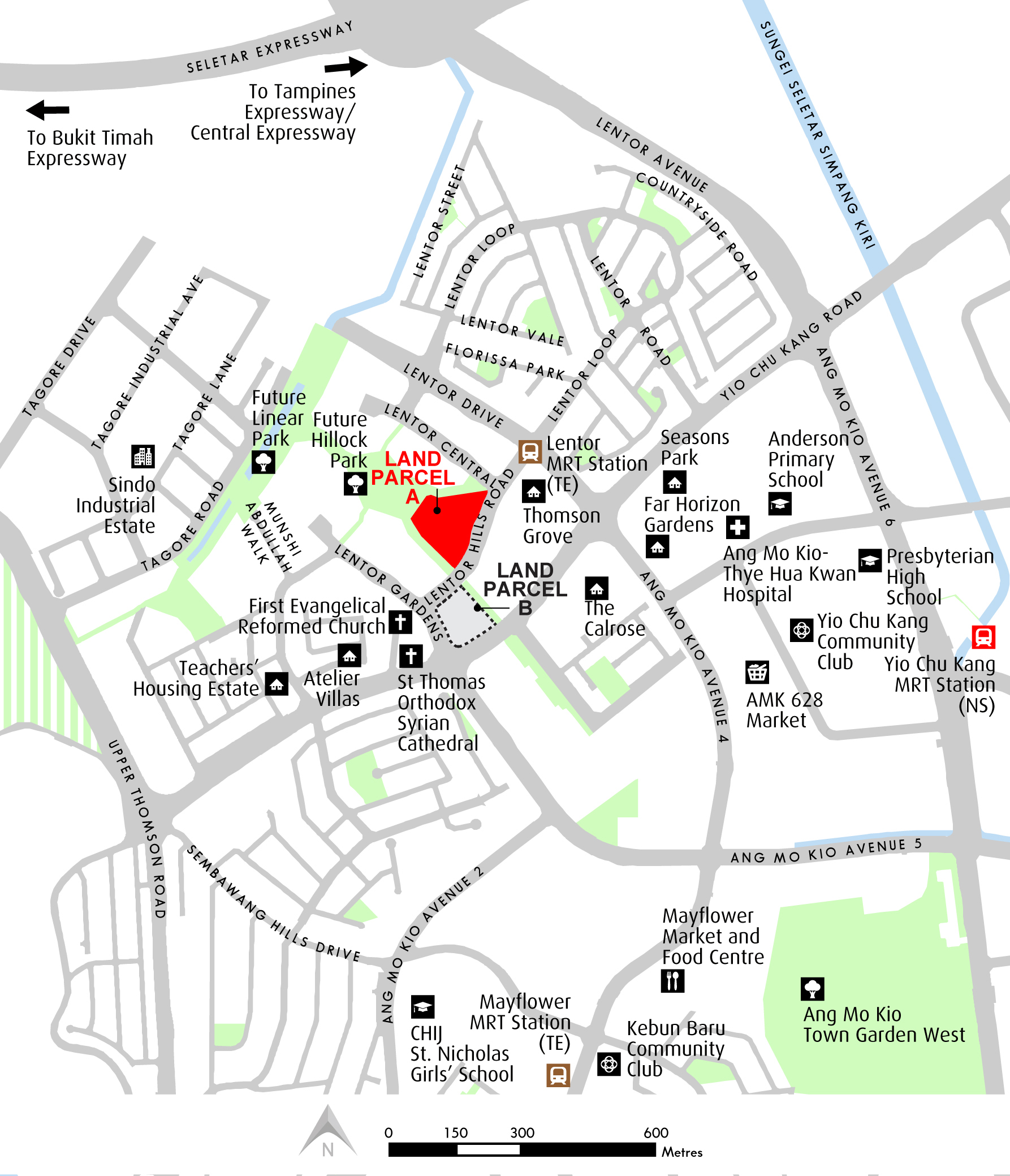 GuocoLand will also be developing another GLS site, Lentor Hills Residences, together with Intrepid Investments and TID Residential. 
For GuocoLand and Ms Chng, their contribution to Lentor will change the course of the estate for many years to come, "You don't often get an opportunity to go into an entirely private homes enclave. Not many places in Singapore provide that. I think it presents an opportunity for us to showcase our strength in being able to transform (neighbourhoods) and eventually, placemake."
Find out more information about Lentor Modern on our 99.co portal and read our review of Lentor Modern for a more in-depth analysis.
–
Upcoming Freehold Condo Launch: The Arcady @ Boon Keng
About Faruq Senin
Faruq covers New Launch condo showflats in Singapore and writes comprehensive reviews of them. Outside of work, he is a foodie who enjoys going to cafes, exploring new places and travelling (pre-covid).
Looking to sell your property?
Whether your HDB apartment is reaching the end of its Minimum Occupation Period (MOP) or your condo has crossed its Seller Stamp Duty (SSD) window, it is always good to know how much you can potentially gain if you were to list and sell your property. Not only that, you'll also need to know whether your gains would allow you to right-size to the dream home in the neighbourhood you and your family have been eyeing.
One easy way is to send us a request for a credible and trusted property consultant to reach out to you.
Alternatively, you can jump onto 99.co's Property Value Tool to get an estimate for free.
If you're looking for your dream home, be it as a first-time or seasoned homebuyer or seller – say, to upgrade or right-size – you will find it on Singapore's fastest-growing property portal 99.co.
Meanwhile, if you have an interesting property-related story to share with us, drop us a message here — and we'll review it and get back to you.
Join our social media communities!
Facebook | Instagram | TikTok | Telegram | YouTube | Twitter