Hougang
Tags:
Populous
Residential
Mature
Residents of Hougang are served by a plethora of amenities, including the Heartland Mall, BreadTalk IHQ, Hougang Swimming Complex and the upcoming M Square shopping mall. Neaby, Kovan Sports Centre provide a variety of sporting activities, even those less common such as Bubble Soccer and Archery Tag. Meanwhile, more homes such as   Jade Residences and Sky Green will finish construction over subsequent years as part of the upgrading program. Kovan Melody, Kovan Residences, Trilive and Parc Vera condominium are among existing apartments. Schools in the district include Xinmin Primary School, Montfort Secondary School, Cedar Primary School and At-Sunrice GlobalChef Academy. Serangoon Junior College, Xinghua Primary School and Yuying Secondary School are also located near Kovan and Hougang stations servicing the neighborhood. For employment opportunities, Tai Seng train station brings residents to an industrial estate comprising of multiple companies such as Charles & Keith, Sakae Holdings and DHL.
Summary
Step foot into Hougang, the most populous town in the North-East Region of Singapore. The mature residential estate is encircled by some of Singapore's other major areas: Punggol on its North, Upper Serangoon Road on its South, Sungei Serangoon on its East, and Yio Chu Kang on its West.  As of 2015, the Hougang New Town estate's land area is so expansive, that it boasts the title of Singapore's largest public housing estate, with over 51,000 housing units. The area owes its development to its rich history. 
The Hougang neighbourhood derives its name from its unique positioning. "Hougang" is the romanised version of "Au Kang", a Fujian and Chaozhao term that is interpreted to mean "the end of the river". In fact, the Hougang neighbourhood demarcates the area that extends from the seventh milestone junction where Upper Serangoon Road and Tampines Road 2, to the fifth-milestone junction of Yio Chu Kang. 
To date, it is this that starts friendly arguments about whether the area is meant to be pronounced as "Hou Kang", or "Hougang". In actuality, both names are correct, as the former was modified to "Hougang" as part of Singapore's Speak Mandarin Campaign, which sought to simplify the language environment with reduced use of dialects. 
As with many other neighbourhoods in Singapore, the area holds a history of agriculture and livestock. Pig farms were what once occupied the predominantly forested land. The Chinese Teochew community populated what we now know as Hougang. 
Cultural forms were vibrant and ever-present, with performing arts that now make parts of Singapore's iconic nostalgic arts. Chinese opera (wayang) and street food defined the identity of one particular residential village that took two names: Tua Jia Ka Village, meaning "foot of the big well", and Somapah Serangoon Village. One would also encounter the engrossing tales of storytellers, and the nurturing ways of Chinese medicine men. 
In the south of Hougang, where Upper Serangoon ends, was the Kangkar Fish Market, originally established in the 20th century by Catholic missions. The needs of a growing population and urbanisation soon gave way to a part of Hougang New Town, which replaced the market in 1983. The market sold fresh seafood, as it served as a river docking point for fishing boats. At the docks, sampans would ferry children to schools for a mere 2 cents.
Hougang - Stay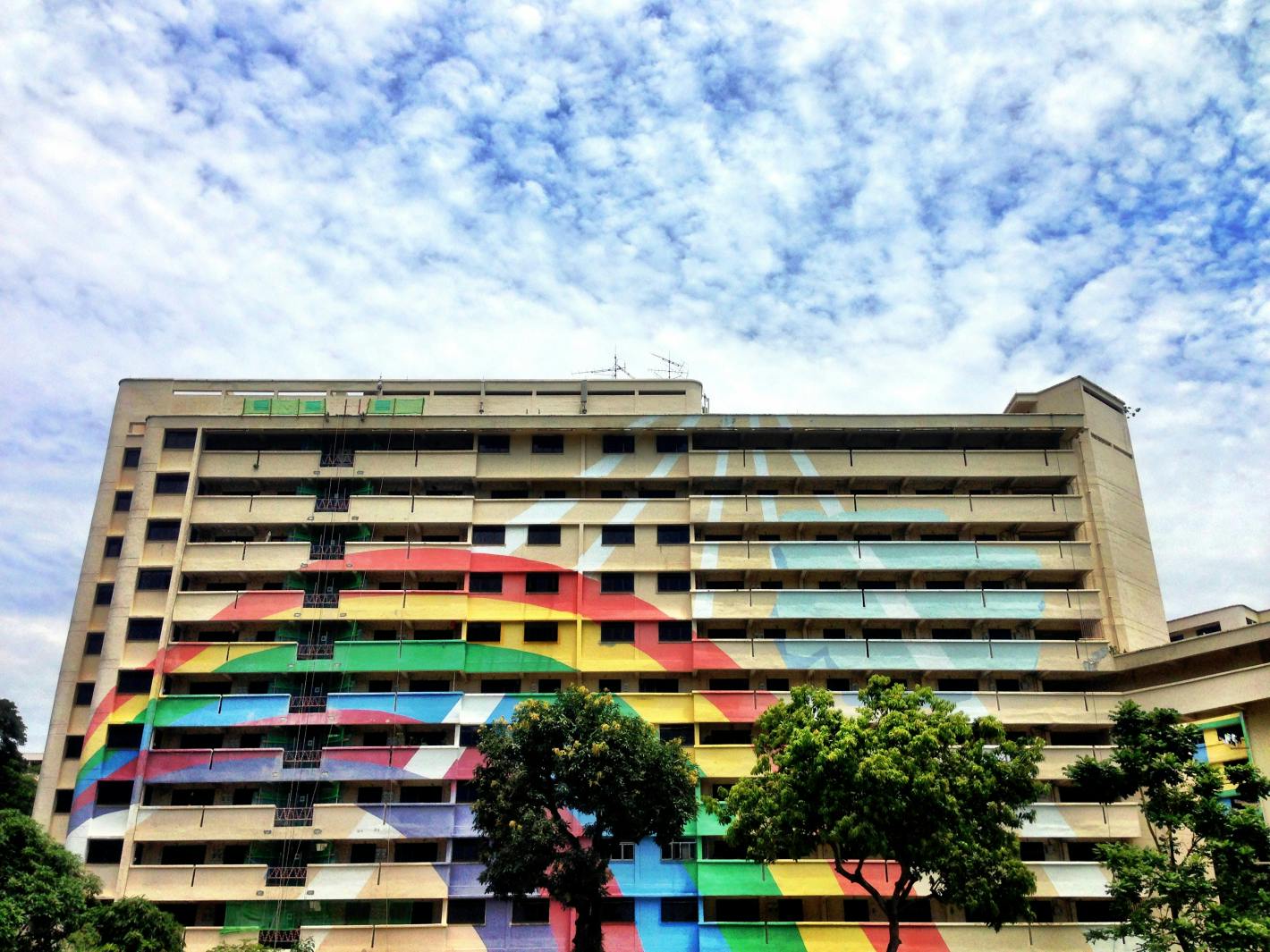 Hougang has some of the sexiest HDB estates in Singapore, and we say "sexy" for good reason. The Housing Development Board put a great deal of effort into making Singapore's flats have flair and personality. Hougang's personality came in the form of flats that were meant to have shapely curves. Two blocks of homes in Hougang Avenue 2 have rounded columns, balconies and railings, and a block of HUDC mansionettes there come adorned with Spanish-styled architectural features. 
Today, Hougang is populated with new, rejuvenated estates that use land efficiently. The residents are a close-knit community, as the architecture of Hougang New Town presents numerous opportunities for interaction, with the town's shops circling around a focal point instead of being scattered. 
If you're looking to stay, perhaps you might consider a condo in Hougang. Hougang condominiums have a reputation for being surrounded with plentiful amenities of all sorts. Condominiums like Riverfront Residences and Riversails offer opulent lifestyles right from the heat of the heartlands. 
In total, Hougang is populated with ten diverse subzones. They are Defu Industrial Park, Hougang Central, Hougang East, Hougang West, Kangkar, Kovan, Lorong Ah Soo, Lorong Halus, Tai Seng, and Trafalgar. 
Hougang - Eat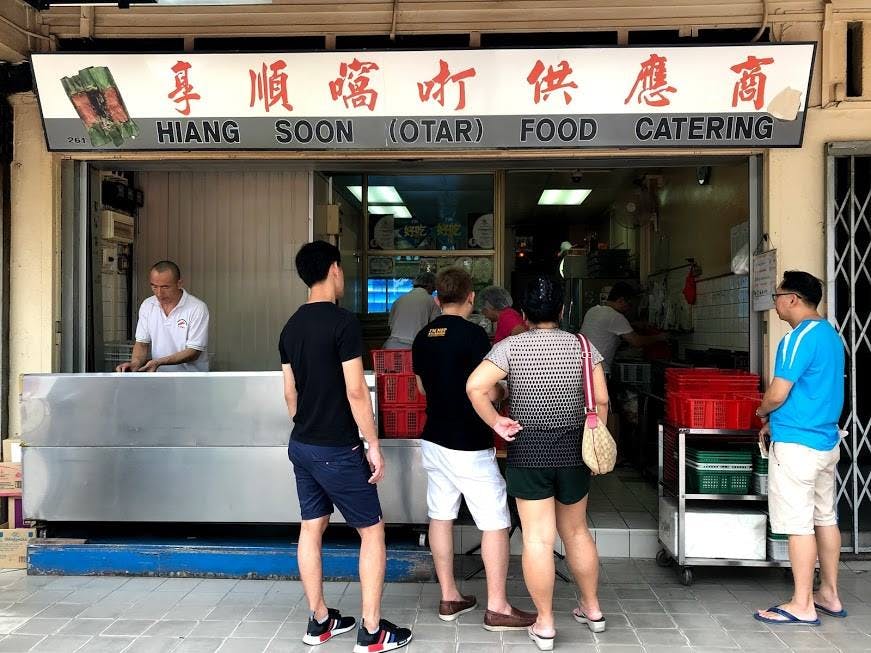 An area so gargantuan and well-equipped is bound to hold many scrumptious gems, both hidden and famous, affordable and expensive. So if you're looking for something to eat in Hougang, you won't be disappointed. 
There's nothing like a piping hot plate of good, Singaporean food, and if it's greasy, all the better. Ci Yuan Community Centre's Hawker Centre has a well-known stall called Fatty Fried Hokkien Prawn Noodle/Carrot Cake. On a weekend, you can expect queues of at least 15 minutes. The hokkien mee comes with generous morsels of squid and pork meat, as well as some juicy prawns. 
Venture toward Hougang Street 61 for a traditional Singaporean breakfast of porridge. Sin Heng Kee Porridge deals in the comforts of Cantonese porridge, The porridge will be a party in your mouth, with numerous ingredients like pork slices, pig's intestines, pork meatballs, cuttlefish slices, and fish slices. The dish can be completed to taste, with a raw egg, and a sprinkling of white pepper. 
Opt for a pick-me-up with fragrant spicy fish smoked in banana leaves. Hiang Soon (Otar) Food & Catering sells spiced fish otak-otak, to winding queues of buyers, for just 60 cents a stick.
Something else that's worth sinking your teeth into is some crispy, fluffy prata. Al Falah Restaurant makes the dish particularly well, some even calling it the crispiest prata in Hougang. Give yourself the satisfaction of breaking a silken egg yolk bubble and devouring it with a plaster prata that costs just $1.50. And if you take comfort in the simpler joys, a plate of plain prata for just a dollar. 
Hougang - Drink
If you're in Hougang, there are plenty of places for you to stop at for a drink. A pint of beer or a warm mug of coffee? Whichever your answer, we here at 99.co know a spot (or ten)!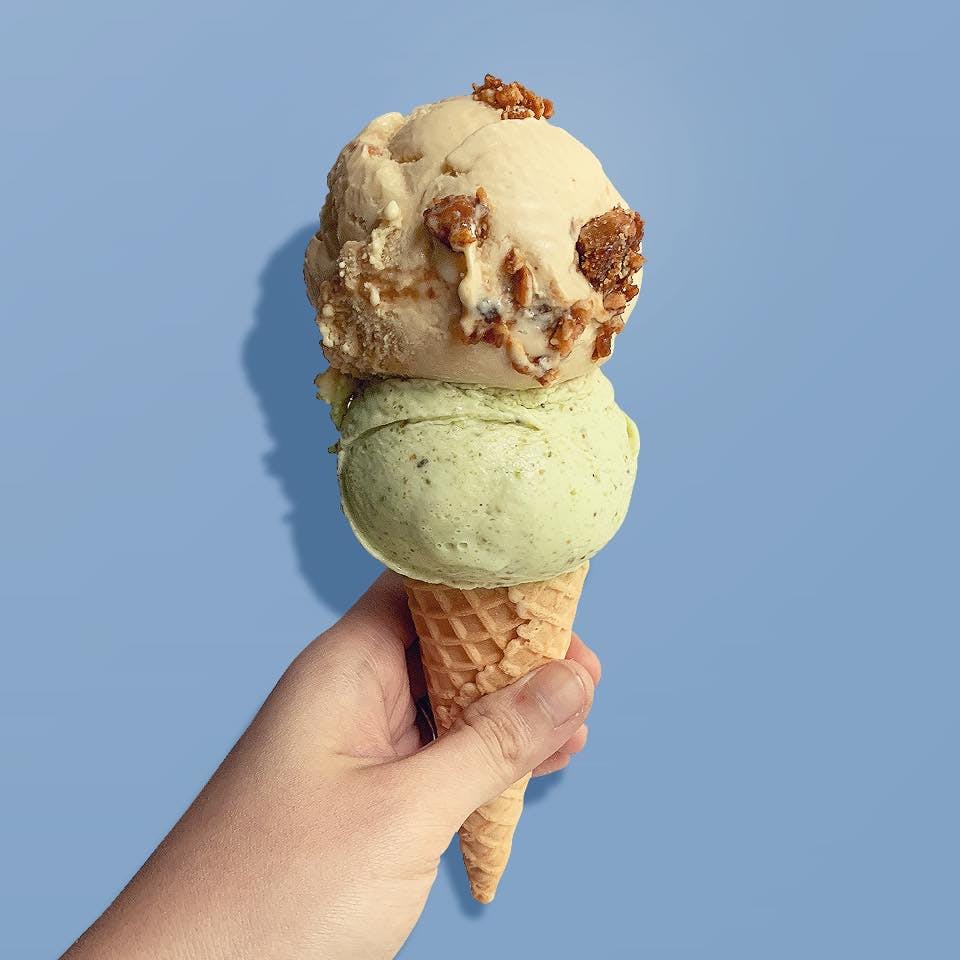 Head to Lickers Cafe with a cheerful, urban vibe. Settle into a cappuccino or cool your body with scoops of classic ice cream flavours for just $3.80 a scoop (basic flavours). Some of these flavours include Chocolate and Earl Grey. The cafe also offers a particularly unique and eccentric flavour. Maybe you'll want to try a scoop of Yakult Oreo ice cream, a flavour that many can vouch for. Complete the set with a waffle, which costs $10 with two scoops of ice cream. 
If you don't feel like sipping on some ice cream, head to Lola's Cafe for some handcrafted basil mint lemonade, or to Afters Bakery Coffee for a mug of traditional Nanyang Coffee. 
There are also plenty of bars in the area, one of which is Tachinomiya. The bar seeks to bring the Japanese izakaya experience to Singapore and was the first Japanese bar to be at the foot of an HDB block. Grabbing a beer couldn't possibly be easier. Apart from towers of Asahi Dry beer, the bar also sells snacking plates like Cheese Mentaiko Scallops and Mentaiko Salmon Yakitori. 
Good news always travels by word of mouth, and residents of Hougang swear by some other bars in the area as well, including Grapevine Cafe Bar & Restaurant, and the well-known bar chain, Harry's.
Hougang - Shop
Malls are aplenty in Hougang, and shopping will never be a hassle. 
The Heartland Mall next to Kovan MRT station caters to many residents' necessities. Amongst 112 outlets, some of the shops in the mall include Cold Storage Supermarket, Japan Home, and a Popular bookstore outlet. Hougang Mall, previously known as the NTUC Hougang Mall, provides many retail options, such as a Bata, Cotton On, and The Body Shop. Hougang Mall also has a Singpost outlet. 50-year-old mall Hougang One is a choice entertainment venue with numerous food, healthy, and retail options available. 
If you're looking to stay away from the crowds, seek one of the heartland malls of Hougang. Kang Kar Mall. Along with other shops, the humble mall has an NTUC Fairprice and a hawker centre to tend to the needs of a quiet weekend. 
Hougang - Play
Hougang Sports Centre, also known as the Hougang Sports & Recreation Centre is where many of Hougang's residents from the mature estate that surrounds it. The sports centre has many ActiveSG facilities, a gym and badminton courts being amongst them. 
Kovan Sports Centre has some particularly fun things to do. Try your hand (or feet) at water soccer, futsal, bubble soccer, or archery tag.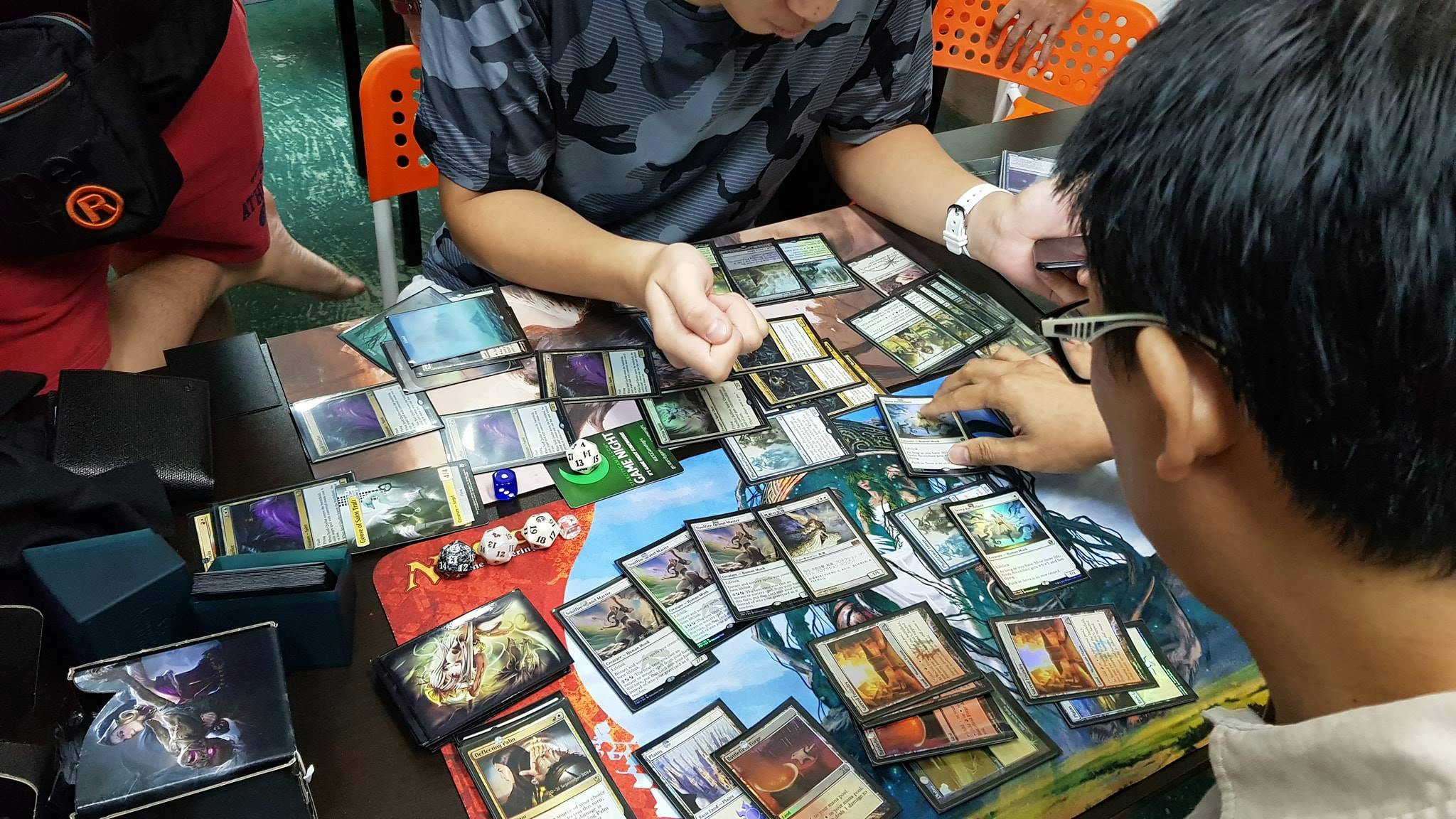 For days when you feel like comparing character statistics with a comrade, head to Dueller's Point, one of the few game shops that remain in Singapore. The store specialises in trading and living card games, alongside miniatures. Vanguard, Magic: The Gathering, and Dungeons & Dragons are some of what you'll find happening at Dueller's Point. 
Nature seekers can occupy themselves at Punggol Park, just ten minutes away from Hougang MRT station. There are 16 hectares of nature to traverse here, around the large, serene Punggol Park Lake. 
Hougang - Learn
Numerous schools service the Hougang neighbourhood. Xinmin Primary School, Punggol Primary School, CHIJ Our Lady of the Nativity, and Holy Innocents' Primary School cater to children in the area. There are also a handful of secondary schools in the area, namely Bowen Secondary School, Montfort Secondary School, and Serangoon Secondary School. Montfort Junior College and Serangoon Junior College are also schools that students across Singapore come to study at. 
Hougang - Move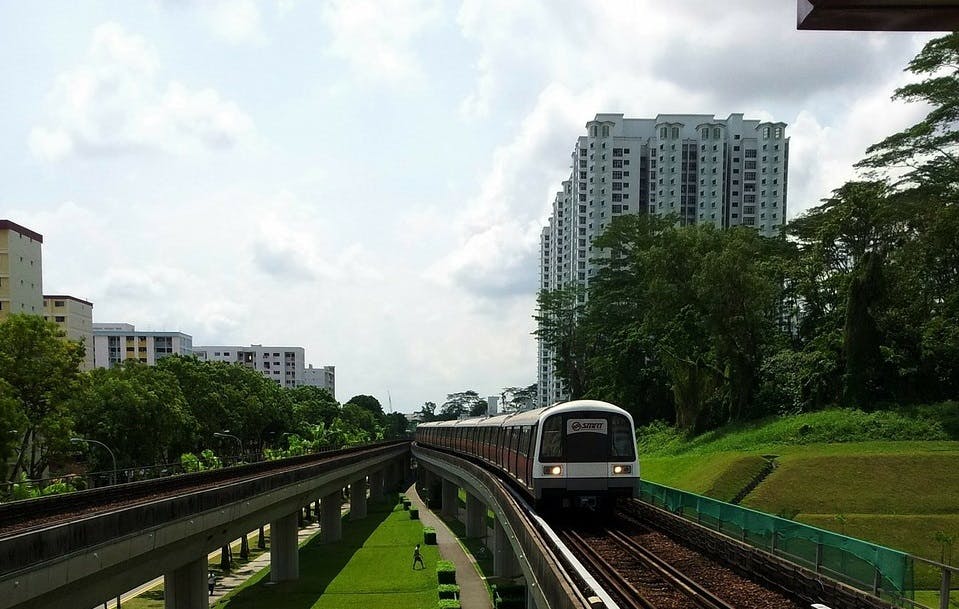 With the construction of the Cross-Island Line, the Hougang MRT station is set to become a major interchange. The Hougang station currently sits on the North-East Line, along with Kovan MRT station, which also services the area. The soon-to-cone Defu station on the Cross-Island Line will also boost both the accessibility and the property value of the Hougang area. 
For commute in private vehicles, the Hougang neighbourhood has access to two major expressways, the Kallang Paya Lebar Expressway (KPE) and Central Expressway (KPE). 
Hougang - Cheng San Public Library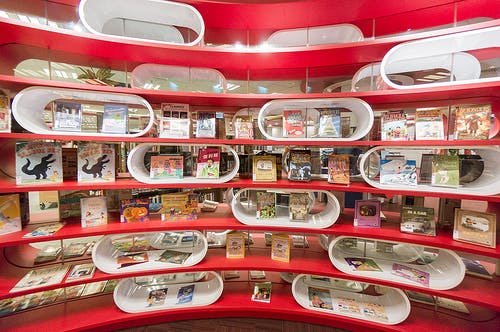 With 178,068 books, 2,630 audio-visual items, 4,653 serials, and local newspaper titles, Cheng San Public Library has been serving the residents of Hougang and the surrounding neighbourhoods since it was first opened in 1997.  The library now covers an area of 1,467 square metres and is situated within the Hougang Mall. Thus, it is really easy to reach this artistic library. One of the unique thing about the place is the artistic spaces which feature artworks and help to promote art appreciation to the community. The library is also designed to have the feel of an art gallery with walls and ceilings that break up the monotonous profile. Even the book display areas are also designed in unique and artistic forms, offering an interactive function to the visitors. In Adults and Young People's Collection, you can find approximately 85,538 volumes covering different languages and different comprehensive levels. There is a large variety of non-fiction books as well, including Business, Finance, Health and Fitness, Cookery, Recreational and Travel Guides. As for the Children's Collection, it includes books for babies, picture books for preschoolers, and many others.
Hougang - Parks and Gardens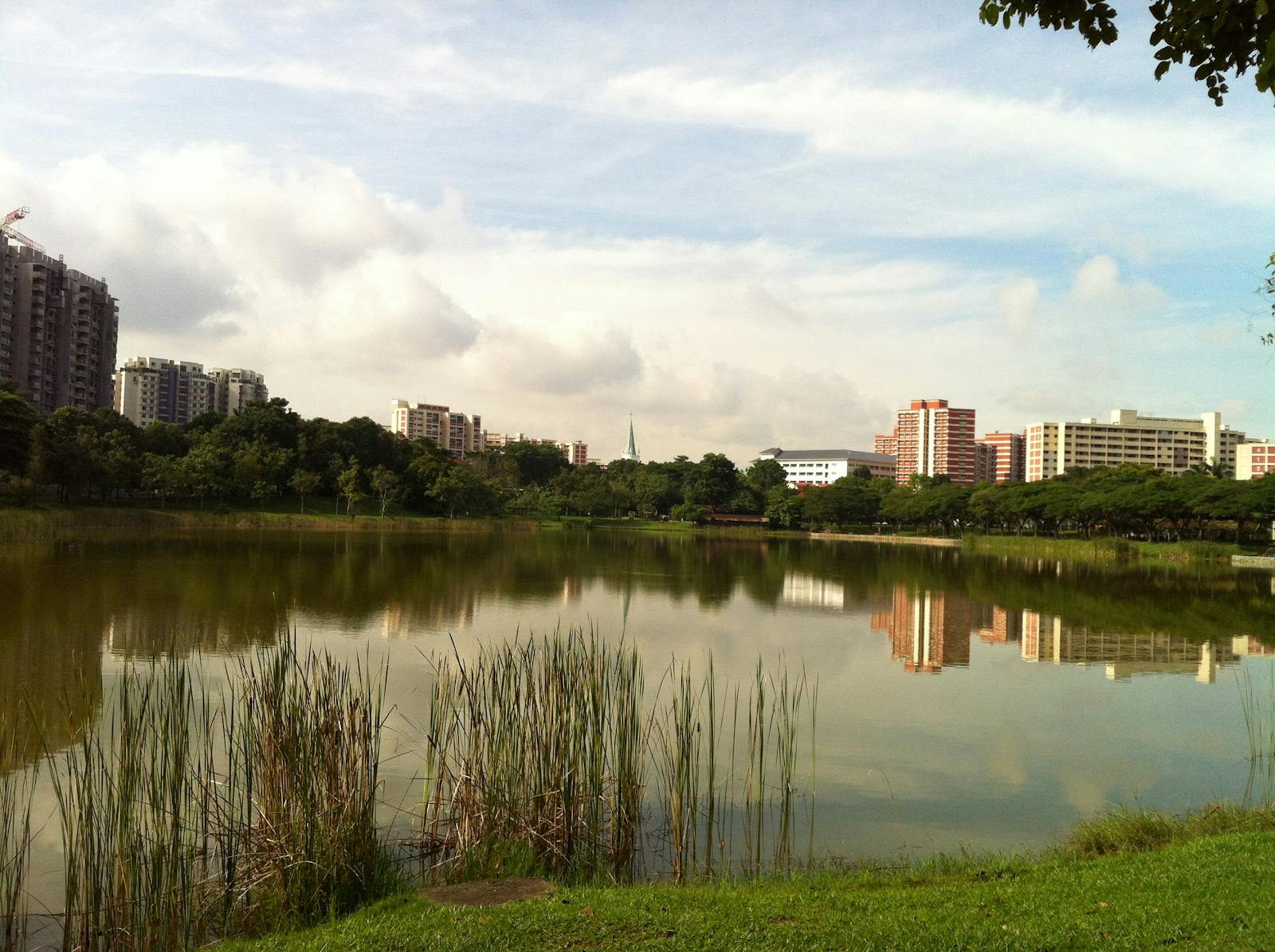 Take a 15-minute walk from Hougang MRT station and you will find yourself one of the popular public parks in Singapore, Punggol Park. There are lots to see and do when it comes to this recreational destination. In Punggol Park, you can see children playing around and having their adventures in the playground while older folks actively engage in Tai Chi in the plaza area. Visitors can have picnics under the shady trees which provide a lush and cool area to soak in the peaceful surroundings while gathered amongst friends and family. There are also designated tracks for avid cyclists and the park's fishing promenades for the anglers. Another public park worth visiting is the Hougang Neighbourhood Park. Located at 332 Hougang Ave 5, it offers a beautiful spot for nearby residents to get away from the bustle and hustle of the city. Hougang Neighbourhood Park has lots of facilities such as playground areas, picnic areas, as well as sports facilities including outdoor gym equipment and football pitches. Several other options for your recreational activities in the open include Maplewood Park, Realty Park, and Ci Yuan Sports Park.
Hougang - Sports Facilities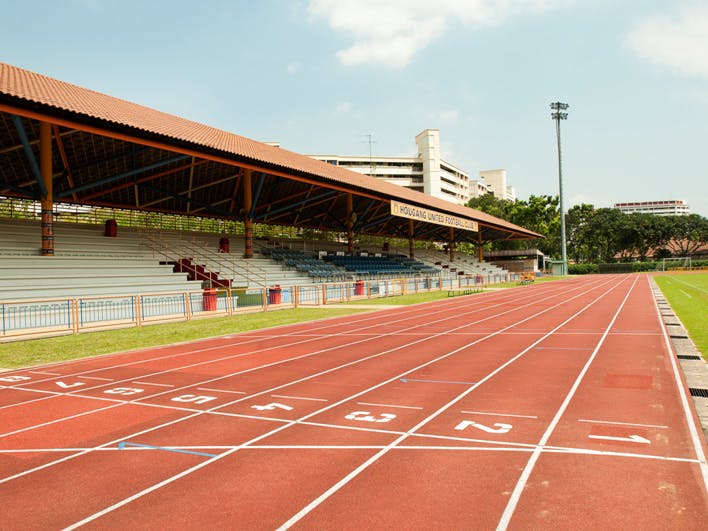 Sports enthusiast will love to live in the Hougang Neighbourhood with a host of sports facilities in town. Hougang Sports Centre can be found on Hougang Ave 4. It consists of a sports hall and badminton courts, as well as a public gym operated by Sport Singapore. You can also find the Hougang Swimming Complex nearby which facilities include teaching, competition, and wading pools. There are swimming lessons available as well throughout the week consisting of adult classes and kids classes. As for the stadium, you can find Hougang Stadium at the junction of Hougang Avenue 2 and Hougang Avenue 10. It is currently used mostly for football matches and is the home stadium of Hougang United FC. The public can use the facilities from 4:30 am to 8:30 pm daily, unless it is exclusively booked for a sporting event. The stadium which has a capacity of 3,800 people is also used for Rugby matches and bowling competitions.
Shortlist folder is empty
Search for listings to shortlist