Raffles Place
Tags:
Business District
Highly Accessible
Entertainment
As Singapore's downtown core, numerous commercial buildings and cultural landmarks can be found in the central business district. Notable buildings include the UOB Plaza, One Raffles Place, Republic Plaza, One Raffles Quay and OCBC Centre. Along the waterfront, The Esplanade Theatres on the Bay, one of the busiest art centers in the world can be reached via the Promenade and Esplanade train station. Attractions like the Singapore Flyer, Merlion Park and Marina Bay Sands Light and Water Show are all nearby.  Down south, Bayfront and Marina Bay train station brings residents to Marina Bay Sands casino, Gardens by the Bay and Marina Barrage. Housing apartments including Emerald Garden, Sail @ Marina Bay, Marina Bay Residences and the upcoming Marina Bay Suites, provide residents employment prospects near home. Meanwhile, dining, shopping and entertainment options are offered at CHIJMEs, Suntec City Mall and Raffles City. Downtown and Tanjong Pagar train station also serve this neighborhood.
Summary
Shortly after his arrival in 1819, Sir Stamford Raffles designated Raffles Square as the location for Singapore's first commercial centre. His vision for the island was as a "great commercial emporium" and he set his sights on the southwest bank of the Singapore River as the anchor location to realise his vision.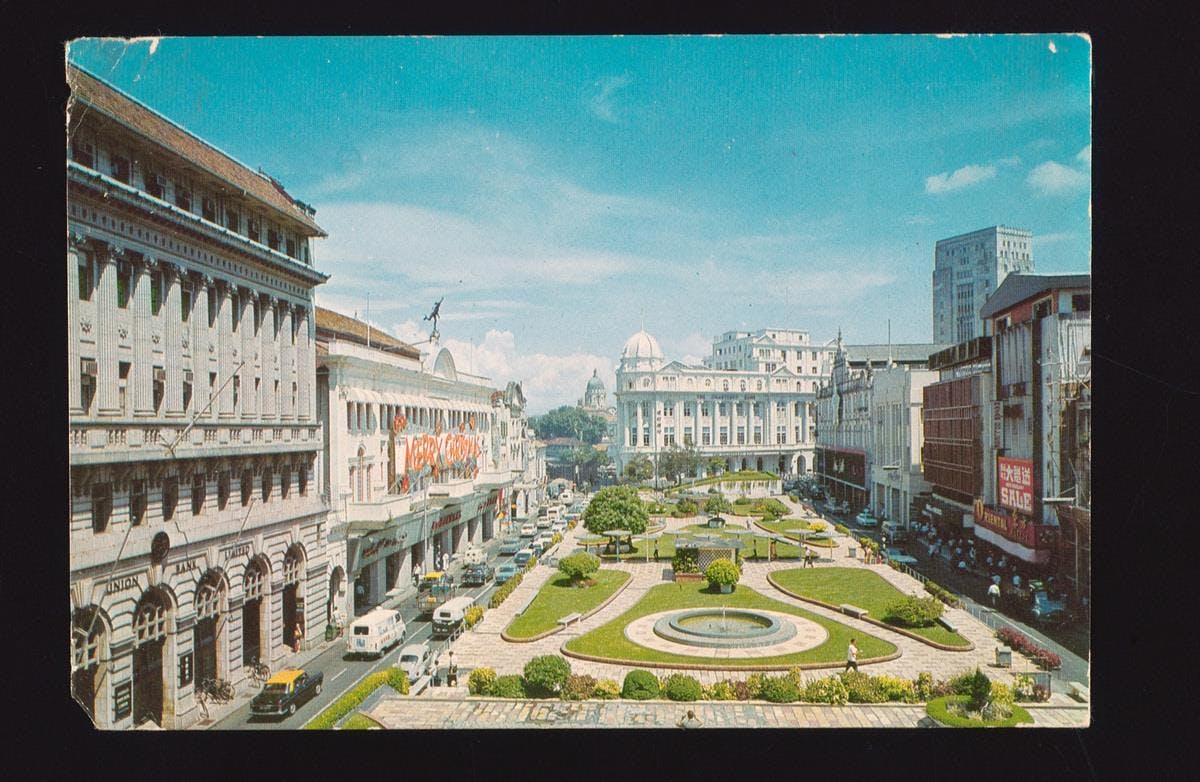 Originally a swampy area, the southwestern bank of the Singapore River had to be reclaimed for the intended use of a commercial centre. Levelling a hill to form the perimeter of Commercial Square, the displaced earth was then used to fill in the swampy surface to form Boat Quay. The southwestern bank eventually became the land which Fort Fullerton eventually stood. Additional ground raising efforts led to the formation of Battery Road and the other streets leading up to the then-named Commercial Square.
Raffles' foresight for the location proved to be successful with traders from around the region and the world making their way to Singapore's new Commercial Square to set roots here. In March 1858, Commercial Square was renamed to Raffles Place in honour of the Sir Stamford Raffles.
However, the location has faced some troubles in its history. The site of targeted destruction by the Japanese during World War II, subsequent efforts to rebuild the area were greatly damaged by the Robinson's Department Store fire in 1972.
Regardless of past tribulations, Raffles Place once again gained traction and recovered over the decade, leading to the launch of the Raffles Place MRT station in 1987, and the subsequent opening of the OUB Centre on the 8th of August 1988.
In the three decades or so since, Raffles Place has flourished into Singapore's premier financial district, retaining its significance despite the emergence of newer corporate zones and the expansion of the Central Business District (CBD).
Raffles Place - Stay
Raffles Place is where some of Singapore's most envied homes stand, towering resplendently above the buildings that surround and offering breathtaking views of the well-lit Singapore skyline.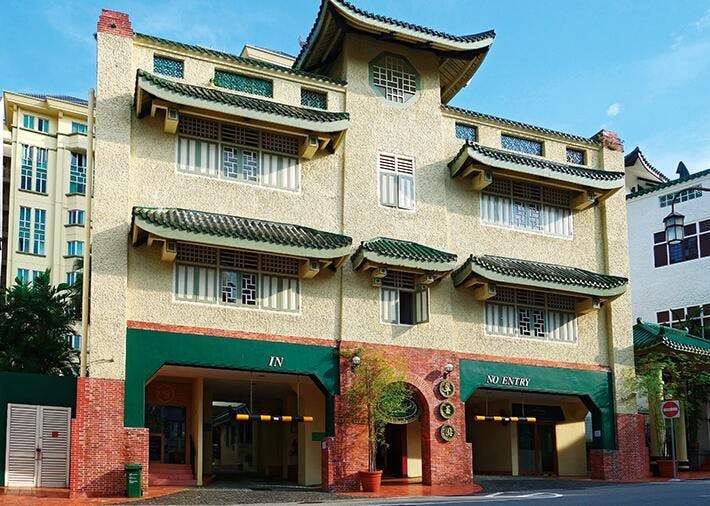 Keeping to the theme of the area's general appearance being posh and urban, there are no HDB flats in the area, with the nearest ones being closer to neighbouring areas like Clarke Quay and Chinatown. The closest HDB apartment homes available for rent or purchase stand at roads like Upper Cross Street and Smith Street. 
Some of the reputed condos in Raffles Place include The Sail with service apartments at Marina Bay which is just 300 metres away from Raffles Place MRT station, and Emerald Garden condo, an exclusive jade-tinted condominium with a 999-year leasehold. 
There are numerous modern luxury hotels in the Raffles Place neighbourhood, especially given that it's in the CBD, where numerous major business events take place. Some of these sleek, contemporary hotels include The Fullerton Bay Hotel, Ascott Raffles Place, The Fullerton Hotel, and Swissôtel The Stamford.
Raffles Place - Eat
Raffles Place is well-equipped with quality food options to cater to the sophisticated, business-driven needs of people that live or work there. However, dining there on a day-to-day basis, especially if you're working in the area, can be a little harsh on the wallet. 
There are many food establishments housed in Raffles Place MRT station, One Raffles Place, Ocean Financial Centre, Clifford Centre, and UOB Plaza and 99.co has compiled the list of food places you should check out for delicious and eye-opening meals.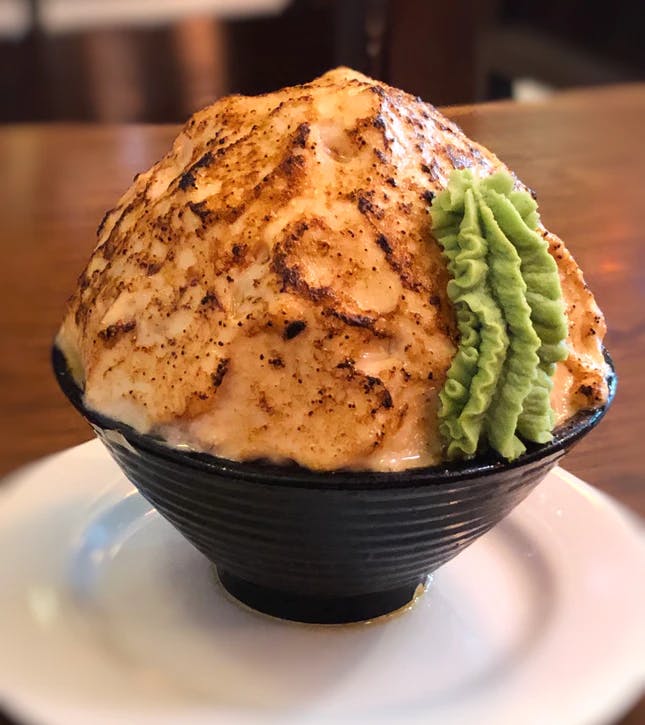 One Raffles Place has a great variety of healthy, delectable options. WHEAT Baumkuchen is an Asian and Japanese-style salad bar that fills stomachs while helping keep calories in check. Kotobuki is known for their towering sashimi bowls and with lunch sets that cost less than $20. Souperstar is another interesting option, serving up flavoursome popiah wraps with rich soups like Mushroom and Classic French Onion. The Munch Saladsmith & Rotisserie focuses on deli-style meals, open even from breakfast time at 7 am. 
Other hearty options in the area include Salmon Samurai, which is a sister restaurant of Tanuki Raw that serves build-your-own salmon donburi. You can even choose what type of salmon you'd like. Hans Im Glück serves delicious, healthy burgers with crispy sweet potato fries and housemade sauces. Patty-less naked burgers are also available, and if you can't resist the bread, you can pick between their sourdough and numerous multigrain buns. 
The Boat Quay and Circular Road area is frequented by professionals who work in the Raffles Place area, as well as people who enjoy the nightlife in the area. There are numerous famous affordable food choices, such as Ah Ter Teochew Fishball Noodle, and Shah Alam, an Indian establishment with food spicy enough to knock the slur right out of a drunk person. 
Raffles Place - Drink
Working in an area as competitive as Raffles Place warrants the need for a nice drink, and the place sure delivers.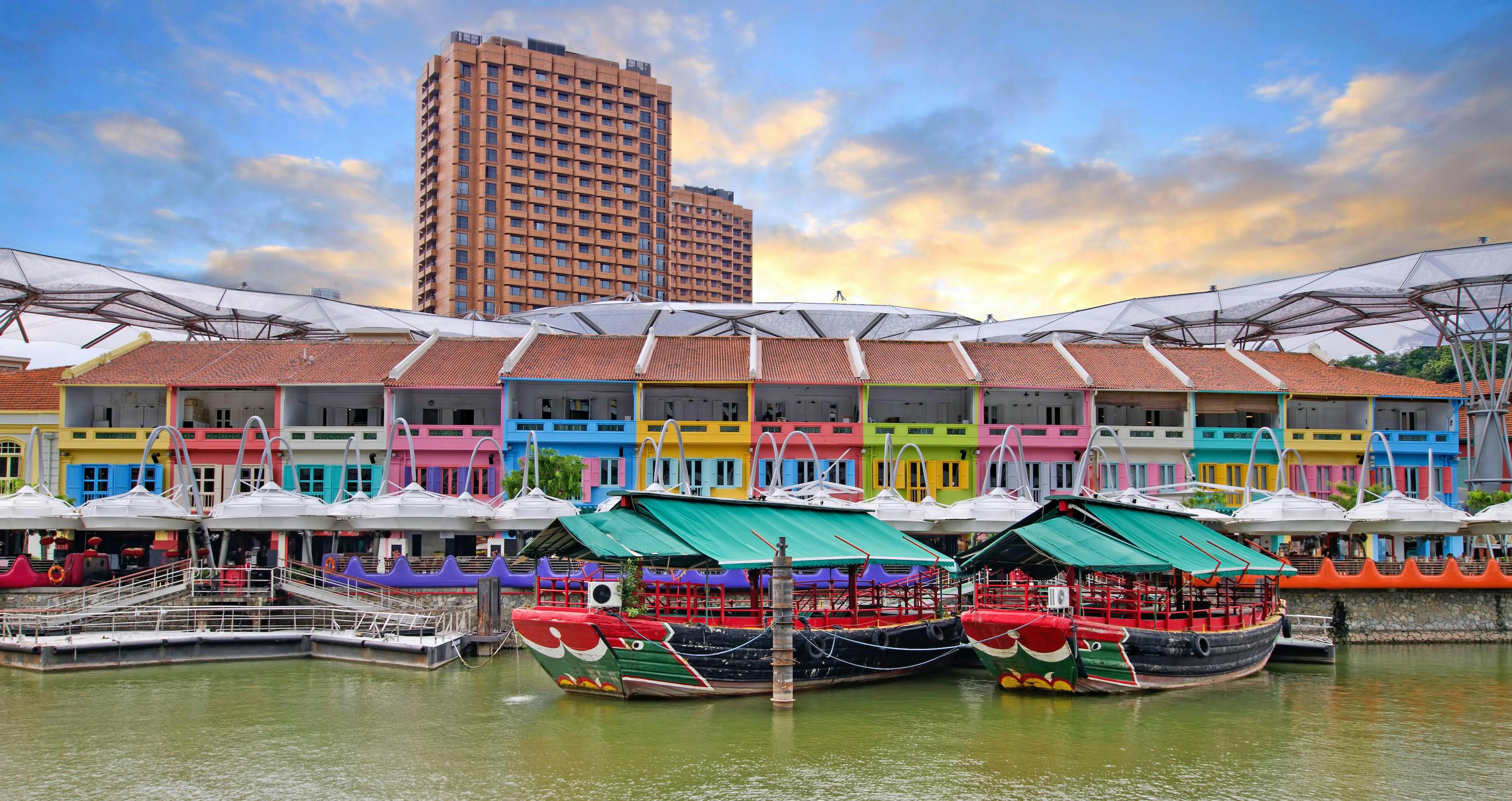 The Lighthouse Rooftop Bar at The Fullerton Hotel boasts one of the most gorgeous vantage points in the CBD, with wine, cocktails, and Italian food to accompany. 
The Secret Mermaid is one of those secret, offbeat drinking dens hiding in plain sight. The bar has some exotic craft drink selections on their menu, like the smoked salmon vodka. The bar has limited seating though, so you might want to head by early. 
Singapore's cocktail culture is expressed better nowhere than it is at 28 HongKong Street, a speakeasy bar that specialises in a myriad of cocktails that can engage your palate on many levels, with multi-sensory drink experiences. 
If you're looking for an option that's wholesome, fun, and just bursting with flavours, Super Loco is a Mexican bar at The Quayside that deals in overflowing jugs of margaritas and juicy tacos. Non-alcoholic agua frescas are also available here. 
Raffles Place is also home to an area full of Singapore's favourite watering holes, Boat Quay! Many bar dwellers prefer Boat Quay to the louder Clarke Quay for experiences grounded in relaxed, entertaining nights. With plenty of long standing bars like BQ Bar, Mogambo Bar, and Penny Black to choose from, the night will almost never get boring with the bar-hopping options available. And if you're looking to hit the clubs, a ten-minute walk will get you to Clarke Quay, a collection of Singapore's best nightlife and lifestyle options. 
Raffles Place - Shop
Raffles Place has a few major areas that you can shop from, namely One Raffles Place and Raffles City Shopping Centre, as well as some other fringe options. 
One Raffles Place holds numerous international fashion brands, with over 100 lifestyle stores and dining options. A fashion fix can be sought at labels like H&M, Uniqlo, or Melissa. If you're looking to indulge in the finer things, show yourself some love at Pandora or Victoria's Secret. 
Raffles City Shopping Centre is part of an integrated project that merges retail, commercial, hotel, and convention centre aspects. Retail options are spread over five floors and offer over 200 specialty shops, alongside the anchoring Robinsons Department Store and Raffles City Market Place. 
Raffles Place - Play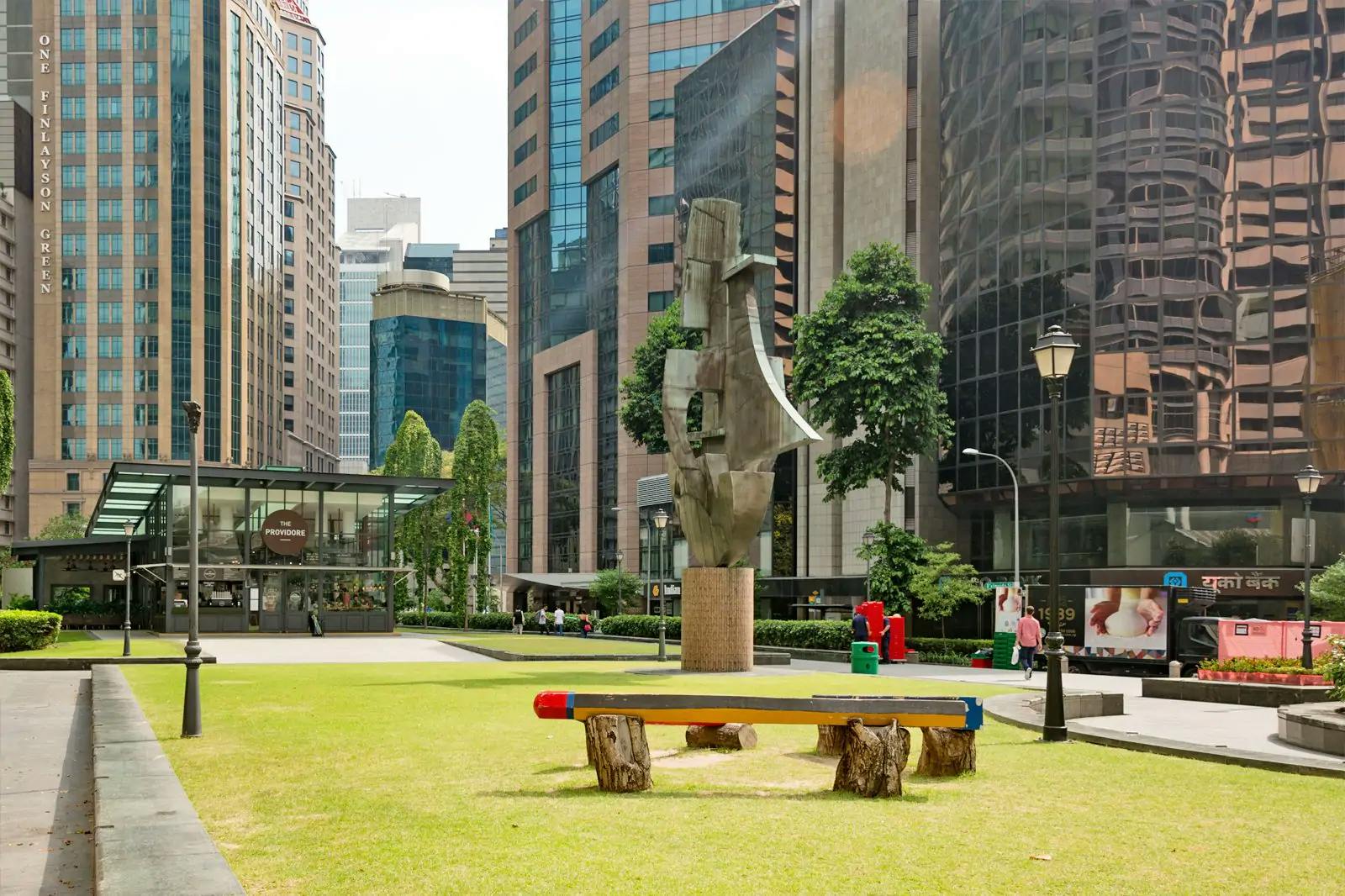 Smack in the heart of Singapore's financial centre, Raffles Place Park is the perfect spot to catch a breather from the hectic, commercial space. Professionals and passersby are often seen relaxing and resting on the platforms there, watching as people walk hastily to and from the buildings that surround. 
Show up at Raffles Place MRT Exit B to go walking with a bunch of walking enthusiasts from NTU, who go by the name of Singapore Footprints. The walking tours will engage both tourists and locals, leaving no stone unturned and unearthing just about every gem in the area. One of their tours takes place along the breathtaking banks of the Singapore River.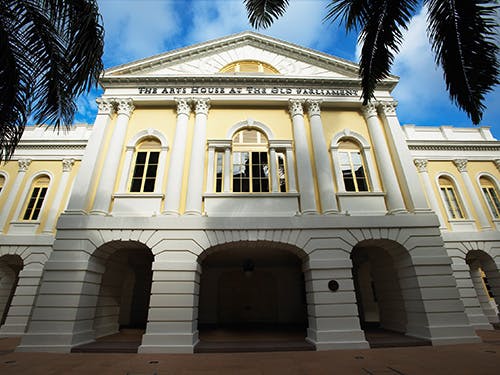 Cross a bridge from Boat Quay to visit a collection of Singapore's most prestigious art venues. The Arts House presents numerous art forms grounded in Singapore's history, and the National Gallery Singapore documents some of the most momentous occasions that the country has had. Victoria Theatre and Concert Hall is amongst Singapore's oldest performing arts venues, retaining its original neo-classical structure from 1905. The Asian Civilisations Museum is a mandatory stop if you're interested in Asian culture beyond the food and drink, with visiting galleries that stretch across three floors. 
Raffles Place - Learn
Sprawling mainly with buildings steeped in heritage and design, Raffles Place doesn't have many schools. The only schools in the area are outlet schools and childcare centres for infants, preschoolers, and kindergarteners. They are all tenants in the major buildings at Raffles Place, making it ideal for parents who work in the CBD to drop their children off daily. 
Schools in the area include: Tots and Teddies, Mindchamps Preschool @ One Raffles Place, and Rosemary Hall Montessori Childcare.
Raffles Place - Move
The financial heart of the island from the 19th century, it was important that the Raffles Place district be easily accessible to businessmen and customers alike. The mid-90s saw structural developments such as an underground parking lot in 1965.
In 1987, the district received an MRT station, which also became one of the two MRT interchanges along with City Hall. Like City Hall MRT station, Raffles Place MRT station served to connect the East-West line to the North-South line, which extended up to Yio Chu Kang.
While the immediate commercial square was serviced only by Raffles Place MRT station, as the Central Business District expanded, Tanjong Pagar MRT station also became a significant point of access. More recently, Telok Ayer MRT station and Downtown MRT station, both on the newer Downtown MRT line, have also begun servicing the area.
Raffles Place MRT station has since also gone on to extend its reach to facilitate commuters travelling for non-business purposes. Like its namesake, Raffles Place MRT station is just south of the Singapore River and is close to multiple points of attraction like Downtown Core, the Fullerton Hotel, Merlion Park, and Raffles Place Park.
Given the tight placement of buildings, and the cost of entering the Central Business District, driving to Raffles Place is largely discouraged. If the cost of entering wasn't already steep, the cost of parking would probably change your mind.
Thankfully, in addition to the many MRT options, Raffles Place is also well-serviced by a range of bus services such as 10, 57, 75, 107, 196, 700 and many more.
Raffles Place - Public Libraries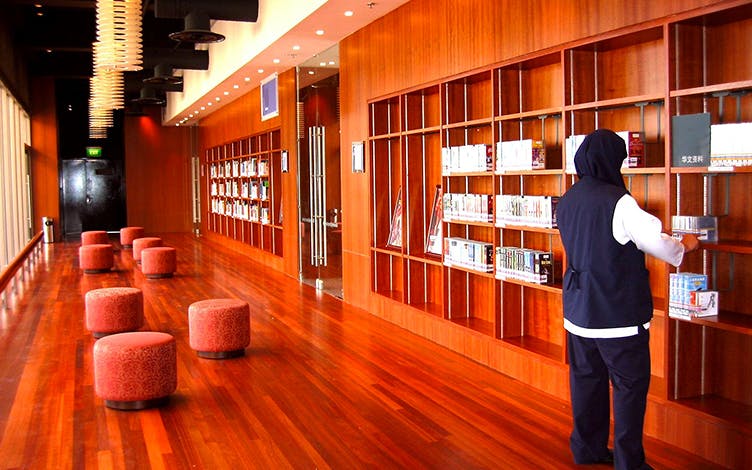 Raffles Place offers you not only one but two public libraries you can choose from based on your needs and preferences. Library@Esplanade, located on the third floor of Esplanade Mall at Marina Centre, is an exceptional public library you surely want to visit. It is Singapore's first public library dedicated to performing arts, seeking to enhance the understanding and appreciation of it from people from all walks of life. Some of Library@Esplanade's regular programmes include Esplanade Co.'s Festival programmes, SSO Pre-concert talks, music performances and recitals, talks by industry veterans and arts practitioners, as well as film screenings. Another option, located on an 11,304 square metre site in Victoria Street, the National Library building houses the Lee Kong Chian Reference Library, which is the country's largest public library, that offers you a comprehensive collection of publications which strength lies in the areas of history, politics, economics, socio-cultural development, and the arts. Moreover, there is also the Central Public Library as well which is home to My Tree House, the World's 1st Green Library for kids and is located at Basement 1 of the National Library building.
Raffles Place - Parks and Gardens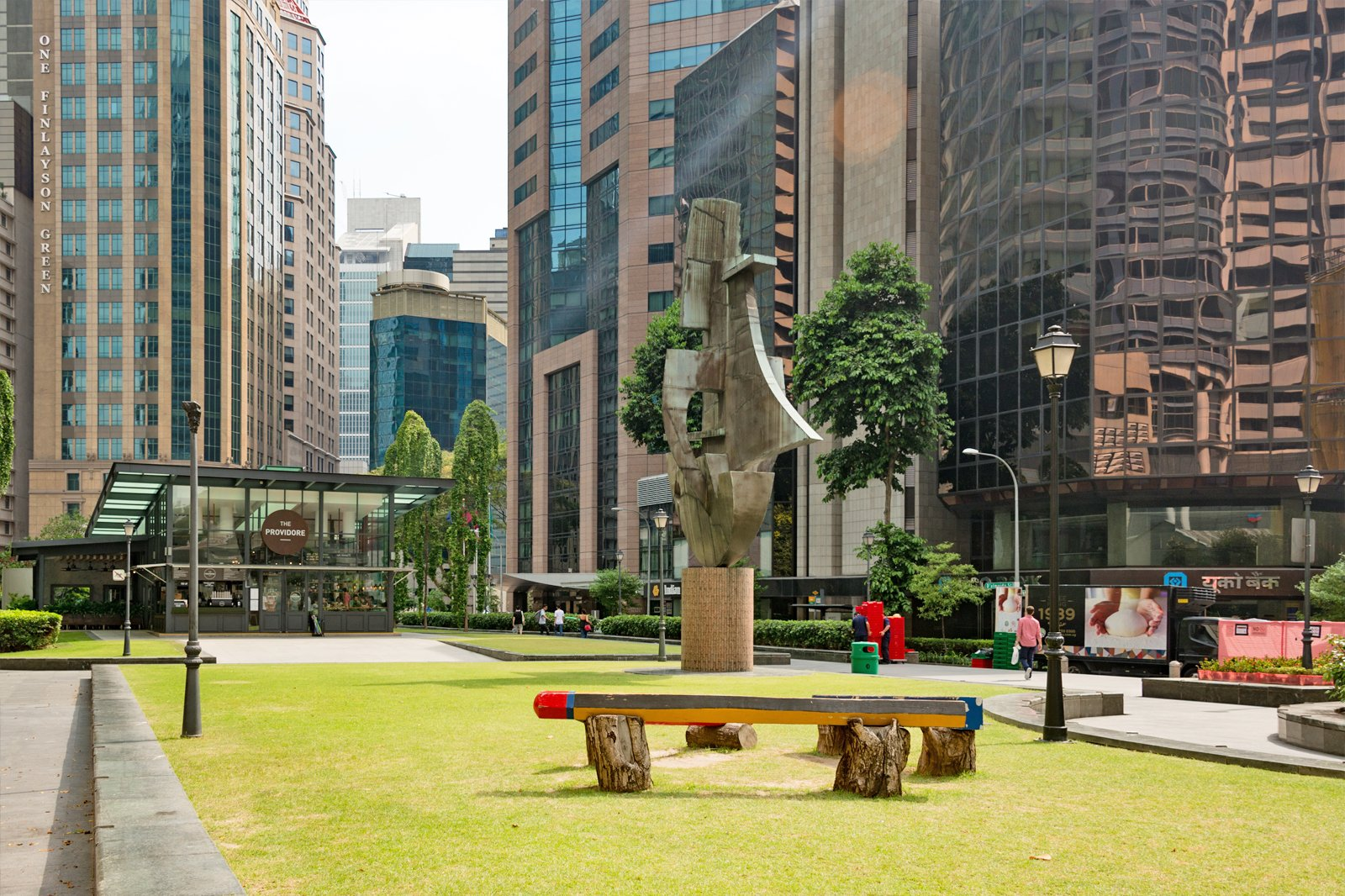 Within the heart of Singapore, there is a grassy field with over 0.6 hectares of parkland. It is Raffles Place Park, which has been a favourite destination for thousands of visitors throughout the years. While Merlion Park is a major tourist attraction in the Downtown Core district of Singapore, local residents might want something which can offer them a touch of tranquillity in the middle of the city. There are beautiful walking trails around the lake as well as throughout Raffles Place Park. It is really a favourite spot for those who work in the surrounding commercial buildings to relax and unwind. The lush Zoysia lawns on raised planters are the main feature of this park. These raised planters can also be rendered as a sitting platform for visitors.
Shortlist folder is empty
Search for listings to shortlist