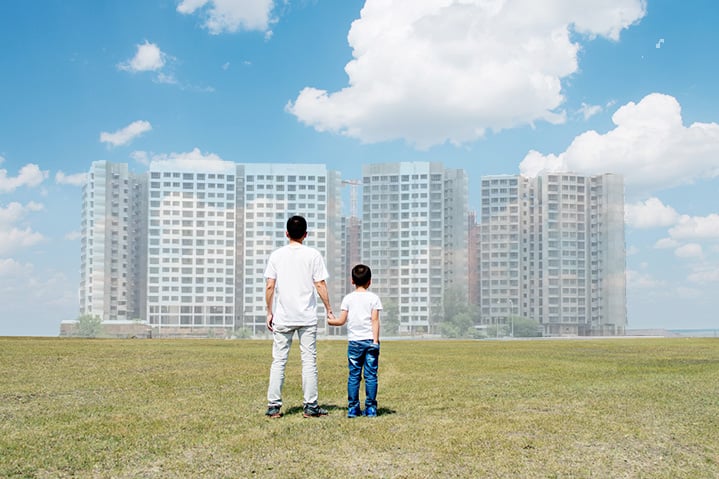 Lately, our ministers have a new pet topic: social stratification. Many of them have publicly stated the need to address Singapore's growing divide between citizens of lower socioeconomic status (low SES) and folks who seem to do staycations at MBS every month (high SES). Acknowledging this, Future PM Trade and Industry Minister Chan Chun Seng has reiterated that HDB will integrate rental flats with purchased units in upcoming built-to-order (BTO) flats.
But beyond a mumble jumble of jargon and preachy rhetoric, we haven't heard any actionable measures that can enable less well-off citizens to start climbing the social ladder. Sure, mixing new rental housing and purchased flats might create more compassionate communities, but low SES citizens can't use the information and say, I'll be earning 50% more money in two year's time, just because I'm living in the same block as high SES people!
Property, however, can potentially help these people break the low SES cycle if they make the right decisions. So this is our advice — specifically targeted at young adults who haven't yet bought a property. Hopefully, a better future starts here.
Firstly, some context:
In 2017, the official median monthly income of Singaporean household stood at $9,023, an amount that can enables you to buy a $1.5 million condo. If we took this figure at face value, there'd be no need for this article.
However, according to a 2016 Occupational Wages report by the Ministry of Manpower (MOM), a citizen working in a non-supervisory position in the F&B/hospitality/service and retail industries has a monthly income between $1,026 to $3,099. Given this range, we shall set low SES monthly household income at $4,000 ($2,000 per head), inclusive of yearly bonuses. One in 5 Singaporeans earn this amount or less.
This is the story of Sarah and John.
#1: Don't buy the most expensive property you can afford
Sarah and John have plans to settle down. They are 25 years old. With a combined monthly income just shy of $4,000, Sarah and John can take an estimated HDB loan of $264,500 with a tenure of 25 years and a monthly repayment amount of $1,200. Factoring in the downpayment of 10%, this enables them to buy a HDB flat valued at (100/90 x $264,500 = $293,889).
Besides being able to afford a 4-room flat in a non-mature estate in the HDB BTO exercises, Sarah and John can also afford a 4-room HDB resale flat by leveraging the more generous HDB resale grants for couples. Assuming both of them are first-time HDB buyers, they can get a total of $95,000 in CPF housing grants for a resale flat, compared to $55,000 for BTO flats in a non-mature estate.
So, Sarah and John can afford a resale flat valued at ($293,889 + $95,000 = $388,889) or a non-mature estate BTO flat valued at ($293,889 + $55,000 = $348,889).
However, they should not overstretch themselves by buying the most expensive flat they can afford. As a rule of thumb, a property — less any grants — shouldn't cost more than five times the buyer's combined household income in a year. For Sarah and John, that would be ($4,000 x 12 x 5 = $240,000). With grants, that would be $335,000 for a resale flat and $295,000 for a non-mature estate BTO flat.
Not buying the most expensive flat they can afford leaves Sarah and John with the spare savings they need to potentially level up their SES in the next steps.
#2: Live near your workplace
This is where a resale flat could prove more favourable than balloting for a BTO flat in far-flung areas of Singapore. Why? The lesser the time you spend on commuting, the higher the chance of escaping poverty, according to a New York Times report on a Havard University study.
For $335,000, Sarah and John can use the 'Search by travel time' feature on the 99.co property portal to find a house within their budget and a set travel time. For example, if they both work at Bugis Junction, they can specifically search for properties within a 30 minute travel time of their workplace that's also 30 minutes away from their parents in Bedok (less than 4km distance to take advantage of the Enhanced Proximity Housing Grant).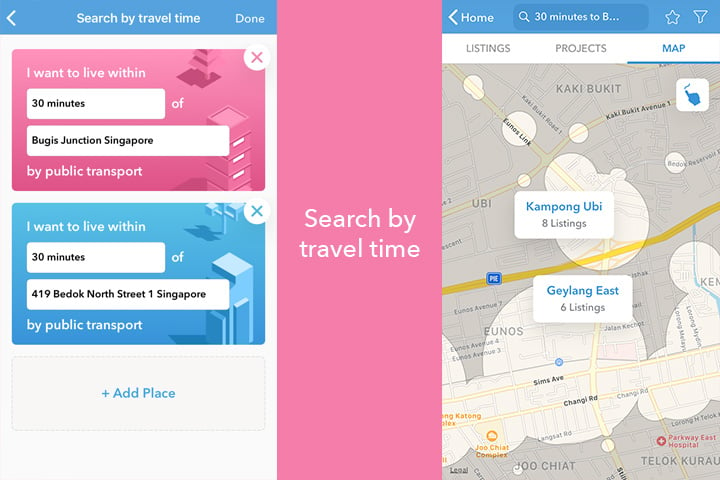 In this instance, Sarah and John finds out they can comfortably afford a 3-room resale flat at Ubi within their $335,000 budget. But they might want to also consider buying a 4-room flat in that area (see Point #4 later).
Assuming one-way commuting time to work is cut down from one hour to 30 minutes, Sarah and John can each save about 260 hours a year! They can use this saved time to upskill or pursue a side project that could lead to new career opportunities — all ways and means to level up their SES.
#3: Live near a good school
If Sarah and John didn't get the chance to get a solid footing in life with a good education, at least their children might. While relying on your children becoming the next CEO of Facebook isn't the surest nor fastest bet of breaking out of a low SES, we're sure most parents would want to see their kid getting a good education in a reputable school.
On the 99.co property portal, homebuyers can now easily find properties that are within 1km of their desired primary schools. For Sarah and John, they're fortunate to already have Maha Bodhi School at their future doorstep in Ubi. If they wanted to relax their travel time criteria a little, they can switch to the 99.co 'Search by schools' feature to find all flats within 1km of Maha Bodhi School that's within their budget.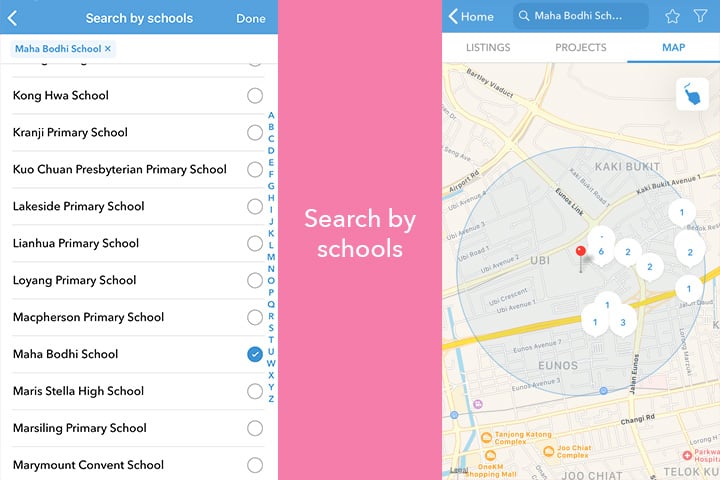 #4: Rent out a room
For Sarah and John, looking within the home listings from their their latest search results reveals more information. For 4-room flats in Ubi, there have been 19 transactions in the past year below $375,000.
Considering this, it's likely that Sarah and John could slightly exceed the original budget of $335,000 calculated earlier, so why a 4-room flat over a less expensive 3-room? The answer is that, with an extra room, Sarah and John can earn passive income from renting it out. Assuming a constant rental income of $600 a month, Sarah and John can get about $21,600 in three years (the average time it takes to build a BTO project), and $72,000 in 10 years.
It's also worth pointing out that, going by per square foot (psf) price, a 4-room HDB resale flat in Ubi ($395 psf) is cheaper than a 3-room HDB resale flat in the same area ($448 psf). (Note that, in another housing estate, the situation may vary.)
To find a tenant, Sarah and John can put up an Open Listing on 99.co, which connects them with CEA-certified property agents who can help them find suitable candidates quickly. The standard agent commission is one month's rent for a one-year rental contract.
Of course, if Sarah and John are averse to sharing their nest, they can opt to have the entire 4-room flat to themselves — and their future children — or buy a 3-room flat instead. They can read Renting out a room? 9 landlord must-dos to avoid headaches before deciding whether renting out a room is for them.
But anyway, how can Sarah and John be better off buying a 32-year-old resale flat???
Granted, that's a very valid question. With public concern over the 99-year lease of HDB flats, buyers are understandably doubting the prudence of buying an "old" resale flat.
Let us come forth and clarify that, in this scenario, we outright disregard any prior statement from *ahem* official persons that HDB flats are tools of "asset enhancement" or a "store of value".
In fact, we believe that homebuyers with the intention of buying a home for their own stay should never think like an investor who has capital appreciation in mind. There are different and often conflicting priorities and considerations for each approach. Our belief is that, if you're going to live in it, just buy the best home in the most optimal environment that you can afford for you and your family.
And, with a roof over their heads, only 25, and aware that a HDB flat is a home (and NOT a store of value), Sarah and John pool their finances and begin to save for long-term goals such as retirement. They could've balloted and waited for a BTO or Sale of Balance flat, but they know anything can happen tomorrow.
At Ubi, they enjoy more time with each other the moment they decide to be together for life; they enjoy more time to themselves by minimising their commute; they enjoy more time with their parents.
And, without taking the BTO route, that's three to five fewer years of being apart. When Sarah feels like it, she can dance like crazy like no one's watching in her living room, because indeed no one is watching. John can hone his culinary skills (his mom forbade him to enter her kitchen) and leave his trousers lying on the floor without fear of reprimand (until it gets in Sarah's way, that is).
Sarah and John are able to start a family earlier, and potentially set their kid up for a better life not just by getting him or her into a good school, but again by being able to spend more of those precious hours with their child in his/her formative years.
You may or may not know someone like Sarah and John. But, chances are, you'd be happy for them if you do.
Their SES could still be low, but it almost no longer matters.
It's time buy a house to lift ourselves out of low SES and be happy about it.
Even if you're really all about levelling up your SES, the story of Sarah and John goes to show one thing: no matter how much our ministers talk, breaking out of our current SES requires a can-do, proactive spirit and a bit of knowledge. There are a lot more property-related decisions that Sarah and John can make to save money, such as how to do up a home without taking a renovation loan and choosing to refinance their mortgage with a bank loan.
Life may yet throw them curveballs. But, hey, at least they have a place called home.
If you found this article helpful, 99.co recommends Home viewing checklist: 9 questions buyers forget to ask and 6 warning signs to look out for when buying a home (especially if it's older)
Looking for a home that fits your needs and wants? Find it on Singapore's largest property portal 99.co
Upcoming Freehold Condo Launch: The Arcady @ Boon Keng
About Kyle Leung
Content Marketing Manager @ 99.co
Looking to sell your property?
Whether your HDB apartment is reaching the end of its Minimum Occupation Period (MOP) or your condo has crossed its Seller Stamp Duty (SSD) window, it is always good to know how much you can potentially gain if you were to list and sell your property. Not only that, you'll also need to know whether your gains would allow you to right-size to the dream home in the neighbourhood you and your family have been eyeing.
One easy way is to send us a request for a credible and trusted property consultant to reach out to you.
Alternatively, you can jump onto 99.co's Property Value Tool to get an estimate for free.
If you're looking for your dream home, be it as a first-time or seasoned homebuyer or seller – say, to upgrade or right-size – you will find it on Singapore's fastest-growing property portal 99.co.
Meanwhile, if you have an interesting property-related story to share with us, drop us a message here — and we'll review it and get back to you.
Join our social media communities!
Facebook | Instagram | TikTok | Telegram | YouTube | Twitter