Bearing in mind that the vast majority of Singaporeans live in HDB flats, you'd think that we'd be a lot clearer about the best practices and guidelines of buying and living in HDB flats. The truth is, though, that there are plenty of commonly perpetuated myths about HDB flat ownership which are inaccurate. 
HDB flat ownership myth #1: You should pay off your HDB flat as quickly as possible
We can see why this myth exists. Instinctively speaking, you'd think that it would be a good idea to pay off your HDB loan as quickly as possible, but in reality, you might be better off holding to some of that debt.
One mistake that many people make is to pool all their savings towards paying off their debt, when they should really be stashing away a portion of their money as an emergency fund. It pays to be prepared for rainy days – in the event that you get retrenched or get into an accident and have to undergo costly surgery, you'll want to have sufficient cash to tide you over without mortgaging your apartment.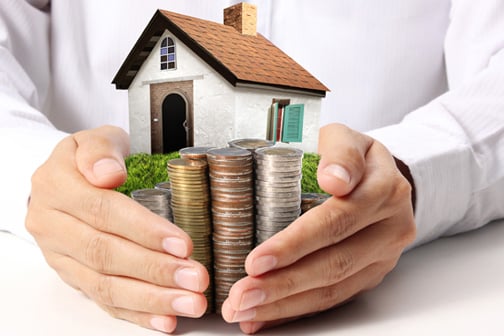 (Credits)
A good rule of thumb? Set aside 6 months' worth of your income as a "rainy day fund".
Another mistake that people commonly make in this area? Jeopardizing their retirement plans just so they can pay off their flat earlier.
Here's an example:
Assuming you've borrowed $315,000 from HDB on 2.6% interest per annum. Your monthly CPF contributions and your savings dictate that you can either:
Make monthly repayments of $1,261 over 30 years, and put $500 into a retirement portfolio, or

Make monthly repayments of $1,761 over 22 years, and start saving for retirement after you've paid off your flat
If you're partial to option A, you're on the right track. $500 a month might not sound like much, but if you put it into a well-balanced portfolio consisting of unit trusts, ETFs, and endowment policies, you can reasonably expect compounding returns of approximately 4% per annum. This will net you $349,000 worth of retirement funds (on top of your fully paid up flat) after 30 years.
If you chose option B, on the other hand, you might have a little trouble. Yes, you'll have paid off your flat 8 years earlier, but 8 years is an extremely short period of time to build a retirement fund, and you won't be able to enjoy as much compounding effect as you will have in scenario A. So don't worry about owing HDB for too long a period of time – just focus on building up your retirement nest as soon as possible.
HDB flat ownership myth #2: HDB loans are cheaper than bank loans
This actually depends on the market – if you look at the numbers in the past few decades, you'll realise that bank loans are actually cheaper than HDB loans from time to time.
Here's an example:
As of now, HDB loans come with an interest rate of 2.6%, but DBS's fixed rate loan will cost you only 1.8% in interest for the first 4 years.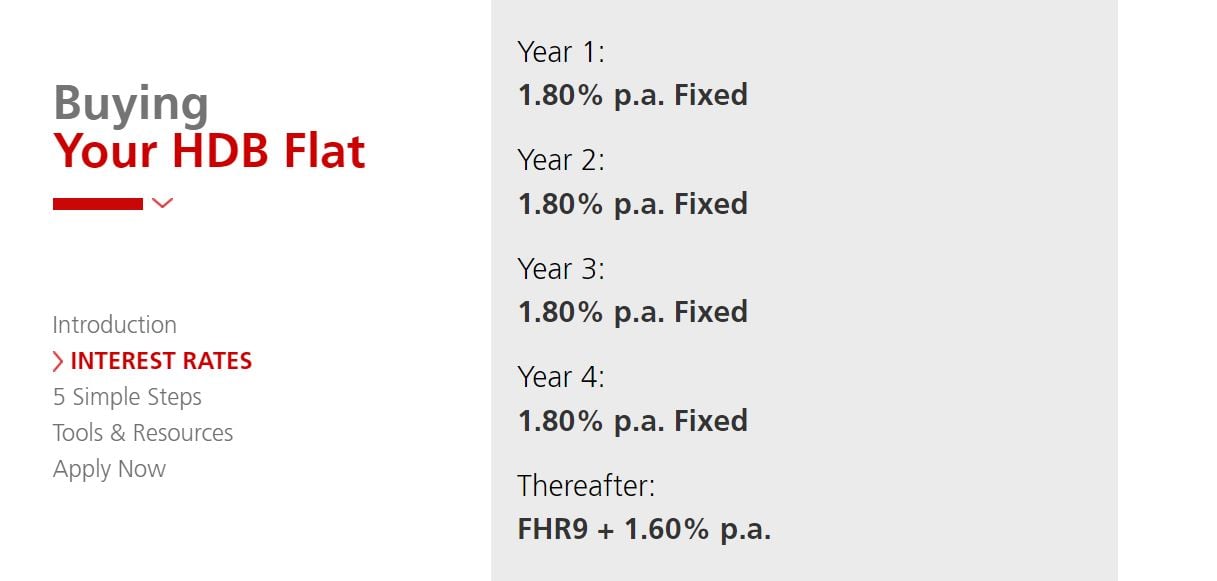 (Credits)
Thereafter, you'll be paying Fixed Deposit Home Rate 9 (FHR9) + 1.6% of interest, with the FHR9 being pegged to the prevailing 9 months' Singapore Dollar fixed deposit interest rate of DBS Bank. The current FHR9 is 0.25%, so assuming that this remains consistent, your interest rate from your 5th year onwards will increase slightly to 1.85% (which is still lower than HDB's 2.6%!)
HDB flat ownership myth #3: If you're not a first-timer, you can forget about obtaining grants
Whilst you won't be eligible for certain grants as a non first-timer, there are still other grants which you can apply for.
For example, HDB homeowners who previously bought a 2-room subsidised flat, and are now thinking of getting a new 3-room flat in a non-mature estate are eligible for the Step-Up CPF Housing Grant.
In addition to this, there's also the Proximity Housing Grant which states that families who buy a resale flat near each other will receive $20,000. You can only get this grant once, but it applies to all households – even those who have received other housing subsidies previously.
HDB flat ownership myth #4: Your BTO flat will be subsidised if you stay near your parents
As mentioned previously, those who buy resale flats near their parents will receive the Proximity Housing Grant. If it's a BTO flat which you're after, sorry, you don't get any extra subsidies – although you do receive more ballot chances.
HDB flat ownership myth #5: If you want a new flat, you need to wait for 3-5 years
Think there's no way to get around the dreadfully long 3-5 year wait if you want a new flat? Think again!
Instead of a BTO flat, consider applying for a Sales Of Balance (SBF) flat or Re-offer of Balance Flat (ROF). SBF flats refer to units which were previously taken up, but are now back in the market (the previous owners might have split up, or ran into financing problems). ROF flats, on the other hand, refer to the remaining flats which are unsold during SBF exercises.
With SBF and ROF flats, there are plenty of units in projects which have already been completed (or are nearing their completion date). It all depends on the unit which you choose, but by going down the SBF or ROF route, you can potentially get a new flat within three months of your purchase date.
---
Any other myths you'd like us to bust?

 Let us know in the comments section below or on our Facebook post.

If you found this article helpful, check out Improving your credit score and How to read a HDB floor plan.

Looking for a property? Find the home of your dreams today on Singapore's fastest-growing property portal 99.co! If you would like to estimate the potential value of your property, check out 99.co's Property Value Tool for free. Also, don't forget to join our Facebook community page or Telegram chat group! Meanwhile, if you have an interesting property-related story to share with us, drop us a message here — and we'll review it and get back to you.
About Elizabeth Tan
Elizabeth is a writer, a Harry Potter fanatic, and a Game Of Thrones addict.
Looking to sell your property?
Whether your HDB apartment is reaching the end of its Minimum Occupation Period (MOP) or your condo has crossed its Seller Stamp Duty (SSD) window, it is always good to know how much you can potentially gain if you were to list and sell your property. Not only that, you'll also need to know whether your gains would allow you to right-size to the dream home in the neighbourhood you and your family have been eyeing.
One easy way is to send us a request for a credible and trusted property consultant to reach out to you.
Alternatively, you can jump onto 99.co's Property Value Tool to get an estimate for free.
If you're looking for your dream home, be it as a first-time or seasoned homebuyer or seller – say, to upgrade or right-size – you will find it on Singapore's fastest-growing property portal 99.co.
Meanwhile, if you have an interesting property-related story to share with us, drop us a message here — and we'll review it and get back to you.
Join our social media communities!
Facebook | Instagram | TikTok | Telegram | YouTube | Twitter