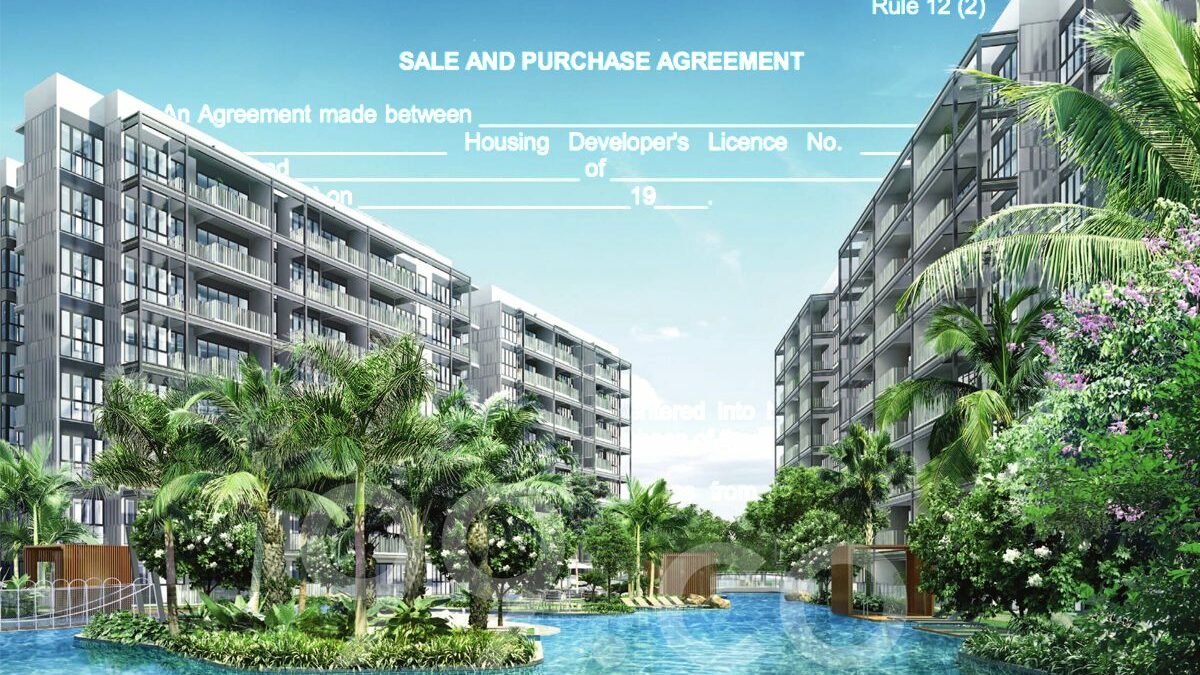 Buying a new launch EC or condo direct from a property developer? Before you sign off on your new property purchase and commit to a significant financial outlay, be sure you go through your Sales & Purchase Agreement (S&PA) carefully. The S&PA is a private contract between the developer and yourself. It's delivered to the buyer within 2 weeks from the date of the Option to Purchase (OTP) and has a three week deadline from the date of receipt.
In Singapore, all S&PAs are governed by the Housing Developers (Control and Licensing) Act, and as such, developers use standardised contracts provided to them by the Housing Developers Act. While any changes and amendments to the standard form have to be approved by the Controller of Housing before they can be validly issued to you, you should nevertheless look through your S&PA, and ensure that everything's in order before signing on the dotted line.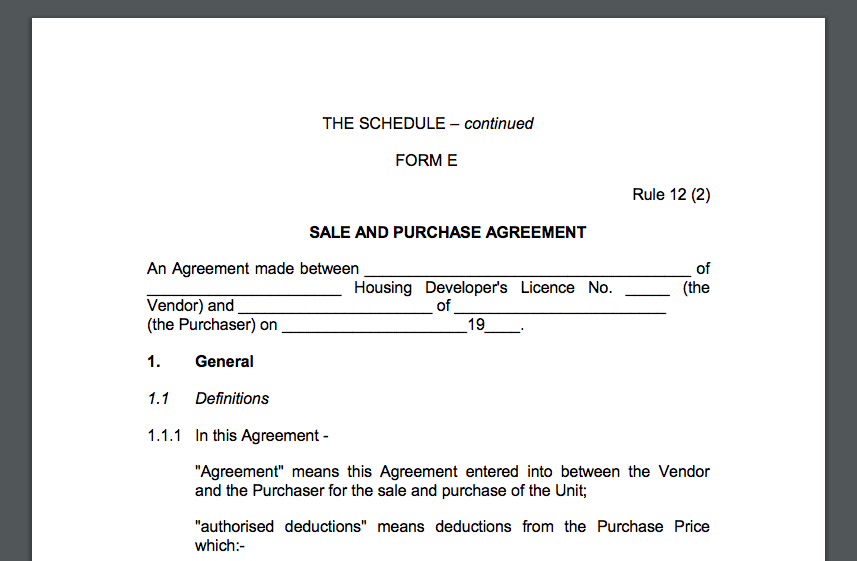 Here are the key terms you'll find in your S&PA, and what to take note of:
#1: Vacant Possession Date
This is the deadline for delivery of keys to the buyer by the developer. If your developer fails to deliver vacant possession of the property to you by this date, they'll have to pay a "late completion interest" as  liquidated damages to you (at an interest of 10% per annum on the sum total of installments paid). That said, most new launch buyers will likely collect their keys well before this date, barring some serious setbacks.
Once you take over possession of your property, you'll have to pay for your maintenance fees, property tax, and title survey fees. Your lawyers will get in touch to inform you about the amount payable, and they'll also tell you who to issue the cheques to.
#2: Specifications of Unit
These specifications include the type of materials, finishes, fittings, appliances, and furnishings to be used or provided for a unit, as well as the common facilities of the unit. Your developer is required to build your unit in accordance with these specifications, so make sure that everything's documented properly.
If your developer says that they'll throw in certain free items for you (eg washing machine), but this isn't included in the Specifications section, either get them to revise the section to include these, or obtain some other sort of written confirmation.
In terms of the actual floor area of your unit, take note that developers have a leeway whereby they do not have to compensate owners if the floor area of the unit is smaller than specified by 3% or less in the sales documents.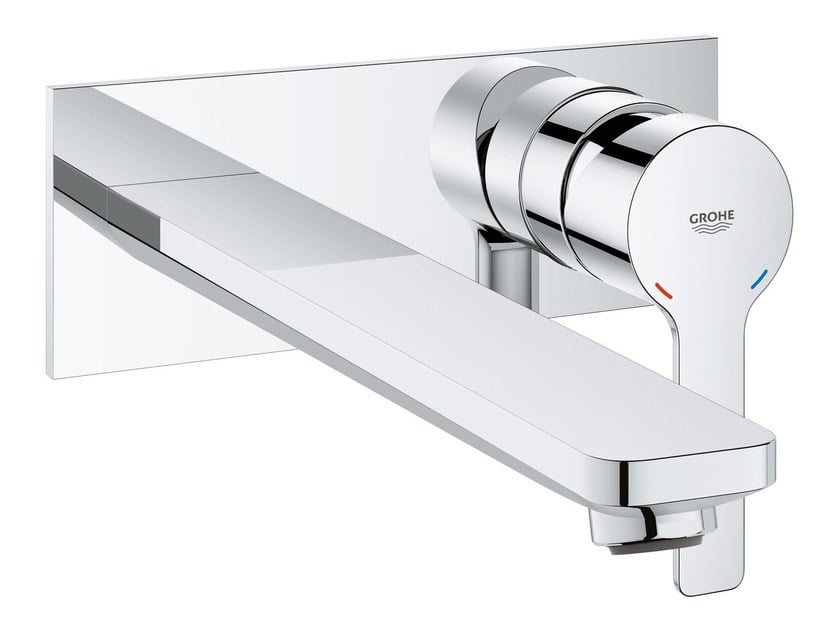 #3: Progress payment
As a buyer, it's up to you to ensure that you pay your developer promptly and according to the payment schedule. If you don't meet your payments by the deadlines specified, you'll incur additional interest (determined by the formula set out in the S&PA).
You'll have three weeks after the delivery of the copies of the title deeds and execution copies of the S&PA to you or your lawyer to exercise the Option to Purchase, which is valid for 21 days.
Upon exercising the OTP, you'll be required to pay 20% of the purchase price of the property minus the booking fee of 5% to 10%. Do note that in the event where you delay your payment for over 21 days past the due date, your developer has the right to annul your S&PA.
Once your developer does this, they'll be able to forfeit 25% of the booking fee, which amounts to 1.25% to 2.5% of the purchase price, and proeed to resell the unit to any other person.
[
Recommended article
:
New launch vs. Resale condo payment schedules: What's the difference?
]
#4: Tenure
Do note that your 99 year or 999 year lease for your condo does not begin from the time you purchase or take over possession. Rather, the tenure begins from whenever the developer was granted the land. Typically when you are signing an S&PA for a newly launched condo, more than one year of your tenure might have already elapsed.
#5: Defects liability period
The 12-month defects liability period commences upon the date that the developer delivers vacant possession or the 15th day after the buyer receives the documents specificed under item 3 of the Payment Schedule, whichever is earlier. Your developer is responsible for correcting any defects that become apparent during these 12 months.
Upon identifying a defect, immediately notify your developer. They'll have to rectify this within a month of receiving your notification; if they fail to do so, you can get a price quotation from a contractor of your choice, and give your developer written notice that you'll be carrying out rectification works using your own contractor (at the quoted price).
Assuming your developer doesn't carry out rectification works within 14 days of receiving your written notice, you can now get your own contractor to carry out the works. The cost of carrying out the rectification works may be claimed from the portion of the purchase price held in escrow by the Singapore Academy of Law specifically for defects rectification.
[
Recommended article
: 
You've found defects in your new property; now what?
]
Have any more questions about your Sales & Purchase Agreement? Share them in the comments below!
If you found this article helpful, 99.co recommends 5 fatal mistakes Singaporeans make when upgrading to a condo and 5 safeguards when buying a new and uncompleted condo.
Looking for a property? Find the home of your dreams today on Singapore's largest property portal 99.co!