Located in the swiftly developing District 27, The Commodore is a new 5-storey development nestled between the Sembawang Spring Estate and the new Canberra Vista HDB. With over 219 units up for grab spanning across six blocks, there are plenty of attractive amenities that could make this a dream home for you and your family.
Prospective homeowners can look forward to the property's 99-year leasehold and TOP status in 2025. Units in The Commodore are expected to range from one bedroom to five bedrooms in size, with impeccable layouts.
This new development is perfect for young families looking for a relatively new area to live in. As Canberra is a rapidly developing estate, future residents can expect new amenities and facilities in the area to rise and add on to the comforts and luxury of living at The Commodore. Moreover, one of the development's key highlights is that there will be a childcare centre within the development.
The Commodore History
The Commodore is a rather interesting name for a development. It holds significant meaning with regards to the history of the land on which it is being built, taking inspiration from the naval past of Canberra. In order to understand the naval roots of Canberra, we must first dwell on the history of Sembawang, the larger encompassing area, which was developed into an important naval facility for Britain's Far East Fleet during the pre and post World War II decades. Canberra was an important naval encase within the former Sembawang Naval Base during this period. The area was named Canberra after a visiting Australian warship in 1937. Many landmarks of this former naval base still exist today and they include the stately black-and-white houses that line Admiralty Road East and the grand Former Admiralty House at Bukit Canberra, which is a National Monument.
Back to The Commodore name, the Commodore Superintendent of the Royal Navy Dockyard was the topmost naval officer in Singapore at that time. He also had the esteemed honor of being the first resident in the Former Admiralty House, a grand four-hectare estate that today still stands proud as a witness to Canberra's glorious colonial past. These historical facts inspired JBE Holdings Group, developer of The Commodore, to have the development named as a homage to the roots of its area, highlighting the respect and care they have for the place in history that the land holds.
The Commodore Developer
The Commodore is a joint venture between Oasis Development Pte. Ltd. and JBE Holdings Group, JBE Holdings Group being the main portion holder with an 80% stake in the company after winning a bid of $129.20 million for the land site.
JBE Holdings Group is known for their extensive portfolio of projects ranging from condominiums to landed properties. With a keen focus on sustainability, JBE Holdings Group is praised for their high-quality residentials conceptualised through innovation and creativity to build futuristic houses for its residents. Some notable projects by JBE Holdings Group include Signature at Yishun, The Luxe at Handy Road, and Skypark Residences. Residents at The Commodore can expect no less than having the best quality of living in the Sembawang area. 
Residents of The Commodore can expect to live in an interconnected oasis as JBE Holdings Group is renowned for its commitment to enriching residents' lives with properties that preserve Singapore's heritage while remaining accessible and innovative. They will also enjoy branded fittings and finishes with brands such as Blanco, Blum, Bosh, Hansgrohe, Villeroy & Boch and Yale in their apartment units. There will also be inbuilt Smart home features within the development, adding to the luxury and comfort that residents will be enjoying in this wonderful new launch condo.
The Commodore Location
An Undeniable Prime Spot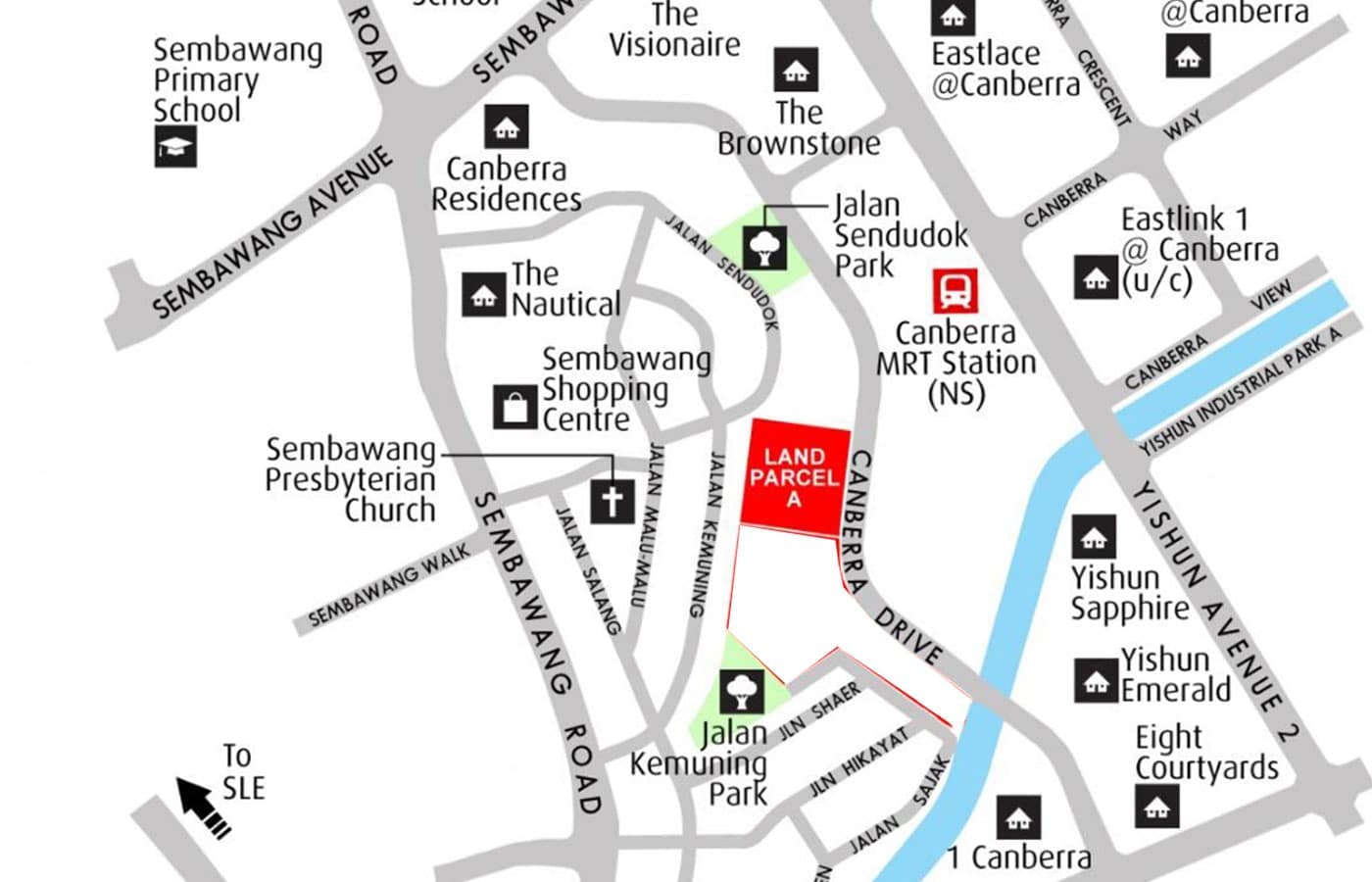 The Commodore is a lush oasis surrounded by top-notch facilities located in District 27 next to Canberra MRT. Residents with private transport can access the Seletar Expressway (SLE) for hassle-free travel, via Canberra Link. In total, travelling to the Central Business District (CBD) will take no more than 25 minutes.
The upcoming North-South expressway will make commuting especially easy, saving residents up to 30 minutes when travelling to and from the city.
For residents who prefer taking public transport, The Commodore is well-connected with Yishun, Sembawang, and Canberra MRT stations on the North South Line, all of which are a stone's throw away for future residents.
The Commodore Accessibility
An Oasis of Amenities in Midst of Connectivity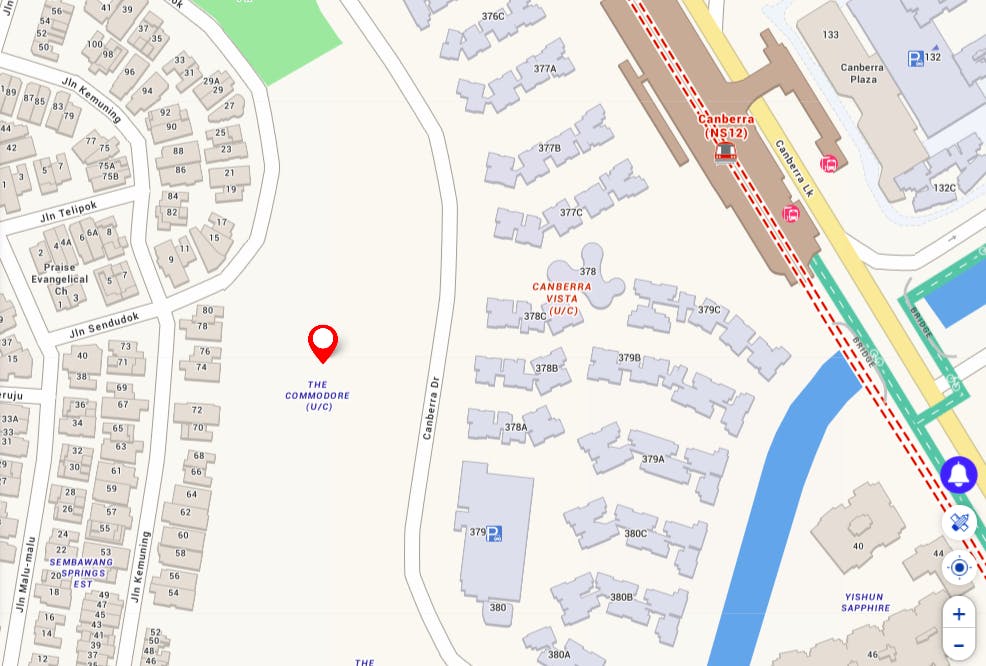 The Commodore is adjacent very close to large heartland malls like Canberra Plaza and Sembawang Shopping Centre. These malls will leave residents spoilt for choice when it comes to shopping and other leisure activities. 
Enjoy leisure activities such as outdoor nature parks, sports hubs and shopping centres, all within a couple of minutes away. Nature lovers can spend their evenings taking life at a slower pace by strolling around Canberra Park, Sembawang Park, Jalan Kemuning Park, and Jalan Sendudok Park which are close by. 
Residents can adopt healthy living with their families by engaging in the nearby local communities and sports hubs for exercise and workouts. Residents are guaranteed to have a fun time with their friends and family at and around The Commodore. ActiveSG Sembawang Sports Centre is one such location. 
The Commodore is flanked by reputable schools. These educational institutes include Wellington Primary School, Canberra Primary School and Yishun Junior College. Enhance your children's education with these stellar institutes that are convenient to travel to, with the convenience of a well-connected bus network.
The right blend of city and nature awaits future residents as outstanding facilities and amenities are hidden around this serene property. The development is brimming with nature, to provide a satisfying and calming experience at The Commodore condo. Look forward to being able to relax and unwind in a calm environment while enjoying the benefits of neighbourhood amenities in close proximity.
Amenities located close to the Commodore 
3 mins walk to Canberra MRT
4 mins walk to Canberra Plaza
6 mins walk to Sembawang Shopping Centre
3 mins drive to Future North-South Corridor
2 mins drive to future Bukit Canberra
1 MRT Stop away from Northpoint City Mall or Sun plaza
Sembawang Primary School within 1KM
Jalan Sendudok Park and Park Connector Network just next door
The Commodore Site Plan
Unblocked Views of the Western Sun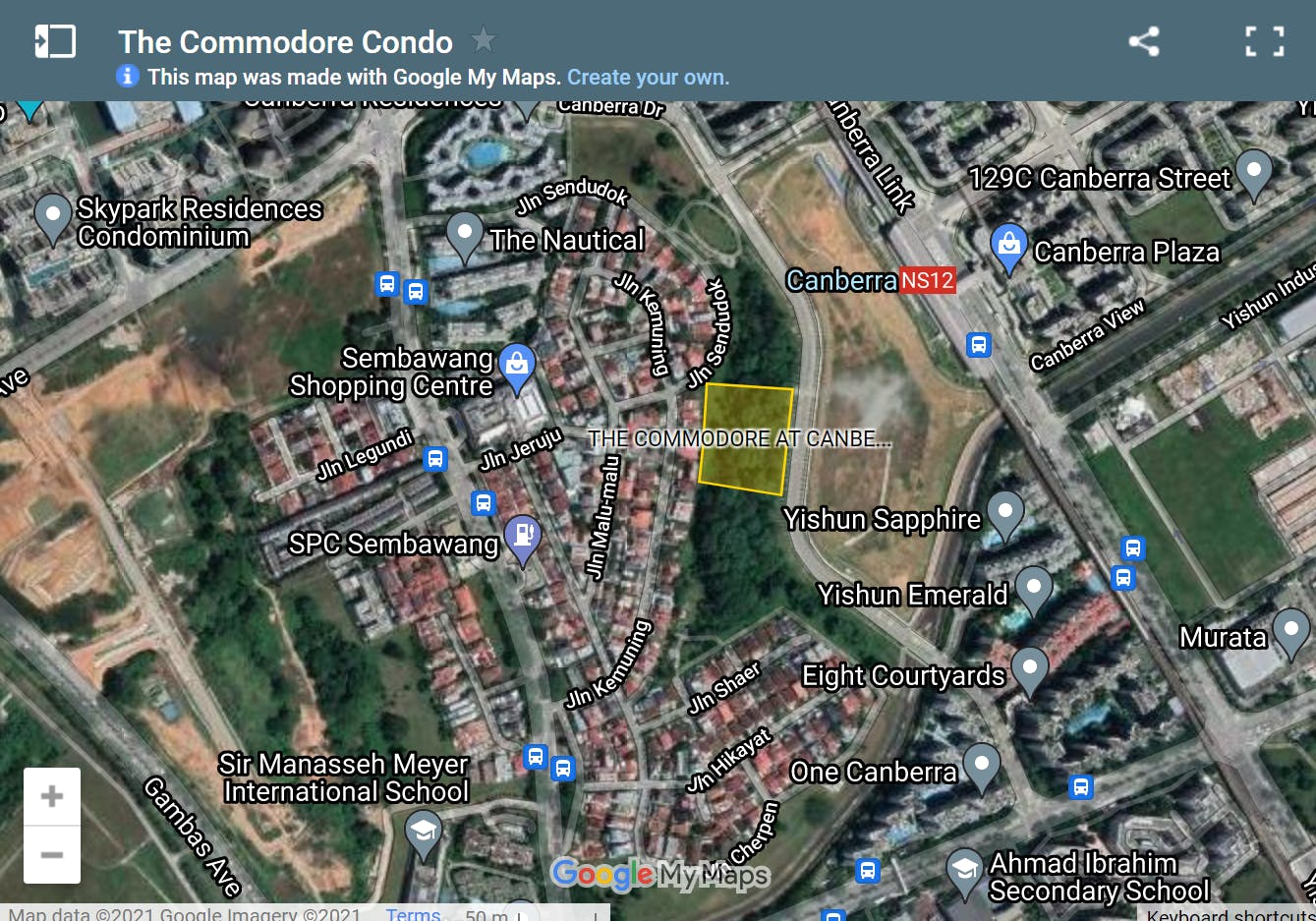 The beauty of The Commodore begins right in residents' homes. Look forward to a majestic view of the neighbourhood with an additional balcony, available in every unit. This futuristic property provides privacy, natural ventilation and abundant spacious living for the residents of The Commodore. 
The previously forested ground is a rectangular plot that The Commodore will be built upon, aligned in the north-south direction. The West and North-west side of The Commodore looks over the landed properties of Sembawang Springs Estate, all of which range from 1 to 3 storeys in height. For residents, this means unblocked views of the western sun. 
The east of The Commodore faces the new HDB blocks of Canberra Vista, a 10-storey block development. Additionally, HDBs in the vicinity are built to prevent overcrowding the views of The Commodore. 
Facilities & Amenities in The Commodore  
50m lap Pool
50m The Commodore's Lawn
Luxurious clubhouse with co-working space within
Spice garden Pavilion, lounge, bar
Tree House and Activity Room for children
The Commodore Unit Mix 
Here's a breakdown of the 219 exclusive units at The Commodore: 
1 Bedroom  - 25
2 Bedroom - 25
2 Bedroom Premium + Study - 60 
3 Bedroom - 20 
3 Bedroom Premium + Study - 25 
4 Bedroom - 19 
4 Bedroom Premium + Study  - 27 
4 Bedroom Exclusive + Study (Private Lift) - 8  
5 Bedroom Exclusive + Study (Private Lift) - 10 
The Commodore URA Master Plan
Exciting Developments in Sembawang Estate for The Commodore Residents 
Canberra brings exciting developments for future residents who'll get to witness it blooming into a well-connected town, with its upcoming facilities like Bukit Canberra and the New Generation Neighbourhood Centre.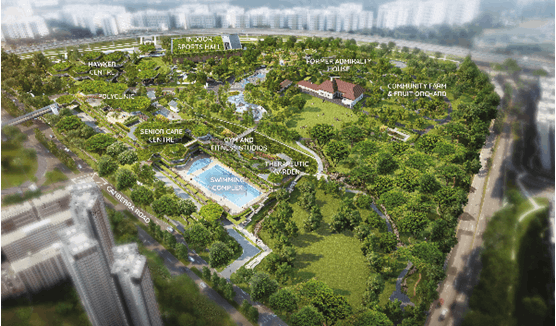 Bukit Canberra will allow residents to enjoy integrated developments like verdant park-like settings, polyclinics, swimming pools, hawker centres, indoor sports hall, senior care centre and more, from 2021 onwards. 
The New Generation Neighbourhood Centre features the new Canberra Plaza integrated amongst public housing. It includes an event plaza, supermarkets, restaurants, food courts and enrichment centres. This centre allows residents to look forward to communal spaces in the estate. 
The Commodore holds the right balance of serenity and convenience for new families looking for a fresh place in Singapore to lay down their roots. With exciting developments along the way, residents of The Commodore will be able to enjoy their personal oasis amidst a bustling metropolitan city.