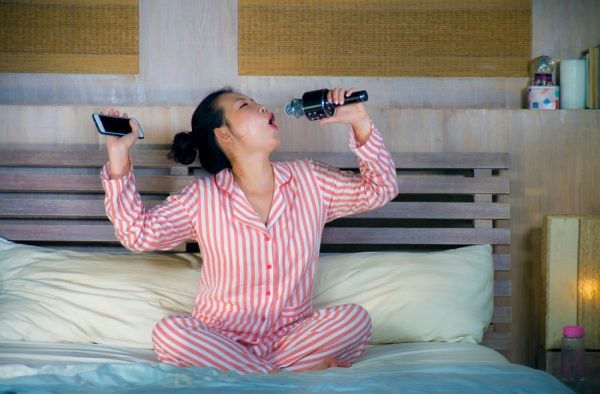 On April 29, 2022, the Municipal Services Office (MSO) and Ministry of Culture, Community and Youth (MCCY) met to form a Community Advisory Panel (CAP) on a very interesting problem.
The agenda? To develop a set of community norms that will address the issue of "neighbourhood noise".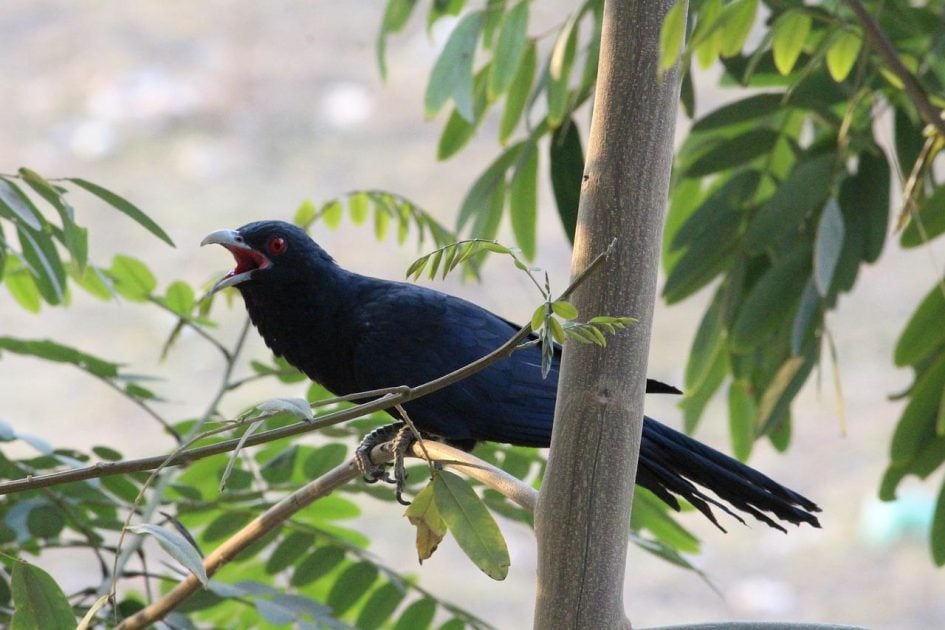 Neighbourhood noise in this case means noise from people living next door or upstairs, and groups gathering in common areas.
The impetus for this probably surfaced after 3,200 noise-related cases were reported to HDB in 2021 (2,500 in 2020) compared to around 400 in 2019. As more residents stayed home during the COVID-19 pandemic, noise levels went up (and people's mental health suffered).
For instance, in April 2022, a woman lost sleep and her job after having to bear with noise from her neighbours upstairs for three years. In May last year, a woman "went crazy" because of daily piano sounds from her neighbours.
Then in July 2021, at least five neighbours in Sengkang's Block 295B, Compassvale Crescent called the police more than 50 times because one particular unit on the 14th floor had been making loud, banging noises day and night. There are more if you know where to look.
Heck, our neighbourhood noise situation is so bad that there's even a company called Dropnoise that offers noise nuisance recording services for clients!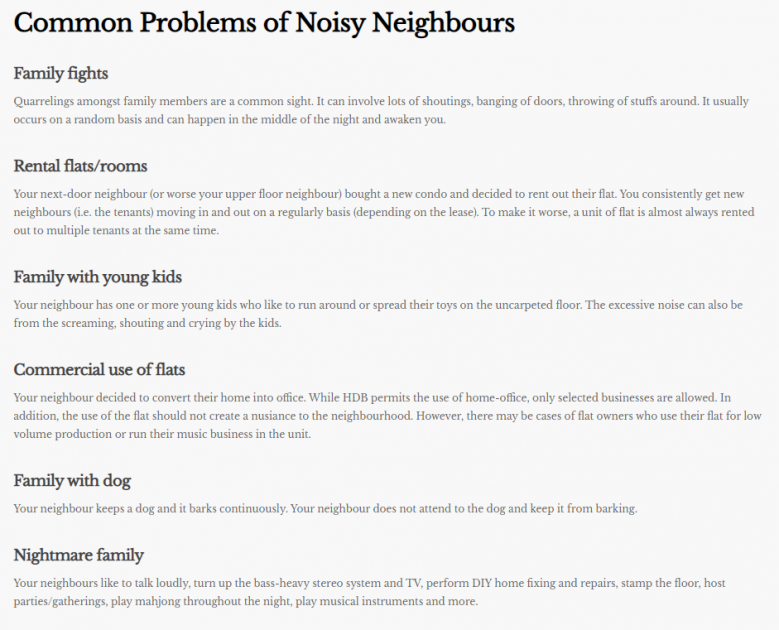 Anyway … you get the buzz.
So the community norms that the CAP will be recommending will reflect a shared understanding within the community on what is reasonable or unreasonable disturbances from your neighbours.
The panel hopes that these norms will help "facilitate dialogue and discussion among neighbours with differences in views over noise issues." It also hopes the norms can be used as a benchmark and reference for public advisories, during mediation or decision-making at the Community Disputes Resolution Tribunal.
Here are some of the possible norms which have been drawn from public education materials overseas and will be raised for discussion with the public. You can refer to the full list here.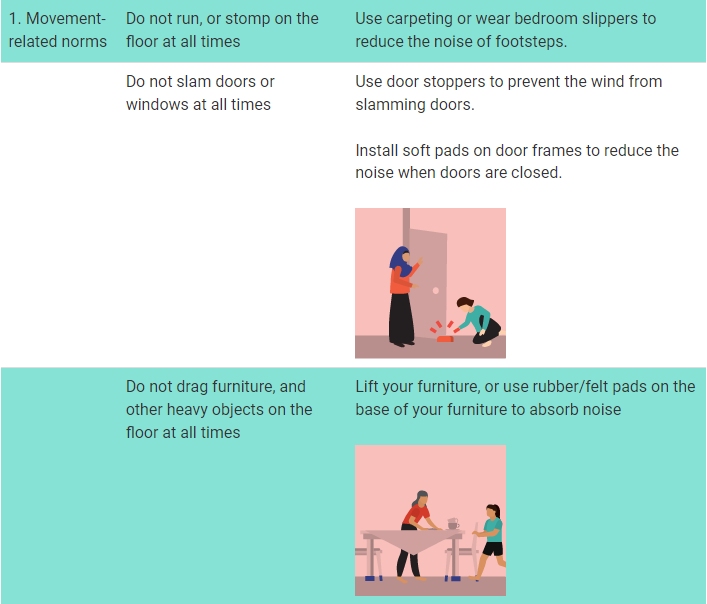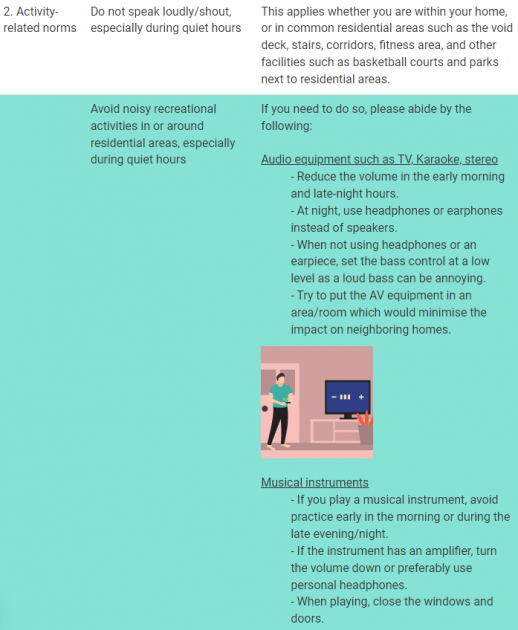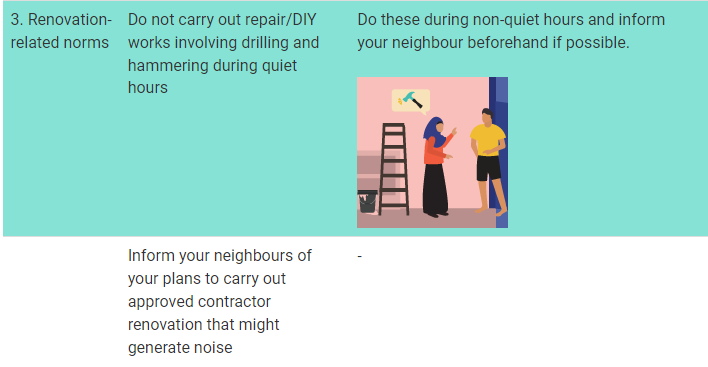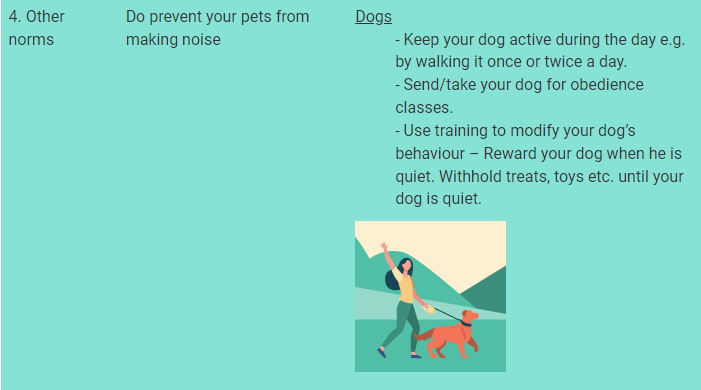 Generally, most of these norms are focused on avoiding doing activities at night or during "quiet hours", which seem to be from 10:30 pm to 7:00 am.
While they are easy to understand and make logical sense, they may be open to misinterpretation when a neighbourly dispute escalates into "he said/she said" or a tribunal situation.
If the dispute is about doors being constantly slammed, then the issue of "whether door stoppers or soft pads on door frames were used" comes under scrutiny – especially if your house is extremely windy.
If you have dogs, birds or cats, the onus is on pet owners to keep noise levels down – like taking the dog for obedience classes, training to modify the dog's behaviour (like withholding treats until your dog is quiet) and keeping your cat active during the day (so they're more likely to sleep at night).
If you feel strongly about these norms (which are currently part of a recommended list and under review) and want to make your voice heard, the public consultation sessions will take place from June 2022. The findings from both research and public engagements will then serve to guide the panel in finalising its recommendations in due time.
–
Are you living next to a noisy neighbour? Tell us about it in the comments section below or on our Facebook post.
If you found this article helpful, 99.co recommends Noisy neighbours: 7 tips on how to handle them and Neighbour disputes and rows: what happens when things get heated.
Looking for a property? Find the home of your dreams today on Singapore's fastest-growing property portal 99.co! If you would like to estimate the potential value of your property, check out 99.co's Property Value Tool for free. Also, don't forget to join our Facebook community page or Telegram chat group! Meanwhile, if you have an interesting property-related story to share with us, drop us a message here — and we'll review it and get back to you.
New launch alert! Welcome to Grand Dunman
About Terence Ang
Looking to sell your property?
Whether your HDB apartment is reaching the end of its Minimum Occupation Period (MOP) or your condo has crossed its Seller Stamp Duty (SSD) window, it is always good to know how much you can potentially gain if you were to list and sell your property. Not only that, you'll also need to know whether your gains would allow you to right-size to the dream home in the neighbourhood you and your family have been eyeing.
One easy way is to send us a request for a credible and trusted property consultant to reach out to you.
Alternatively, you can jump onto 99.co's Property Value Tool to get an estimate for free.
If you're looking for your dream home, be it as a first-time or seasoned homebuyer or seller – say, to upgrade or right-size – you will find it on Singapore's fastest-growing property portal 99.co.
Meanwhile, if you have an interesting property-related story to share with us, drop us a message here — and we'll review it and get back to you.
Join our social media communities!
Facebook | Instagram | TikTok | Telegram | YouTube | Twitter