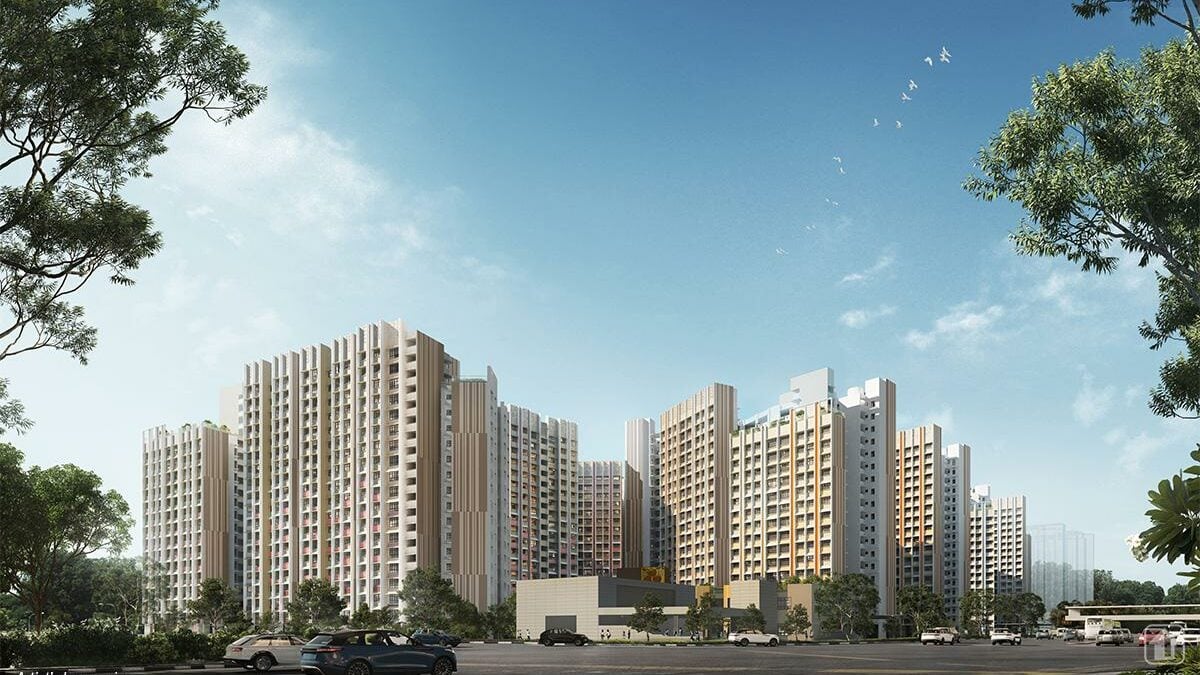 Update as of 25 May 2021: This article has been updated with new information released during the May 2021 BTO launch.
3,879 units will be launched in HDB's May 2021 BTO exercise. It will comprise four projects across two mature and two non-mature estates. Besides Bukit Merah, HDB will launch a project in the mature estate of Geylang with 1,382 units of 2-room Flexi, 3-room and 4-room flats.
Here's 99.co's detailed review of the May 2021 BTO at Geylang
Project name: MacPherson Weave
Location: Along Paya Lebar Road
Classification: Mature estate
Number of units: 1,382 units (2-room Flexi, 3-room and 4-room flats)
Number of blocks: Seven
HDB's estimated completion date: Q1 2026
Indicative price range:
| | | | |
| --- | --- | --- | --- |
| | Estimated floor area (sqm) | Number of units | Price range (excluding grants) |
| 2-room Flexi (Type 1) | 38 | 54 | S$180k – S$210k |
| 2-room Flexi (Type 2) | 48 | 162 | S$235k – S$269k |
| 3-room | 69 | 156 | S$343k – S$405k |
| 4-room | 93 | 1,010 | S$489k – S$626k |
The last launch in the estate was less than a year ago in August 2020 for Dakota One. It was also when we saw one of the highest application rates in recent years, as 4-room flats were oversubscribed by 19.1 times. So we can expect this project to be really popular as well.
Without further ado, let's dive into the pros and cons of the May 2021 Geylang BTO project.
May 2021 Geylang BTO — The Pros
Accessibility
The main highlight of this project is that it's located right next to MacPherson MRT, which is an interchange for Circle Line and Downtown Line. These make the Geylang BTO one of the most accessible projects.

Tai Seng, Ubi and Paya Lebar will just be one stop away by train — suitable for those working in these commercial and industrial districts.

Since Paya Lebar is just one stop away, this means that you can switch to the East West Line quickly. Coupled with North East Line just three stops away, you'll have easy access to four MRT lines.

Working in the CBD? You can reach your workplace in 20 minutes by train via the Downtown Line.

For drivers, the Pan Island Expressway (PIE) is just a few minutes drive down the road.
Food and retail amenities
Compared to the Bukit Merah BTO, there's more variety in markets and hawker centres in the vicinity of this project.

The closest ones are Circuit Road Market & Food Centre (4-minute walk) and MacPherson Market & Food Centre (9-minute walk). If you're willing to travel a little further, Geylang Serai Market & Food Centre is 17 minutes away by bus.

The nearest supermarkets are Sheng Shiong and NTUC Fairprice, which will be within a 10-minute walk.

Looking for more food and retail options? You don't have to head down to town as PLQ Mall, Paya Lebar Square and SingPost Centre are all just one stop away.
Childcare centres
The area is also relatively child-friendly, given the number of childcare centres in the vicinity. The nearest childcare centres, E-Bridge Infant Care & Pre-School and My First Skool located at Circuit Road, are both within a 10-minute walking distance.

On top of the existing facilities, a two-storey childcare centre will be built within MacPherson Weave.
Healthcare facilities
Geylang Polyclinic will just be a 15-minute bus ride.

For more comprehensive healthcare services, the nearest hospital is at Parkway East, which is 12 minutes away by car.
Price appreciation
Flats in mature estates, especially the newer ones, have always been in high demand. Like many BTOs in mature estates, we can expect a healthy price appreciation for this Geylang BTO after MOP.
May 2021 Geylang BTO — The Cons
Oversubscription
As seen from last year's application rates, Geylang is one of the most popular estates. So it won't be surprising that this project will be highly sought after as well. Though it probably won't be as oversubscribed as the Bukit Merah BTO, since the latter is close to the Greater Southern Waterfront.
Type of flats
If you have (or plan to have) a bigger family, you might want to consider the Tengah BTO or Woodlands BTO instead. Similar to launches in mature estates over the past few years, this project will not have 5-room flats.
Price
Due to the high demand and low availability, BTO projects in city-fringe location command the highest price tags. So for the May 2021 BTO launch, we can expect higher starting prices for Geylang and Bukit Merah.

In fact, the indicative price range for the MacPherson Weave is as high as S$489,000 – S$626,000 (excluding grants) for 4-room flats.
Schools
While there are quite a number of childcare centres nearby, there isn't currently a single school within walking distance.

Students will need to go on a 15-minute bus ride to the nearest schools. This includes Canossa Catholic Primary, Maha Bodhi School, Manjusri Secondary and Geylang Methodist Primary and Secondary.

There's St Margaret Primary nearby as well, but it will only be on the holding site until end-2023. By the time the BTO is completed, the school would have moved back to its original location at Wilkie Road.

On the other hand, there are more school options along Circle Line, such as Bartley Secondary and Maris Stella High.
Recreational facilities
Another downside of the Geylang BTO is that there's not a lot of recreational facilities in the area, other than the roof gardens on top of the residential blocks, multi-storey car parks and childcare centre.

One of the closest facilities will be Geylang East Swimming Complex, which is 15 minutes away by bus.
What else we noted about the May 2021 Geylang BTO
There's good rental demand due to its proximity to industrial and commercial areas of Paya Lebar, Tai Seng and Ubi. The CBD isn't that far away either.

If you're planning to earn some rental income, you may consider renting out the flat after its MOP. Based on

SRX's estimates in March 2021

, the median rent for an HDB flat in Geylang is S$1,775 for a 3-room and S$2,300 for a 4-room.

For car owners, you might want to take note that the blocks closest to the car park are Blocks 95C, 97A and 99A. Each of these blocks are connected to the car park via a link bridge.

Its proximity to the MRT and Ubi industrial area means there will be heavy human and vehicle traffic during peak hours.

And just across the road, there are five Chinese temples.

There's also a site reserved for a future school close to Blocks 97A, 97B and 95C. So it will be good news for those with school-going children, but not so good for those who are more sensitive to noise.

On top of that, Paya Lebar Airbase is around 5km away. Until the

airbase relocates to Changi and Tengah from 2030 onwards

, you'll have to contend with the airplane noise as well.
Our verdict on the May 2021 Geylang BTO
Out of all the May 2021 BTO projects, the Geylang BTO wins hands down in terms of accessibility.
Not only is the MRT right at the doorstep, but the PIE is just a few minutes down the road. We also like that the nearest MRT is an interchange, and is just a couple of stops to other interchanges as well. It's the ideal home for drivers and those who rely on public transport.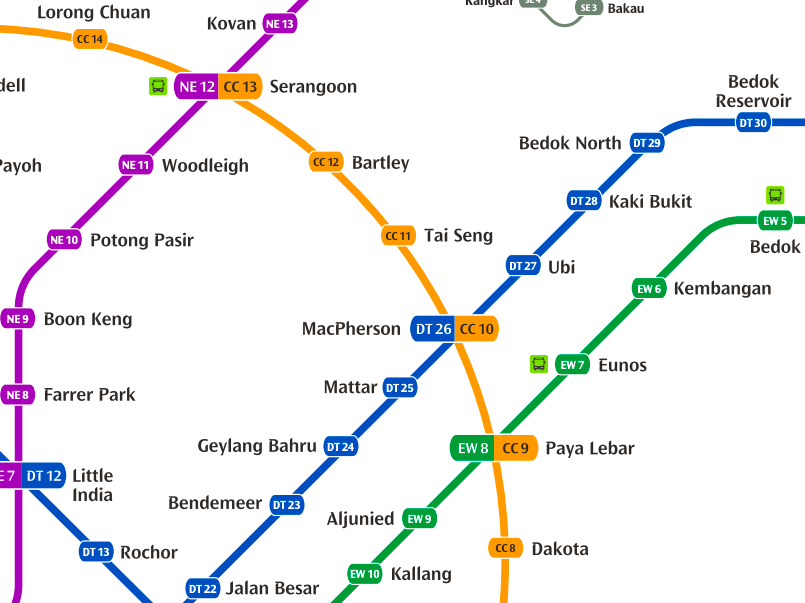 Given its city-fringe location and proximity to commercial areas, we expect a healthy price appreciation and rentability. So it's a good option if you're planning to cash out or rent out the flat after MOP.
On the flip side, the Geylang BTO sits on one of the noisier sites. It's more for those who don't mind the heavy traffic and noise coming from the office area, temples, future school and the airbase.
May 2021 Geylang BTO: Should you apply?
Looking at the application rate of the last launch, the Geylang BTO will definitely be very popular. But it probably won't be as oversubscribed as the Bukit Merah BTO.
If you want a city-fringe address, you'll have a higher chance of securing a flat here since 1,382 units will be up for grabs (as opposed to only 175 units in Bukit Merah). However, if you're looking for a flat that offers some peace and quiet, we suggest you sit this one out.
Willing to wait a little longer? There are Queenstown BTO and Kallang/Whampoa BTO in the August 2021 launch to look out for. If not, you may want to check out resale flats in the area.
9 Joo Seng Road
Singapore 360009 · D13
2
2
$530,000
11 Joo Seng Road
Singapore 360011 · D13
3
2
$685,000
39 Circuit Road
Singapore 370039 · D13
1
2
$265,000
50 Circuit Road
Singapore 370050 · D13
2
1
$300,000
35 Circuit Road
Singapore 370035 · D13
3
1
$390,000
93A Jalan Dua
Singapore 391093 · D14
2
1
$335,000
99 Aljunied Crescent
Singapore 380099 · D14
2
2
$378,888
4 Jalan Batu
Singapore 431004 · D15
2
1
$330,000
415 Eunos Road 5
Singapore 400415 · D14
3
2
$868,000
22 Eunos Crescent
Singapore 400022 · D14
3
2
$630,000
---
Check out our reviews on the other May 2021 BTO projects here:
New launch alert! Welcome to Grand Dunman
About Virginia Tanggono
Virginia covers the property news in Singapore, from record sales to profile stories on home ownership. In her free time, she occasionally searches for spoilers of movies and TV shows.
Looking to sell your property?
Whether your HDB apartment is reaching the end of its Minimum Occupation Period (MOP) or your condo has crossed its Seller Stamp Duty (SSD) window, it is always good to know how much you can potentially gain if you were to list and sell your property. Not only that, you'll also need to know whether your gains would allow you to right-size to the dream home in the neighbourhood you and your family have been eyeing.
One easy way is to send us a request for a credible and trusted property consultant to reach out to you.
Alternatively, you can jump onto 99.co's Property Value Tool to get an estimate for free.
If you're looking for your dream home, be it as a first-time or seasoned homebuyer or seller – say, to upgrade or right-size – you will find it on Singapore's fastest-growing property portal 99.co.
Meanwhile, if you have an interesting property-related story to share with us, drop us a message here — and we'll review it and get back to you.
Join our social media communities!
Facebook | Instagram | TikTok | Telegram | YouTube | Twitter