Update as of 25 May 2021: This article has been updated with new information released during the May 2021 BTO launch.
The May 2021 BTO will see 3,879 units being offered, in four projects across two mature and two non-mature estates. One of the BTO projects at a mature estate will be at Bukit Merah with only 175 units of 3-room and 4-room flats up for grabs.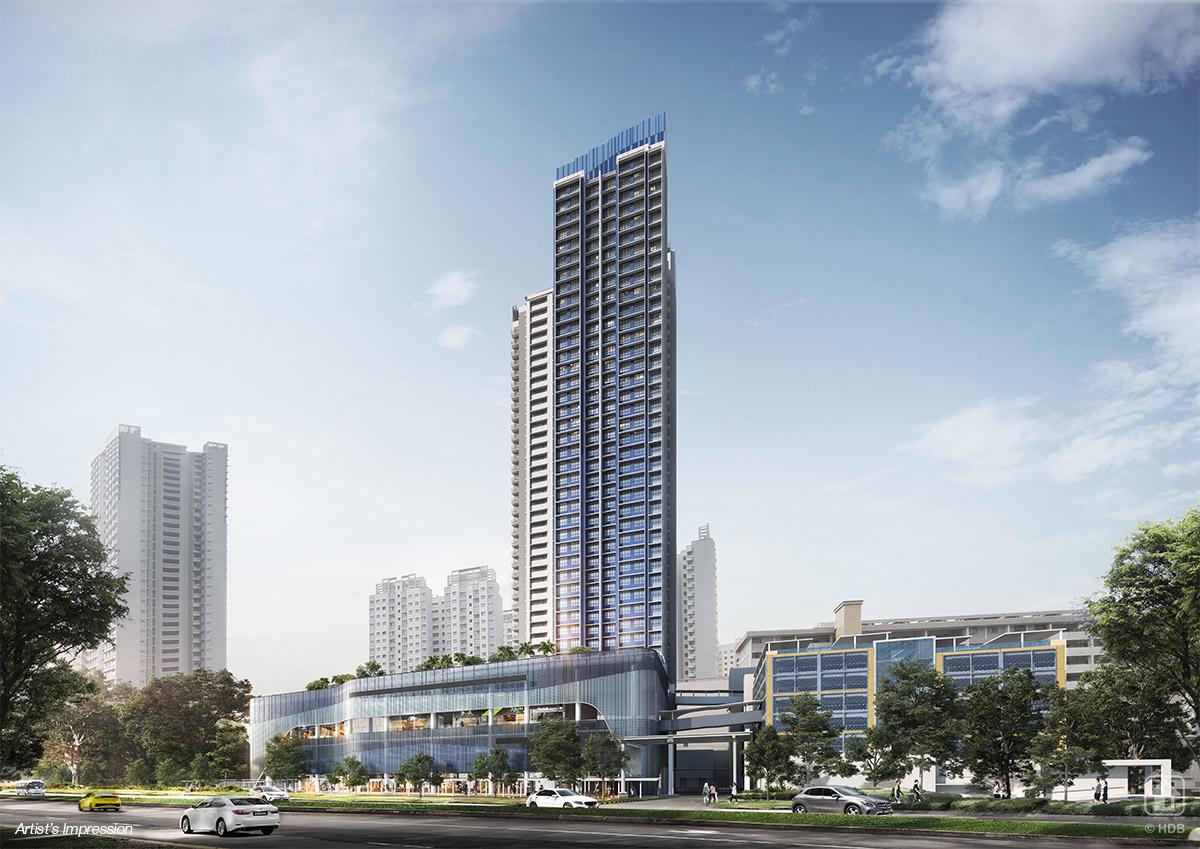 Here's 99.co's detailed review of the May 2021 BTO at Bukit Merah
Project name: Telok Blangah Beacon
Location: Along Telok Blangah Drive
Classification: Mature estate
Number of units: 175 units (3-room and 4-room flats)
Number of blocks: One
HDB's estimated completion date: Q1 2027
Indicative price range:
| | | | |
| --- | --- | --- | --- |
| | Estimated floor area (sqm) | Number of units | Price range (excluding grants) |
| 3-room | 69 | 105 | S$419,000 – S$504,000 |
| 4-room | 93 | 70 | S$602,000 – S$710,000 |
The last time a BTO was launched in Bukit Merah was way back in July 2013. So it's been eight years since the previous launch. Coupled with the future Greater Southern Waterfront plans, the Bukit Merah BTO is likely to be the most subscribed project in this launch.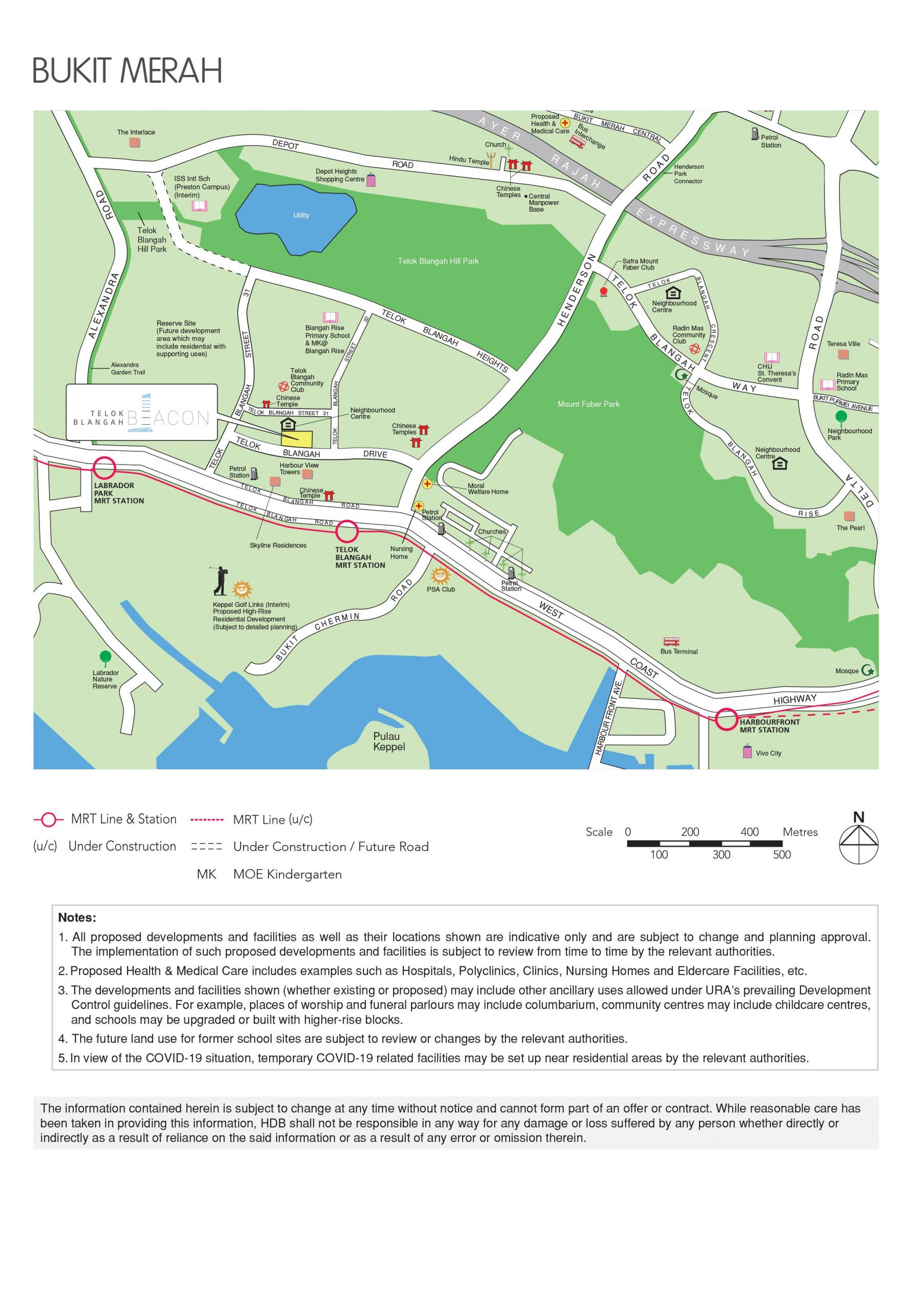 Let's dive into the pros and cons of the May 2021 Bukit Merah BTO project.
May 2021 Bukit Merah BTO — The Pros
Accessibility
The nearest MRT stations from the Bukit Merah BTO are Telok Blangah MRT, Labrador Park MRT and Harbourfront MRT. Both Telok Blangah MRT and Labrador Park MRT are within a 10-minute walking distance.
Harbourfront MRT is just one stop away from Telok Blangah MRT. Alternatively, you can take bus 124 and reach there in 13 minutes.
Given its city fringe location, you can access three MRT lines with ease to reach other parts of Singapore by public transport. There's the Circle Line, which goes through Telok Blangah MRT. North East Line is just one stop away, East West Line is two stops away and Downtown Line is three stops away.
Residents can reach MRT stations in CBD such as Tanjong Pagar, Raffles Place and City Hall in three to five stops. For those who prefer taking the bus, they can also reach the CBD in 30 minutes.
Ayer Rajah Expressway is also in the vicinity, which is good news for drivers.
Food and retail amenities
Getting food and daily necessities is very convenient as Telok Blangah Mall, Telok Blangah Food Centre and Telok Blangah Market are all just a stone's throw away. In fact, NTUC Fairprice is just a two-minute walk away and open 24 hours, perfect for all the last-minute shopping.
Besides the existing neighbourhood centre, Telok Blangah Beacon will comprise commercial amenities on the lower floors, including a new community plaza, supermarket, market and hawker centre.
For more retail options, there's VivoCity which is 13 minutes away by bus. Alexandra Retail Centre is also nearby.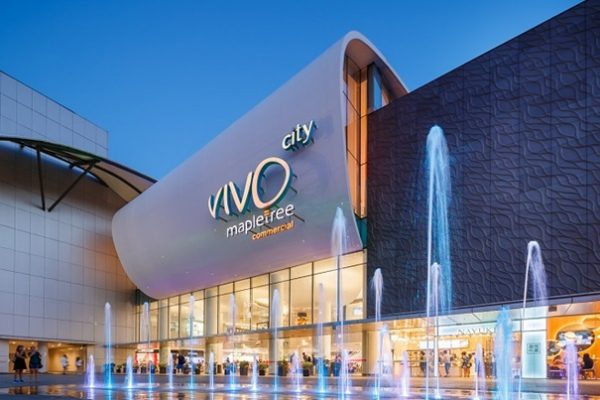 Childcare centres
For those with (or planning to have) children, there are a few childcare centres in the vicinity. This includes an MOE kindergarten that's co-located at Blangah Rise Primary and My First Skool at 63 Telok Blangah Heights.
Recreational facilities
Besides the city-fringe location, a major plus point of this May 2021 Bukit Merah BTO is its proximity to nature. The nearest parks, Telok Blangah Hill Park and Mount Faber, can be reached within a 15-minute walk. For more park options, Southern Ridges and Hort Park are 15 minutes away by bus. A little further south is Labrador Park.
There's also SAFRA Mount Faber with facilities such as swimming pools and a bowling alley.
For even more options, Sentosa isn't too far either, and can be reached in 10 minutes by car.
As the Greater Southern Waterfront takes shape over the next five to 10 years, residents will get to enjoy more lifestyle attractions here.
For those who prefer recreational facilities closer to home, there will also be a roof garden on the third floor of Telok Blangah Beacon.
Healthcare facilities
Healthcare facilities are easily accessible from the Bukit Merah BTO as well. The nearest hospital, Alexandra Hospital, is an eight-minute drive away. Another option nearby is Singapore General Hospital. For minor ailments, residents can take a 15-minute bus ride to Bukit Merah Polyclinic.
Price appreciation
If you manage to snag a flat here, you can expect a healthy capital appreciation, especially given its proximity to the Greater Southern Waterfront. For instance, four-room flats in the area that just hit MOP are selling as high as S$968,000.
May 2021 Bukit Merah BTO — The Cons
Oversubscription
The Telok Blangah Beacon BTO has the lowest number of units (175) to be launched compared to the other projects in the May 2021 launch. Coupled with its city fringe location and proximity to the Greater Southern Waterfront, it will probably be the most oversubscribed project during the launch. So count yourself extremely lucky if you manage to get a queue number.
Type of flats
Unlike the other projects in the May 2021 BTO launch, only 3-room and 4-room units will be offered here. So this may not be the BTO for those who have (or plan to) a bigger family or want more space.
Price
Price-wise, BTO projects in mature estates and city-fringe location tend to be the most expensive. So we can expect a higher premium for the flats in Geylang and Bukit Merah.
At the same time, the Bukit Merah BTO will be situated close to the Greater Southern Waterfront. As we've predicted, the flats here carry the highest price tags in this launch. In fact, 4-room flats at the Telok Blangah Beacon have an indicative starting price of S$602,000 – S$710,000!
Schools
There's a limited choice of schools in the area, with the nearest ones being Blangah Rise Primary, Radin Mas Primary School and CHIJ St Theresa's Convent.
The upside is that Blangah Rise Primary is just 12 minutes away by foot from the flats. In contrast, students and parents will need to take a short bus ride to get to the other two schools.
For those who are willing to travel further, the options include Gan Eng Seng Primary, Alexandra Primary and Bukit Merah Secondary.
What else we noted about the May 2021 Bukit Merah BTO
There are a few Chinese temples one to two streets away from the flats. So residents can expect more noise coming from these temples during festivities.
The good thing about the BTO site being so close to new and existing retail amenities like Telok Blangah Mall, market and hawker centre is that you don't have to travel far to get food and daily necessities. The bad thing is that there will be a lot of human traffic in the area.
For drivers, Telok Blangah Beacon will share an existing multi-storey car park at Block 78A. It will be connected to the car park with two link bridges.
If you're planning to get a south-facing flat on the higher floors, do note that you may not be able to get an unblocked sea view. This is because of the two high-rise condos across the street, which are closer to the waterfront.
This project will just be two streets away from the former Keppel Club. And there are plans to turn this plot into a residential area with both public and private housing.
These flats are not only close to the CBD, but also commercial areas like one-north. So it's a convenient location for those who work there.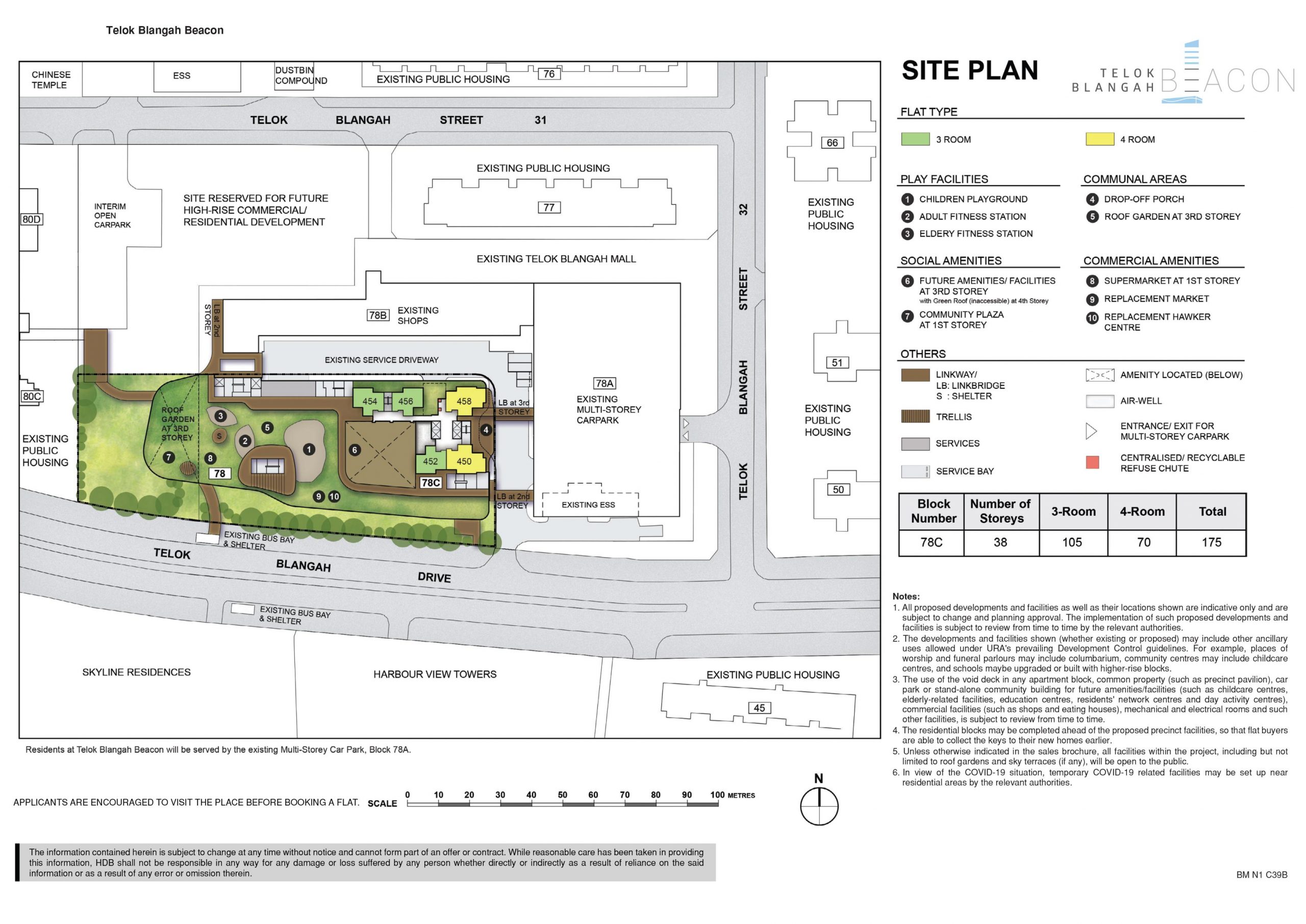 Our verdict on the May 2021 Bukit Merah BTO
Out of all the projects in this launch, the Bukit Merah BTO comes out tops for its proximity to the future Greater Southern Waterfront. As the area gets developed over the next few years, we can expect more uplift in the area.
We also like that it's close to various MRT interchanges, as well as food and retail amenities. Another aspect that stands out is that it's located close to many parks, so it makes for an ideal home for nature lovers.
If you've always wanted to live close to the waterfront, this is probably one of the more affordable options around. There's a high chance that this Bukit Merah BTO will be cheaper than the public housing planned at the former Keppel Club site.
On the other hand, the limited number of schools in the vicinity is a downside for those with children. For those who mind travelling far to go to schools, this may not be the BTO to ballot for.
May 2021 Bukit Merah BTO: Should you apply? 
With only 175 units up for grabs, there's a very low chance of getting a ballot number. Chances are even slimmer if you're going for a 4-room flat since they're the most popular ones and only 70 units will be available here. So if you really want to secure a flat here, consider balloting for a 3-room flat.
If you've always wanted a flat in the city fringe, another way would be to ballot for the Geylang BTO, which will have 1,382 units. Or if you can wait a little longer, there's the Queenstown BTO launch happening in August.
But if you die die want a flat in Bukit Merah, there's always resale.
Check out our reviews on the other May 2021 BTO projects:
Looking for a property to buy or rent? Find your dream home on Singapore's largest property portal 99.co!