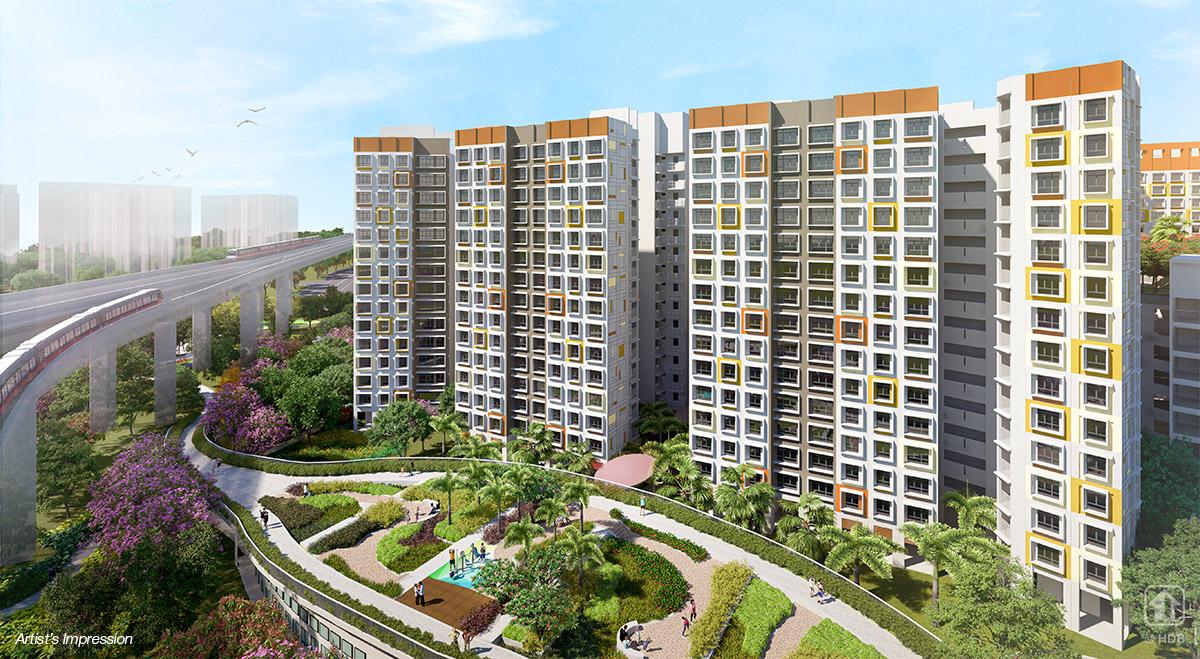 Update as of 25 May 2021: This article has been updated with new information released during the May 2021 BTO launch.
This month, we will see 3,879 units being offered in the May 2021 BTO launch across four projects in two mature and two non-mature estates. One of the BTO projects in the non-mature estate will be at Tengah, with 782 units of 2-room Flexi, 4-room and 5-room units up for grabs.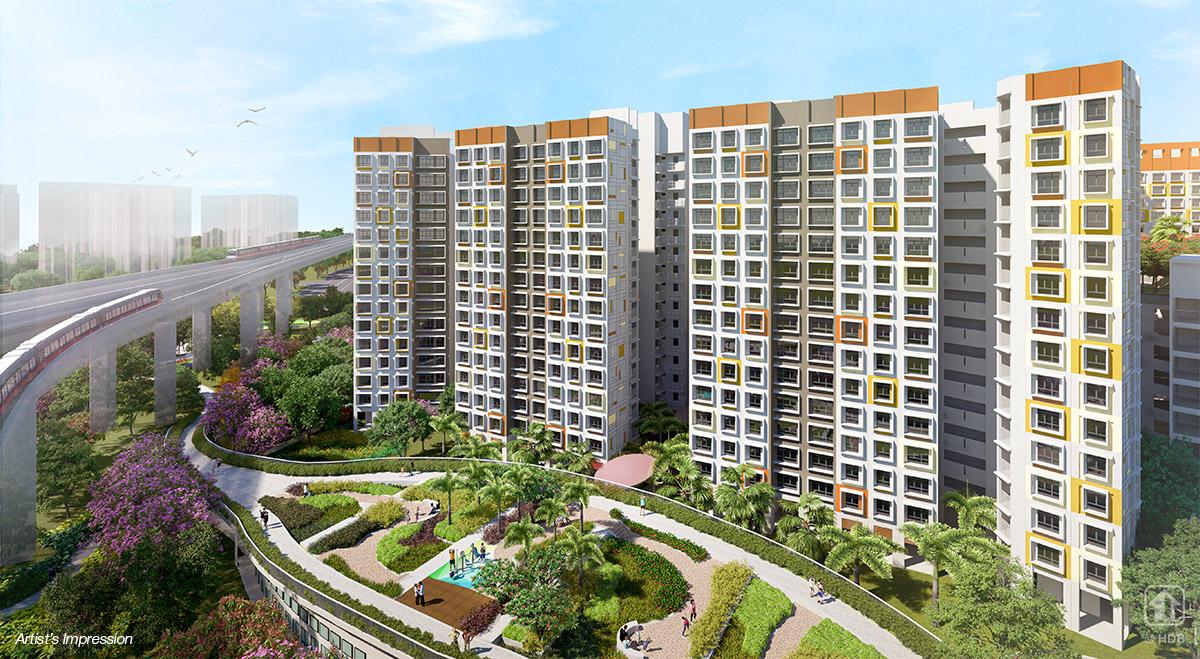 Here's 99.co's detailed review of the May 2021 BTO at Tengah
Project name: Garden Bloom
Location: Along Tengah Garden Walk
Classification: Non-mature estate
Number of units: 782 units (2-room Flexi, 4-room and 5-room flats) 
Number of blocks: Seven
HDB's estimated completion date: Q3 2025
Indicative price range:
| | | | |
| --- | --- | --- | --- |
| | Estimated floor area (sqm)  | Number of units | Price range (excluding grants)  |
| 2-room Flexi (Type 1) | 40 | 70 | S$113,000 – S$137,000 |
| 2-room Flexi (Type 2) | 49 | 196 | S$132,000 – S$167,000 |
| 4-room | 94 | 265 | S$299,000 – S$359,000 |
| 5-room | 113 | 251 | S$404,000 – S$495,000 |
Tengah is the newest residential estate in Singapore. Unlike other estates, Tengah has been included in nearly every BTO launch since November 2018. The last launch in the estate was in February 2021 for Parc Woods. So the upcoming May 2021 BTO launch will mark the seventh time a project is launched in Tengah.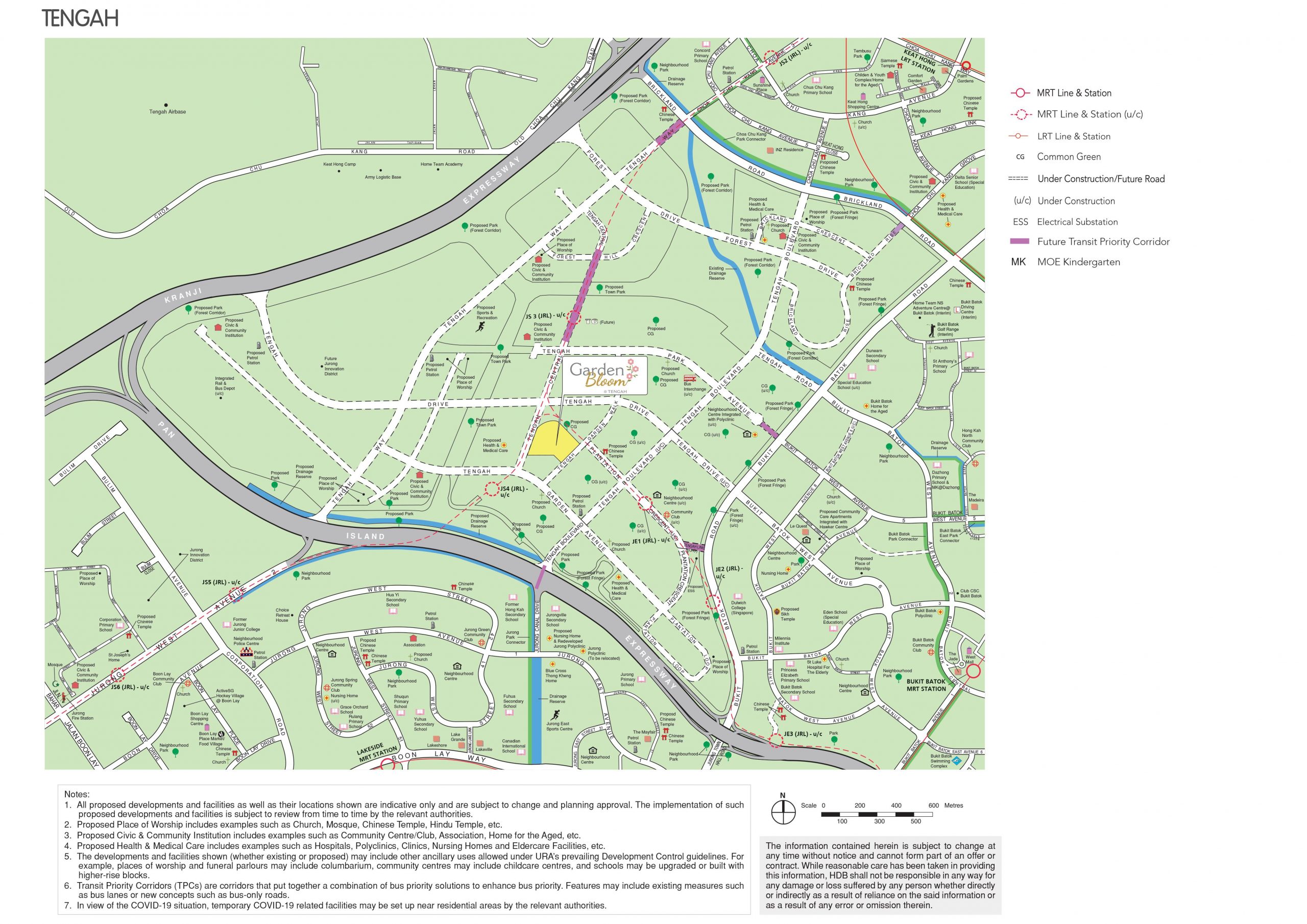 Let's dive into the pros and cons of the May 2021 Tengah BTO project. 
May 2021 Tengah BTO — The Pros
Accessibility
A major highlight of this Tengah BTO is that it will be around a five-minute walk away from Hong Kah MRT, which will be completed in 2026 as part of the

Jurong Region Line (JRL)

. The next closest MRT, Tengah MRT, will be around a 10-minute walk. 

Once Stage 1 of the JRL is ready in 2026, you'll be able to enjoy easier connectivity to other parts of the island. North South Line will just be three stops away via Choa Chu Kang MRT, while East West Line will be four stops away via Boon Lay MRT. 

When the JRL is fully operational in 2028, Jurong East will just be six stops away, allowing you to access more amenities easily. 

The project's proximity to

Jurong Lake District

and Jurong Innovation District also makes it an ideal home for those working there. 

A few Transit Priority Corridors are just a few streets away from the BTO, allowing faster travel to amenities in other estates like Jurong East and Bukit Batok. 

Another plus about Tengah is that it's pedestrian- and cyclist-friendly. The Common Greens around the project makes it easier for residents to explore the estate by foot or bike. 

And for those who drive, the Kranji Expressway and Pan Island Expressway are just a couple of streets away from the BTO. 
Schools
As shown in the URA Master Plan, a school (marked E) will be built right next to the Tengah BTO, which is good news for those with (or planning to have) children. 

Tengah will also have its first primary school from January 2025 onwards

in Tengah Plantation district. It will be formed through a merger of Juying Primary and Pioneer Primary. 

For more school options, students will need to travel to other districts like Jurong East and Bukit Batok. 

Currently, the nearby schools include Jurong Primary, Shuqun Primary, Rulang Primary, Princess Elizabeth Secondary, Jurongville Secondary, Fuhua Secondary, Yuhua Secondary, Hua Yi Secondary, Dunearn Secondary, Bukit Batok Secondary and Millennia Institute.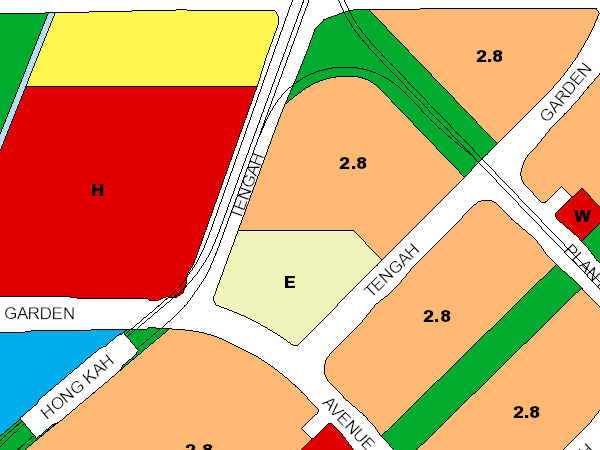 Healthcare facilities
A proposed health and medical centre will be built right across Tengah Central. So residents may not have to travel far for their healthcare needs. 

There's a polyclinic in the vicinity, along Tengah Park Avenue, that's under construction as well. 

In the meantime, the nearest healthcare facilities are Bukit Batok Polyclinic and Ng Teng Fong Hospital. 
Type of flats
Unlike the

Bukit Merah BTO

and

Geylang BTO

in this May 2021 launch, 5-room flats will be available in the Tengah BTO. It's a good option for those who have bigger families or wish to have more space. 
May 2021 Tengah BTO — The Cons
Food and retail amenities
The two nearest neighbourhood centres, currently under construction and should be ready by the time this project has TOP-ed, will be a couple of streets away. Some may find this a little far. 

There will also be a town centre located next to Tengah MRT in future. So you can expect more options available there. On the other hand, not much is known when it's ready. 

For those who prefer going to the mall, the nearest malls will be at Le Quest and West Mall at Bukit Batok. 
Price
Since it's located in a non-mature estate, the flats will be more affordable than those in mature estates.

As we predicted in an earlier version of this review, these Tengah BTO flats are priced higher than the Woodlands BTO in this launch, just like in the August 2020 launch.

In this May 2021 launch, 4-room flats at Garden Bloom are sold starting from S$299,000 (excluding grants) — S$24,000 higher than the starting price of S$275,000 for the same type of flat at Woodgrove Ascent in Woodlands. 

This means that you'll be paying more for a home in an estate that's not as developed.
Recreational facilities
Set to be a "forest town", Tengah will feature lots of green spaces around the estate. This includes a Common Green that's right beside the project.There will also be roof gardens on top of the multi-storey car park and childcare facility.

Have always wanted to grow your own food? The Garden Farmway is a key feature of the district, allowing community gardening and farming. 

For those who love hiking, the Forest Corridor will connect Tengah with Western Catchment Area and Central Catchment Nature Reserve. 

But apart from the parks, there aren't many recreational options available in the vicinity. 

A proposed sports and recreation facility will be built near Tengah MRT, but not much details about it are known. 

For now, the nearest recreation centre will be Jurong East Sports Centre, which comprises a sports hall, gym, stadium and swimming complex.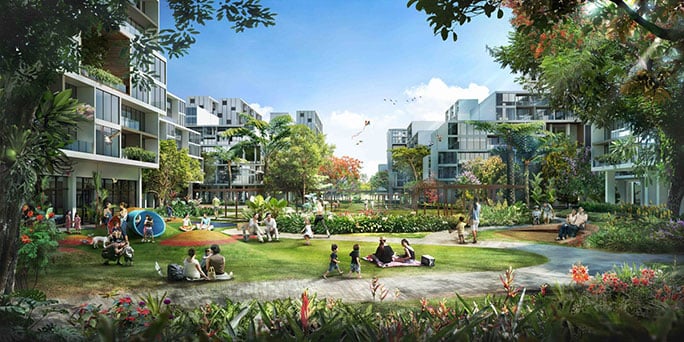 As the newest town in the country, residents will need to wait for some time before amenities are developed in the area. Whether it's for school, healthcare or daily necessities, they'll have to travel further in the meantime. 
Likewise, it will take a few more years before more people settle down, and businesses (including your favourite bubble tea shop) to set up shop in Tengah.  
What else we noted about the May 2021 Tengah BTO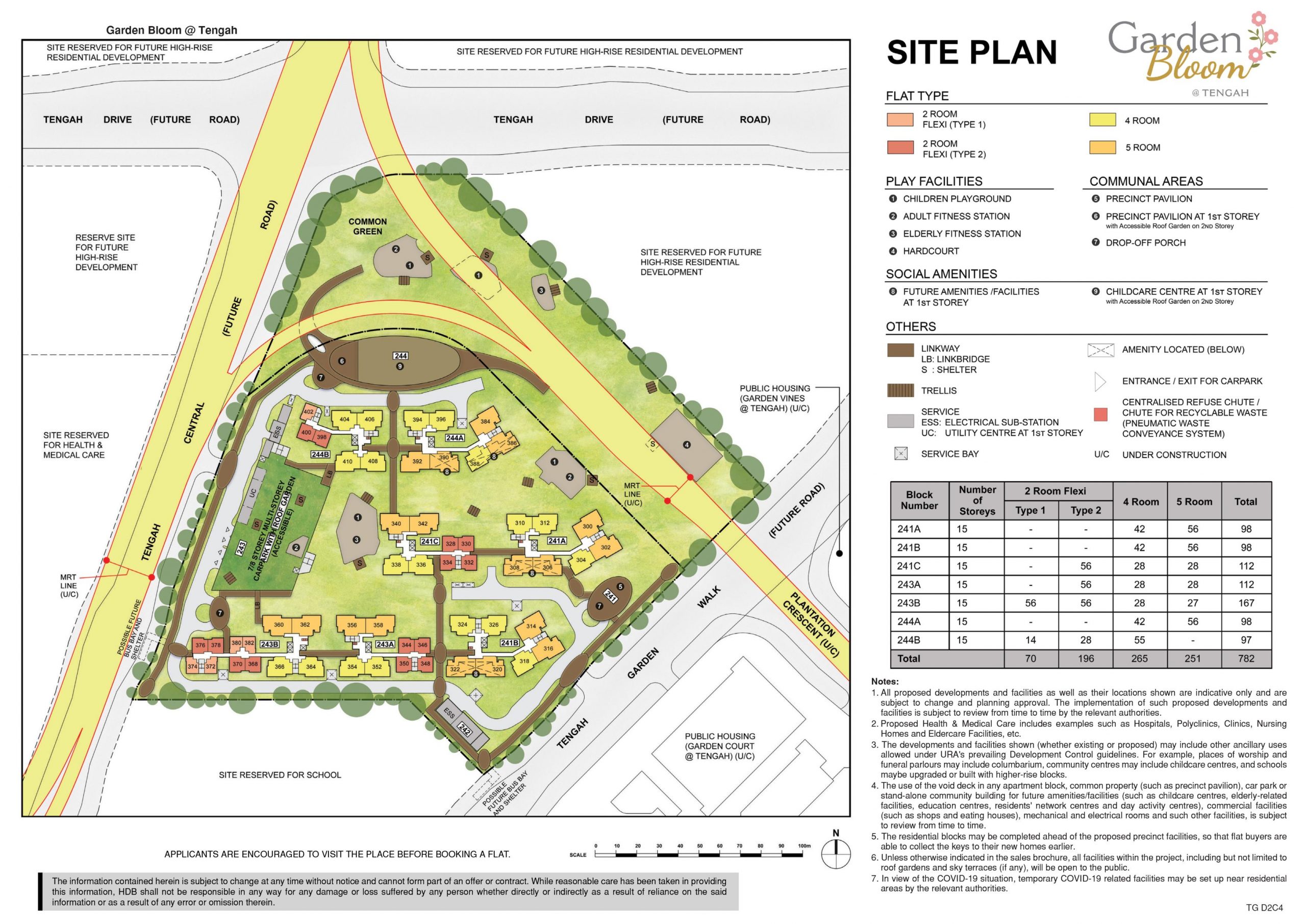 Garden Bloom is the only project in this launch that will not offer 3-room flats. 

There will be a childcare centre at the north of Garden Bloom. 

Blocks 243B and 244B are the closest to the multi-storey car park, connected via a link bridge each. 

This is the only project in the launch that will not offer 3-room flats. 

The area is bound to get pretty noisy as the elevated rail tracks of the JRL will run across the east and west side (Blocks 243B, 244B, 244A and 241A) of this Tengah BTO project. 

When the new school opens in future, there will be some heavy traffic in the morning and afternoon. 

There are also plans to build a Chinese Temple across Tengah Garden Walk, so some days, especially during festivities, can get even noisier. 

On top of that, the Tengah BTO is within a 3km radius of the Tengah Air Base. 

And if you want to get an unblocked view, you might want to avoid the east-facing stacks in blocks 244A, 241A and 241B. The northeast side of the project will face

an upcoming EC

(marked in red)

, while the southeast side will be opposite the Garden Court BTO across the road from the November 2020 launch.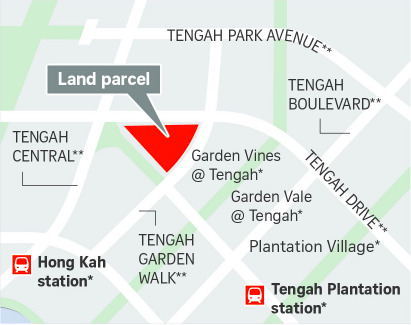 Our verdict on the May 2021 Tengah BTO
Aside from the fact that it will take some time before amenities develop, this Tengah BTO has a pretty good location. 
We like that Hong Kah MRT, a future school and healthcare facility will all be within a five-minute walk. When the MRT is ready, residents won't have to just rely on the bus to get around. And should the school be a primary school, living in this project will make it easier for parents to secure a seat for their children. 
On the other hand, its proximity to the MRT and school may prove to be too noisy for some. Coupled with the temple across the street and the airbase around 3km away, this Tengah BTO site will probably be as noisy as the Geylang BTO site in this May 2021 launch. 
May 2021 Tengah BTO: Should you apply? 
If you like the premise of living in a car-free and forest town, by all means, go ahead and ballot for a flat here. Barring any other delays, Garden Bloom will be one of the two projects in this launch with the shortest waiting time of less than four years. Hong Kah MRT within walking distance and cycling tracks around the estate, you won't have to rely on a car. 
But it will probably take around a year before the MRT is ready, and two more years before the whole JRL is fully operational. The same goes for the amenities in the area. Until then, you'll have to rely on long bus rides to get to the nearest amenities outside the town. 
If you prefer buying a more affordable flat, the Woodlands BTO might just be more worth it. For a lower price tag, various amenities such as malls, schools and recreational facilities are all within walking distance. Best of all, you don't have to wait for a few more years for these amenities to be ready. 
Still want to live in the west, and are willing to wait a little longer? There's the much anticipated Jurong East BTO coming in August 2021, which will be its first in a decade. If not, check out resale flats here! 
In the meantime, check out our reviews on the other May 2021 BTO launch: 
Looking for a property to buy or rent? Find your dream home on Singapore's largest property portal 99.co!
New launch alert! Welcome to Grand Dunman
About Virginia Tanggono
Virginia covers the property news in Singapore, from record sales to profile stories on home ownership. In her free time, she occasionally searches for spoilers of movies and TV shows.
Looking to sell your property?
Whether your HDB apartment is reaching the end of its Minimum Occupation Period (MOP) or your condo has crossed its Seller Stamp Duty (SSD) window, it is always good to know how much you can potentially gain if you were to list and sell your property. Not only that, you'll also need to know whether your gains would allow you to right-size to the dream home in the neighbourhood you and your family have been eyeing.
One easy way is to send us a request for a credible and trusted property consultant to reach out to you.
Alternatively, you can jump onto 99.co's Property Value Tool to get an estimate for free.
If you're looking for your dream home, be it as a first-time or seasoned homebuyer or seller – say, to upgrade or right-size – you will find it on Singapore's fastest-growing property portal 99.co.
Meanwhile, if you have an interesting property-related story to share with us, drop us a message here — and we'll review it and get back to you.
Join our social media communities!
Facebook | Instagram | TikTok | Telegram | YouTube | Twitter