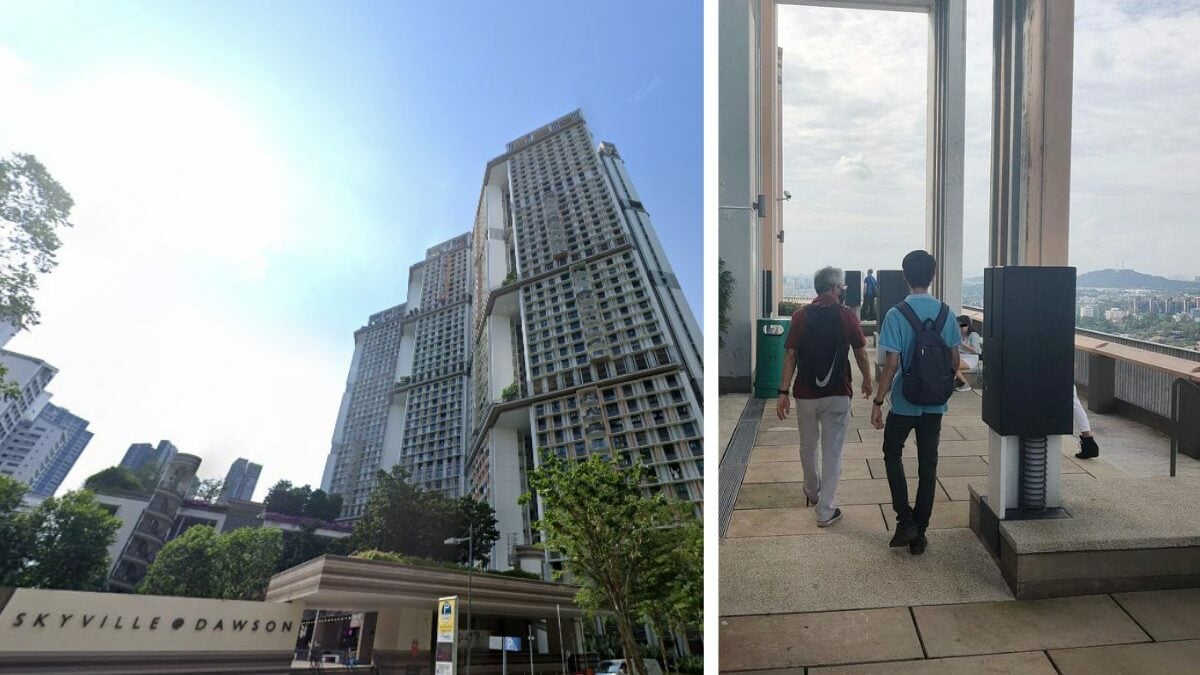 In a Facebook post dated 14 November, Dawson Residents' Committee (RC) had shared that they had conducted a multi-agency joint operation that day at the sky garden of SkyVille @ Dawson.
Comprising personnel from HDB, MOM, NEA and Dawson RC, the operation focused on enforcing safe management measures (SMM), smoking and littering offences. The public was also reminded to adhere to SMM and clean up before leaving the area.
"During the operations, the particulars of six members of the public were recorded for enforcement action to be taken as they had gathered in excess of the group size limit of up to 2 persons," the RC shared in the Facebook post.
According to The New Paper, this came after several residents had expressed concerns about domestic helpers gathering at the rooftop of SkyVille @ Dawson.
The rooftop garden is open to the public, whether they are residents or non-residents of the development.
In an earlier Facebook post on 10 November, the RC shared that volunteers had continued their Citizens-On-Patrol on a nightly basis to ensure that residents do not stay at the sky garden past 10 pm to minimise the noise level. It also acknowledged media reports about sightings of domestic helpers gathering.
Shin Min Daily News had reported that domestic helpers were spotted at the rooftop garden without masks, with one resident expressing that he would avoid the garden on Sundays to be safe.
It was also not the first time that SkyVille @ Dawson made the news for social gatherings. Earlier this year, we reported that large crowds of Singaporeans had gone to the sky gardens of SkyVille @ Dawson and SkyTerrace @ Dawson during New Year's Eve.
Likewise, it attracted complaints from residents about the noise.
---
Should these rooftop gardens remain open to the public? Let us know in the comments section below. 
If you found this article helpful, 99.co recommends River Peaks' 4.6 oversubscription for 4-room flats shows Singaporeans are accepting of 10-year MOP and Here are our picks of 5-room HDB flats for sale at $850k and below in the city fringe.
Looking for a property?
Find the home of your dreams today on Singapore's fastest-growing property portal 99.co! If you would like to estimate the potential value of your property, check out 99.co's Property Value Tool for free. Also, don't forget to join our Facebook community page or Telegram chat group! Meanwhile, if you have an interesting property-related story to share with us, drop us a message here — and we'll review it and get back to you.
Note that this content may be reproduced in edited form on our content partner sites. They include AsiaOne and Yahoo South-East Asia but are not limited to these.