With the High Speed Rail project dead in the water, our attention is turned from Jurong to Woodlands. Malaysia's new government has confirmed that the Johor Bahru-Singapore Rapid Transit System (RTS) will go ahead as planned. Expected to open in 2024, the Singapore end of the RTS will be integrated with the upcoming Woodlands North MRT station on the Thomson-East Coast Line. The area around the Singapore RTS terminus will be transformed into a bustling regional centre.
Like what we've seen in Jurong prior to the cancellation of the High Speed Rail project, Woodlands residents are buoyed by the prospect of having a cross-border rail link. Besides convenience, some of them are hoping that the link will generate some uplift in the area's property prices. Before these hopes turn into another round of speculation, we take a look what could affect property value in Woodlands, and how:
Why the RTS link might increase Woodlands property value
#1: The RTS enables access to a GST-free paradise
Singaporeans love a good deal, and when you consider the fact that…
Groceries in Malaysia tend to be 30% – 50% cheaper, and

There's no more Goods and Services Tax (GST)
…We can imagine that this will be a huge incentive for kiasu, penny-pinching Singaporeans to set up home at Woodlands. That way, they can easily hop across to Johor to stock up on their necessities whenever they wish!
#2: The RTS facilitates the transformation of Woodlands
The RTS might not transform Woodlands into a full-fledged business district like how the HSR project was envisioned to change Jurong, but the proposed Woodlands Regional Centre still has a lot of to look forward to.
In its latest Master Plan, the Urban Redevelopment Authority (URA) has already zoned land parcels for a business park, as well as commercial developments in the new Woodlands Regional Centre. There are also plans for a Waterfront Park (linked to the existing Admiralty Park) and a Community Hub. Such amenities could lead to a demand-driven property price uplift, or increase its resilience in weak periods.
Meanwhile, commercial property investors might also smell an opportunity here.
3. Private residential development in Woodlands
The area to the north-west of the upcoming Singapore RTS terminus has also been demarcated for housing. This is part of a larger Woodlands makeover project the government announced in 2017. About 10,000 new residential units will be built, many of which will be situated at the new Woodlands Regional Centre and along Woodlands North Coast.
Interestingly enough, the URA hasn't decided whether these will be HDB flats or condos. We think that it'll be a mix of both. Regardless, we foresee new homes here to be highly sought after, the positive price effects of which might spill over to the HDB resale flats nearby.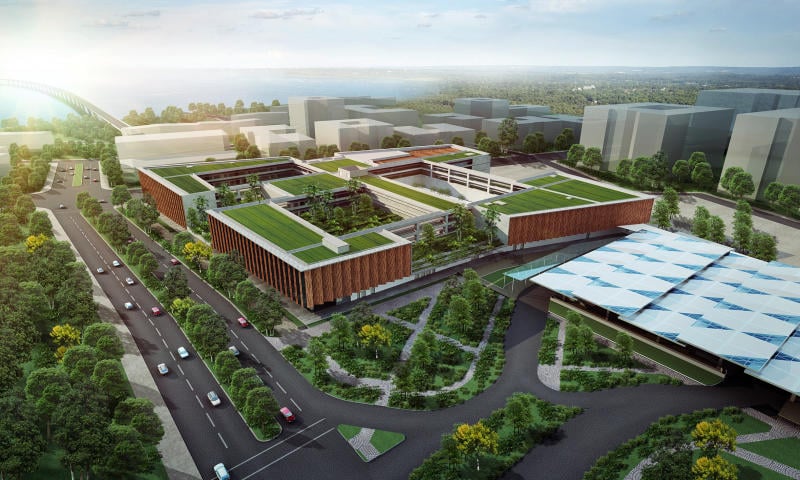 Why the RTS link might decrease Woodlands property value
#1: Safety concerns
Now, we're not jumping to the conclusion that staying near the Singapore RTS terminus at Woodlands North will be unsafe, but we can see how security might be a concern for homeowners, seeing that access to and from Johor Bahru is easier. One thing's for sure, our customs and law enforcement will be doing their best to keep Woodlanders safe.
#2: Singaporeans potentially moving to Johor
In a couple of year's time, the quality of living in Johor could have improved significantly, with its cost of living still low (relative to Singapore). If that happens, we're sure some of us might be tempted to consider the arrangement of living in Johor Bahru while working here, especially if a new condo over there costs about as much as a resale HDB flat in Woodlands. 
Under this unlikely circumstance, property prices in Woodlands could fall.
Why we wouldn't bet on property value in Woodlands
While the above scenarios are interesting food for thought, the fact still remains that the general rules governing the price of properties in Singapore, in particular 99-year leasehold HDB resale flats, is (1) remaining tenure, and (2) distance from our own Central Business District (CBD). This is the reason why resale flats in Yishun is more expensive than Woodlands, why Clementi is more expensive than Jurong East, and why Bedok is more expensive than Tampines.
So, even though the RTS link will set Woodlands apart from all the other towns come 2024, home-seekers should pick Woodlands as their home more for practical considerations than for anything else. After all, there are indeed times when a cheap, tummy-warming JB food feast is worth far more than a 1% appreciation of our flats.
Other upcoming developments in Woodlands include:
By 2021, the Thomson-East Coast MRT Line would allow Woodlands residents to travel to the CBD in under 40 minutes.
By 2026, a new 21.5km highway — the North-South Corridor — will give motorists a direct route from Woodlands to the city.
Voice your thoughts in the comments section or on our Facebook community page.
If you found this article helpful, 99.co recommends Is it getting hip to live in the North? and Will Woodlands property finally get its day in the limelight
Looking for a property? Find your dream home on Singapore's largest property portal 99.co!