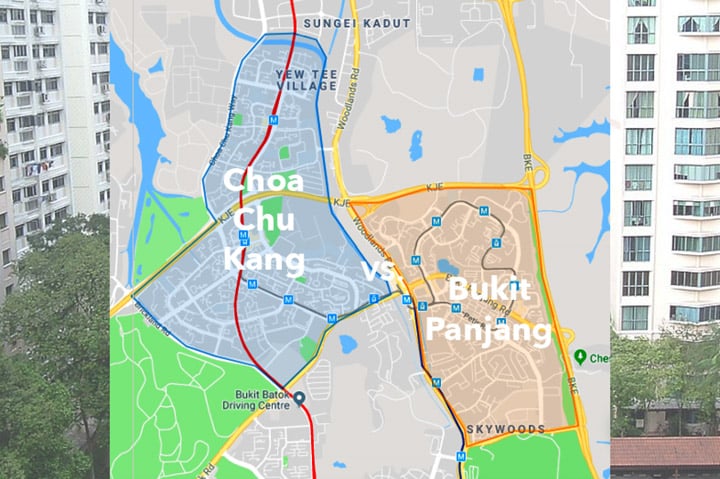 Not all HDB towns are the same, and comparing two towns are usually as useful as comparing apples and oranges. However, there are HDB towns that are very similar, not just in geography but in age, such as Choa Chu Kang and Bukit Panjang — towns that were built up since the 1980s. Situated side by side, we feel the two towns deserved a closer look in terms of their HDB resale value.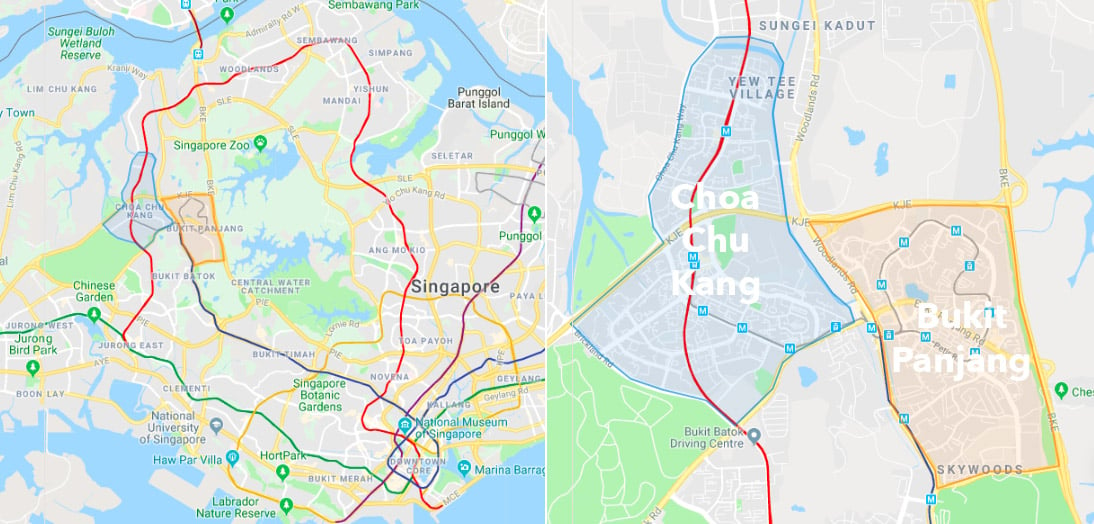 To do so, we dived into past transaction data to compare HDB resale prices in the from 2003 onwards for Choa Chu Kang and Bukit Panjang. And, to our surprise, we found really eye-opening results: Choa Chu Kang HDBs had once led their Bukit Panjang counterparts in per square foot (psf) transaction price, only to fall further and further behind. This article reveals just how much Choa Chu Kang has lagged behind its neighbouring town in terms of HDB resale value and — for the sake of homeowners there —suggest how the town can possibly regain lost ground.
(For ease of discussion, we'll at times refer to Choa Chu Kang as CCK and Bukit Panjang as BP.)
Chart #1: Choa Chu Kang is losing in terms of absolute HDB resale value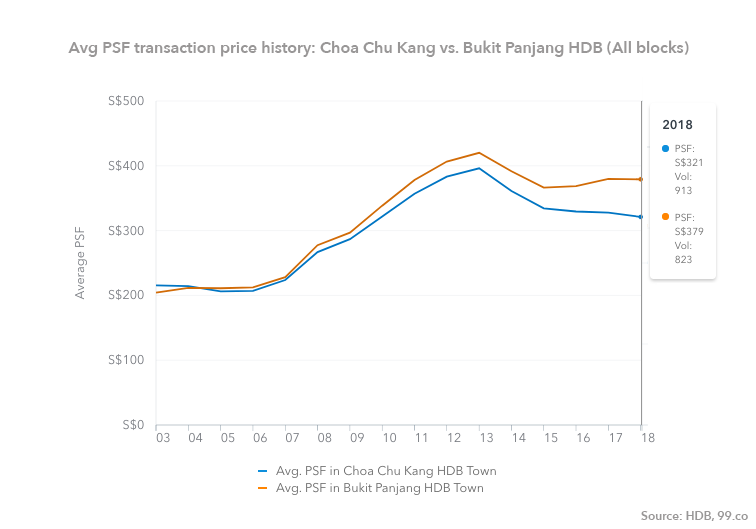 Comparing all the average psf transaction prices of ALL HDB blocks in Choa Chua Kang and Bukit Panjang for the period of Q1 2003 to Q3 2018 inclusive, we clearly see that CCK had once led BP ($215 vs $204 in 2003) before drawing level in 2004.
After that, up until 2008, the average psf prices between CCK and BP were still neck and neck. At the same time, the following happened:
April 2007: The government approves the building of a MRT line to link the North-west of Singapore directly to the city.
July 2008: The government announced the station sites for the new MRT line, to be called the Downtown Line. The Line would have a terminal station at Bukit Panjang.
To us, it's little coincidence that Bukit Panjang's HDB psf transaction prices started pulling away from its neighbour after news of the Downtown Line sank in. From a 3.5 to 3.7% price premium in 2008/2009, BP has increased the gap every year since. While both buyers and homeowners and BP saw a definite upside, CCK started becoming comparatively less and less attractive, especially since the latter town has undergone very few changes and no significant new amenities over the last twenty years.
Most significantly, with the implementation of cooling measures in 2013 and the removal of the Cost-over-Valuation (COV) system for resale flats in March 2014, CCK's HDB resale prices started sliding at a faster rate than BP. And when the Bugis to Bukit Panjang section of the Downline Line went into operation in December 2015, BP's average psf transaction prices actually started rising, whereas CCK prices continued to fall.
**[Browse all HDB resale flats in Bukit Panjang here] **[Browse all HDB resale flats in Choa Chu Kang here]
Chart #2: Choa Chu Kang's older flats are also losing out to Bukit Panjang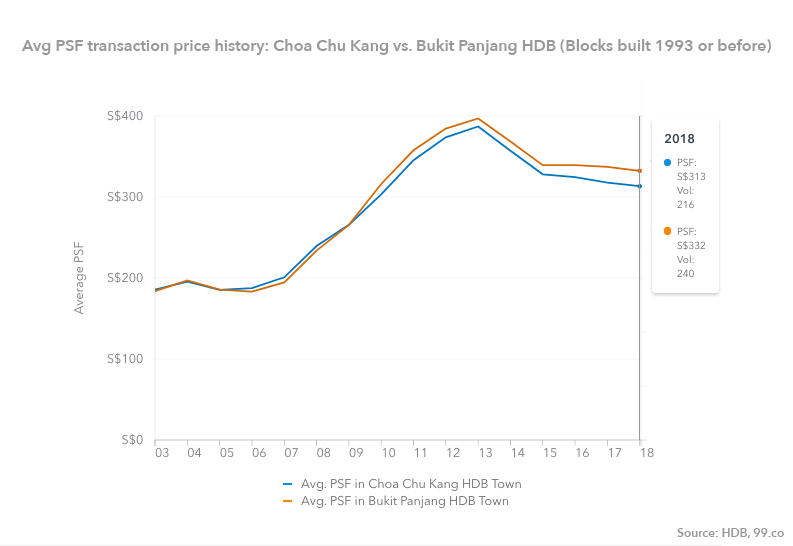 At the same time, we were aware of the fact that there are a significant number of newer flats in Bukit Panjang, compared to Choa Chu Kang. To so give a fairer indication of HDB resale values between the two estates over the years, we eliminated these newer flats, which had a higher resale value, by filtering our data to include only HDB flats built in 1993 or before.
The resulting chart only serves to reaffirm the fact that the Downtown Line was the single biggest deciding factor for the increase in HDB resale value in Bukit Panjang over Choa Chu Kang. Not only did average psf transaction prices for BP resale flats start increasing at a higher rate that CCK prices after 2008, we could observe that the price gap of these older flats further opened up — from 2016 onwards — after the opening of the completed MRT line.
But that's not all.
Chart #3: Flats near Choa Chu Kang MRT are losing out to flats near Bukit Panjang MRT that are on average FIVE YEARS OLDER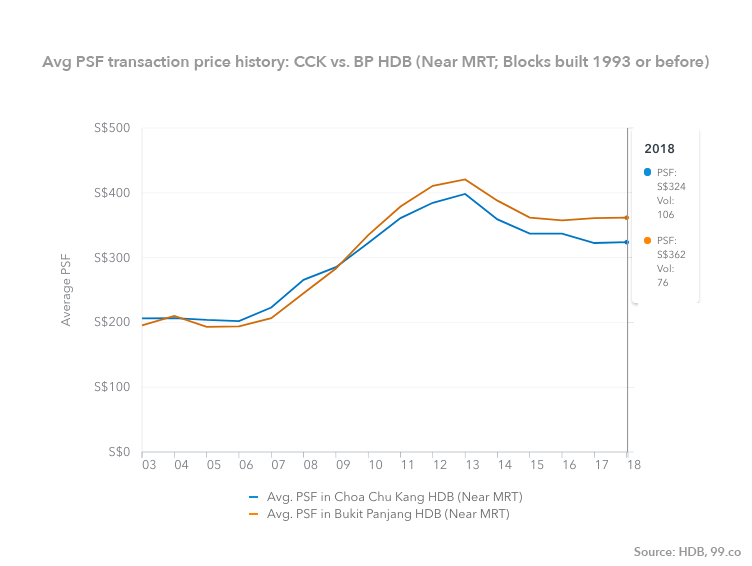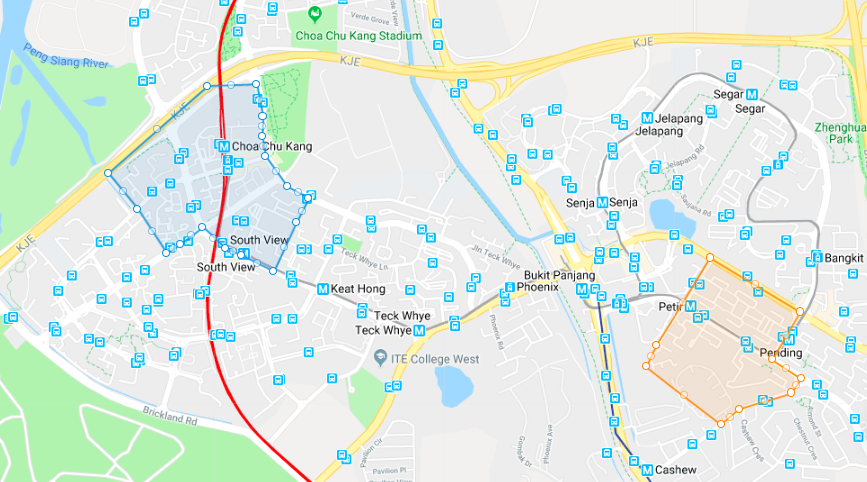 Going even deeper, we refined the data to compared only older flats — built 1993 and before — in CCK and BP that are located close to their respective town centres (boundaries shown in above map).
As can be seen from the map, the Bukit Panjang flats that we included are, on average, a little further away from a MRT station than the Choa Chu Kang flats. More significantly, the cluster of BP flats (in orange) were completed in 1988. In contrast, the cluster of CCK flats (in blue) were built in 1993, meaning they are on average five years newer.
Nevertheless, age didn't matter. Since 2008, the 1988 BP flats started surging ahead in average psf transaction price growth, overtaking the psf price of the newer 1993 CCK flats the year after. Today, the 1988 BP flats costs on average 11.7% more per square foot than 1993 CCK flats — amazing given the sensitivity of resale flat buyers to the remaining lease of HDB units.
**[Browse all HDB resale flats in Bukit Panjang here] **[Browse all HDB resale flats in Choa Chu Kang here]
Whatever happened to Choa Chu Kang HDB resale value?
Well, we're not trying to say Choa Chu Kang is a dump, but it is seriously paling in comparison to Bukit Panjang, its (currently) more glamorous neighbour who has gone from being in the shadows of CCK to stealing the limelight. Our three charts, in particular, goes to show just how much new mass transit infrastructure can turn around the fortunes of a residential district. In the case of Bukit Panjang, the Downtown Line and MRT station not only improved accessibility, it also breathed new life to the area by introducing a wider variety of retail, services and entertainment amenities for residents.
But can Choa Chua Kang ever regain lost ground? Yes, these four suggestions could possibly make Choa Chu Kang great again:
Suggestion #1: Build more parks and nature amenities in CCK
For what's actually a mid-sized HDB estate, Bukit Panjang residents have access to plenty of parks and amenities, namely:
Chestnut Nature Reserve (Singapore's largest nature park; opened in 2017)
Zhenghua Nature Park (a 2.5km-long park that spans the entire length of Bukit Panjang town)
Bukit Timah Nature Reserve (accessible via Zhenghua Nature Park or an entrance at Dairy Farm Road)
Despite having a bigger population (186K vs 139K), Choa Chu Kang only has a modest town park that would take less than an half an hour to cover.
But with the government having previously indicated that it would reduce the land used for golfing, we imagine that the current Warren Golf & Country Club in Choa Chu Kang, which is located next to three branches of Peng Siang River, can be turned into a scenic riverside park in the mould of Ang Mo Kio-Bishan Park for the enjoyment of residents.
This leads to our second suggestion.
Suggestion #2: Build a nature walk to nearby farms
Beyond the western boundary of Choa Chu Kang is a number of farms. Currently, these farms aren't exactly accessible (they're separated from CCK by the Warren Golf & Country Club and the Kranji Expressway, see below image). With a nature walk across the expressway and a golf course-turned-park, the farms can be turned into recreational destinations. The nature walk itself, like the planned Heritage Trail in Punggol, can become Choa Chu Kang's star attraction.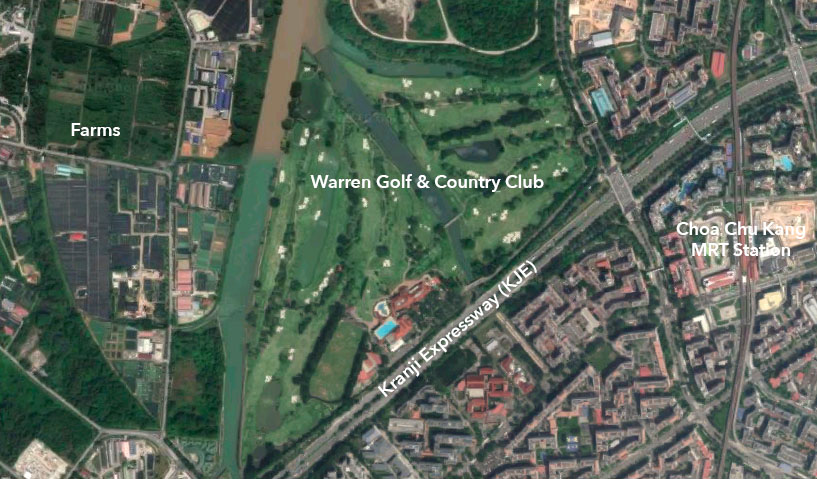 Suggestion #3: With the Jurong Region Line, turn CCK into a hub
The upcoming town of Tengah has the potential to threaten the resale value of flats in Choa Chu Kang even further. But it doesn't have to be this way. As the terminal for the Jurong Region Line (JRL), CCK can attract traffic to its town centre like Jurong East.
How? First, the government needs to assign land for new amenities in CCK town centre, which seriously needs rejuvenating. Opened in 2018, a new community club opposite the MRT (Keat Hong Community Club) represented a small step in the right direction. Secondly, CCK residents we spoke to said that the town centre could do with more food and entertainment options — possibly another mall.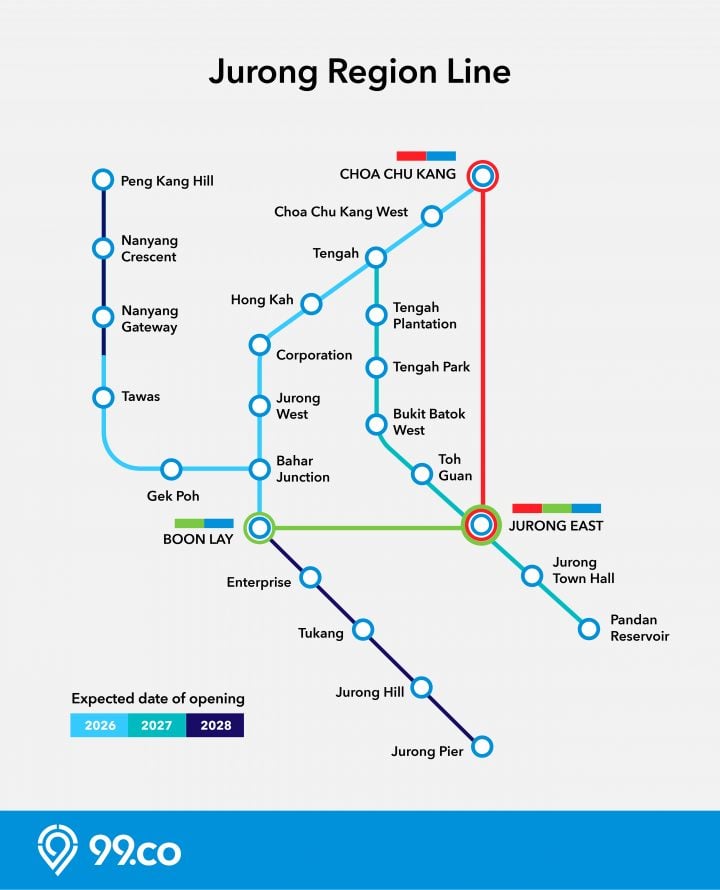 In any case, the completion of the JRL will give Choa Chu Kang residents direct access to Jurong Industrial Estate, which could boost demand for housing in the area and lift HDB resale value. The development of the Jurong CBD will also likely boost the value of CCK flats in relation to BP flats. This is because while CCK residents have direct access to the Jurong CBD via the North-South Line, BP residents have no direct and fast transport options to the same area.
Suggestion #4: Rejuvenate the entire estate
HDB's rejuvenation plans for Woodlands and Pasir Ris has Choa Chu Kang residents looking on with envy. Curiously, CCK hasn't been on the radar for any official town transformation initiatives, even though one is sorely needed. Rather than giving all of their attention on the north-west of Singapore to Tengah in the coming decade, the government should really give some love to Choa Chu Kang.
All said and done, there is a big plus point for HDB resale flats in Choa Chu Kang: HDB flats in CCK are arguably better value than flats in Bukit Panjang right now. This is especially true for buyers who don't need to travel to the city centre for work. For families, Choa Chu Kang also remains an attractive place to live, given its variety of schools at every level.
**[Browse all HDB resale flats in Choa Chu Kang here]
Would you live in Choa Chu Kang? Tell us in the comments section or on our Facebook community page.
If you found this article helpful, 99.co recommends Has Clementi become prime real estate in Singapore? and Can your HDB flat really appreciate after it's 50 years old?
Looking for a property? Find your dream home on Singapore's largest property portal 99.co!