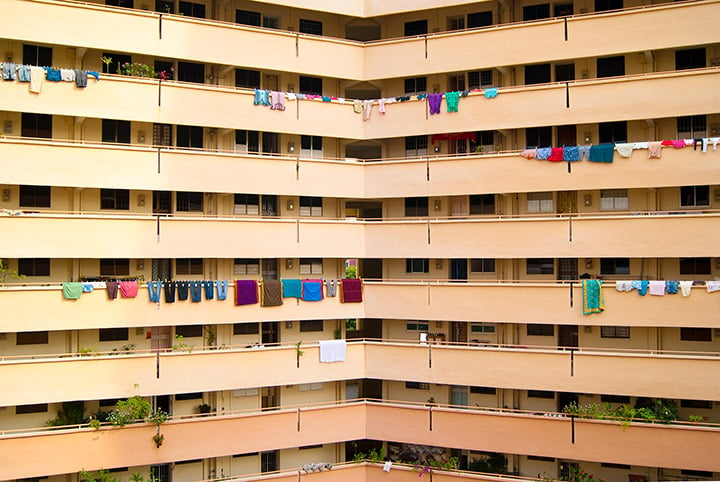 Recently, Minister Khaw Boon Wan remarked that a 50-year-old HDB flat can still appreciate for the next 10 years. He's absolutely right of course; it can happen, just like how it's entirely possible you can strike TOTO with that next ticket you buy. The problem with Minister Khaw's statement is the amount of speculation or presumption it involves. With his words causing a stir among Singaporeans, we feel the need to weigh on the issue of whether a 99-year leasehold flat can actually appreciate in value after half its tenure has elapsed, and offer some urgently-needed clarity for buyers and owners alike.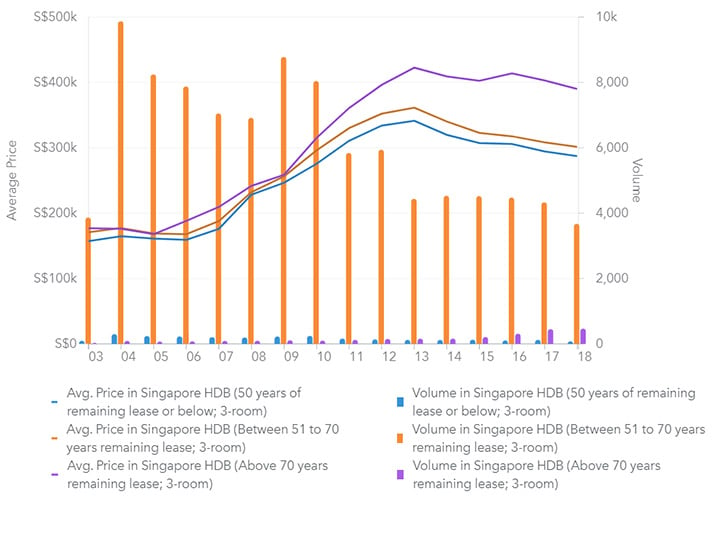 According to the chart above, there has clearly been at least some 50-year-old (or older) flats that have undergone appreciation by virtue of having higher market price that it did at any point in time about a decade ago. If Minister Khaw truly believes what he said about 50-year-old flats, he must've taken this trend at face-value and extrapolated it forward in time, which isn't a very scientific thing to do.
That said, value appreciation for older HDB flats isn't far fetched in some cases, case in point being the revitalised Tiong Bahru neighbourhood and, to a lesser extent, older flats elsewhere having had new transport infrastructure (e.g. MRT stations) and key amenities (e.g shopping malls, markets, and hawker centres) built.
But there are a number of other factors that cause a flat's value to rise without it being true appreciation. The thing that comes to mind first is inflation; inflation that causes the price of a property to increase is not real value (but your financial adviser nags you enough that you understand that by now, right?)
Aside from inflation, there are a number of unstated things you should be aware of when the word "appreciation" is being bundled around:
Don't conflate "can appreciate" with "will appreciate"

The issue isn't just whether an ageing flat appreciates; the issue is how much it appreciates

We shouldn't be too optimistic about the potential buyers

It's not about HIP II and VERS, it's about how your neighbourhood develops

The same government is also discouraging you from buying old flats at high prices
Don't conflate "can appreciate" with "will appreciate"
Minister Khaw Boon Wan said that HDB flats can still appreciate when they are 50 years or older. The functional word is "can". The Minister never claimed that your flat will appreciate, because no one can predict that.
We've seen the same semantics used to sell houses many times. It's very easy to tell a buyer that a property – any property – "can" appreciate. We can point to a zinc shack at Lim Chu Kang Cemetery and state that it can appreciate over the next 10 years (hey, it can happen, just as you can strike TOTO this week).
The statement is vague and far from a guarantee; it shouldn't be counted on for your long-term financial planning. Don't assume you can count on selling the flat and buying a new one on the proceeds, just because someone claims it can appreciate. And certainly don't buy an ageing flat because of blind confidence in the statement.
And if you're someone that believes in the truth of a statement because you trust in the authority or position of the person saying it, you're effectively committing a common logical fallacy called Appeal to Authority. This is how many people get burnt in the stock market, by listening to experts with seemingly the right track record and credentials, in the process forgoing/disregarding their own need for due diligence and capacity of thought.
Back to appreciation: In fact, we'll add a "can" statement of our own, to counterbalance the one in the media:
Your flat can also depreciate significantly after its 50 years old.
The issue isn't just whether an ageing flat appreciates, the issue is how much it appreciates
The main worry with leases running out is that sometimes the residents won't be able to afford a new home on the proceeds of the old one. Given that simple economics dictate that the fewer the years of lease left, the lower the intrinsic value, HDB flat owners fearful that they might end up with nothing are hoping that intervening factors trigger the appreciation of their unit, enough to give them sufficient proceeds to leapfrog to an acceptable new home.
The government has announced, without going into detail, that they intend to introduce an intervening factor called Voluntary Early Redevelopment Scheme, or VERS, which could let owners collectively sell their flat back to the government when there's less than 30 years of lease remaining (see graphic below).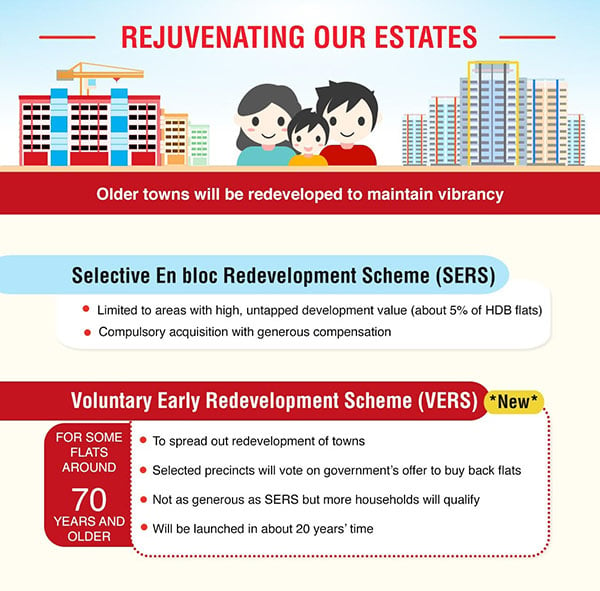 While VERS sounds good on paper, a better assurance from authorities would've been a statement that the proceeds from VERS will always be sufficient for owners to get a replacement flat (albeit a smaller one) in the market at the time, regardless of how much or how little their ageing flat appreciates.
(Also, see point 5 about this issue. There's some contradiction in the direction being set.)
We shouldn't be too optimistic about the potential buyers
As Minister Khaw himself has mentioned, we don't know when exactly the value of an ageing flat will suddenly plummet. But when it does, it happens fast.
We agree with the Minister's statement that the flat can still appreciate for around a decade after its 50th year mark; our guess is that a sharp plummet happens when a property's around 65 to 70 years of age. This is when buyers can no longer use their CPF to buy the flat, and banks generally won't give out loans.
(We know the government has promised that there would be a second round of upgrading at the 60-year mark for flats; but we're pretty sure that, groundbreaking changes aside, a new coat of paint won't convince prospective buyers to magically part with more cash.)
The real issue here is, there aren't many buyers who are happy to give you a high price when they know they're buying an asset that will be worth zero in a few decades. Any buyer who tries to buy when a flat is 55 years old knows two things:
They're probably never going to be able to recoup their cost, and

They can probably bargain you down to a rock bottom price, as you don't have many alternative buyers
It's not about HIP II and VERS, it's about how your neighbourhood develops
Not every neighbourhood is Tiong Bahru. Not all of us will see a wave of hipster cafes move in to revitalise the area, or a ton of new malls opening up nearby.
The main factors that prop up your flats value are its surroundings — from the presence of transport nodes, to the opening of malls, parks, eateries, and so forth. Contrary to what the government is saying, HIP II and VERS are going to only play a supporting role, at best, in the appreciation of an older flat.
If your neighbourhood loses it vibrance, then no amount of repainting your block or VERS discussions is going to help your flat appreciate. We feel that the latest announcement by HDB to have design themes and guides for each town is an attempt to inject intangible value that will differentiate each estate in the eyes of buyers.
More importantly, pay attention to the Urban Redevelopment Authority (URA) Master Plan before you buy or retain an old flat. That's where your focus should be while you tune out the noise about HIP II and VERS.
[
Recommended article
: 
National Day Rally 2018: Will new schemes save HDB flat owners?
]
The same government is also discouraging you from buying old flats at high prices
We've been told we shouldn't buy old flats at too high a price, because SERS is not guaranteed. That was the warning that Minister Lawrence Wong gave us.
And with VERS now announced, it affirms the statement that SERS won't happen to most HDB flats.
But there's an inherent dilemma here. How can we be confident that old HDB flats can still appreciate, while we're cautioning people against buying them at high prices at the same time?
Are we supposed to listen to Minister Wong and avoid buying old flats at high prices, while also believing Minister Khaw that old flats can appreciate between their 50 to 60-year mark?
The government supposedly looks out for us and props up the value of our ageing flats through initiatives like HIP II. But last we checked, telling people not to pay too much for ageing flats is something that opposes the notion of propping up the value of said flats.
So here's the head-scratching message to take away from all this:
Your flat can appreciate between 50 to 60 years (although no one guarantees it), because there will somehow be interested buyers after we've convinced buyers not to spend on old flats.
You just need to believe.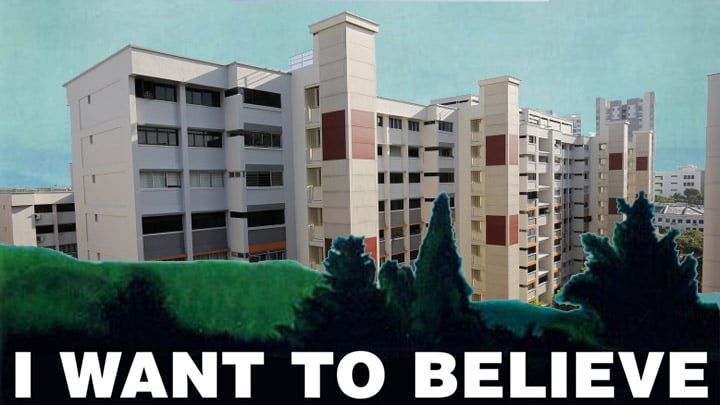 Can an old HDB flat appreciate in value? Voice your thoughts in the comments section or on our Facebook community page.
If you liked this article, 99.co recommends Flat owners: What you must do before your 99-year HDB lease runs down and 7 things Singaporean homeowners wish they knew before buying property
Looking for a property? Find the home of your dreams today at Singapore's largest property portal 99.co!
New launch alert! Welcome to Grand Dunman
About Ryan Ong
Looking to sell your property?
Whether your HDB apartment is reaching the end of its Minimum Occupation Period (MOP) or your condo has crossed its Seller Stamp Duty (SSD) window, it is always good to know how much you can potentially gain if you were to list and sell your property. Not only that, you'll also need to know whether your gains would allow you to right-size to the dream home in the neighbourhood you and your family have been eyeing.
One easy way is to send us a request for a credible and trusted property consultant to reach out to you.
Alternatively, you can jump onto 99.co's Property Value Tool to get an estimate for free.
If you're looking for your dream home, be it as a first-time or seasoned homebuyer or seller – say, to upgrade or right-size – you will find it on Singapore's fastest-growing property portal 99.co.
Meanwhile, if you have an interesting property-related story to share with us, drop us a message here — and we'll review it and get back to you.
Join our social media communities!
Facebook | Instagram | TikTok | Telegram | YouTube | Twitter