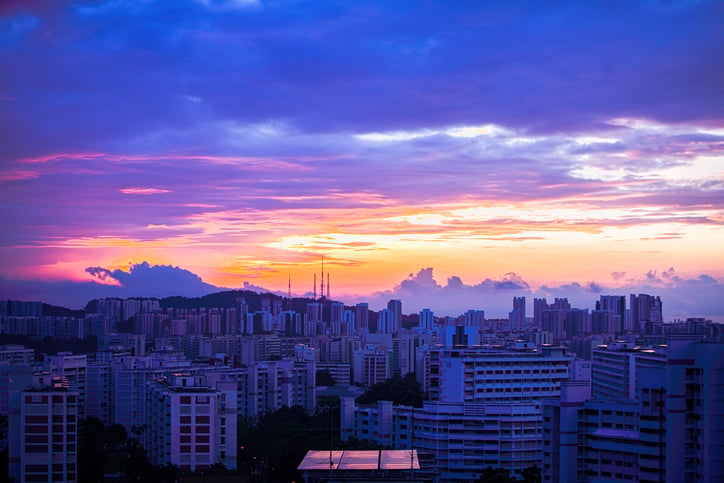 At the National Day Rally on 19 August 2018, Singapore Prime Minister Lee Hsien Loong started off by listing housing as one of the "major cost pressures" Singaporeans today face. However, when PM Lee got around to addressing the topic of housing proper, it became clear that the government's priority centered around HDB resale flats, in particular addressing the declining value of these flats given their limited 99-year lease.
PM Lee's emphasis on HDB resale value was understandable. This was a topic that caused widespread panic among HDB flat owners earlier this year, when National Development Minister Lawrence Wong issued a caution to homebuyers who were assuming that all old flats will be automatically eligible for the Selective En bloc Redevelopment Scheme (SERS). In one fell swoop, the government had effectively dismantled any remaining belief that HDB flats can hold their value over time thanks to SERS. (PM Lee reiterated during his Rally that only about 5% of existing flats will eventually be chosen for SERS.)
Why are HDB leases 99 years?
PM Lee made sure to address this question from the outset, and his explanation appears logical. "This is the only way to ensure that all our descendants can buy new BTO [build-to-order] flats of their own", he said. Describing a scenario in which homeowners may pass their flats down to future generations, but those not lucky enough to inherit a property will get nothing, he said that not having a fixed lease for HDB would "split" our society into property owners and those who cannot afford a property. "That would be most unequal and socially divisive," PM Lee argued.
He also stated that "99 years is a very long time" and that currently only about 2% of Singaporeans will outlive their flats.
The crux of the HDB resale issue
Then again for HDB homeowners, the real concern here isn't about outliving the tenure, it's about being saddled with a depreciating asset that they would have trouble selling in the open market or monetise sufficiently to fund an upgrade or their retirement.
Especially for an aspirational, upwardly mobile, and highly competitive society like Singapore's, it's realistic to say every single homebuyer buys with asset appreciation in mind, even when it comes to buying properties with a limited 99-year lease. In other words, every homeowner is prepared to sell and upgrade when the opportune time comes, even though he/she fundamentally sees the property as a home. This mindset has become the unspoken Singaporean norm. Whether one will outlive the tenure is, plainly, a non-issue.
Fear also plays a big part. Singaporeans, who have mostly been raised with the assurance of a life where things just keeps getting better, will drop a hot potato in a heartbeat like an adulterous MP. Somehow, SERS has become part of an internalised narrative where things would just keep getting better. So, when the government dared to reiterate the terms of a 99-year lease for HDB resale flats, the majority of the population took it some sort of a broken vow.
Who will buy HDB resale flats now?
Forget about even sustaining the value of HDB flats. The simple economic reality is that, all things remaining constant (i.e. no upgrade, no new amenities), a HDB resale flat will see its prices decline over time.
That said, there will be exceptions. Older HDB flats with standout attributes (superb upkeeping, prime/central location, rare unit type, unblocked greenery view etc.) could realistically hold their value, or even see some appreciation, because of scarcity. Without these attributes, buying an older resale flat isn't really a property purchase per se, but more akin to taking over the remaining lease of a property from an existing tenant. This reality, when it fully (and finally) dawns on every Singaporean, would reshape HDB resale market dynamics. In the eyes of flat owners who continue to suffer a cognitive dissonance and feel their ageing unit is worth more than it actually is, this 'reshaping' would be for the worse.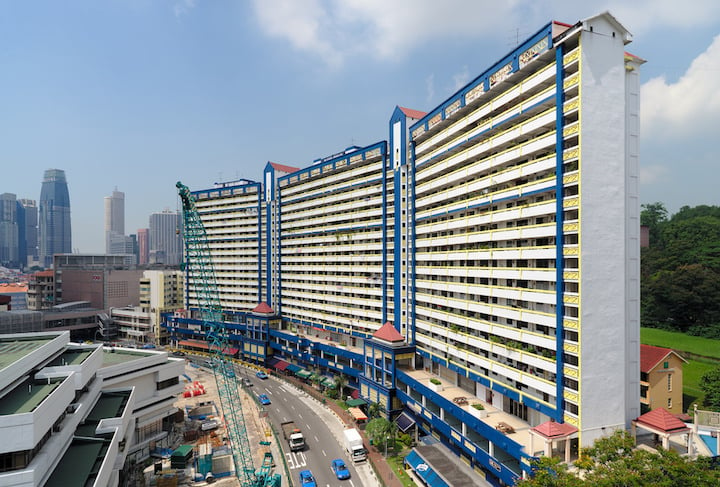 And when almost every Singaporean is united in a seemingly collective goal of owning a condo and never taking a step sideways or backwards when it comes to property, the supply of resale flats is bound to far outstrip the demand. Not only that, but we also gravitate towards the new like moths to a flame, our excuse for dismissing resale (both HDBs and condos) being how leasehold properties with less than 60 years lease are prejudiced by lenders and the Central Provident Fund (CPF), in the sense that the obstructions to financing and paying for the unit using CPF increases as the lease winds down.
[
20 August 2018 update: Lawrence Wong has announced that his ministry is also looking into ways to let buyers of shorter-lease flats use more of their CPF funds for their purchase without compromising their retirement savings.
]
For first-time buyers, it has also been taken at face value that a BTO flat is intrinsically a better choice than a resale flat. (Yes, even when it comes down to a BTO flat facing the expressway in Bukit Batok versus a older flat in a better location.) That BTO flats are so much cheaper than resale flats doesn't help. Such is the state of things that when we hear of a newlywed couple choosing a resale flat over a BTO, we automatically wonder if theirs was a shotgun wedding.
So, if our government is to go to war with the laws of economics and somehow attempt to increase the value of ageing HDB flats, it's either going to have to pull a rabbit out of some Magic Policy Hat, or at least convince enough Singaporeans that ageing HDB flat still have value.
And Singaporeans are not so easily fooled nowadays.
Will new schemes rescue HDB resale value?
PM Lee has two possible solutions to remedy the situation. One is to make Singaporeans accept that the value of ageing HDB flats will be lower and offer them viable options and incentives to monetise. Two, as mentioned, is to make internal and external improvements to older flats to shore up their value. The latter is like giving a 60-year old lady a round of botox and new clothes, only more expensive.
At the National Day Rally, PM Lee revealed plans that would leverage both solutions. First, he announced, without going into detail, that the Lease Buyback Scheme (LBS), which allows senior citizen HDB flat owners to monetise their flat for retirement by selling a part of their remaining lease, will be expanded.
[
20 August 2018 update: HDB has announced that the LBS now includes all flat types. Previously, the scheme was only applicable to four-room flats or smaller
.]
The concern here is what an "expansion of the LBS" actually is. Will it pay seniors more for their remaining lease, for instance? The low amount for remaining lease that HDB currently offers, we understand, is a key reason why seniors prefer the alternative of downsizing to new flats and selling their bigger existing flats to monetise for retirement. (Incidentally, the increasing pool of seniors looking to downsize to new flats adds to the problem of oversupply of HDB resale flats in the open market.)
The problem with an expansion of the LBS is that it would not lead to fixing the supply-demand imbalance of HDB resale flats. If anything, buyers have more reason to favour BTO flats as they would have more remaining lease to monetise (i.e. sell to HDB) when they get to their golden years. Simple math, really.
So, any successful tweak of the LBS would need to provide a bigger pull factor for seniors, on better terms, than push factors. If, after the expansion of the LBS, seniors feel that they were forced to opt for the LBS (instead of downsizing to a new flat) due to falling resale prices and/or an inability to sell their existing flats in a lifeless market, the government would really have shot their own foot. And there's a very real risk of the new LBS not working as intended or backfiring since it wasn't a popular scheme to begin with. Better to start on a clean slate, perhaps.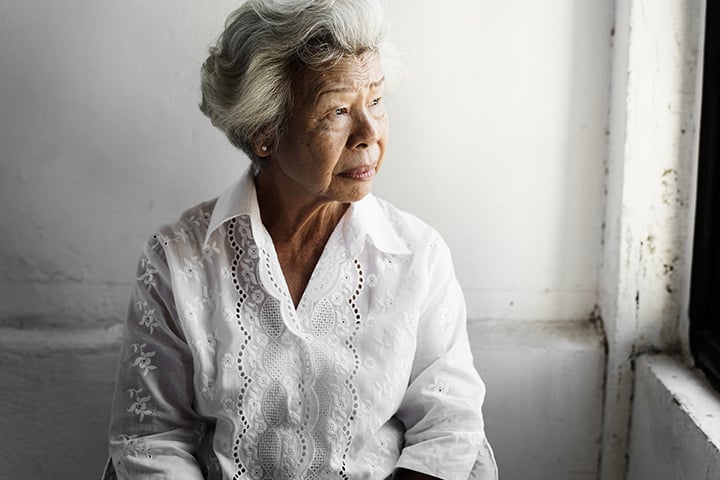 Turning to the tried-and-tested HIP
When Singapore's Founding Prime Minister Lee Kuan Yew was still alive, he had appealed to Singaporeans that the Home Improvement Programme (HIP), a heavily subsidised estate upgrading programme for flats built on or before 1986, would boost the resale value of these flats.
PM Lee, in this year's Rally, has echoed his father's playbook. He announced that not only will HIP be extended to cover flats constructed up to 2007, there will also be HIP II, a second round of upgrading for flats at the 60-year or 70-year mark. Essentially, PM Lee assured that every HDB flat will now have two rounds of upgrading.
The extension of HIP will cover 230,000 units in estates such as Pasir Ris, Jurong, Yishun and Tampines. For the upgrading, the government will foot up to 95% of the bill. Residents could pay as little as a few hundred dollars for the HIP, which covers maintenance issues, such as ceiling leaks and damaged pipes, and an upgrade of the electrical supply. A decision to undertake HIP in a precinct is by residents' vote; upgrading will only proceed with at least 75% of a precinct's eligible Singapore Citizen households voting in favour of it.
"The first HIP will cost the Government more than $4 billion. HIP II will probably cost even more, because the flats will be twice as old by then. But it is well justified and we will do it as long as MOF (Finance Ministry) has the money," PM Lee said in his Rally.
While skeptics might scoff at HIP II ("Has the government run out of ideas?", "What's there left to improve?"), we feel a second round of upgrading would prove essential. Not only could it have a positive impact on resale value, the improvements might help residents see the value in remaining in an ageing flat without them devolving into a state of panic about how much their property is worth and flocking to put their units up for sale. In other words, HIP II would be something hopeful and tangible for HDB flat owners to look forward to, and perhaps give them the incentive to stay put.
Furthermore, while we can't look into the future, we know how much things can change in the span of 30 years (especially with rapidly advancing technology). Sure, it might sound like publicity now, but HIP II is a thoughtful commitment by HDB to help residents keep up with the times at a low cost, and optimise their standard of living no matter the age of our flats.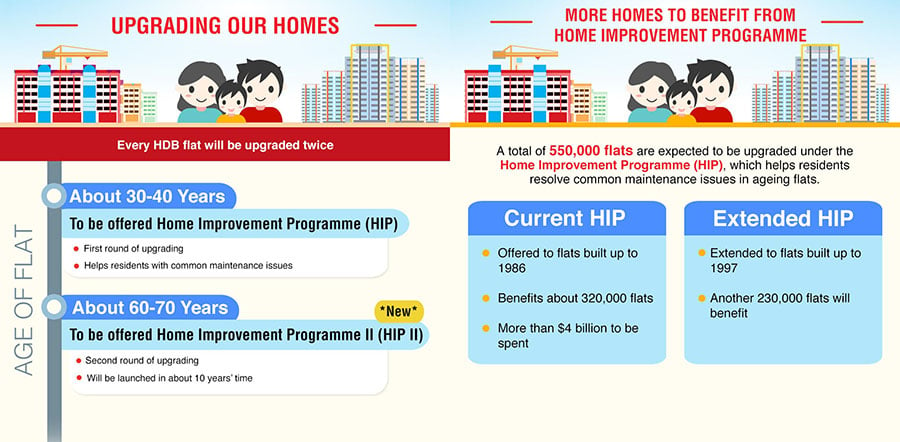 Say hi to VERS, HDB's SERS-Lite
Perhaps the most eyebrow-raising move by PM Lee at this year's Rally was the announcement of the Voluntary Early Redevelopment Scheme, or VERS. To begin in 20 year's time, this scheme would allow residents of flats 70 years into their lease to vote whether to let the authorities to take back their 99-year leasehold flats for redevelopment, thus allowing them to cash out on 30-odd years of remaining lease. Compared to SERS, PM Lee mentioned that the terms for VERS will be less generous, with "less financial upside".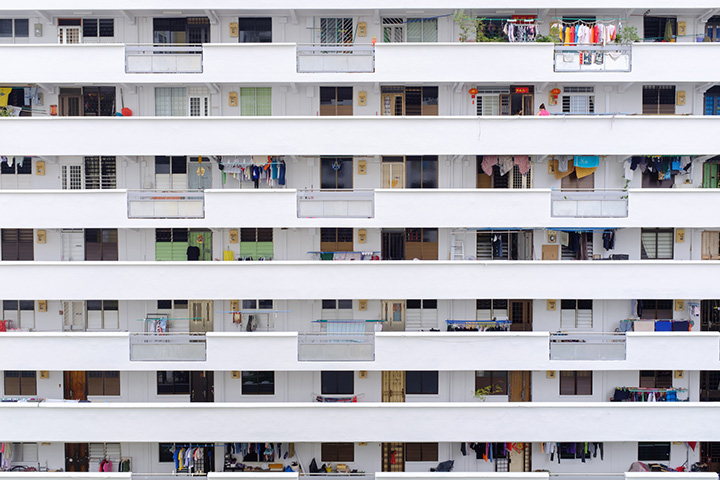 While exact details for VERS have yet to be ironed out, we see a potential conflict between HIP II (for 60- to 70-year old flats) and VERS (for 70-year old flats). It is very likely that HDB would not allow flats that have undergone HIP II to be eligible for VERS just years after HDB has spent so much money in upgrading the estate. In this case, we can see residents actively voting against HIP II just so their flats can be eligible for VERS, defeating the purpose of the former scheme.
On the other hand, if the first few batches of residents under VERS feel that HDB did not compensate them enough, every subsequent HDB flat owner would subsequently vote for HIP II instead, rendering VERS redundant.
In any case, for VERS to have any sort of traction and uptake, there would need to be something more than just money-for-lease to appease HDB flat owners, such as allowing them to ballot again for a BTO/SBF flat as a first-timer, or giving them additional grants for resale flats. Otherwise, the risk having VERS go through and being left without a home afterwards would be huge, especially for residents who are less financially capable.
Like en-bloc sagas, VERS could also prove destructive to neighbourly relations and harmony. We could see younger flat owners voting in favour of VERS, getting into an ugly spat with elderly neighbours who want to remain in their flats for the last days of their lives. Conflicts may also arise between residents who are looking to rely on the proceeds from VERS to upgrade, and residents whose HDB home is the only asset and would be destitute if not for the roof over their heads.
The thing about VERS is that it might also "set unreal expectations amongst owners of old flats," cautions Ku Swee Yong, Chief Executive Officer of International Property Advisor. For him, VERS brings to mind the perils of SERS. "The expectations of SERS is what caused the problem of overpriced flats with short remaining leases," he adds.
So, for now, VERS raises more questions that it answers. It's definitely a scheme that, without a lot more work put into it, could turn out to be a real disaster.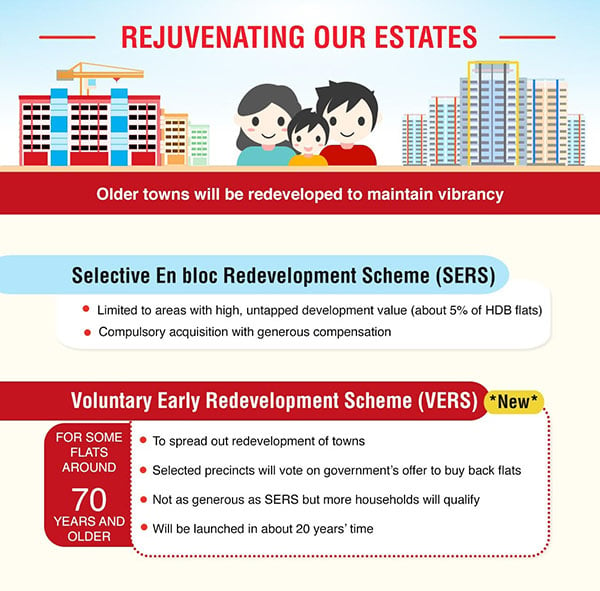 What have we learnt from this year's National Day Rally, then?
If anything, the Rally shows that PM Lee is spot on with where Singaporeans' concerns and worries lie, although there is a distinct lack of immediate action policies and a sense that the government has rushed out certain announcements before fully thinking them through (as the lack of details suggests).
Reading between the lines, it appears that the government could have tacitly accepted the sobering realities of the HDB resale market by opening up more avenues (namely LBS, VERS) for HDB flat owners to sell their units directly back to the government.
One final thing we feel obliged to point out is how PM Lee hinted that, after HIP, the value of HDB flats "goes up". However, he had neglected to quantify the increase in value, put a time factor to it, or consider other factors. We know, for instance, an immediate uplift in value after upgrading can be negated in many ways, such as having too many sellers in the same precinct trying to sell after HIP, or an economic downturn.
Notably, our concern is whether that specific increase in value from HIP (e.g. $40k for a $400k flat) holds up over time (by how much and for how long), given the intrinsic downward price pressure that comes with a dwindling lease. Considering these variables, HIP is better regarded as a means to improve quality of living, rather than a magic potion to obtain resale profit.
All said and done, the biggest lesson from this National Day Rally is that we should be really careful about treating HDB flats as an appreciating asset or, indeed, the only investment asset we have. As much as we all love property, we must learn to love clarity even more.
What are your views of PM Lee's announcements during the National Day Rally? Voice your thoughts in the comments section or on our Facebook community page.
If you liked this article, 99.co recommends Flat owners: What you must do before your 99-year HDB lease runs down and HDB SERS and other dangerous property assumptions people make
Looking for a property? Find your dream home on Singapore's largest property portal 99.co!
New launch alert! Welcome to Grand Dunman
About Kyle Leung
Content Marketing Manager @ 99.co
Looking to sell your property?
Whether your HDB apartment is reaching the end of its Minimum Occupation Period (MOP) or your condo has crossed its Seller Stamp Duty (SSD) window, it is always good to know how much you can potentially gain if you were to list and sell your property. Not only that, you'll also need to know whether your gains would allow you to right-size to the dream home in the neighbourhood you and your family have been eyeing.
One easy way is to send us a request for a credible and trusted property consultant to reach out to you.
Alternatively, you can jump onto 99.co's Property Value Tool to get an estimate for free.
If you're looking for your dream home, be it as a first-time or seasoned homebuyer or seller – say, to upgrade or right-size – you will find it on Singapore's fastest-growing property portal 99.co.
Meanwhile, if you have an interesting property-related story to share with us, drop us a message here — and we'll review it and get back to you.
Join our social media communities!
Facebook | Instagram | TikTok | Telegram | YouTube | Twitter