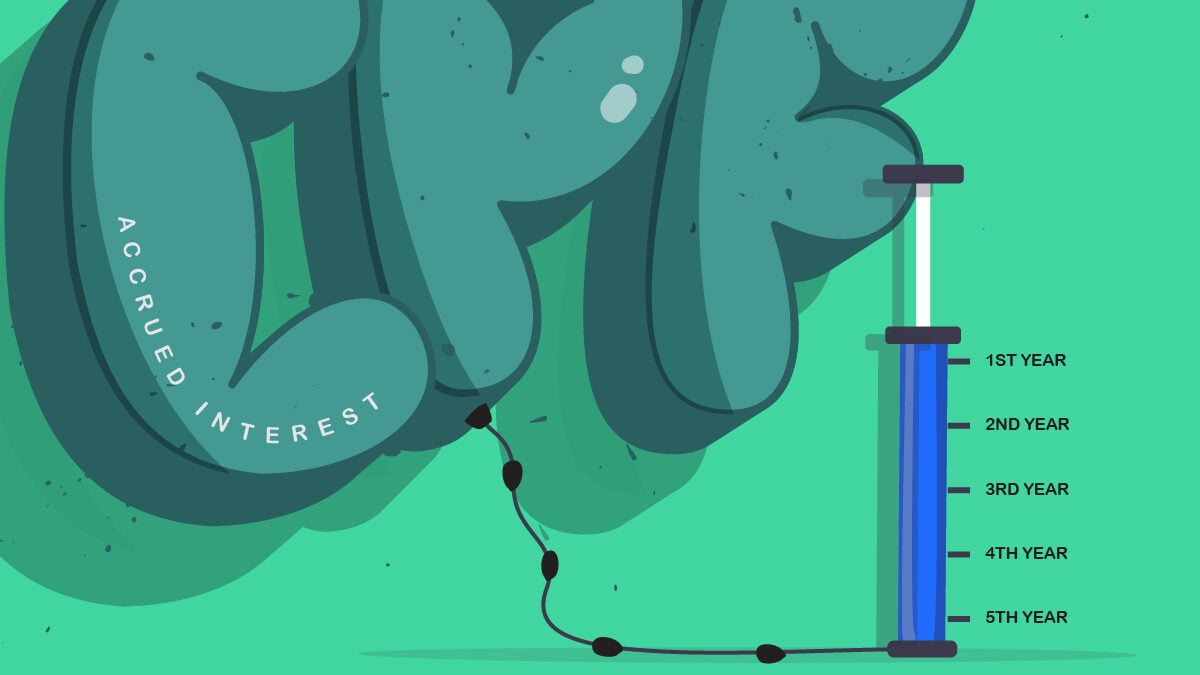 Singaporeans are viewed as a practical and savvy bunch, right? When it comes to selling our house (whether it's an HDB flat or condo), most of us prefer to receive the sale proceeds in cash, rather than having it go into our Central Provident Fund (CPF) accounts. In this article, we'll show you how much of your property sale proceeds need to be refunded back into your CPF account upon selling your house.
Knowing the amount allows you to better plan your finances and decide whether to sell your house or not. (Property agent commission and the HDB resale levy are rather straightforward deductions from your sale proceeds, but refunding the CPF monies to your account needs more explanation.)
Do also note that the amount you refund to CPF can be used to finance your next home, so it doesn't mean that once it's refunded, you cannot reuse your CPF monies.
What you take from your CPF account, must be returned to your account after selling the house 
It is compulsory that any CPF funds used to finance a property be repaid to your CPF account when the property is sold. This repayment is made up of the principal amount used plus accrued interest.
What's accrued interest? 
Accrued interest is the interest that the principal amount would have earned if it was sitting in your CPF Ordinary Account (CPF OA) instead of having been taken out to pay for your house. Currently, the CPF OA interest rate is 2.5% per annum.
Accrued interest works just like compound interest. So in this case, the more time passes, the higher the accrued interest you'll have to pay back into your CPF OA.*
Yes, most of us did a double-take when first hearing about the accrued interest rules, but hey, the Singapore government really sees the value of CPF for our retirement…
*The reality of having to pay accrued interest on top of the interest you already pay for your mortgage is why some people choose to service their home loan instalments in CASH, even if they can do so using their CPF.
Besides the principal amount and accrued interest, you must also refund the CPF grants back to your account 
Although the word "grant" sounds generous, there are strings attached when it comes to getting it from the CPF. If you apply for and receive a grant from CPF at any point in time to help pay for your HDB flat, you're required to return that amount, plus accrued interest on that amount, to your CPF account when you sell the house.
We've heard a story of a flat seller who forgot they received a grant from CPF some years back, only to find that the cash proceeds from the sale of their flat got nearly wiped out because they needed to refund to their CPF account the said grant plus accrued interest.
(In fact, CPF reported that from 2018 to 2020, the number of people who have been unable to fully refund their CPF monies used for housing was decreasing. But the trend may have been reversed in 2021 when the figure dropped to 9%.)
Here's an infographic showing the effects of the CPF accrued interest over time.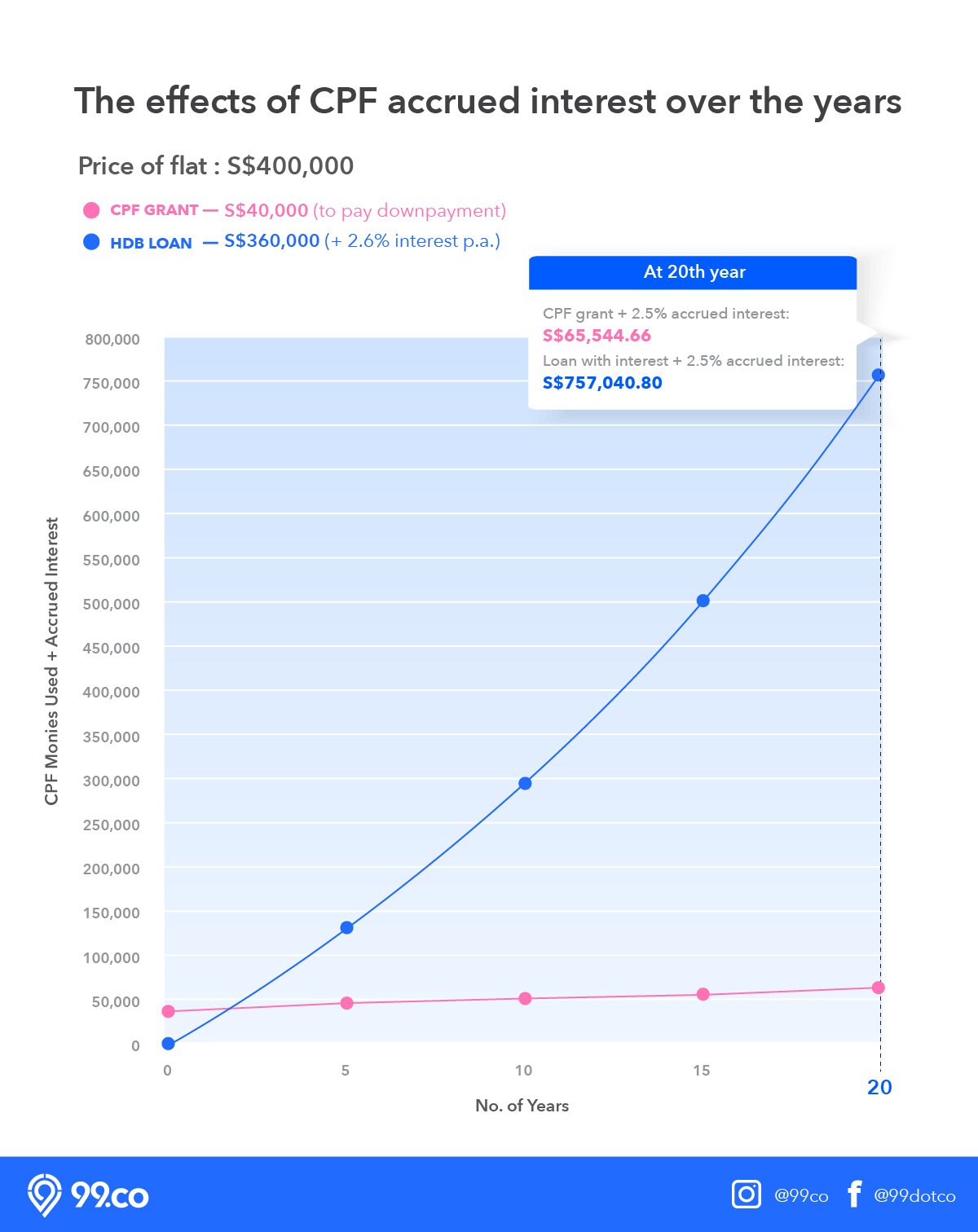 If it's any consolation, if the amount you have to refund to your CPF account exceeds your cash proceeds, CPF will write off the excess amount. That is, you'll not be required to refund your CPF account beyond the sale proceeds you receive. But take note that this is only in the case when you sell your property at market value.
Here's the thing: If you sell below market value and the amount owed to your CPF account (plus accrued interest) exceeds your cash proceeds, you'll have to return 100% of the CPF monies used to your account by default, even if it means having to pay cash and refund the option money to top up the shortfall. That said, sellers can appeal to the CPF Board to waive this 'debt', and have their cases assessed on a case-by-case basis.
So what should you do?
First, find out how much of the accrued interest can eat into your sale proceeds 
To calculate how much money you "owe" your CPF account at a given point in time, log in to your CPF account. Under "my cpf' tab, click on "Home ownership". The page will show you the principal amount used and the accrued interest. The total sum of these two amounts is what you need to return to your CPF account when you sell your property.

A step-by-step example to calculate your sale proceeds
To figure out how much cash proceeds you'll get from the sale of the property, you'll need to know and factor in your sale amount, principal amount used from your CPF savings, CPF accrued interest, agent commission fee and legal fees.
Let's say you're selling your 4-room HDB flat in 2023 for S$550,000.
You previously bought it for S$400,000 in 2013, with a S$40,000 CPF grant (which is used to pay the downpayment). 
With a loan-to-value ratio of 90% for an HDB housing loan (this was before the cooling measures in 2021 and 2022), the loan amount was S$360,000. The loan tenure taken was 20 years, at a concessionary rate of 2.6%.
All mortgage instalments thus far were paid using CPF, with an outstanding loan amount of S$203,000. 
(The figures have been rounded off for easy calculation.)
(A) Sale amount: S$550,000 (If you're not sure what your property might sell for, you can either use 99.co's Property Value Tool or refer to HDB's past transacted prices)
(B) Outstanding loan amount: S$203,000
(C) CPF principal amount used:
S$157,000 (mortgage payments + interest paid so far) + S$40,000 (CPF grant for downpayment) = S$197,000
(D) CPF accrued interest: S$55,200
Note that (D) is calculated based on the principal amount compounded yearly up till the point of sale (10 years after the flat purchase), not until the end of the loan tenure.
(E) Sale proceeds: (A) – (B) – (C) – (D)
S$550,000 – S$203,000 – S$197,000 – S$55,200 = S$94,800
**(You may also estimate your sale proceeds using HDB's sale proceeds calculator)
(F) Agent commission fee: S$11,000
If you engage a property agent to help you sell your house, you'll have to pay them a commission. While there's no set rate, the widely accepted rate for selling an HDB resale flat is 2% of the selling price.
(G) Legal fees: S$338 (estimated from HDB's Legal Fees Enquiry Facility)
Cash proceeds: (E) – (F) – (G)
S$94,800 – S$11,000 – S$338 = S$83,462
This may or may not be sufficient to finance the cash portion of the downpayment of your next home purchase and/or fulfil other objectives for selling the house.

IMPORTANT: For those who are aged 55 and above…
If you're 55 years old in 2023, your Full Retirement Sum (FRS) will stand at S$198,800. If the combined balances of your CPF OA and Special Account (SA) fall below this threshold, the amount refunded to your CPF OA from the sale of your house will automatically go into your Retirement Account to meet the FRS. Any balance amount will remain in your CPF OA and/or SA.
Note that if you are still working, contributions to your CPF OA can still be used to pay for your outstanding home loan. This is even if you don't meet the Full Retirement Sum.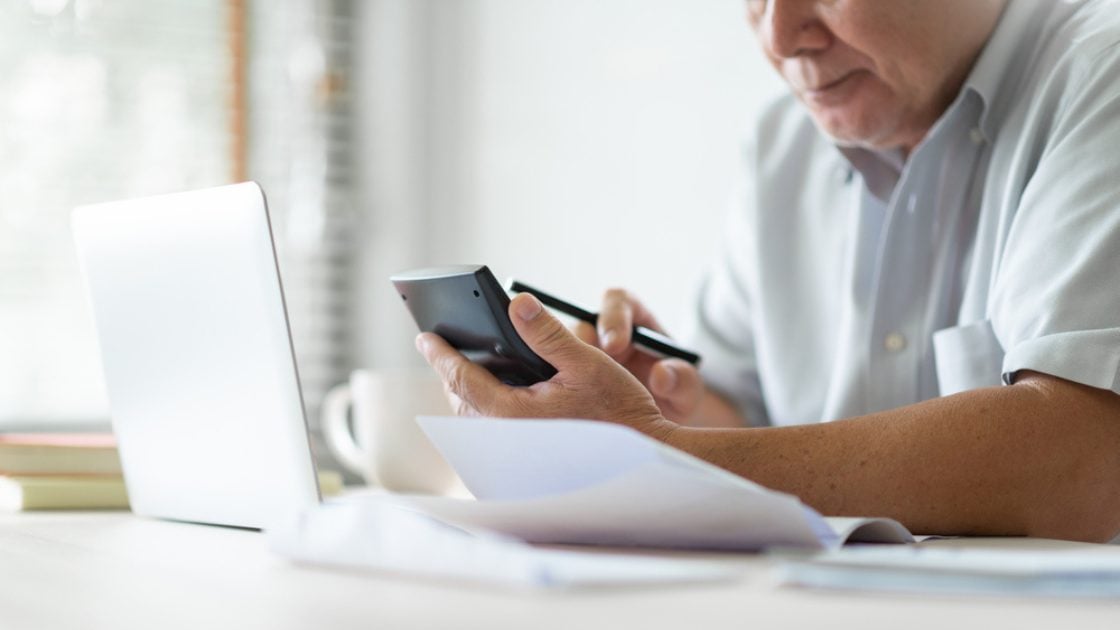 The bottom line? The accrued interest you must refund to your CPF account can take a chunk of your sale proceeds. This can constrain your ability to upgrade or use the cash proceeds to start a business, pay for your child's university education or set up a retirement fund*.
(*Unless, of course, you plan to migrate after selling your house, whereby you can withdraw your full CPF balance anyway.)
As what we've seen from the CPF trends report, there's a small group of people who have been unable to fully refund their CPF monies to their account. This also means they didn't get cash proceeds after selling their house.
Pro tip: Reduce accrued interest by making a cash refund to your CPF account 
That said, there is a way to reduce the amount you need to refund to your CPF account, thereby increasing your sale proceeds. You can do so by making a voluntary housing refund to your CPF account. This refund can be done either partially, or in full.
Subsequently, use cash as much as possible to pay your home loan instalments for the remainder of your loan tenure.
Note that if you can only make a partial refund (either a partial principal amount, or the full principal amount without accrued interest), your accrued interest will still snowball, but at a slower rate. You'll still have to put the money back into your CPF account after selling your house, but the amount would be lower.
In short, if you've got enough cash on your hands to make a full cash refund (principal + accrued interest) and pay off your home loan with cash from then on, you won't have to put any money back into your CPF account after selling your house.
Other ways to lower CPF accrued interest (and possibly increase the cash you'd receive from your sale proceeds in future)
If you're taking an HDB loan with a 2.6% interest rate, consider refinancing to a bank loan with a lower interest rate
If you cannot afford to pay all of your mortgage in cash, consider paying it partially in cash and CPF 
Take a shorter loan tenure or shorten your loan tenure (no penalties for doing so for HDB loans)
Selling your house will stop the accrued interest from accumulating, but make sure you have a solid plan to give yourself a secure roof over your head!
Properties for sale
---
See all listings
288C Compassvale Crescent
Singapore 543288 · D19
3
2
$770,000
114 Edgefield Plains
Singapore 820114 · D19
4
2
$750,000
449A Bukit Batok West Avenue 9
Singapore 651449 · D23
3
2
$599,000
522C Tampines Central 7
Singapore 523522 · D18
3
2
$808,000
558 Choa Chu Kang North 6
Singapore 680558 · D23
4
2
$800,000
461A Bukit Batok West Avenue 8
Singapore 651461 · D23
3
2
$680,000
715 Tampines Street 71
Singapore 520715 · D18
3
2
$568,000
285B Toh Guan Road
Singapore 602285 · D22
3
2
$600,000
34 Upper Cross Street
Singapore 050034 · D1
2
2
$438,000
267 Boon Lay Drive
Singapore 640267 · D22
4
2
$520,000
744 Jurong West Street 73
Singapore 640744 · D22
4
2
$638,888
2 Bedok South Avenue 1
Singapore 460002 · D16
2
1
$375,888
578 Hougang Avenue 4
Singapore 530578 · D19
4
3
$1,158,888
257 Tampines Street 21
Singapore 520257 · D18
4
2
$675,000
143 Lorong 2 Toa Payoh
Singapore 310143 · D12
3
2
$799,999
504 Pasir Ris Street 52
Singapore 510504 · D18
3
2
$938,000
91 Tanglin Halt Road
Singapore 142091 · D3
3
2
$950,000
1A Cantonment Road
Singapore 085101 · D2
3
2
$1,380,000
323C Sumang Walk
Singapore 823323 · D19
3
2
$799,000
873 Tampines Street 84
Singapore 520873 · D18
3
2
$599,000
8 Holland Avenue
Singapore 271008 · D10
2
2
$450,000
160 Mei Ling Street
Singapore 140160 · D3
2
2
$420,000
320B Anchorvale Drive
Singapore 542320 · D19
3
2
$590,000
104A Canberra Street
Singapore 751104 · D27
2
2
$458,000
37 Margaret Drive
Singapore 143037 · D3
2
2
$820,000
604 Senja Road
Singapore 670604 · D23
3
2
$809,000
260 Tampines Street 21
Singapore 520260 · D18
3
2
$650,000
122 Lorong 2 Toa Payoh
Singapore 310122 · D12
3
2
$838,000
418 Ang Mo Kio Avenue 10
Singapore 560418 · D20
3
2
$399,999
655 Senja Road
Singapore 670655 · D23
3
2
$520,000
987B Jurong West Street 93
Singapore 642987 · D22
3
2
$600,000
220 Pasir Ris Street 21
Singapore 510220 · D18
4
2
$839,000
528 Jelapang Road
Singapore 670528 · D23
3
3
$868,000
435C Bukit Batok West Avenue 5
Singapore 653435 · D23
3
2
$611,000
120 Bukit Merah View
Singapore 152120 · D3
3
2
$460,000
See all HDB flats >
See all listings
Cantiz @ Rambai
21 Rambai Rd · D15
2
2
$1,450,000
Euro-Asia Court
3 River Valley Cl · D9
2
2
$2,250,000
The Silver Fir
9 Butterworth Lane · D15
3
2
$1,800,000
Reflections At Keppel Bay
8 Keppel Bay View · D4
3
3
$3,333,000
Reignwood Hamilton Scotts
37 Scotts Rd · D9
3
4
$11,418,000
Treasure at Tampines
45 Tampines Lane · D18
2
1
$950,000
Jewel @ Buangkok
89 Compassvale Bow · D19
2
2
$1,450,000
D'leedon
1 Leedon Hts · D10
3
3
$2,600,000
The Interlace
190 Depot Rd · D4
3
4
$3,900,000
The Anchorage
370F Alexandra Rd · D3
3
3
$3,200,000
Rivertrees Residences
29 Fernvale Cl · D28
4
2
$1,970,000
Neem Tree
30 Jln Kemaman · D12
3
2
$1,680,000
Mackenzie 88
88 Mackenzie Rd · D9
2
2
$1,600,000
Rio Vista
10 Upp Serangoon View · D19
4
4
$2,388,000
Nuovo
21 Ang Mo Kio Ave 9 · D20
3
3
$2,500,000
Normanton Park
61 Normanton Pk · D5
2
1
$1,450,000
Sims Urban Oasis
10 Sims Dr · D14
1
1
$818,000
Lucida
2 Suffolk Rd · D11
4
5
$6,765,120
Riverfront Residences
41 Hougang Ave 7 · D19
1
1
$899,999
Botanika
50 Holland Rd · D10
2
3
$2,800,000
The Hacienda
6 Hacienda Grove · D15
4
3
$3,784,000
Le Quest
10 Bt Batok St 41 · D23
3
2
$1,600,000
The Boutiq
145 Killiney Rd · D9
2
2
$2,100,000
Nomu
20 Handy Rd · D9
0
1
$1,280,000
Bukit 828
828 Upp Bt Timah Rd · D23
2
2
$1,260,000
Echelon
9 Alexandra View · D3
3
3
$3,300,000
Sky Everton
50 Everton Rd · D2
5
4
$5,868,000
Orchid Park Condominium
93 Yishun St 81 · D27
3
2
$1,200,000
Icon
10 Gopeng St · D2
1
2
$1,440,000
Kensington Park Condominium
2 Kensington Pk Dr · D19
3
3
$3,499,000
Cliften
48 Ewe Boon Rd · D10
3
2
$2,580,000
Watertown
73 Punggol Ctrl · D19
1
1
$960,000
The Dairy Farm
5 Dairy Farm Rd · D23
2
2
$2,778,000
The Line @ Tanjong Rhu
6 Tg Rhu Rd · D15
3
3
$2,850,000
The Crest
101 Prince Charles Cres · D3
3
3
$3,400,000
See all Condos >
See all listings
Gerald Mugliston Estate
Jln Kechubong · D28
5
5
$4,450,000
Luxus Hills
Luxus Hill Ave · D28
5
6
$4,980,000
Jalan Chermat
Jln Chermat · D19
4
4
$8,800,000
Onan Road
Onan Rd · D15
4
2
$6,000,000
Hougang Capeview
Hougang Capeview · D19
6
6
$5,300,000
Jalan Jarak
Jln Jarak · D28
6
5
$5,189,000
Summer Gardens
Upp Changi Rd East · D16
5
4
$2,688,888
Jalan Labu Manis
Jln Labu Manis · D19
6
5
$5,500,000
Coronation Road West
Coronation Rd West · D10
4
4
$23,000,000
Daisy Terrace
Daisy Rd · D13
6
4
$6,600,000
The Morris Residences
Paya Lebar Cres · D19
4
5
$3,680,000
How Sun Drive
How Sun Dr · D19
4
6
$7,180,000
Bedok Ria
Jln Nipah · D16
5
4
$4,280,000
Lushan Garden
How Sun Dr · D19
4
6
$6,180,000
Opera Estate
Jln Bangsawan · D15
5
4
$4,888,888
People's Garden
Lor 7 Realty Pk · D19
6
6
$4,999,999
Dunearn Road
Dunearn Rd · D11
5
5
$12,000,000
Blair Plain Conservation Area
Blair Rd · D2
5
5
$8,800,000
Bena Park
Jln Pernama · D17
4
3
$5,300,000
Faber Garden
Jln Seruling · D20
5
5
$7,250,000
Tanah Merah Besar Lane
Tanah Merah Besar Lane · D17
5
4
$9,000,000
Sunrise Villa
Sunrise Ave · D28
5
3
$5,988,000
Bartley Rise Estate
Eden Grove · D19
3
2
$4,000,000
Richards Place
Richards Pl · D19
3
4
$3,900,000
Heritage 9
Koon Seng Rd · D15
5
6
$8,800,000
Kampong Java Road
Kg Java Rd · D9
4
3
$5,000,000
Boscombe Road
Boscombe Rd · D15
9
9
$10,000,000
Lentor Villas
Lentor St · D26
5
4
$5,888,888
Westville
Westwood Rd · D22
5
5
$2,600,000
Paterson Garden
Lengkok Angsa · D9
5
6
$13,800,000
Macpherson Garden Estate
Jln Setia · D13
3
2
$2,400,000
Tai Keng Gardens
Jln Lokam · D19
4
3
$3,980,000
Sentosa Cove
Treasure Island · D4
6
7
$23,800,000
Bo Seng Avenue
Bo Seng Ave · D11
5
4
$8,180,000
Jalan Senang
Jln Senang · D14
4
4
$3,999,999
See all Landed houses >
[Additional reporting by Virginia Tanggono]
---
Selling your house soon and need help in planning the finances? Let us help you by connecting you with a property agent.
If you found this article helpful, 99.co recommends What happens if your housing loan deductions reach your CPF Basic Retirement Sum (BRS)? and 9 must-know things about using CPF to buy a house.
---
Upcoming Freehold Condo Launch: The Arcady @ Boon Keng
About Elizabeth Tan
Elizabeth is a writer, a Harry Potter fanatic, and a Game Of Thrones addict.
Looking to sell your property?
Whether your HDB apartment is reaching the end of its Minimum Occupation Period (MOP) or your condo has crossed its Seller Stamp Duty (SSD) window, it is always good to know how much you can potentially gain if you were to list and sell your property. Not only that, you'll also need to know whether your gains would allow you to right-size to the dream home in the neighbourhood you and your family have been eyeing.
One easy way is to send us a request for a credible and trusted property consultant to reach out to you.
Alternatively, you can jump onto 99.co's Property Value Tool to get an estimate for free.
If you're looking for your dream home, be it as a first-time or seasoned homebuyer or seller – say, to upgrade or right-size – you will find it on Singapore's fastest-growing property portal 99.co.
Meanwhile, if you have an interesting property-related story to share with us, drop us a message here — and we'll review it and get back to you.
Join our social media communities!
Facebook | Instagram | TikTok | Telegram | YouTube | Twitter