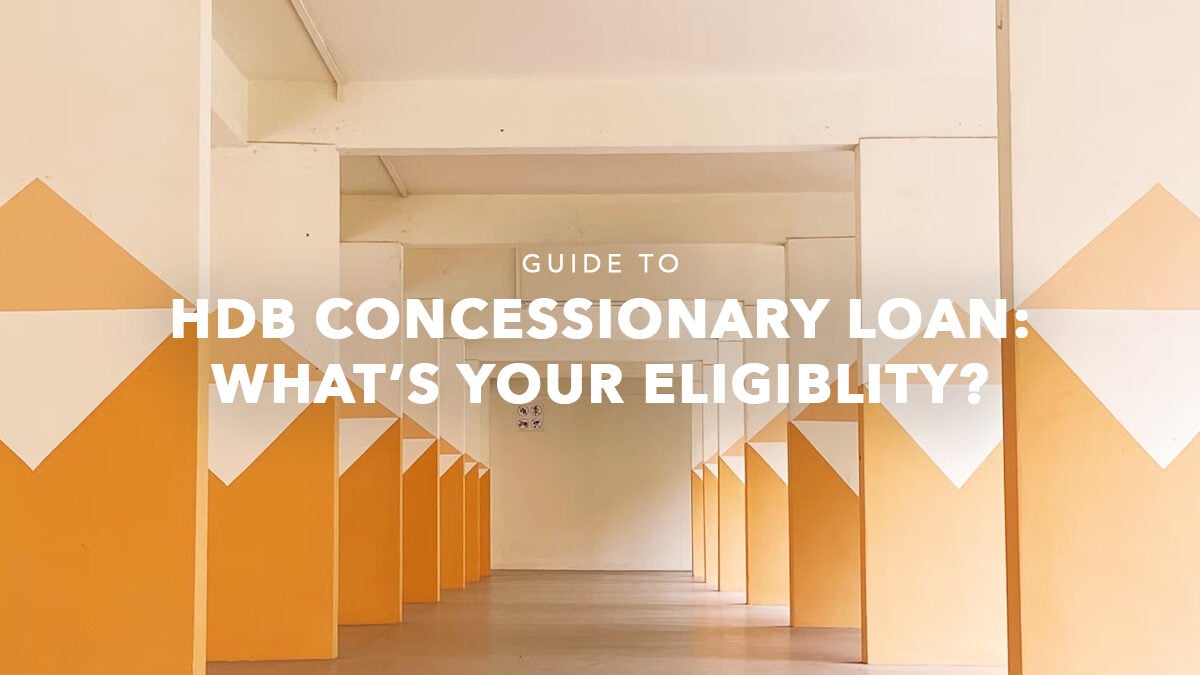 If you're looking to buy an HDB flat, and your monthly salary doesn't exactly make you a millionaire, you will sooner or later have to get a home loan. Other than taking a loan from the bank, you can apply for the HDB concessionary loan (or a HDB loan, in short).
Not sure whether a bank loan or an HDB loan fits you best? Read about it here.
This article will tell you what you need to know about taking an HDB concessionary loan.
Your eligibility for an HDB concessionary loan
The key thing to note is that the HDB loan has an income ceiling of S$14,000 per household (S$21,000 for extended families, which is expanded on in the below table).
Family profile
Income of Group A (cannot exceed S$14,000/mth)
Income of Group B (cannot exceed S$14,000/mth)
Income ceiling of extended family
Parents* with single working children
Parents with one single working child
Other single children
Total incomes of Group A and B must not exceed S$21,000
Parents* with married child**
Parents with single working children (if any)
Married child's family**
*Includes widow/widower or divorcee.
**Includes applicants buying a flat with their fiancé/fiancée.
If the average gross monthly household income for both applicants (e.g. you and your partner) exceeds this amount, you'll have to take a bank loan instead.
The interest rate for the HDB loan is pegged at 0.1% above the CPF Ordinary Account interest rate. With the current CPF OA interest rate at 2.5%, the interest rate for the HDB loan is now at 2.6%.
Do note that for HDB flats and ECs, regardless of the type of home loan you're taking, you'll be subjected to the Mortgage Servicing Ratio (MSR). It caps your monthly mortgage instalments at 30% of your monthly income. 
For example, if you and your spouse earn a combined S$10,000, the maximum monthly repayment for your HDB flat is S$3,000. (Use 99.co's MSR calculator to help you figure out your monthly mortgage limit.)
On top of that, with the new cooling measures, as of 30 September 2022, there's a stress-test interest rate of 3% for HDB loans. This is not the interest rate you'll pay for your home loan, but it's used to calculate the maximum loan amount you can borrow.
Unsure on how the new stress-test interest rate affects your home affordability?Read about it here.
To gauge how much in HDB loans you can obtain, you can check your HDB loan estimate using this HDB loan calculator.
To sum up, here's the eligibility criteria to be eligible for the HDB concessionary loan:
At least one buyer is a Singapore citizen
Have not taken two or more HDB loans
Gross monthly household income doesn't exceed S$14,000 (S$21,000 for extended families)
You do not own, or have disposed of any private residential property in the 30 months before applying for the HDB Loan Eligibility (HLE) letter
You do not own more than one market/hawker stall or commercial/industrial property*
*If you do operate a market/hawker stall or commercial/industrial property you have to work in it yourself.
A more detailed version of the list above can be found here.
If you want to be sure, you can also fill out this questionnaire to see whether you are eligible for an HDB housing loan.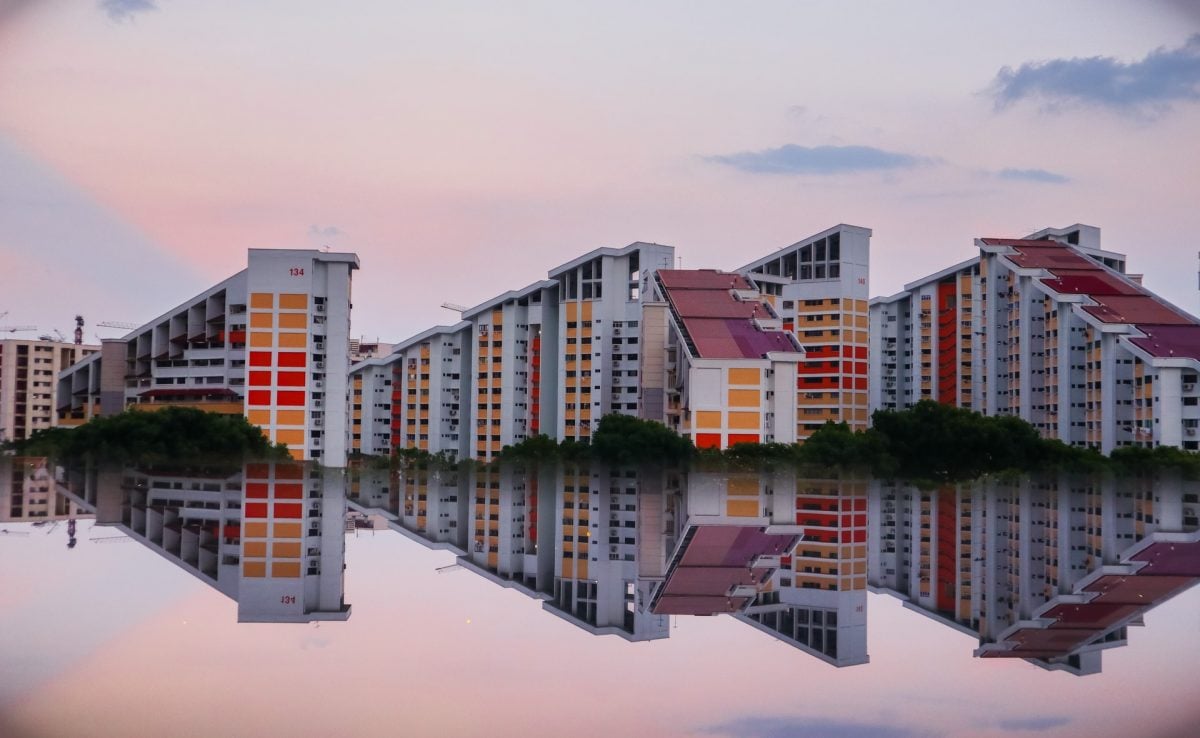 What influences my HDB loan amount?
The maximum amount that HDB will be granting you depends on three main factors:
Age
Income
Financial standing
Current loans and financial commitments (e.g. student loans, car loan, credit card bills etc)
It's logical to see how your age and income both influence your maximum loan amount. HDB would extend a higher loan amount to the younger applicant simply because he/she has more years to pay off the loan before his/her retirement age, which is the cut-off age for any HDB loan.
The repayment period is capped at either of the following, whichever is shorter
25 years
Up till the buyer is 65 years old
The remaining lease of the flat during application, minus 20 years
LTV limit
The Loan-to-Value (LTV) also comes into play when taking a HDB loan. It refers to the maximum amount an individual can borrow for a housing loan based on the loan tenure, borrower's age and their existing loans.
During the cooling measures in December 2021, it was lowered from 90% to 85%, which means a 15% downpayment instead of the previous 10%. The LTV limit was recently lowered again by 5% to 80% during the latest round of cooling measures in September 2022.
Example: You bought an HDB flat for S$500,000 using an HDB loan.
How much loan can you get? With an 80% LTV limit, your maximum loan amount will be S$400,000, which means that you'll have to pay the S$100,000 downpayment using cash and/or CPF funds.
The LTV limit will also be pro-rated, depending on whether the remaining lease of the property can cover the youngest buyer to the age of 95 years and beyond at the point of applying for the flat. If it does, the applicable LTV will be up to 80% for new flats, and of the lower of the resale price or valuation for resale flats.
Pay less interest on your loan
To save on interest payments, you can do two things:
Take a smaller loan amount
Shorten the loan tenure
1. Taking a smaller loan amount
Taking a smaller HDB loan means putting a bigger downpayment, which will let you save more on interest over time.
Here's an example comparing a S$250,000 loan against a S$200,000 loan. We will assume a loan tenure of 25 years, with the current interest rate of 2.6%.
| | | |
| --- | --- | --- |
| Loan amount | S$250,000 | S$200,000 |
| Monthly payment | S$1,134.17 | S$907.34 |
| Total interest paid | S$90,252.13 | S$72,201.70 |
| Payment over 25 years | S$340,252.13 | S$272,201.70 |
That's a difference of S$18,050 in interest over 25 years. If you're unable to take a smaller loan amount from the get go, HDB allows you to do partial capital repayments as and when you have the funds, so you can include it in your financial planning when calculating your loan repayments.
Taking on a smaller housing loan and paying it off early frees you up to pursue other financial goals, such as building up your retirement fund or investing your money in other vehicles.
2. Shortening the loan tenure
You can also choose to shorten your loan tenure. Here are the calculations based on a S$250,000 loan.
| | | |
| --- | --- | --- |
| Loan tenure | 20 years | 25 years |
| Monthly payment | S$1,336.97 | S$1,134.17 |
| Total interest paid | S$70,872.83 | S$90,252.13 |
| Payment over 25 years | S$320,872.83 | S$340,252.13 |
From the table above, you'll be able to save S$19,379 in interest. Keep in mind that having going down this route will increase your monthly mortgage instalments, so make sure you're able to service your loan before committing to a shorter tenure.
Use a mortgage calculator to check how much you can save on interest.
HDB housing loan insurance policies
You'll have to purchase these two insurance policies if you either take over ownership of an HDB flat, or take an HDB loan. It's a non-negotiable, so make sure you don't skip out on this.
1. HDB's fire insurance policy
HDB introduced its Fire Insurance Scheme to ease the financial burden on homeowners in the event of a fire. The scheme covers the cost of reinstating damaged internal structures, fixtures, as well as areas built and provided by HDB. Keep in mind that it doesn't cover the contents of your home, such as furnishings, renovations and your personal belongings.
If you need extra coverage, you can opt to purchase additional home insurance from other insurance providers.
The fire insurance has a five-year validity period, after which it will be renewed based on the relevant premiums at an AXS station.
Here are the from premiums from 16 August 2019 to 15 August 2024 (inclusive of 7% GST).
| | | |
| --- | --- | --- |
| Flat type | 5-year premium | Sum insured |
| 1-room | S$1.62 | S$29,000 |
| 2-room/ Flexi | S$2.71 | S$48,700 |
| 3-room | S$4.87 | S$60,400 |
| 4-room/ SI | S$5.94 | S$82,000 |
| 5-room/ S2/ 3Gen | S$7.13 | S$97,300 |
| Executive/ Multi-gen | S$8.10 | S$106,200 |
| Studio apartment (Type A/ B) | S$2.71 | S$48,700 |
2. HDB's home protection policy
There's also the Home Protection Scheme (HPS) by CPF, which insures families against losing their home in the unfortunate event of the policy holder becoming either incapacitated (terminal illness or permanent disability) or passing away, before the housing loan is fully settled.
HPS insures policy holders up to 65 years old or until the housing loans are paid up, whichever is earlier.
Based on the extent of coverage you decide to go with, the annual premium will be automatically deducted from your Ordinary Account (OA). Co-owners of the flat, such as your spouse, parent, child or sibling can also use their OA savings to pay for the HPS.
You can use CPF's HPS Premium Calculator to check your coverage amount.
The next step would be applying for HDB's Loan Eligibility (HLE) letter, which we cover extensively in this article.
[Additional reporting by Jamie Wong]
---
How's your experience with applying for the HDB loan? Let us know in the comments section below.
If you found this article helpful, 99.co recommends How your HDB sale proceeds might get "taken" by CPF and Why on earth is the HDB Home Loan Pegged to CPF Interest Rate? Here's the answer.
---
Frequently asked questions
How much HDB loan can I get?
The maximum loan amount is 80% of the price or valuation of the flat. On top of this, your monthly repayment is capped at 30% of your household income. The loan amount will also depend on other factors such as income, age and financial standing.
Can I refinance my HDB loan?
No, you won't be able to refinance your HDB loan. Alternatively, you can switch to a bank loan.
When do I start paying for the HDB loan?
You'll have to pay for the first monthly instalment on the first day of the second month, following the month in which the housing loan is disbursed.